I've seen bunnies everywhere since I started putting the best Peep plush guide together. My eyes are hopping, or my daughter's about to jump on my laptop. You guessed right; she's a massive Peep plush fan. Honestly, so am I. We love plush toys and Squishmallows, and we're avid collectors of all the best ones.
Peep plushes are adorable bunnies that make you think it's Easter all year round. They come in an assortment of colors, waiting to grab your heartstrings. You can personalize some Peeps, while others have a range of bright colors and cuddly sizes. Peep plushes are also ideal for the littlest collectors and fans.
Let's hop into the details, pun intended.
Bottom Line Up Front
Peeps plush is a new yet exciting opportunity to buy stuffed animals that remind kids of their favorite candy. The plushes smell fantastic, and some of them have more unique features. I'll share the best Peeps plush by considering how unique each is to children and collectors like me.
You'll enjoy the top picks from 18 of the 19 Peeps plush types available. I don't like regular plush toys. However, I'm always looking for unique ones, so allow me to share the anything-but-dull picks that will have children and collectors hopping around like Easter bunnies. Take a look at my top Peeps before jumping into the guide.
My Top Peep Plush at a Glance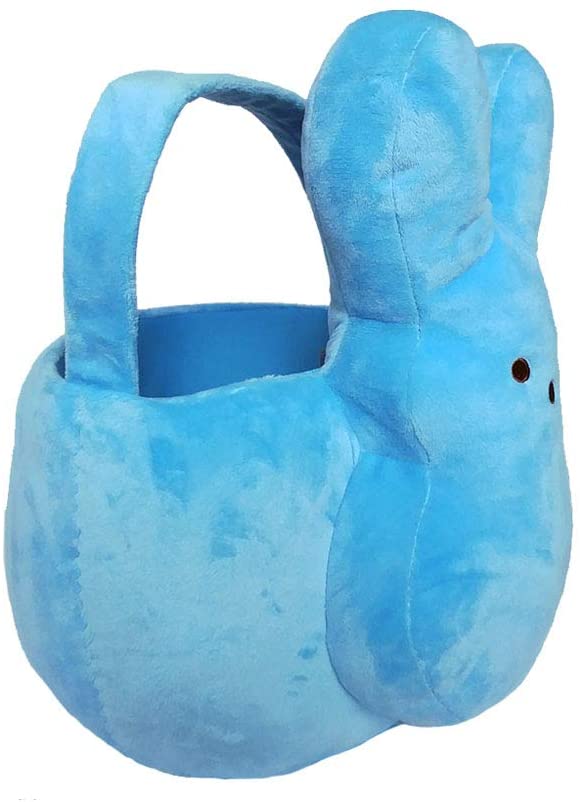 The best Peeps plush includes a range of unique options, some that come with accessories and others that drive your senses down the path to the candy store. Peek at my best choices, and if they intrigue your littlest fan or yourself, head into the guide for more details.
The Ultimate Guide to the Best Peep Plush
What secrets do Peep plush hold? How can you use the secrets to bring home a new best friend for kids who love stuffed animals? Allow me to hop onto the details that bring Peep plush to life, and I'll share how you can narrow the options for the sweetest-smelling plush.
Peeping Behind the Plush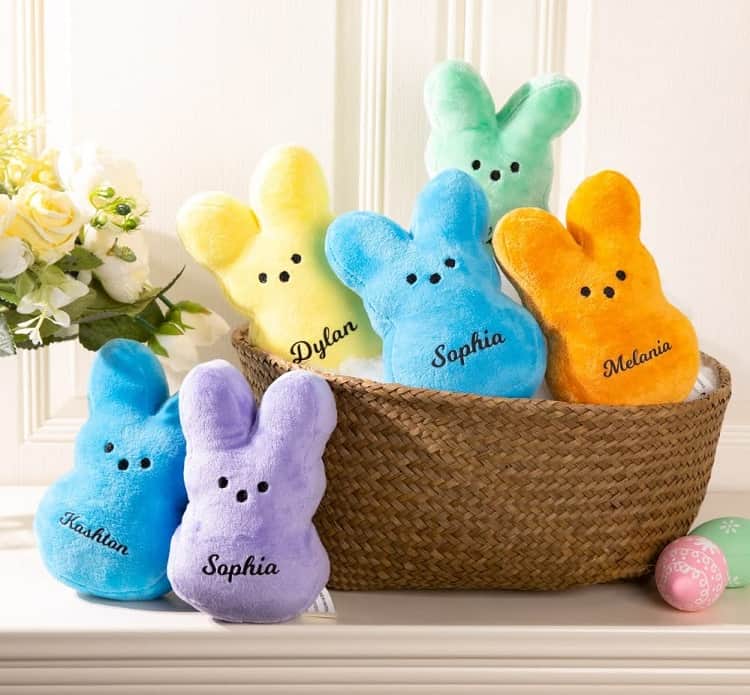 Peep plushes are a special kind of stuffed toy that bring smiles to little children's faces while smelling like a deliciously edible friend. Can you remember the taste of marshmallow Peeps? I did, and they melted in my mouth. My kids and I still love the candy, but the merchandise is beyond sick, and I mean it in a good way.
The first Peeps store opened in New York, and they stocked numerous Peep plushes in different colors, shapes, and sizes. Even better, the plush Peeps smell like their candy counterparts. You get chocolate and cotton candy scents. Let's just say, Peep plushes bring comfort to children in more ways than one.
The plushes are a sensual experience beyond feeling the soft textures. They smell like candy, and some of them light up. Sensory playtime with plush friends is essential for little children to develop social, language, emotional, fine motor, gross motor, and cognitive skills. Kids of all ages enjoy and should have Peep plush.
However, they make the best addition to a specific child's milestone period—toddlerhood.
Peep Plush Tips
My advice is two-fold because I want parents to recognize and utilize the benefits of Peep plush. I also want collectors to enjoy the variety. The connection between sensory experiences and early childhood development is too valuable to ignore.
There are different types of Peep plush, and you can embrace them to find multiple sensory experiences for children of any age. Broaden their experiences with numerous plushes, including the textured and patterned kinds. Buy a child the interactive or singing Peeps plush to ignite more sensual experiences.
Consider the jumbo Peeps plush for a cuddle buddy, and enjoy the scented bunnies bringing double comfort to children. There are 18 types apart from the regular Peeps bunny plush. On the other hand, you'll want every kind of Peep plush if you're collecting the bunnies and chicks with candy-scented fur.
Picking the Best Peep Plush for Little Ones
I love keeping things interesting, meaning I'll pick the best of each unique Peeps plush. I won't focus on the regular bunnies. That gives me 18 choices to make. Next, I'll ensure that each Peeps plush is authentic, or it must be a high-quality generic that matches the originals. Selecting the best Peeps plushes are that simple.
Best Peep Plush Guide: The Cuddly Friends
The range of available Peeps plush is beyond adorable. They're something out of a cartoon, and they smell like candy wrappers with furry coats. It's time to learn about the unique features of each winning Peeps plush. I'll even tell you what I'm not impressed with, which might be hard when my heart's hopping on scented bunnies.
Best Dress-Up Peeps Plush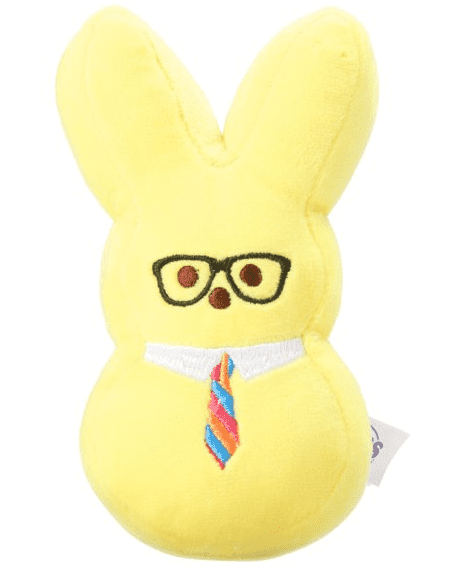 The yellow Peeps bunny is one of the better-known little hoppers. He loves leaving cotton-candy scented Easter eggs wherever he goes. Dressing him up to look like he means business is next-level cute. I also love that the dress-up bunny is safe for little hands to enjoy. The only exception is that babies shouldn't sleep with plush.
Peeps Facts
Special Feature: The bunny wears an outfit
Size: 6″
Ages: All ages
Pros
The plush Peeps bunny with embroidered glasses and a necktie looks like he's about to hop into your backyard to leave a few surprises for your little ones
The yellow Peeps bunny plush comes with a cotton-candy fragrance that reminds children and parents how much they love the county fair
Cons
Yellow Peeps bunnies can get dirty fast, and I wish the bunny were bigger than six inches
Best Heatable Peeps Plush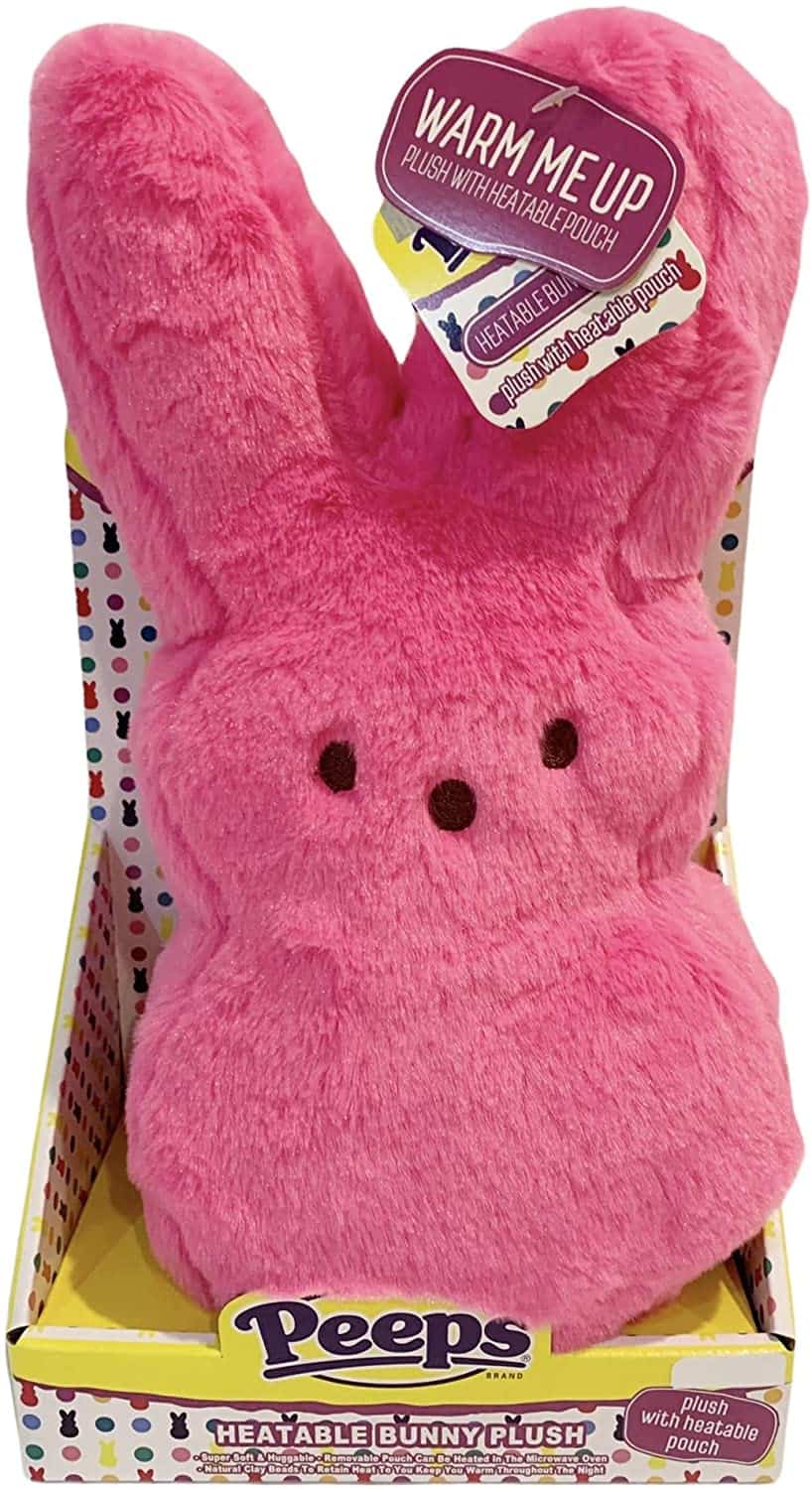 Peeps bunnies come with some fantastic tricks, like this one having the ability to comfort children after five minutes in the microwave. Imagine how much your little ones will love this bunny in winter? Finally, they'll have a new best friend to keep them warm when the snow begins to fall.
Peeps Facts
Special Feature: It works like a hot water bottle
Size: 9″
Ages: 3+
Pros
The heatable Peeps bunny plush comes with a pouch containing clay beads (safe for children over three), and it's as fluffy as you'd imagine
The box includes instructions on the back to help you heat the bunny pouch perfectly to avoid burning little children, and it shows you how to clean the plush
Cons
Heatable Peeps plushes aren't suitable for babies or young toddlers, and children should never operate the microwave to heat the bunny
Best Jumbo Peeps Plush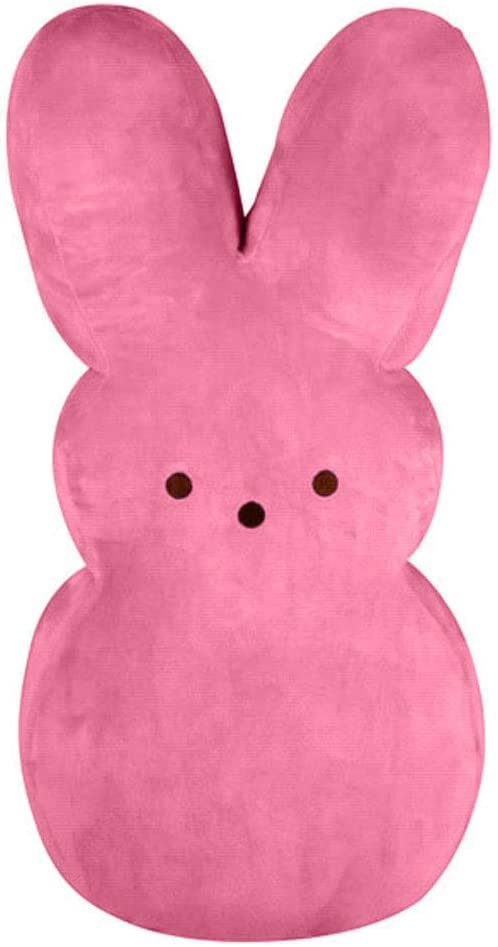 One thing I've learned with my daughter and me is that we love jumbo plush. Sure, you can't collect many of them, but they're the most cuddly friends at night. Jumbo Peeps plushes are no different. But, they're extraordinary because they bring greater comfort to little ones. They're also fantastic as bedroom decorations.
Peeps Facts
Special Feature: It's a jumbo bunny Peep
Size: 24″
Ages: 3+
Pros
The jumbo Peeps plush comes in bright pink with ultra-soft fur to encourage children to hug and find comfort in them
Having a jumbo Peeps plush among the little ones can look adorable because you'd think it's the mommy bunny with all her babies
Cons
Jumbo Peeps bunnies aren't the best choices for babies or young toddlers because the stuffed toy is bigger than them
Best Interactive Light-Up Peeps Plush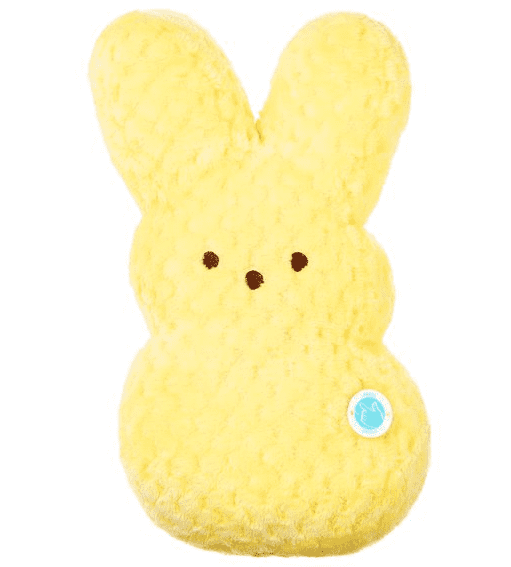 Interactive stuffed animals allow you to bring your child's best friend to life while they enjoy the additional sensory benefits. The interactive Peeps bunny plush also has a textured fabric that allows tiny hands to explore new feelings and senses. The Peep's yellow bunny flaunts the interactive model because it's so famous.
Peeps Facts
Special Feature: It lights up and changes color
Size: 9″
Ages: 2+
Pros
The interactive Peeps plush trebles in sensory experiences because it smells incredible, lights up when you press the button, and it has an unusually furry texture
The button activates white lights inside the bunny plush to show a child how warmth and love feels when they touch its heart
Cons
The interactive bunny plush should be for young toddlers, but I understand the risks with interactive toys
Best Patterned Peeps Plush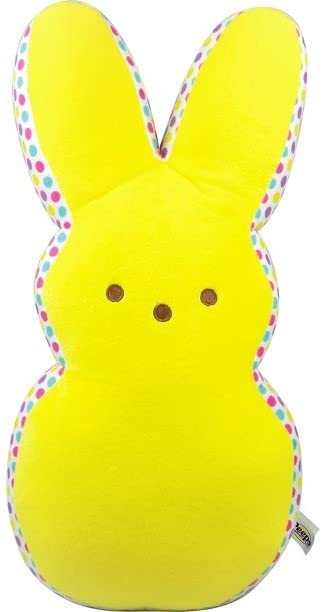 Throw a splash of color around the traditional Peeps bunny's yellow design. Then, you've got a new friend with fabulous styles to introduce children to multiple colors. The dots can also keep the littlest eyes intrigued because babies love looking at shapes and colors. It's a simple design but highly effective.
Peeps Facts
Special Feature: It comes with a patterned edge around the bunny
Size: 17″
Ages: All ages
Pros
The patterned Peeps plush bunny has the iconic yellow style with a polka-dot pattern around the edges to give it a new look
It's a fantastic size that works as a cuddle buddy for the littlest fans, and the yellow is as bright as the sun in the middle of summer
Cons
The polka-dot pattern has a white background, which can be a nightmare with sticky hands
Best Peeps Plush Backpack Clip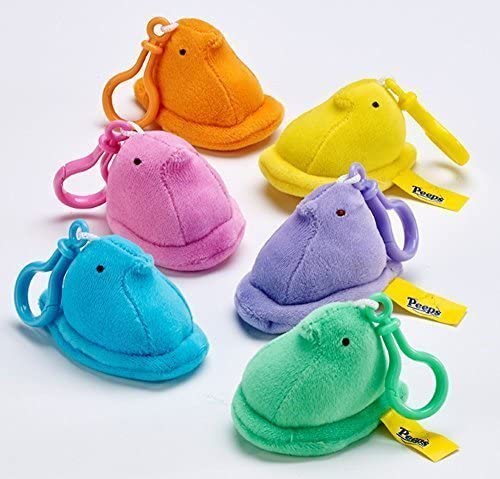 Plush backpack clips are a rave now, and kids want their favorite kinds. Peeps bunnies aren't the only characters children love, either. The brand makes a few chick Peeps plushes, including a backpack clip. It comes in various colors to suit any child's backpack, including green, pink, orange, purple, blue, and yellow.
Peeps Facts
Special Feature: It's a Peeps backpack clip
Size: 3.5″
Ages: 3+
Pros
The chick Peeps backpack clip plushes are adorable and come in colors that suit most backpacks children use today
The chick Peeps plushes are incredibly cute because they look like a chick's head against a base, and they make for fun collections
Cons
Backpack clips aren't safe for babies and young toddlers, and you shouldn't clip them onto a stroller
Best Peeps Plush Basket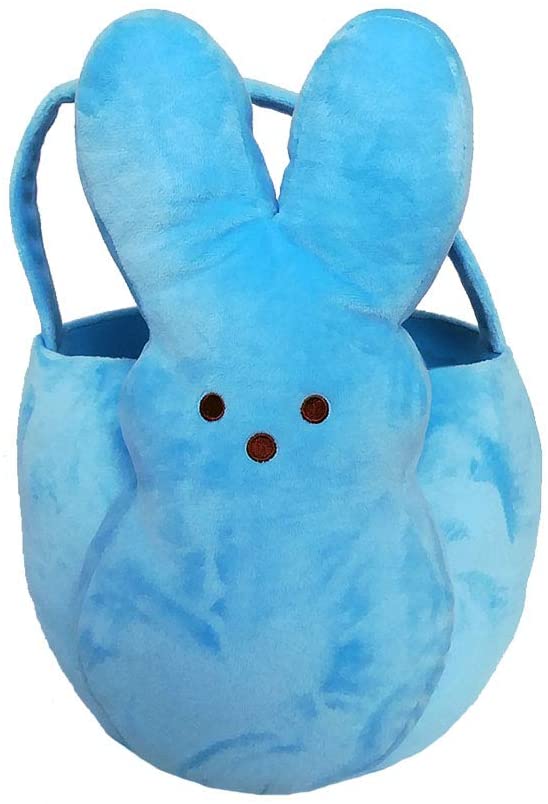 You don't often see plush baskets, making this Peeps stuffed animal toy unique on every level. I first thought it was a dungaree for kids, but I looked closer and saw a plush basket for children to use during Easter egg hunts. It's the most fantastic thing I've seen in a long time, and I know a lot of plush toys.
Peeps Facts
Special Feature: It's a plush basket, highly unusual
Size: 13″
Ages: 3+
Pros
The Peeps plush Easter hunting basket is the most unusual type you'll find, and there's only one color and size available
Children will have all the bragging rights with this plush Peeps basket, and it has a beautiful bright blue color that brings life to the Easter hunting party
Cons
It's undoubtedly not suitable for kids under three because they'll use it as a plush jumping castle or for dress-ups
Best Peeps Plush Chick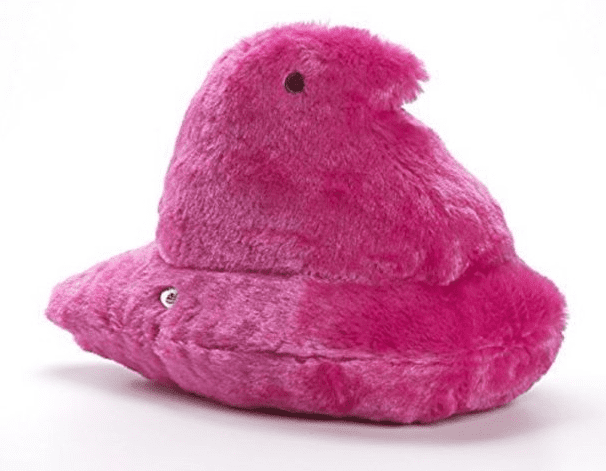 We all know that Peeps candy has chicks and bunnies because they're both adorable little animals. However, Peeps only began the chick plush later than the bunny choices. Therefore, you won't find them as commonly as the bunnies, making them unique enough to top my favorite Peeps plush.
Peeps Facts
Special Feature: It's a fluffy chick instead of a bunny
Size: 10″
Ages: All ages
Pros
Plush Peeps chicks are the most adorable thing you'll see, and the pink one makes my daughter go wild with its furry cuddliness
It's a fantastic size to fit most children (and adult fans), and it has the same chick head design as the backpack clips
Cons
More kids will go for the bunnies because they're the more popular types, but chicks are as cute
Best Peeps Plush Headband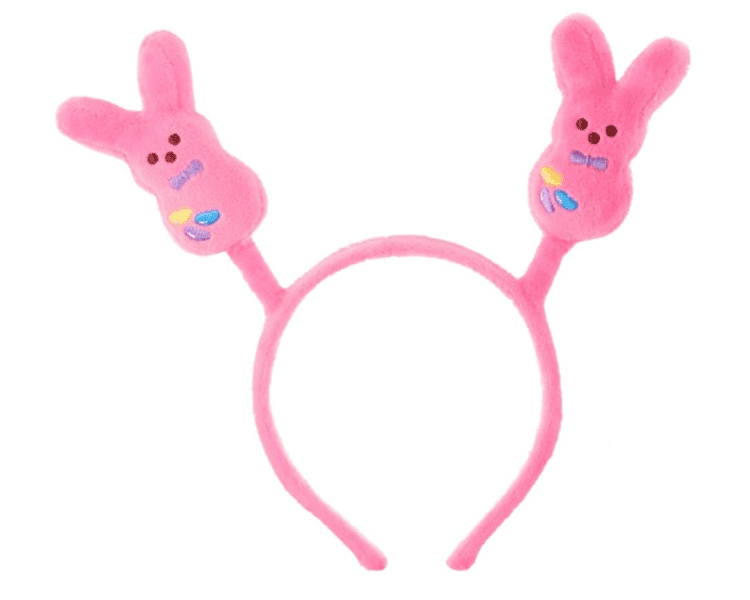 My daughter isn't hopping around for no reason. She sees too many Peeps plushes she wants, and she wants them now. Don't worry; I have a handle on my children, and she knows there are limits to how many Peeps she can own at once. Sure, the sensory experiences are amazing, but she has a bedroom full of cute plushies.
Peeps Facts
Special Feature: It's a plush Peeps headband
Size: N/A (would suit girls between three and ten)
Ages: 3 to 10
Pros
The Peeps plush headband is another glamorous choice for little girls who want to hop around like bunnies, and the pink one fits the bill
The Peeps plush bunnies on the headband also have embroidered jelly beans on their bellies to enhance their popularity among candy lovers
Cons
The headbands only fit girls of certain ages, and the bunnies can break off with time
Best Peeps Plush Playset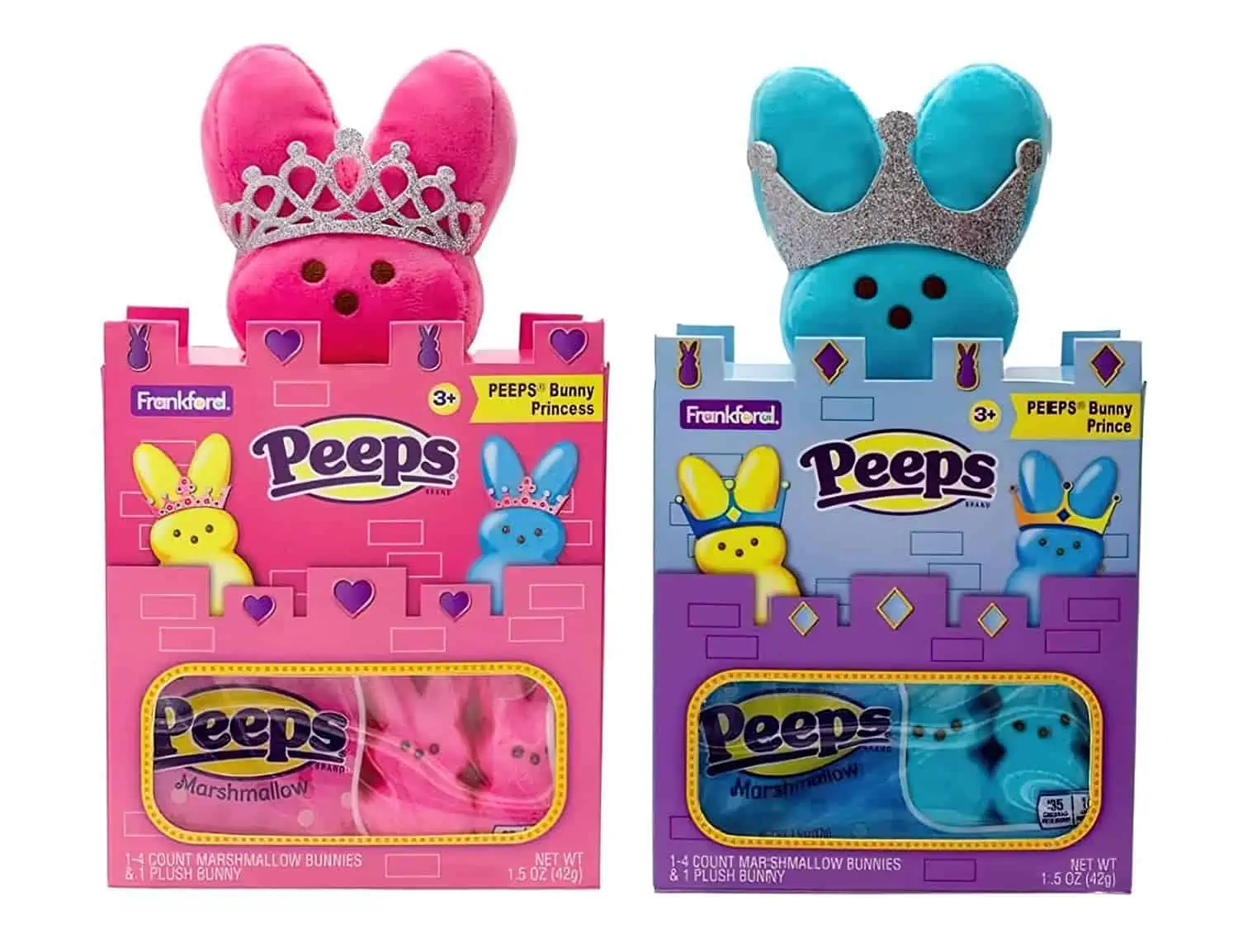 What would excite a child more than a Peeps plush toy? They'd go wild for a playset that includes Peeps plushes. I love this set because it comes with a prince and princess Peeps bunny plush, with their playsets that include many extras. Even the boxes are incredible because they look like castles.
Peeps Facts
Special Feature: The Peeps princess and prince bunny plushes come with extras
Size: 5″ each
Ages: 3+
Pros
The princess Peeps bunny plush comes in a castle with four edible bunnies for kids to enjoy before playing with the princess
The prince Peeps bunny plush includes the same benefits as the princess, and both bunnies come with crowns to show their royalties
Cons
This set is undoubtedly not suitable for kids under three because of the small pieces that might break off the crowns
Best Peeps Plush with Accessories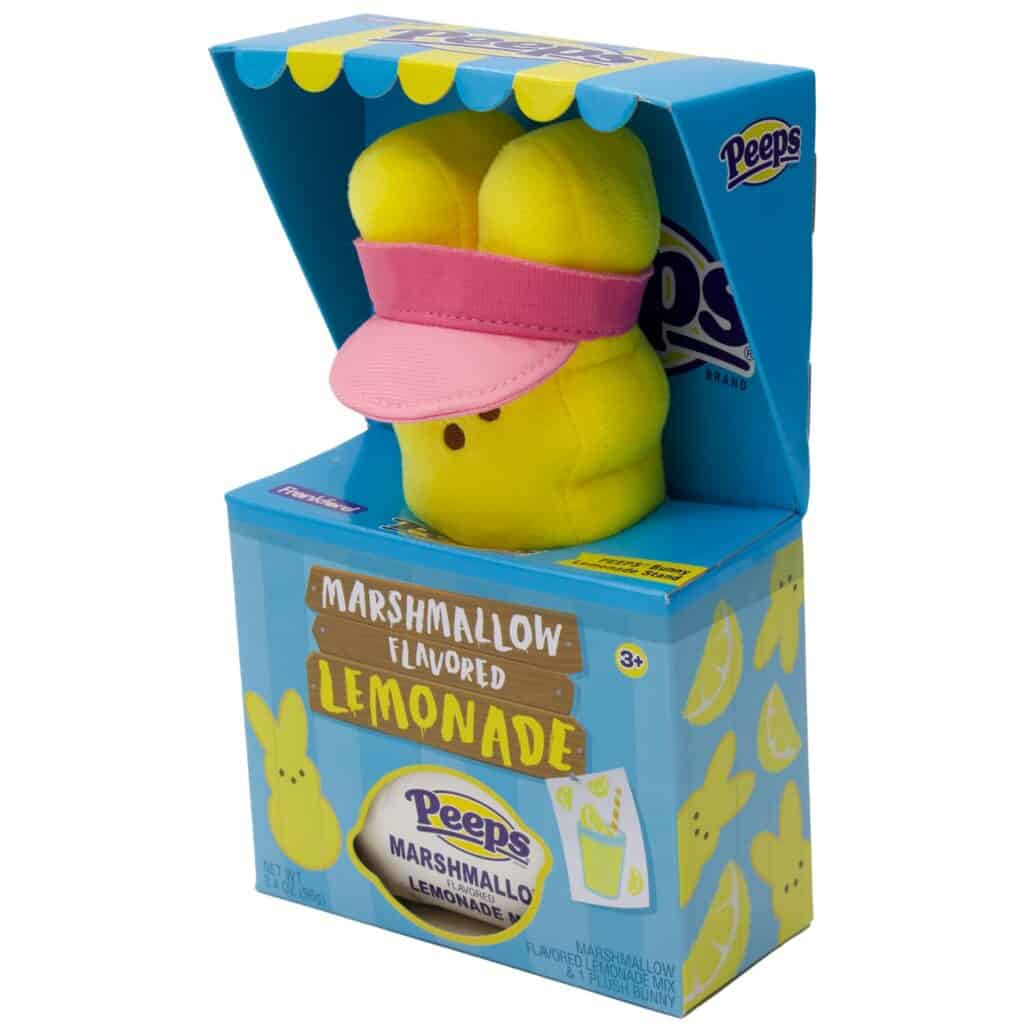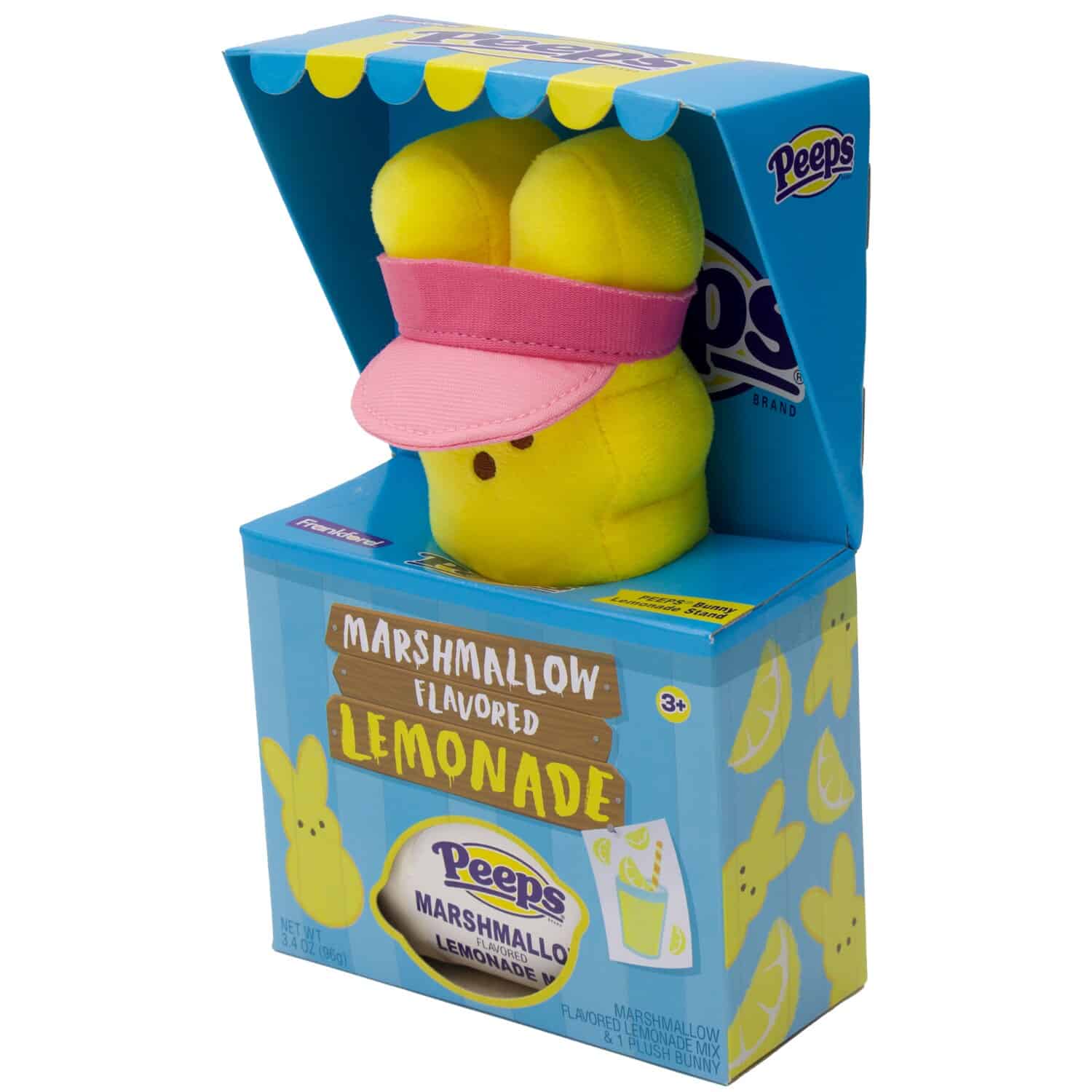 The lemonade Peeps plush with accessories could also fall under the playset category. It's another one of my favorites. My son used to enjoy making and selling lemonade, and maybe he'd love this Peeps plush set as a reminder of his busy summer days. Of course, he could also make some lemonade with the accessories.
Peeps Facts
Special Feature: The Peeps plush comes in a lemonade stand with extras
Size: 2″
Ages: 3+
Pros
This Peeps plush bunny is one of the smallest you'll find, and it looks like an edible bunny wearing a visor
The pack comes with a marshmallow-flavored lemonade mix (I'm not sure about that combo, though), and the stand becomes a playset
Cons
I'm not impressed that I can't pick the pink or blue visor because I'd want the right color for my child
Best Peeps Plush with Candy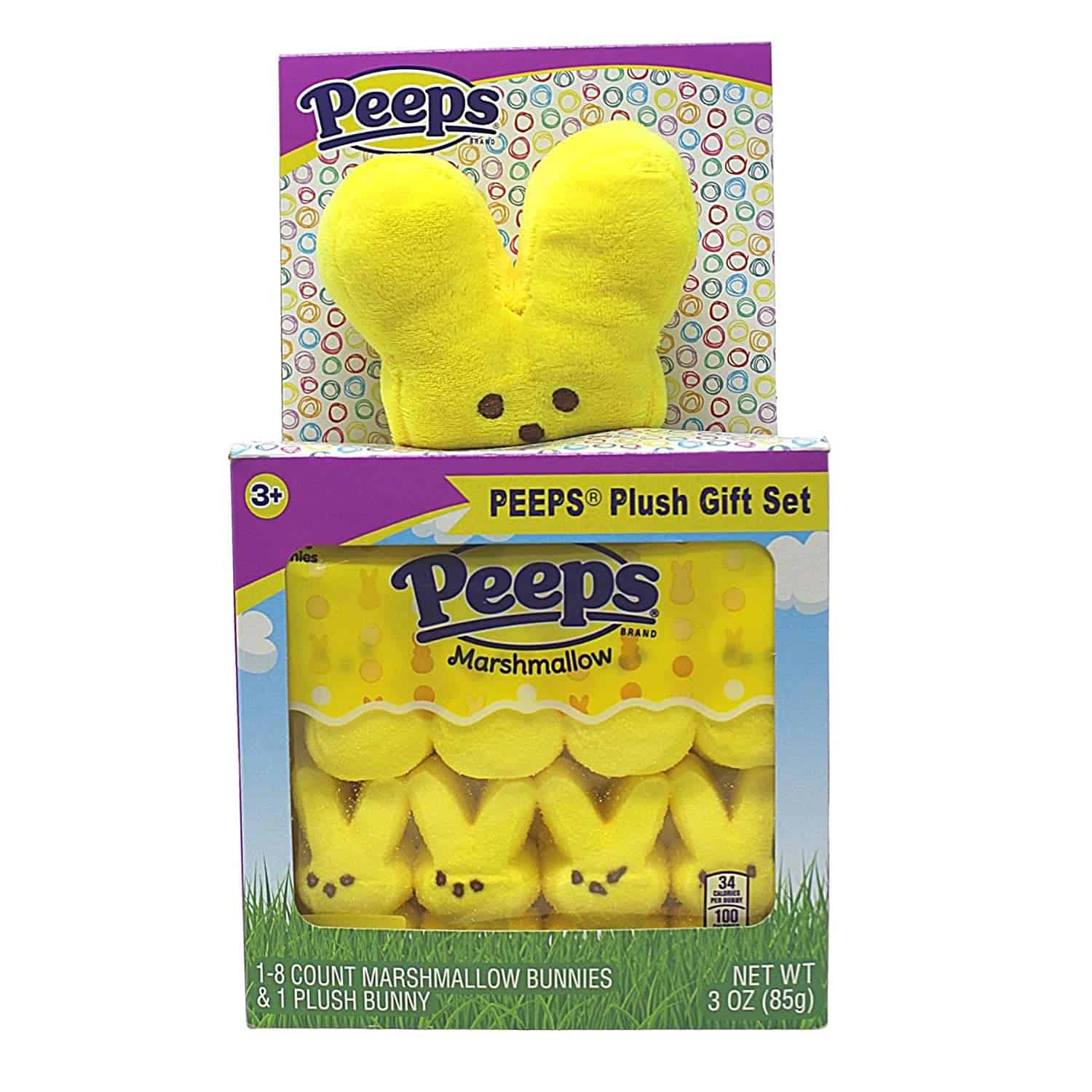 I love leading a healthy life with my children, but I'm not a tyrant who denies them candy. We love Peeps candy, meaning I allow them sugary treats. I merely limit their intake. Anyway, the Peeps plush with candy pack is a gift for little fans who want a new plush friend with the bonus of candy.
Peeps Facts
Special Feature: The Peeps plush comes with candy
Size: 3″
Ages: 3+
Pros
The Peeps plush bunny with candy is a treat for children because young fans know the candy if they love the plushes
Your little one gets the iconic yellow Peeps plush with eight edible marshmallows, and it comes in an adorable box with nutritional information on the back
Cons
Some parents aren't keen on giving their kids candy, but this set is an exception as a once-off
Best Personalized Peeps Plush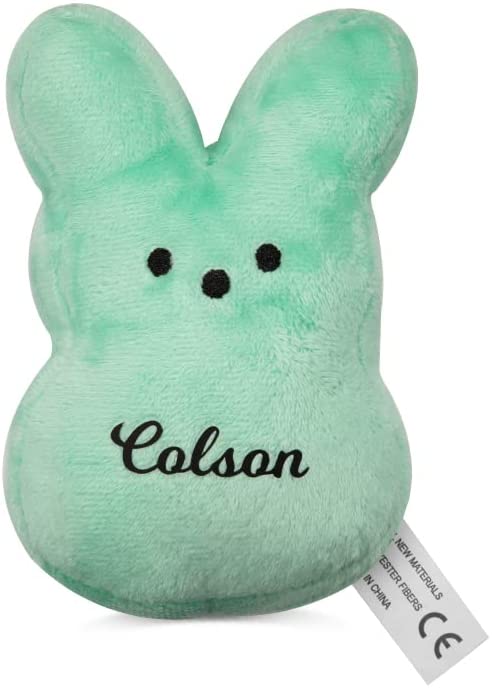 I love stuffed animals I can personalize for my kids. They can name the plush toy, or I can embroider their names on it for added nostalgia. I have a few plush toys with my name from childhood. My mother used to embellish them herself. The personalized Peeps plush allows you to skip the self-embroidery.
Peeps Facts
Special Feature: You can personalize it with any name or word
Size: 5″
Ages: All ages
Pros
Your child can choose what the Peeps plush says, whether it's a name, word, phrase, or favorite quote
I love the font on the example bunny plush, and the handwork and embroidery are impressive
Cons
It's homemade by a generic brand, but it's a quality Peeps plush with excellent details matching the authentic bunnies
Best Scented Peeps Plush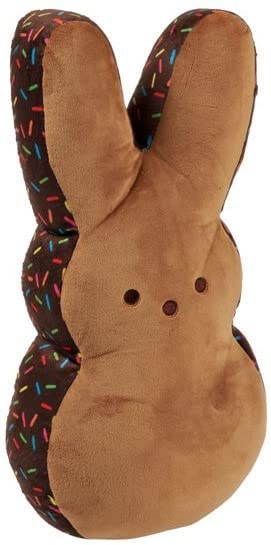 I bet you've been waiting for the best-scented Peeps plush. Don't worry; you won't wait any longer. I'm not into the cotton-candy scented plushes, even though they remind me of good times at theme parks. I love the smell of chocolate. It's one of the best candies, in my opinion. The chocolate-scented Peeps plush is a winner.
Peeps Facts
Special Feature: It smells like chocolate and has a pattern around the edges
Size: 17″
Ages: 3+
Pros
The chocolate Peeps plush smells like Charlie's Chocolate factory met the Peeps showroom and had a baby
It's an ideal size for most kids, super cuddly, and comes in a beautiful pattern that also suits moms who have to wash the Peeps plush toys
Cons
It might encourage you or your kids to eat more chocolate, and it's a dark plush toy (some moms prefer bright colors)
Best Singing Peeps Plush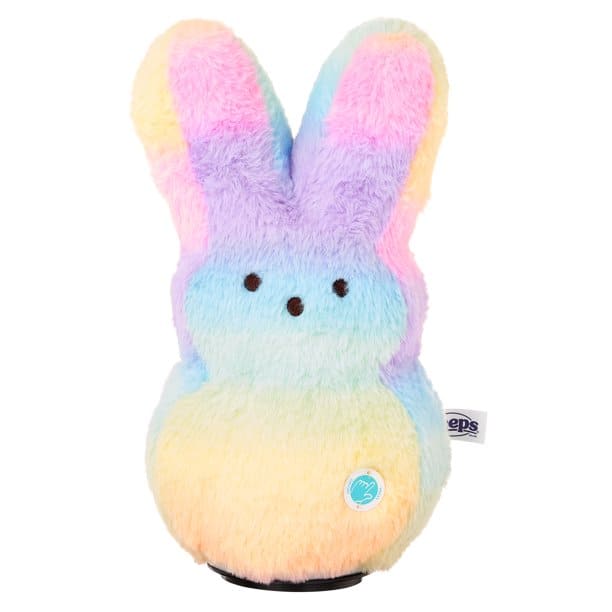 The singing Peeps plush bunny fits many categories, including the tie-dye, jumbo, and interactive Peeps. I see children walking up a sensory rainbow into the gates of candy heaven with this plush toy. The tie-dye sing-and-dance Peeps plush is magic on a plate. Your kids will forever love your choices if you pick this one.
Peeps Facts
Special Feature: It looks and smells like a rainbow to candy heaven while featuring animated and interactive abilities
Size: 13″
Ages: 3+
Pros
The singing Peeps plush has a button over the heart that activates the dancing and singing, and the colors will make children fall head over heels for it
The interactive dancing Peeps bunny plush has another secret because it also offers a different texture to make little hands super happy
Cons
You might never get this plush away from a child, and it uses batteries and makes sounds that might annoy parents
Best Textured Peeps Plush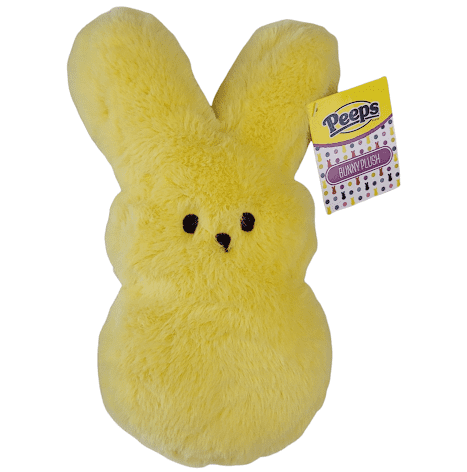 I introduced my children to countless textures, especially in the first three years. Little fingers love feeling new textures. Babies learn about the big world through textures unless they're shoving things in their mouths. The fuzzy yellow Peeps plush comes with extra furriness to help little fingers explore more of the world.
Peeps Facts
Special Feature: It's one of the furriest textures available in Peeps plush
Size: 9″
Ages: All ages
Pros
The fuzzy yellow Peeps plush introduces tiny fingers to a new texture, and it resembles the iconic Peeps bunny with cotton-candy scents
The Peeps bunny plush is safe for the most petite hands, as long as you don't leave babies and young toddlers sleeping with it
Cons
It's the yellow shade that becomes a cleaning nightmare for parents, and the furriness can increase the hygiene challenge
Best Tie-Dye Peeps Plush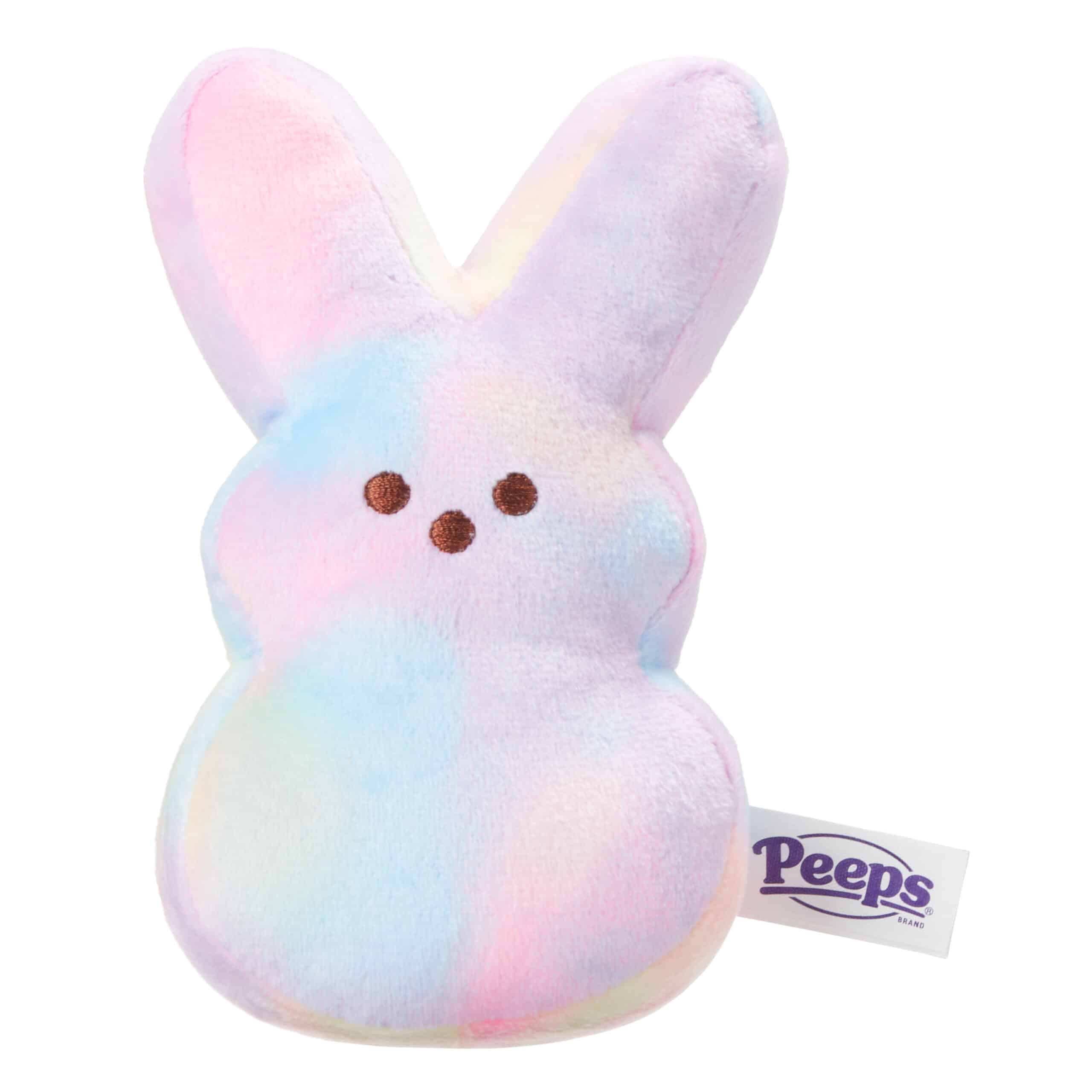 The jumbo tie-dye Peeps plush knocks two birds with one stone again. It's unique for two reasons. It's a giant bunny plush that welcomes children to tackle it with endless hugs, and it has a brilliant rainbow color. The colors are also not so bright that they blind you. The bunny stole my heart, for sure.
Peeps Facts
Special Feature: It's a tie-dye jumbo Peeps plush
Size: 24″
Ages: 3+
Pros
The tie-dye jumbo Peeps plush has gorgeous colors that look like rainbows flowing to the heavens again
It comes in sizes suitable for countless cuddles that allow children to hug a plush that feels like a best friend
Cons
The lighter rainbow tie-dye colors can be a nightmare to clean, and it's massive and unsuitable for babies and young toddlers
Best Unusual Peeps Plush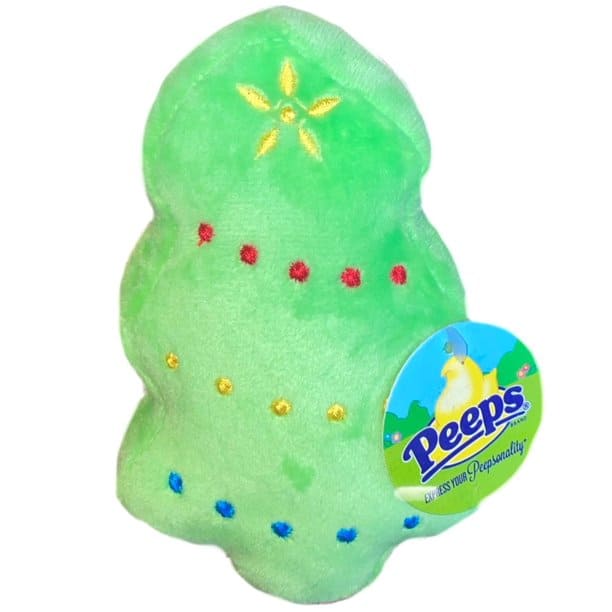 You think of bunnies and chicks when you hear "Peeps." However, there are some unusual kinds available. The Christmas tree is super ironic because Peeps is famous for Easter-styled merchandise. At least the Christmas tree Peeps plush provides an unexpected choice, and kids love the holidays.
Peeps Facts
Special Feature: It looks like a Christmas tree
Size: 5.5″
Ages: 2+
Pros
The Christmas Peeps plush has brilliant green colors and looks like it has a few decorations on the tree
It's the ideal choice for kids who love Christmas and want something they can use as a pillow buddy
Cons
The Christmas tree Peeps plush feels far more limited to the holidays than the bunnies and chicks
Top Q&A
Question: Which Peeps Plush is the Most Common?
Question: Which Peeps Plush are Uncommon?
Question: Which Peeps Plush is the Best?
Answer: A plush toy must wow me to earn the best spot above all the others. I was wowed hard when I saw the Best Singing Peeps Plush because it fits many types. It's a tie-dye beauty with super furry textures. Additionally, it comes with a button that encourages children to press before the plush dances and sings.
Best Peep Plush Guide: Conclusion
I'm not sure my eyes are hopping anymore. Now, my taste buds yearn for the marshmallow flavors from Peeps candy. Anyway, I hope you've been amazed as much as I was when I hopped deep into the selections of Peeps plushes available. I never guessed there'd be so many, but I'm impressed with the range and choices.
I'd highly recommend you introduce the sensory experience of Peeps plushes to your children. Buy the Best Heatable Peeps Plush if winter is around the corner. Consider the Best Peeps Plush Backpack Clip for older kids, or pick the Best Interactive Light-Up Peeps Plush to comfort a child.
Suppose you want the unique options. The Best Peeps Plush Basket and the Best Singing Peeps Plush will never disappoint a child as they're filled with adventure. The Best Peeps Plush Headband or the Best Peeps Plush Playset can make any little girl's dreams true. Let me stop before I forget how.
It's up to you. Follow the recommended ages, and pick the sweetest-smelling plush toys for your child.
For more plush friends: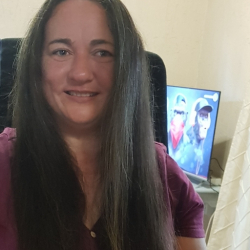 Latest posts by Caroline Lambert
(see all)