Are you keen to see mind-bending plushes from the air-bending anime shows? The best Appa plush guide will show you a variety of gorgeous flying bison that will send all fans into a spiral, almost as strong as the Aang's tornadoes. I'm a plush and Squishmallow collector, and my son goes wild for Appa plush.
My son's passions mean more to me than you'll imagine, and having such crazed love for the anime series allows me to teach him more about collecting plush toys. Clashing our passions for stuffed collections and anime shows into one allows my son and me to find the widest variety of available options.
Let's see which flying bison plushes swooped into our attention.
Bottom Line Up Front
I don't select just any plushes for the best of the best. I always aim to please my children's passions because it leads to them learning from the stuffed animals. My son has reached the butterfly stage of his social life thanks to me feeding his passions. Additionally, children are more likely to enjoy plushes from themes they love.
As a collector, I also try to find as many options as possible. I want you or your young Avatar fans to find one (or more) Appa plushes that make you feel like bending air. The creature is enormous, and it's why I picked the best ones from a range of giant Appa plushes. They're also super furry, and some have surprises.
Look into my top Appa plush picks before flying head into the details that bring passions to life.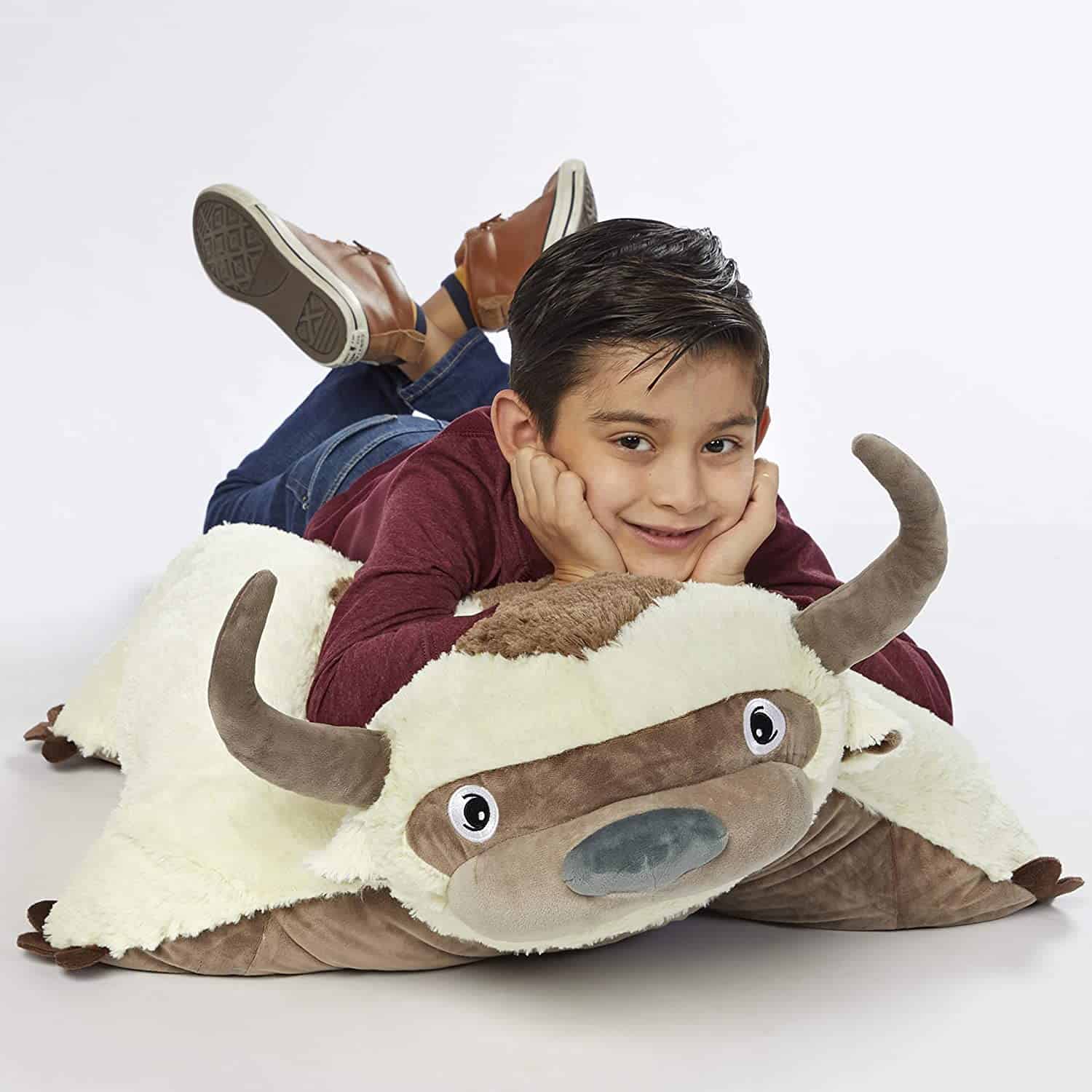 The Top Appa Plush at a Glance
My take is to share a variety of Appa plush, especially those over ten inches with furry softness. Here's a peek at the giant Appa plush I found for you:
I'll also include a few Appa plush with accessories because they're fantastic for little kids who want two-for-ones. Here's my selection of Appa plush with accessories:

The Ultimate Guide to the Best Appa Plush
Appa plush is adorable, but it also comes with a few valuable lessons, more for parents than children. First, let me share why Appa plush is fabulous and why you should consider buying them if your kids love the flying bison plush. Then, I'll show you how I picked the best Appa plush.
Appa, the Airbending Plush
Appa is a unique fictional creature who overcomes adversity in the Avatar: The Last Airbender movies. He's a half-flying manatee and bison, and he has a broad tail that allows him to fly through the strong air currents caused by Airbender. That's the rundown for any parents whose kids want Appa plush.
Airbenders are characters capable of bending and twisting the elements to their will. Appa is a special boy for being able to fly through the tornado-like elements. In a sense, Appa can teach children to overcome the worst turbulence by merely passing through them. Consider Appa the alternative to unicorns.
My son love the Airbender movies, Aang, and Appa. He likes them more than unicorn plushes. Understandably, kids outgrow unicorns, or some boys think they're too girly. I'm happy to give my son the plushes he loves because it allows him to be passionate about his toys and collectibles, leading to my advice.
Airbending Advice for Appa Collectors
Passion inspires learning, through which extreme joy follows. Children who pick their favorite plush toys lean toward the benefits and excitement because they encourage kids. Appa's determination alone can inspire children to pursue their desired outcomes without you even saying a word.
My son has many passions, Appa plushes being one of them. He also tends to face many challenges at school and in his social life. Don't get me wrong; my son's a social butterfly, but you know the adversities children face in the social rings today. Bullying and fake friends are real things. My son's passion brings genuine friendships.
The more my son enjoys the characters he loves, the more he finds like-minded friends. Let's not forget how plushes also encourage social skills in little kids. My daughter found her voice by having a few plush best friends in her toddler years. Anyway, my son learned never to be afraid of what he loves and show it.
Now, he has friends who share his passions, helping him make genuine connections. Become a parent who encourages your children to follow their passions, whether in love with Appa or whoever else. Watch your kids morph into social butterflies with real friends who share their passions.
It starts with toys because they're the first things children share with like-minded friends.
Picking the Best Appa Plush
How do you pick the best Appa plush? Well, it starts with a variety. I looked at various sizes and styles before narrowing my options. Firstly, I want a fluffy Appa plush because the creature is hairy and soft. Secondly, I want a giant Appa plush because he's a giant creature. Finally, Appa plush over ten inches will suffice.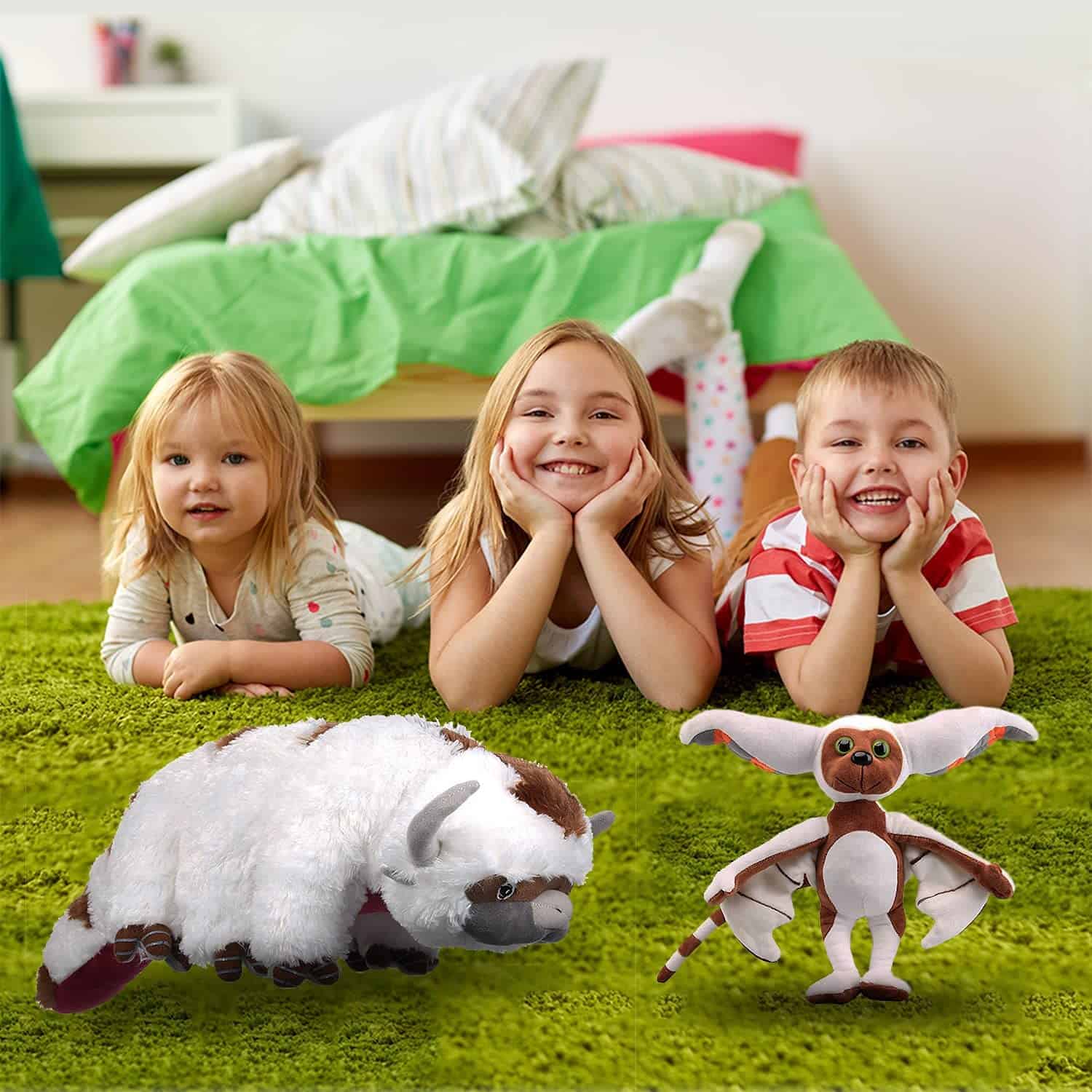 Best Appa Plush Guide: The Furry Flyers
From fluffy Appa to giant plushes, I'll show you the variety available for the creature immune to Airbender powers. I'll also share the recommended ages and whether you can wash it or not. Appa plushes are white and brown, so parents will want washable plushes to ensure years of plushy friendships.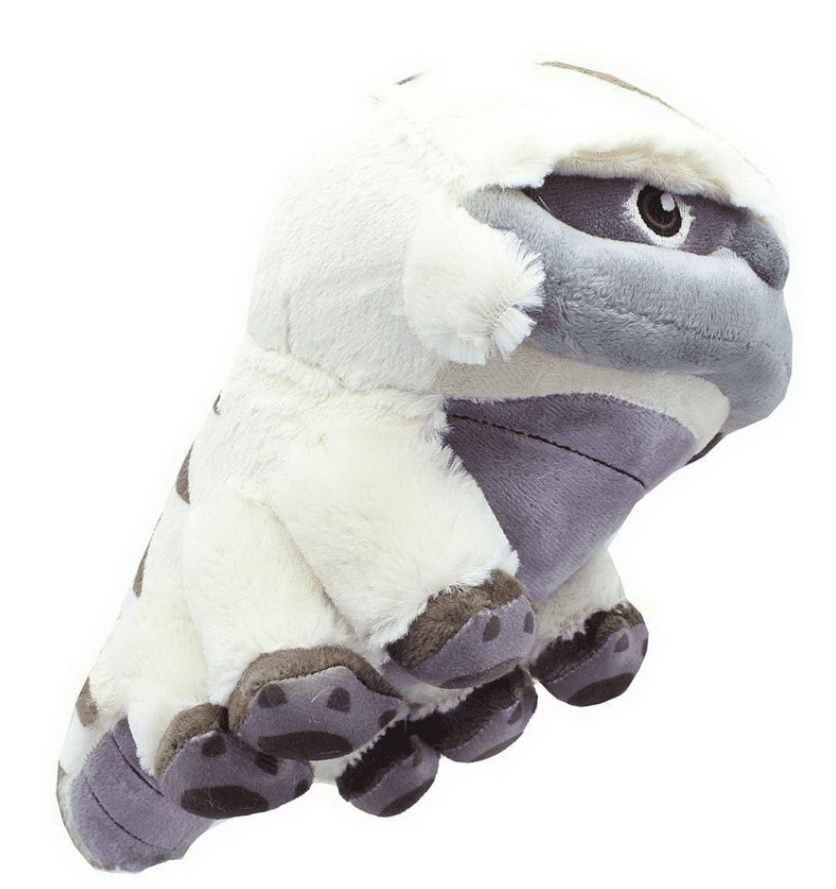 Appa is adorable in any size, but the 11-inch plush is pure bliss from the Avatar Airbender series. It's suitable for all ages as long as kids under three don't sleep with the stuffed flying bison. It has embroidered eyes, and none of the features are detachable. It also uses excellent gray and white contrasts to look like Appa.
Features
Brand: Surreal Entertainment
Ages: All ages
Exact Size: 11″
Pros
I love the gray and white emphasis with brown patches under Appa's paws, and the eyes have enough detail to make the flying bison look surreal (I suppose it's a play on the brand's name)
The Appa plushy has exceptional furriness to make any young fan fall in love with the flying creature from Avatar's Airbender movies
Cons
I wish the tail were a little longer and broader to better suit the creature's movie persona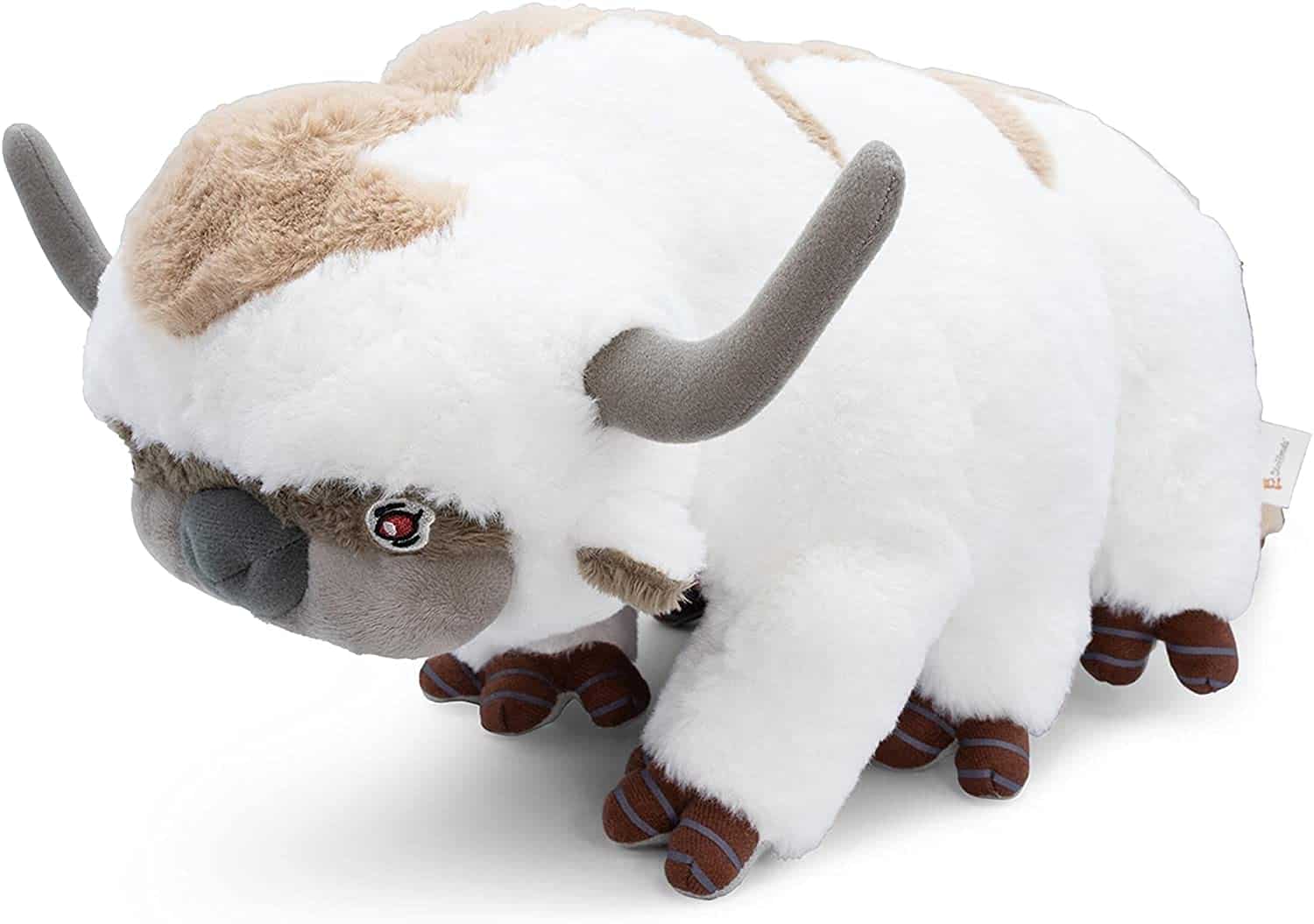 I couldn't find Appa in any size between 11 and 15 inches. I promised a variety of sizes above ten inches, but there are some typical sizes I can't find. It's okay because Appa makes a stunning return in the 15-inch Avatar plush. The Airbender plush has adorable features and enters the ideal size range for massive plushes.
Features
Brand: Golden Bell Studios
Ages: All ages
Exact Size: 15″
Pros
The next Appa Airbender plush comes in the ideal size range for kids who want furry friends they can cuddle before bedtime, and it has massive horns for kids to ride their special friend
The Airbender plush has extra cuddliness with fur coming from everywhere, and the colors are gorgeous, including more browns and beiges to look like an older Appa from the movies
Cons
The horns might become breakable when kids ride their favorite Appa too many times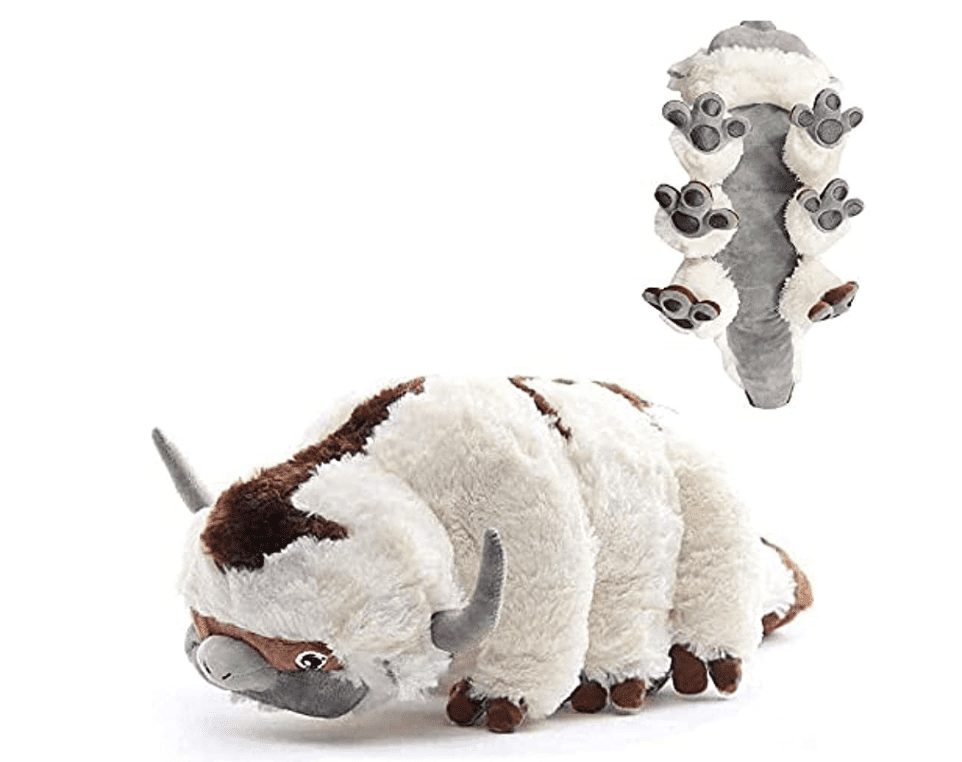 The next Appa plush is one of my daughter's favorite sizes. She used to sleep on top of her 16-inch plushes before reaching her last growth spurt. She's getting super tall now, which is ironic because I'm not the tallest person in the world. She must've got her length from her dad; even my son shows the stretchy genes.
Features
Brand: Love Home
Ages: All ages
Exact Size: 16″
Pros
The 16-inch Appa plush enters the adorable arena again because it has fur in every corner, and it feels like a super-soft pillow friend with a flat design that allows kids to sleep on him
Appa has massive horns for additional fun with ride-on opportunities, and the plush has incredible colors that match the older version of Appa in the movies
Cons
Again, the horns can break off, especially when children turn Appa plushes into ride-on toys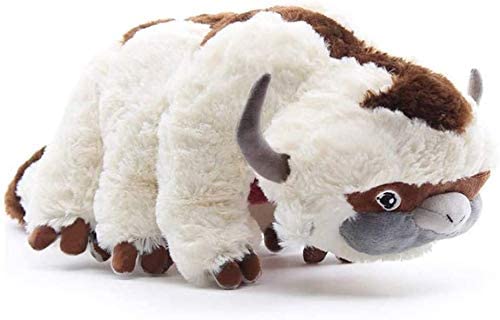 I noticed that Appa plushes come in a range of odd sizes you don't often see in other stuffed animals. However, it's okay because it allows children to collect a few of their furry friends that won't look precisely the same. The only recommendation for plushes reaching over 16 inches is that you're careful with kids under three.
Features
Brand: Hosiw Stuffed Toys
Ages: 3+
Exact Size: 17.7″
Pros
The more oversized Appa plush feels like a bear if you could hug one in the wild, and it has gorgeous colors, showing a darker brown trimming that looks like the older version of Appa
It still has massive horns, but this Airbender plush matches the horn size of the flying bison better than others, and the stuffed animal is as soft as it looks
Cons
Children under three can't make friends with massive and jumbo plushes because they're at risk of falling asleep under the toy, especially in the crib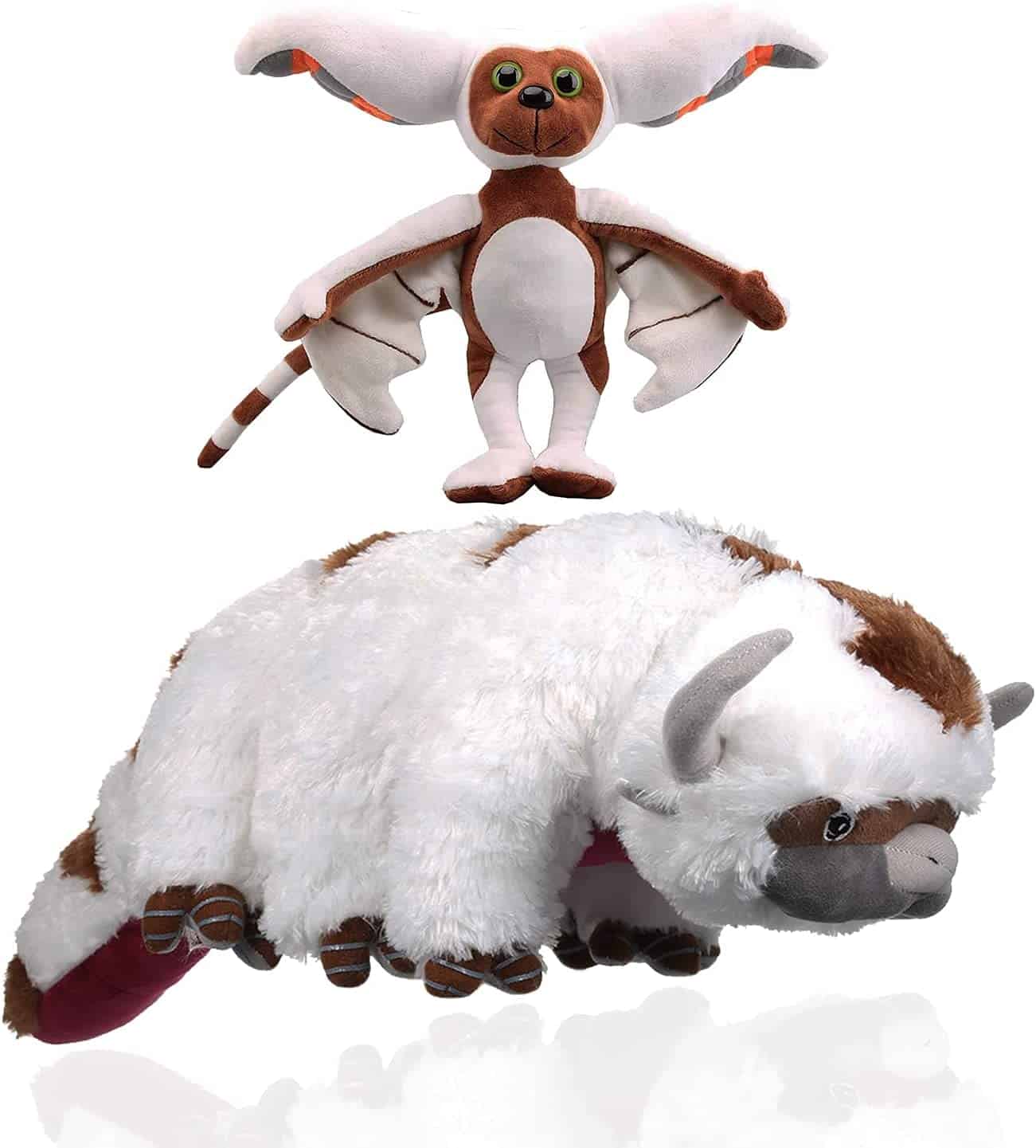 I'll share unique Appa plushes that come with friends or accessories soon enough. However, this Appa plush comes with a friend. It's the only 18-inch version I could find. My son loves Momo as much as Appa, and I can imagine how he'll want this combo more than the others. Momo is also a giant, cuddly plush.
Features
Brand: Anbaofas Stuffed Toys
Ages: 3+
Exact Size: 18″ (Appa) and 11″ (Momo)
Pros
Appa looks fantastic in this plush combo from the Airbender movies, showcasing a stunning color contrast that matches the films and having super-soft fur for kids to cuddle
The Appa plush has rings around his feet (the larger sizes appear to become more detailed), and it comes with a Momo plush as a bonus
Cons
Again, the Appa plushes are getting too massive to be safe for sleepy babies and young toddlers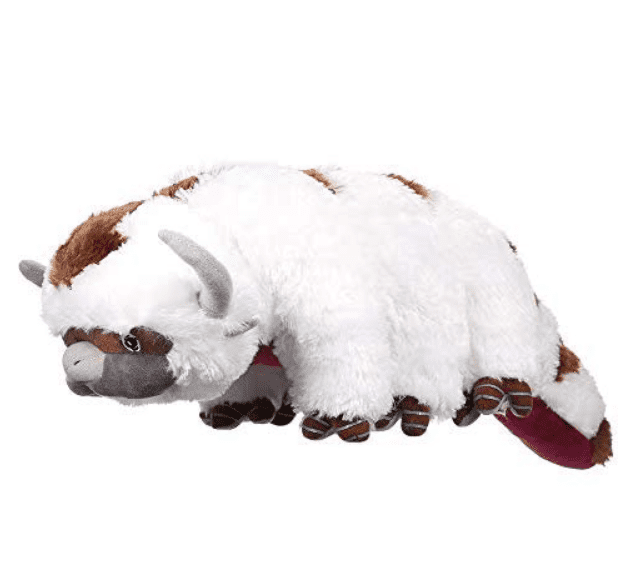 I'll emphasize my claim again. The larger the Appa plush, the more details you'll see. I love the giant Appa plush because they have extra features the little ones don't have. The 19-inch Appa stuffed animal comes in silvery-blue colors under the paws and around the toes. I'm super tempted to cuddle this plush myself.
Features
Brand: Julan Stuffed Animals
Ages: 3+
Exact Size: 19.7″
Pros
The giant Appa plush showcases new colors under the paws and around the toes, and I love how the bigger plushes look more like older versions of the flying bison
Appa also includes some maroon colors under the tail and feels like a furry bedtime buddy, and the horns and creature are matched excellently for a stuffed animal that brings fiction to life
Cons
I'd still highly recommend that you don't leave kids under three with these giant Airbender plushes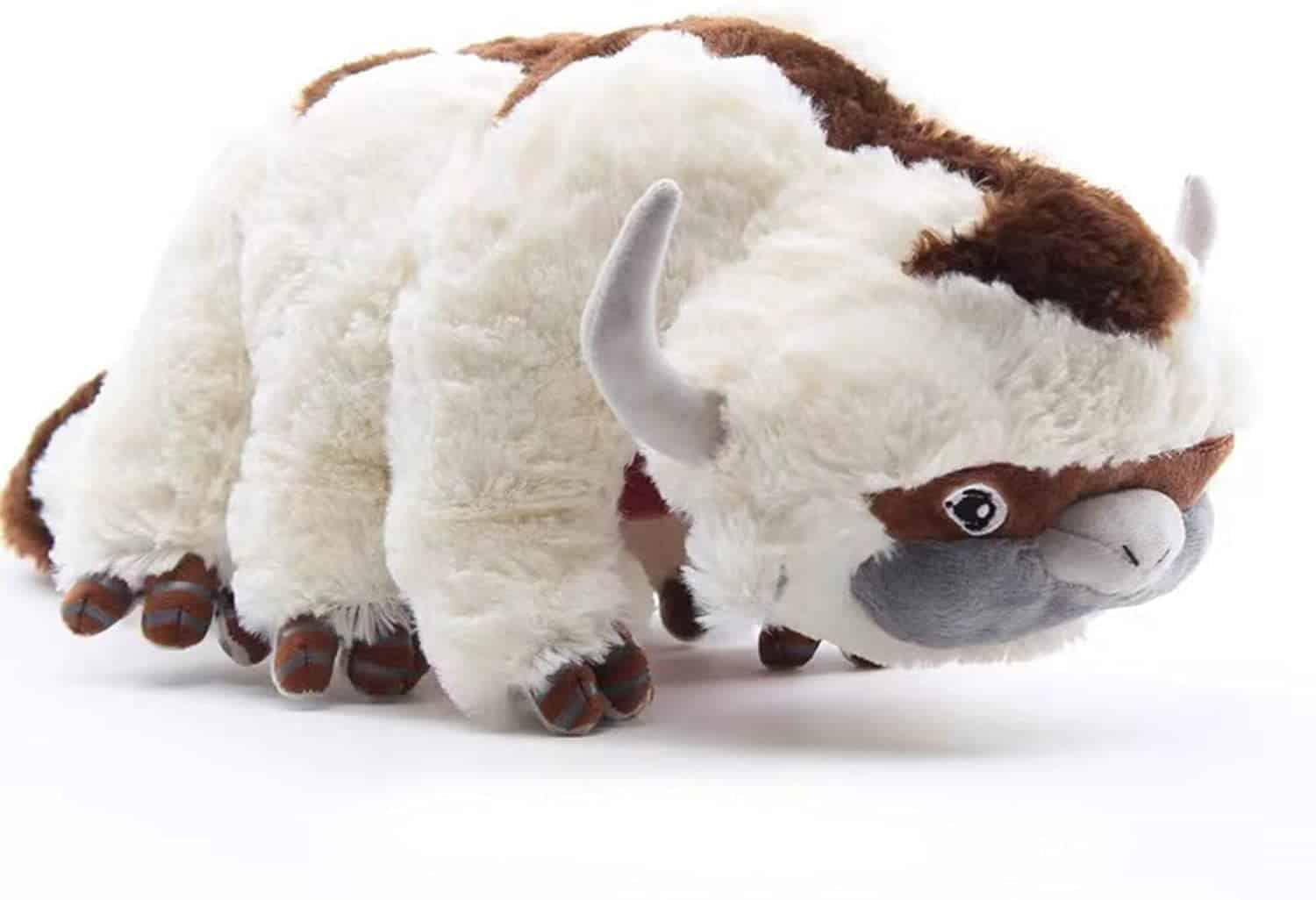 Appa doesn't leap much further into the giant Airbender plushes with this option. Still, it has different features to make it unique among the legendary flying bison plush. I don't love how Appa takes on a new shape here, but the added features give him the edge above the other 20-inch Avatar plushes.
Features
Brand: Wahahay Store
Ages: 3+
Exact Size: 20″
Pros
Appa evolves to have dark brown stripes around the toes and under the paws, and he comes with different textures that make playtime more enjoyable for little ones over three
Appa's horns are a good size for the plush, and the Airbender stuffed animal has bundles of fur to make him more cuddly for bedtime stories and daytime friendship
Cons
It's not for kids under three, it looks a bit plumper than the movie's flying bison, and it has sad eyes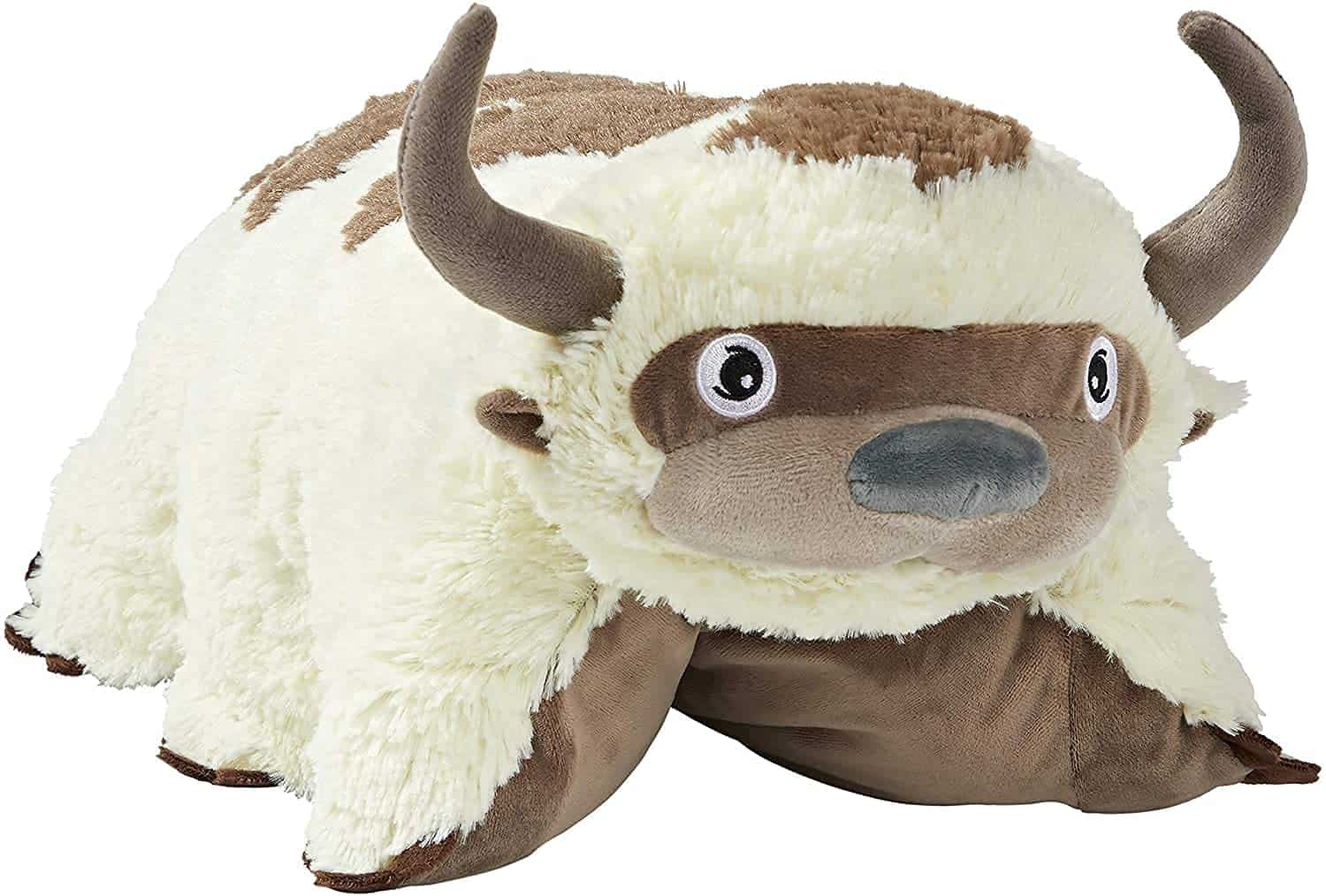 Honestly, any Appa plush over 16 inches will work as a pillow pal for little ones. However, this Airbender plush is ideal for working as a bedtime pillow buddy. I can imagine my now-taller daughter finding ways to turn this plush into a bed. I've seen her sleep on a mountain of furry plushes before.
Features
Brand: Dom-Dom Pillow Pals Stuffed Animals
Ages: 3+
Exact Size: 21″
Pros
The Appa plush has a different design that works better when kids use it as a pillow pal, and it flattens to a pancake for extra comfort during the night
The horns are an excellent size for Appa, and the furriness makes him a superb pillow buddy for children who love soft and cuddly bedtime friends
Cons
The colors are a little off from the movie's creature, and it doesn't work for kids under three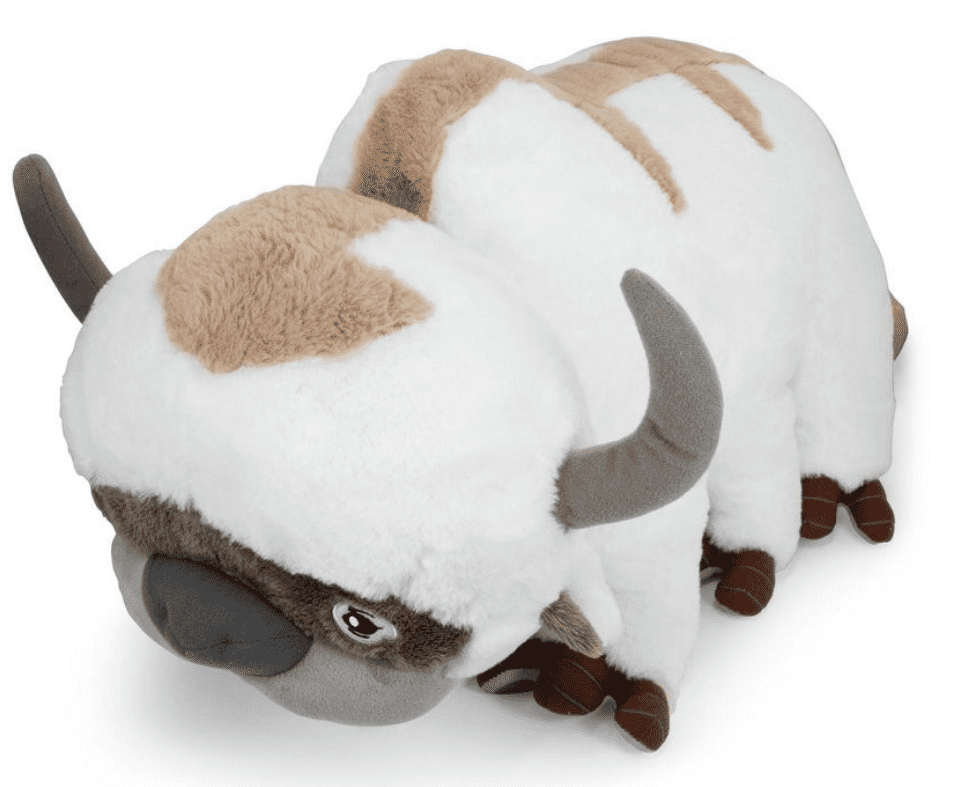 Have you ever thought that Appa looks like the abominable snowman on all fours? You'll love the 22-inch Appa plush if you also see him as a fictional creature from the woods. All of his furs would undoubtedly make him suitable for the snow-capped mountains where Bigfoot lives. My son's a Bigfoot fan, so I pretend to believe.
Features
Brand: Golden Bell Studios
Ages: 3+
Exact Size: 22″
Pros
The rounder version of Appa plush looks like another much-loved stuffed animal, and it matches Bigfoot's furry design to make Appa cuddlier than ever before
Appa looks more like a bison with this plush than the others, and the colors and toe stripes make him an adorable feature on any child's bed
Cons
The colors are off with this plush, and the massive Appa doesn't work for kids under three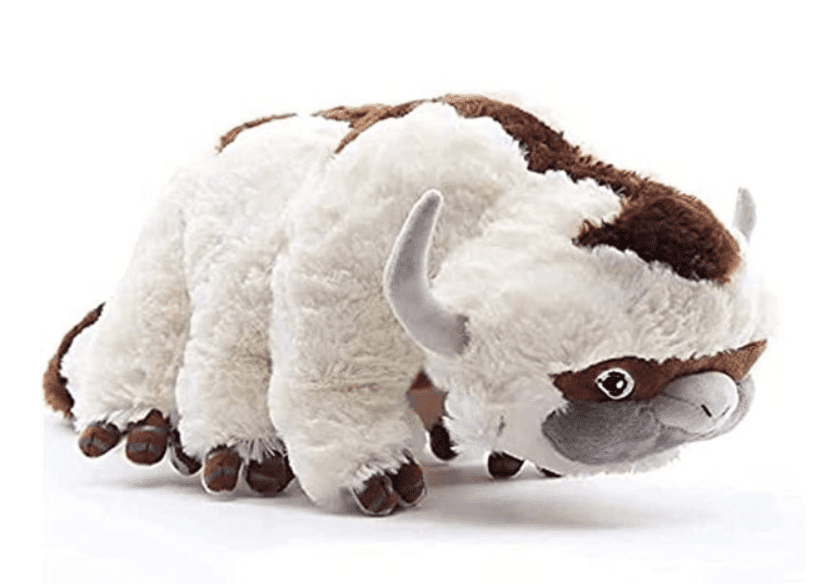 Appa repeatedly comes in odd plush sizes, but that gives you more variety for kids and Airbender fans. The 23-inch Appa plush is another unusual plush friend that brings endless smiles to little kids who love the flying bison. This Airbender plush also has one of the broadest tails, which matters because that's how it flies.
Features
Brand: Love Home
Ages: 3+
Exact Size: 23″
Pros
Appa looks like the furriest, friendliest cuddle buddy with enough fuzziness to drive kids wild, and the colors are incredibly accurate for the movie's creature
The eyes have gorgeous details, and the toes have a different texture to turn this Appa plush into an educational playdate for toddlers and preschoolers
Cons
It doesn't work for kids under three, and the plush looks a little sad with its head hanging so low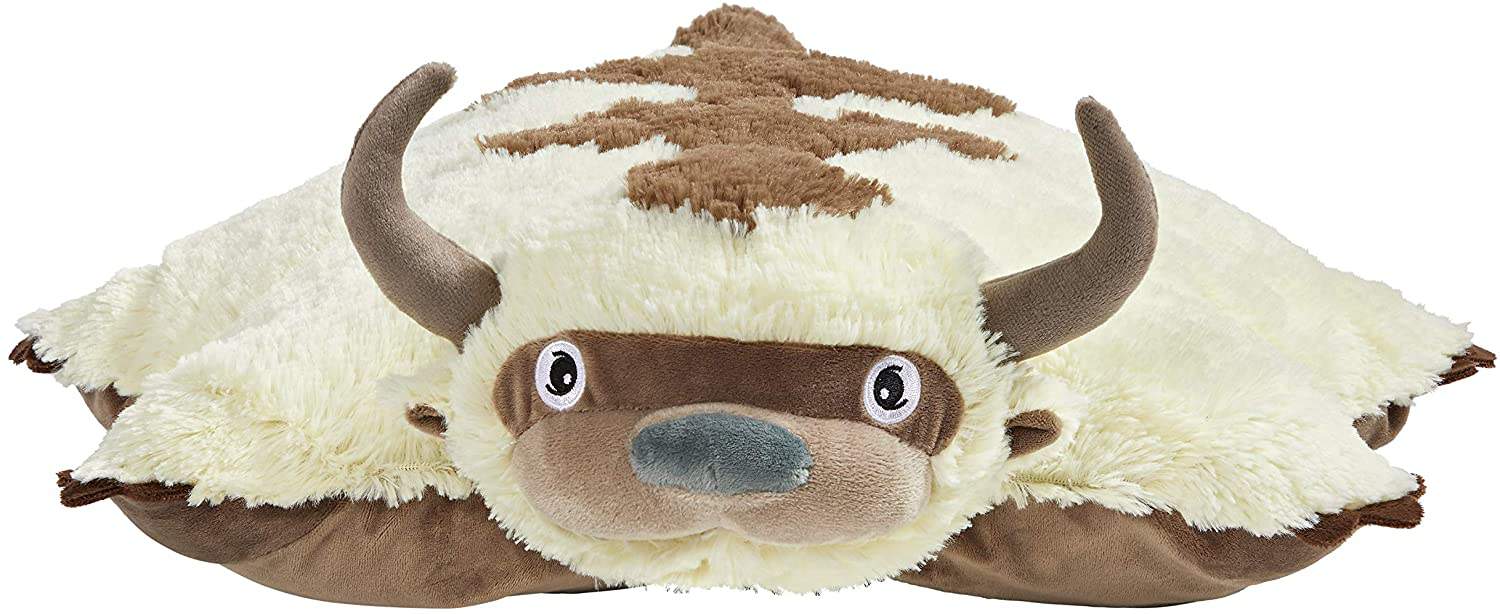 Most plush toys stop at 24 inches. Appa's creators thought it would be fantastic for the flying bison to come in sizes large enough to take an entire bedroom to himself. I won't complain because my daughter loves her massive plushes. I only start complaining when she wants 20 of the giants in her bedroom.
Features
Brand: Pillow Pets
Ages: 3+
Exact Size: 30″
Pros
The unusually massive Appa plush comes as a Pillow Pets version for kids to sleep on, and it has the flattening feature to help them stay comfortable
I can imagine how Aang's loyal bison will fly my children to the dream world with the furry softness, and it has incredible color contrasts that match the movie's creature
Cons
I wouldn't recommend such massive plushes for kids under three, and it takes up a lot of space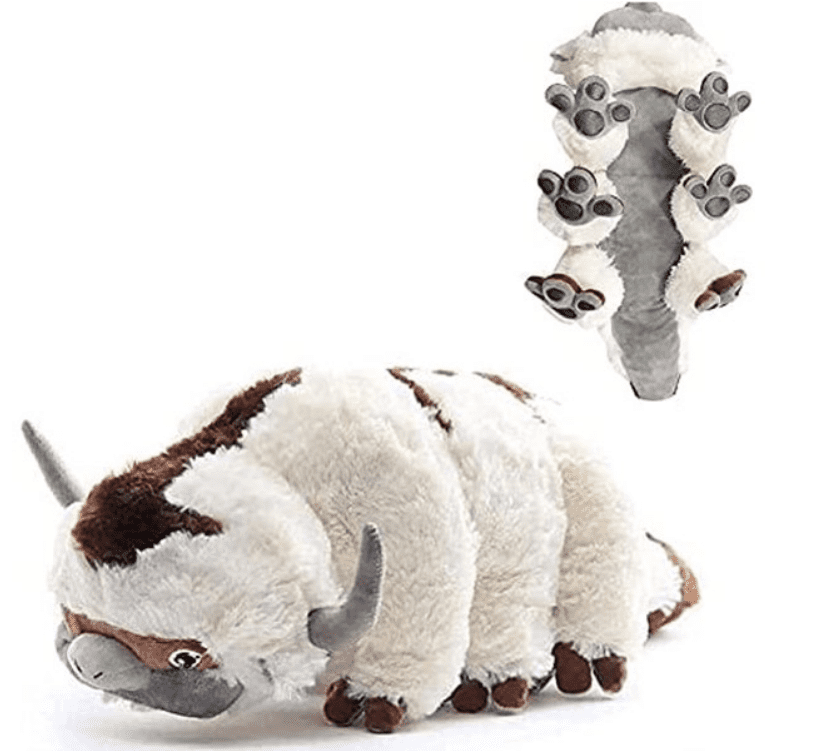 You likely thought the 30-inch Appa plush was insane, but I have one more. Few plushes come in a 50-inch design, but Appa does. The last Appa plush size is something from a giant's dream. It might take an entire bed up, but kids will go wild for this giant flying bison plush. Welcome to the world of giants.
Features
Brand: Love Home
Ages: 3+
Exact Size: 50″
Pros
The gigantic Appa plush looks as fabulous as the smaller versions, and it has fur coming from every corner, making him feel as soft and cuddly as the beast looks
The details, horns, and colors are fantastic and accurate, and the flying bison plush has different textures on the toes to help little kids learn about various fabrics
Cons
It's way too big for most playrooms and children's beds, and it doesn't belong near kids under three
Best Appa Plush Guide: The Combination Giants
Appa is one of the most adorable creatures from the Airbender movies. Still, he has a few friends that make additional plush buddies. Let me share the Appa and friends plushes that will make Airbender fans super happy. Appa also comes with a simple accessory that makes him a double-winner.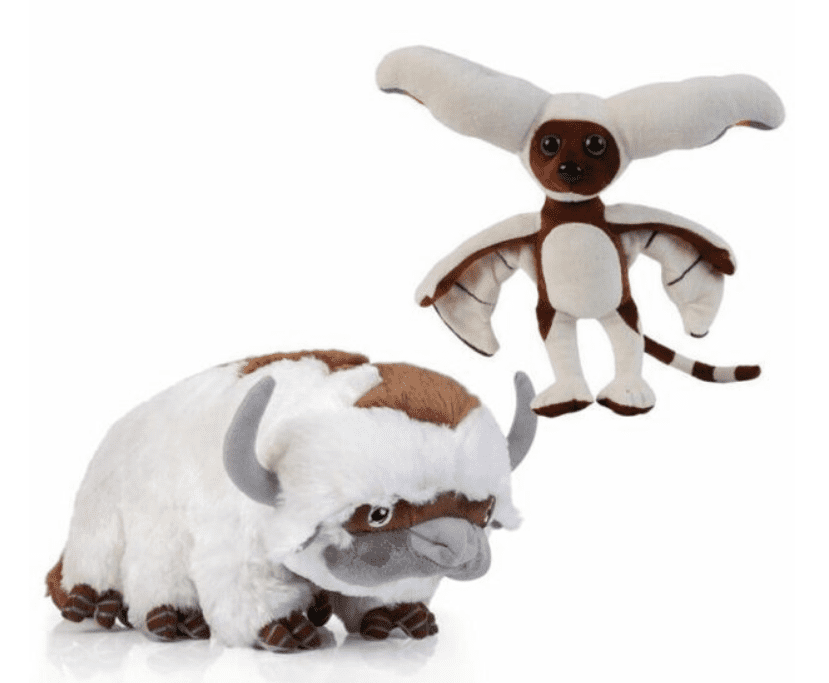 I know I already shared an Appa and Momo plush combo, but the Airbender buddies are favorites for fans. Momo and Appa are best friends and pets to Aang in the Airbender shows. The lemur can also fly, and the buddies work as a team to help Aang achieve greatness. The combo can teach kids about friendship.
Features
Brand: Evershine Toys
Ages: 3+
Exact Size: 16″ (Appa) and 11″ (Momo)
Pros
Appa looks fantastic in the plush combo, and he has the same furriness I expect from Airbender plushes
Momo is an adorable friend to add to the Airbender fan's bedroom, and the plush has massive ears like the show's creature
Cons
The beady eyes and smaller pieces on Momo's plush aren't suitable for kids under three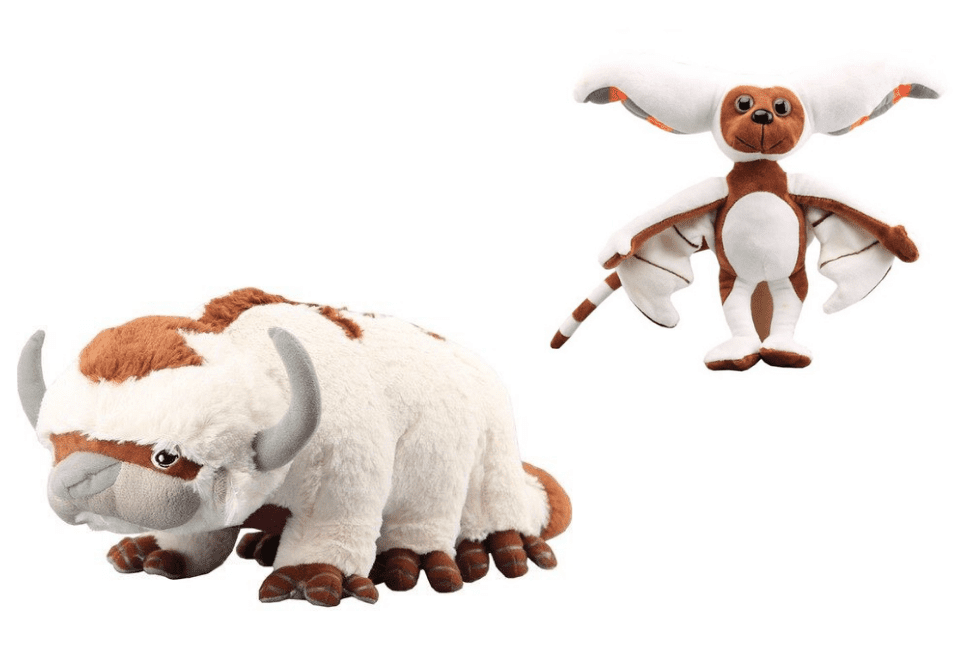 The gigantic Appa plush you can find in a friendly combo with Momo is 20 inches. The duo undoubtedly appeals to Airbender fans of all ages. My son would adore the combo, even with the jumbo Appa plush. Momo comes in the same size, and this duo's size difference makes more sense.
Features
Brand: RS Components
Ages: 3+
Exact Size: 20″ (Appa) and 11″ (Momo)
Pros
The jumbo Appa plush has fur everywhere, making him an excellent cuddle buddy or pillow pal for little kids (over three)
The Momo plush has the same beady eyes and massive ears to match the show's flying lemur
Cons
The Momo plush doesn't suit kids under three, and the Appa plush is too gigantic for babies and young toddlers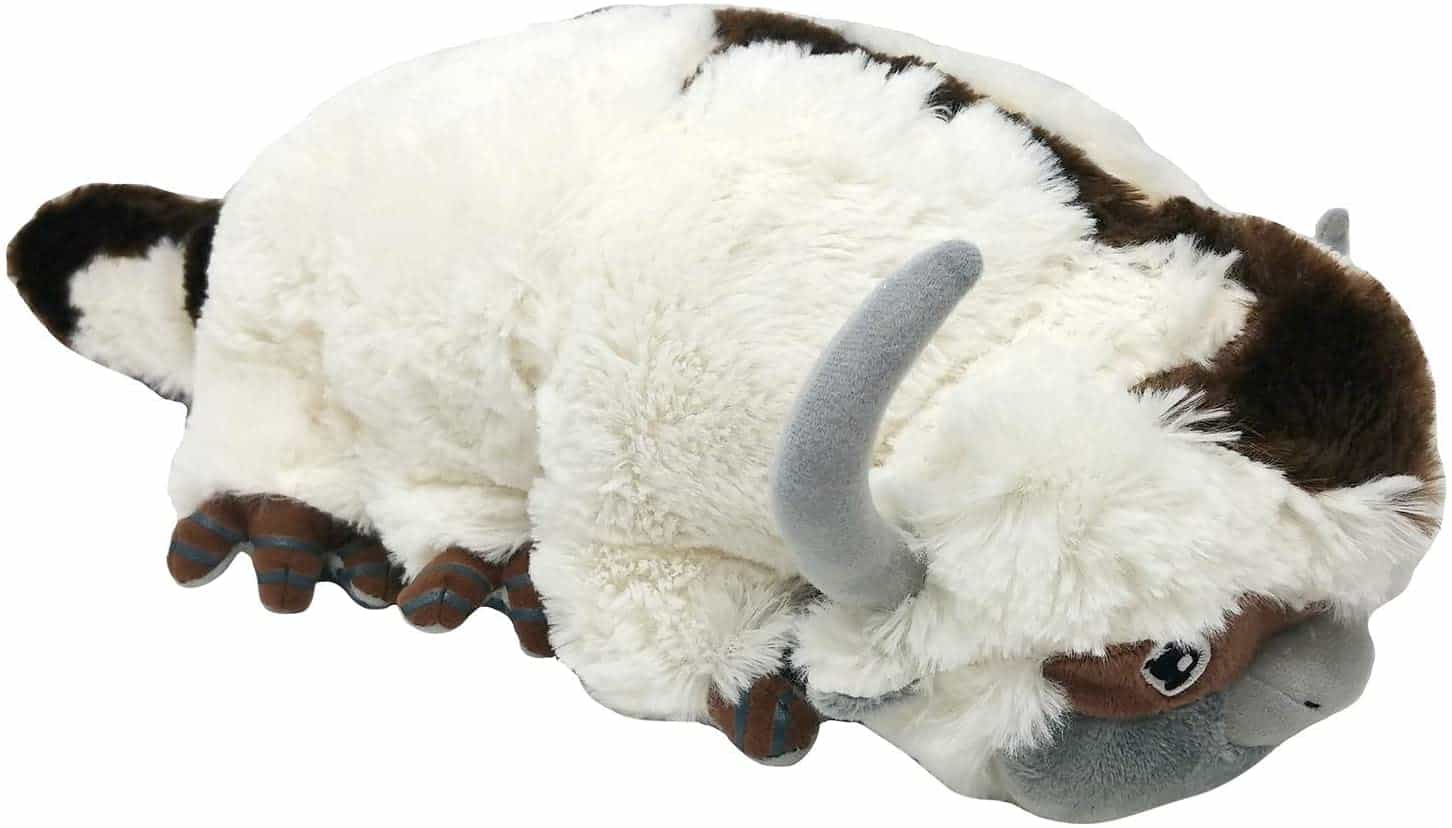 Kids love free accessories with any of their favorite plush toys. The Appa plush comes with a simple bag in which kids can carry their giant friend around if he's not too massive. Honestly, the bag works for other things. Unfortunately, the Appa plush doesn't fit well into the bag, and kids won't easily carry such a giant around.
Features
Brand: Altay Toys
Ages: 3+
Exact Size: 20″
Pros
The Appa plush has incredible features with thick fur for extra cuddliness, and it has beautiful colors that match the flying bison from Airbender
The browns are super dark on the plush, and the toes have the silvery-blue stripes I love more than the brown shades
Cons
The bag doesn't have Airbender pictures on it, and the set doesn't seem to make much sense (it would be fans, though)
Top Q&A
Question: Which Appa Plush is the Most Popular?
Answer: Appa is cute and cuddly, and kids want to dream about flying through the winds with the friendly beast. I noticed how much children and parents loved the Pillow Pals Appa plushes, with both maintaining five-star ratings on Amazon. The 16″ Pillow Pets Appa Plush and the 30″ Pillow Pets Appa Plush are famous.
Question: Which Appa Plush is the Biggest?
Answer: You'll be stunned to know which size Appa plush is the largest. The 50″ Appa Plush wins hands down. Yes, you read it correctly. The 50-inch Appa plush can take up an entire bed. It makes sense to create such a gigantic plush for Appa because the friendly beast is a giant in the show.
Question: Which Appa Plush is the Smallest?
Answer: I believe Appa plushes should be gigantic because of the creature's size in the shows. However, not every parent wants a new bed shaped like Appa. I began my best Appa plushes with ten inches. There's a smaller size that isn't as furry as the large Appa plushes. The 7.5″ Appa plush is the tiniest option.
Best Appa Plush Guide: Final Thoughts
Did you check whether your child's passion meets the need to buy a new Appa plush? I doubt you'd bother reading this if your kids didn't love the flying bison from The Last Airbender. Now, you simply have to pick the size that suits your furry needs. Remember to stick to plushes below 16 inches for kids under three.
However, the Best 11-Inch Appa Plush and the  Best 15-Inch Appa Plush are adorable and funky bison plushes that work for the tiniest children. The Best 18-Inch Appa Plush and the Best Medium Appa and Momo Avatar Plush Set work for older fans who want two-for-one stuffed animal sets.
The Best 20-Inch Appa Plush is a popular size, and the Best 30-Inch Appa Plush doubles as an Appa pillow. However, I'd recommend the Best 50-Inch Appa Plush if you have tons of space. Encourage children to love the plush characters from their favorite programs. The benefits outweigh the loss of space with the 50″ giant.
Did you see the size and features your kids want? Then, it's time to bend their Appa minds and buy one.
For more extraordinary plush ideas:
Fredbear Plush Guide for Fanatic Gamers – Avid Plush
Bat Squishmallow Guide for Halloween Squad Fans – Avid Plush
Best Shark Squishmallows Guide With 38 Options – Avid Plush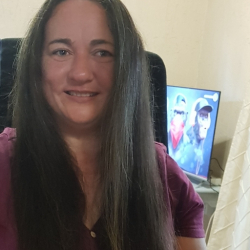 Latest posts by Caroline Lambert
(see all)