I've long collected plushies from multiple fandoms. In addition, my kids enjoy scooping up the plush toys from their favorite video games. Can you imagine a plush that looks like it will crack if it falls? Fortunately, my Cuphead plush guide will reveal adorable plushies that look like crackable mugs.
We have a massive collection of Squishmallows, Pokémon plush, and many fandom plushies. Our collection at home looks more like an obsession than a squishy passion, but it's what we enjoy as a family. Meanwhile, my kids played the Cuphead games and watched the series. So, let's see which cracking plushies will come from it.
Cuphead Plush Bottom Line Up Front
Cuphead plushies are the cutest things you'll find that look like breakable mugs, but the characters have a lot to show in the games. Cuphead and Mugman are the main characters who fight as many bosses as possible, even after they mutate into other forms. It's a typical run-and-gun action game with 1930s animation.
Meanwhile, the plushies bring various characters to life, from bosses to playable characters. Not every character is a plush yet, but 14 Cuphead characters and bosses will be available in 2023. So, I'll share a quick background, including which character plush to find. Here's to hoping more cracking, fun plushies come soon.
Then, I'll narrow down some brilliant plush examples from collectible brands to share with you. But first, let me share a personal favorite plush from Cuphead. The Cuphead Puphead Plush is my favorite for looking more like a 1930s cartoon than most plushies. Besides, it's the game and show's animation style.
However, let's discover the Cuphead plush background quickly before finding more excellent examples.
A Complete Guide to Cuphead Plush
Many video games turn into a world of merchandise, taunting fans to stock up and decorate their rooms with flyers, t-shirts, and plushies. Cuphead is another fandom with a vast following, and he has incredible plushies. So, let's discover more about Cuphead before I share tips on finding his collectible plush.
The Story of Cuphead Plush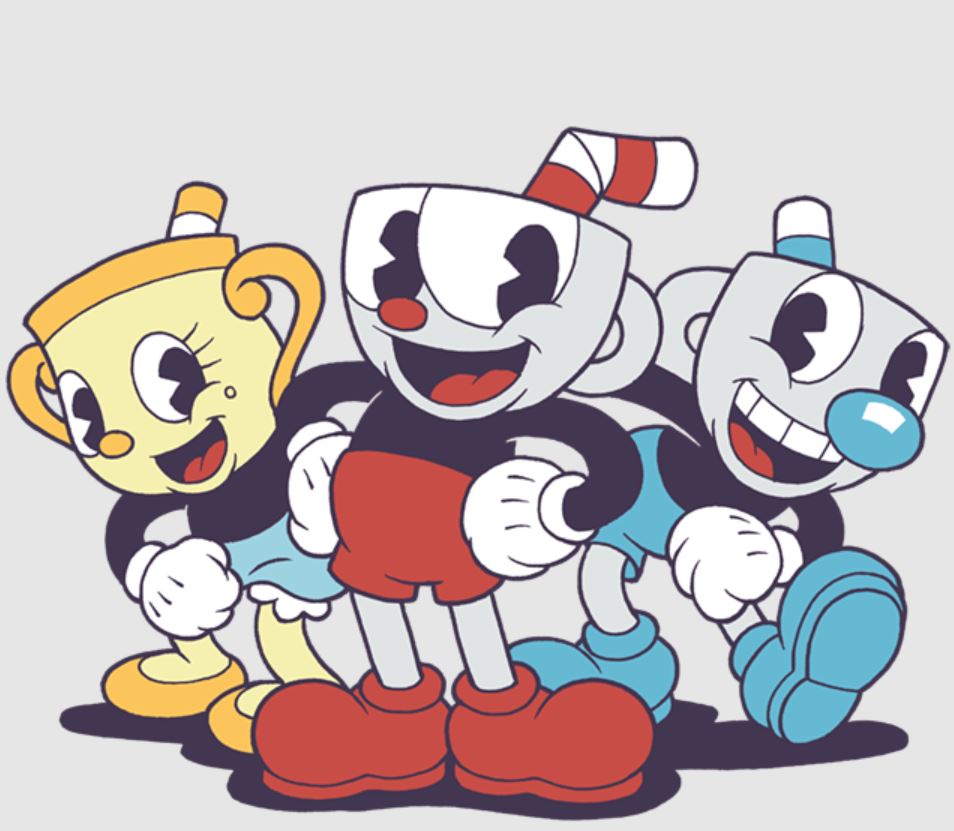 Cuphead began as a video game with a poor cup-shaped character that deals with the wrong character, the devil. The playable Cuphead character has to steal souls for the devil after making a deal with him. Various cup-headed characters appear in the game, and they're all as goofy, mischievous, and impulsive as the next.
The Cuphead Show on Netflix turned the video game characters into a series of misadventures and impulsively adorable yet naughty characters. Mugman and Cuphead are the famous brothers leading the show. The animated series welcomes many other Cuphead characters from the video games.
Before long, Cuphead and his mug-shaped friends turned into merchandise, and fans couldn't get enough of him. Cuphead has an official merch store where you'll find t-shirts, figures, accessories, and plush. However, as a genuine fan, you'll need the advice to collect Cuphead merch worth something.
Tips for Cuphead Plush Fans
As with many video game merchandise, Cuphead plush is everywhere. You'll know the characters as a fan, but it would be excellent to learn about them quickly if you buy Cuphead plush for someone else. In that case, you'll need to look for collectible plushies for the 14 main characters, which include:
Cagney Carnation
Cala Maria
Captain Brineybeard
Cuphead
Cuppet
Dice King
Ghost Chalice
Ms. Chalice
Mughead
Puphead
Rumor Honeybottoms
The Devil (aka Boss)
However, not all plushies are from the same cup, pun intended. So, I look for plushies with improved quality or licensed brands. Cuphead has its website with original merchandise. Meanwhile, another brand I enjoy is Funko Plush. The other plushies for these characters come in varying qualities but without a license.
Licensed plushies are the best to collect if you're a fan of Cuphead. In addition, Cuphead plushies saw a few different series. The second series of plush included some black and white plush. I wouldn't collect these out of personal preference. I wouldn't say I like black and white plushies when the colorful ones are fantastic.
Finally, look out for Cuphead plushies not on the market yet. For example, many bosses and characters don't have plush toys yet. Chef Saltbaker, the Moonshine Mob, the Howling Aces, Hopus Pocus, and Grim Matchstick are some bosses that would make fantastic plush for collectors and fans.
Over 40 primary characters and bosses are famous from the Cuphead games and show. So, I hope plush toy brands make the other Cuphead character plush soon. In addition, I can't wait to see if plush brands make plushies for Djimmi, the Great, Hilda berg, Elder Kettle, the Queen, and Mr. Wheezy.
How I Picked Cuphead Plush Examples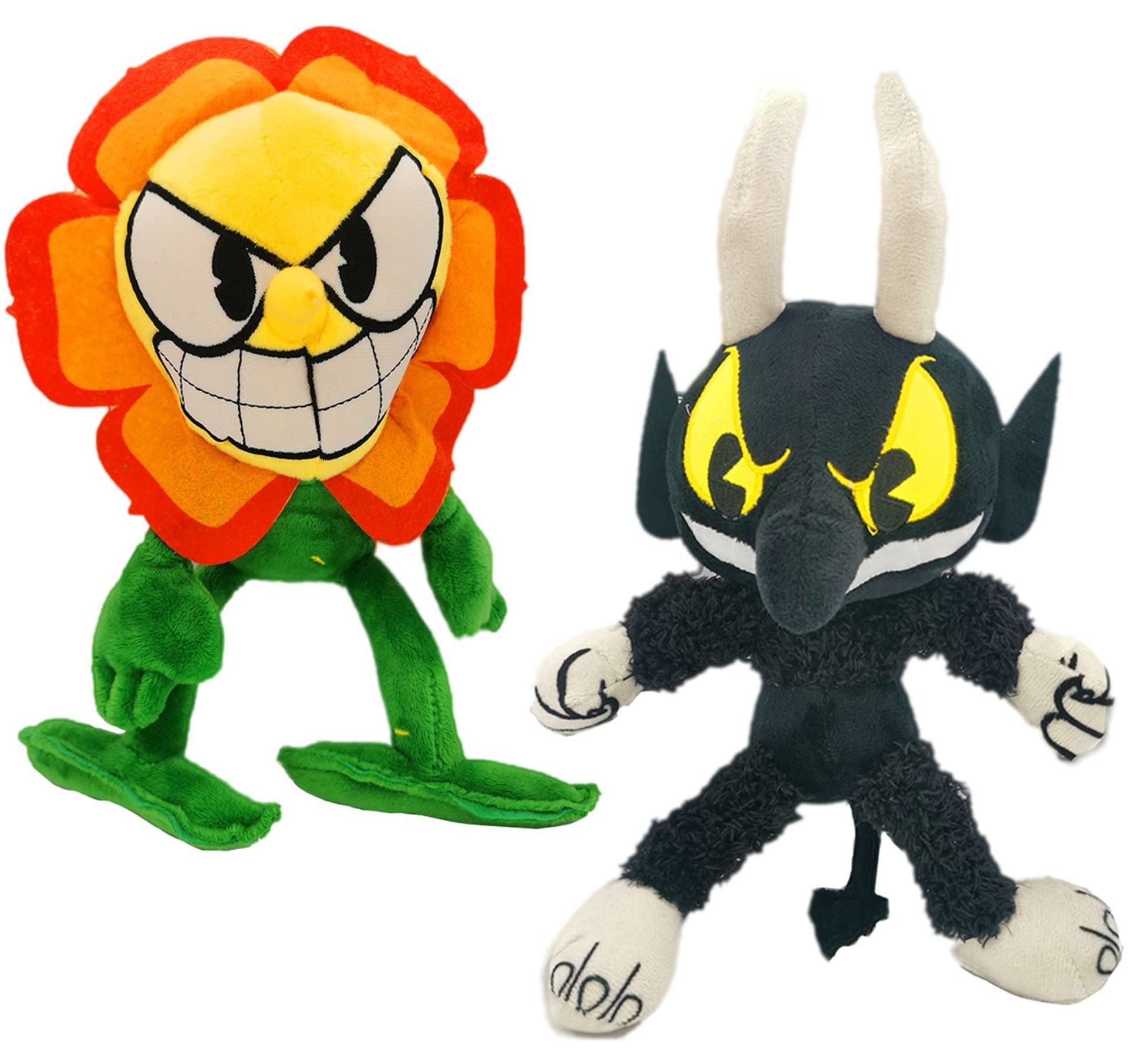 Choosing my favorite Cuphead plushies was simple once removing the unlicensed brands. So, my first requirement was to pick my favorite Cuphead plush for each character from the original merch or Funko Plush brands. Then, I followed these rules to ensure I only picked good-quality Cuphead plushies as examples:
Good Cuphead plush should be 12 inches or shorter to allow fans to collect most of the 14 characters. Plushies over 12 inches decrease the potential for collecting the primary characters. Unfortunately, it will remove the Secreto Demon Plush as an example because its plush only comes 17 inches tall.
Good-quality Cuphead plush should be bright, colorful, and have strong stitching. They won't break easily and look like the video game or show's characters.
The best Cuphead plush examples come from the official merch store. However, I'll also find Funko Plush at Toy Wiz to scoop up at least 13 characters.
Cuphead Plush Guide: Fabulous Plushies
Cuphead plushes are adorably quirky to plush fans who don't know the characters well. However, each one has a place in various games or show. So, let's discover how each Cuphead plush example measures my collectible passions. In addition, I'll share a few bites of information about the good and bad of each.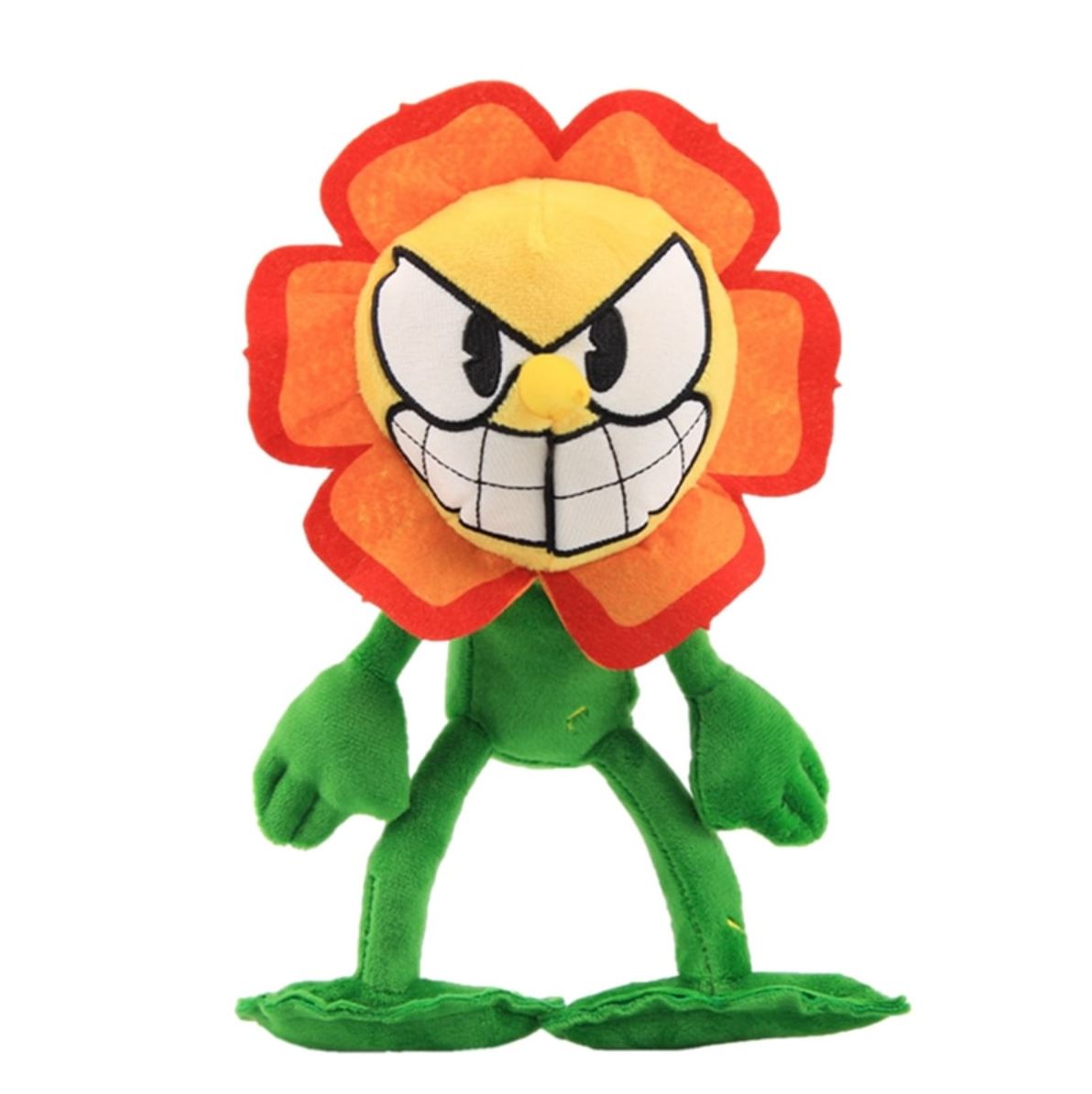 The Cuphead Cagney Carnation Plush represents a boss from the 2017 video game. The oddball sunflower boss that looks like a 1930s cartoon can transform into a gun, blasting Cuphead with its seeds. Meanwhile, the plush toy has a mean personality, as you'd expect from the bossy sunflower. It's an excellent match and a good size.
Cuphead Cagney Carnation Plush Pros:
The Cuphead Cagney Carnation plush is a collectible ten inches tall
Cagney Carnation's expression is spot-on for its mean blasting machine in the game
The plush has excellent details and bright colors around its petals
Cagney Carnation's teeth grin as widely as they do in the game when Cuphead faces it
Cuphead Cagney Carnation Plush Cons:
Cagney Carnation's plush hands don't have fingers, like in the game
The petals around Cagney's massive smile should be slightly longer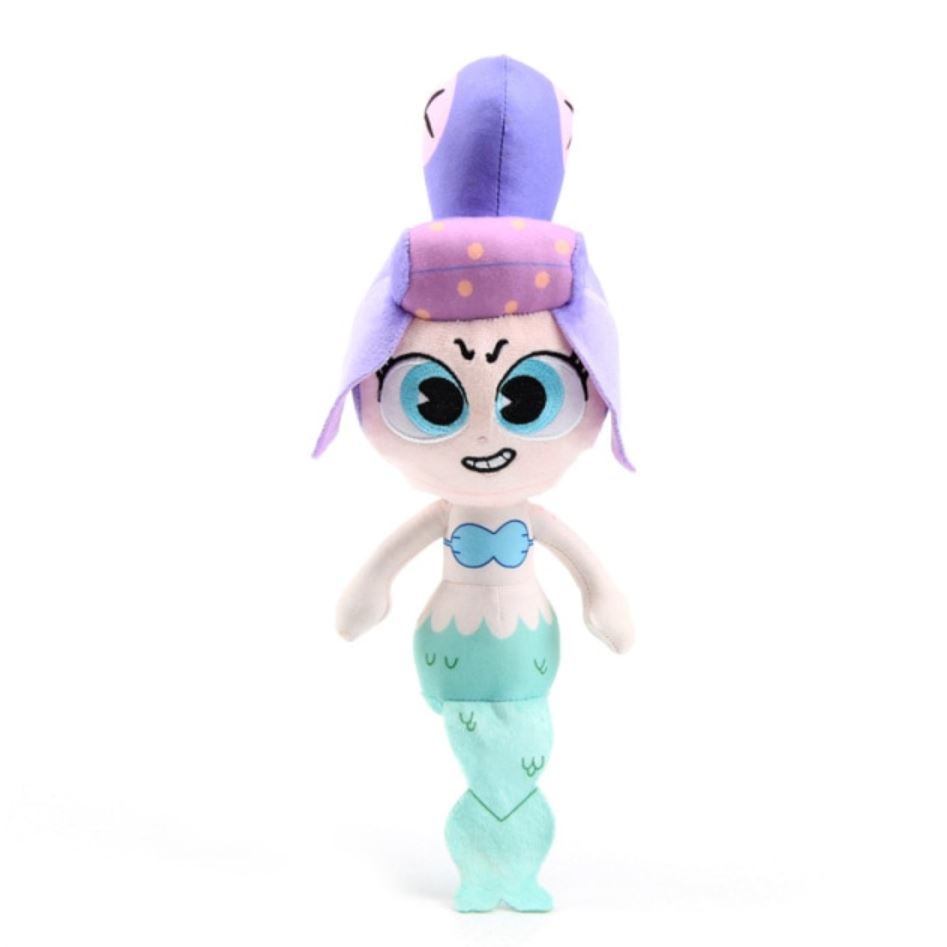 The Cuphead Cala Maria Plush represents another boss from the video games, one who will do anything to manipulate poor Cuphead and Mugman. Cala Maria looks adorable until she summons the ghastly demons in her mouth. Meanwhile, the plush removes that infamous evil in Cala Maria, just enough to make her cute again.
Cuphead Cala Maria Plush Pros:
The Cuphead Cala Maria Plush is a collectible 11 inches tall
Cala Maria's face, expression, and colors match the in-game boss nicely
Cala Maria has a frighteningly mean look on her face, reminding you of who the mermaid becomes
The Cuphead mermaid plush looks like a 1930s cartoon, just like the game characters
Cuphead Cala Maria Plush Cons:
The Cala Maria Plush has minimal details on her fishy scales
Cala Maria's plush hands also have no fingers or points to enhance her design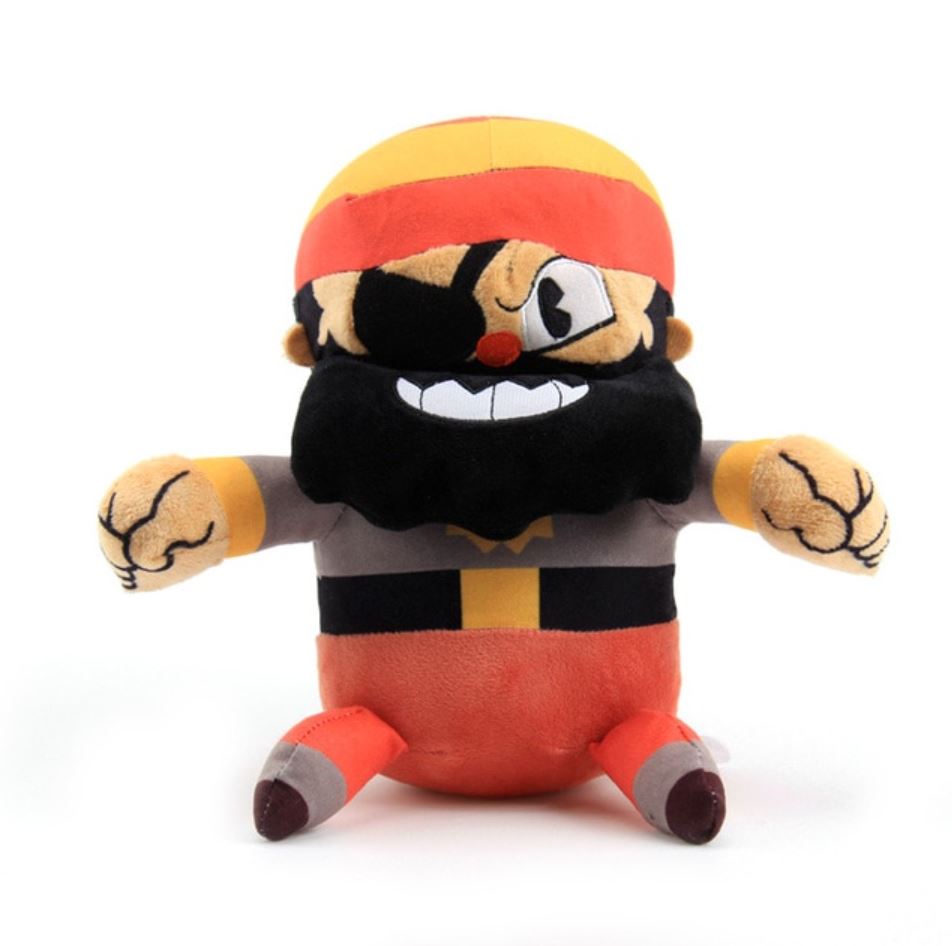 The Cuphead Captain Brineybeard Plush is another boss character in a ten-inch plush toy. He comes from the same game as Cagney Carnation but looks entirely comical. However, the game character has some humor in his design. So, Captain Brineybeard Plush isn't far from the game's truth regarding the design.
Cuphead Captain Brineybeard Plush Pros:
The Cuphead Captain Brineybeard Plush is a ten-inch collectible
The best match between the game and plush is the Captain's hilarious design
Captain Brineybeard's mean expression and child-like stature match him nicely to the character
Captain Brineybeard's Plush has brilliant colors matching the pirate's in-game animation
Cuphead Captain Brineybeard Plush Cons:
Captain Brineybeard's Plush has comical legs and silly finger patterns
It looks like the Captain's face falls in by the top of his beard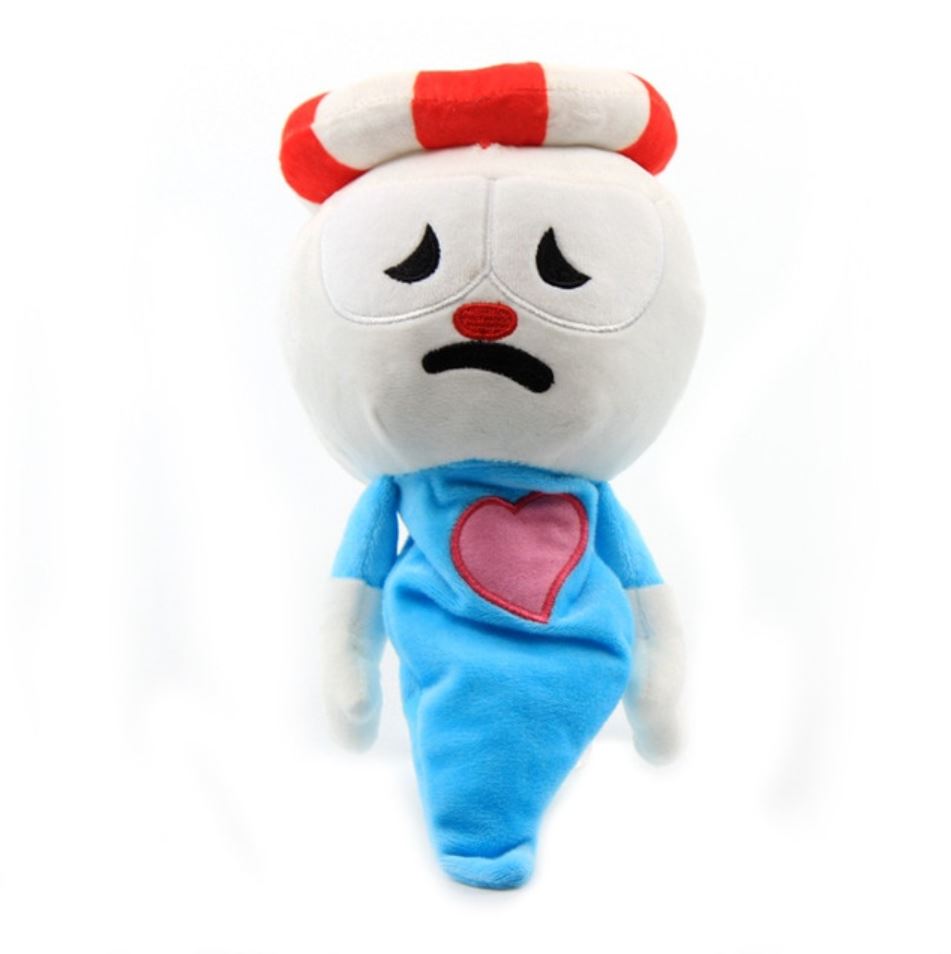 The Cuphead Ghost Chalice Plush doesn't come from video games. Instead, it's another form of Ms. Chalice you'll encounter in the show. However, the Ghost Chalice Plush represents the alternate form nicely. The Ghost Chalice Plush looks like her on-screen character, as gloomy as ever to match the old-school animation.
Cuphead Ghost Chalice Plush Pros:
The Cuphead Ghost Chalice Plush is a collectible nine-inches tall
The Ghost Chalice Plush matches her on-screen character's style and color
Ghost Chalice is supposed to look gloomy and miserable like the plush does
The details are pretty good for a ghastly plush with a spooky tail, like Casper
Cuphead Ghost Chalice Plush Cons:
Cuphead's Ghost Chalice Plush doesn't have intricate details on its hands
The snow-white background is a dreadful experience in a washing machine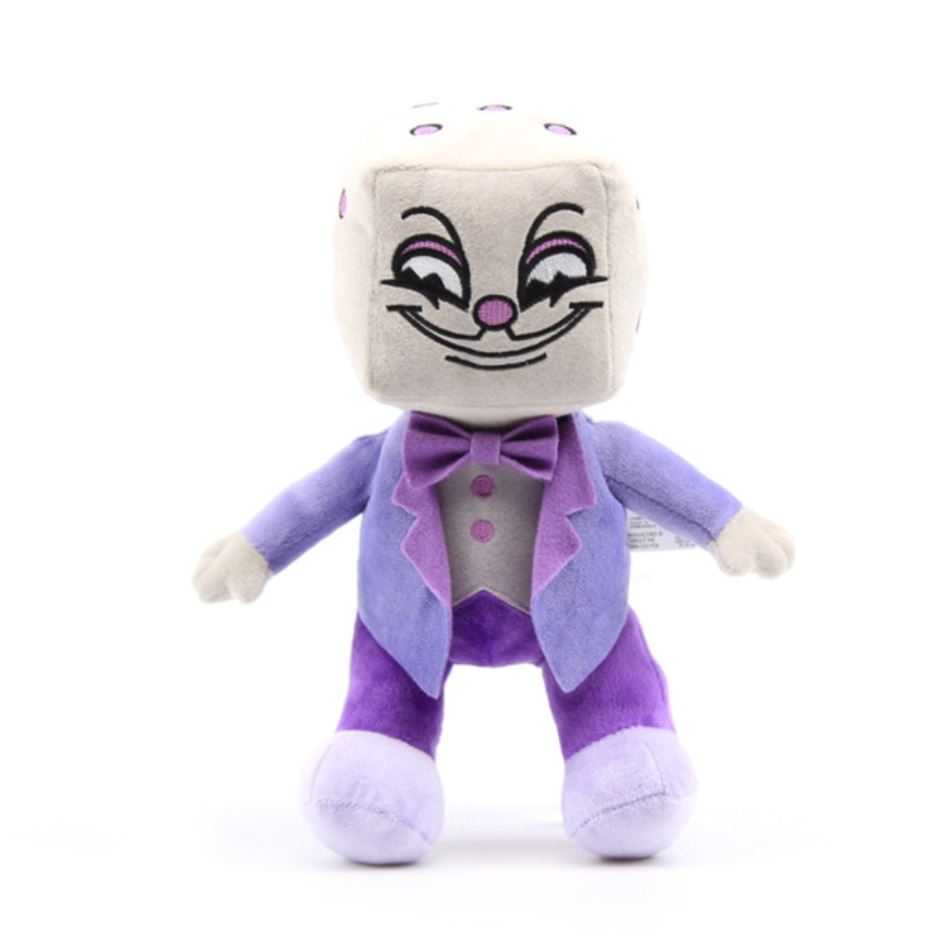 The Cuphead King Dice Plush represents the Devil's right-hand man from video games. King Dice is a dicey character, pun intended. Meanwhile, King Dice Plush looks like an infamous character that would creep poor Cuphead and his friends out. In addition, I like the casino-boss-styled character's animation and design.
Cuphead King Dice Plush Pros:
The Cuphead King Dice Plush is a collectible 11 inches tall
King Dice's plush captures his entire demeanor, including his mean streak
I love how King Dice's expression reminds me of Anonymous, a creepy persona
The outfit's colors match King Dice well, and the face is the perfect shape for him
Cuphead King Dice Plush Cons:
King Dice Plush has many white pieces that make washing him dicey
The plush feet have no details, yet the plush toy's hands are better than the others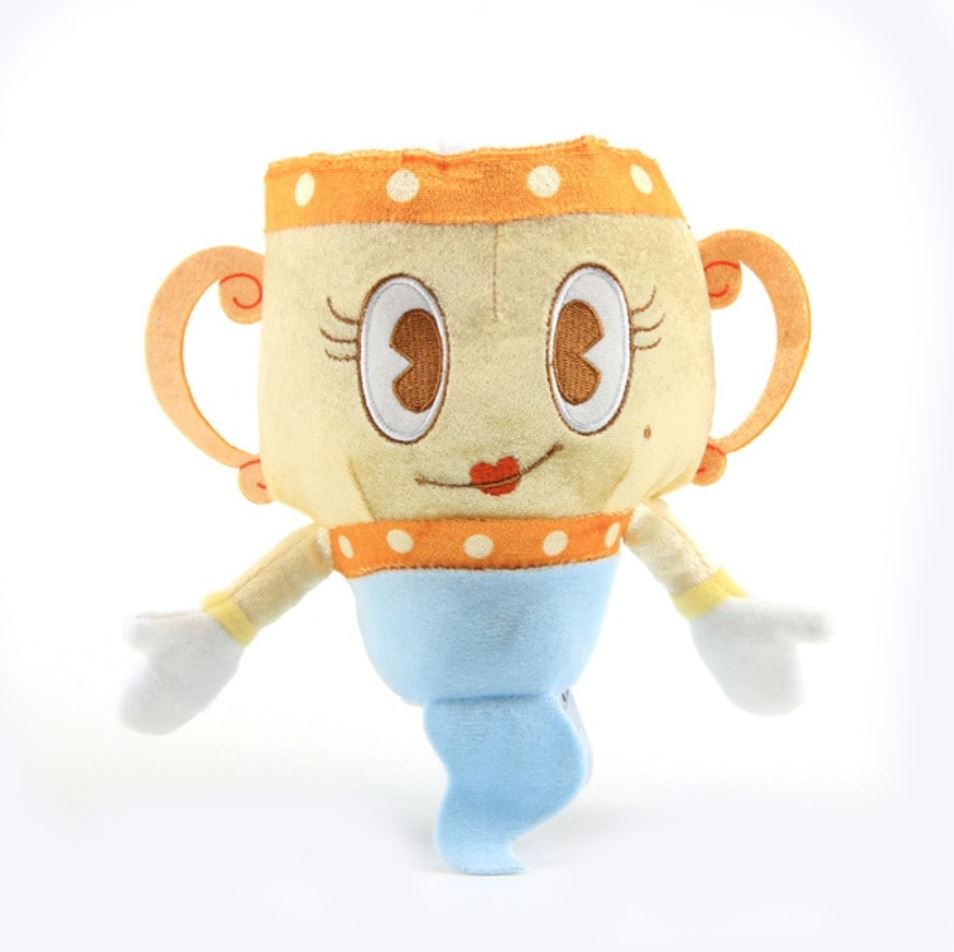 Legendary Chalice and Ms. Chalice plushies are easy to confuse with each other. The Cuphead Legendary Chalice Plush represents Ms. Chalice's initial form before the brothers rescued and transformed the poor little chalice. However, this plush toy represents the first form before Ms. Chalice transforms into a ghost.
Cuphead Legendary Chalice Plush Pros:
The Cuphead Legendary Chalice Plush is a fantastic nine inches-tall for collectors
The Legendary Chalice Plush captivates the character's design in color and style
Legendary Chalice's expression is as adorable as the old-school cartoon character's animation
The plush toy's eyes have greater depth and detail than most Cuphead boss plushies
Cuphead Legendary Chalice Plush Cons:
The Cuphead Legendary Chalice Plush is too easy to confuse with Ms. Chalice
The plush's legs and spouts are thin and ultra-flimsy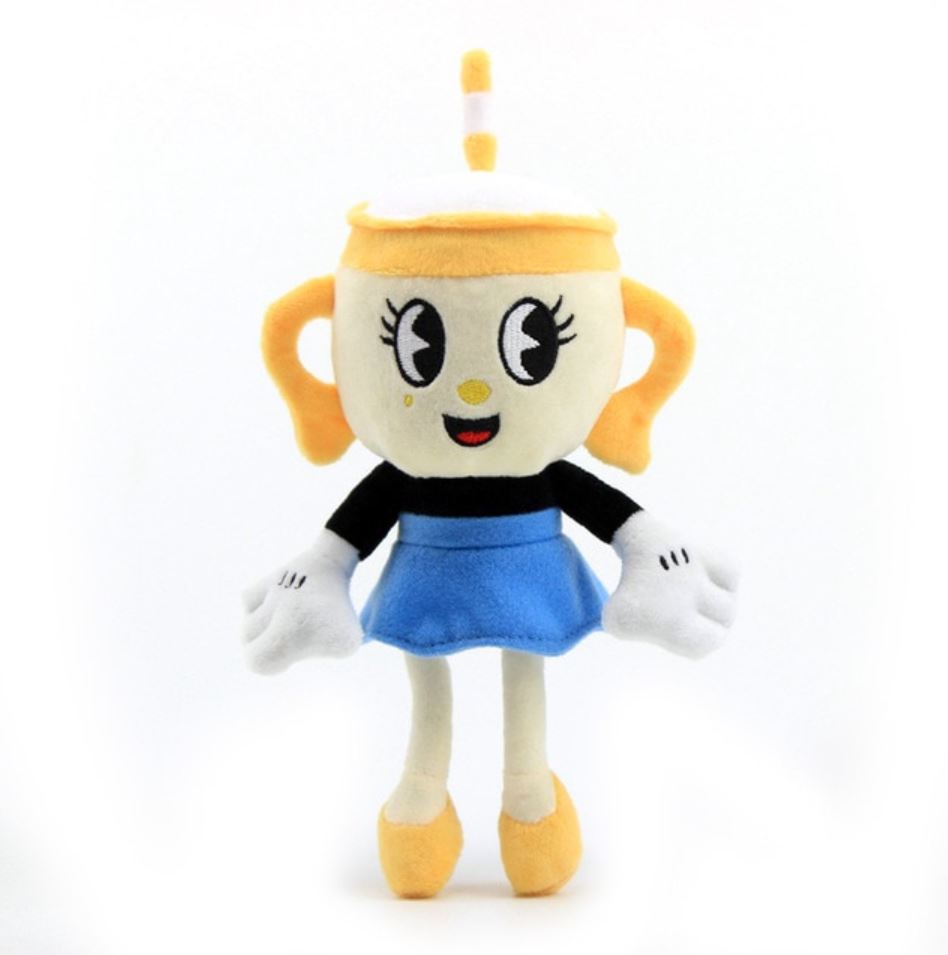 The Cuphead, Ms. Chalice Plush, represents the third playable character in video games. Cuphead's Ms. Chalice plush looks subtler after her transformation, not having as many details as her previous cup. Ms. Chalice also looks much friendlier, making her the ideal representation for the female playable character plush.
Cuphead Ms. Chalice Plush Pros:
The Cuphead, Ms. Chalice Plush, is a fantastic eight inches tall for collectors
Ms. Chalice's Plush looks like the innocent and sweet in-game character
Her colors, design, and expression match the in-game character perfectly
Ms. Chalice's plush toy also has incredible details in her eyes to bring out the cuteness
Cuphead Ms. Chalice Plush Cons:
Ms. Chalice's arms, legs, and handles are thin and ultra-flimsy
You can easily confuse Ms. Chalice and Legendary Chalice plushies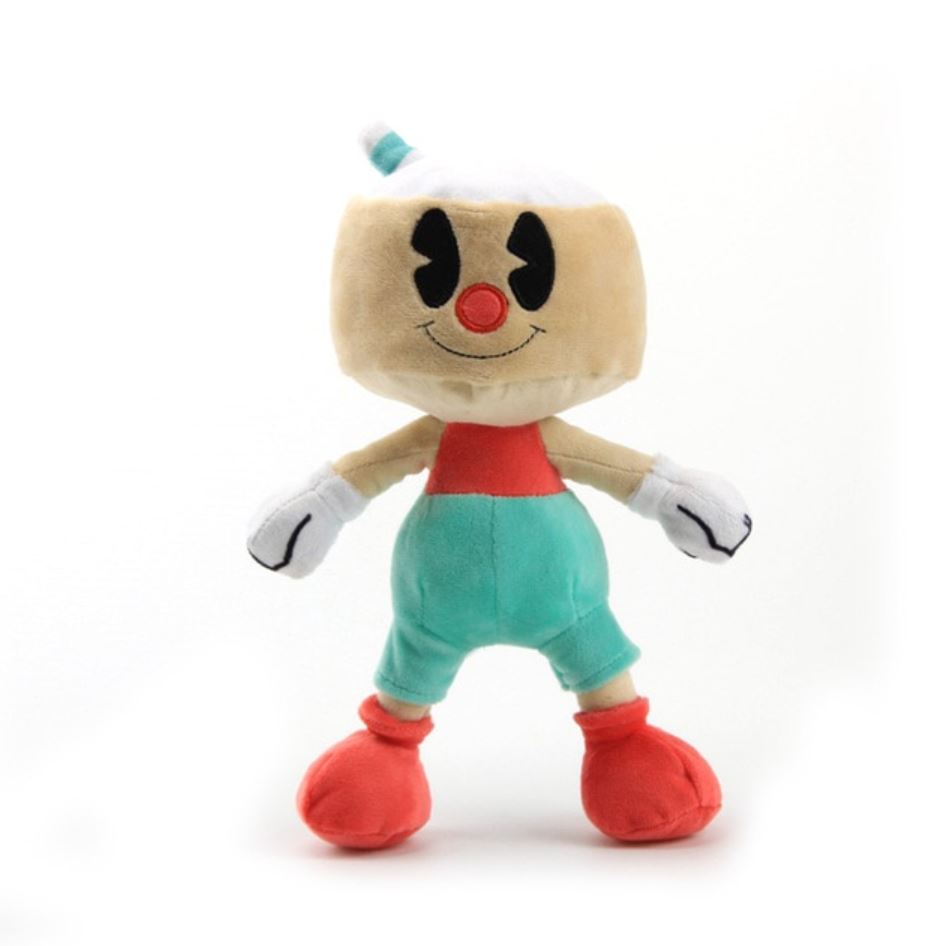 The Cuphead Puphead Plush represents another adorable mug-like cartoon character the brothers save and bring on board to fight the bosses. The name also suggests that the Puphead Plush should have a child-like personality and style, which comes across nicely on this plush toy. Also, the colors are perfectly matched.
Cuphead Puphead Plush Pros:
The Cuphead Puphead Plush is an adorable and collectible ten inches tall
Cuphead's Puphead Plush matches the style, color, and expression of the character
Cuphead's Puphead Plush looks more like a 1930s cartoon than most plushies
The smile, eyes, and position make Puphead look cuter than expected
Cuphead Puphead Plush Cons:
Puphead's plush hands have minimal details for a quality plush toy
The facial design reminds me of old-school Disney plushies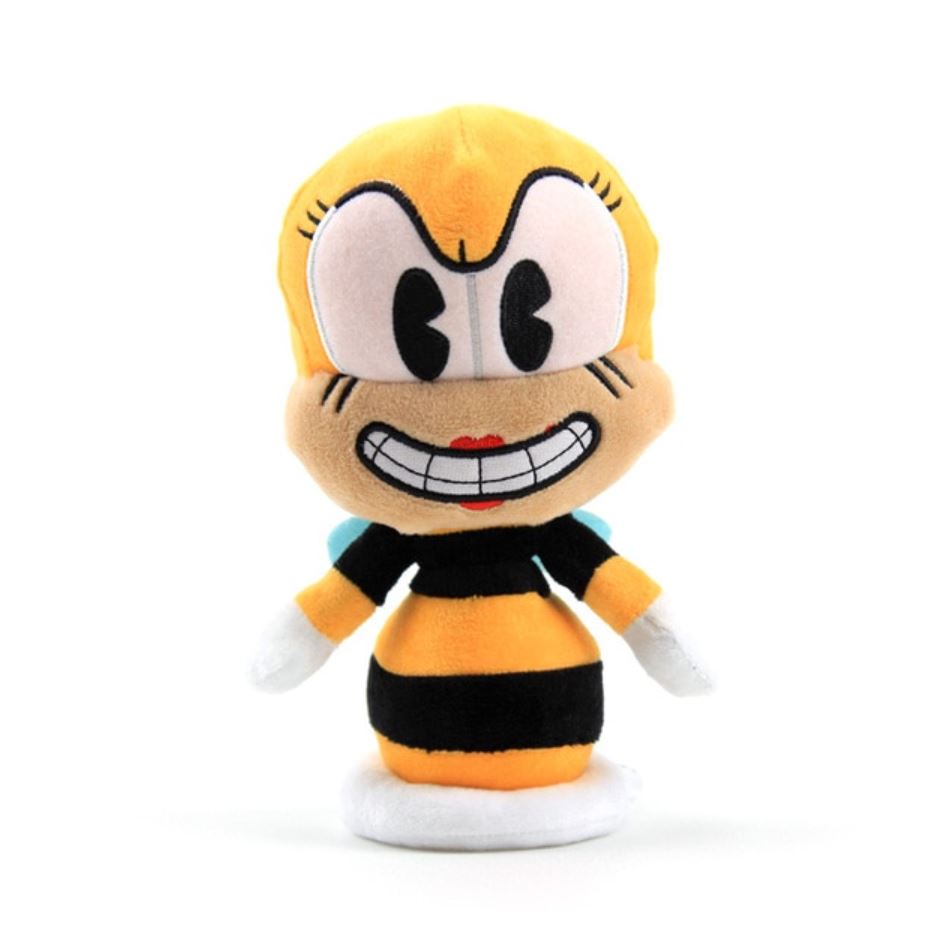 The Cuphead Rumor Honneybottom Plush nicely captures the game's boss character, including her mean streak and desire to turn into a blasting bullet train. Her face and expression on the plush make her look meaner than my son remembers in the game, which is a win for plush toys from the Cuphead games.
Cuphead Rumor Honeybottoms Plush Pros:
The Cuphead Rumor Honeybottom Plush is a brilliant 7.5 inches tall for collectors
Rumor Honeybottom's expression is exceptionally mean and ready for action
Rumor Honeybottom's evil nature shines through the plush more than the others
The eyelashes, eyes, mouth, lips, and little wings have gorgeous details to make her look fantastic
Cuphead Rumor Honeybottoms Plush Cons:
The Rumor Honeybottom Plush has no details on her plush fingers
I can't say I enjoy the plush toy's bottom without Honeybottom's original stinger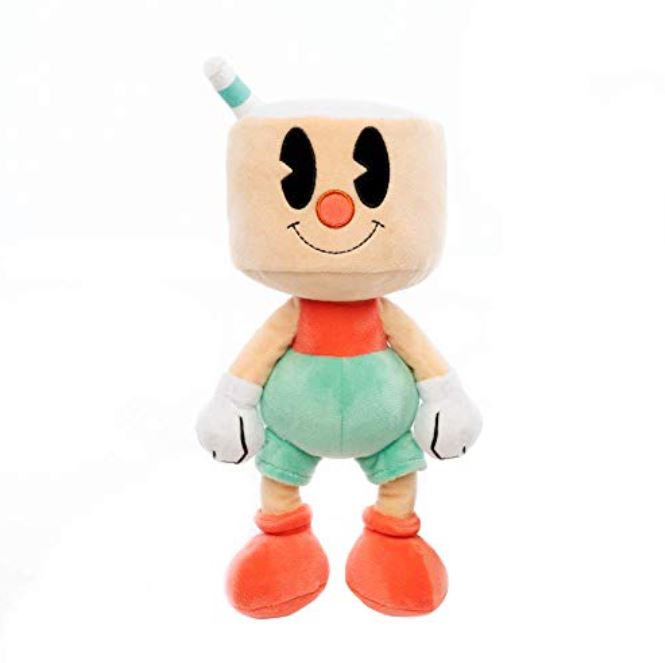 The Funko Cuphead Cuppet Plush represents a marionette behind the infamous Djimmi, the Great Boss. I'm surprised a plush doesn't exist for this evil boss yet, but Cuppet makes an adorable collectible as a boss' right-hand man. The little plush looks like the mean master's puppet on a string, waiting for commands.
Funko Cuphead Cuppet Plush Pros:
The Funko Cuphead Cuppet Plush is a magnificent eight-inches tall for collectors
The Cuppet and Puphead plushies look similar, but Cuppet is a recreation of the Cuphead characters
The Cuppet plush is an original and licensed collectible from Funko Plush
The details are spot-on to match the in-game villain (or its puppet)
Funko Cuphead Cuppet Plush Cons:
You can easily mistake Cuppet and Puphead plushies, as they look too similar
The little straw and flimsy legs seem too breakable, much like a glass mug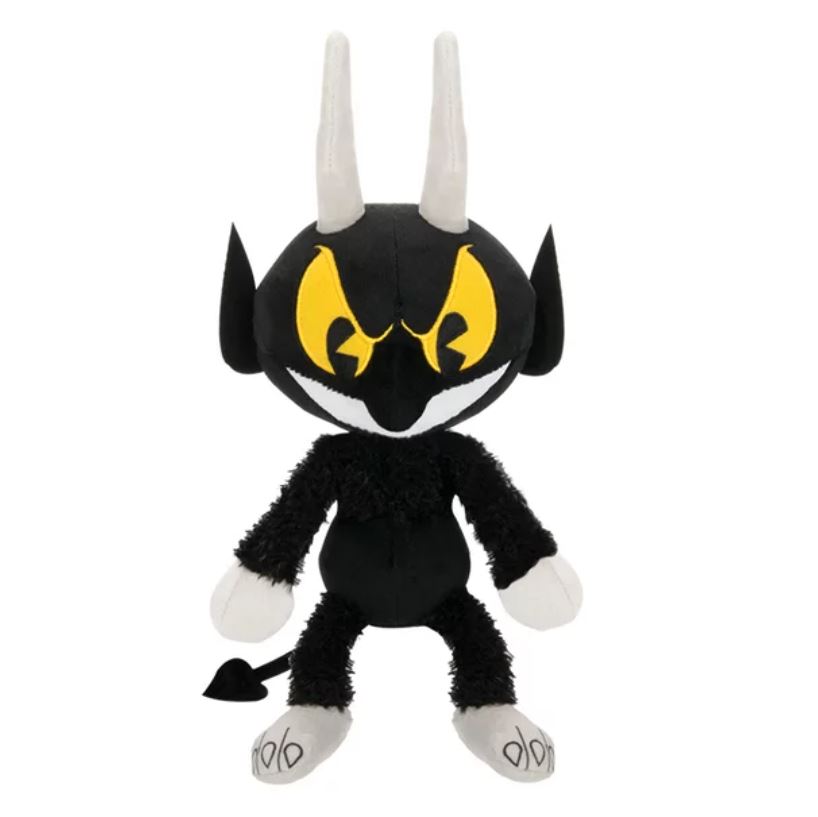 The Funko Cuphead Devil Boss Plush represents the most memorable boss in most of Cuphead's games. Poor little Cuphead deals with the devil, owing him too much and being his puppet for a while. Meanwhile, the Devil Boss Cuphead Plush is a matching beauty that looks like the in-game monstrosity that controls Cuphead.
Funko Cuphead Devil Boss Plush Pros:
The Funko Cuphead Devil Boss Plush is a highly collectible eight inches tall
The Devil Boss goes by many names for plushies, including Devil, Boss, and Devil Boss
The Funko Cuphead Plush collection is more collectible and of higher quality than most
The details are exceptional, and the devil's horns and eyes are creepy
Funko Cuphead Devil Boss Plush Cons:
The Cuphead Devil Plush is black and needs to wash away from other colors
The tail is fragile enough to break, and the plush hands have no fingers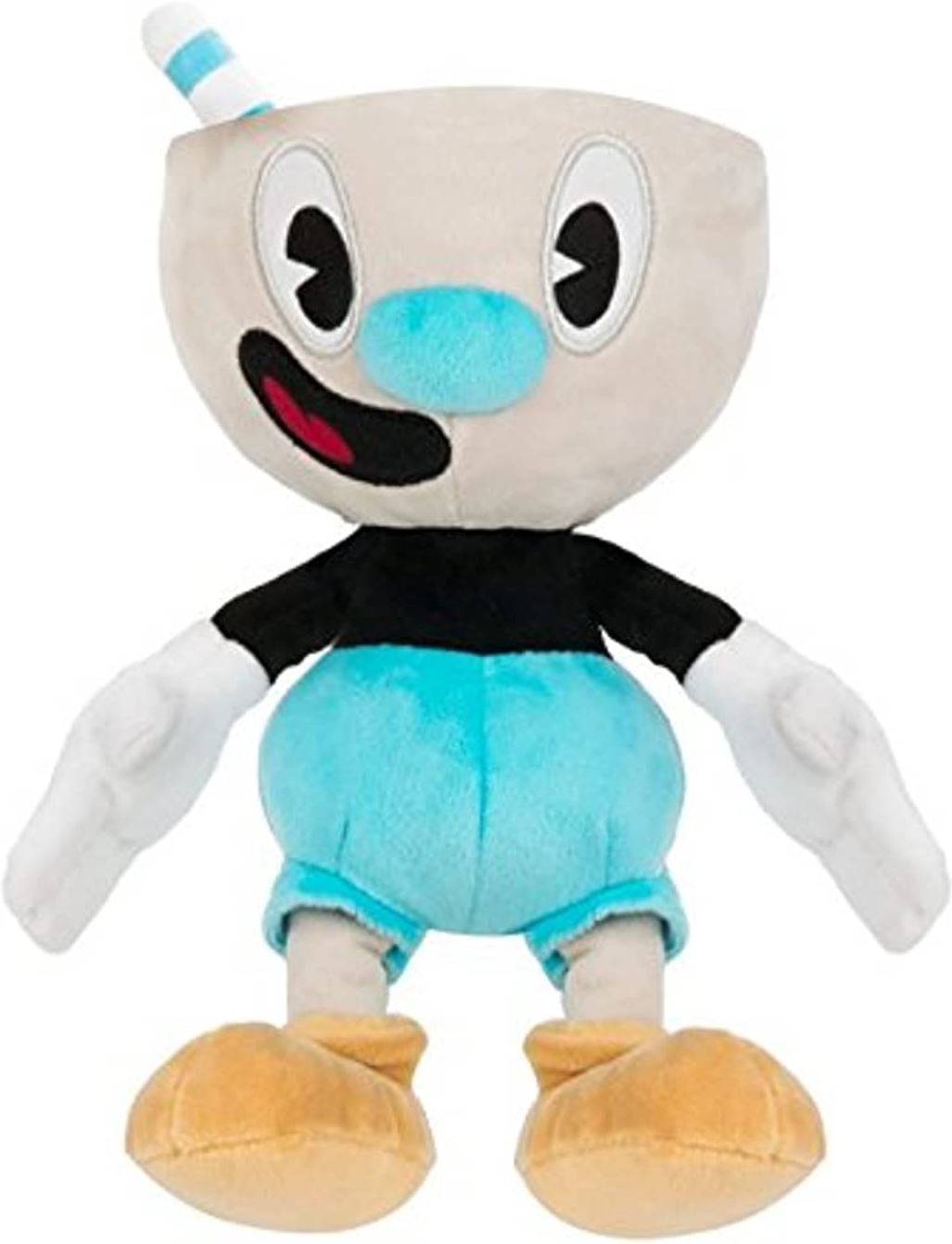 The Funko Cuphead Mugman Plush represents Cuphead's famous playable brother in the games and is a plush toy for fans of the series. The Mugman Plush Plush is another favorite for looking like the 1930s Disney-styled cartoons. The details are excellent for simpler animation designs from the era.
Funko Cuphead Mugman Plush Pros:
The Funko Cuphead Mugman Plush is a magnificent eight-inches tall for collectors
The Mugman Plush is collectible as one of the primary playable characters in the games
The Funko Cuphead Plushies are the best for collectors who want color, clarity, and quality
The Mugman Plush has exquisite details for the style of animation in the games
Funko Cuphead Mugman Plush Cons:
The Mugman Plush's hands don't have enough details
The little straw can break off with time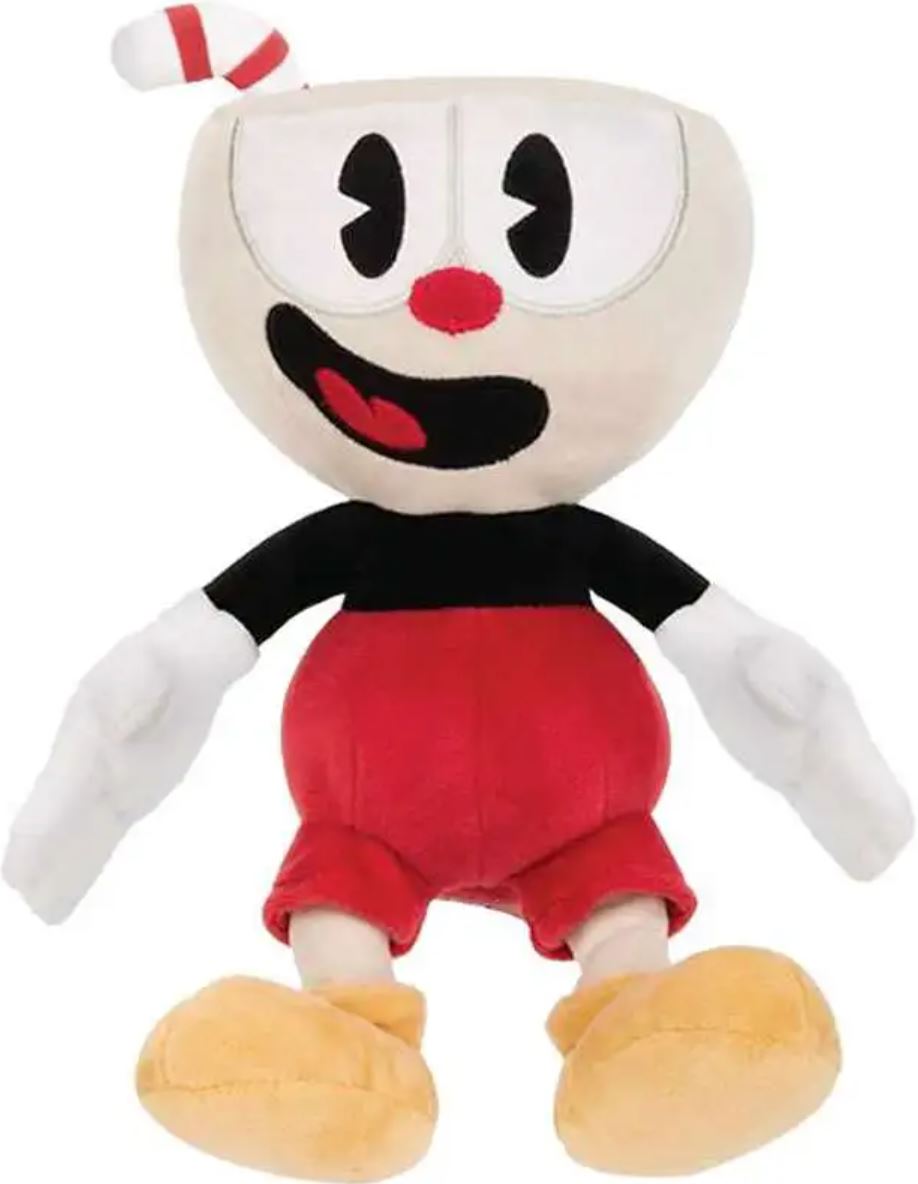 The Funko Cuphead Plush represents the primary character for playable joy in video games. Cuphead is the guy who saves various other mug-style friends with his brother, Mugman. Meanwhile, I love how Funko Plush captures Cuphead's goofy yet friendly expression because the poor mug needs a break from the bosses.
Funko Cuphead Plush Pros:
The Funko Cuphead Plush is a collectible eight-inches tall
The Funko Cuphead Plush has excellent colors, details, and features to match the game's character
Cuphead's expression shows his innocent and heroic side in the games
The Funko Plush brand of Cuphead stuffed toys is the ultimate for collectors
Funko Cuphead Plush Cons:
The Funko Cuphead Plush could use more detail on his fingers
The little straw will come off in multiple washes
Recommended Alternatives for Cuphead Plush
Nothing comes close to Cuphead plushies, but I recommend other plush brands that meet some common ground. For example, they come from video games or have their own streaming series. So, let's see which plushies I recommend beyond Cuphead plushies while you wait for more Cuphead character plush to launch.
Best Alternative for Streaming Show: Lankybox Plush
Lankybox Plushies also have old-school animation designs and come from a YouTube show. Indeed, it appeals better to younger kids, but the plushies have much in common with Cuphead plush. So, it makes an excellent alternative if you want younger kids to collect a plush fandom.
Cult of the Lamb Plush doesn't have much in common with Cuphead's old-school animation. Still, they come from an insanely popular video game. The game marries Cuphead's mild horror with something more suitable for older video gamers. Meanwhile, the plushies have a few options for collectors and gamers to enjoy.
Cuphead Plush Guide FAQs
Question: What Size Is the Big Cuphead Plush?
Answer: The Cuphead Plush comes in a 15-inch edition, the largest of its character plushies. Unfortunately, 15 inches won't make a jumbo Cuphead Plush because it would have to be around 20 inches tall. However, `the size isn't unacceptable, but you won't find a more significant Cuphead plush.
Question: What Are the New Funko Cuphead Figures?
Answer: Funko Pop is bringing a new series of Cuphead vinyl figures. For example, you'll find the Funko Pop Cuphead Devil's Throne Figure and the Funko Pop Airplane Ms. Chalice Figure launching soon. However, the Funko Pop Cuphead Chef Saltbaker Figure will soon bring a new boss to vinyl figures with chase editions.
Question: Does Amazon Cuphead Plush Come in Multi-Packs?
Answer: You can find various multi-pack Cuphead plush at Amazon. For example, the 8-Piece Cuphead Plush Amazon Bundle includes famous game characters, like Cuphead, Mugman, and the Devil Boss Plush. It also has excellent quality Cala Maria, Cagney Carnation, Ms. Chalice, Ghost Chalice, and Dice King Plushies.
Cuphead Plush Guide: Conclusion
Cuphead plushes are nostalgic, not only for gamers and plush fans. Instead, these nostalgic plushies look like old-school animation characters, even though I'm not old enough to recall them. However, the main characters and bosses await your fan collection. In addition, more bosses and characters are coming in vinyl figures.
So, my wish for more Cuphead plush characters will come true soon enough. My son wants to collect a few Cuphead plushies, and he loves the Cuphead Puphead Plush. He agrees that it captures the old-school animation better than most picks. However, he also needs Cuphead, Mugman, and Ms. Chalice.
My son wants to start the collection with playable cartoon characters that look like breakable mugs. So, I recommend beginning yours the same way until you grab the bosses to excite the plushies collection. Go on. Buy your first Cuphead plush today to start a brilliant gamer's collection.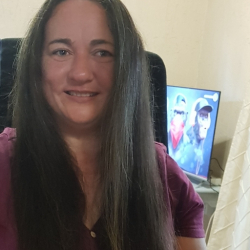 Latest posts by Caroline Lambert
(see all)