Hi guys! I'm so happy that you swung by. Today I'm sharing with you my Best Spiderman Squishmallow Guide. Spiderman is one of the most popular superhero characters worldwide.
People, especially children, love this character immensely, whether in a toy form or a person in a Spiderman costume. Spiderman Squishmallows have also been a crazy trend for some years. I've been a huge fan of Spiderman Squishmallows since they first came out, and they are one of my favorites.
I was so excited when I first saw "Spidey and His Amazing Friends x Squishmallows Collection" in the store. Spidey and his Squishmallow friends looked so charming that I couldn't stop myself from buying them. They were so cute and cozy looking that I got the whole set – and I'm glad I did. 
They are soft and squishy and make me feel calm and relaxed. Suppose you're a fan of Marvel Spiderman or the Squishmallow version. In that case, I recommend you to check out this Best Spiderman Squishmallow Guide. You won't be disappointed. Let's get started!
Bottom Line Up Front
As a Squishmallow fan and an avid buyer, I would love to help you find Spiderman Squishmallows from a place that is worth your money and time. I'll share some valuable details in this guide to narrow the hunt for the best Spiderman Squishmallow for you.
But before heading toward the top picks, let me show you my top Spiderman Squishmallow, Marvel Ghost Spider. A Ghost Spider/Spider Woman is an alternate version of Gwen Stacy. She has impressive superhuman strength, endurance, and agility.
This makes her a perfect variant of Spiderman. I love this Squishmallow version of her. It is made flawlessly from lovely intense colors and soft, plush material. I think she is adorable!
Take a glance at some of the awesome top picks mentioned below before diving into your favorite one. 
Top Picks
Marvel Ghost Spider

 – I love the colorfulness and the hoodie design. I also love her unique appearance.

Miles Morales Spiderman Squishmallow

 – I love the dark colors, its size, and that it won't get dirty easily.
Selection Criteria
I chose the Spiderman Squishmallows mentioned according to the following criteria. 
Spiderman Squishmallows that are bright and colorful.

Spiderman Squishmallows that have more than one purpose and can be used for playing, cuddling, or even as decoration. 

Spiderman Squishmallows that is soft and made out of high-quality materials like polyester. 

Spiderman Squishmallows that are perfect for Marvel Spiderman lovers.
Best Spiderman Squishmallow Options
Spidey Spiderman Squishmallow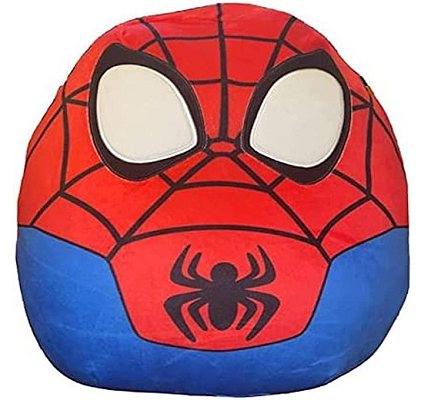 Features
Size: 14 inches

Brand: Squishmallows
This Marvel superhero-themed Spiderman Squishmallow is designed in a rounded form. It is made with high-quality plush material and is suitable for all ages. The iconic superhero is perfectly sewn and finished flawlessly in its red, black, and blue web costume. It is squishy, huggable, and perfect for little ones to play and snuggle with. 
I love this Spidey Squishmallow! It is perfectly replicated and portrays all of Spiderman's signature details greatly. It will make a great addition to your Spiderman collection!
Pros
It is easy to wash by hand or machine.

14″makes it a great size to use as a plush and a pillow.

Perfect for a Spiderman lover.

I like that the colors are so vibrant.

I like that it closely resembles Spiderman, even in its Squishmallow form.

It goes back to its original form after you squish it. 

It is an official Squishmallow!
Cons
Its eyes will show dirty quickly. 

It is expensive.

Its eyes don't have shiny material like the other Spiderman Squishmallows. 
Smaller Version of Spidey Spiderman Squishmallow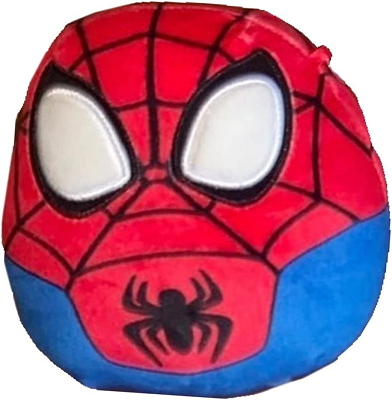 Size: 5 inches. 

Brand: Squishmallow. 
This Spiderman Squishmallow is the smaller version of the Squishmallow mentioned above. It is only 5 inches big, and it is made of great quality. The small size is great for little kids to throw in their backpacks and take with them wherever they go. 
It is absolutely adorable. I love playing with this plush toy with my nephew, as he adores it and always has a great time playing with it. I love tiny Squishmallows, and this is one of my favorites! 
Pros
It is an official Squishmallow.

Great for kids and adults. It is small enough for little kids' hands to hold. It is also great for adults who experience anxiety because it is the perfect size to squeeze. 

Good choice for bedroom, dorm, and living room decoration.

It is machine washable.
Cons
Some might not like that it is so small.

Not suitable for babies under the age of 3 as it can become a choking hazard.

It is expensive for its size. 
Miles Morales Spiderman Squishmallow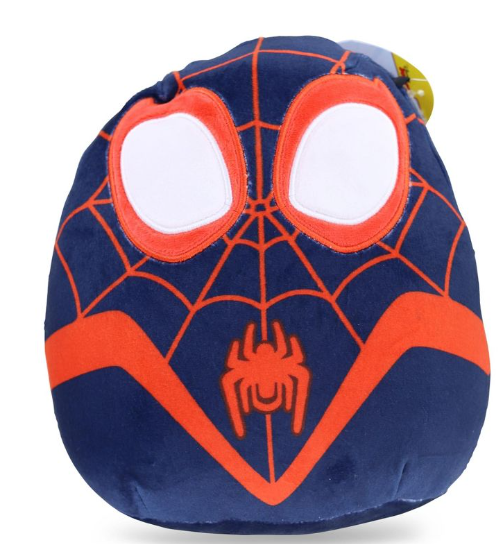 Features
Size: 8 inches.

Brand: Squishmallows
Miles Morales is a fictional character and a superhero in Marvel comic books. This Squishmallow perfectly exhibits the superhero character. It is a cuddly, soft, and collectible plush toy that is great for kids and adults of all ages. It is made from ultra-soft plush material, designed in exactly the same colors that Miles Morales should be. 
I bought this Squishmallow when it was first released after the movie "Spiderman- Into the Spider-Verse" in 2018. It is squishy and cozy and looks amazing with its intense colors. I love the size as it is small enough to take with me wherever I go. That is why I keep it in my car so that it is always with me.  
Pros
It is easy to clean, but it also doesn't show dirt as quickly because of its dark colors. 

It is so soft that it can be used as a pillow by kids.

It is made out of excellent quality.

I love its intense colors and that the red details stand out on the black. 

No features of the plush can come loose and become a choking hazard. 
Cons
For some people, it might be too small.

Some people might not like this Spiderman's red eyes and features and might prefer the original. 
Marvel Ghost Spider Squishmallow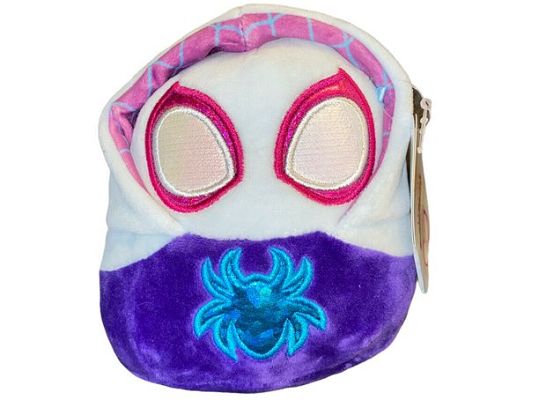 Features
Size: 5 inches

Brand: Squishmallows
Ghost Spider/ Spider Woman is another comic character of Marvel and a superheroine. She comes with an amazing purple and blue spider suit with prints on the front. The costume colors look amazing with the Spidey hood. She has sparkling eyes outlined in purple. This makes her look beautiful and makes her eye-catching.
When I first saw this Ghost Spider Squishmallow, I knew I wanted it. I loved it because it looked completely different from other Spiderman comic characters. I also like that it has that girly aesthetic going on. It is perfectly made with soft materials and is squishable and great to snuggle with. I'm obsessed!
Pros
It is an authentic Squishmallow.

I love the hoodie part of its outfit and that you can remove it.

I'm obsessed with the colors and the shiny eyes. 

Good choice to choose as a gift for girls.

She is affordable.
Cons
The lighter parts of the body will show dirt easily.

The material inside the hoodie part might tear easily if played too rough with.

Some might not like this Spiderman version as it looks different from the original Spiderman.

Too some her size might be too small.
Alternative Spiderman Plush Options
Here are some alternative Spiderman plush options if the Spiderman Squishmallows are unavailable. 
Valentine's Day Gifts: Hot Game Character Plush Doll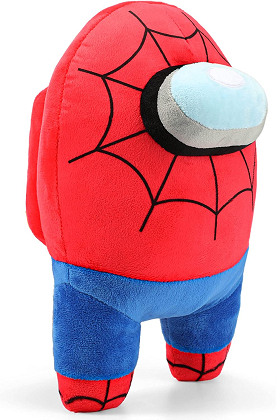 Features
Size: 12 inches.

Brand: 

Yeeqouks.
This plush toy is the Spiderman version of the Among Us plushies. So if you are obsessed with the Among Us game and love Spiderman, why don't you get yourself this combination plushie? You will love it, and it will make a great addition to your collection. 
It is soft and great to cuddle with. It is also affordable, which makes it even more perfect. 
Dom-Dom Spiderman Plush Toys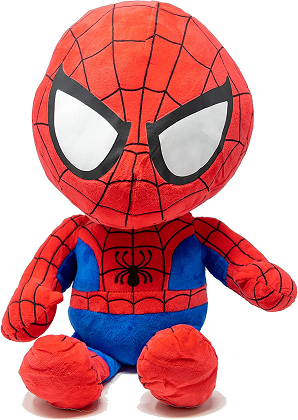 Features
Size: 17 inches

Brand: Dom-Dom
Here is the cutest alternative option. It is a cute Spiderman plush toy made with soft plush material and is highly durable. It is 17 inches making it a perfect play, cuddle, and nap buddy. It also has a string at the back of it so that you can put it up in your or your child's bedroom as a decoration. How cool is that? 
Ty Spiderman – Miles Morales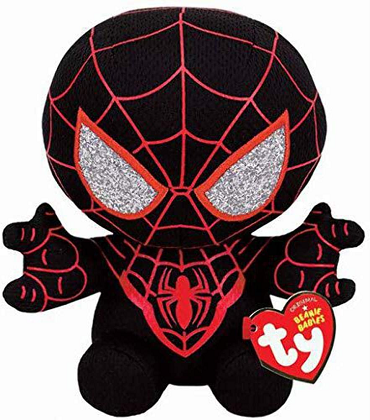 Features
Size: 6 inches.

Brand: 

Ty
This is the plushie version of the Miles Morales Squishmallow. It is so cute and very tiny, being only 6 inches. The red features on the black make him stand out more. I love his glittery eyes and that he is showcasing his signature move.
The best part is that it is a Beanie Baby, so it is great for anxiety as you can play with it and squeeze it. This will help you calm down and feel more relaxed. This is definitely my favorite Spiderman alternative option!
The Reversible Octopus Plush Toy, Spiderman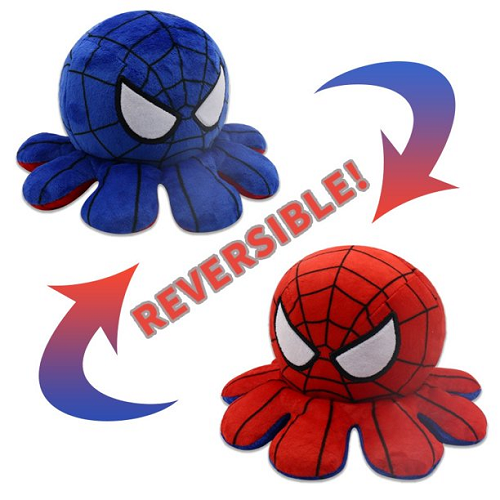 Features
Size: 7.8 inches

Brand: FORTUNE
Get two Spiderman plushies in one with this reversible Spiderman Octopus plush toy. It also acts as a great sensory toy, as you can show your emotions without uttering a word. You can show if you are happy or angry by just flipping your plush toy.
I love it, and I use this Spiderman plushie to showcase my emotions a lot. My husband knows that when this Spiderman plush is out and flipped to the blue side, chocolate makes me flip it back again.
I also love that this plush is so affordable. It makes it a great gift for your kids, friends, or even yourself. 
Spidey & His Amazing Friends: Ghost Spider, Spiderman, Miles Morales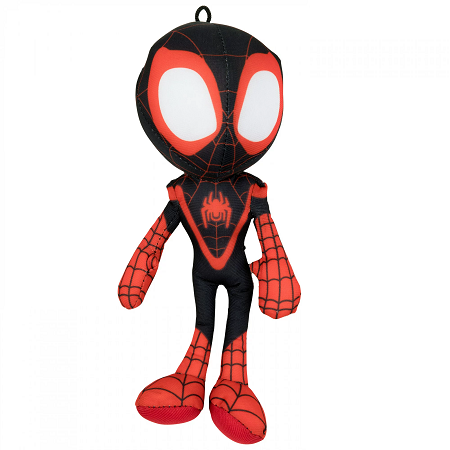 Features
Size: 9 inches.

Brand: 

Marvel 
Get your hands on this amazing trio squad! If you can't get the trio squad in the Squishmallow version, get them in the plushie version. Spidey and his friends are gathered to give you more fun.
They are soft and cuddly, made from high-quality soft material, and are perfect playing partners. Ghost Spider Gwen Stacy, Spiderman Peter Parker, and Spiderman Miles Morales make a great team with their impressive skills and Spidey costumes. Create amazing adventures and enjoy having fun with Spidey and his amazing friends. 
Where To Buy Spiderman Squishmallows
Below are some places where you can find good-quality Spiderman Squishmallows.
In-store
Target

Walmart

Five below
Online
Amazon

Walmart

Smyth Toys

Target
FAQs
Question: How many characters of the Spiderman Squishmallows are there?
Answer: Spidey (Spiderman), Miles Morales, and Ghost Spider are the Squishmallows that are available in the Marvel Spidey collection.
Question: What material are the Spiderman Squishmallows made of?
Answer: The Spiderman Squishmallows are made of soft spandex and then filled with polyester fiber. This is what makes them so squishy, soft, and marshmallow-like.
Question: What is the smallest and biggest size available in a Spiderman Squishmallow?
Answer: 5 inches is the smallest so far, and 14 inches is the biggest Spiderman Squishmallow available.
Question: Are the Spiderman Squishmallows still trendy?
Answer: Hell, yes! Spiderman Squishmallows are still trendy and will still be trendy for a very long time. Spiderman is such an iconic character, so get ready to see him for a long time.
Best Spiderman Squishmallow: Conclusion
There you have it, Webheads! I hope you enjoyed the best Spiderman Squishmallow guide. Even Though there are only 3 Spiderman Squishmallows available right now, each version comes in different sizes. So you're sure to find the size Squishmallow that suits your needs. 
Spiderman has been trendy for many years; trust me, my spidey senses tell me it won't go out of trend anytime soon. So buy yourself these Spiderman Squishmallows and plushies and grow your collection. You can give them to your children, and they can give them to their children, and they will still be iconic. 
What was your favorite Spiderman Squishmallow mentioned in this article? Let me know in the comments below. My favorite Spiderman Squishmallow is the Marvel Ghost Spider. I love her colorful colors and her bright eyes, and the fact that she has a cute hoodie design as part of her outfit. 
What are you waiting for? Get your Spidey on and go get yourself a Spiderman Squishmallow today!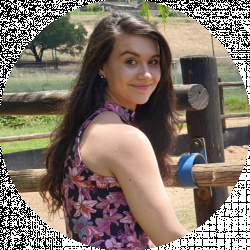 Latest posts by Christine Kent
(see all)