Are you a mom who wonders why your child would rather play with a stick than a teddy bear? You're not alone. Fortunately, two famous YouTubers saw how kids enjoy imaginative play with primitively-inspired plush toys. You'll discover all the secrets in my Lankybox Plush Guide.
My kids enjoy collecting Squishmallows, Pokémon Plush, and other popular stuffed toys. I'm proud to say they got the habit from me, who has collected plush toys as long as my mother did. However, my kids are slightly old for Lankybox plush. It won't change my curiosity about how the YouTubers turned simple play into magic.
Playing with sticks, rocks, and boxes is fun for little kids. So, let me share what I know about Lankybox.
Lankybox Plush: Bottom Line Up Front
Right off the bat, I knew Lankybox plushes were great toys for little kids who still enjoy imaginative play with sticks, stones, boxes, and cans. I'll share how the famous YouTube friends turned young children's pretend-play games into a raging plush fandom, not to mention the other kinds of merchandise from Lankybox.
In addition, Lankybox plushes go beyond standard types, with some tasty-smelling options and glow-in-the-dark plush. Moreover, the Lankybox plush brand is tapping into other animated shows that appeal to the same age groups, bringing new characters children love the same as playing with a pretend stick.
But first, let me introduce a favorite Lankybox plush I'd buy for my kids if they were young enough. The Spongebob Lankybox Sandy x Foxy Plush is my top pick because it makes the most sense. Sandy and Foxy share many qualities, and children will play endless imaginative games with two of their favorite characters.
However, let's discover all the Lankybox plush secrets before seeing more incredible examples.
A Complete Guide to Lankybox Plush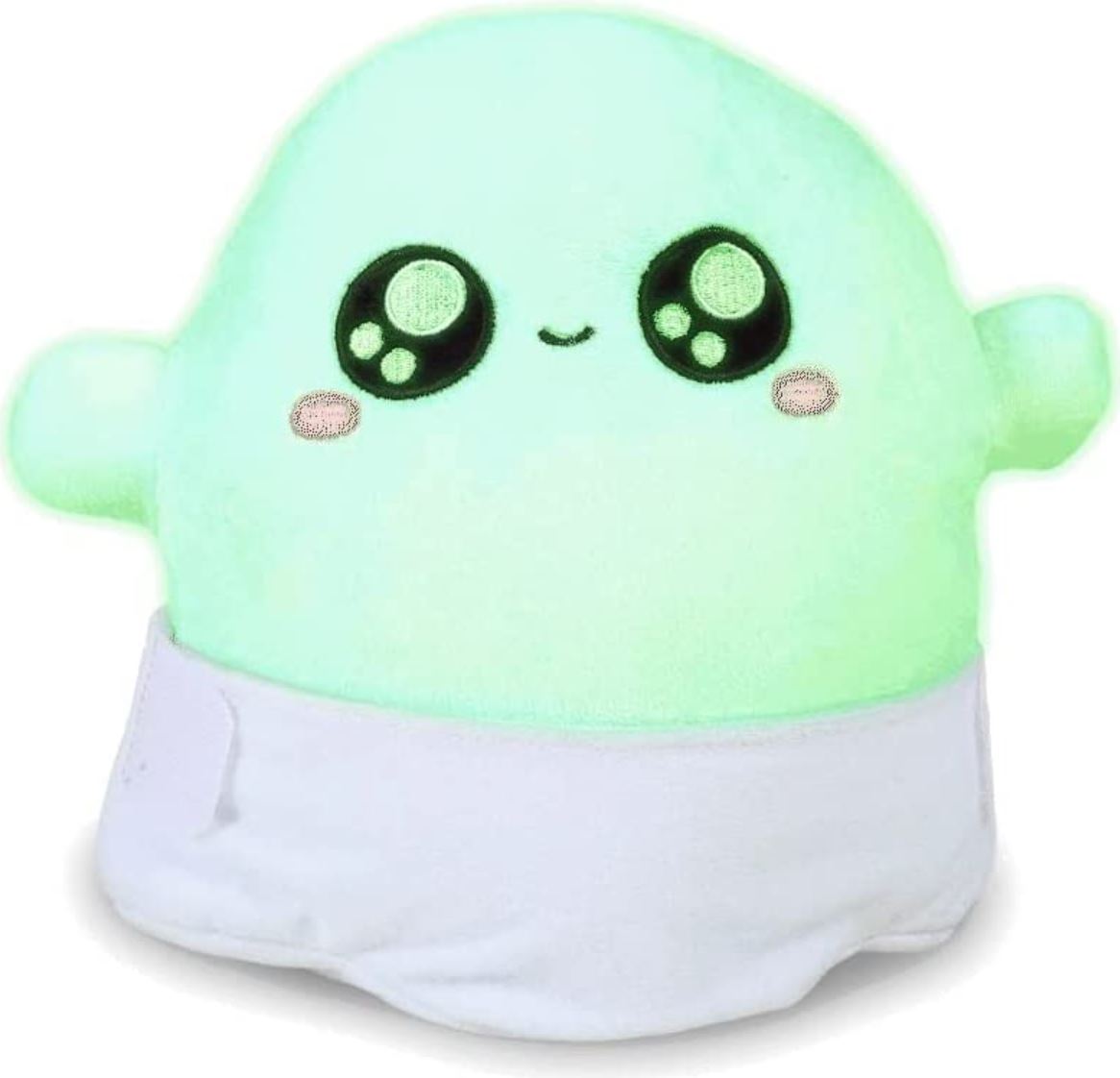 Lankybox is a raging fandom with young kids falling over their feet to see the next launch. However, what are Lankybox plush, and where do they originate? Who thought of such adorable plushies and the funny videos behind them? Let's discover more about Lankybox, including some tips about buying them.
What Are Lankybox Plush?
Lankybox plush is a new range of adorable yet primitive-styled plush toys that include various kinds. Milky, the Lankybox Plush, was the first launch targeting children. He has a voicebox and makes music. However, Milky's design is simple to make him look like a milk bottle, which appeals to the tastebuds of little kids.
The Milky Lankybox Plush sings the Milk Song when children push their buttons. Lankybox is a funny YouTube Channel for young kids who play with and befriend plush toys. You can watch a series of adorable videos suitable for little kids, inspiring imagination. Meanwhile, they introduce all the Lankybox plush friends.
Meanwhile, Bonkers Toys knew the Lankybox story had more than a series and created plush toys and other merchandise for the YouTubers. Justin Kroma and Adam McArthur are famous YouTubers lighting up children's faces everywhere. Not only are they introducing children to imaginative plush characters and stories.
The YouTube team also welcomes new characters from popular animated shows that appeal to the same age groups. Justin and Adam are doing great things for little kids who watch simple animated fantasy stories with a funny twist. Humor is a massive factor in their YouTube channel. Lankybox is excellent for kids under seven.
Various Kinds of Lankybox Plush
Lankybox plushes are adorable, looking like anime characters. However, some of them have qualities beyond their style. You could use Lankybox plush as traditional plush friends or collectibles or add some spicy fun with weird types of Lankybox plush. Here are some odd kinds of Lankybox plush:
Baby Lankybox Plushes have an anime or chibi-styled expression and look like babies.
GITD or Glow-In-The-Dark Lankybox Plushes are any character plush that lights up at night.
Interactive Lankybox Plushes have singing boxes to make music for young kids.
Lankybox Mystery Squishies are small yet ultra-soft plush with original Lankybox friends.
Lankybox Thicc Plush is when characters are adorably round with anime-styled features.
Mini Lankybox Plushes are tiny versions of your favorite characters you can use as keychains.
Scented Squishy Lankybox Plush smells like grapes, tropical notes, or rocky road ice cream (wow!).
Spongebob Lankybox Plushes are crossovers with show characters like Mr. Krabs, Patrick, and Squidward.
Meanwhile, Lankybox has various original characters for the plush brand, each with its collection. These original Lankybox character plush can also crossover with any plush type to bring you double the fun. The Classic Lankybox Plush Series includes characters like:
Boxy plush
Canny & Sticky plush
Foxy plush
Ghosty plush
Milky plush
Rocky plush
Buying Tips for Lankybox Plush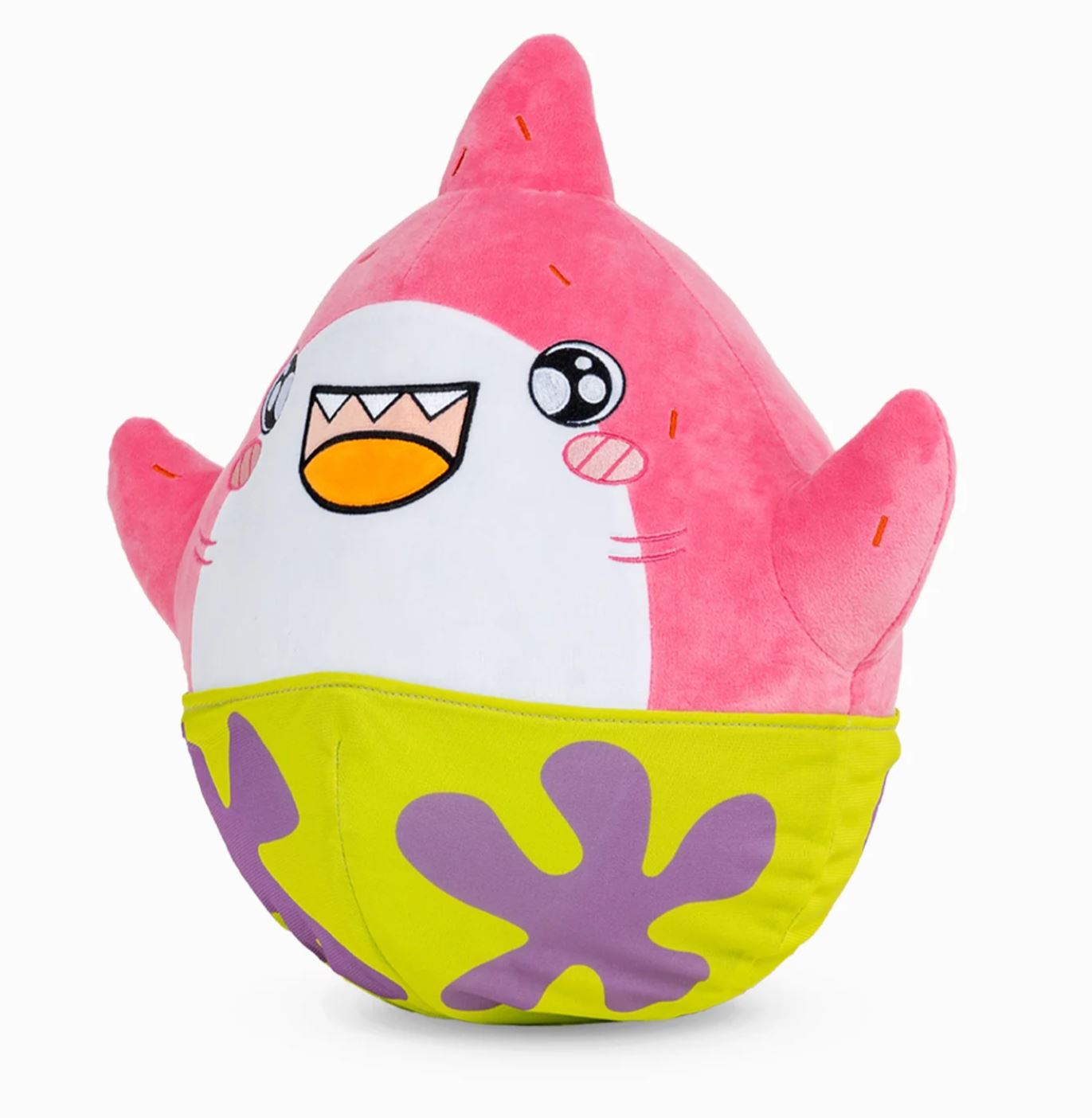 Lankybox plushes are everywhere, but you won't find all the stuffed toys until you know who sells loose plush. So, let's dive into my buying tips for ordinary stores. Should you wish to buy a mystery Lankybox or bundle plush, your best store is Bonkers Toys. Weirdly, the plush creator sells very few options.
Alternatively, Justin and Adam have an official Lankybox store where you'll have better luck buying individual plush. In addition, you'll find fantastic merchandise, including Lankybox apparel and Lankybox accessories. Furthermore, the YouTubers have trusted contracts with other stores to sell their licensed plush, including:
These YouTubers started something unique, and I encourage you to support their original, funny, and adorable ideas. Both stores have full rights to sell authentic Lankybox plush. However, I recommend that you ensure the plush comes from the Lankybox brand in these stores and no other random brand.
How I Selected Lankybox Plush Examples Worth Sharing
Enough Lankybox plush exists to keep an army of children busy for days. So, I'll use a few factors to narrow down the examples worth sharing for little kids. Firstly, my Lankybox plush examples will only include single plush toys and not multi-packs or mystery bundles. Furthermore, they must meet these requirements:
My Lankybox plush must come from the Lankybox store or Amazon's official store because they offer the best single plushes variety and sell authentic Lankybox under the brand's store name.
It must be a traditional-styled plush without a keychain cord. However, I'll include plush examples from the Interactive, GITD, and Scented Squishies ranges because they look traditional enough.
My picks must offer a variety of Spongebob and Classic characters, meaning each one must at least have one character design, but two are a bonus. For instance, Sandy wearing Foxy's mask is fantastic. Meanwhile, I'll try not to repeat characters unless another excellent version is available. My ultimate target is at least to introduce every Lankybox character.
It must be the most adorable version of the crossover character Lankybox plush. For example, a baby Lankybox is more precious than a regular Lankybox stuffed toy.
Lankybox Plush Guide: A Variety for Kids
I'm as excited as a young child in a toy store when presenting my favorite Lankybox plush examples. These plushes are beyond anything you can imagine in the realm of cuteness. Each one is a famous Lankybox character or a Spongebob collaboration. So, let's waste no more time and get to the incredible plushies.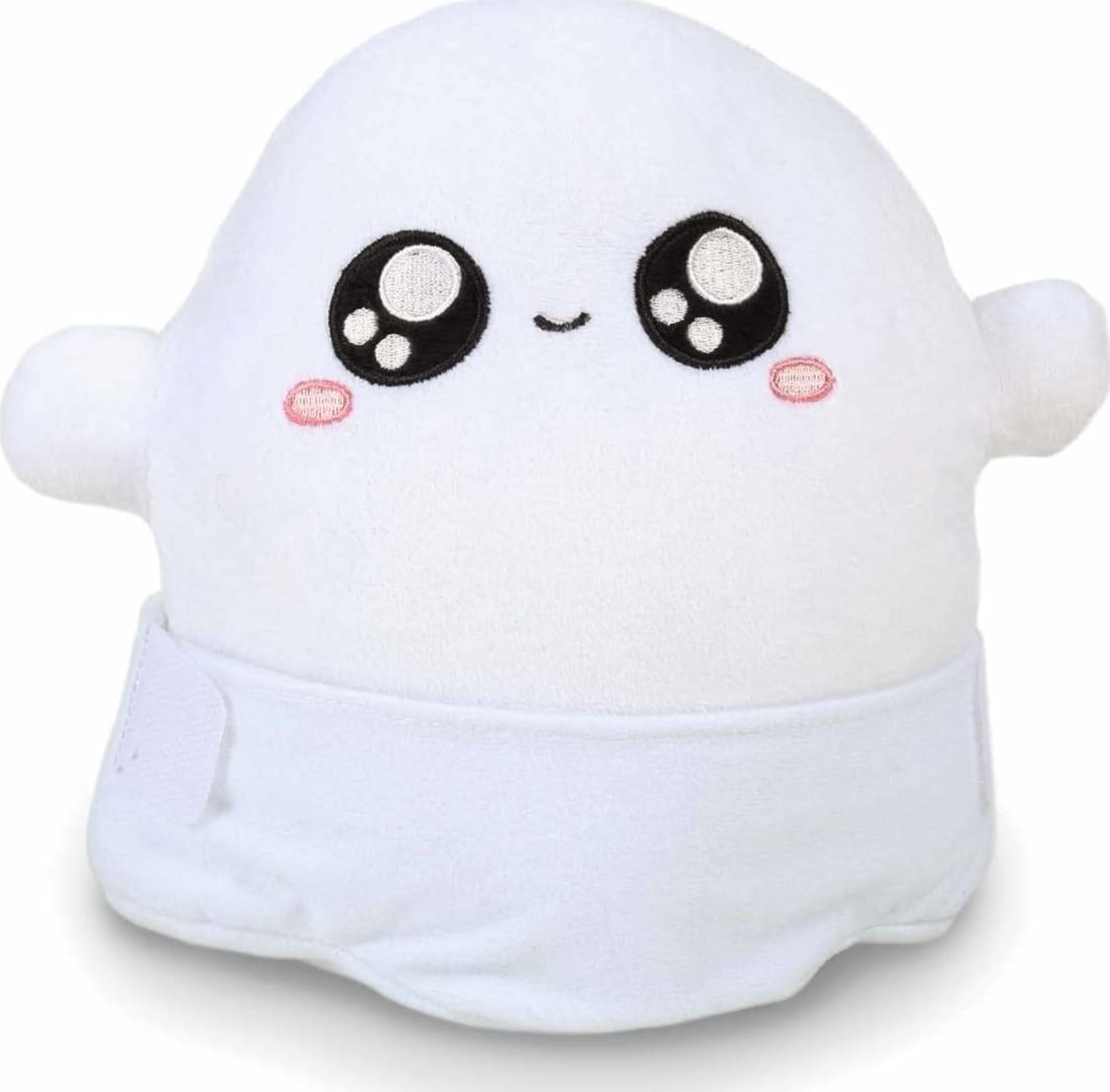 Ghosty is an incredible plush friend for kids who don't mind spooky toys. Admittedly, Ghosty has no bizarre factors about it. It doesn't look like something that goes bump in the night because it's specifically for kids. Meanwhile, this plush can glow at night if you expose it to the right daytime conditions.
Size: 10″
Version: Baby & GITD Lankybox plush
Lankybox Baby GITD Ghosty Plush Pros:
The Lankybox GITD Ghosty Plush is beyond adorable, with baby eyes
The blushing cheeks and friendly expression make this plush cuter
The Lankybox plush can light up at night and looks like a baby
Little kids will go wild for this GITD baby Ghost stuffed toy
Lankybox Baby GITD Ghosty Plush Cons:
Ghosty must have sunlight or UV light to glow at night
White plush toys are a nightmare for smaller children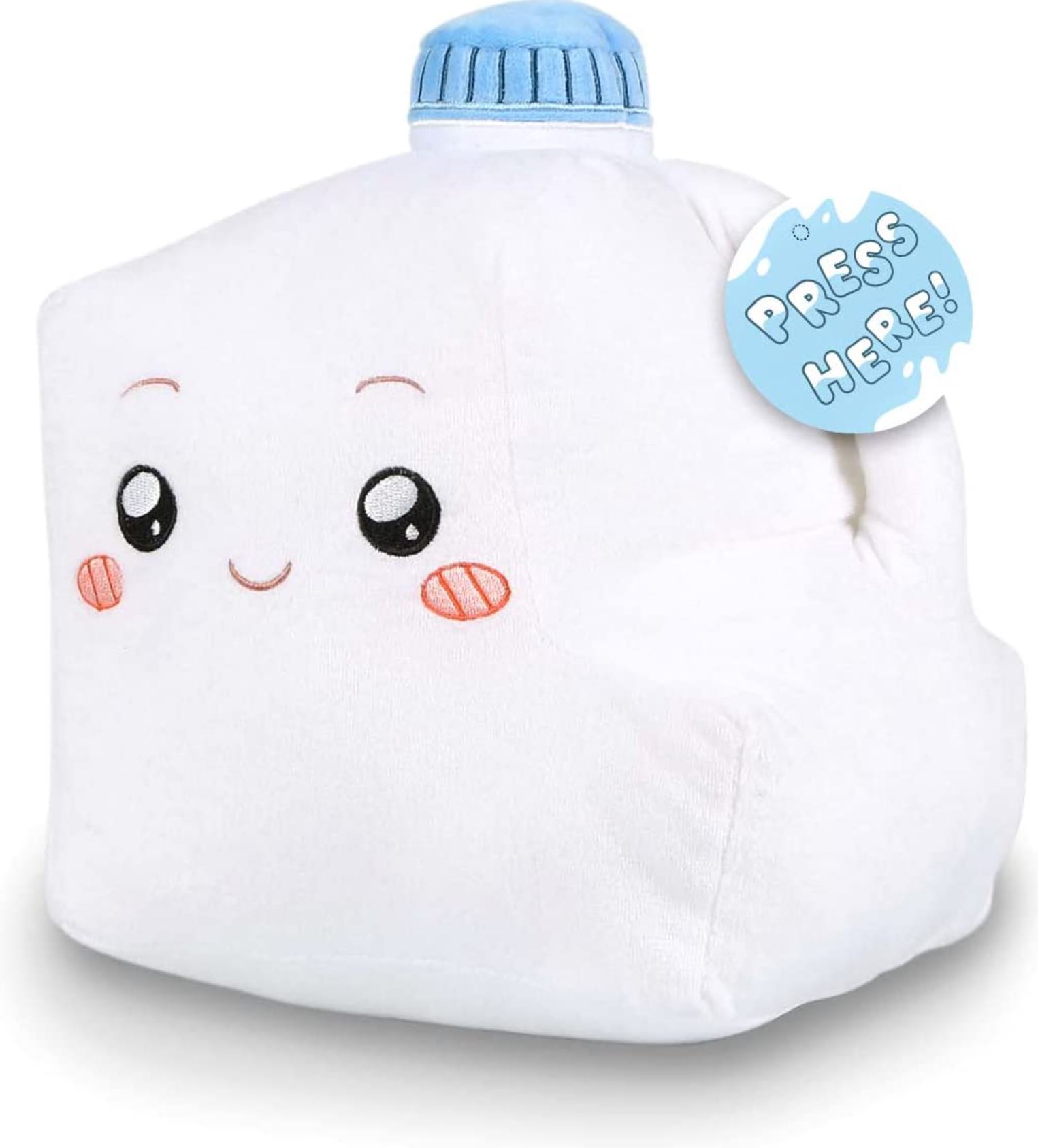 Only one Lankybox plush has a voice box, and it's the unique Milky plush with a favorite song for toddlers. Not only can Milky keep young kids entertained, but it can also teach children the value of drinking milk to keep their bones strong. Strong bones are a lesson I loved teaching my kids. So, Milky has many things in my favor.
Size: 10″
Version: Interactive Lankybox plush
Lankybox Musical Milky Plush Pros:
The Lankybox Milky Plush has a voice box to make sounds
Milky can sing a beautiful song that teaches kids about drinking milk
Little kids enjoy interactive plush toys that sing and make other sounds
Milky's eyes, cheeks, and adorable design would appeal strongly to toddlers
Lankybox Musical Milky Plush Cons:
The Lankybox musical Milky plush is another show-white nightmare
Milk bottles aren't a favorite toy for little kids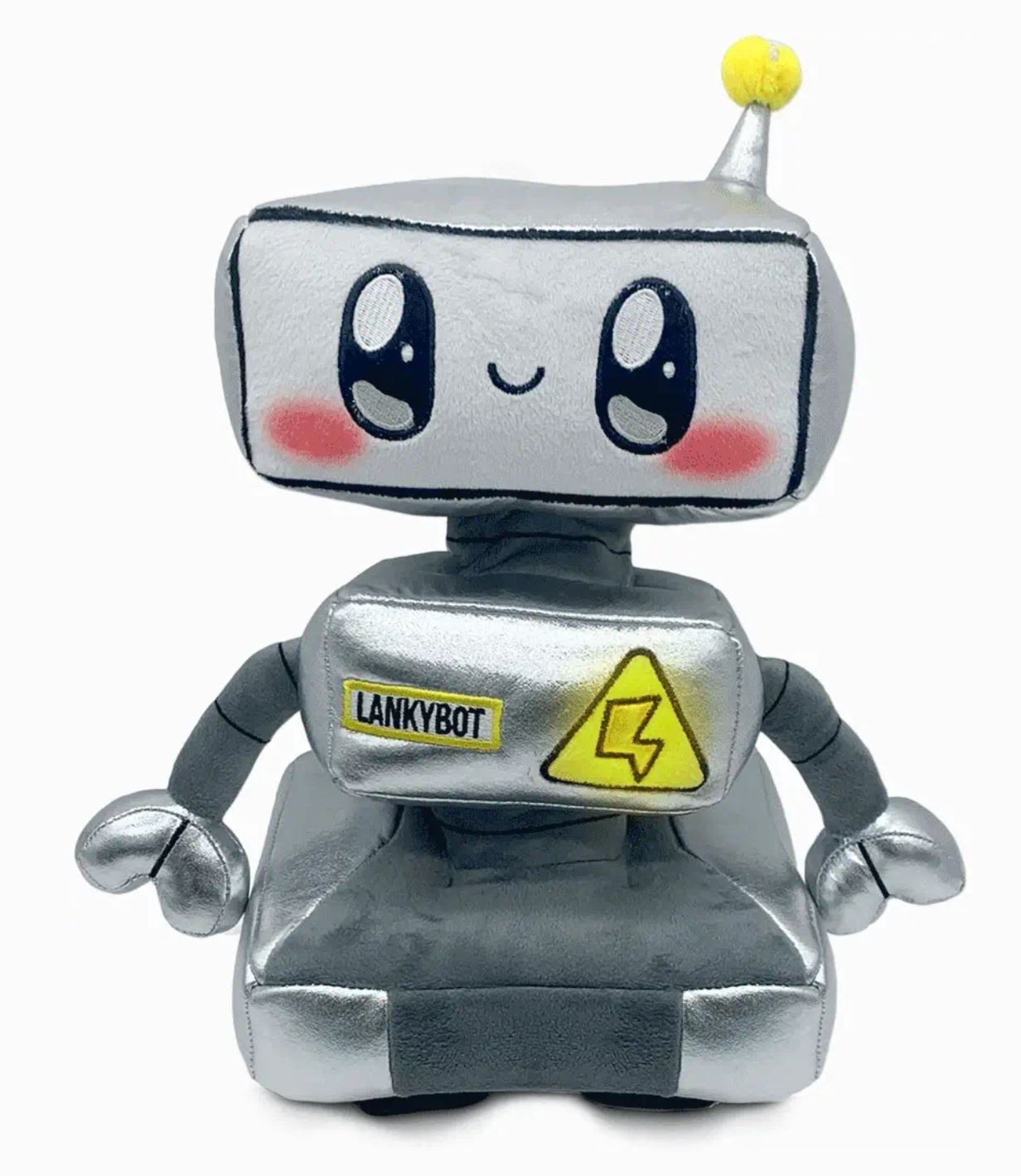 The interactive Lankybox Lankybot plush is another joy for little kids who learn from sensory toys. Lankybot's lightning chest lights up as an interactive experience to keep young children entertained. It can work well as a nighttime plush friend when kids are afraid of the dark. Meanwhile, Lankybot has the cutest face.
Size: 14″
Version: Interactive Lankybox plush
Interactive Lankybox Lankybot Plush Pros:
The Lankybox Lankybot plush has an interactive night light for kids
Children will spend hours with this imaginative toy and plush friend
Lankybot's details make it look like a genuine robot with shiny parts
Lankybot has an adorable face that children can only imagine as friendly
Interactive Lankybox Lankybot Plush Cons:
The Lankybot plush is pretty significant for little kids
This interactive Lankybox plush requires constant batteries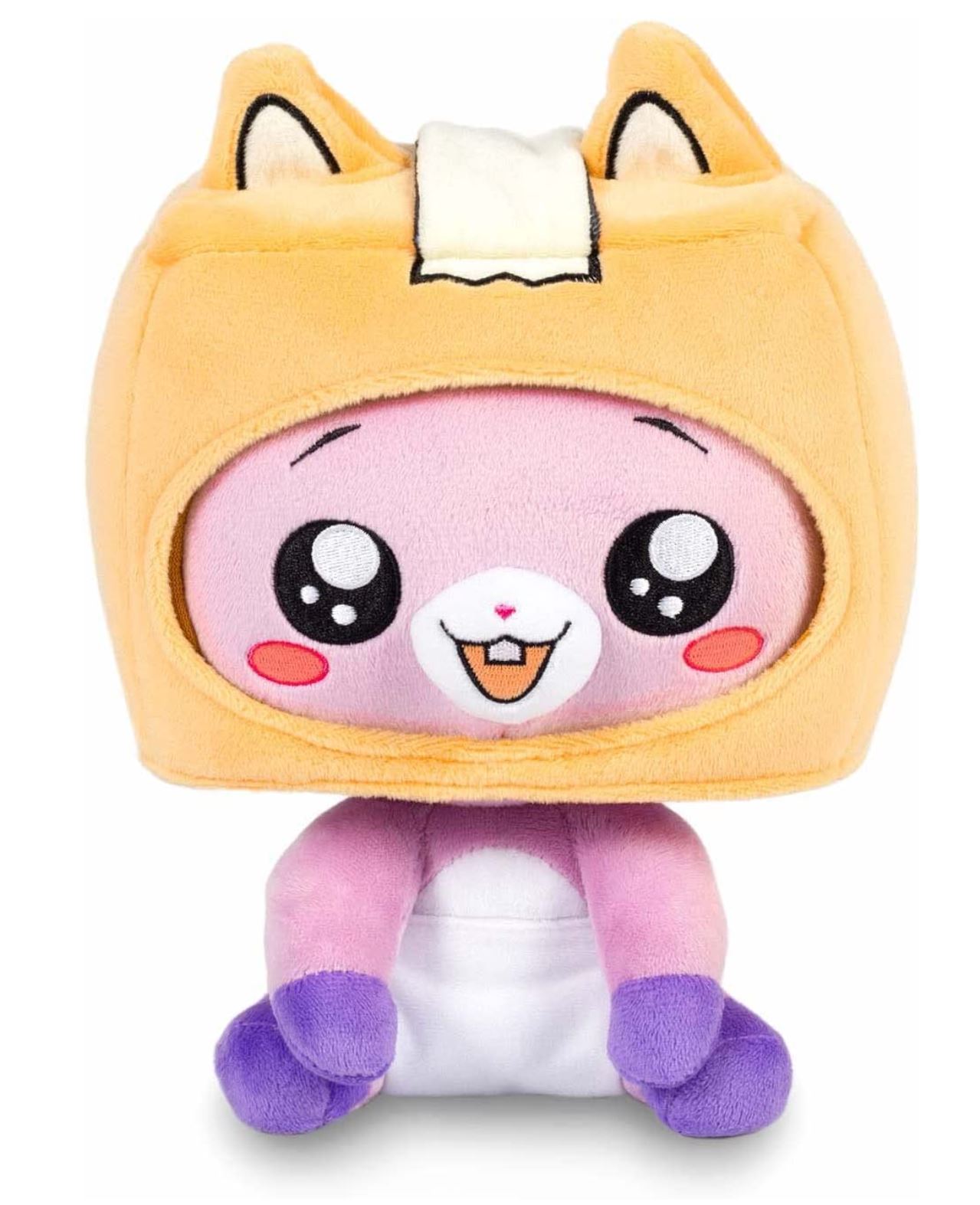 Lankybox makes various adorable baby versions of their classic plush characters. Besides, what kid won't enjoy a baby-style plush? My kids used to play imaginative games with plush toys, believing the plushies were their babies or little siblings. Baby plush designs are ideal for encouraging this behavior from little children.
Size: 10″
Version: Baby Lankybox plush
Lankybox Baby Foxy Plush Pros:
The Lankybox Foxy baby plush will blow cuteness radars away
The baby Foxy plush even has its first tooth to relate to toddlers
Foxy's face, cheeks, detailed eyes, and sitting position make her more baby-like
Little kids will have so much fun pretending to protect their plush friends
Lankybox Baby Foxy Plush Cons:
Foxy is Lankybox's animal character that doesn't fit the classic toy idea
Little kids will break the strap off Foxy's box head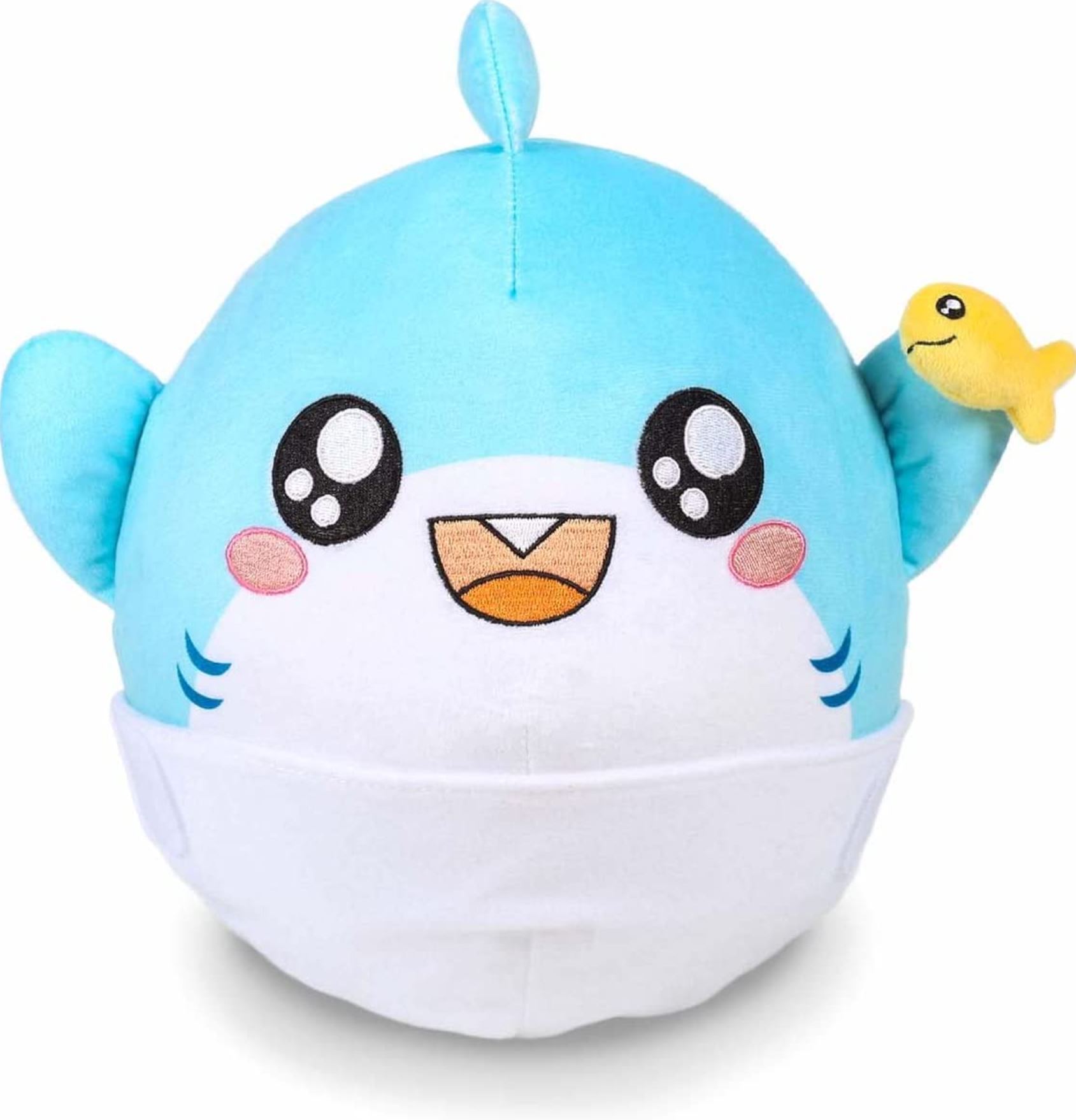 Lankybox also created a shark for the classic series, introducing the Thicc style with an animated design. It has an oddly-shaped body for a shark, but this plush is a child's dream as a baby Lankybox again. The shark even includes a tiny goldfish friend to make children's imaginations go wilder than before.
Size: 10″
Version: Baby Lankybox plush
Lankybox Baby Thicc Shark Plush Pros:
The baby Lankybox Thicc Shark plush is a cute animal in a baby's image
The little shark wears a diaper to help kids with potty training
Young children will have two plush friends to enjoy and protect
Thicc Shark's face, eyes, toothy mouth, and cheeks are smashingly adorable
Lankybox Baby Thicc Shark Plush Cons:
The little goldfish can break off, breaking a toddler's heart
Thicc Shark has way too much white on the body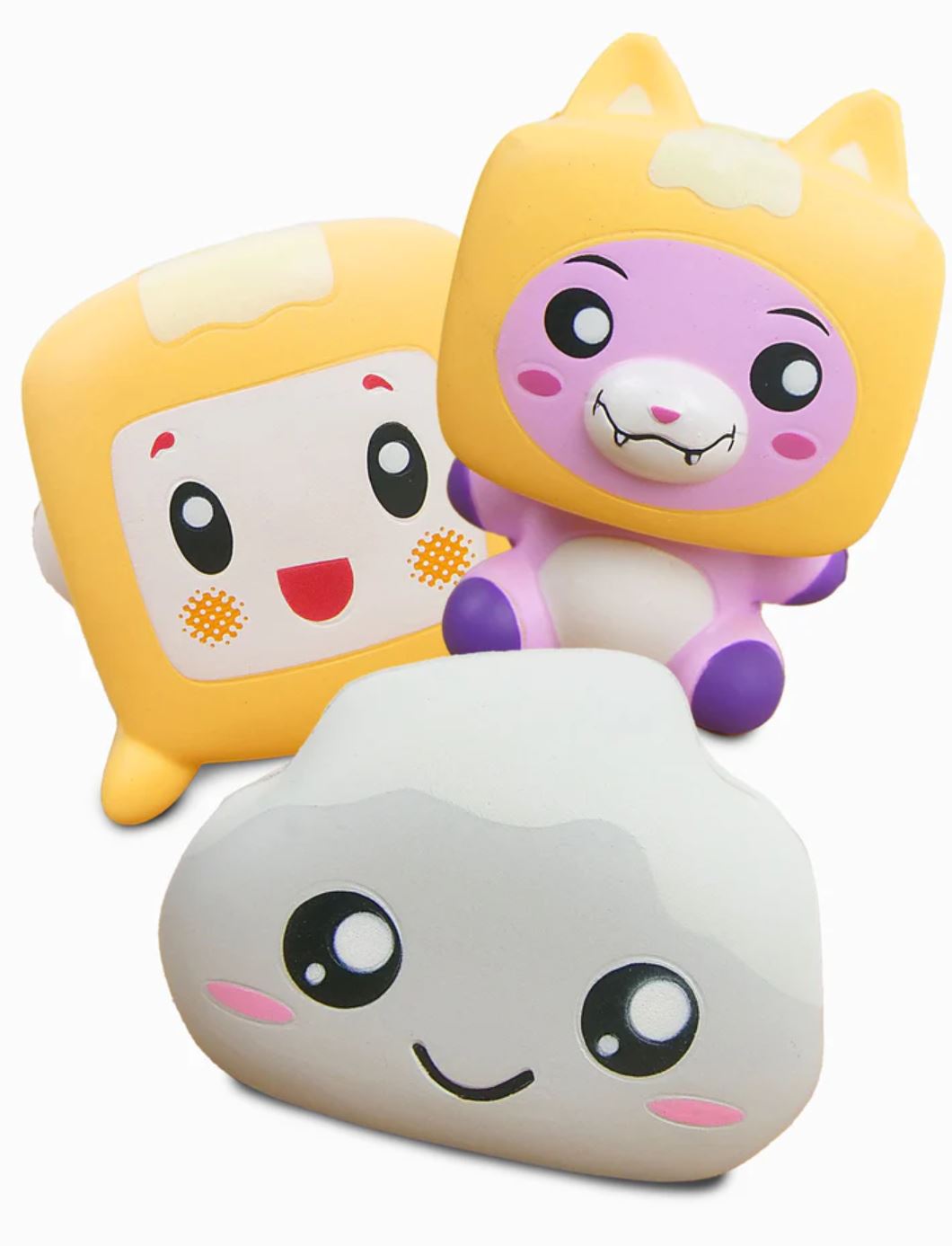 I wanted to share one of Lankybox's scented Squishies, and Boxy was the prime candidate. Fortunately, you can order only one of the Squishies from the Lankybox store. Meanwhile, these plushies are slightly different, more like sensory toys. They have memory foam interiors and feel more like marshmallows than any other plush.
Size: 4″
Version: Lankybox Scented Squishies
Lankybox Scented Boxy Squishie Pros:
The mini Boxy scented Squishie plush is a sensory toy for little kids
The Lankybox Boxy Squishie has a tantalizing tropical scent
Children can squeeze the tiny plush to make the smell stronger
Boxy is an adorable classic character inspired by simple playtime ideas
Lankybox Scented Boxy Squishie Cons:
Lankybox Squishies aren't much like traditional plush and have more rigid exteriors
Boxy doesn't look like a standard plush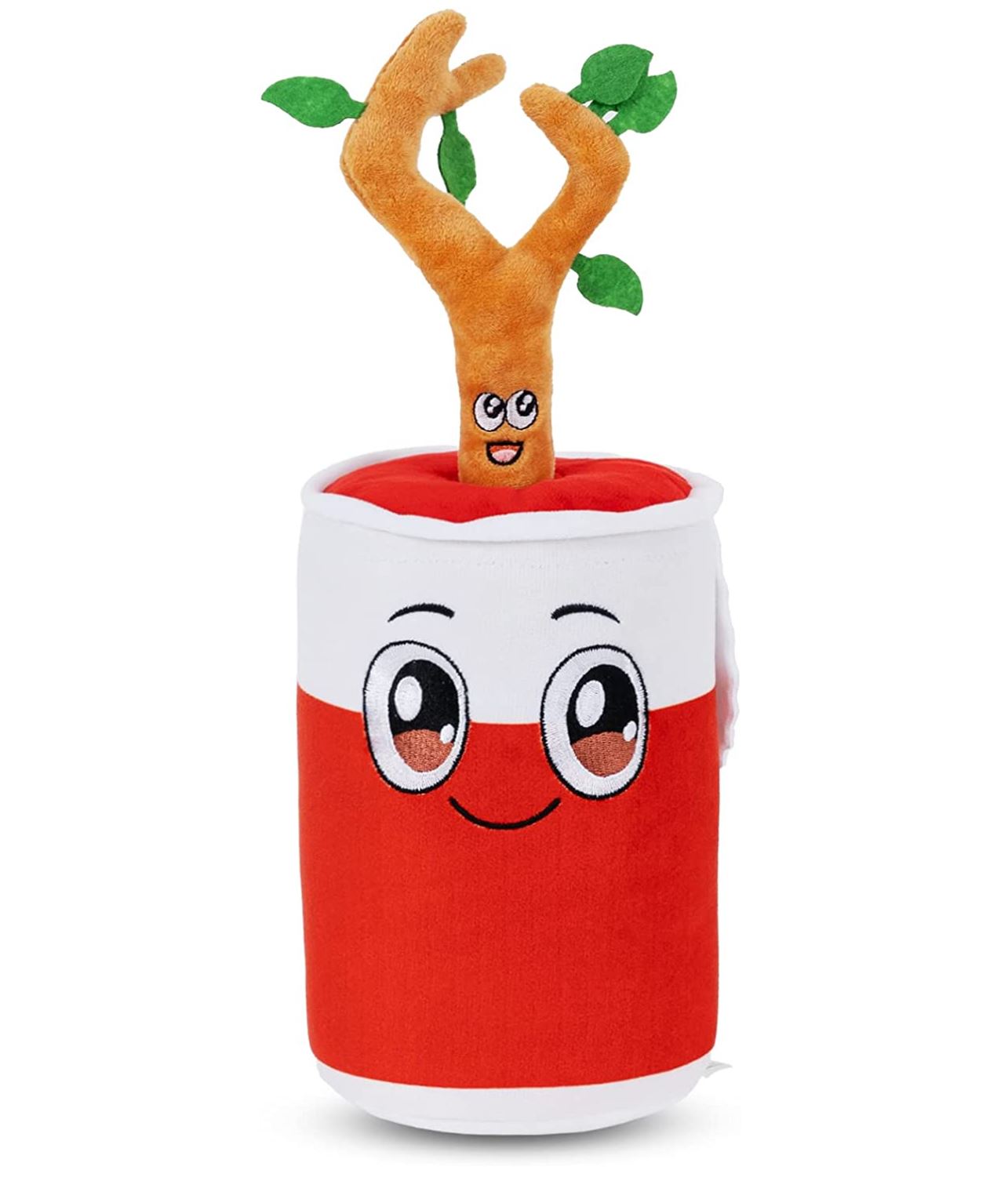 Unfortunately, Sticky doesn't have a single-character plush because most kids played with a stick at some point in their lives. I know the trials of buying new toys, many popular ones, only to find your kids playing with sticks and rocks in the garden. Soft drink cans are another favorite toy kids imagine when playing outside.
Size: 14″
Version: Classic Lankybox plush
Lankybox Sticky & Canny Plush Pros:
The Lankybox Sticky and Canny plush is a classic idea in one character
Most children in the imaginative era can think of games for this plush
Sticky and Canny have adorable faces with bright eyes and detailed features
Little kids can also enjoy tactile experiences with the smaller parts on top
Lankybox Sticky & Canny Plush Cons:
I wish Sticky had its own plush for kids to enjoy
The leaves will break off with a lot of tactile playtime activities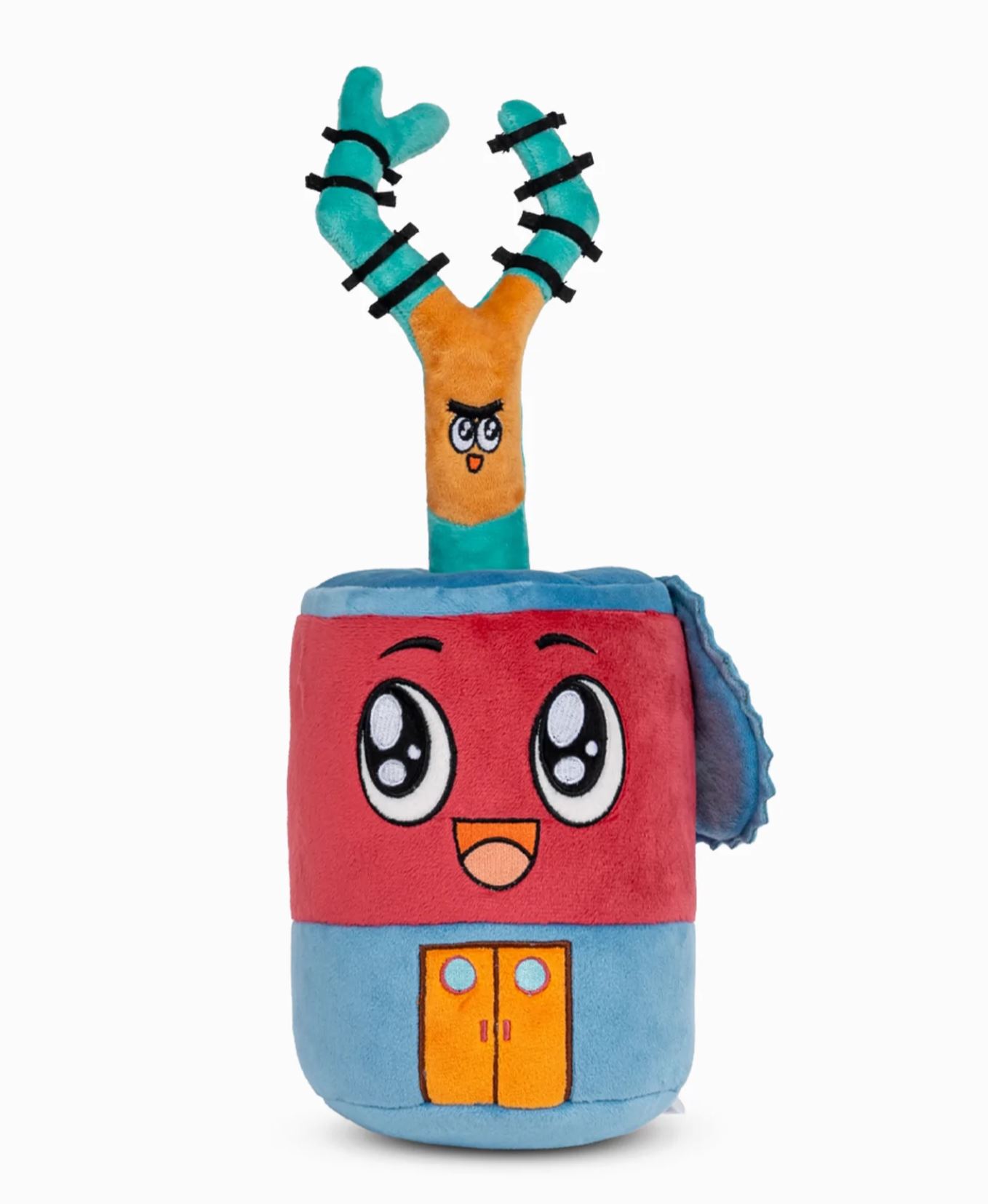 I'm allowed a least favorite Lankybox plush, and this plush flags all my radars. I wouldn't say I like the Chum Bucket and think Plankton is the worst villain in Bikini Bottom. However, some kids will enjoy the collaboration, bringing Sticky and Canny for one more show. The partnership includes Bikini Bottom and the Classic Series.
Size: 14″
Version: Spongebob Lankybox plush
Lankybox Chum Bucket & Plankton Plush Pros:
Little kids enjoy Plankton's criminal ways in the Chum Bucket
The Lankybox Spongebob plush brings four characters to life simultaneously
It's an adorable collaboration of good and evil characters
Little kids will find countless ways to play with the four-character plush
Lankybox Chum Bucket & Plankton Plush Cons:
Plankton's or Sticky's facial expression isn't friendly for little kids
The leaves will break off when kids use them for tactile experiences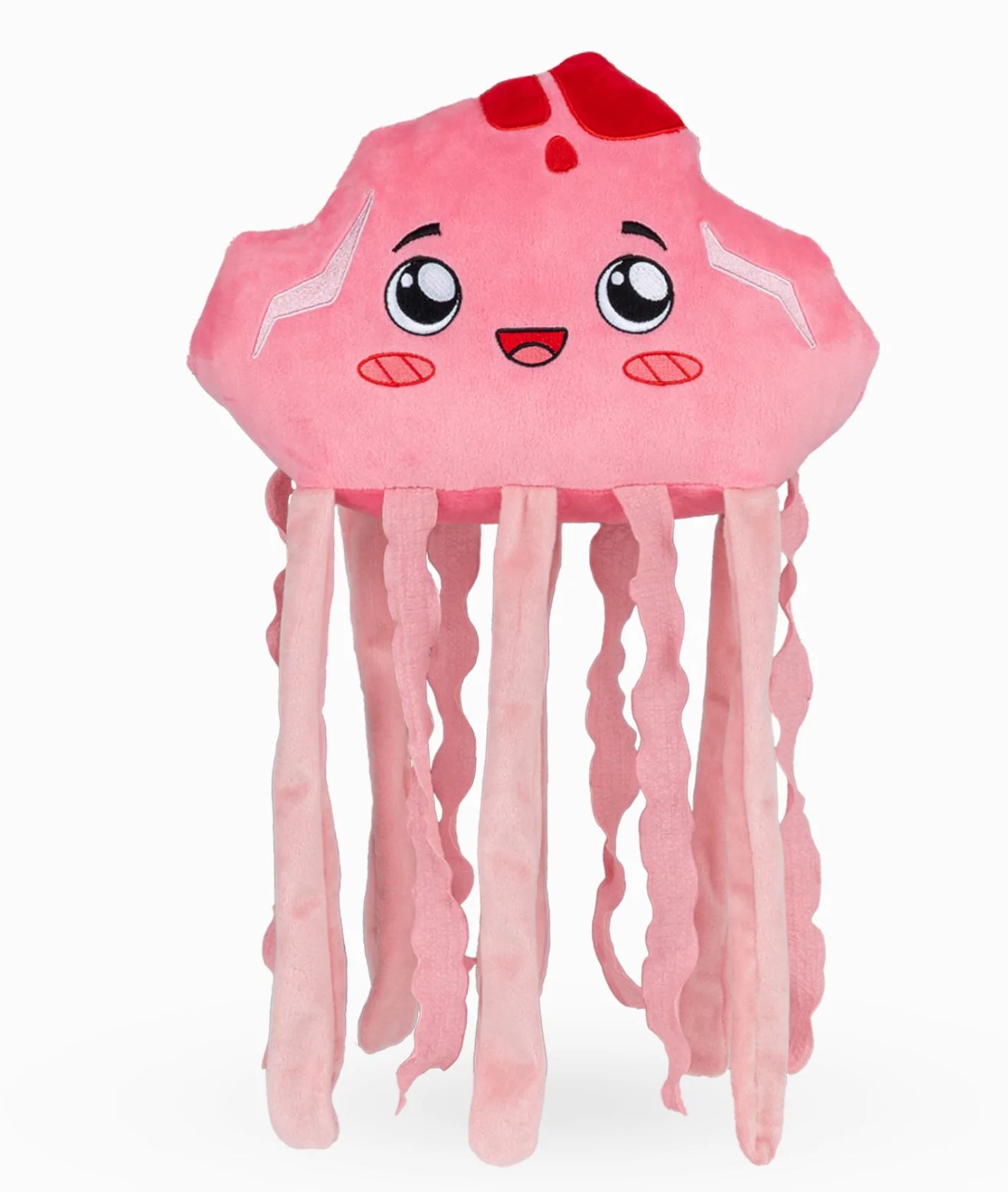 Spongebob shares an imaginative experience with little kids when he chases jellyfish all over Bikini Bottom, making this collaboration ideal for little kids. Toddlers and preschoolers would enjoy imagining the floating jellyfish. Meanwhile, you can teach them about the weight of a rock and how it would sink the jellyfish.
Size: 20″
Version: Spongebob Lankybox plush
Lankybox Spongebob Jellyfish x Rocky Plush Pros:
Spongebob's Jellyfish Lankybox plush is the most prominent one you can buy
The jellyfish and Rocky collaboration is funny and ironic
Little kids will love the tactile experiences of the jellyfish tentacles
It's a bright, massive, colorful, and friendly-looking imaginative plush friend
Lankybox Spongebob Jellyfish x Rocky Plush Cons:
The tentacles will slowly break with kids enjoying the tug-of-war game
The Lankybox Spongebob plush is too big for little kids under three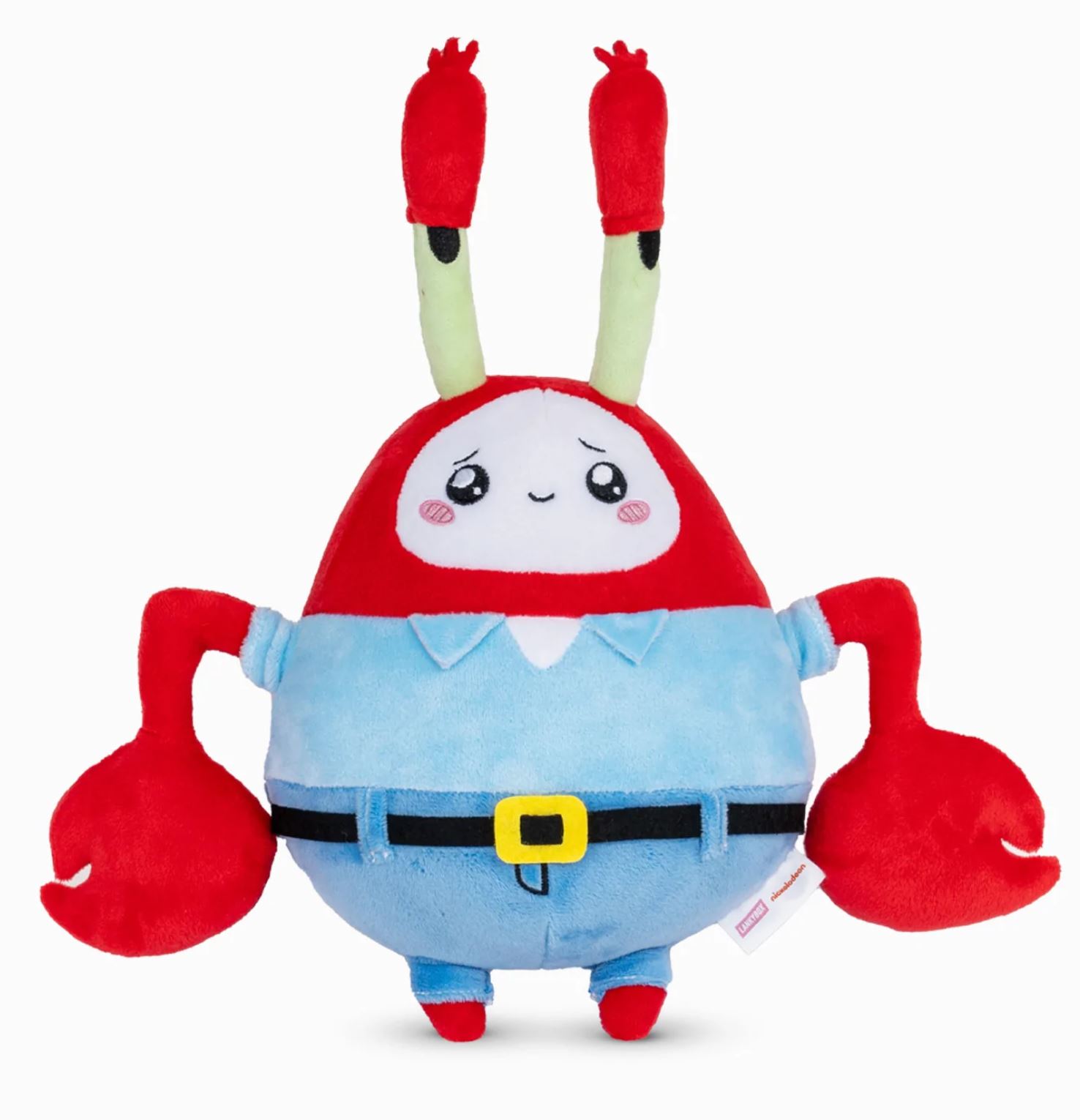 Eugene Krabs is a mystery, but adding him to the Lankybox Ghosty plush is sneaky. However, this ironic plush also glows in the dark because Ghosty brings its magic to the collaboration. I'm not keen on Eugene's greedy nature, but Ghosty will make kids smile past his personality. Meanwhile, it's a limited-edition plush.
Size: 12″
Version: Spongebob and GITD Lankybox plush
Lankybox Spongebob Mr. Krabs x Ghosty Plush Pros:
The limited-edition Lankybox Spongebob plush is adorable and odd-looking
It combines two characters toddlers and preschoolers enjoy
Ghosty can light up the darkness for Eugene Krabs not lose his change
At least Ghosty's expression and facial details are adorably friendly
Lankybox Spongebob Mr. Krabs x Ghosty Plush Cons:
Mr. Krab's expression is too serious and gloomy for little kids
You must provide UV or sunlight to make Ghosty glow nicely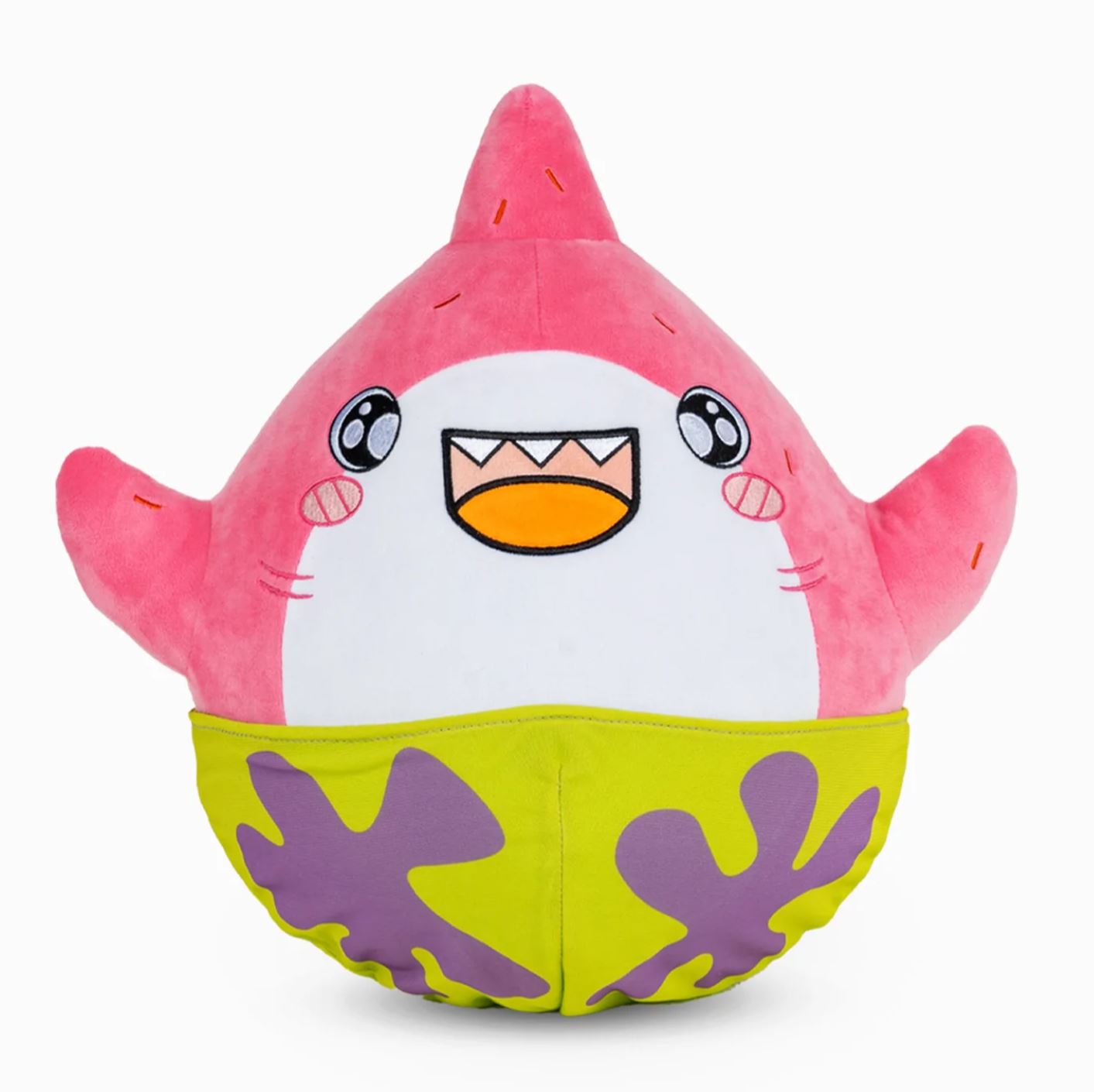 Patrick Star is a goofball cartoon character suitable for toddlers and preschoolers. He has so much personality while simultaneously having none. So, stick him with Thicc Shark; you have a plush combo worth mentioning. Meanwhile, the animals share the same space on earth, which is ideal for teaching little kids about the sea.
Size: 12″
Version: Thicc and Spongebob Lankybox plush
Lankybox Spongebob Patrick x Thicc Shark Plush Pros:
The Lankybox Patrick Thicc Shark plush is an adorable combination
It's another limited edition, so you'll anticipate its return to the store
Little kids love Patrick Star from Spongebob, making this plush perfect
The plush has excellent colors, patterns, and an ultra-friendly expression
Lankybox Spongebob Patrick x Thicc Shark Plush Cons:
It's not in stock for now, but the limited edition is sure to launch again
Patrick almost looks more adorable as a shark than a sea star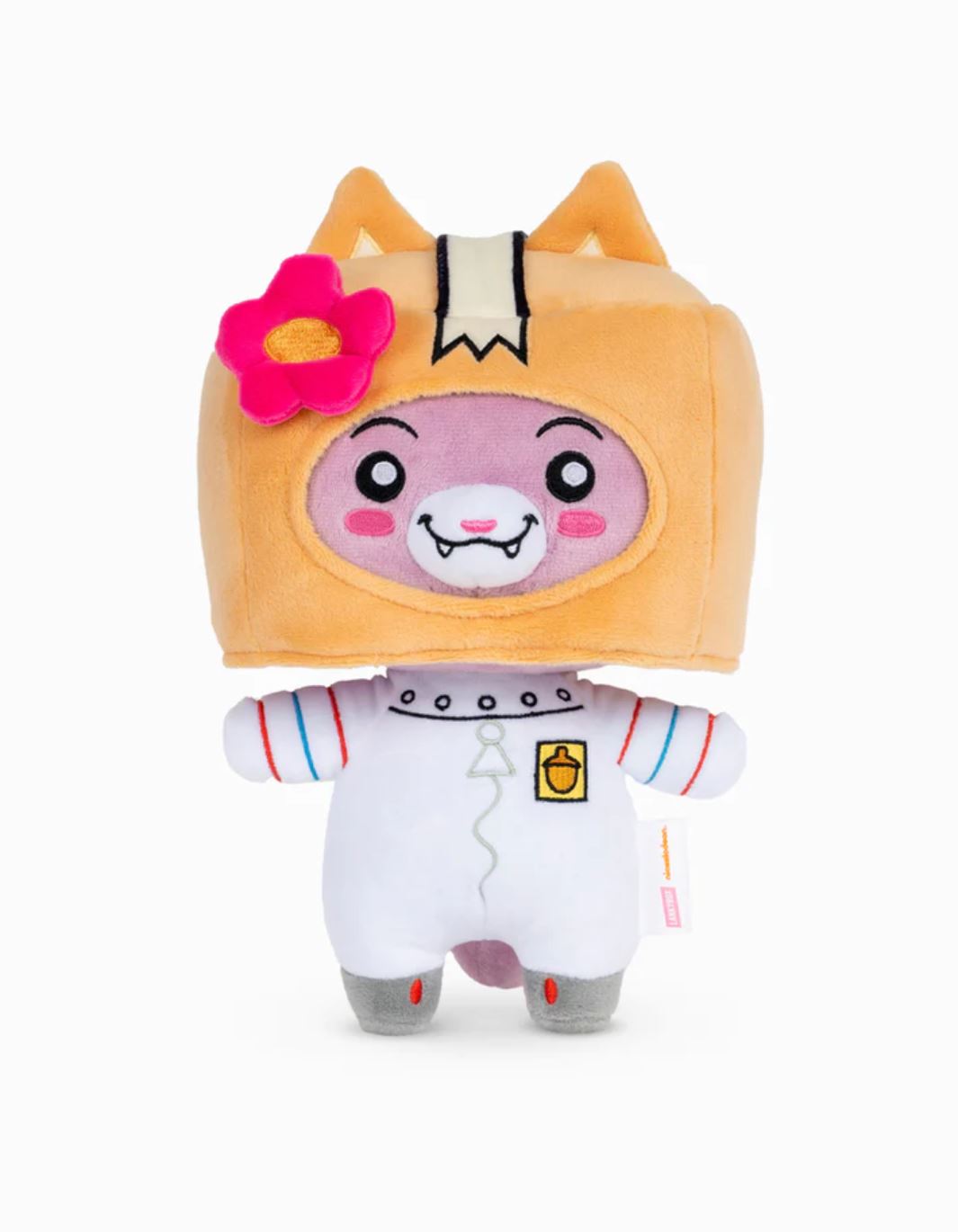 Spongebob's Sandy is a friendly, optimistic, and helpful Bottomite, able to teach children about sharing and caring. However, Sandy's Lankybox plush is my favorite because she shares the nature of a fox to make her collaboration perfect. Besides, slapping Foxy's box on Sandy's head doesn't change her style much.
Size: 10″
Version: Spongebob Lankybox plush
Lankybox Spongebob Sandy x Foxy Plush Pros:
Sandy and Foxy are ideal candidates for a plush collaboration from Spongebob
The Lankybox Sandy x Foxy plush is a limited edition for kids to enjoy
Little kids know Sandy well, and they'll befriend Foxy quickly
Sandy's friendly expression, detailed eyes, and cute flowers make the plush worthwhile
Lankybox Spongebob Sandy x Foxy Plush Cons:
It's a limited edition you must buy before it sells out
The snow-white body is too much for little kids to handle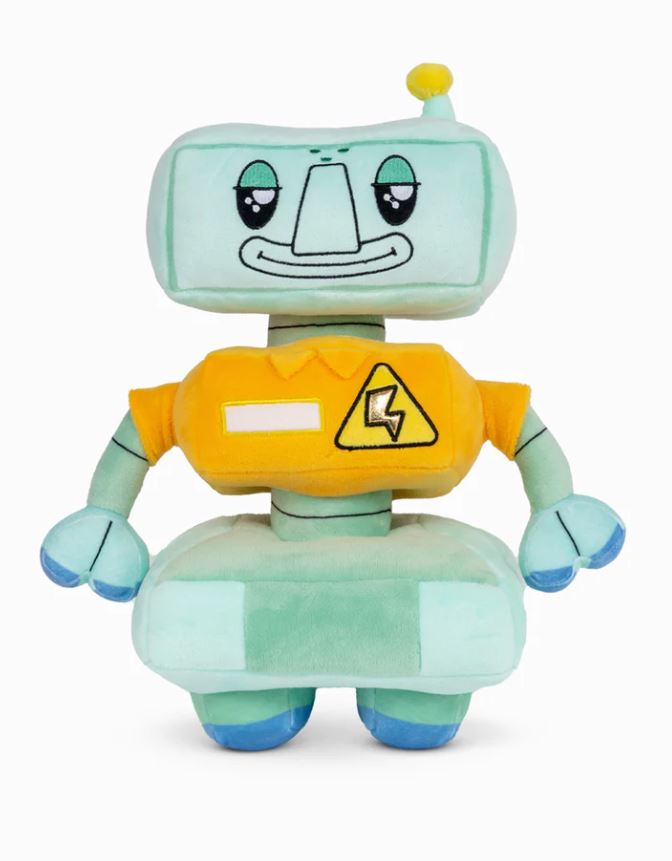 The Lankybox Spongebob Squidward x Lankybot makes nearly as much sense as Sandy and Foxy. Squidward's grumpy, serious nature is almost robotic. Meanwhile, Lankybot's interactive nature improves Squidward's character, and the plush creators focus on Lankybot's smile and not Squidward's grumpiness.
Size: 14″
Version: Interactive and Spongebob Lankybox plush
Lankybox Spongebob Squidward x Lankybot Plush Pros:
The Lankybox Squidward x Lankybot plush is a perfect collaboration
Squidward and Lankybot have enough in common to make sense
Little kids know Squidward well, and they enjoy plush robot toys
The plush has a friendly face and an interactive quality to entertain little kids
Lankybox Spongebob Squidward x Lankybot Plush Cons:
The Lankybot x Squidward plush doesn't show much of Squidward's character
You must buy constant batteries to keep lighting the Lankybot's chest up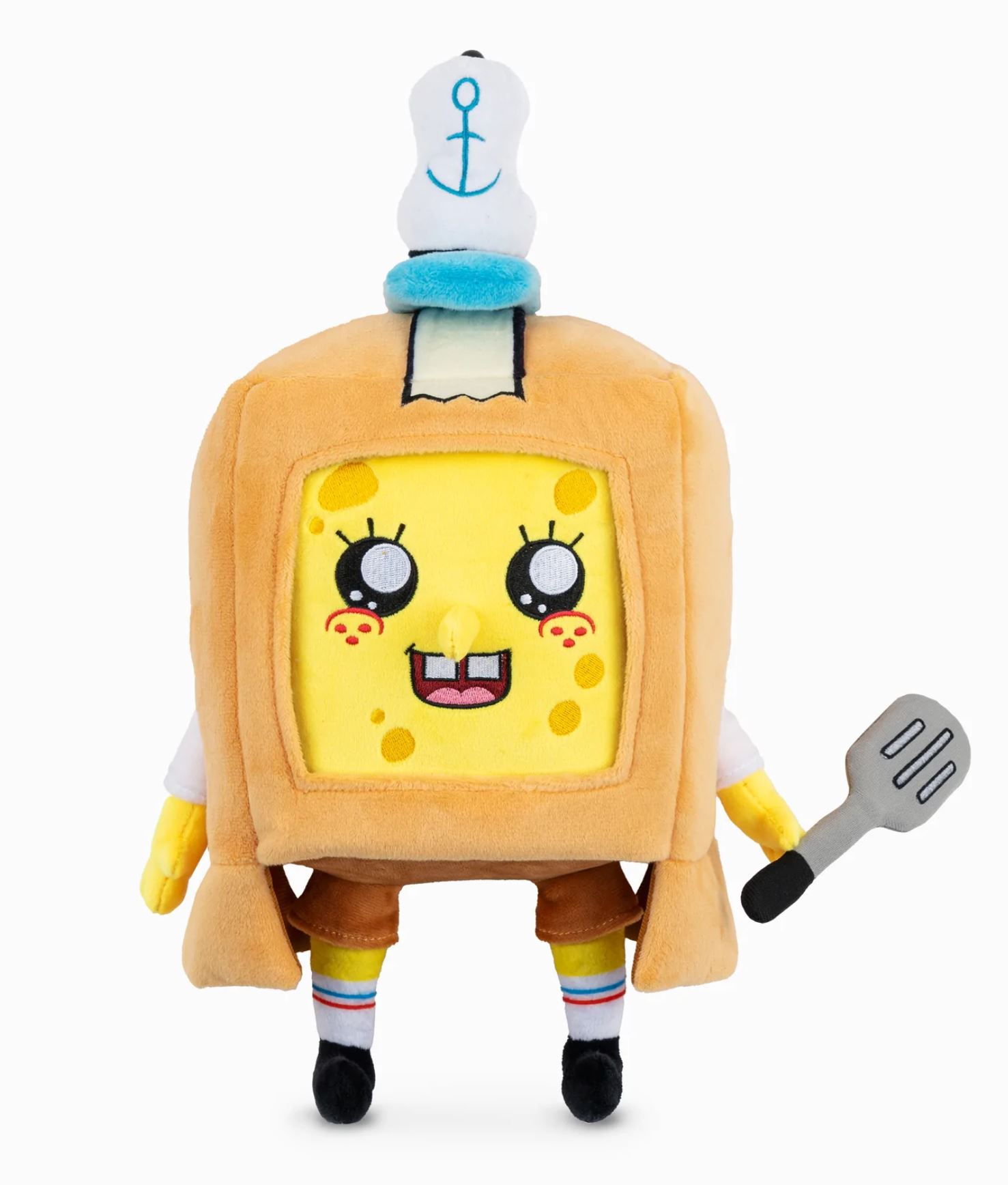 Spongebob Squarepants is the ultimate character for young Bottomite fans. Unfortunately, he isn't in stock now. Still, I'm hoping Lankybox will bring back this limited-edition collaboration between Spongebob and Boxy, a classic character from the plush brand. Meanwhile, let's gawk over Spongebob's plush pros and cons.
Size: 13″
Version: Spongebob Lankybox plush
Lankybox Spongebob x Boxy Plush Pros:
The Lankybox Spongebob x Boxy plush is a famous collaboration
Every young child knows Spongebob Squarepants
The details are adorable, including the spatula and chef's hat
Kids can play many imaginative games with a Boxy fry-cook plush
Lankybox Spongebob x Boxy Plush Cons:
You can't promise the spatula will survive a toddler's playtime
Spongebob's face and expression need slightly less euphoria
Recommended Alternatives for Lankybox Plush
Recommending plush alternatives for Lankybox plush is like convincing you to eat steak when you crave fish. It's not the same thing. So, I'll recommend a few alternatives within the Lankybox brand instead. I'll pick three Lankybox choices for the plush to help you soothe a young fan's heart.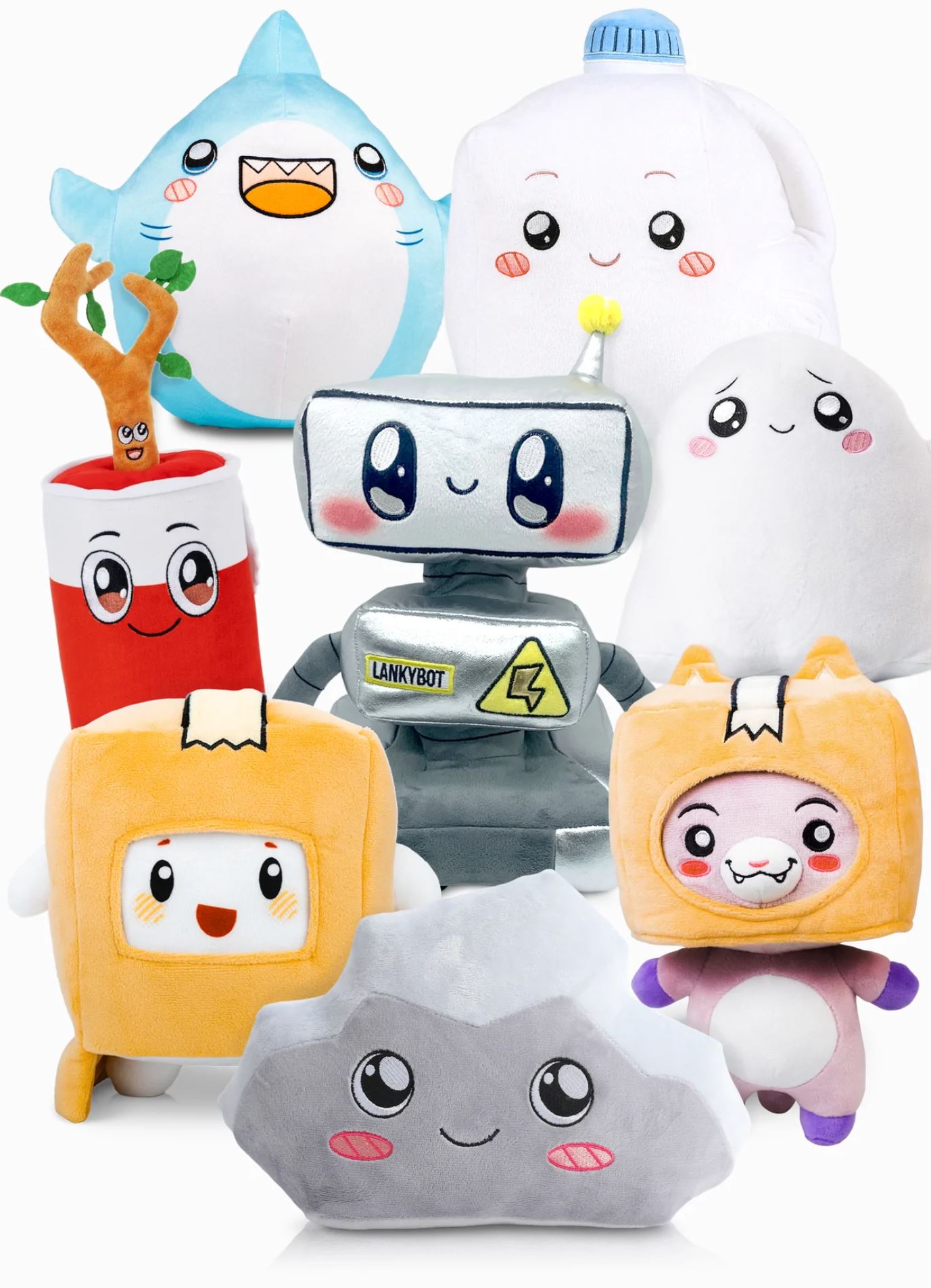 The Lankybox Ultimate Plush Bundle offers young fans every classic character in a single go. It has Foxy, Boxy, Canny, Sticky, Rocky, Milky, Thicc Shark, Ghosty, and Lankybot plushes waiting for any child who loves the YouTube channel's craze. It's one way to knock all the balls out of the park.
Lankybox Ultimate Plush Bundle Pros:
The Lankybox Ultimate Plush Bundle has all the classic characters
Children can enjoy GITD and interactive plush
Lankybox Ultimate Plush Bundle Cons:
Every plush is a different size
They might ship separately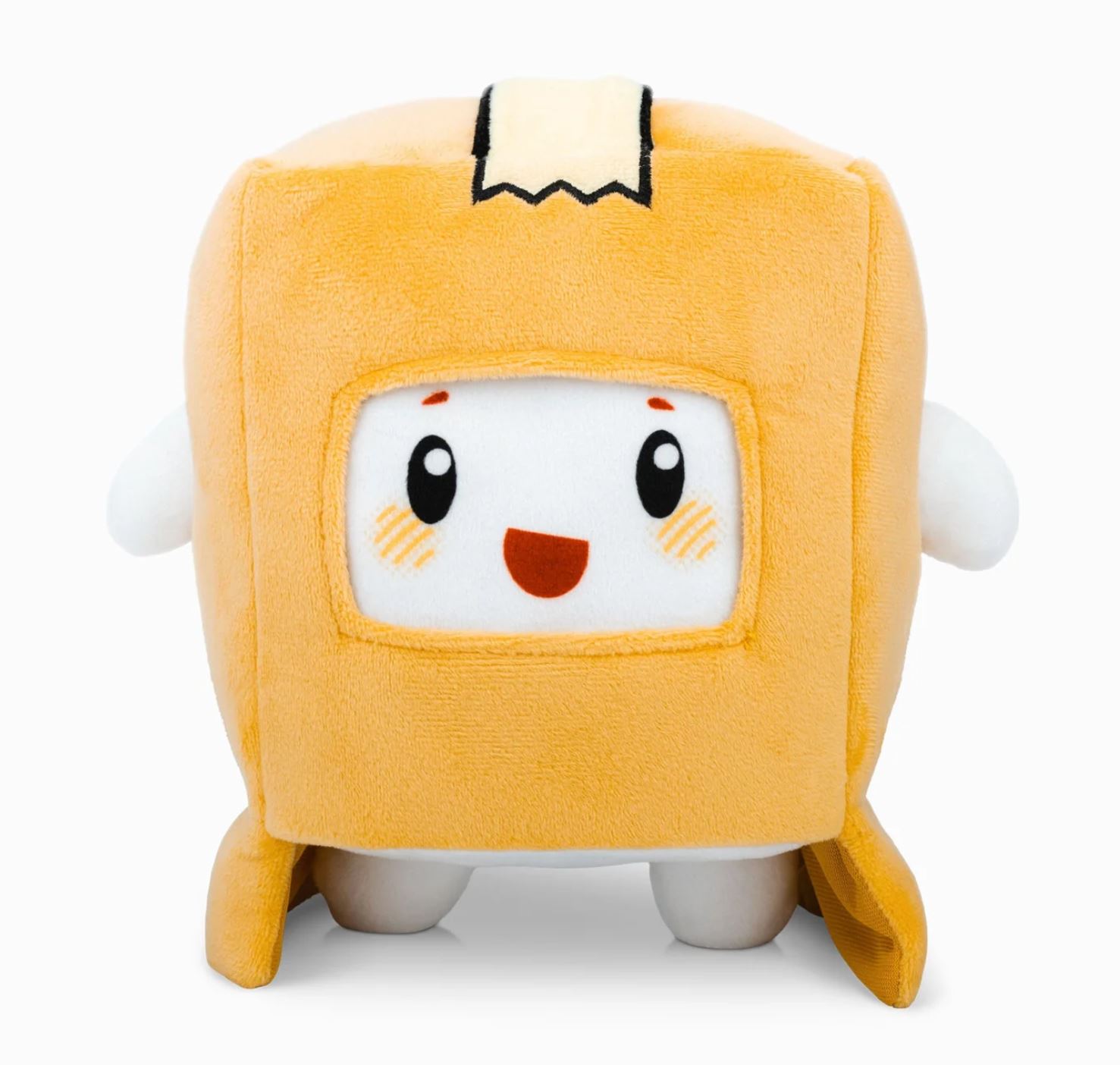 Next up, Lankybox offers fantastic plush bundles that include something cozy to wear. The Lankybox Boxy's Cosy Bundle consists of a classic character with a matching onesie to keep kids warm in cold weather. It's an ideal match for kids who want plush friends they can treat like pets or younger siblings.
Lankybox Boxy's Cozy Bundle Pros:
The Lankybox onesie looks like Boxy and comes in sizes small to XXL
Kids can enjoy the traditional Boxy Lankybox plush
Lankybox Boxy's Cozy Bundle Cons:
Many of the sizes are more significant than the target age group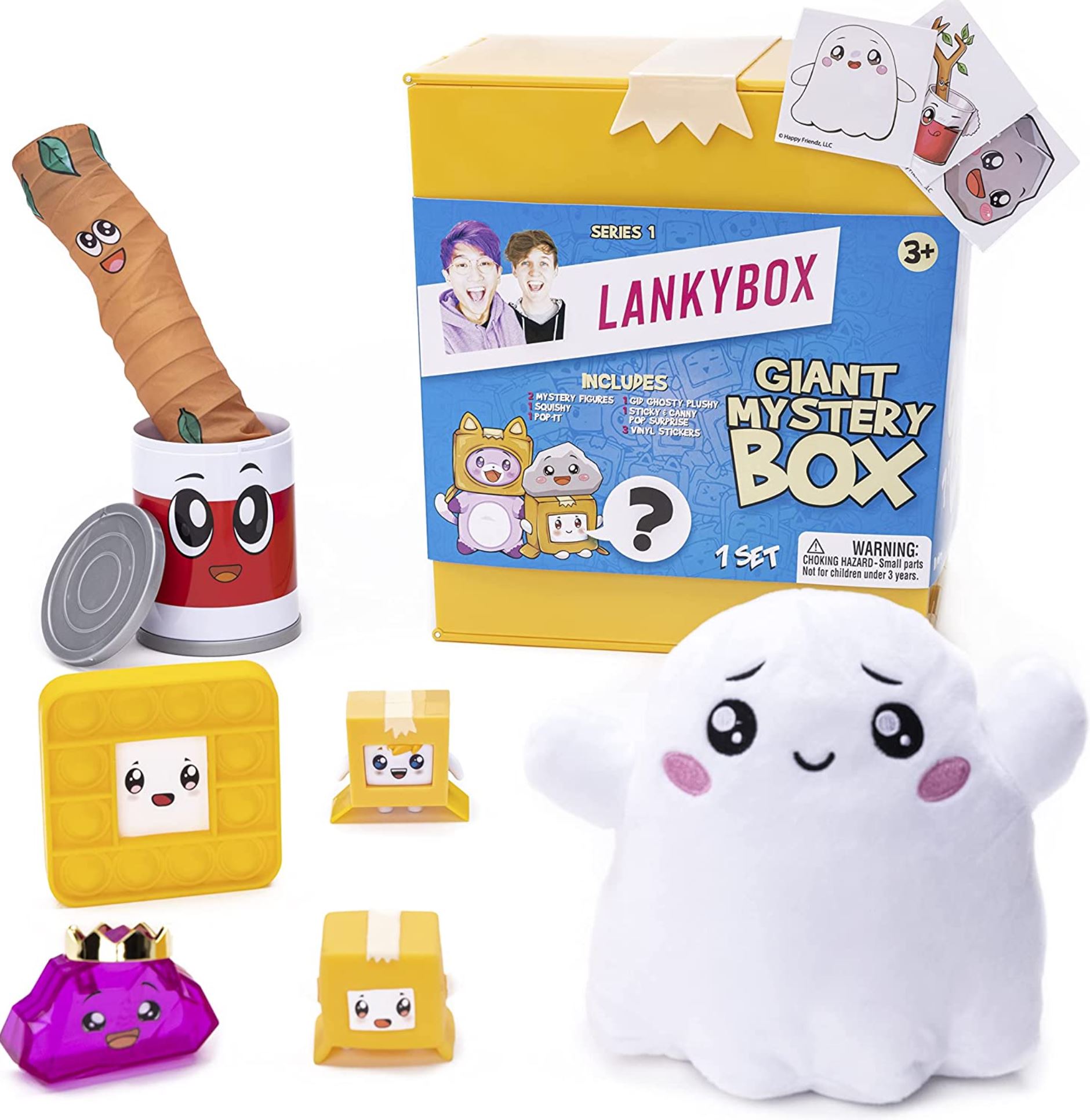 Toddlers and preschoolers go wild for mystery boxes. So, I had to add one as an alternative to buying single-character Lankybox plushies. The giant mystery box from Lankybox includes various treats for little kids, and it might have something for you to enjoy. The package typically has fidget poppers, a plush, and sensory toys.
Lankybox Giant Mystery Box Pros:
The Lankybox Giant Mystery Box has a lot to offer little kids
It has sensory toys that encourage sensory play for toddlers
Lankybox Giant Mystery Box Cons:
You won't know who you'll get until it arrives
FAQs
Question: What Are the Classic Names of Lankybox Plush?
Answer: Lankybox plush has a classic range that includes the simple inspirations behind items that appeal to young kids. The Lankybox traditional names are Boxy, Canny, Foxy, Ghosty, Lankybot, Milky, Rocky, and Thicc Shark. However, Sticky is also a classic name that doesn't have a single plush yet. He comes with another plush.
Question: For What Age Group Is Lankybox Plush?
Answer: Lankybox plush creators and famous YouTubers Adam and Justin target young ages between three and seven. The Lankybox plush is ideal for kids still in the prime of imaginative play. Hence, the characters include a box, rock, stick, can, and robot. Toddlers and preschoolers benefit from imaginative games the most.
Question: Does the Lankybox Ghosty Plush Glow in the Dark?
Answer: The Lankybox GITD Ghosty Plush is a nighttime wonder for kids who believe ghosts shine in the dark. However, parents must know how to make Ghosty glow at night. The plush creators suggest exposing Ghosty to UV or sunlight during the day to see the plush glow at night. Show your child how to make magic with it.
Lankybox Plush Guide: Conclusion
Lankybox plush blew me away. I'm not kidding! The plushies are ideal for toddlers and preschoolers, even offering types these kids need for developmental benefits. I'm shocked how Justin and Adam started a storm in the plush world, and I wish them the best of luck with future plushies.
Each Lankybox plush has character, classic or Spongebob. I mean personality more than a name. I'd recommend Lankybox plushies for anyone with a toddler or preschooler. They're insanely cute and so practical for imaginative play. Why shouldn't you give a child a stick if that's what they enjoy at playtime?
Meanwhile, the Spongebob Lankybox Sandy x Foxy Plush is my ultimate recommendation for making more sense than most collaborations. Even I would scoop this limited-edition Spongebob Lankybox plush up before it's gone. So, what are you waiting for when you know they're limited editions? Go on, and grab one today!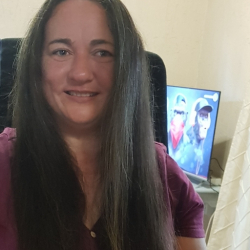 Latest posts by Caroline Lambert
(see all)