Target it's one of the most incredible places for millennials and the like. You can find clothes, video games, plushies, and more.
Target has a broad range of items for people and pets alike. I've enjoyed my many years of shopping at Target, from board games to wet cat food.
Did you know that Target has some of the most squishy and cuddly Squishmallows too? That's why I've compiled this list!
I've broken the different types down into separate categories to make it easier for you. So you'll be able to find the right Squishmallow for you quicker! Be sure to read this guide on the Best Squishmallows at Target today!
Bottom Line Up Front
There are so many Squishies to choose from! If I had to choose a favorite, though, it'd be the Squishmallows Aziza the Stingray plush.
I love larger plushies (which she is). Plus, she's incredibly soft and fluffy. Since she's larger, she makes for the perfect squishable toy, and her coloring is beautiful! Lavender is my favorite color.
Selection Criteria
As I make my selection, I think about the different plushies and squishies that I enjoy. Plus, I try to consider other varieties since everyone has different likes and dislikes. So, whether you're picking out a gift for an adult or child, there will be an option here!
My Top Picks at a Glance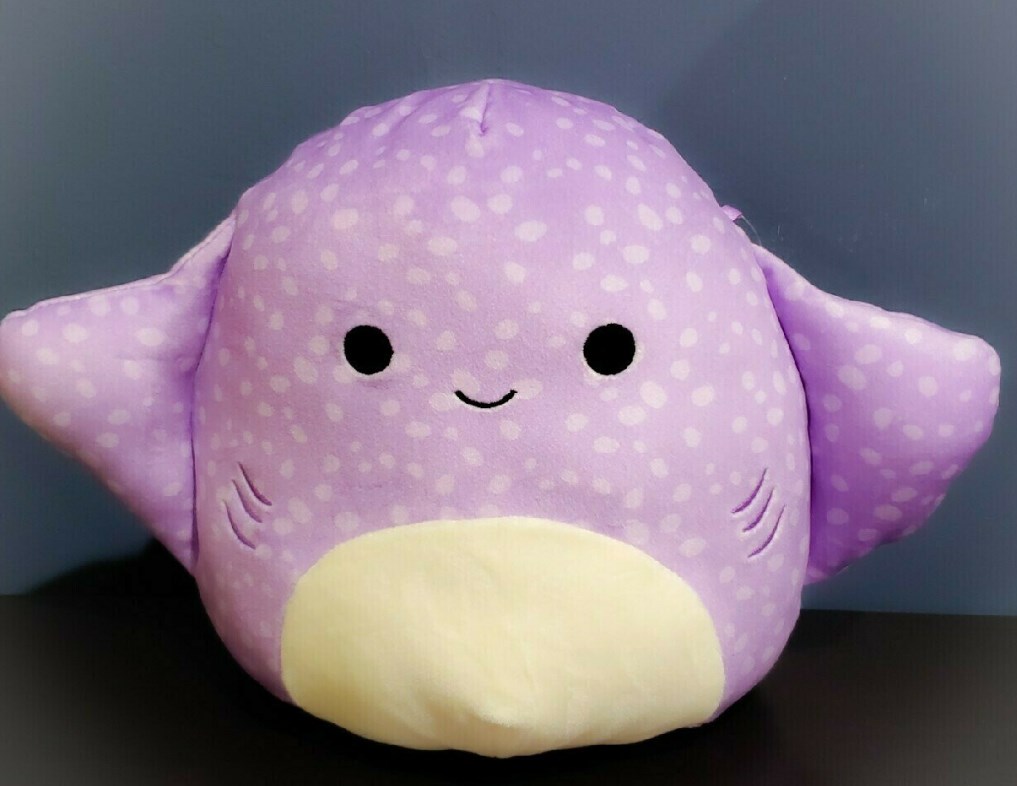 Squishmallows Aziza the Stringray Plush- Beautiful and soft colors. She's smiling and cuddly.
Squishmallows Dragon Plush– On the smaller side, but he's a great size to carry around and cuddle with. Love his colors too!
Squishmallows  Axolotl Pink Plush– Not too big or small. I love her crescent moon and star patterns. Plus, her colors remind me of mythical creatures.
Squishmallows Bronk the Bulldog Plush– Perfect for the dog lover in your life! He's on the larger side, perfect for cuddles.
Squishmallows Fox Gray Stuffed Animal– She's so cuddly and soft; her coloring is ideal for the winter months!
Squishmallows Rienne the Jade Arctic Fox Plush– She's a cute fox that's on the larger side and will work for year-round color palettes!
Squishmallows Louisa the Penguin Plush– She looks like she just came out of a storybook! Perfect for encouraging imagination for little ones. Great for adults, too, since she has lovely coloring.
Kellytoy Squishmallow Plush Lulu the Pineapple– She's super cute and perfect for the pineapple lover in your life!
Squishmallows Jakarria the Blue Boba Drink Plush– After a long day, it'll be nice to grab some boba drinks and cuddle up with her.
Squishmallows Sinclair Stackable Avacado Toast Plush– The perfect gift for the avocado lover or Millennial in your life.
Squishmallows Disney Ariel Stuffed Animal– A great size, and she's ideal for the Disney lover in your life.
Squishmallows Disney Belle Stuffed Animal– Belle is a great role model for children since she has a kind heart and loves to read.
Squishmallow Disney Holiday Stitch Plush– Get ready for the holidays with this cutie who looks a lot like Stitch from Lilo and Stitch.
Squishmallow Disney Holiday Dumbo Plush– A classic for Disney and elephant lovers alike! Great for play-time with your child since they can pretend that he's flying in the air.
Tips for the Reader
First, decide on who the gift will be for. What do they currently enjoy as far as toys, hobbies, etc.?
Next, think about their age range and what size plush will be best. Do they have any current Squishmallows? It's an excellent way for them to expand on their collection.
Why Should I Buy Squishmallows at Target?
First of all, Target is one of the best places to shop! You can easily find yourself buying groceries, toys, and more.
Not only do they offer a pleasant shopping experience, but they can feel like an all-in-one shop. There are plenty of options when it comes to Squishmallows too.
Target has an excellent refund policy. Their app is super convenient and allows you to earn points on various purchases. So whether you're having it shipped to your home, doing drive-up delivery, or shopping in the store, you have options.
As far as why you should buy Squishmallows? Imagine having a marshmallow-like texture in toy form!
You can bring them around with you as you cuddle with them after a long day. They're also prevalent now, thanks to TikTok and Reddit.
How To Pick Out the Right Squishmallow at Target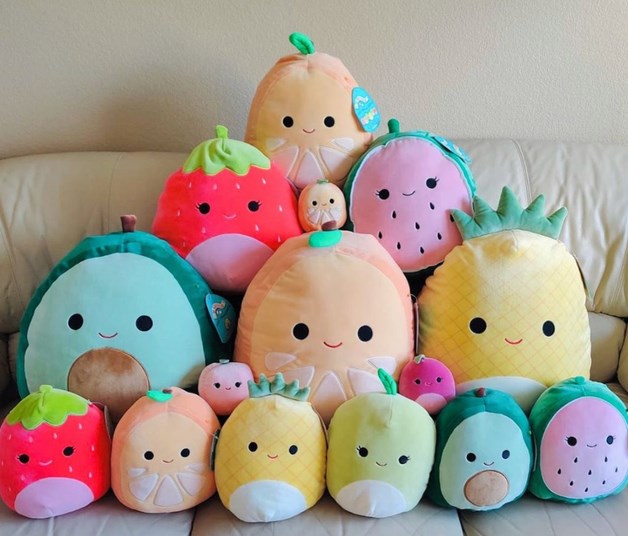 First, decide on who will receive it and their age range. Children could get even more excited to see their favorite characters as Squishmallows.
Next, take a look at their favorite hobbies, characters, and interests. Even their favorite colors might have an impact on your decision.
Are they collectors of certain Squishmallows? Do they have any?
Answering these questions will help you pick the right one. For example, if they love animals, check out the section on animal Squishmallows!
Pastel Squishmallows
This section is all about pastel-colored Squishmallows! I personally love pastel colors since they're beautiful and calming colors.
These will make great gifts for adults and children alike.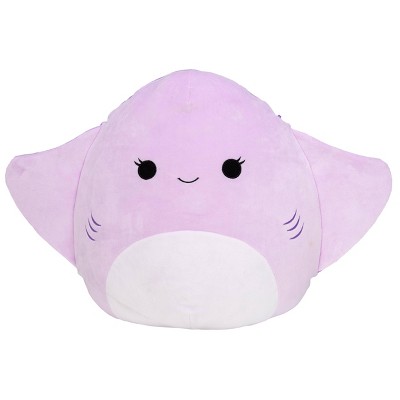 How beautiful is this beautiful Stingray! Stingrays get a bad rap, but they're actually more docile creatures.
Living in a warm location, I see them out in the water. So what better way to show your love for them than by getting this adorable plush?
I love her coloring of soft lavender with a white belly. Her features are delicate with her eyes, smile, and gills on the side.
The back is a party with darker lavender and lighter lavender dots. She even has a tail!
What a fun educational experience for children too! They might ask you about the gills. It's the perfect option for the Stingray lover in your life to cuddle up with after a long day.
Pros
I love the coloring of this Stingray.

Soft and fluffy texture
Cons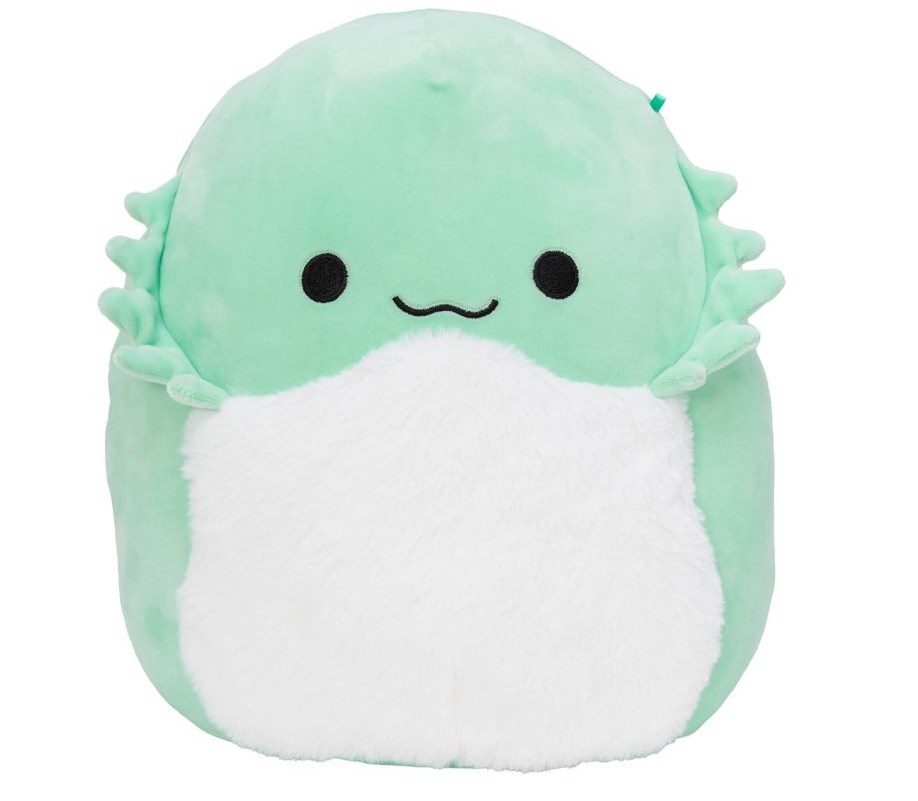 On the smaller side compared to the Stingray cutie, but still, super squishy is the Squishmallows Dragon Plush. Also, look at his soft color palette of green, white, and black.
The only downfall is that he doesn't really look like a dragon, but he's still adorable. I love the back too, with the three blue stripes.
If you're a fan of Pusheen, this little one reminds me of them (from the stripes). This adorable squishy is completed with a little tail. He's not too large, which makes him perfect for carrying around.
Pros
The back reminds me of Pusheen!

Soft colors of seafoam green, white, and black.
Cons
While he's adorable, I feel like it's strange how his white belly goes all the way up to his mouth.

Doesn't look like a dragon

I'm not a big fan of the tail.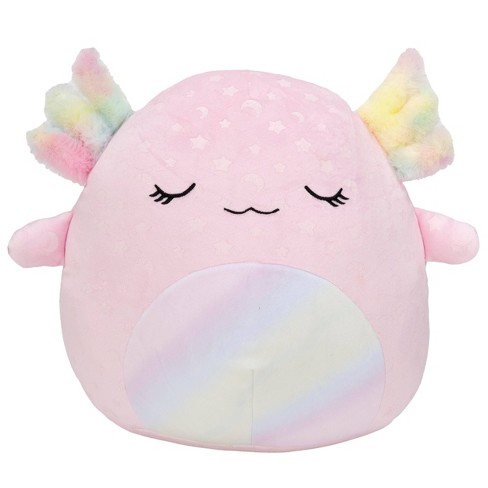 She's the perfect gift! This Squishmallows Axolotl Pink Plush would be great for those who love fantasy animals.
Her coloring reminds me a lot of unicorns and mermaids. I bet my nieces would love her too.
Check out her ears and stomach, so many colors! Similar to a rainbow. I actually like how her ears are different colors.
The belly is my favorite part how it's different colors but much gentler. She's a pretty great price, too, at the time of posting this!
I love the stars and crescent moon on her head as well!
Pros
Soft and beautiful pastel colors

Beautiful design
Cons
I don't like the tail.

Smaller
Animal Squishmallows
I had to have this section since I'm a big animal lover. These cuties are various animals, perfect for the animal lover in your life.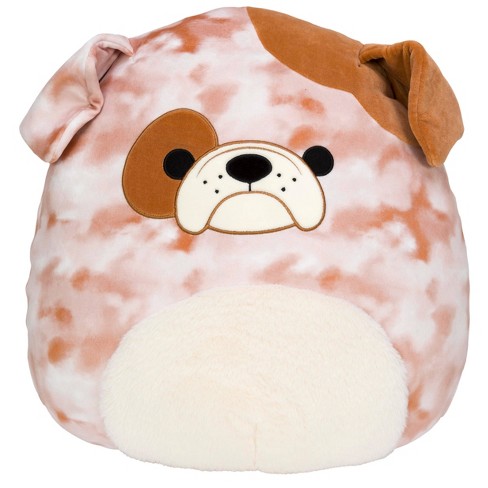 You have the Squishmallows Bronk the Bulldog for many cuddles on the bigger side. He's the perfect choice for the dog lover in your life!
He even has a cute little tail perfect for playing with your child. They can play pretend as they wag Bronk's tail and have him skip along the house. Bronk is great for adults, too, since he could be part of a Bulldog or Squishmallow collection!
His coloring is fun and reminds me of camouflage a bit. I love how they gave him a brown spot around his eye and opposite ear. His snout is just like a bulldog too, and he has a soft belly that you can rub or cuddle with.
Pros
Unique

Perfect for the dog lover in your life

It could be great for kids and adults alike!
Cons
I kind of wish that his snout was more part of him instead of how it looks like it was attached later.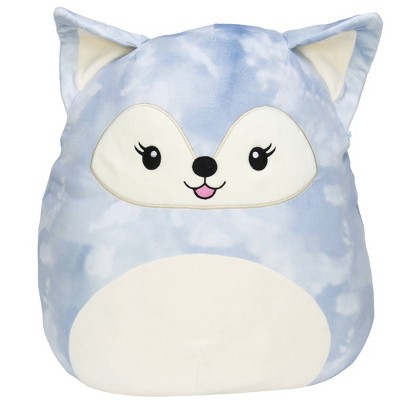 The Squishmallows Fox is great for the animal lover in your life. Her soft grayish-blue coloring will go well in the winter months.
Even in the middle of summer, you can still cuddle her up! She's 16″, which is perfect for carrying around for lots of play.
She's perfect for children and adults alike. I love her face and how she's smiling. Also, notice how her ears, belly, and face are all the same color. If you look closely, her coloring kind of looks like the sky with blue, gray, and white.
Pros
Beautiful coloring

I love how cute she is

A great size!
Cons
On the larger side

Goes with the colors of the winter months but not summer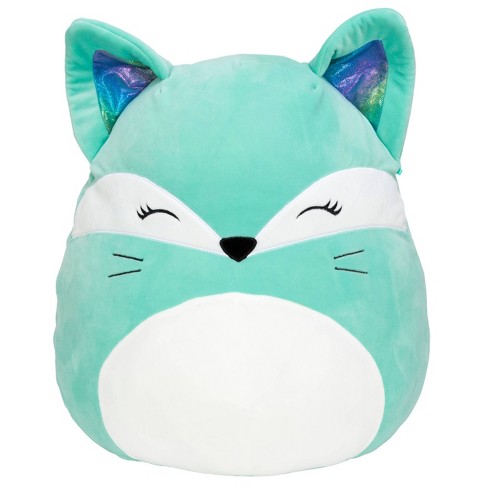 Another cute fox! I love her coloring of a bit bluer than a seafoam green. Check out her ears with that metallic shine.
You can see green, purple, and blue shades in her ears. I kind of wish that they put that color on other parts of her.
Oh, and I love her tail! It's so fluffy and fun! It reminds me of a cat's tail (the fluffier ones).
She's smiling and even has cute little whiskers with a soft white belly. I like how her coloring can work for around the year!
Pros
A beautiful coloring that'll go well year-round

Soft and fluffy texture

Great size
Cons
I just wish that the metallic color in the ears was somewhere else on the body too.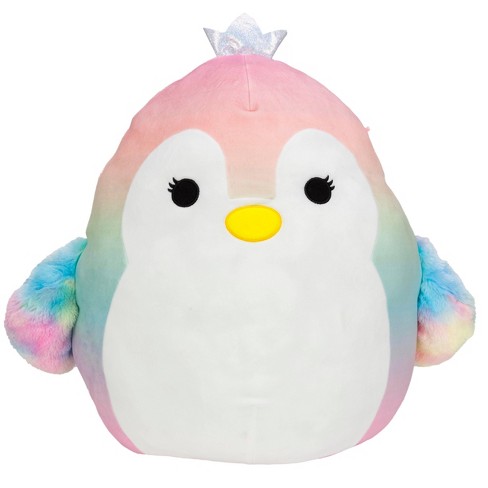 How cute is she! She looks like she just walked out of a fantasy novel with her gorgeous colors and miniature crown. So let your little one play dress up and be a prince or princess with this adorable plush.
Super soft and squishy and 16 inches, your little one will adore them. Check out the colors of pink, blue, white, green, and yellow fading into each other. Pink starts at the top until it finally becomes purple.
Her entire body is like this too! She even has tiny wings.
Pros
Plenty of fun for make-believe time

Beautiful coloring
Cons
Yummy Squishmallows
These "yummy" Squishmallows represent the different foods and drinks in your life. Whether for a child or an adult, there are various options.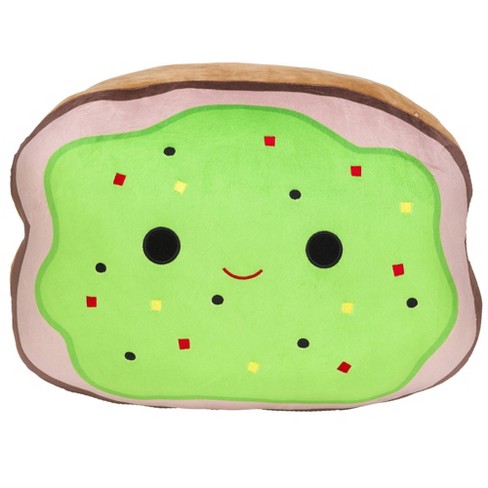 How cute is Sinclair the Avocado Squishmallow? He's the perfect gift for the millennial in your life because who doesn't love avocado toast!
I love how Sinclair even has different seasonings to brighten him up. You still can see his adorable smile and eyes too. Turn him sideways, and he's a large loaf of bread! Keep in mind that since he's 20″, he's on the larger side.
Pros
Perfect for the millennial in your life

Huge!

A large loaf on the side

Looks like avocado toast
Cons
It might be too big for some people.

Children might not appreciate the reference.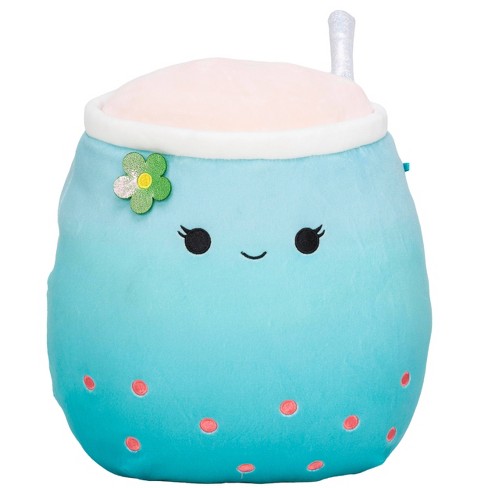 This cutie is absolutely adorable with her little straw, tiny boba, and flower on her head. I think she's best for adults since she reminds me of a fruity drink.
I love her coloring! Pinkish-red boba with a blue body that seems to fade to the top. A pink drink with a green and yellow flower.
She's too cute! Keep in mind that while she's soft and squishy, she's on the smaller side.
Pros
Beautiful coloring

Reminds me of a fruity drink

Boba is awesome
Cons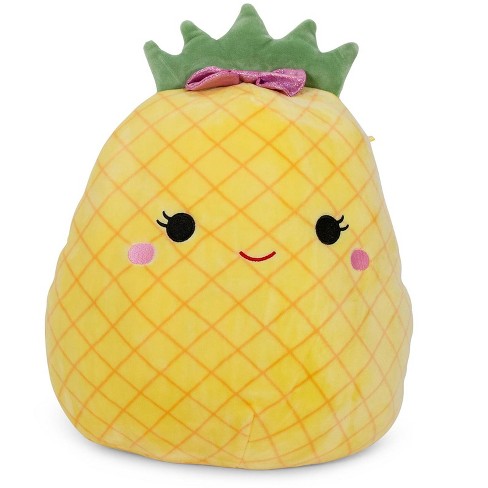 How cute is Lulu! She's an adorable pineapple that's ready for cuddles year-round.
While she's not as large as some of the Squishmallows out there, she's still a great size. I do kind of wish that she was brownish/green with hints of yellow like a real pineapple, though. Nonetheless, children and adults alike will love her!
She even has purple cheeks and a bow! She's smiling big for plenty of fun for make-believe with your child.
Pros
A good size

Nice coloring

Great for play-time with children
Cons
Disney Squishmallows
I've been a big fan of Disney since I grew up watching the movies and shows. Today, Disney is still just as popular thanks to Disney World, Land, and of course, Disney+.
There are a few Disney options at Target that you can check out, including Disney princesses!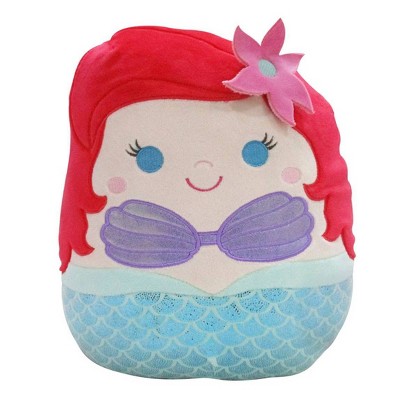 Whether this Ariel Squishmallow is for an adult or child, they're bound to love her! So many remember her in the Disney movie, and she'll remind them a lot of that.
Check out her purple bikini top and scales! She even has a pink flower in her hair.
Her hair is nice and bright, like in the movie when she was out of the water relaxing. It reminds me of when she was sitting on the rock looking out and dreaming of being a human.
She even has the cutest fin! She's perfect for children to ignite their imagination as they pretend that Ariel is swimming through the sea with her pals!
Pros
Nostalgia for many

Looks a lot like Ariel in the Little Mermaid
Cons
I wish that her scales were green like in the movie!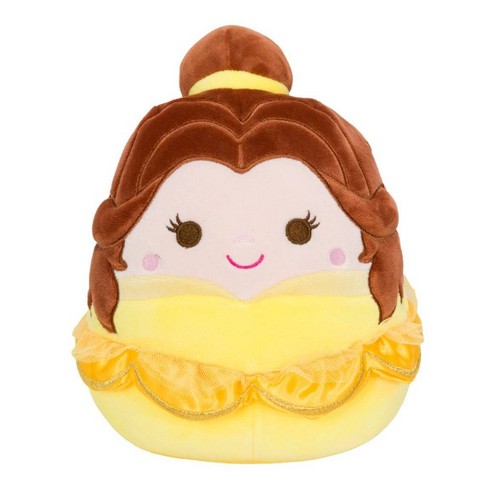 Belle is honestly my favorite Disney character; she deserves a spot here. She beats to her own drum, reading tons of books; she's a great role model!
Encourage your little one to read more books by buying her the Disney Belle Squishmallow. Then, before bedtime, they can snuggle up with her and read through a good book while Belle "helps."
She looks a lot like that evening where she was dancing with the beast. She was dressed up that evening, and this perfectly represents that. She has a yellow dress and bow.
Like the movie, her hair is positioned similarly as well. She even has glowing pink cheeks to match!
Pros
Belle!

Great for collectors

Great for children to play with

Encourages reading!
Cons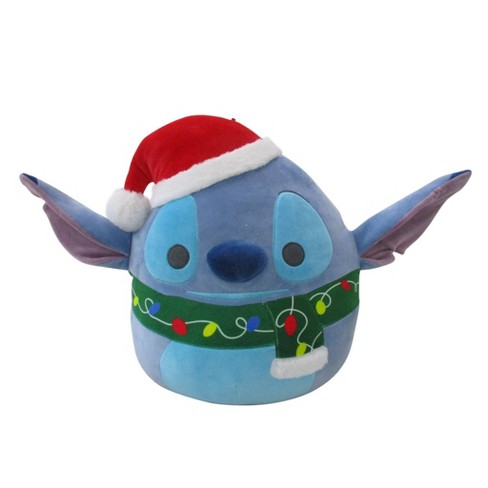 I love Stitch, and how cute is he here! He also makes the perfect gift for the holidays since he has an adorable scarf with lights. The trim of his scarf even matches his Santa hat.
His ears are long and represent his wild character in the movie hanging with Lilo. Help your little one or friend celebrate the holiday season with this squishy!
Check out his large dark blue nose that stands out from his grayish-blue fur and light blue eyes and belly.
Pros
Looks like Stitch

Holiday-themed
Cons
On the smaller side

Only holiday-themed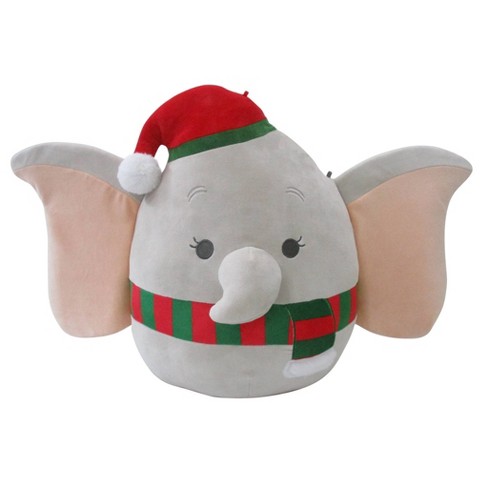 Another excellent option for the holidays is the Disney Squishmallow Dumbo plush. Look at how adorable his ears are, just like Dumbo from the movies!
He has a scarf that matches perfectly with his Santa hat! The colors of green and red make him ready for the holidays.
Dumbo is great for children, too, since they can pretend that Dumbo is flying in the air! Even his little nose is adorable too.
Pros
Cute little nose and ears

Looks like Dumbo from the movie

Ready for the holidays
Cons
FAQs
Question: Does Target Sell Squishmallows? 
Question: Where to Find Squishmallows?
Answer: Besides Target, you can find them at Walmart, Amazon, and other retailers.
Question: When Does Target Restock Squishmallows? 
Answer: It's best to check online since they might not be available in the store. I've seen a few that aren't available in the store, but I can have them shipped to my home. Also, Target receives restocks every night of various items when stores are closed.
The Best Squishmallows at Target
After exploring this guide on the best Squishmallows at Target, I hope that you have an easier time finding them. Take your time deciding on the best options for you, your friend, or family member.
Think about what Squishmallows or other toys they currently have and their favorite characters. At the end of the day, I still highly recommend the lavender-colored Stingray Squishmallow.
She's just super adorable and squishy, plus a good size!
If you enjoyed this article, be sure to check out our other articles today.
Further readings:
The Best Easter-themed Squishmallows
The Best Christmas Themed Squishmallows Guide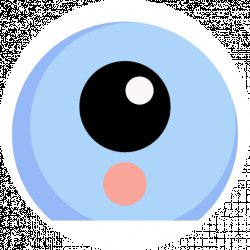 Latest posts by Avid Plush Team
(see all)