Do you want an adorable, cuddly soft Axolotl plushie to lay on or sleep with at night? Maybe you want to buy it as a gift for your child or a friend? The good news is that tons of Axolotl plushies are available that have a charm overload!
The Axolotl has soared to the top of the popularity charts over the past ten years, and people worldwide are now interested in saving the critically endangered critter! With the help of Minecraft and Squishmallows, the Axolotl plush population has been increasing in exponential quantities, with millions being sold each month!
This guide will cover the whole spectrum of plushie axolotls, focusing on non-Squishmallow plushies (but there are a few rarer Squishmallows thrown in)! For a complete guide to only Squishmallow axolotls, see this article, "The Ultimate Axolotl Squishmallow Guide."
In this article, I have listed axolotl plushies that run the gamut of criteria for worthy hug buddies! These axolotl dudes and dudettes are sure to charm you. See you in the aisles!
Bottom Line Up Front
The vibrancy of style and a delightful appeal is number one on the criteria list for the best Axolotl plushie. Quality and longevity are second places; after that comes uniqueness, availability, and cost. My bottom line is always the question, "would I want to buy this?" and then I explain why. This Carl Dick axolotl plushie combines realism, cuteness overload, and quality. Those things, plus the 30-year stellar reputation of the Carl Dick brand, make this number one!
My bottom line best axolotl plushie is the:
Find it here:  Amazon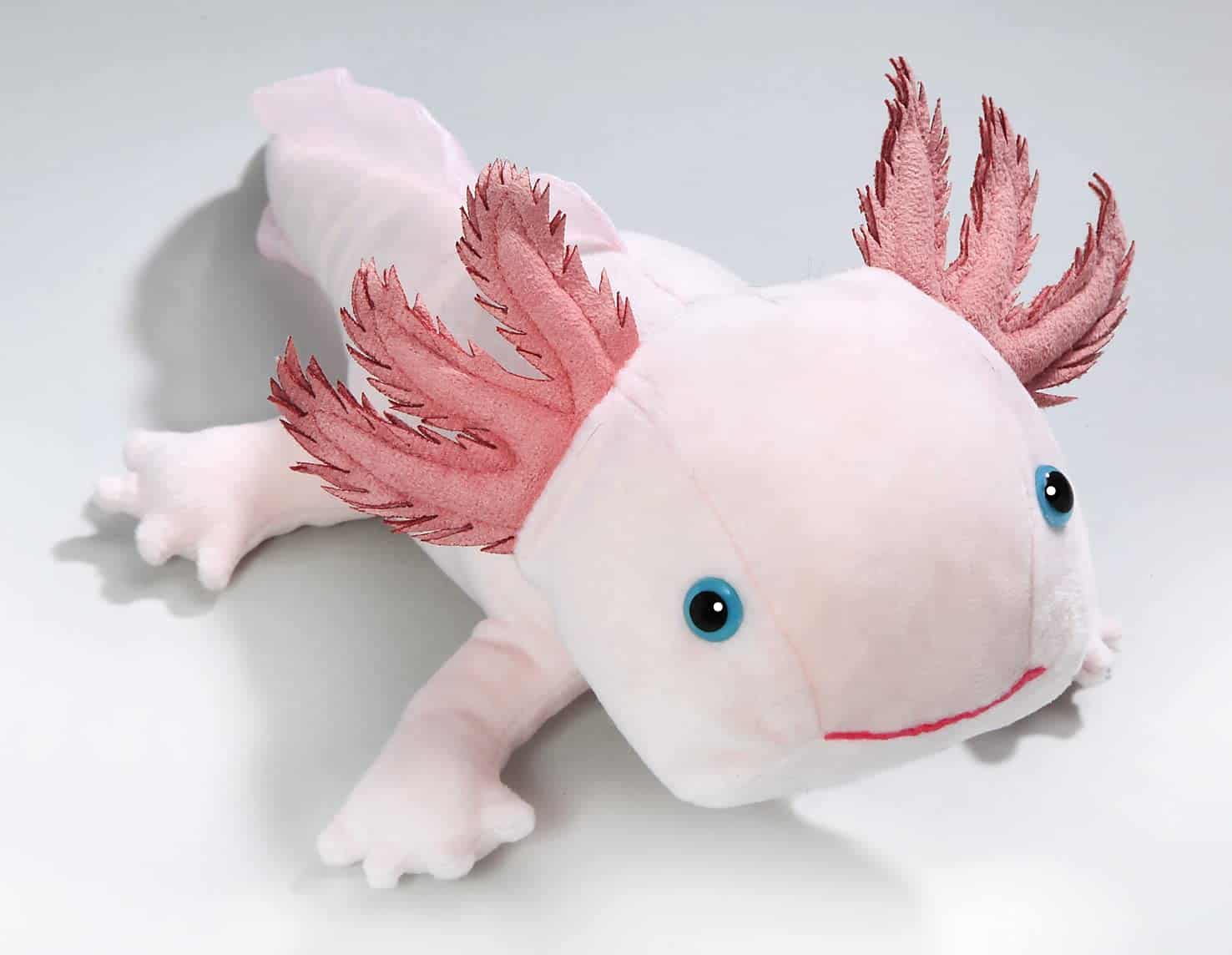 Best Axolotl Plushies Quick List
Axolotls Handmade in the USA
Axolotl Plushie Sets
Sensory/Motor Skills Axolotl Plushies
Shades of Pink Axolotl Plushies
Most Realistic Axolotl Plushie
Uncommon Axolotl from Squishmallows
Defining Criteria for Plushie Axolotls
What makes a good Axolotl stuffed toy? What are you looking for when you get an Axolotl plush? When I search for plushies to collect during my frequent crazes, I am a kid in a candy store! I'm always drawn to plushies that look like real animals. So many plushies and so little time! My various collections have grown larger and taken up more room, then more "rooms," until my son and I once called our home the "giant squishy pop bed"! (It sounded better at the time!)
I love plushies that are realistic to the animal. First and foremost, I wanted the best reproduction that I could get. Much research and many shopping trips later, I usually ended up with a replica and several offshoots!
Not every axolotl plushie ended up on my picks list. Some were just too generic looking, others were not well made, and some didn't even resemble the Axolotl in any way! I understand some creative license being taken with a plushie to increase its cuteness, but creating a whole new species of unidentifiable plush? Nope.
THINGS I CONSIDER FOR MY AXOLOTL PLUSHIE PICKS
Quality
General Appeal
Similarity to the Real Thing
Availability
Cost
Brand/Retailer Reputation
Uniqueness
Cuddle Factor
The Best Axolotl Plushies
Big or small, short or tall, you can be sure that anything Axolotl that is soft, cuddly, and squishable made the list! Many of these can also be used in other ways, some as a tree ornament, others as finger puppets, and some as a game! If kids like to snuggle with it and carry it around – it made the list!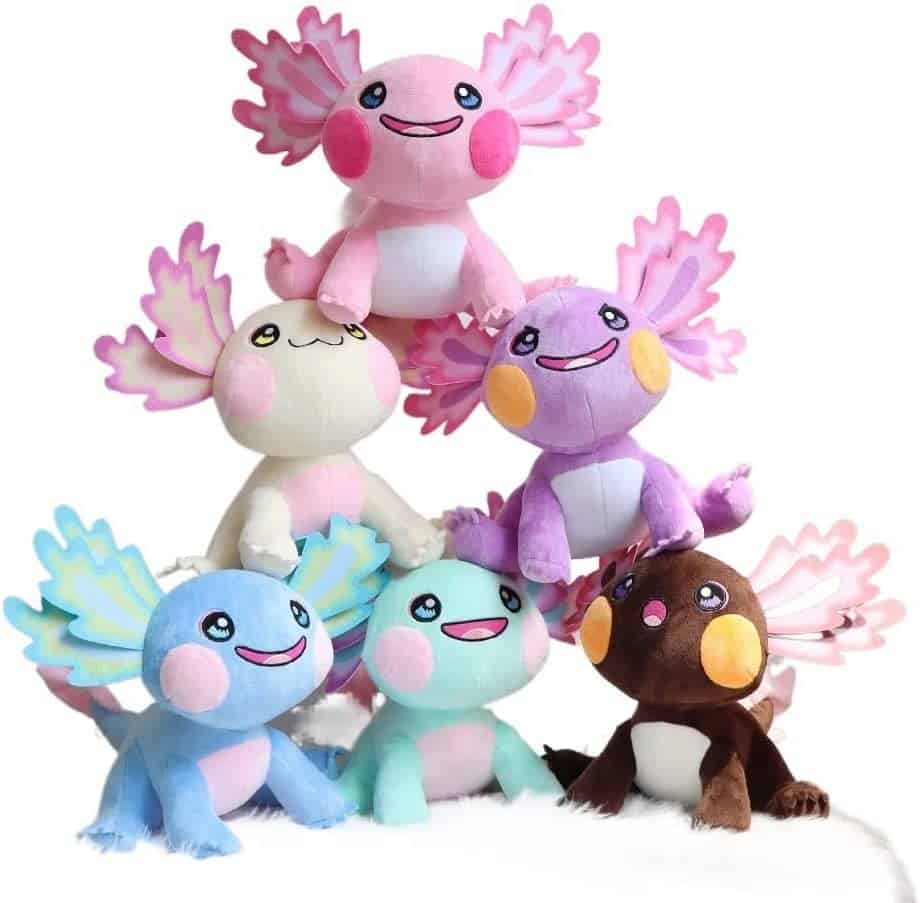 This is an amazing find! Six baby axolotl – 11 inches each – in rainbow colors! They have brown and light pink realistic colors to resemble naturally occurring Axolotl, and they have an array of colors you can find in pet stores! These are great to give as a gift set for axolotl plushie fans, and their smiling baby faces make them perfect for anyone who likes toys! You can split them up to put in stockings or use them on hand for birthdays and other events. There is no wrong way to buy these! I love the fabric gills so wide and furry – the detail on these little critters is superb, down to their tails and up to their eyes!
Find it here:
| | |
| --- | --- |
| Pros | Cons |
| Attention to detail | No reviews yet |
| Extraordinarily cute and appealing |   |
| Six pieces can be split up for different uses |   |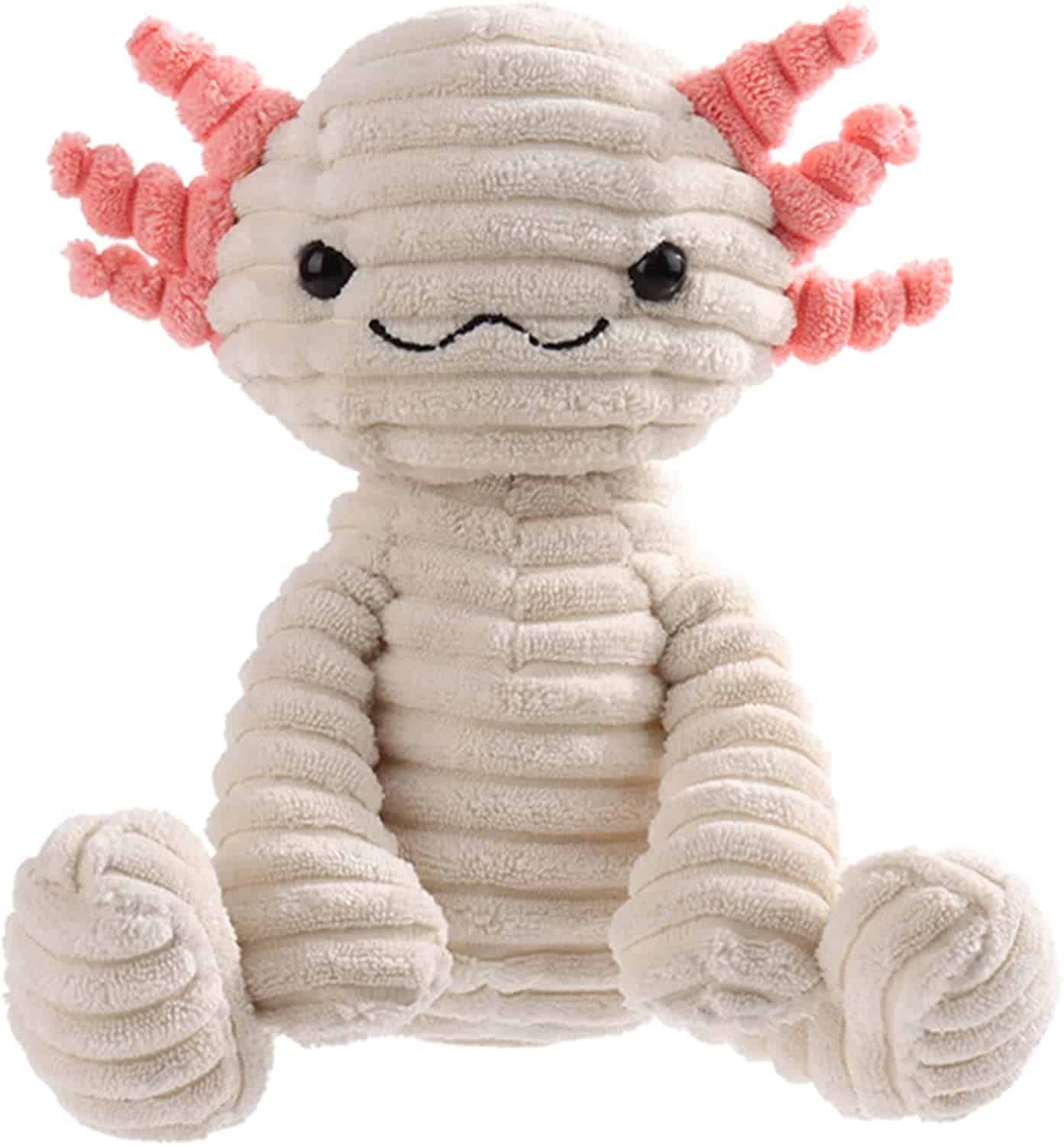 I love this axolotl plushie for the corduroy chenille texture that provides tactile stimulation to little fingers. The salmon-colored gills are twisted around and look like springy curls on its head! This is made with exceptional quality and child-friendly materials by Apricot Lamb specialty store focusing on babies and maternity needs. There is also an axolotl with white plush fur that you can see here.
Find it here:
| | |
| --- | --- |
| Pros | Cons |
| Ribbed texture gives sensory stimulation | Only available on Amazon |
| High-quality child-friendly materials from Apricot Lamb |   |
| Soothing colors |   |

This is one true-to-life axolotl plushie! The pale pink color, flanges on the six gills, the wide mouth, the body-long tail, and even the little toes match a real axolotl! I love this heavy four-pound toy for calming children and soothing anxiety. It works the same way a weighted blanket does, and you can wrap it around your neck or sit it on your tummy as you sleep! It comes in three different weights and multiple colors. The four-pounders are two feet long!
Buyers love the relaxed feeling this toy's pastel color and weight give their children and them! Five stars! This Etsy seller gives a part of the profits to save the Mexican Axolotl and even has a group you can join!
Find it here:
| | |
| --- | --- |
| Pros | Cons |
| Dedicated seller/High Quality | Can only be found on Etsy and Pea of Sweetness |
| You contribute to the Axolotl endangered species |   |
| Weighted plushie gives pressure to soothe autism and anxiety |   |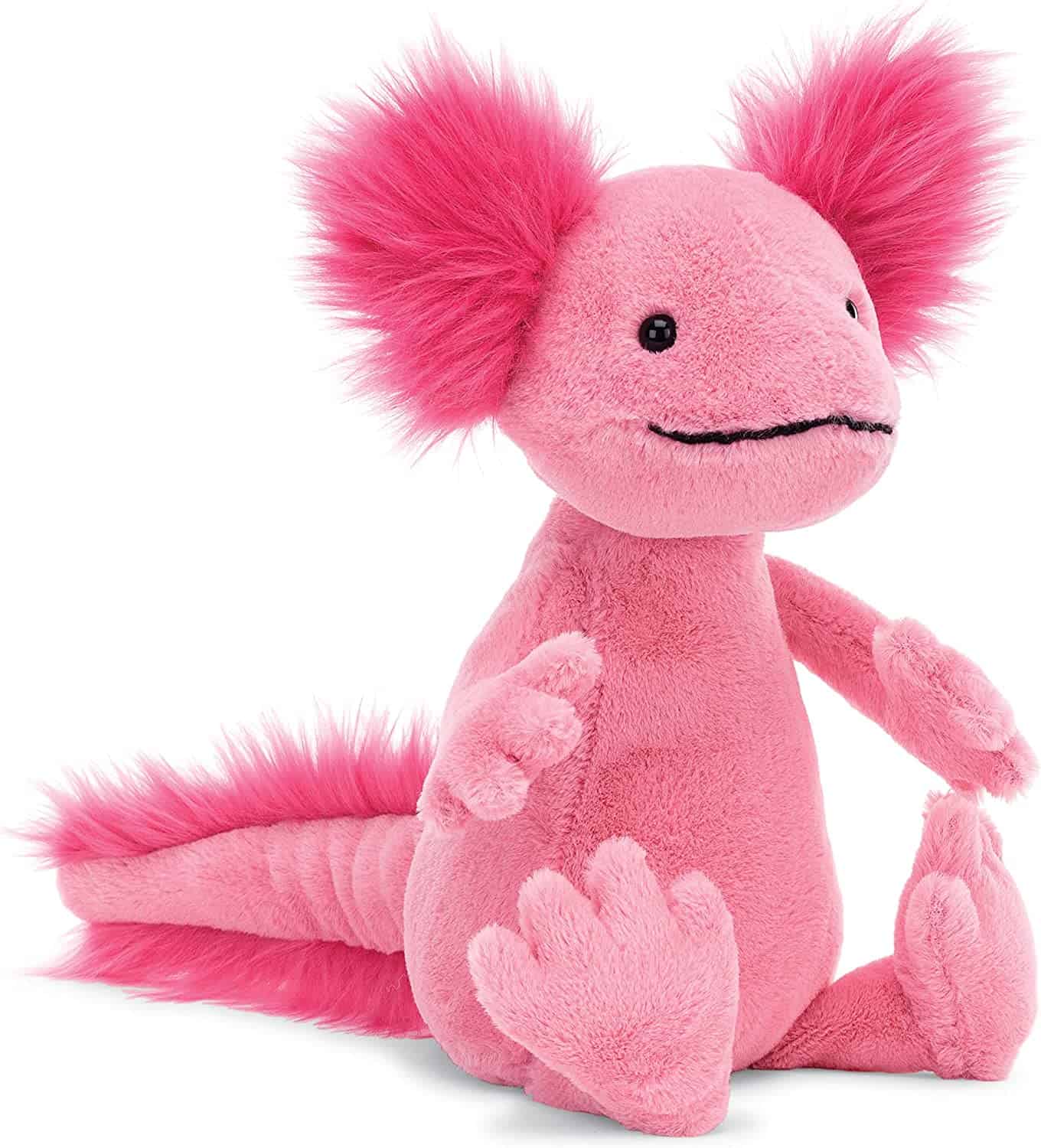 I adore this stand-out hot pink Jellycat plushie for its quirky mouth and fuzzy fluff! Jellycat makes super-quality items with great attention to detail and is loved by millions worldwide. This comes in two sizes, 7 and 11 inches, and is a must-have for any axolotl collectors.
This would be a perfect baby shower gift with a card about the World Wildlife Fund program to save the axolotls from extinction!
Find it here:
| | |
| --- | --- |
| Pros | Cons |
| Great Jellycat brand quality | Only comes in one color |
| Fuzzy and furry with a velveteen body |   |
| Attention to detail |   |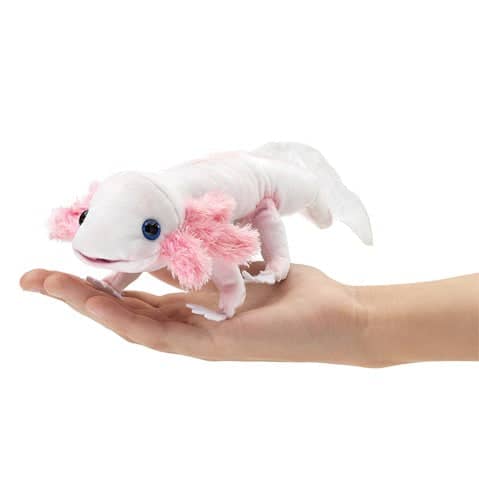 This may look like the real thing with its eerie resemblance to the forever baby of amphibians, but this cute guy has another purpose! It's a plushie axolotl finger puppet! The craft of this design is unbeatable! I love the furry gills on the side of the head rather than sticking straight up, and the tiny limbs and toes are so adorable! Get into character play with a friendly pal that can hang out on your finger!
Find it here:
| | |
| --- | --- |
| Pros | Cons |
| Super realistic looking | Only comes in one 8″ size |
| Excellent quality |   |
| Plushie toy and a puppet |   |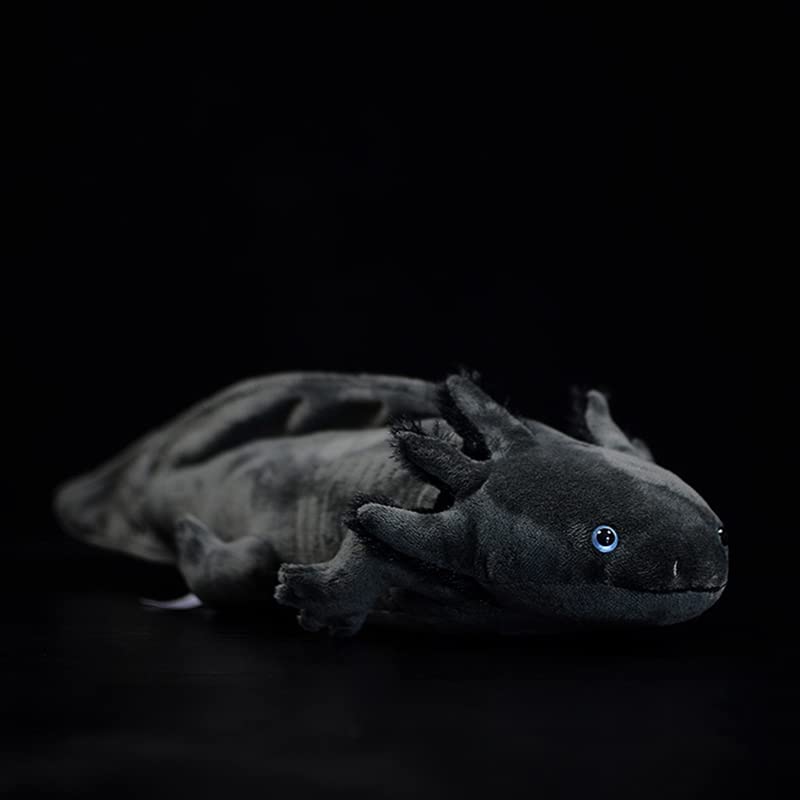 I love this sleek, dramatic velvety soft Axolotl! The stitching detail of the gills, feet, and tail is remarkable – check out the wrinkles in its skin! A gorgeous 20-inches long, this is big enough to cuddle up with in bed, and it won't get lost! It comes in a larger size of 31 inches which is more appealing! This is a conversation starter; others will ask you where you got this! The colors available will appeal to most. I find dark grey very glamorous, and yellow and pink are fun and spicy!
Find it here:
| | |
| --- | --- |
| Pros | Cons |
| Large 31 and 20 inches | Expensive |
| Velvety soft, rich in detail |   |
| True to life |   |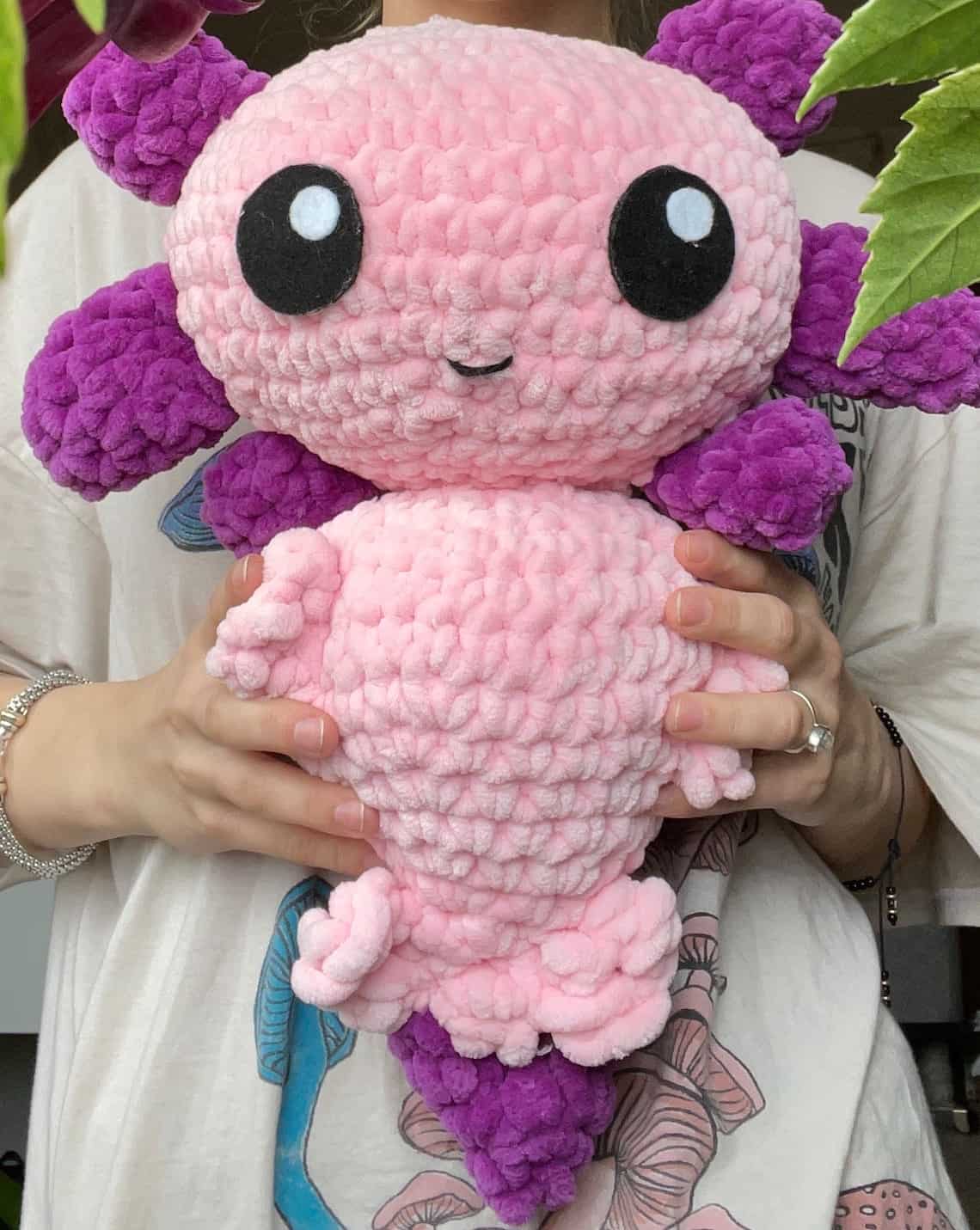 I love this unique, buttery soft chenille axolotl plushie! You can feel the luscious pink yarns reaching out to swaddle you! This is handmade to order, and the seller is uber concerned about customer satisfaction. Being 14″ long and 10″ wide makes this a huggable prize! Such an endearing and friendly face to wake up to every morning. This can be made in any color or size you like – great for collecting a squadron!
Find this here:
| | |
| --- | --- |
| Pros | Cons |
| Dreamy soft with an enchanting face | Can only be found on Etsy |
| Handmade to order in any size or color |   |
| One of a kind and made in Wisconsin |   |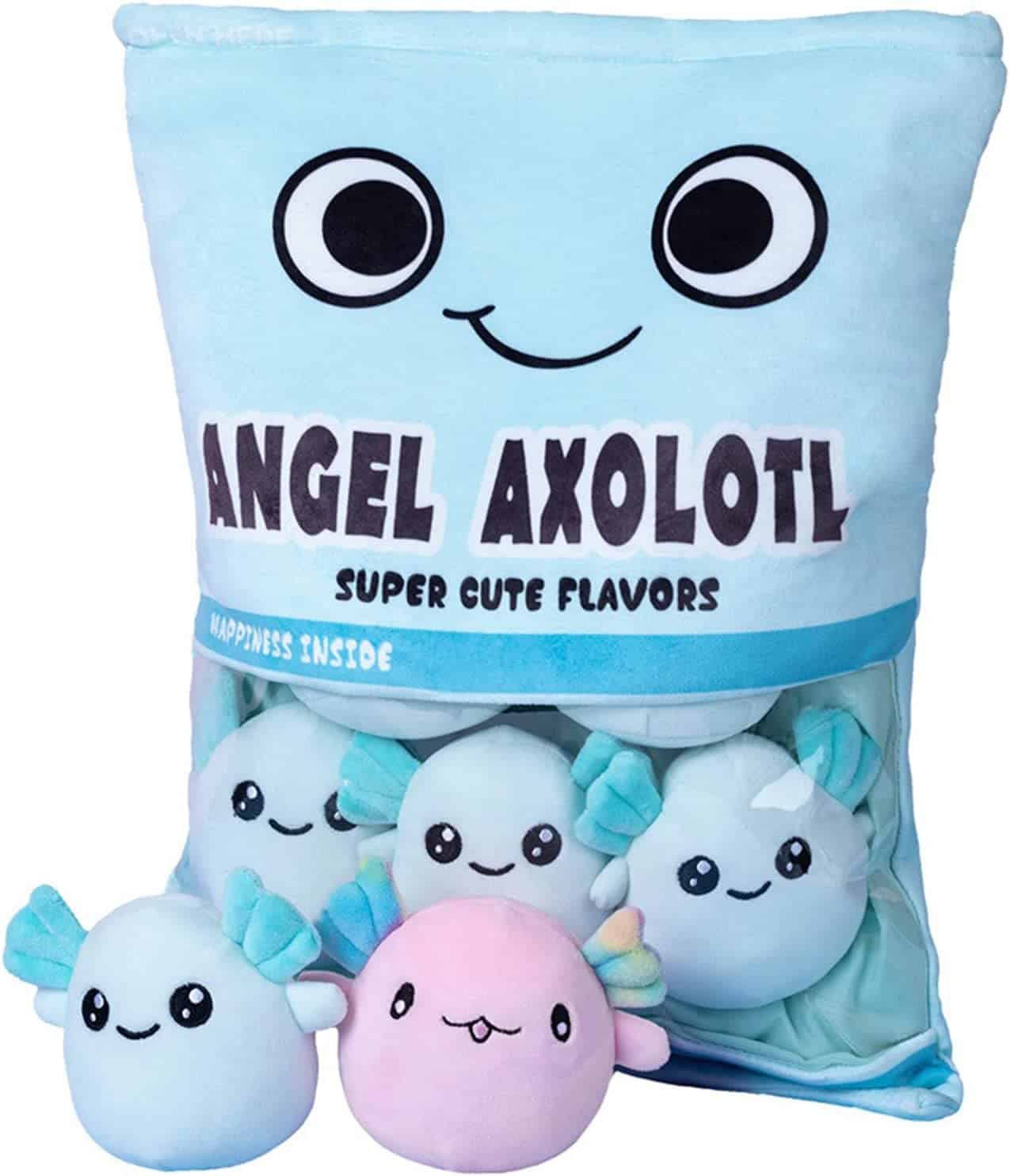 The super fun fleece pillow has six adorable axolotls inside! Keep them in the pillow to sleep with, or take them out and play a game. Bite-sized Axolotl look good enough to eat if they weren't made from the softest fabric ever! There is a noisemaker inside that rings when you squeeze the tiny balls! I love this pillow of axolotls and so do 75 reviewers who gave it a 4.8 out of 5!
Find it here:
| | |
| --- | --- |
| Pros | Cons |
| Two in one pillow and axolotl game | I wish this came in larger sizes |
| Six enchanting little axolotls to share |   |
| Buyers gave it 4.8 out of 5 stars |   |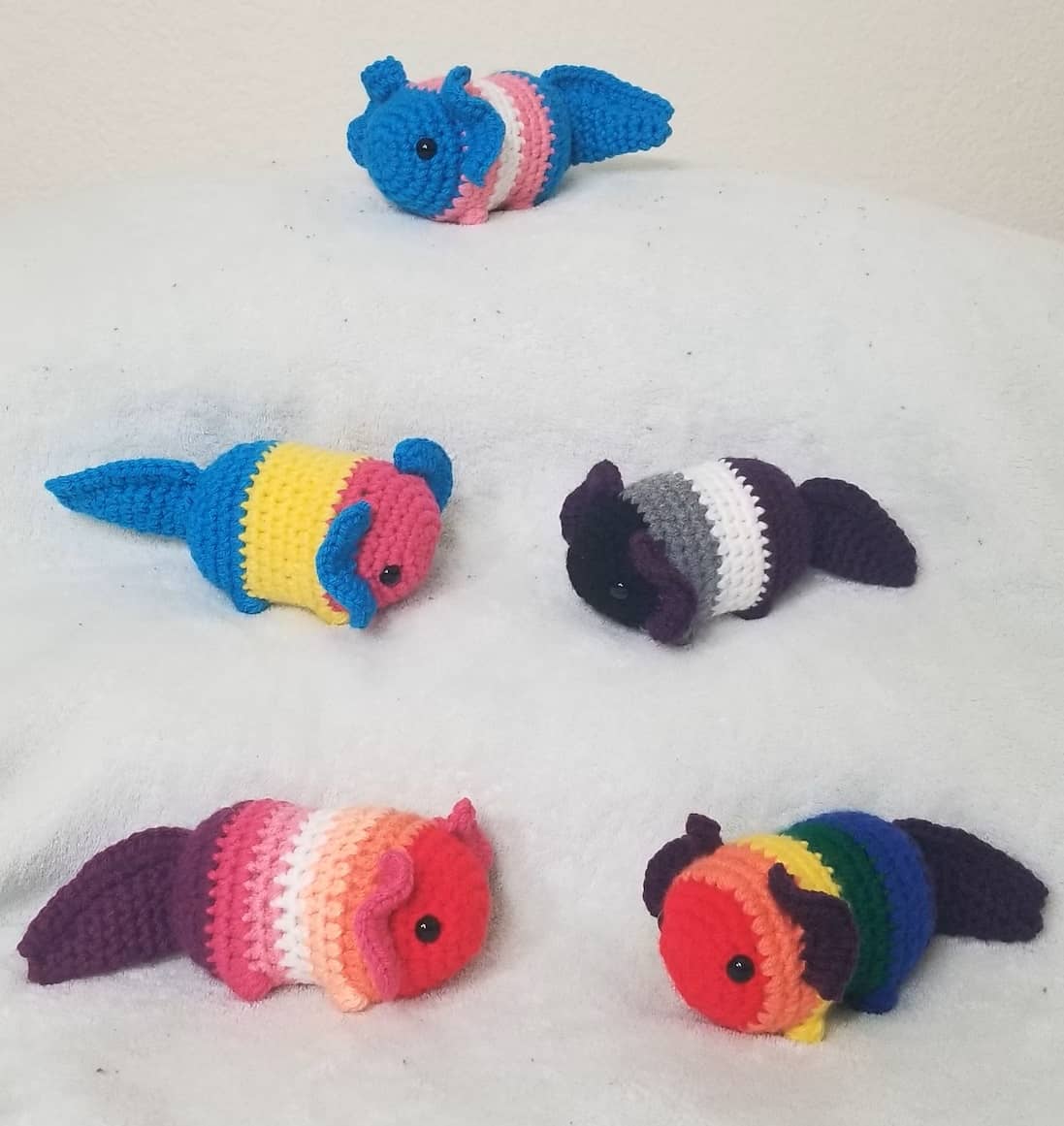 Look at these adorable little axolotl babes! So so cute, they are asking to be picked up! The attention to detail is especially evident in the tail, which features a gel-like curved top part, just like the real Axolotl. They also have four little crocheted nub feet underneath them! These tiny beauties are 6″ long and can be made in any color combination you want! They are handmade in Wisconsin. Great for stocking stuffers on top of a cake or a Christmas tree!
Find it here:
| | |
| --- | --- |
| Pros | Cons |
| One of a kind, made in Wisconsin | Only found on Etsy |
| Support LGBTQ awareness with high quality |   |
| Soft, appealing, and can be used for many things |   |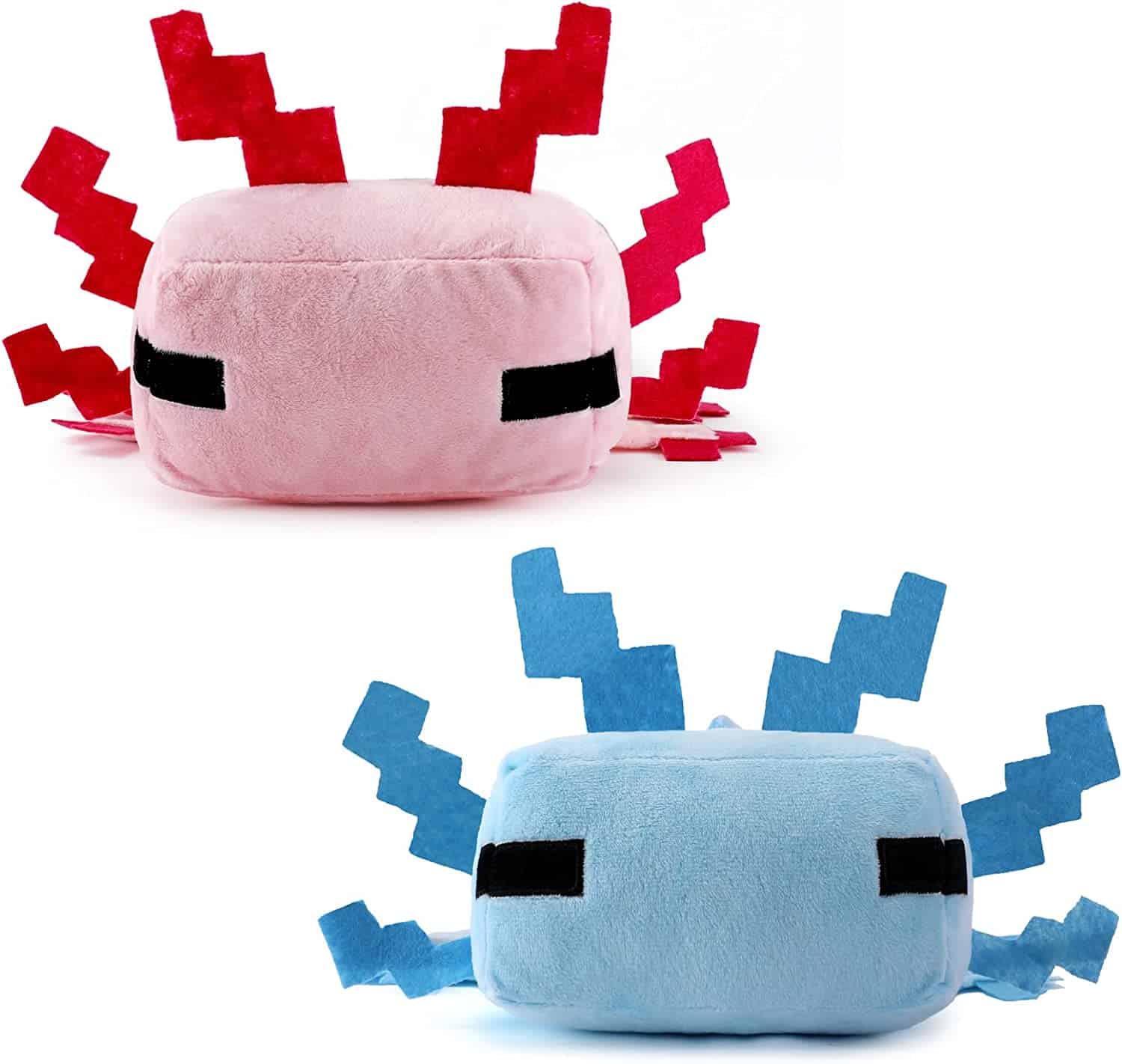 These amphibians are made to look like the Minecraft game pixellated axolotls. The plush is so soft, and their block design goes all the way to their tales! A package of two, one pink and one blue, is perfect for siblings or stocking stuffers. Great for snuggle time in bed; they are a foot long each – even though they don't look it in the picture! I have named them Fritz and Fiona, and they keep each other company when I am away!
Find it here:
| | |
| --- | --- |
| Pros | Cons |
| Two axolotls in every order | I wish the legs were thicker |
| Soft and cushy plush material |   |
| Pixellated detail replicates Minecraft figure |   |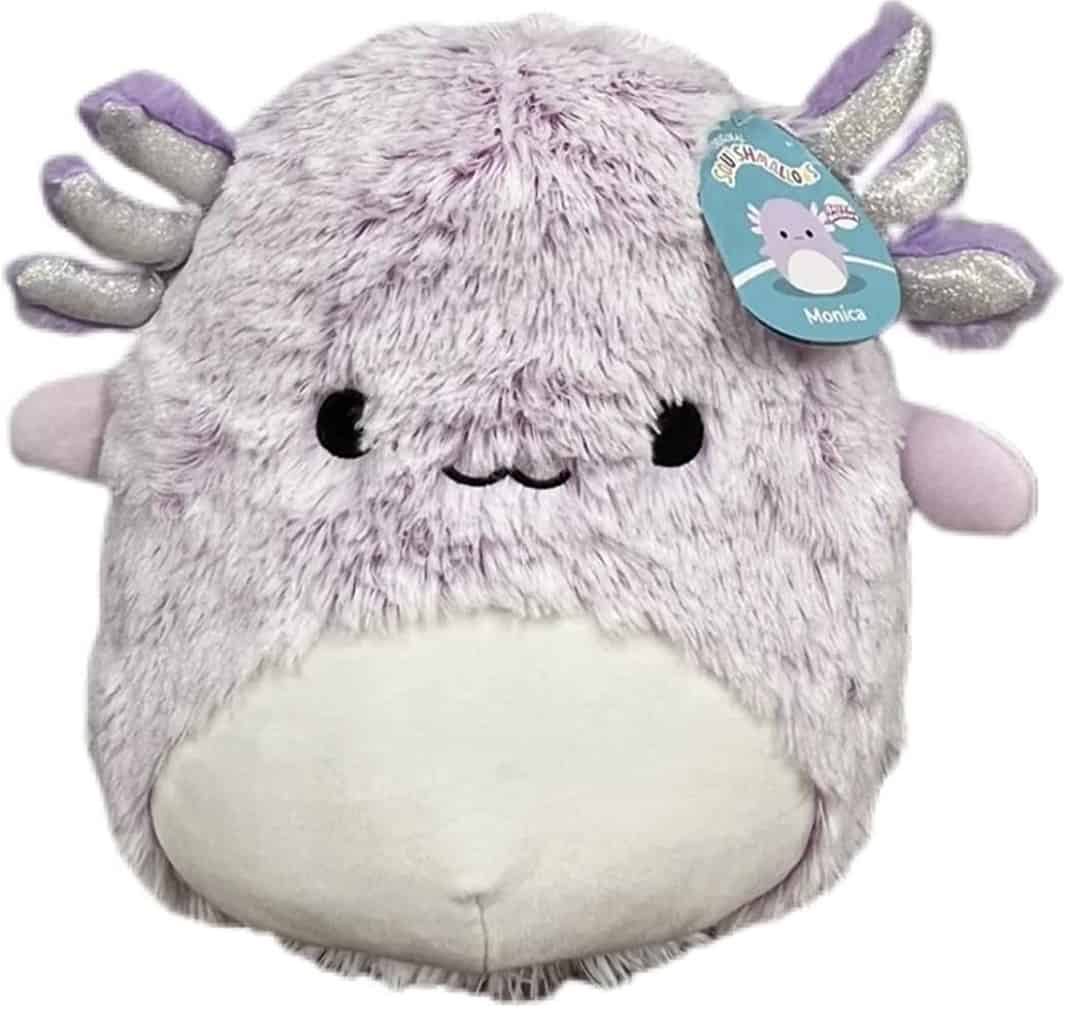 Unbelievably unique fur-covered Axolotl Squishmallow! This gal is so different from any other Squishmallow axolotl that it had to make the list. This is an investment piece that won't have you regretting the purchase. High-quality materials, Squishmallow stretchy softness, an added layer of furry fun, and glittery gills with dark purple detail! This is one of the best Squishmallow toys I have ever seen. (I think Squishmallows can be a little played out sometimes).
Find it here:
| | |
| --- | --- |
| Pros | Cons |
| Squishmallow brand pillow softness and quality | Expensive because there is nothing else like it |
| Covered with furry snuggle hair |   |
| Monica comes with her own personality and online gaming opportunities |   |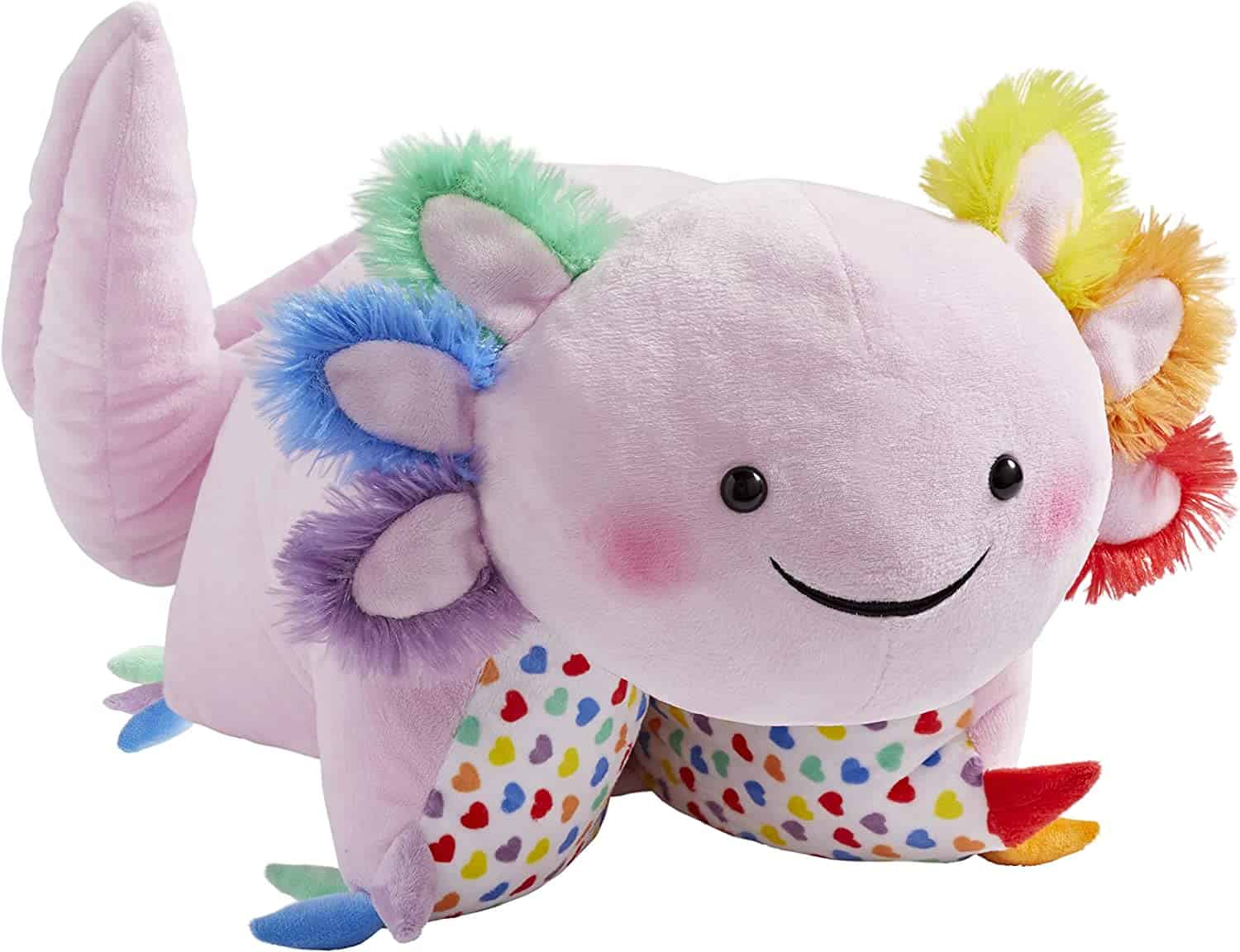 This is one of my favorites, if not for the similarity to the real thing, then for the overwhelming cuteness and pillow replacement! This Axolotl is made by Pillow Pets, known for their high quality and workmanship. The attention to detail and bright rainbow colors make this a sure bet for babies, toddlers, and adults as a fun pillow (especially on an airplane). I love that it is machine washable.
Find it here:
| | |
| --- | --- |
| Pros | Cons |
| Amazing quality with bright rainbow colors – 12 inches long | Doesn't look like a real axolotl |
| Pillow Pet – durability and great for use as a pillow |   |
| Machine Washable |   |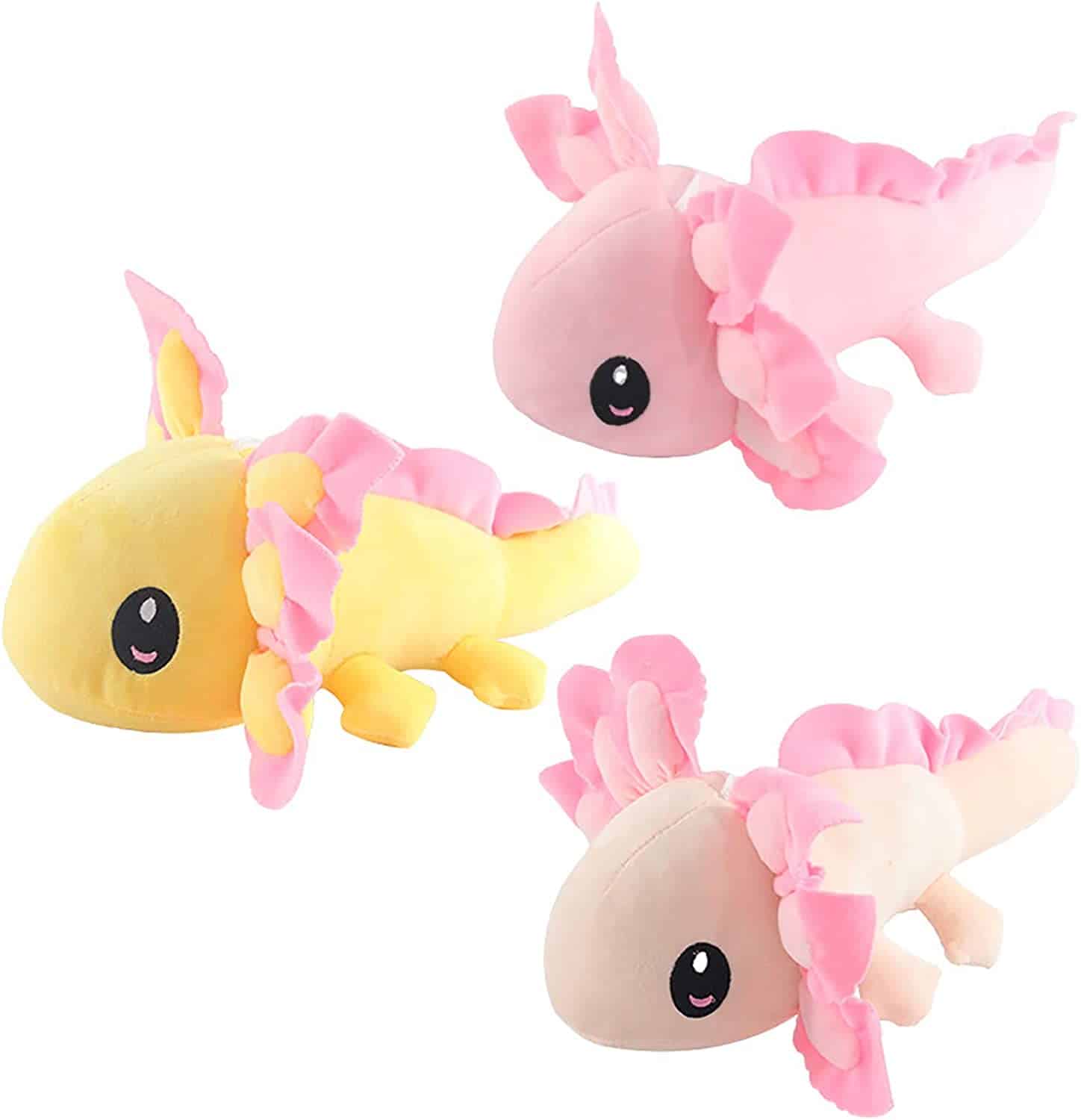 What cute miniature swimmers! Not so miniature at 13″ long, these three axolotls come in one package! A super idea for stocking stuffers or multiple gifts for different people. I would have them on hand for birthday parties or holiday school events. Made of elastic soft plush, with realistic-looking furry gills on the side of their heads, these are substantial, friendly, and squishy pals! Pastel colors are soothing for use after video games!
Find it here:
| | |
| --- | --- |
| Pros | Cons |
| Over one foot long elastic plushy softness | Only comes in colors shown |
| Attention to details on gills, tail, legs, and eyes |   |
| Machine wash in cold on gentle cycle/air dry |   |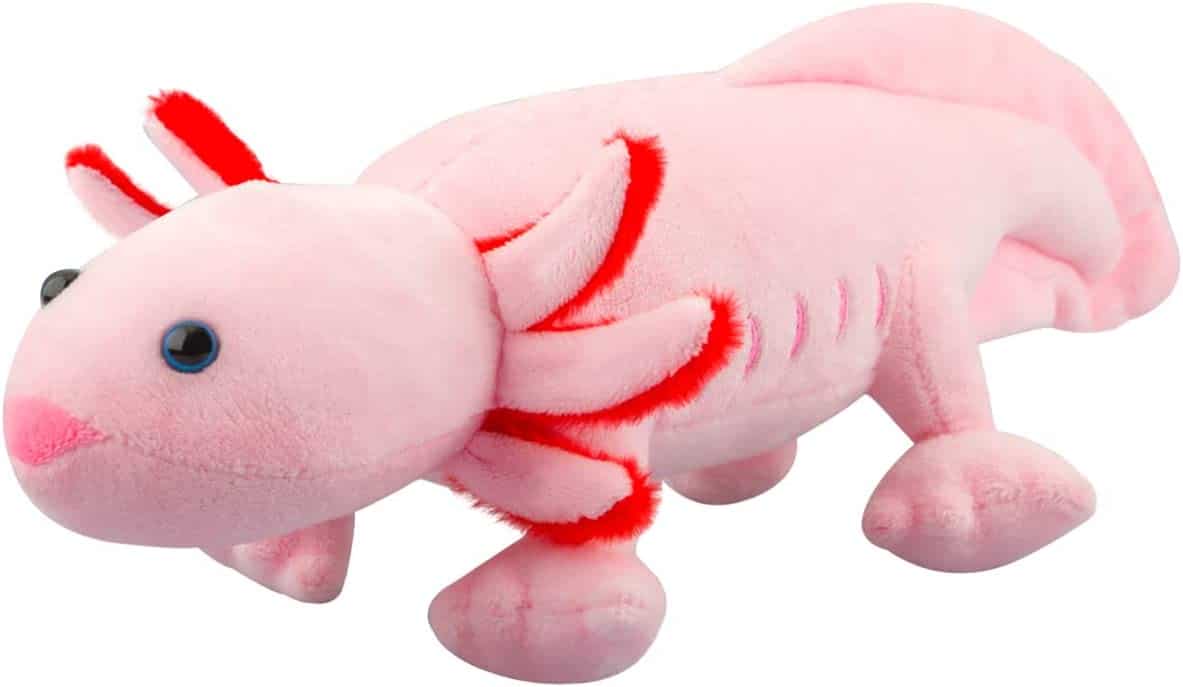 I have to laugh every time I see this little neonatal creature. You can feel the baby-like pink wrinkled skin and see the underdeveloped toes and face! This is a good thing for Axolotl because they are the only amphibians that don't grow into adults – that's right, they stay babies forever! This has great appeal, and the facial expression is priceless with the mouth being so tiny and wide! It's 13 inches long! This is a great present for anyone to hug.
Find it here:
| | |
| --- | --- |
| Pros | Cons |
| Superb baby-like features | No reviews for this plushie |
| Totally one-of-a-kind expression and details |   |
| Machine wash in cold on gentle cycle/air dry |   |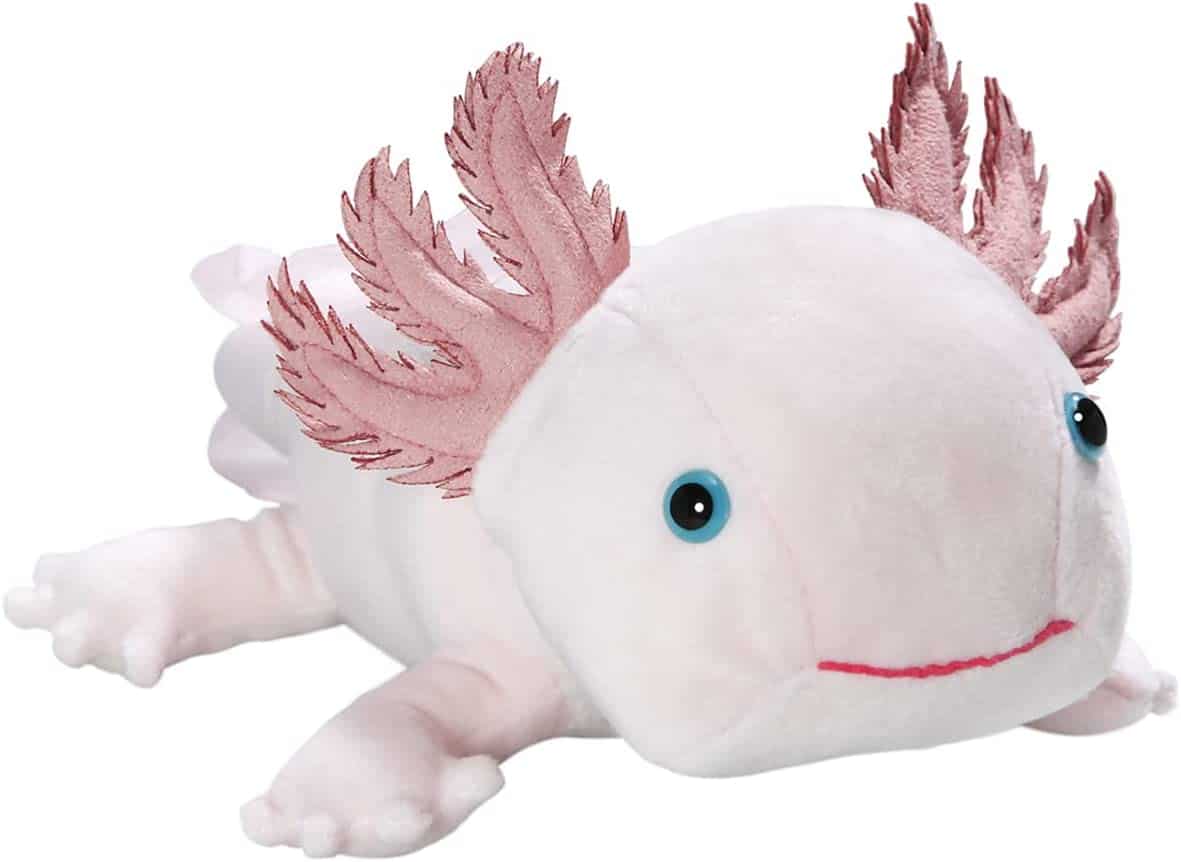 Look at this little face! Have you ever seen an axolotl so sweet and lovable? The sewn mouth is what gets me, with the widely spaced eyes. Made by the Carl Dick brand of Germany, the quality is superior, and the care taken with the toes and the feathered gills is rare. I love this 13″ inch plushie because I feel like I am looking at the real thing; only I can hug this one!
Find it here:
| | |
| --- | --- |
| Pros | Cons |
| Superior quality by Carl Dick | Hand wash only |
| 13 inches long |   |
| Overload of realistic cuteness |   |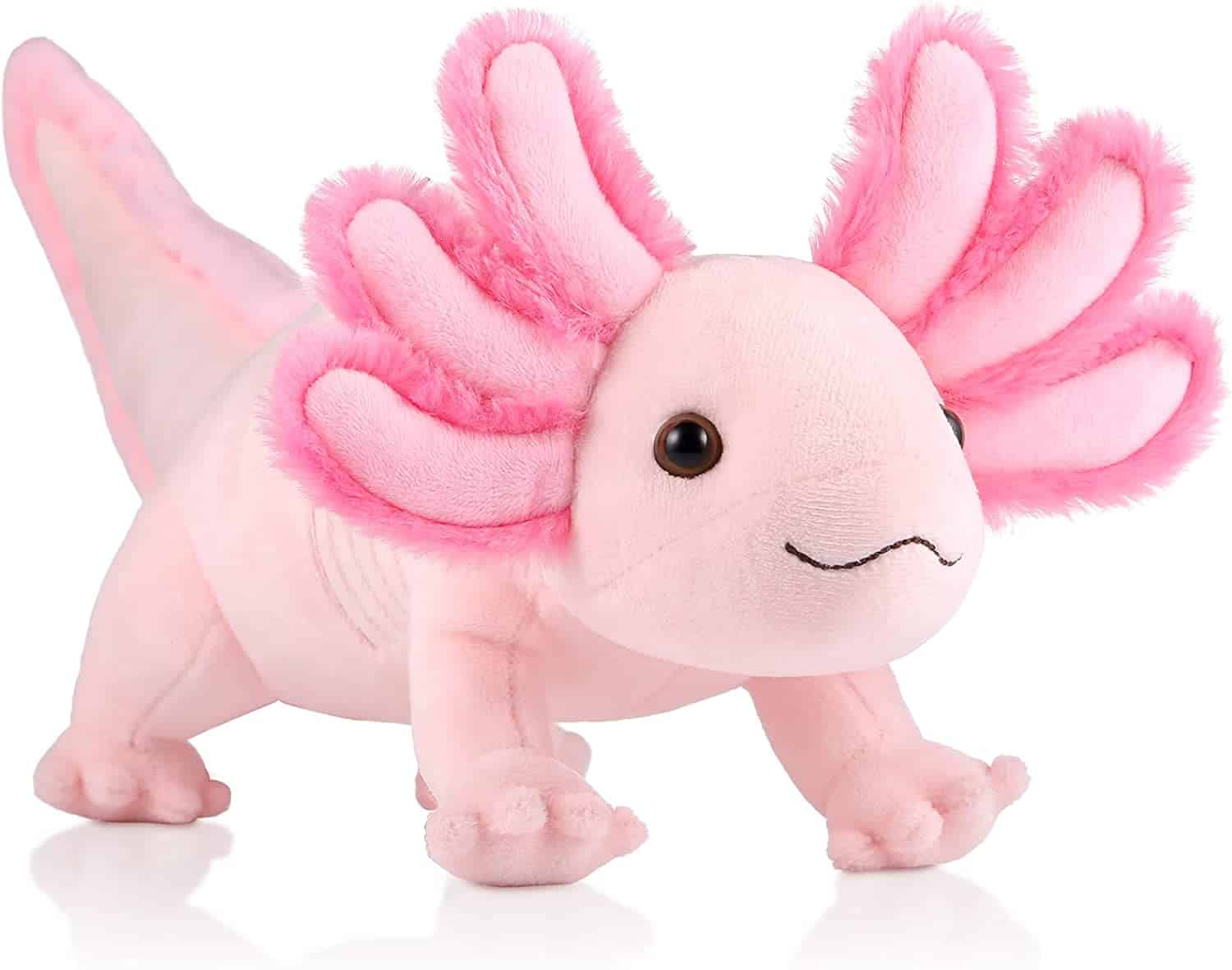 I chose this spritely Axolotl because of her playful stance that resembles Axolotl's child-like image. Everything about this screams "touch me," and the craftsmanship that went into every detail is fantastic. I love the huge 16″ size of this – it's large enough to grab with both hands and substantial when you hug it! This can be machine washed on a cold, gentle cycle.
Find it here:
| | |
| --- | --- |
| Pros | Cons |
| First-rate quality and sewing details | I wish the mouth was straighter (like the real animal) |
| Engaging, playful stance |   |
| Sixteen inches of machine washable love! |   |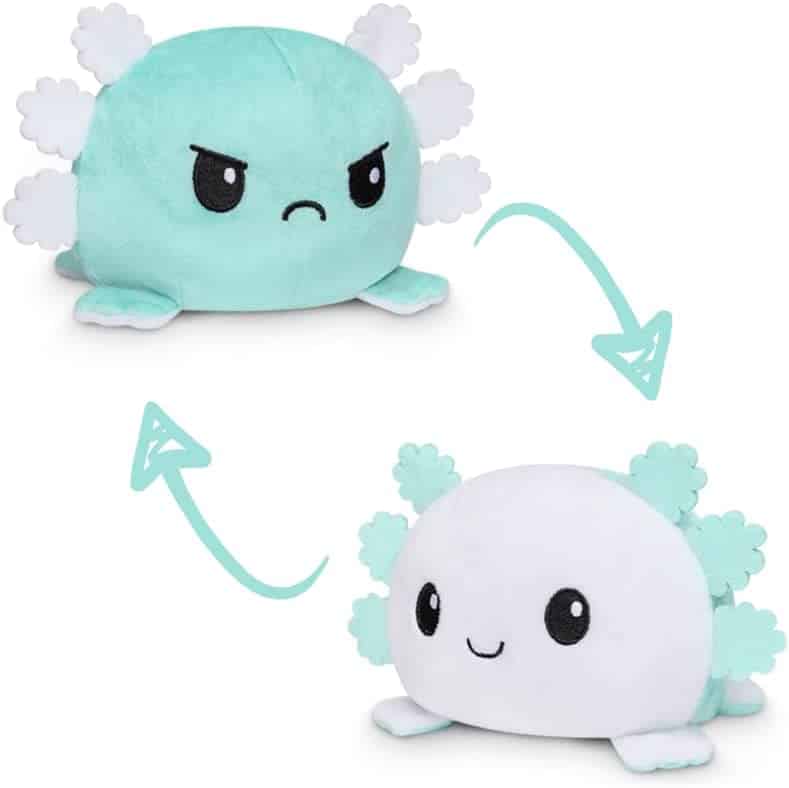 I love these sensory finger fidget toys that you can just pop over to change their expression! My son had so many reversible plushies growing up, and he loved the motor skill and manipulation opportunities. Great for communication when verbal skills are challenged with emotions, these 4 "x4" squishy balls are a great stress reliever, too! Tee Turtle is known for their high-quality standards and workmanship, and over 2,000 reviewers gave this toy a 5/5 rating! Choose from 18 different color combinations!
Find it here:
| | |
| --- | --- |
| Pros | Cons |
| 18 different color combinations | I wish they made them larger |
| Machine Washable |   |
| Sensory, Anxiety, Motor Skills Appeal |   |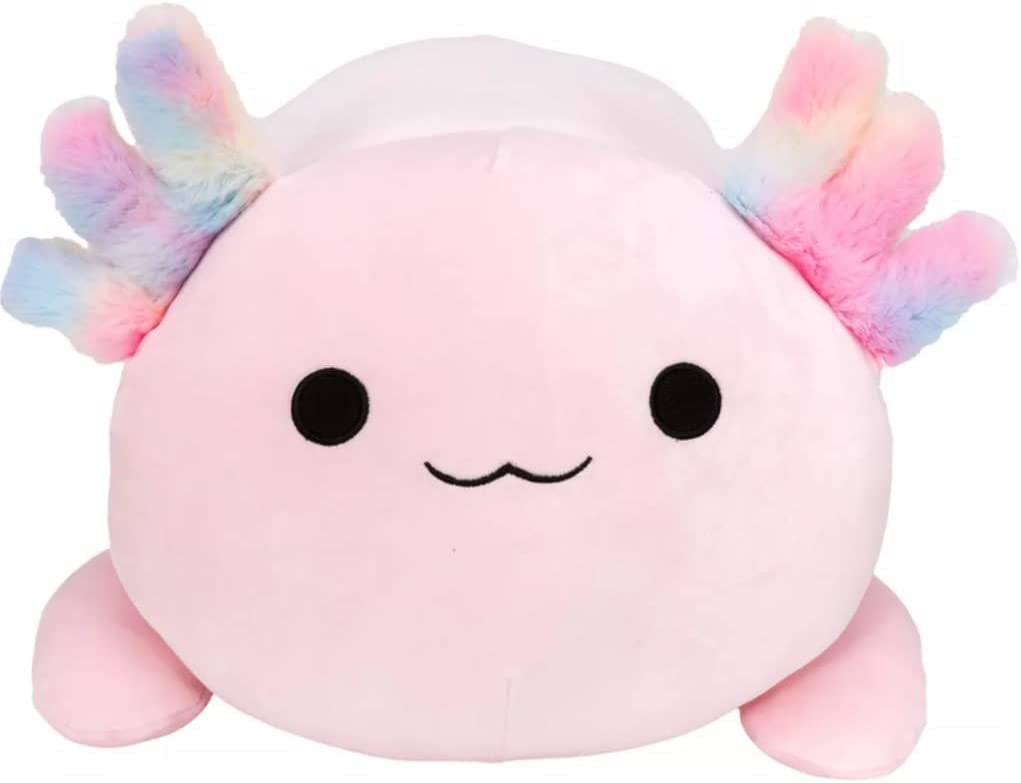 I adore the Hugmees brand of Squishmallow because the characters are laying out and lounging during their chill time! The face on this Axolotl is almost identical to the little smile on the face of a real axolotl! Such cuteness captures the baby-like life of the Mexican Axolotl that genetically can never grow up! A vast 16 inches of plushie heaven to hg as you fall asleep in bed or in the car. Relaxing pastel colors provide a calm visual appeal to promote sleep!
Squishmallows offer a huge bonus with their plushies; not only are the toys the softest, stretchiest material you have ever felt, but each character has its own personality with fan clubs and Roblox games online to play with others!
Find it here:
| | |
| --- | --- |
| Pros | Cons |
| 16″ large for a body pillow, car rides, and hugs | Expensive unless you buy it at a thrift store online |
| Marshmallow quality Squishmallow |   |
| Calm and soothing colors |   |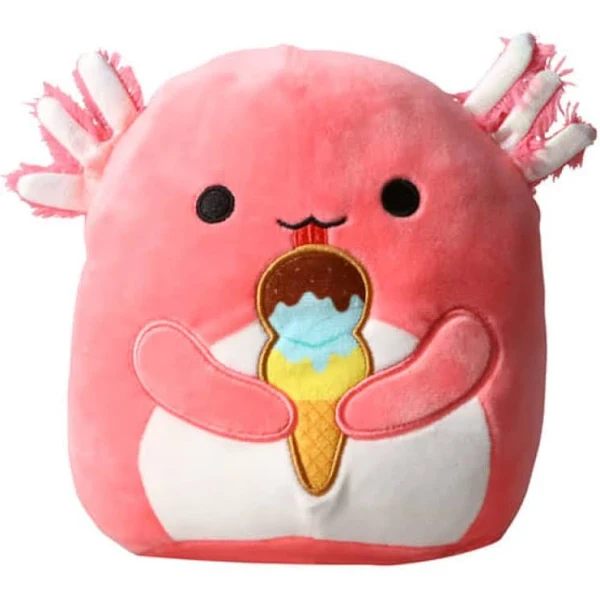 This super cute dark salmon color Archie Squishmallow comes from a limited edition in 2021. Hundreds are on second-hand sites like Poshmark, Mercari, and eBay. Also available on sites like Amazon from second-party sellers. I love the double dip ice cream cone in different flavors! Archie may be shy, but he knows how to party!
The color is scrumptious – you don't usually see such a vibrant pinky peach with the quality sewn detail. This fella is 8 inches tall but comes in many other sizes, so look for that when you shop!
Find it here:
| | |
| --- | --- |
| Pros | Cons |
| Officially licensed Squismallow quality and softness | Mostly found in online thrift stores |
| Lively bright colors |   |
| Machine Washable |   |
FAQs
Question: What Color is Best to get for Axolotls?
Answer: Look for "natural" colors of dark grey, olive, and brown for your Axolotl. Those colors of wild Axolotl have developed over thousands of years for survival, as have other traits of the tiny creature. If you opt for an axolotl that has been genetically mutated to create a "prettier" color, there is the chance that it will be more sickly and come with a host of other problems. of course, you plushie axolotls won't have this problem, so they can be every color of the rainbow!
Question: Why are Axolotl Plushies so Popular?
Answer: The popularity of axolotl plushies is relative to marketing and media. The original fascination with axolotls goes back to generations when the scientific community discovered that this salamander species was not only neotenic (does not transform into an adult as it grows) but could also regenerate organs and limbs, brain, and heart! This was a huge focus of science as studies skyrocketed on how humans could acquire regenerating abilities. Today, the axolotl species is almost extinct in its natural Mexican habitat, but there are hundreds of thousands of them in science labs and pet stores worldwide due to much breeding in captivity.
The video game Minecraft showcased axolotls as a game character which increased the public's awareness of the amphibian, and Squishmallow brand plushies has dozens of axolotl versions with their own personality.
Question: When was the Axolotl First Discovered?
Answer: The Axolotl was first discovered in the 1300s by the Aztecs in Mexico who noticed a salamander living totally underwater in the lake near the capital of Tenochtitlan. The salamander was named after their god of fire and lightning, Xolotl, and that type of salamander has been known as Axolotl ever since!
Final Thoughts on Axolotl Plushies
No doubt there is a plethora of axolotl plushies just waiting for you to notice them and take them home. Squishmallows hold the record for the most different axolotl characters under one brand, and their social media presence and millions sold every month continue to keep them at the top. I find Squishmallows a bit dull, and I am hard-pressed to find a few that I can call unique. They all look the same after you see 200 of them! Squishmallows will always have a niche because of their pillowy softness, but I prefer to branch out a bit and look for more realistic versions of a real axolotl.
A great way to put your spin on an axolotl plushie is to make one! Check out these resources to help you make exactly what you want your Axolotl to look like!
I love the true-to-life form of this Carl Dick axolotl plushie. It has safety eyes, fascinating detail on the furry gills, and the toes are even defined! I haven't found any other axolotl plushie with the same adorable child-like facial expression. It's even 13 inches long to cuddle in bed! The Carl Dick name has been synonymous with high-quality, durable items for over 30 years. Find this little pal here at Amazon.
Whether you choose handmade, one-of-a-kind plushie axolotl, a pillow substitute squishy, or a realistic axolotl reproduction, this popular animal will never go out of style. The timeless appeal of superhuman regenerating amphibians that never grow old? Well, it never gets old as long as humans search for the fountain of youth!
Check out these related articles:
The Ultimate Axolotl Squishmallows Guide
The Complete Bee Squishmallow Guide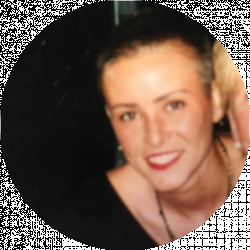 Latest posts by Richelle Tieman
(see all)