In terms of stuffed animals, there's no larger industry titan than Build-a-Bear. They not only make high-quality plushes, but they provide a role in the creation and customization that makes the product at the end feel special and personal. Then we have Disney on the movie side, making high-quality stories for the whole family with an army of fans. So it only makes sense for these two to work together and create high-quality merchandise to be loved for years to come.
Build-a-Bear offers several different products aside from their namesake buildable bears. There are smaller plushies that are already stuffed, various clothes and accessories to dress your plushies in, and scents and sounds to give life to the animals. Disney has taken advantage of each of these products to provide you with a complete experience with your Disney plush, except for scents; visual media doesn't exactly allow for iconic smells.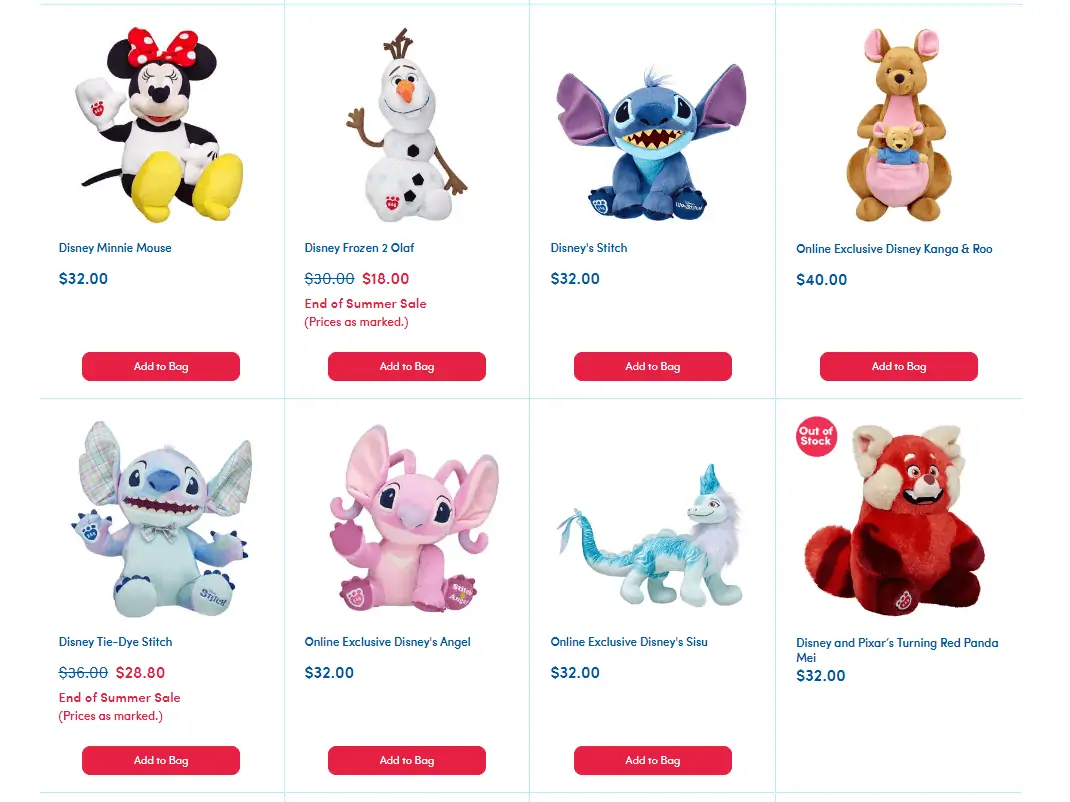 Plushies
We'll start with what Build-a-Bear is most known for, their plushies. They change the plushes they produce frequently, so this isn't the complete list of everything they've ever made but is everything they currently sell. Some are available in stores, and some are online exclusives. There are also smaller plushes that wouldn't be stuffed in the same way the buildable ones are.
Here's a quick glance at all the currently available plushes:
Stitch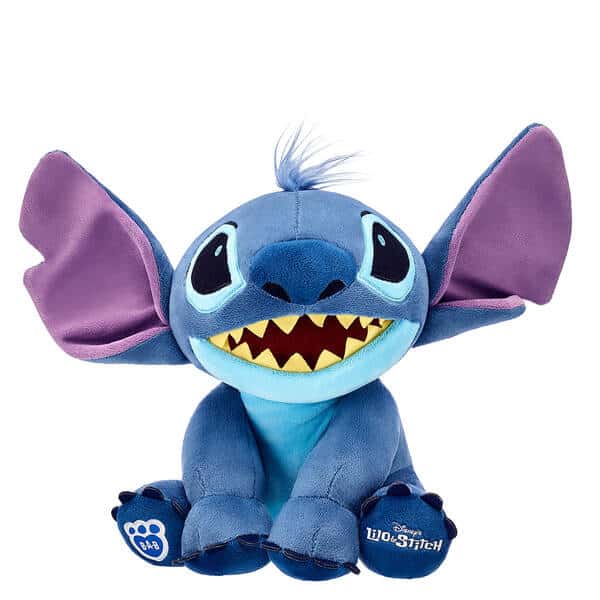 Stitch is a combination of cute and terrifying that perfectly encapsulates the quirky charm of the Lilo and Stitch movie. While this film wasn't the most popular upon release, it has gained a following in recent years for its sincere message and unique humor. Stitch's chaotic energy and adorable face make him into a delightfully cuddly toy.
Movie: Lilo and Stitch
Availability: In-store and online
Price: $32
Size: 12 in
Pros
The colors are rich and vibrant.

The mouth is wide and open with two rows of teeth, excellently portraying Stitch's wide smile.

The ears and well-shaped, large, and very soft.

The head is appropriately wide, which can be difficult when making a plush.
Cons
The feet appear much rounder than in the movie.

Legs and feet are easily over-stuffed and can appear swollen.
Tie-Dye Stitch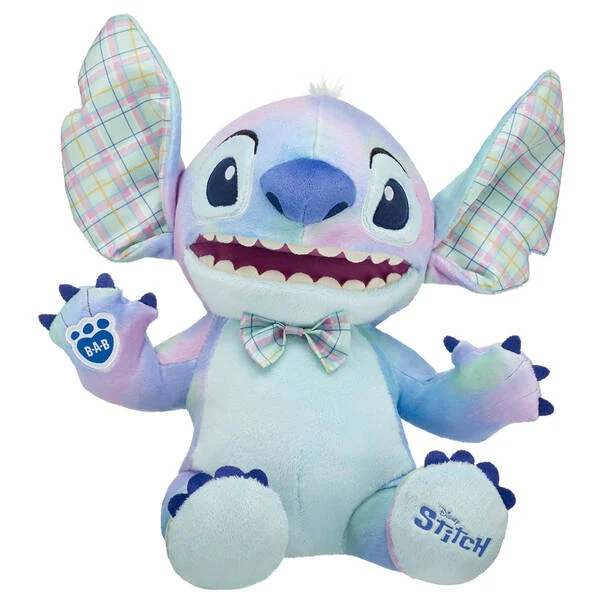 This variation on Stitch changes his royal blue fur to a pastel purple and blue with plaid ears and a bowtie. He also is designed to stand on two legs rather than four. The colors are reminiscent of springtime, and his friendly expression makes him look like he's ready for playtime.
Movie: Lilo and Stitch
Availability: In-store and online
Price: $36
Size: 15 in
Pros
The paws look much more like the movie and don't look swollen like the original version.

The nose is well sculpted and fits the face better than the original with its flatter nose.
Cons
The mouth is much less expressive than the original, and the rounded teeth take away from Stitch's chaotic charm.

The tuft of hair at the top of the head is rather small.

The general color scheme and bow tie don't fit Stitch's character very well.
Angel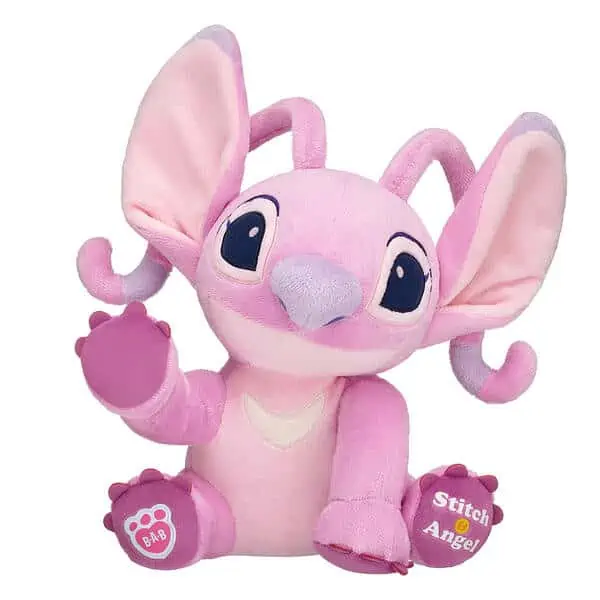 Lilo and Stitch: The Series introduced a lot of experiments to go with Stitch, including the adorable Angel. Looking like a sleeker, pink version of Stitch, Angel has a powerful singing voice and uses it to modify the behaviors of those that hear it. After being reformed by Lilo and Stitch, she became an intergalactic singer.
Series/Movie: Lilo and Stitch: The Series, Leroy and Stitch
Availability: Online Exclusive
Price: $32
Size: 12 in
Pros
Her nose has a lot more shape and dimension than Stitch's.

Her ears and curled antennae are well-sculpted and keep their shape.

The colors are pleasing and soft.
Cons
Like Stitch, Angel's legs and feet are also very rounded and swollen.

Only comes in quadrupedal when Angel is primarily bipedal.
Sox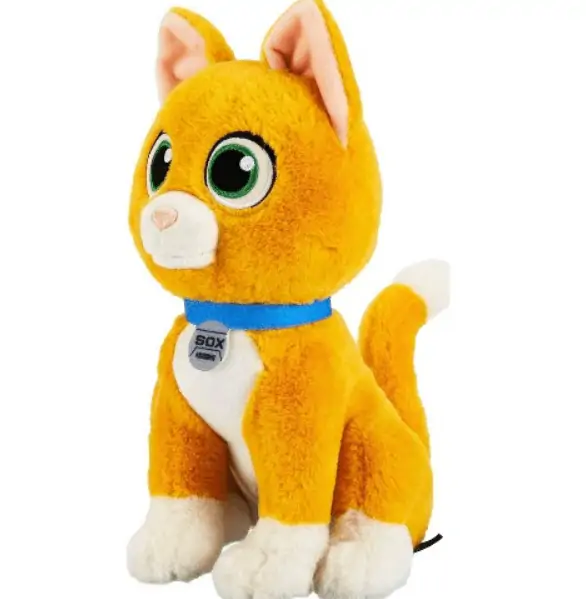 The most recent Pixar movie, Lightyear, gave us the movie Andy from Toy Story fell in love with before getting his favorite toy, Buzz Lightyear. The film expands on Buzz Lightyear's character and gives him many new companions. One of these companions is Sox, the loyal robotic cat.
Movie: Lightyear
Availability: In-store and online
Price: $15
Size: 8 in
Pros
The vacant look in his eyes matches the fact that this is, indeed, a robotic cat.

The entire shape of Sox is very well designed. It's simple and looks a lot like the original film design.
Cons
This is not a buildable plush and is meant more as an accessory to a bear dressed as Buzz Lightyear than its own product.
Cruella De Vil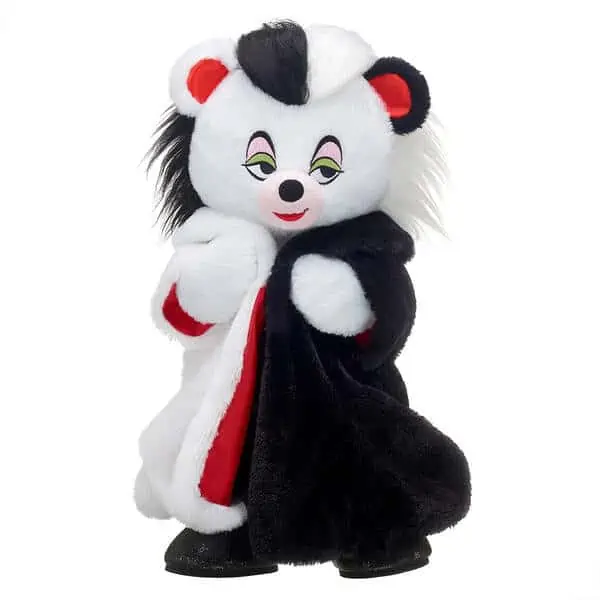 Many classic Disney villains have impeccable style, but none so much as the fashionista Cruella De Vil. They may have grand plans of revenge or power fantasies fueling their evil plots, but Cruella's nasty deeds are fuelled only by her need for a luxurious coat. This bear is only available through an online bundle that includes the bear, her jacket, and a soundbox that plays "Cruella De Vil."
Movie: 101 Dalmations
Availability: Online Exclusive
Price: $56
Size: 14 in
Pros
This is clearly an item meant for collectors that match the style of Disney villain bears made in the past.

The hair, face, and coat are designed to resemble Cruella De Vil. Nothing is generic about this bear.
Cons
The small embroidered eyes with heavy makeup may be unsettling if you are used to the bigger, friendlier faces of most Build-a-Bear plushes.

The hair must be brushed into place after shipping.
Sisu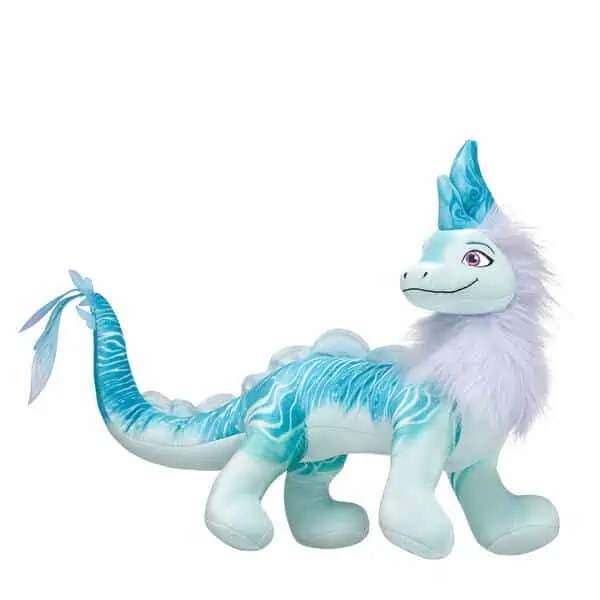 Raya and the Last Dragon features many strong and capable characters that grow and mature through the movie. The last dragon, Sisu, learns of her own abilities and strength as she journeys with Raya.
Movie: Raya and the Last Dragon
Availability: Online Exclusive
Price: $32
Size: 12 in
Pros
The colors and shading are beautiful.

The darker blue patterning on her back is finely detailed.
Cons
Sisu's film design isn't very strong, so the plush also looks bland.

The horn seems too big.

The face and feet look too round.
Elsa Inspired Bear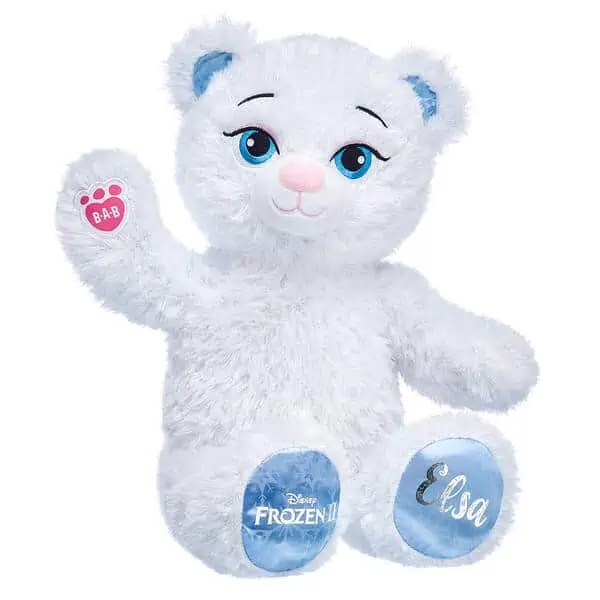 Of all the Disney characters, only Elsa is popular enough to get her own bear that isn't collector-level. The bear takes inspiration from Elsa primarily in its icy color scheme, feminine eyes, and paw labels. If you were to show me this bear without the Frozen 2 and Elsa logos on her paws, I probably wouldn't recognize her. Still, I think the bear is overall good, as I don't think adding too many human elements to the bear would start to look creepy.
Movie: Frozen 2
Availability: In-store and online
Price: $30
Size: 16 in
Pros
The simplicity of the bear lets you use her for more than just being Elsa.

You can dress up this bear very easily and she'll look good in most colors.
Cons
I'm not a fan of putting Elsa's name on her paw since it makes it clear they didn't think she looked like Elsa enough and decided to fix it by just labeling her.

The human-like eyes can be unsettling to some people.
Mufasa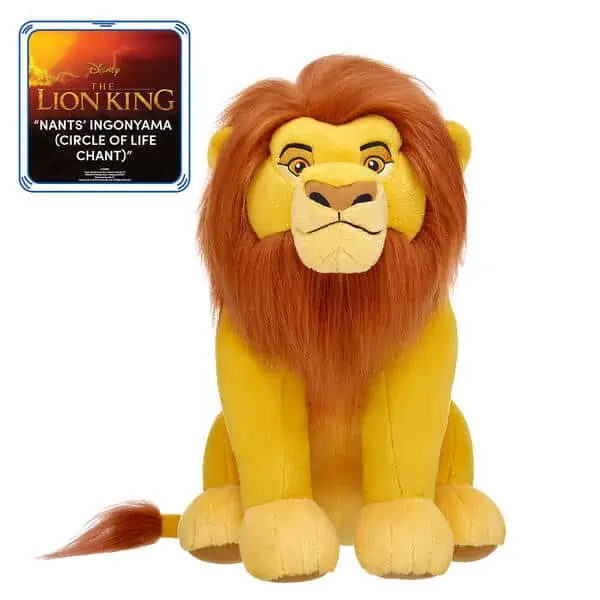 While released to pair with the 'live-action' Lion King, this Mufasa plush is designed to resemble the original, animated design. I prefer this design as it is much more expressive and pleasing than the duller 'live-action' design that focuses on only making the lions look realistic instead of relatable. This plush is only available in a bundle that includes the plush and a sound box that plays "Nants' Ingonyama (Circle of Life Chant)" from the original movie.
Movie: The Lion King
Availability: Online Exclusive
Price: $43
Size: 13 in
Pros
Bright colors match the animated movie well.

The face looks exactly like the movie.

I like the large, fluffy mane.
Cons
The eyes, while movie accurate, are unfocused.

His head is too far forward, so he looks slouched.
Mickey Mouse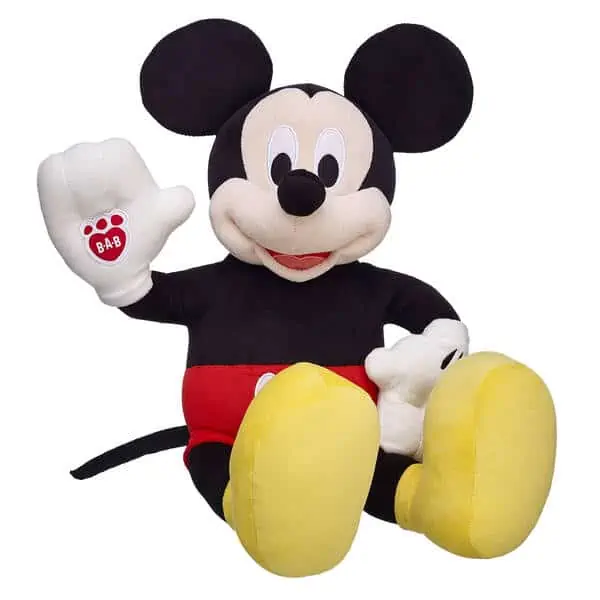 The one and only face of the Disney brand is instantly recognizable. Currently, a Mickey Mouse plush is only available as part of a bundle and can't be bought separately. The bundles available are the Vampire bundle, which adds a vampire costume, and the 50th celebration bundle, which includes a special blue outfit, carrying bag, 5-in-1 sound box, and 1st visit button.
Availability: Online Exclusive
Price: $32 (this is the listed price of the plush within each bundle)
Size: 17 in
Pros
The plush looks exactly like Mickey Mouse. There are no strange proportions or simplifications like with other characters.

He has a very friendly smile.
Cons
He is only available in bundles, driving up the price if you only want a Mickey plush.
Minnie Mouse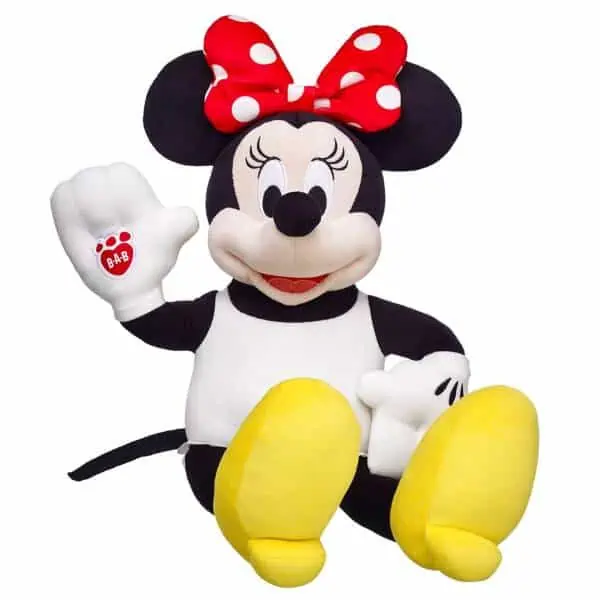 The other signature Disney character currently available is Minnie Mouse. She has the same pattern as Mickey with an added bow, eyelashes, and heels, much like most cartoons depict them. They also wear different clothes in their base plush. 
Availability: In-store or online
Price: $32
Size: 17 in
Pros
She is very well designed and looks exactly like Minnie does in most cartoons.

While still the same base pattern as Mickey, the accessories don't look tacked on.
Cons
While the Mickey plush comes in his signature red shorts, the Minnie plush comes in white undergarments that look weird. You'll need to either buy a bundle or an outfit separately.
Winnie the Poo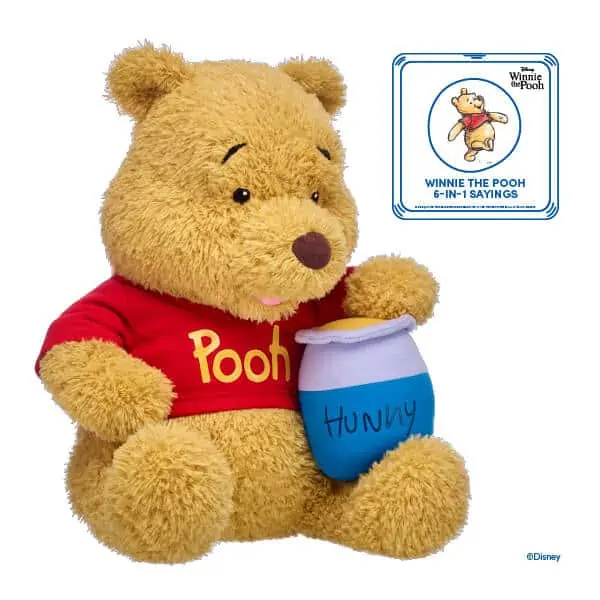 Deep in the Hundred Acre Woods is a kind and happy bear that spends his days playing with his best friends. Winnie the Poo is the pinnacle of childhood fantasy as Christopher Robin's toys come to life and go on whimsical adventures featuring Poo Bear. Build-a-Bear provides a classic recreation of Winnie the Poo in a bundle that includes Poo, his classic red shirt, a honey pot, and a 6-in-1 soundbox.
Movie: Winnie the Poo
Availability: Online Exclusive
Price: $53
Size: 13 in
Pros
This plush is extremely cuddly and soft.

It mimics the nostalgic feel of older iterations of Winnie the Poo without making it look old.

All the accessories are well crafted, a suit Poo well.
Cons
Only available in a pricey bundle.
Tigger
Where would Winnie the Poo be without his trusty friends by his side? Tigger is the energetic friend who may get a little lost in his abilities but is always there to liven the mood and play with his pals. Like Winnie the Poo, Tigger also comes in a bundle that includes his own 6-in-1 soundbox.
Movie: Winnie the Poo
Availability: Online Exclusive
Price: $40
Size: 13 in
Pros
The entire body, especially the face, is the perfect shape, looking just like the animated version and being very cuddlable.

He has a very sweet and playful expression.
Cons
The colors look a little washed out.

His tail isn't as long or springy as it could be.
Eeyore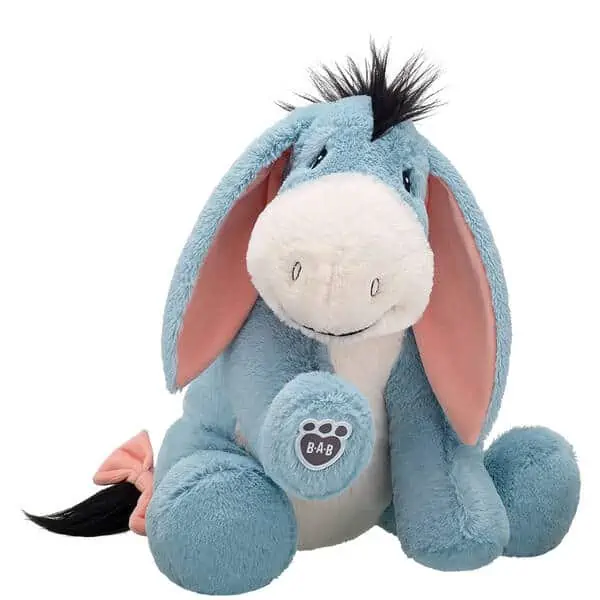 Eeyore is a prime example of how not every children's cartoon character needs to be full of energy and happy all the time. A somber demeanor and rather depressed attitude might sound like they would make Eeyore a boring character. Yet, when contrasted with the energy and love of his friends, he has an undeniable charm. Eeyore also comes with a 6-in-1 soundbox.
Movie: Winnie the Pooh
Availability: Online Exclusive
Price: $40
Size: 11 in
Pros
The entire plush is incredibly soft.

The ears and tail are appropriately droopy.
Cons
The expression of the plush doesn't communicate Eeyore's character. It looks much happier than Eeyore's usual demeanor.
Piglet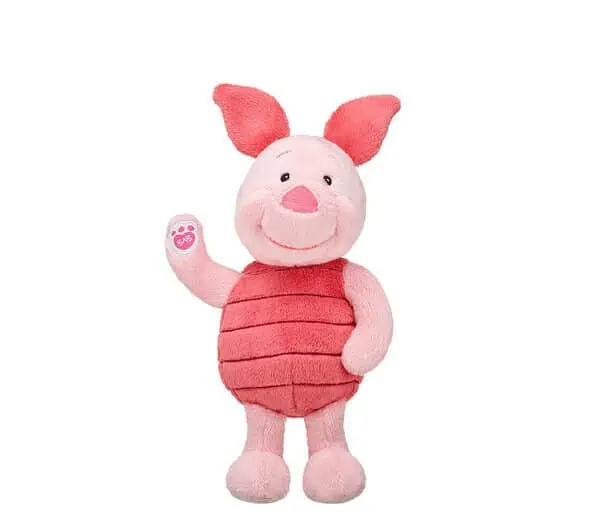 As someone that is also very shy and anxious, Piglet is my personal favorite Winnie the Poo character. He's the smallest of the bunch and gets scared easily, but he's always there to help his friends. Like his friends, he comes with a 6-in-1 soundbox.
Movie: Winnie the Poo
Availability: Online Exclusive
Price: $32
Size: 10 in
Pros
The colors are very pleasing.

The plush is very soft.

He looks very polite.
Cons
His head and body look more circular than the animated version.
Kanga and Roo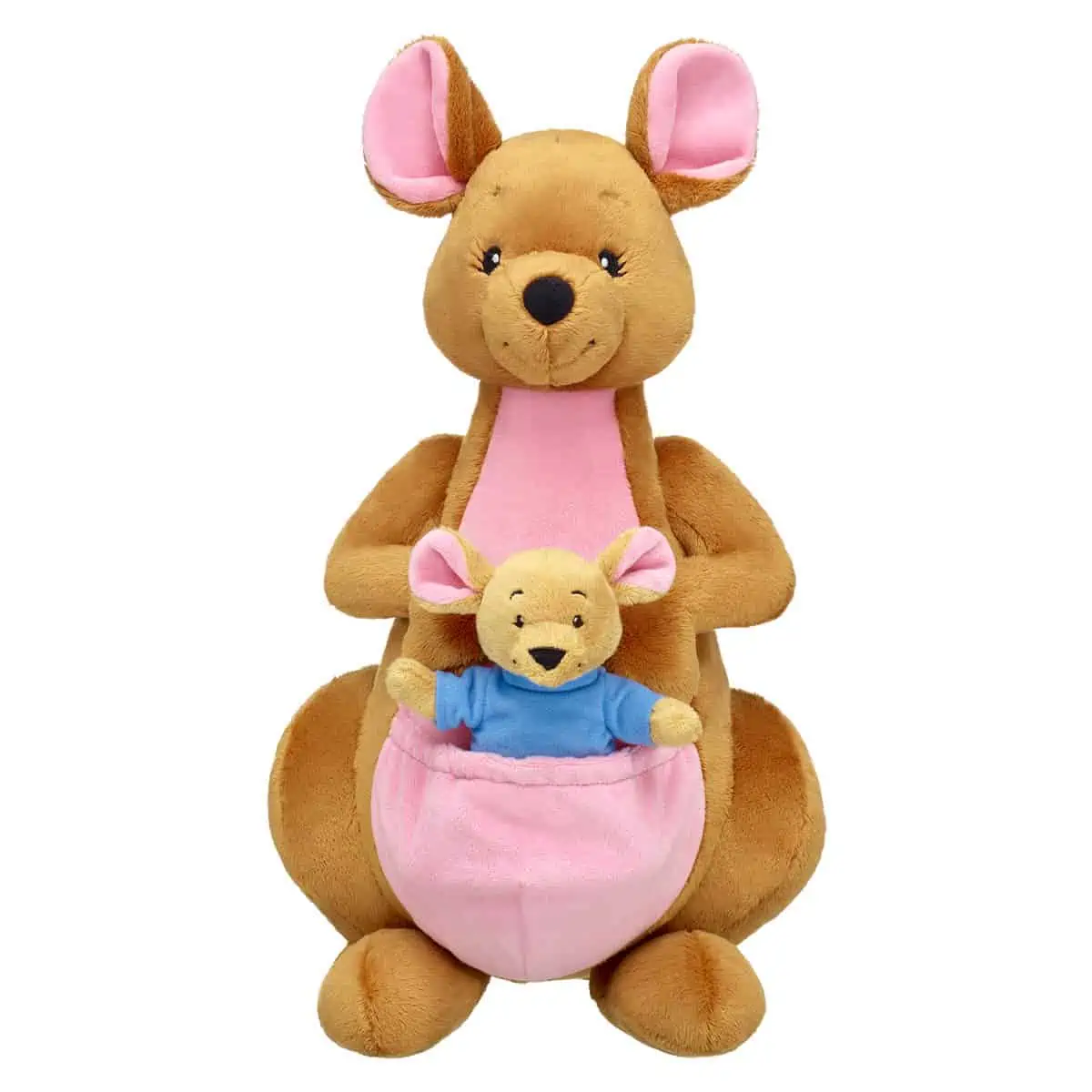 In the Hundred Acre Wood friend group, Kanga and Roo offer up age differences that expand possible dynamics. Kanga can offer motherly care to her friends, while Roo encourages childish adventures. Unlike the more popular characters, Kanga and Roo don't come with a soundbox.
Movie: Winnie the Poo
Availability: Online Exclusive
Price: $40
Kanga's Size: 16 in
Roo's Size: 5 in
Pros
Kanga has an elastic pouch that you can take Roo in and out of!

They both have adorably sweet expressions.

Kanga's shape is very well-defined.
Cons
Olaf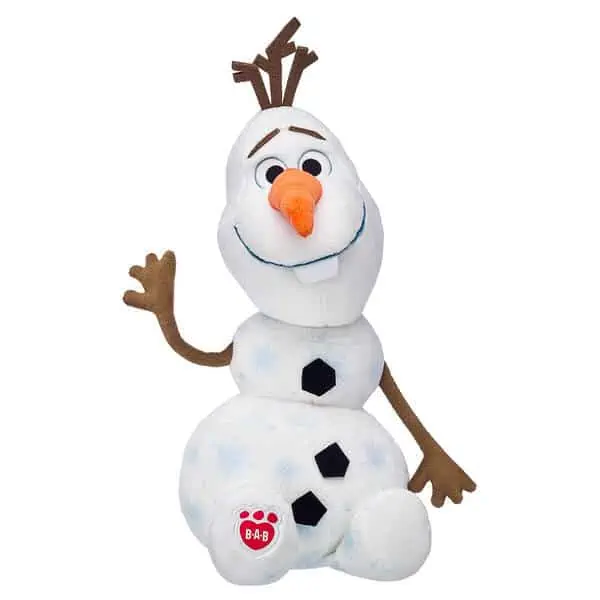 Olaf is such a charming and innocent addition to the Frozen stories. He symbolizes Anna and Elsa's growing relationship and is a funny sidekick for kids to laugh with.
Movie: Frozen 2
Availability: In-store and online
Price: $30
Size: 16 in
Pros
The subtle blue snowflake pattern in the fabric brings a lot of depth to the icy colors.

His shape is well-defined.

His eyes aren't creepy like many other Olaf plushes.
Cons
The upturned eyebrows make his expression look more apologetic than fun.

The arms look strange.
25th Celebration Disney Princess Bear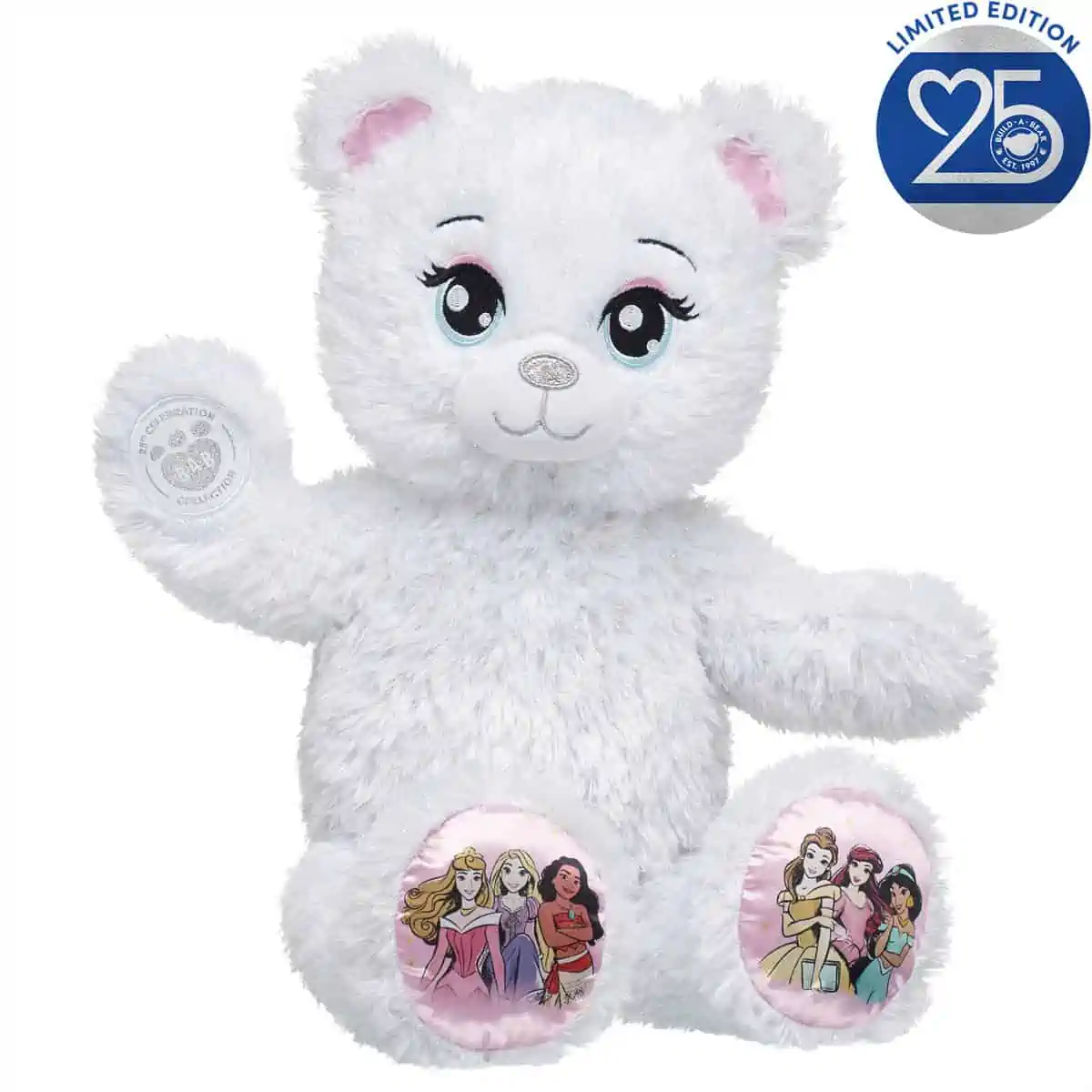 To celebrate the 25th anniversary of Build-a-Bear, they created this bear inspired by the Disney Princess line. The bear doesn't take inspiration from one specific princess but rather the general aesthetics of the princesses as a whole. It has beautiful eyes, sparkly fur, and paw pads that depict Aurora, Rapunzel, Moana, Belle, Ariel, and Jasmine.
Availability: In-store or online
Price: $30
Size: 16 in
Pros
It is a limited edition bear to celebrate a Build-a-Bear milestone incorporating another popular franchise.

It can be easily dressed in various outfits and looks especially good in princess costumes.
Cons
The embroidered eyes may be unsettling for some people.

The eyebrows look weird against the fluffy fur.
Panda Mei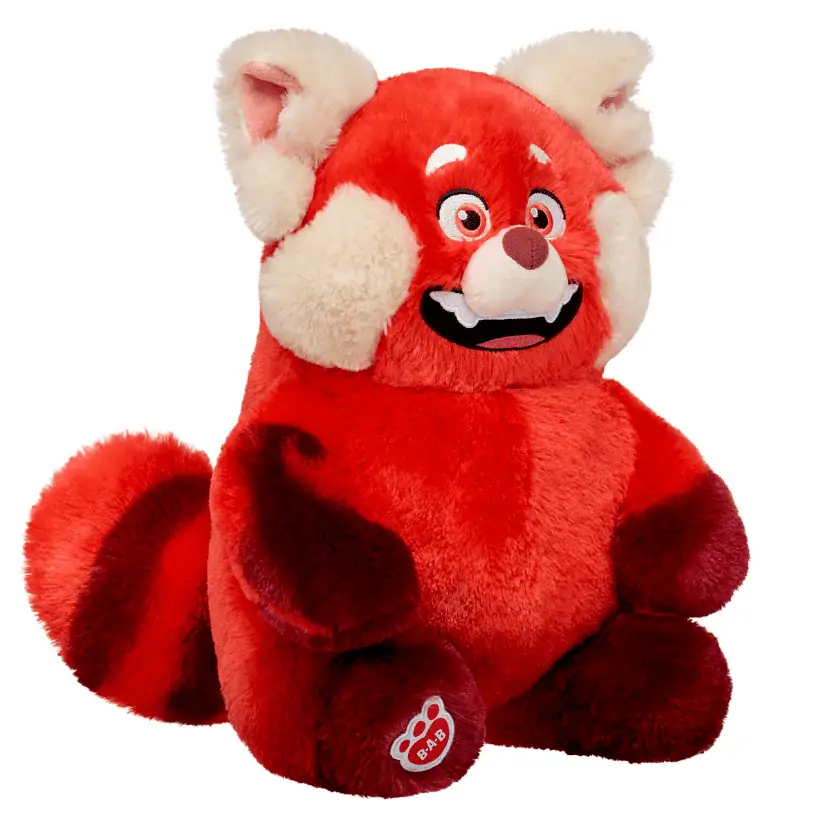 Pixar's Turning Red delivered quirky characters that were easy to relate to alongside adorable panda antics. Mei's panda form manages to be both cute and intimidating. Luckily, the plush version leans hard into the rotund cuteness of the design.
Movie: Turning Red
Availability: In-store and online
Price: $32
Size: 16 in
Pros
The whole plush is delightfully round.

The texturing on the ears and cheeks add dimension.

The expression is very fun and enthusiastic.
Cons
From the side, the face looks flat.
Clothes and Accessories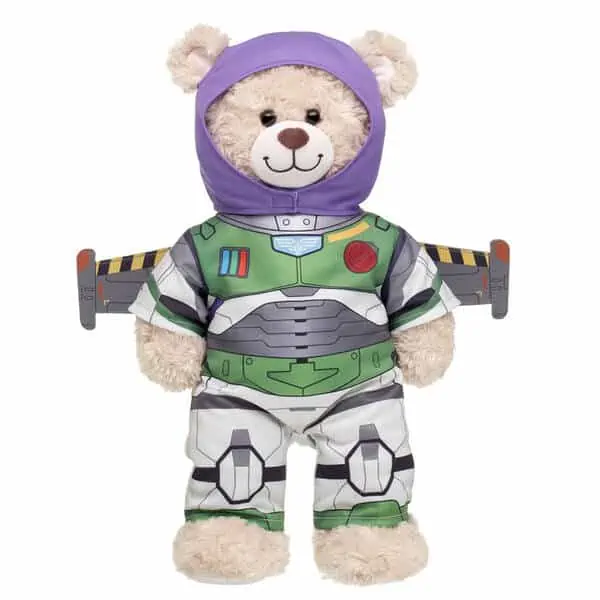 Clothes from Build-a-Bar are the easiest way to customize and characterize your plushes. Being one size fits most means you can reuse the clothes on nearly any of your plushes or dress up on plush with a whole wardrobe of options.
Most of the clothes Disney made with Build-a-Bear are costumes made to dress up your plushes as human characters that wouldn't translate well into a stuffed form. However, this isn't the case for everything, as there are some outfits made to suit a specific plush and some clothing items made just for fashion purposes.
All the costumes are faithful renditions of the character's outfits, simplified to fit the Build-a-Bear style without sacrificing important details. It's a great way to make your simple plushes a bit fancier or make your special plushes even more unique.
Here's a list of the current Disney wardrobe: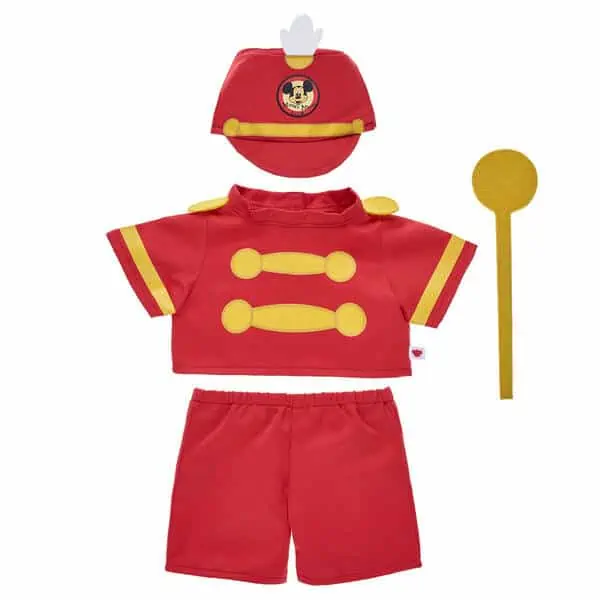 Sounds
Sounds are probably the most contentious of the products made by Build-a-Bear. Certain sounds played repeatedly can be annoying, and it's harder to fix them if they break or wear out over time. Yet there's a charm to having your favorite plush sing your favorite song while you cuddle. The sounds produced by Disney are primarily popular songs and packs of phrases, so luckily, nothing too repetitive.
These are the sounds currently being sold: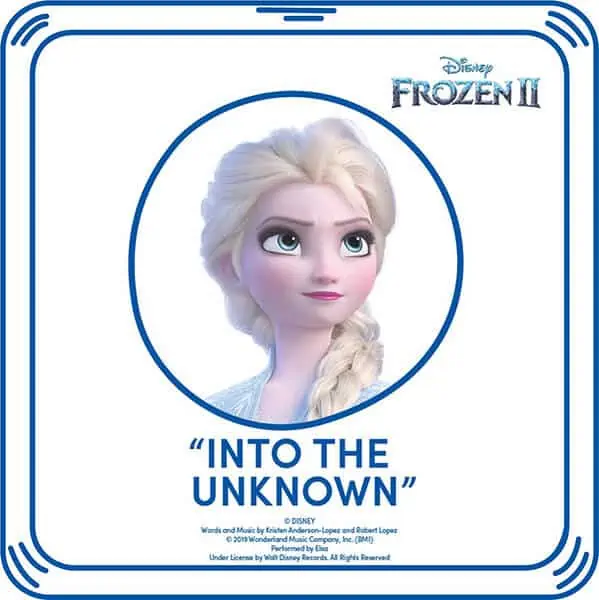 FAQs
Question: Does Disney Have Build-a-Bear?
Answer: Yes, Disney and Build-a-Bear work together to make stuffed animals from popular Disney movies. They change their collection to fit the most recent releases and popular franchises. So you might not be able to get something from your favorite Disney movie, but you can definitely find high-quality merchandise.
Question: Does Disneyland Have a Build-a-Bear?
Answer: No, not anymore. There used to be a Build-a-Bear in Downtown Disneyland, but it was closed in 2018 to turn the building and surrounding area into a megastore.
Question: Is it Okay to go to Build-a-Bear as an Adult?
Answer: Of course, Build-a-Bear, and stuffed animals in general, may be mostly associated with kids, but if something makes you happy, you shouldn't stop yourself from doing it just because you're an adult. In fact, there are plenty of products made by Build-a-Bear that cater to their adult fans.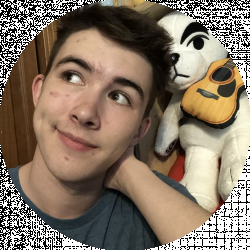 Latest posts by Mika Zans
(see all)