Only Squishmallows can turn vegetables into famous characters, which you'll meet in my best Mushroom Squishmallows recommendations. As a mom, I love vegetable plush toys as a way of introducing my children to having a better relationship with their much-feared dinners. In addition, our family is wild for Squishmallows.
My children's love for the squishy plushies drives them to love the real-life versions of their favorite characters. It's a winning scenario that allows my children to eat healthier because they couldn't possibly dislike something representing one of their favorite plushies. Indeed, I can make the oddest connections.
However, seeing the underlying connections as a mom and plush collector is a pleasure. So, let's see which mushroom Squishmallows turn kids into veggie friends and collectors into squad fans.
My Favorite Mushroom Squishmallow Upfront
The mushroom Squishmallow family is small, only containing six available members. So, I'm here to find the best version of each one. I also have a few surprises for rare mushroom Squishmallows in between. However, I'm focusing on the current family in 2022. I'm surprised to see the adorable mushrooms available.
So, let me share my favorite from the veggie squad family. Kervena, the Tie-Dye Mushroom Squishmallow, immediately stole my heart because she looks like a shining star. She has gorgeously unique colors compared to her brothers and sisters, and the sparkling effect makes her shine brighter.
It was a close call between Kervena and Elsa, and you'll soon see how unique both Squishmallows look. But first, check out my top picks for each mushroom Squishmallow before learning about the family.
More of the Best Mushroom Squishmallows at a Glance
How I Find the Best Mushroom Squishmallows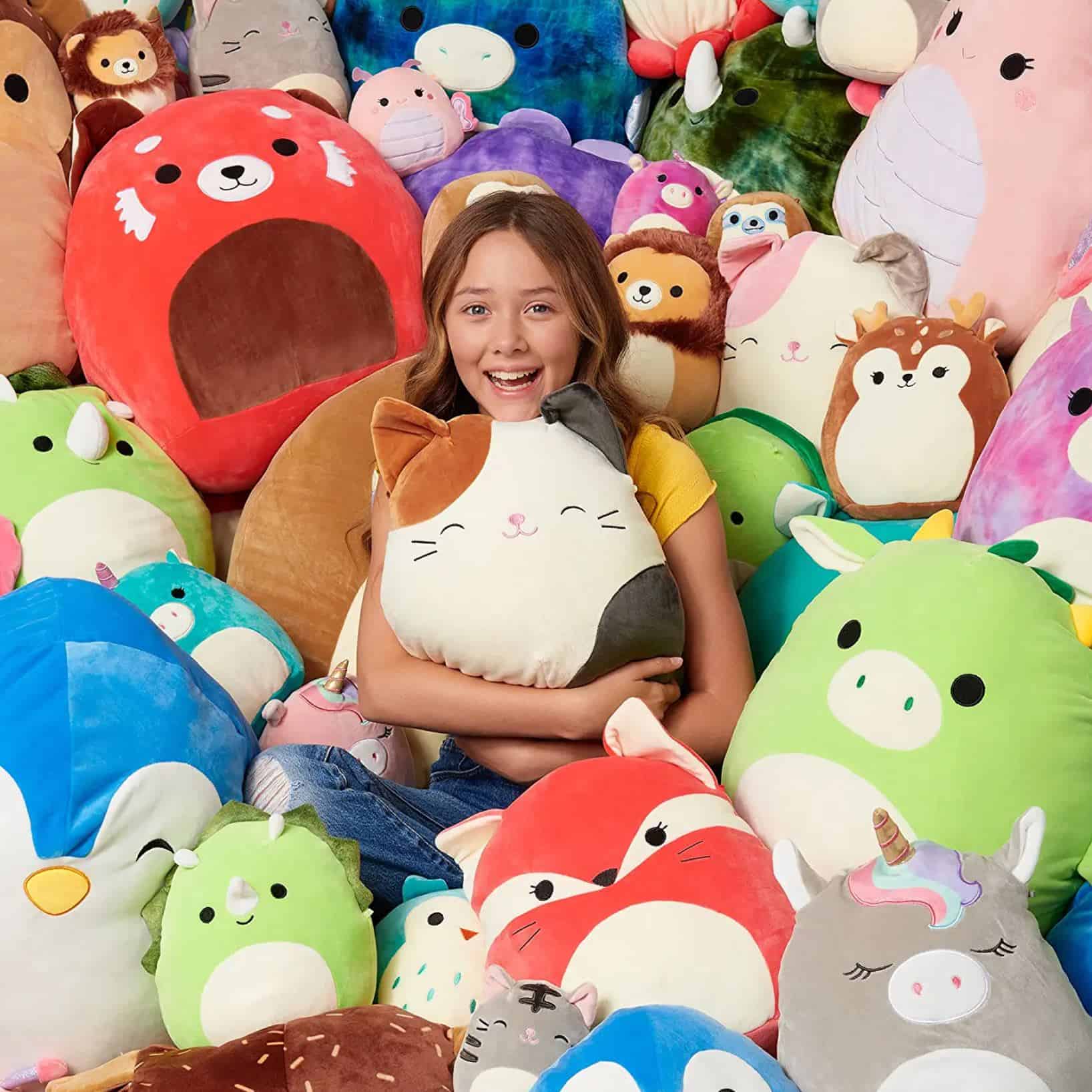 Finding the best mushroom Squishmallows begins with knowing which squad members are available in 2022. Sadly, some squad members are long gone, and I won't break your heart by sharing their best versions. However, I'm here to find the best version of the available six mushroom Squishmallows.
I'll be sure to add the other available sizes under each mushroom. Still, I'm following my collectible gut to find the best version of Elsa, Kervena, Malcolm, Molly, Rachel, and Xavier. I prefer 14 inches or smaller because I also want collectible vegetable squad members to teach my children hidden dinnertime lessons.
The only exception I'll make is with Malcolm because many sizes are available. In addition, I'll include two options for the popular mushroom Squishmallow.
Tips for Mushroom Squishmallow Fans
Do the mushroom Squishmallows fall into the fandom lingo, DISO? DISO means "desperately in search of." Indeed, Sydney, the Green Leaf Mushroom Squishmallow, and Sakina, the Mushroom Squishmallow, are DISO-level Squishmallows from the mushroom family. However, I'm here to share what's available in 2022 instead.
My ultimate advice is to know the difference between the mushroom Squishmallows if you intend to collect them. You'll easily spot some differences, but Rachel and Molly are the ideal examples of two squad members that look too similar. Let me share a brief description of each mushroom to help you distinguish them:
Elsa Squishmallow is a lamb dressed in a mushroom costume. The costume has a pink body and hat with white polka dots.
Kervena Squishmallow is a psychedelic-styled mushroom. Her body is a pale pink, and her hat has tie-dye colors with sparkles. Additionally, she has a tie-dye belly.
Malcolm Squishmallow is the most popular mushroom, with many sizes available. He has a pink body with a red hat with white polka dots. Malcolm's belly is white.
Molly Squishmallow has a white belly and blushed cheeks. She has a pink body and hat with white and pink polka dots, which are predominantly white. The secret to Molly's Squishmallows is in her eyes. She winks at you.
Rachel Squishmallow has a tie-dye belly and hat against a pink body. Her polka dots are pink rather than white, and she has open eyes without blushed cheeks.
Xavier Squishmallow has a pale blue body, a white belly, and a darker blue hat. In addition, he has predominantly white polka dots on his hat.
My Recommended Mushroom Squishmallows
Mushroom Squishmallows come with many surprises, from encouraging children to eat dinnertime veggies to finding rare collectibles. First, I promised to share the best versions of the available mushrooms for my recommended picks. In addition, I'll add a bonus collectibility scale to each mushroom squad member.
The scale will show whether the collectibility is high or low, depending on how many variations and sizes exist. The ranking determines collectibility with these guidelines:
Low collectibility means the mushroom Squishmallow has more than two versions or sizes
High collectibility shows it has a single version or size available
So, let's learn more about what makes each mushroom Squishmallow special.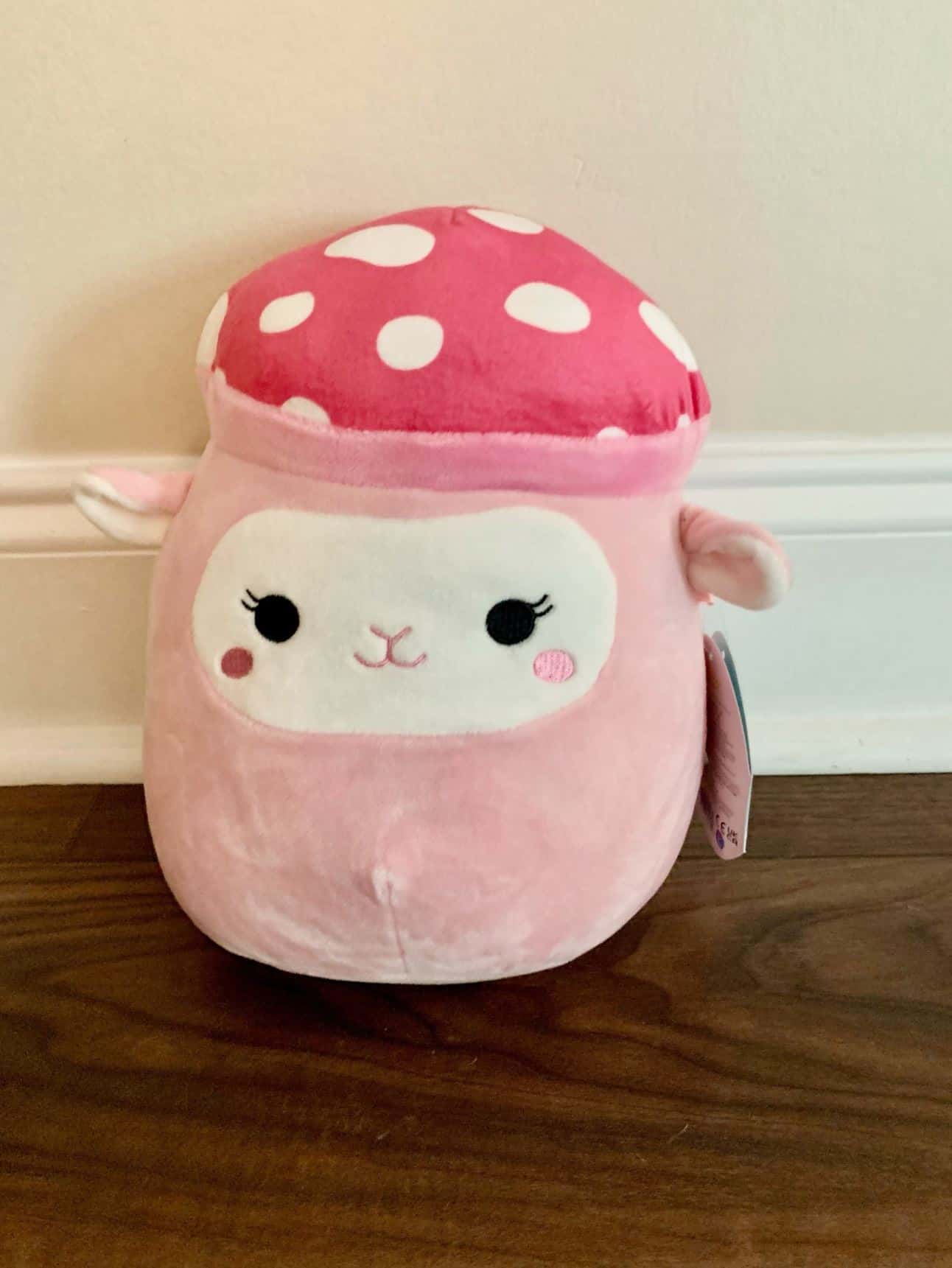 Elsa is an adorable lamb in a mushroom costume, making her more unique and collectible. She falls into the fruit and vegetable squads. However, she doubles into the farm squad. I love double-squad Squishmallows because they broaden my horizons as a plush collector. Elsa undoubtedly brings the two teams together.
Elsa Mushroom Squishmallow Facts
Squishy Size: 8″
Recognizable Feature: She's a lamb in a costume
Authenticity: 100%
Collectibility: High
Other Available Sizes
Elsa Mushroom Squishmallow Pros
Elsa is a unique mushroom Squishmallow for belonging to two squads and wearing an adorable costume
Elsa Squishmallow's collectible value increases because her bio tag has a Box Lunch sticker on it
This mushroom Squishmallow is the ideal size for collectors and children who need to learn about eating their veggies at night
Elsa Mushroom Squishmallow Cons
Not all Squishmallow fans enjoy multi-squad plushies, even though many exist in the brand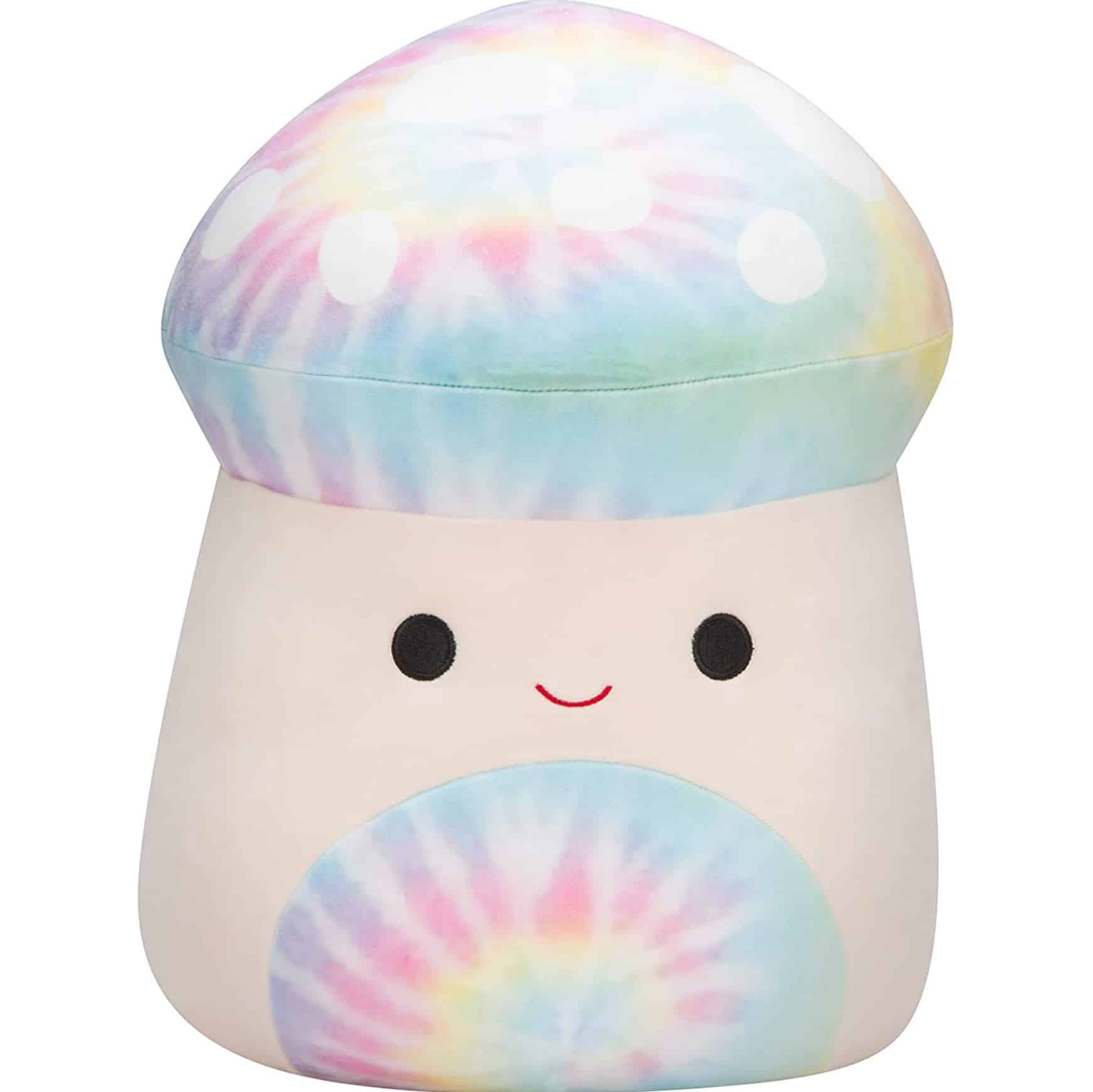 Kervena is a gorgeous addition for children because her curvy mushroom top with spectacularly psychedelic colors pops more than the other characters. I would add her to my collection because of her brilliant colors. Her tie-dye colors tie in with rainbow patterns and a sparkling effect that makes her highly unusual among plushies.
Kervena Mushroom Squishmallow Facts
Squishy Size: 14″
Recognizable Feature: Tie-dye belly and hat
Authenticity: 100%
Collectibility: High
Other Available Sizes
Kervena Mushroom Squishmallow Pros
Kervena is unique because there aren't many Squishmallows with rainbow and tie-dye colors, and she looks more unusual than the other mushrooms
Kervena's uniqueness adds to her collectibility and popularity among children
This Squishmallow is the perfect size for nighttime cuddles before bed, and she can work as a pillow
Kervena Mushroom Squishmallow Cons
Kervena is a more significant mushroom that makes collecting plenty of Squishmallows harder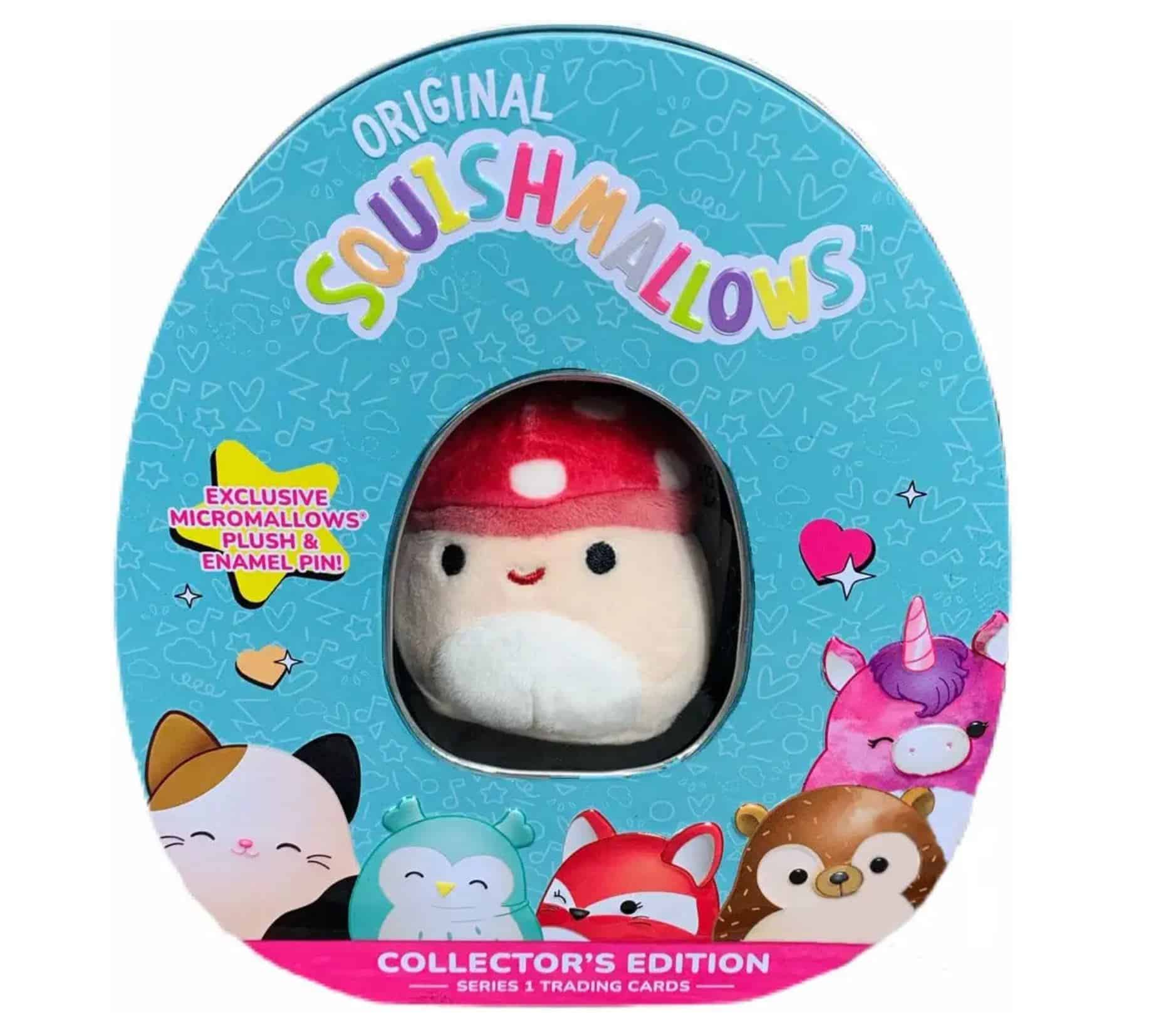 Malcolm was so famous that Squishmallows created a few versions and sizes, one of which is the Micromallow. Micromallows are highly collectible because of their trading card and size. However, Malcolm takes a dip as a mushroom collectible because of the many variations. So, I'd collect him for the Micromallow squad.
Malcolm Mushroom Squishmallow Facts
Squishy Size: 2.5″
Recognizable Feature: Pink/tan body with red hat
Authenticity: 100%
Collectibility: Low
Other Available Sizes
Malcolm Mushroom Squishmallow Pros
The Malcolm Mushroom Micromallow belongs to a unique squad of miniatures that include trading cards
The Micromallow mushroom also consists of an enamel pin for added collectibility, and the size is beyond adorable
Older toddlers and preschoolers will love learning about Malcolm in the miniature version, and he can join them at the dinner table
Malcolm Mushroom Squishmallow Cons
Micromallows aren't suited to children younger than three because of the enamel pin and size of the plush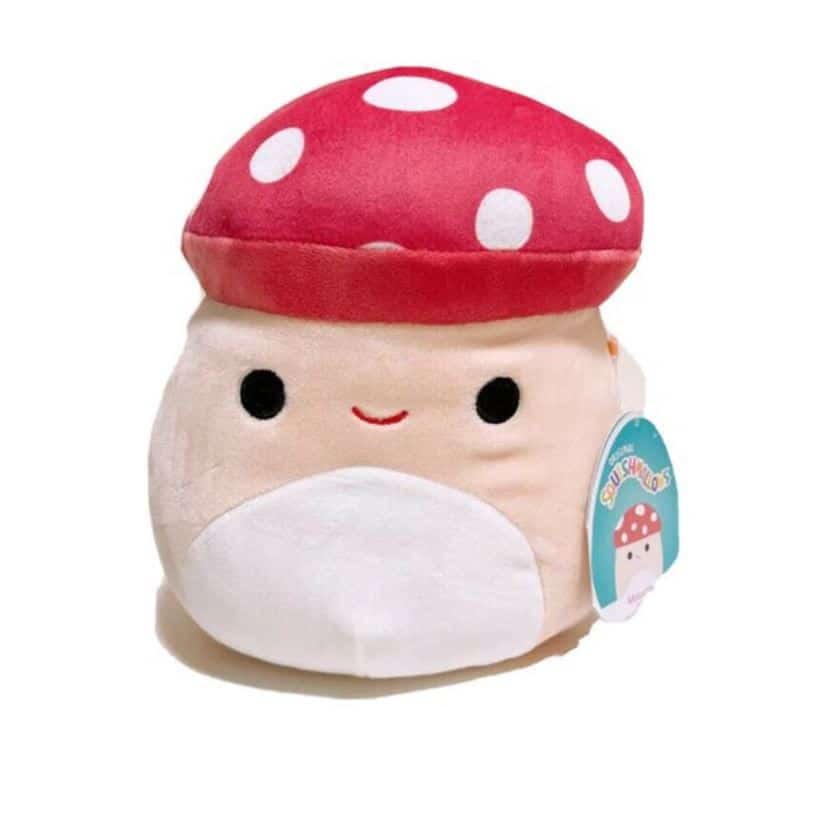 The best version of Malcolm, the Mushroom Squishmallow, after the Micromallow is the eight-inch plush. Why, may you ask? I love plushies that allow my children to collect many squad members. Of course, it upsets my daughter to store, vacuum-seal, and switch her favorite Squishmallows, but her bedroom is only so spacious.
Malcolm Mushroom Squishmallow Facts
Squishy Size: 8″
Recognizable Feature: Pink/tan body with red hat
Authenticity: 100%
Collectibility: Low
Other Available Sizes
See Malcolm's first recommendation.
Malcolm Mushroom Squishmallow Pros
The eight-inch Malcolm Squishmallow is one of the most famous sizes to collect for any squad members
The size also fits perfectly into the friend zone for little kids, and they can order many of them
Malcolm's smile is likely what made him so popular among Squishmallow fanatics, and he looks more like a mushroom than the others
Malcolm Mushroom Squishmallow Cons
Unfortunately, Malcolm remains the least collectible and most available mushroom Squishmallow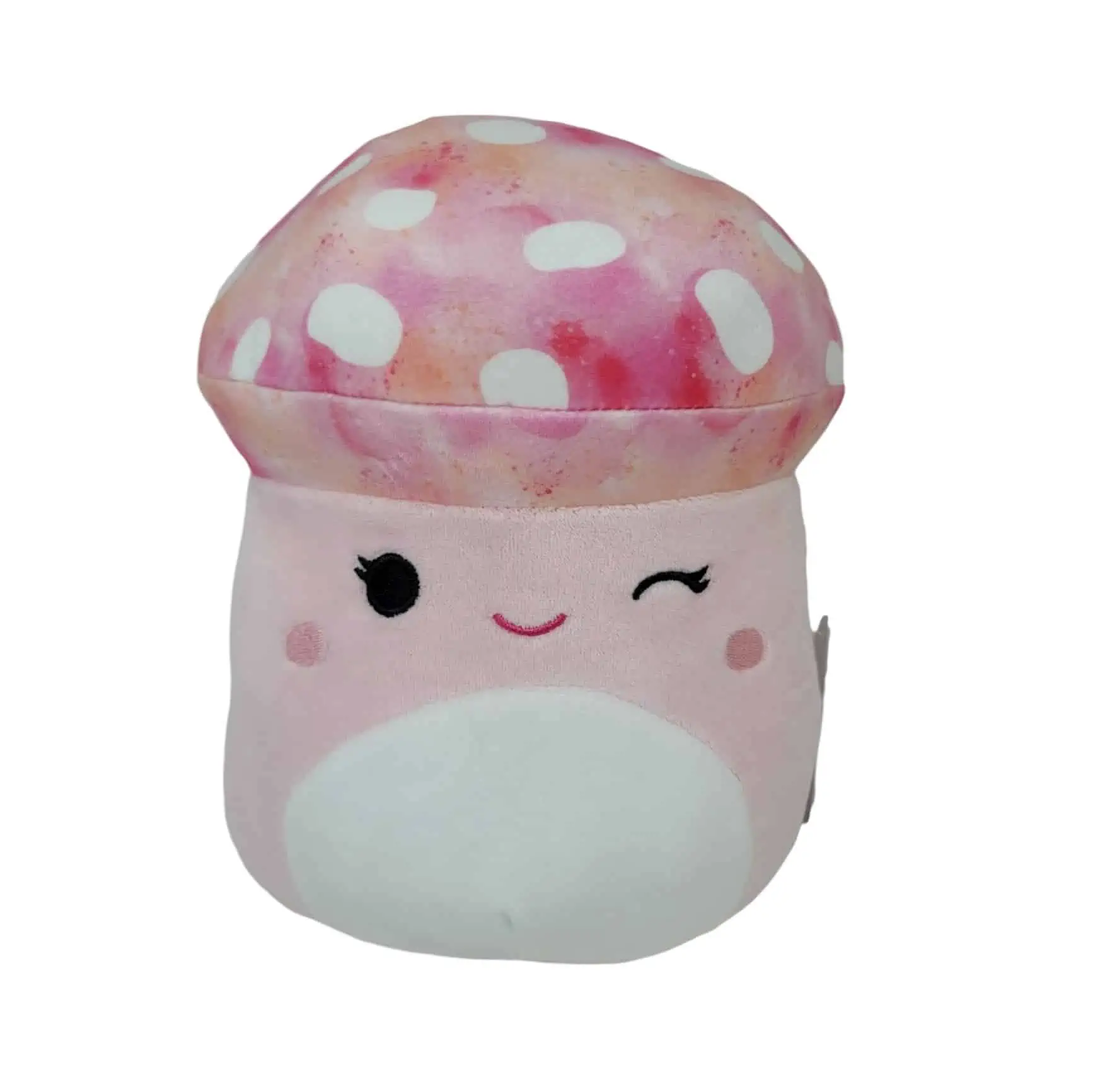 I was sad to learn that Molly doesn't have additional sizes yet. But I'm sure this pretty mushroom Squishmallow will come in more sizes and versions soon. Imagine a Valentine's Day version for Molly. She would rock the heart on her chest and maybe heart-shaped dots on her mushroom top. So, here's to my collectible hopes.
Molly Mushroom Squishmallow Facts
Squishy Size: 8″
Recognizable Feature: She winks at you
Authenticity: 100%
Collectibility: High
Other Available Sizes
Molly Mushroom Squishmallow Pros
Molly's Squishmallow is collectible because she only has one version without any known possibilities of more coming
She's the prettiest mushroom Squishmallow with her winking eye and blushed cheeks, and she suits little girls perfectly
Molly Mushroom Squishmallow Cons
Molly's winking eye might not appeal to all collectors or fans, but it makes her an ideal candidate for the Valentine's squad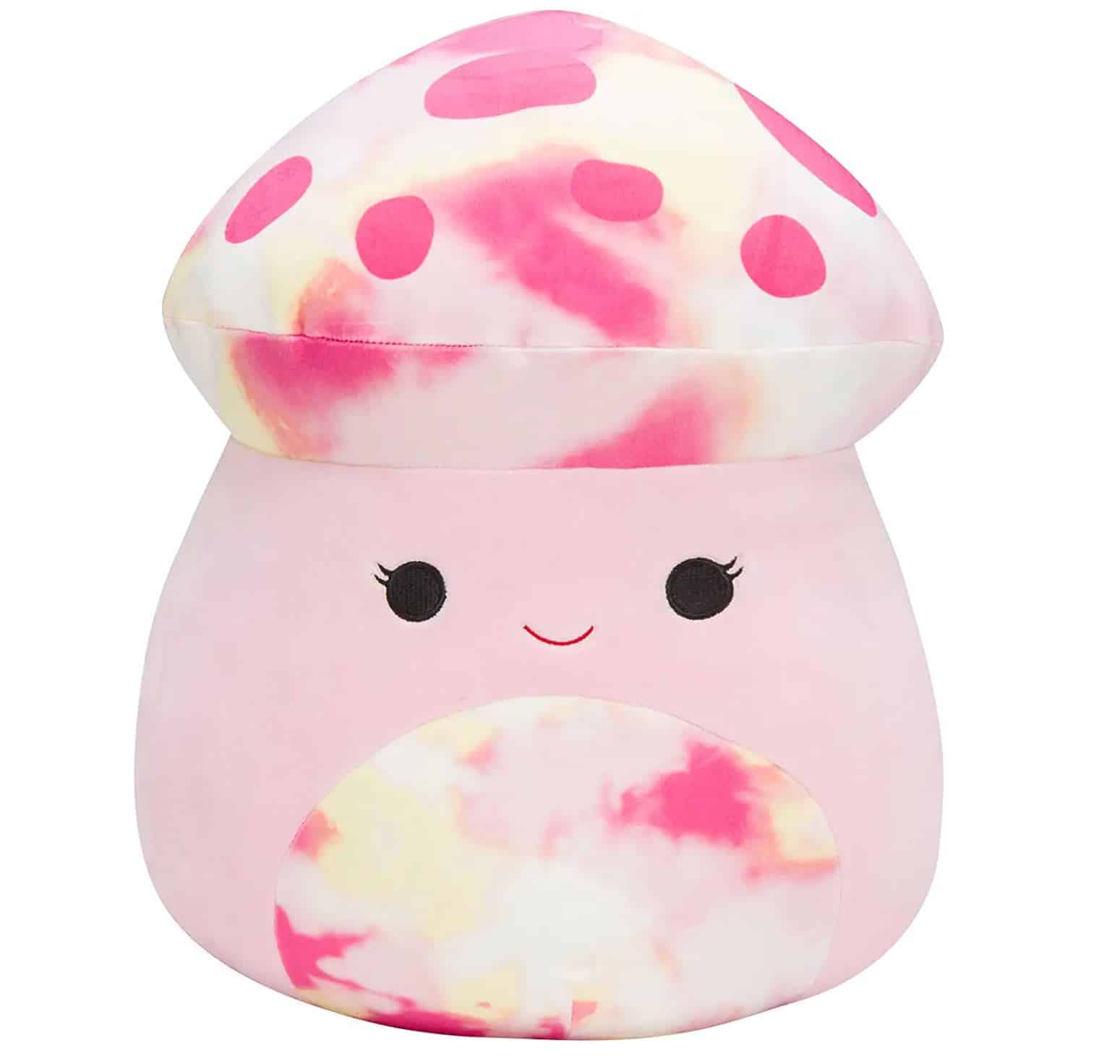 People often confuse Rachel, the Tie-Dye Mushroom Squishmallow, with her sister, Molly. However, the eyes are a dead giveaway to differentiate between them when you forget the color arrangements. Rachel's eyes are as girly as Molly's, except that they're open. She would also make a fantastic Valentine's squad member.
Rachel Mushroom Squishmallow Facts
Squishy Size: 14″
Recognizable Feature: Tie-dye pink belly and white hat
Authenticity: 100%
Collectibility: High
Other Available Sizes
Rachel Mushroom Squishmallow Pros
Rachel's collectibility comes from her single edition in 2022, but it won't surprise me if she joins the Valentine's squad in 2023 (hopefully, Squishmallows sees my article and makes it happen)
Rachel's eyes are as gorgeous as her sister's, and she has long lashes with a smile broad enough to make children happy
Rachel Mushroom Squishmallow Cons
People confuse Rachel and Molly too much, meaning it helps to own both before they're unavailable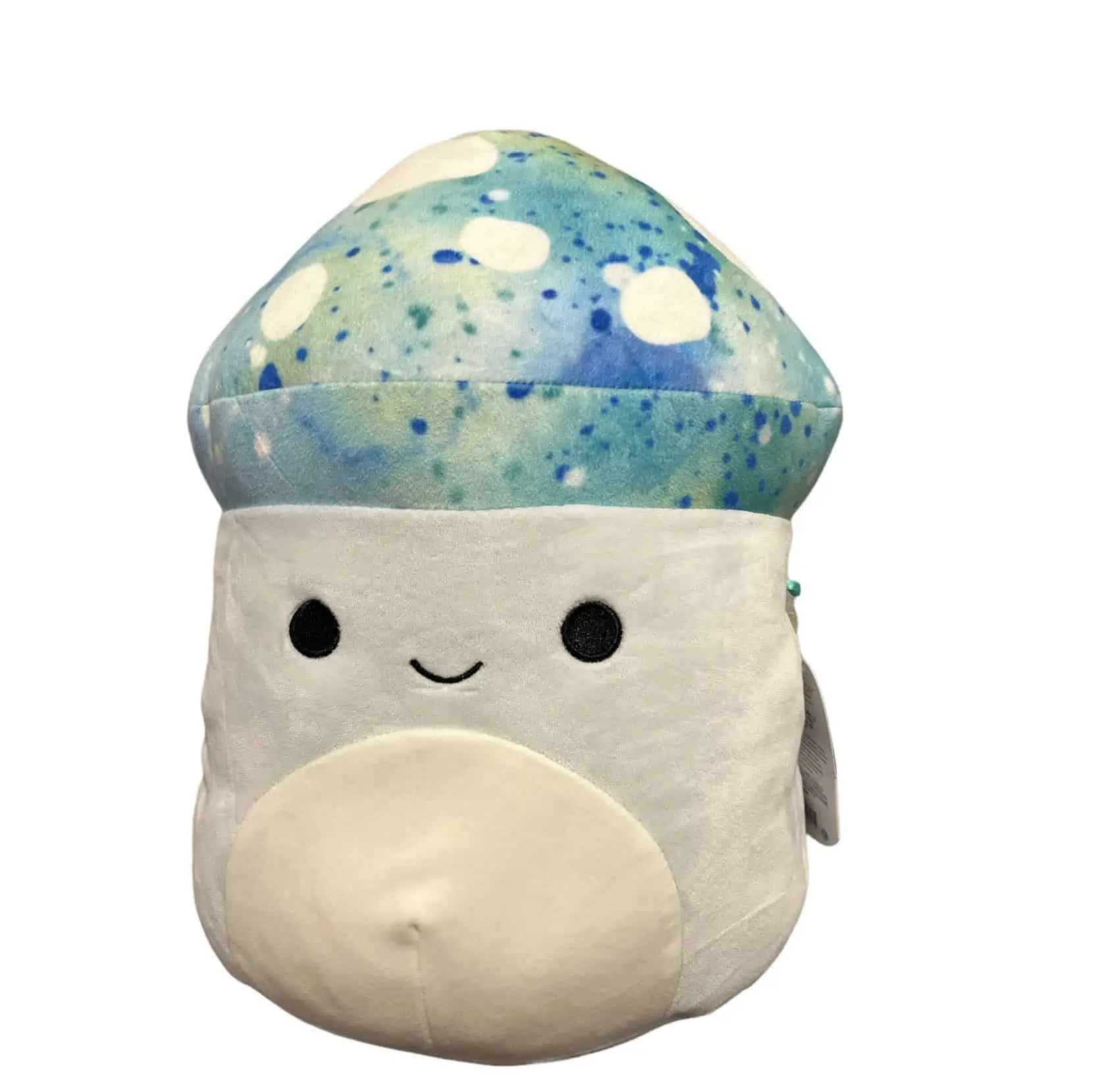 Xavier, the Blue Mushroom Squishmallow, is one of a kind because of his color. Xavier also looks like a brilliant friend for kids, boys, and girls. Fortunately, Xavier and Malcolm appeal to boys because they're also fussy about eating their vegetables. Admittedly, my daughter loves mushrooms, which some kids don't eat.
Xavier Mushroom Squishmallow Facts
Squishy Size: 12″
Recognizable Feature: He is the only blue squad member
Authenticity: 100%
Collectibility: High
Other Available Sizes
Xavier Mushroom Squishmallow Pros
The Xavier Squishmallow is another collectible treat because the squad is relatively new, and his color is unusual
Xavier looks like a genuine little boy stuck in a mushroom costume, and he welcomes boys to befriend him
This Squishmallow's tie-dye mushroom top looks more like a galactic venture, making me wonder if he comes from Earth
Xavier Mushroom Squishmallow Cons
Sadly, there's only one Xavier, and there's no guarantee that he'll make a second squad, size, or version
FAQs
Best Mushroom Squishmallows: Conclusion
I enjoyed writing and learning about mushroom Squishmallows because they're a lesser-known family from the vegetable and food squads. They're also relatively new to the Squishmallows brand and don't come with many available plushies. However, I'm not disappointed in what I found with these beautiful soft mushrooms.
I highly recommend Elsa, the Mushroom Lamb Squishmallow, if you love unusual and multi-squad plushies. The little lamb looks adorable in her costume. Alternatively, I recommend buying Kervena, the Tie-Dye Mushroom Squishmallow, because she has so much personality in her unique colors.
Remember that many mushrooms only have one version now, and nothing guarantees more sizes and versions. Therefore, I encourage you to add mushroom Squishmallows to your food squad quickly.
For More Squishy Inspiration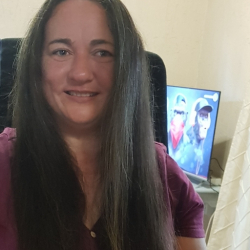 Latest posts by Caroline Lambert
(see all)