Join me in feeling old. When I was a kid, the stuffed toy with a special name and a little backstory was Beanie Babies. Now that people my age have a box of them collecting dust in a forgotten corner of the attic, there is a new stuffed toy with a unique name on the block. Behold the Squishmallow. 
The Squishmallow has been around since 2017 but first gained real traction on TikTok during the initial Covid-19 quarantine and lockdown. Since then, Squishmallows have gained extreme popularity, winning awards, being featured on social media, and having a presence worldwide.
Kelly Toys Holding, owned by Jonathan Kelly, were the first to set them on the market, working for over a year on creating a plush toy to match the wildly successful Japanese counterparts Kelly saw on a trip to Japan. Now a thriving trend and business, Squishmallow is a mainstay item at various purveyors. 
Bottom Line Up Front
Five Below is a discount chain with around 1,100 stores in the United States. Five Below caters to a younger audience headquartered out of Philadelphia, PA. Prices are kept between $5-$25 on all products, essentially giving everyone a chance to buy a wide range of merchandise at prices that are easier on the wallet. 
My favorite among the bunch is Chuy the Cairn Terrier, and if you look at him, it's not hard to see why. He's unique among the pack, lacking super bright colors all over his exterior, but his pink ears stand out. Unlike other cairn terriers I've met, his coloring is gorgeous, and I can safely say he's the pick of the litter. Sorry, that was such a dad joke, but it was right there.
If you know me, you know I love merchandise, and I am definitely a fan of saving money. Then again, who isn't?
Five Below is one of the go-to stops to build a solid Squishmallow collection without breaking the bank. As is often the case with collectibles, Squishmallow prices vary depending on the rarity of the toy. However, Five Below keeps it reasonable to build a foundation and grab a present for the Squishmallow enthusiast in your life while saving some cash.
My Top Picks
Selection Criteria
When I say that the variety of Squishmallows available at Five Below is overwhelming, believe me. In order to make my picks for what I think is best, I decided to use a couple of personal filters. First, I wanted to focus on price. A quick inspection of the price range helped me understand why the tier system is the way it is.
After that, I took a gander at the types of Squishmallows available and what I think looks like the most fun or the cutest.
Then came the hard part — narrowing it down. By and large, Squishmallows are all adorable and easy to enjoy. At a glance, I saw half a dozen I could easily use as the cutest pillow I've ever had and drop off for a nap. 
Best Squishmallows at Five Below
Bestie Bundles – 7.5 inch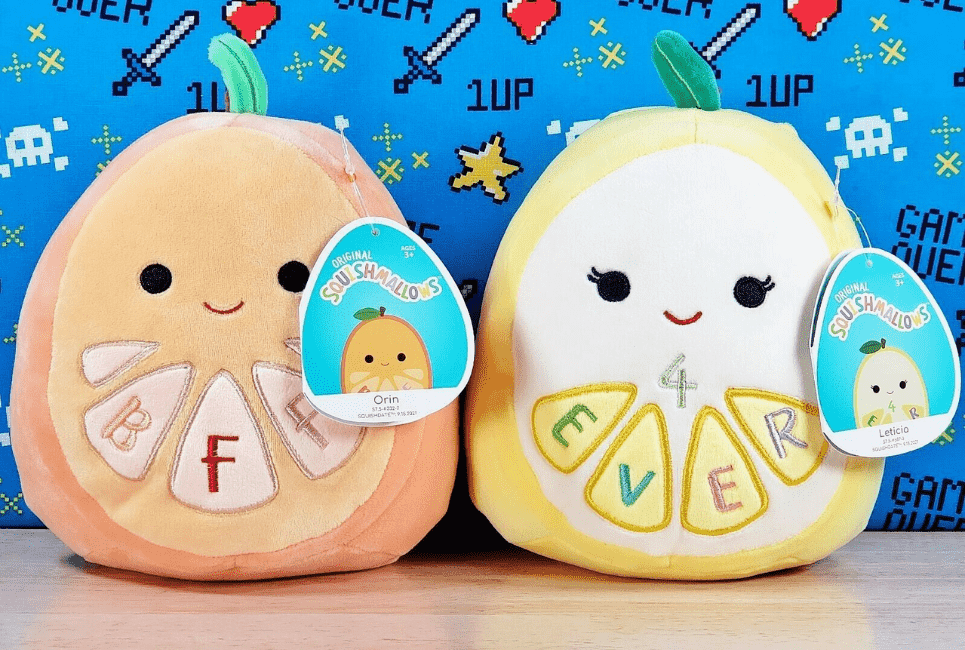 Best buddy, Squishmallows? Are you kidding? A citrus duo of epic proportions, Orin the Orange and Leticia the Lemon proudly display that BFF 4 EVER split across their respective seeds. 7.5 inches tall, available as a pair or sold separately. 
Pros
Cons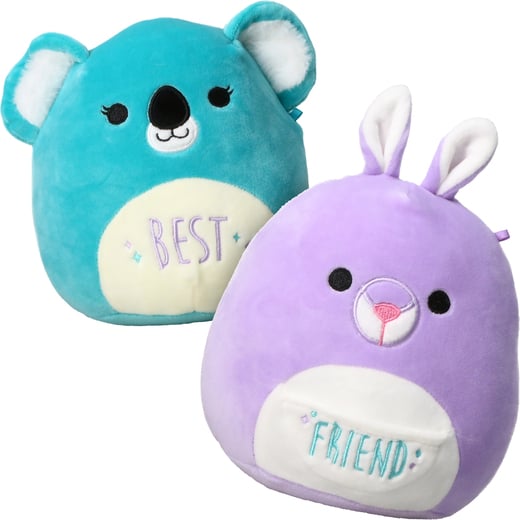 A teal-blue koala and a purple bunny might be the most unlikely of friends, but when you see Kiki and Cataleya, it just makes sense. Adorned with Best Friends across their respective tummies, it's clear why they come as a pair. The text on their stomach is the dominant color of their buddy's body. Built to go together, they are also available separately. 
Pros
Unlikely duo that works together well. Text is color coordinated.
Cons
Separately, they don't make much sense.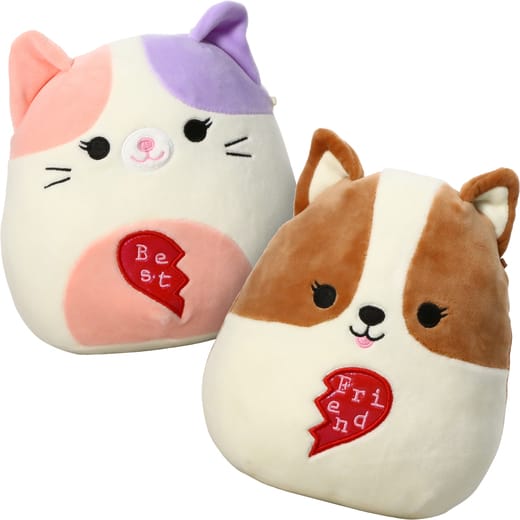 Who says cats and dogs can't be best friends? While not super common, it's not unheard of. In fact, I think Nell and Regina are out there setting an example for friendships everywhere.
They have Best Friends written out in a broken heart fragment right up front, so you know that Nell and Regina are supposed to be together. Best friends till the end, this bundle can be bought as singular pieces, but why would you do that?
Pros
Irony of cats and dogs being best friends.
Cons
Over $5.00 and sold apart; they look sad.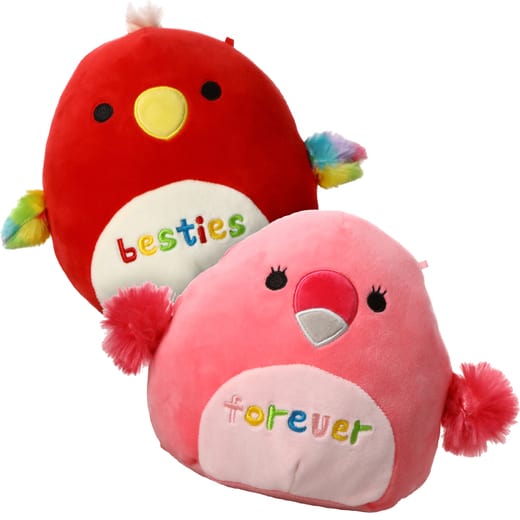 Ah, Paco and Cookie, you crazy kids. Red and pink with rainbow accents, these two cuties come together as a duo that can take flight with support from each other. Contrasted but coordinated colors make them the perfect combo for the bird-lover in your life, with extra fluffy little wings to soar right into your heart.
Pros
A bird duo. Fluffy wings for extra pizzaz.
Cons
Rainbow is a running theme with Squishmallows, and while it works, repetition can get old.
Plush Wired Headphones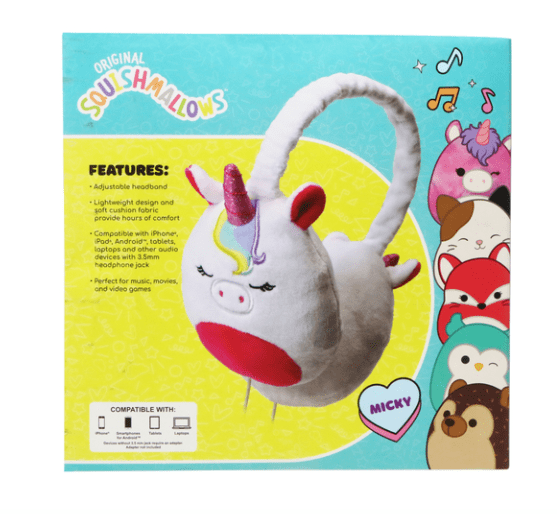 Micky is the epitome of sassy and classy for you to plug in and listen to some tunes. 
Pros
It's a unicorn that allows you to tune out the world and be in your own zone.
Cons
I imagine the wires can easily get stuck on various obstacles.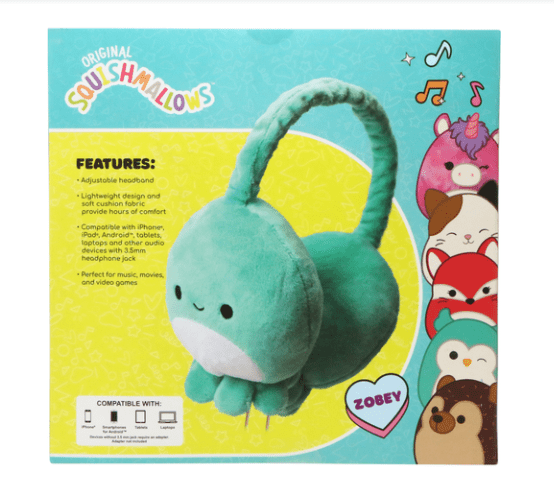 You may say Zobey is iconic, and you are right. If having an adorable octopus as a pair of headphones is wrong, then maybe I don't want to be right.
Pros
The octopus is an easily recognizable Squishmallow. One of the most popular designs.
Cons
Wouldn't it get hot after a while?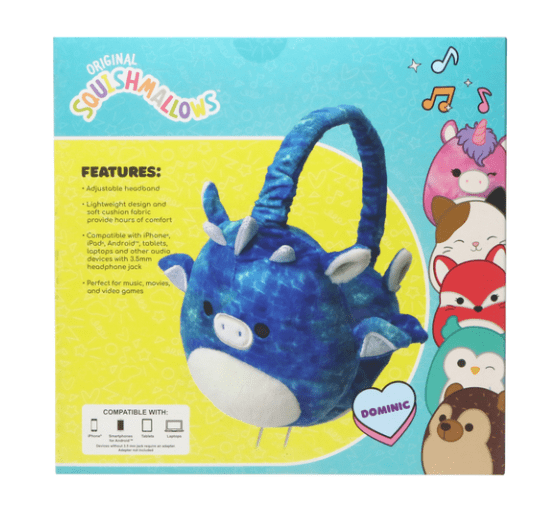 You may be listening to the blues, but you won't feel them when you've got such a cool pair of headphones. Dominic is a dragon; how much more rad can you get? Blue with teal accents, fun to look at, and even greater to wear.
Pros
Dominic is a Dragon. How can you ask for more?
Cons
Jealousy amongst your peers.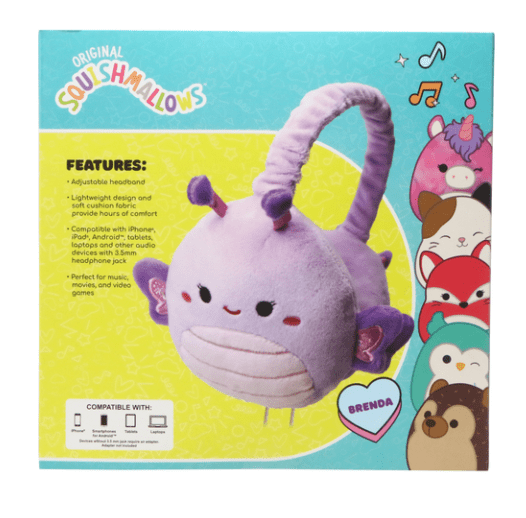 There are so many great songs with the word butterfly in them, and when you listen to songs with Brenda, I challenge you to sing along to them all. 
Pros
Butterflies are symbols of freedom and happiness.
Cons
I get the song Butterfly Kisses stuck in my head whenever I look at Brenda the Butterfly, and I get kind of sad.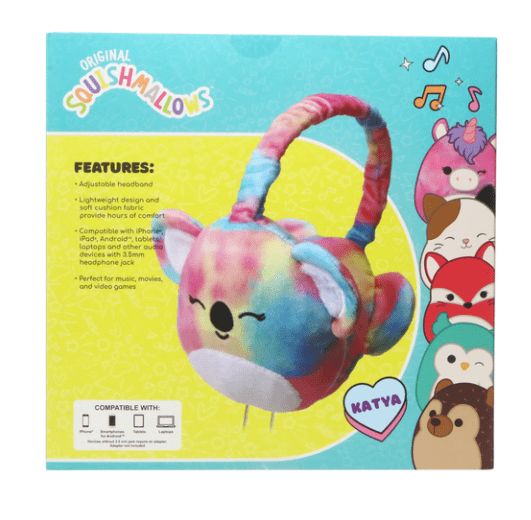 If there was a tie-dye queen, it is one koala named Katya. A pastel palette makes for any listener to be fashion-forward on top of tuned into the latest and greatest movie, game, music, or whatever they have on their compatible device.
Pros
Pastel color palette. Goes with most outfits.
Cons
In a fun juxtaposition, tie-dye is a little overdone.
Snuggly Squishmallows – 7.5 inch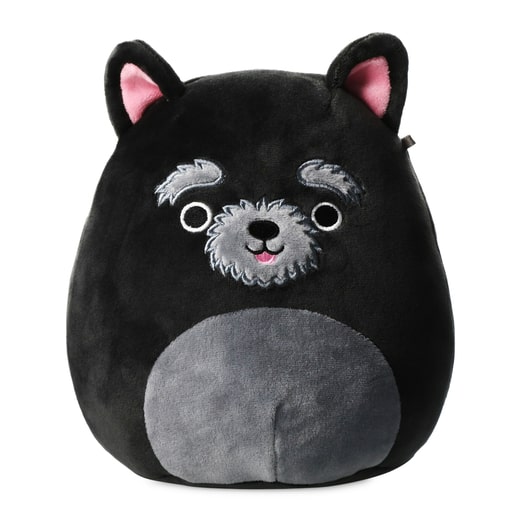 Find me a cuter cairn terrier; I'll wait. Back so soon, huh? I knew it because it was impossible. The black and grey little Squishmallow with pink ears gives the cuddliest vibes. I want one.
Pros
He looks different than all the other Squishmallows I've found at Five Below.
Cons
I have nothing for you. He's my favorite.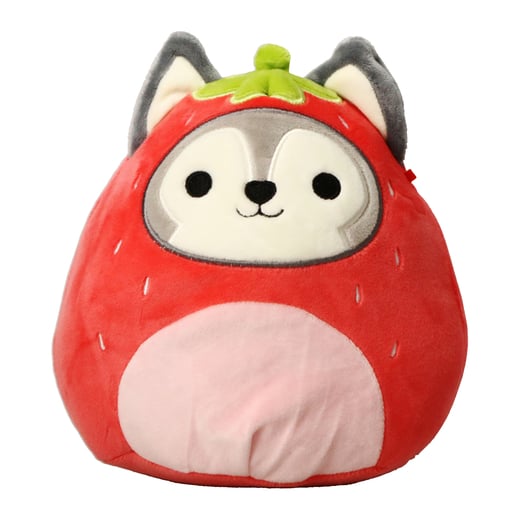 Hold on. You're telling me I can get a husky dressed up as a strawberry for under $6. Shut the front door. That's amazing. Ryan looks so cute here; you could eat him up! But you shouldn't because he is a plush Squishmallow, not a tasty fruit. 
Pros
He's a strawberry Husky. Representation of a delicious fruit and an adorable breed.
Cons
A lot of people are allergic to strawberries and dogs. It's like throwing a two-for-one unfortunate situation at someone who will get hives from eating a strawberry and sneeze themselves into the next dimension with a Husky.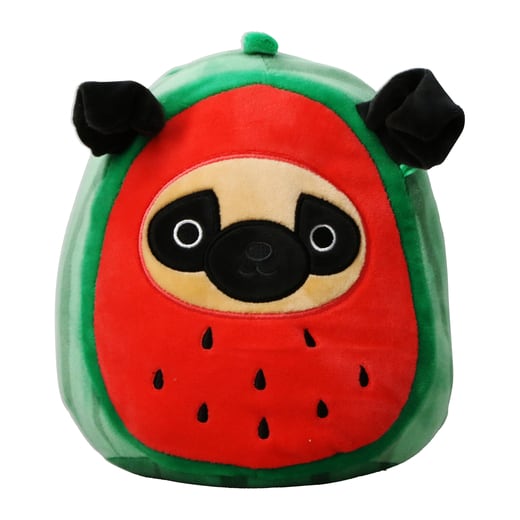 Another fruit-dressed dog? Get out of town! Prince has the soulful eyes of your new best cuddle buddy with the bright red allure of watermelon in the hot summer weather. Given the state of the world right now, I think we could all cool down with some watermelon; Prince is ahead of the game.
Pros
Prince is super cute. He's also a watermelon, the hallmark of summer fruit.
Cons
I don't think I have one. Pugs are super cute, and I don't think I can come up with anyone that is vehemently against watermelon.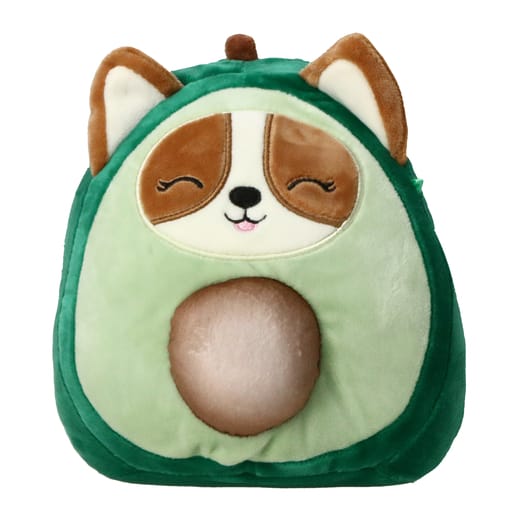 An adorable dog who looks happy as can be dressed as an avocado. Does Squishmallow know that I love dogs and have conveniently dressed them as my favorite fruits? I have some questions because I see a collection starting to form.
Pros
One of the cutest breeds. One of the most delicious foods.
Cons
Missed opportunity to accentuate the internet's well-documented delight in a fluffy Corgi butt.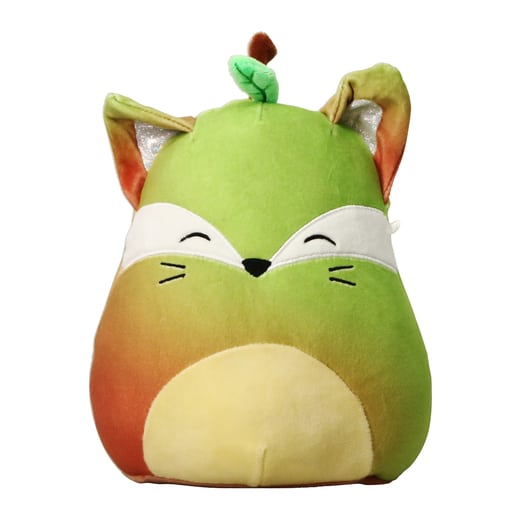 Fifi has to be the happiest fox I've ever seen, and I've spent my fair share of time outside, in the woods, and seen enough foxes to know if they're happy. However, in the wild you frequently don't run into a fox dressed like a pear. Thank you, Fifi.
Pros
Shoutout to all the pears. (If you know, you know)
Cons
If you don't know, the pro made no sense.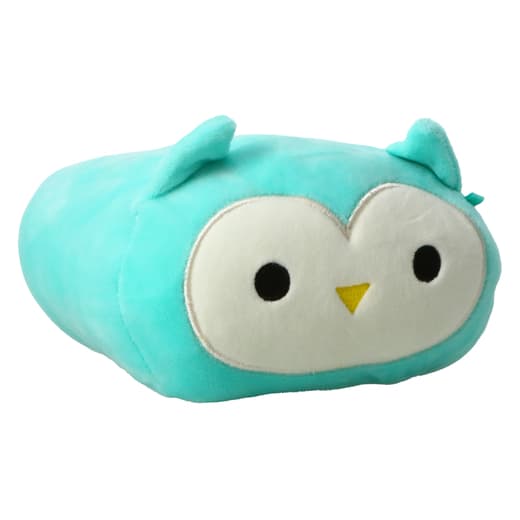 Wise Winston the Owl may be a new favorite. Teal with a little yellow beak, he's stackable, so he already has strong pillow vibes. I feel like Winston is the perfect size to rest your head and dream of flying his as he does once you awake refreshed and ready.
Pros
Owls are timeless sources of wisdom—perfect size for a nap-time pillow.
Cons
No alliteration with the name.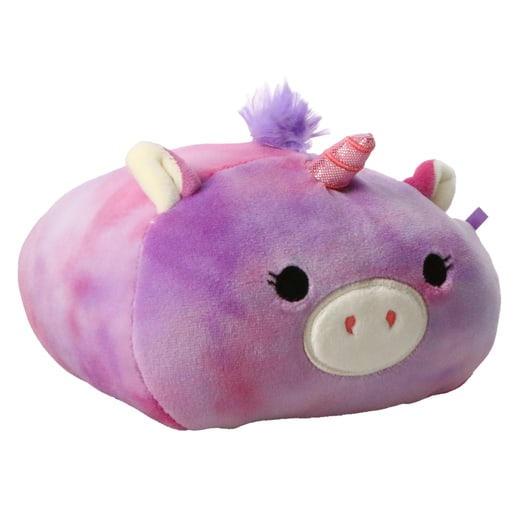 Lola has arrived to pair well with Winston as the stackable duo, a purple and pink unicorn of pure stackable glory. Nap-time pals? I think so.
Pros
One of the few stackables at Five Below.
Cons
Unicorns may not make the best pillow; I hear the horn pokes.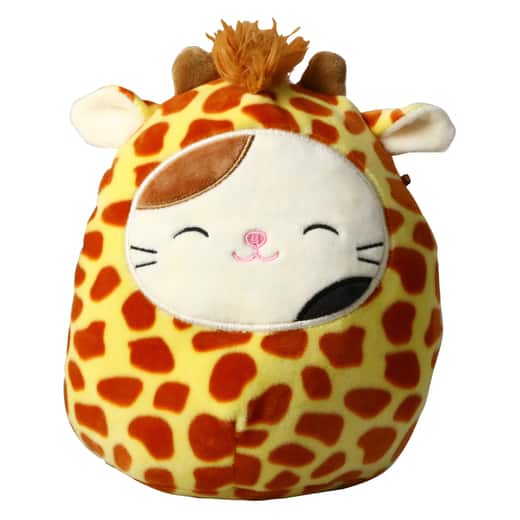 One of my favorite animals out there, a giraffe, is symbolic of so many traits that I enjoy. Majestic, tall, able to see the tops of trees before everyone else; I'm getting a little off track here. Cam is the cutest little giraffe ever seen, with a cheeky smile and a pink nose. How can you not instantly fall in love?
Pros
Giraffes are highly underrated and getting some well-deserved attention.
Cons
Fun fact here: giraffes are incapable of throwing up without subsequently dying from a nerve malfunction. Imagine worrying about giving your Squishmallow buddy a stomach bug and a death sentence.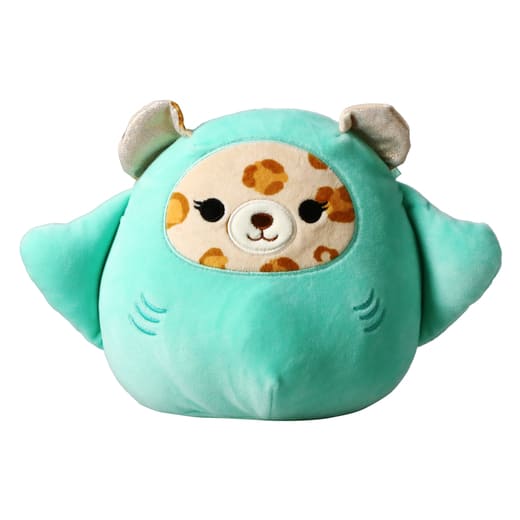 The few stingrays I've encountered thus far haven't been teal or had teddy bear ears, but that doesn't stop me from wanting to add Lexi to my collection. Complete with fins, this smiling little bear-ray (that's a thing now, go with it) looks ready for anything.
Pros
The safest stingray you'll ever meet.
Cons
At my own hand, bear rays are now a concern.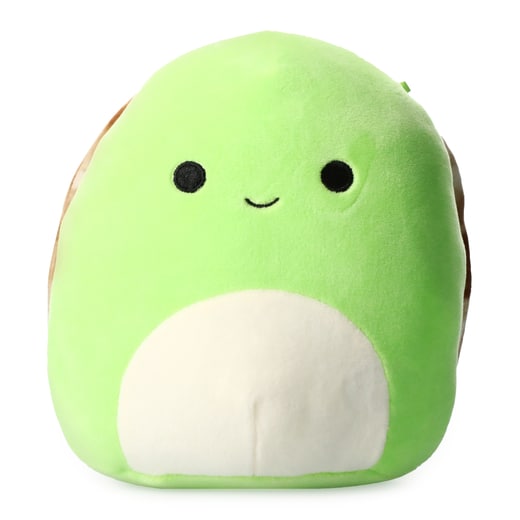 You guys, not only is Antoni smiling, green, and so cute you could just eat him up; he has a color-correct shell for your everyday turtle. The attention to detail gets me; I love that he's as realistic as he can be in terms of the shell color palette. Bravo.
Pros
This is a well-detailed turtle with all the authenticity of the shell.
Cons
I have nothing for you. Adorable and soft as can be.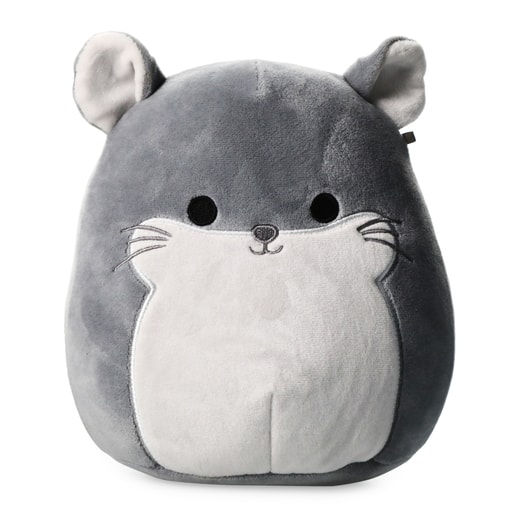 Finally! A chinchilla I can snuggle without sneezing or getting bitten. I've only known one chinchilla, and that dusty little ball of anger was a biter. That was unfortunate because chinchillas are adorable, but I made peace with the fact that he was an animal to look at, not touch. Camilo, however, looks ready for snuggly hugs, not dust baths, and silent rage. 
Pros
A chinchilla that doesn't cause chaos and destruction wherever it goes.
Cons
Unrealistic expectations of future chinchilla encounters.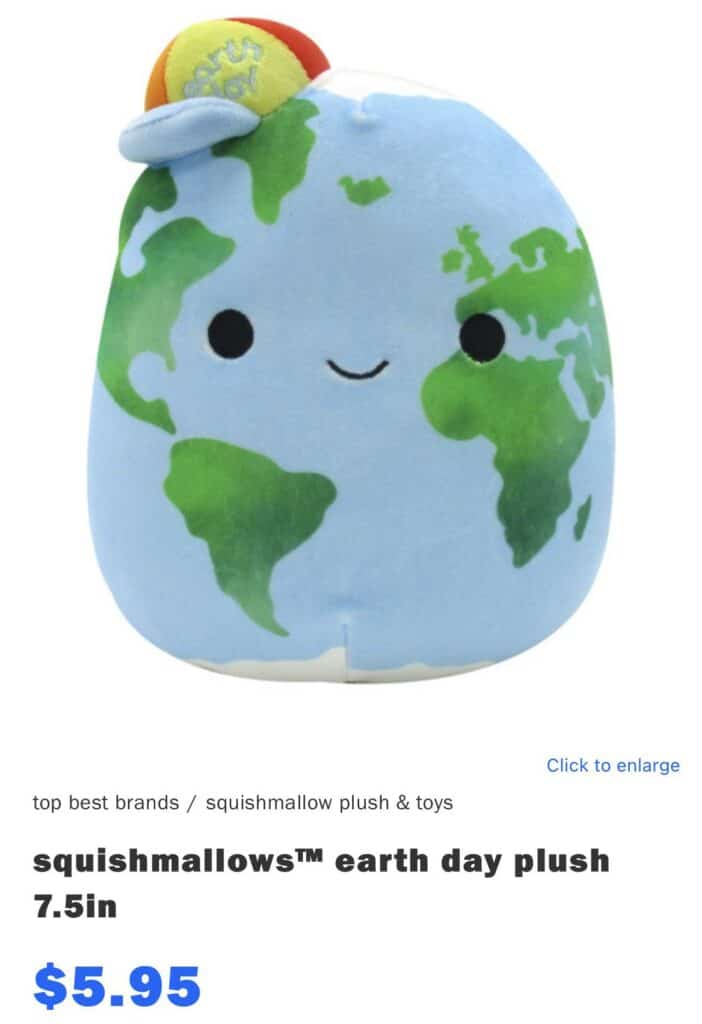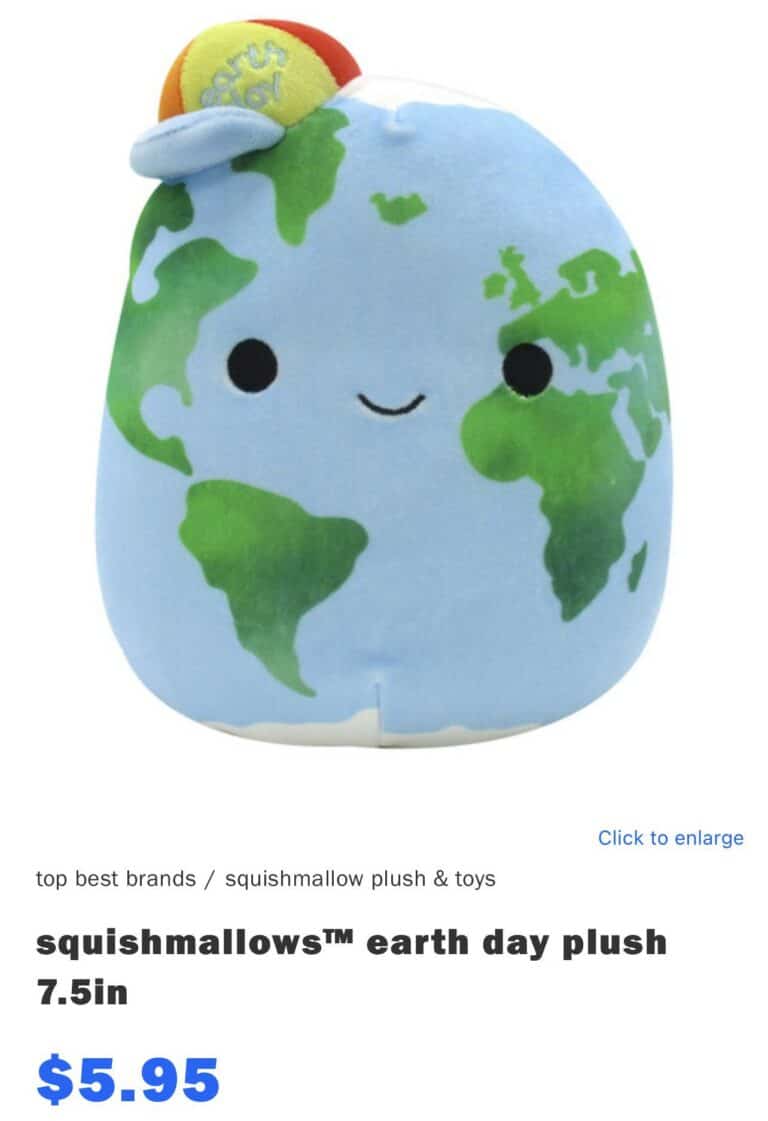 Fun fact about me (as if you haven't gotten enough of them already) I like maps a lot. I can't pinpoint a time when I didn't enjoy looking at them, perhaps because when you see exactly how large the world is when it's laid out in front of you, the little things of the day don't seem to matter as much.
With that sentiment in mind, allow me to hug this globe-like Squishmallow and appreciate the scaling of the continent's size.
Pros
Pretty close to being made to scale. Continents are given the appropriate sizing and space.
Cons
The oval shape throws me off a little. To my knowledge, the earth is round, not shaped like an egg.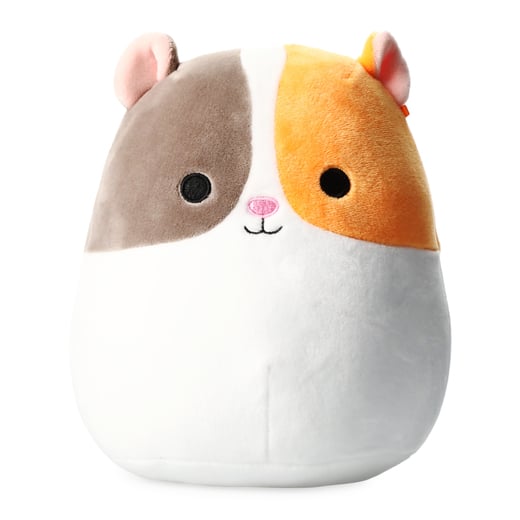 I never thought I'd find a hamster who didn't come with a squeaky wheel and the ability to eat more carrots than a fleet of Clydesdales. Thanks to Everett, I have!
Pros
Cons
I'll let you know if I find a reason not to like Everett.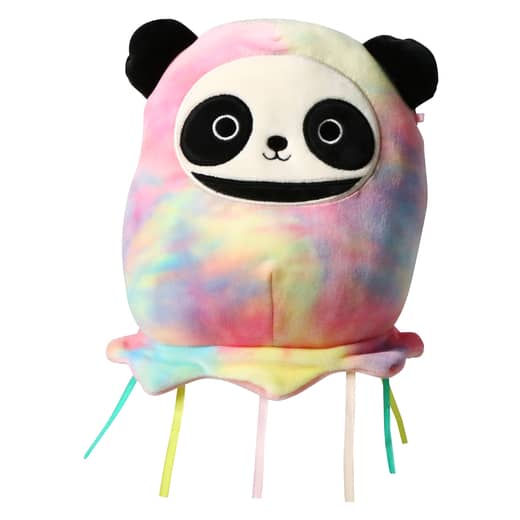 I highly doubt you'll see a panda jellyfish when you visit your local aquarium, so I've found one for you here. A panda moonlighting as a pastel tie-dye jellyfish is unusual, so please let me know if you see one the next time you venture into the aquarium. 
Pros
Total pillow size. Pastel palette.
Cons
An aquatic letdown the next time you take a trip to the aquarium.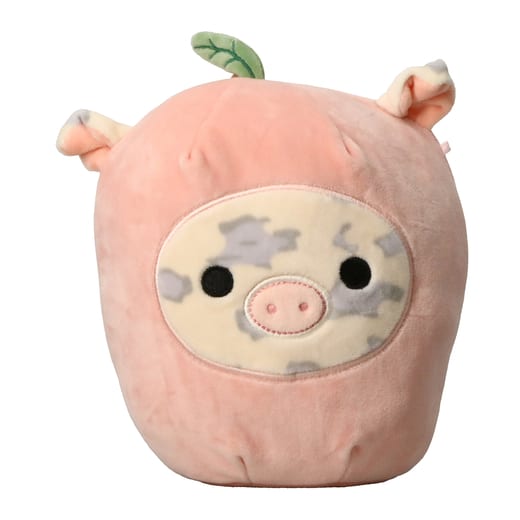 Bet you didn't know pigs like to dress up as peaches, did you? If your answer is no, don't feel bad because neither did I. However, I'm happy to report that it appears they do, and Miss Rosie makes this peach costume pop.
Pros
The colors work together phenomenally. A peach and a pig work surprisingly well together.
Cons
Do pigs like peaches? Better yet, do peaches like pigs? I feel like this should have been looked into prior to pairing.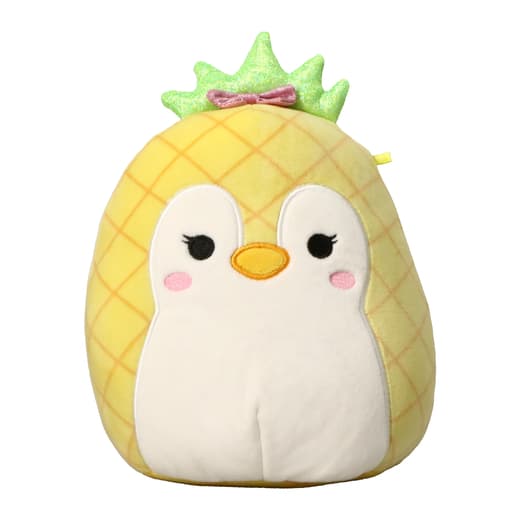 Piper the Pineapple Penguin (say that three times fast) is the addition to your collection that you didn't know you needed. Thankfully, I'm here to tell you that you do, and she's ready to join your squad. She has a bow, for goodness sake. Her adorable factor is off the charts!
Pros
A bow to let you know she's the queen of your squad. Made to be extra cute.
Cons
Two things that give me hives: pineapples and penguins. I wish I was kidding.
Final Thoughts
Five Below has many items you can find without realizing you needed them in the first place, which is the hallmark of any good store but also can cater to the needs of the many. Squishmallows available at Five Below are almost exclusively 7.5 inches tall and are a little limited.
By limited, I mean that there isn't a ton of branching off into other lines Squishmallow has put out like HugMees, but they carry Stackables. The standard sizing draws the collector away from rarer ones or Squishmallows that go up to 24 inches. That's okay, though.
Overall, Five Below Squishmallows are a phenomenal place to begin building a collection or a cost-effective way to help one grow. They're cute little snuggle buddies, and they have value beyond monetary. Like I said in the beginning, Beanie Babies were all the rage when I was growing up, and it's nice to see that it's a continued tradition in another iteration.
My favorite, Chuy the Cairn Terrier comes out at the top of the list because he's just so darn cute. Squishmallows at Five Below have a distinctly bright coloration to them, and while I like that a lot, the understated nature of Chuy's coloring with a pop of color in his pink ears is something I enjoy. Added to the collection? Definitely.
Everyone needs something to snuggle up with, and if you're going to have a collection, there are less aesthetically pleasing ones. Squishmallows hit all the right buttons, and Five Below is one of the best places to get that collection going.
Frequently Asked Questions
Question: What are Squishmallows Made out of?
Answer: Squishmallows are made out of spandex and stuffed with polyester fiber. While they are durable toys, the materials used to make the toys aren't exactly waterproof, and I would venture as far as to say that testing, if they are, is a great way to ruin them.
Question: Where can I Buy Squishmallows?
Answer: Originally, you could only buy Squishmallows from the KellysToys website, but since the popularity and demand have grown, several retailers have struck while the iron is hot. In addition to Five Below, head to GameStop, Walmart, Target, Walgreens, CVS, Costco, London Drugs, Hot Topic, Hamrick's, and Hallmark.
Those are a few locations that should get you started. Be wary of eBay; there are legitimate resellers, but it's best to buy from a licensed store.
Question: How Many Different Sizes of Squishmallows are There?
Answer: Squishmallows range in size from 3.5 inches to 24 inches. They originally came in four sizes, but that has expanded to twelve, given the high demand and popularity.
Question: What Countries are Squishmallows Sold?
Answer: The United States, the United Kingdom, Canada, Mexico, and Australia.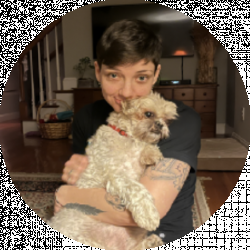 Latest posts by Sarah Weisberg
(see all)