Omori is a weird yet exciting video game from an Indie creator, bringing another horror-themed RPG to the merch industry for plush enthusiasts and gamers. So, my Omori plush guide will share the top eight examples from the game because I'm an avid plush enthusiast who doesn't leave a stone unturned.
In addition, my family enjoys plush collections and Indie gaming. We collect too many Squishmallows, Pokémon plush, and game-inspired plush toys. I'm unsure if I enjoy writing about or collecting plush more, but it's a passion that hops from one to another. So, let us help you find an Omori plush suitable for your Indie heart.
How I Selected Omori Plush Examples
I won't bother sharing the Omori plush that the Omocat store doesn't have in stock. Nothing would disappoint you more than finding one you enjoy, and it's gone for weeks. Instead, I'll search for stores with stock to see as many of the Omori plush characters that exist.
Omori plushies only have one option for each character, except for Something, which has two plushies. In that case, I'll only share one to avoid the repetition of characters. However, each Omori plush example must look precisely like the originals from the Omocat store, or they must have similar features and quality finishes.
Quality plushes have good stitching, detailed features, and colors that match the official store's characters. Finally, size matters to me as a plush enthusiast. So, Omori plush under 12 inches makes the best collectibles. Don't underestimate the sizes. I found a Jumbo Omori Something plush that stood four feet tall!
Omori Plush Guide: Top Examples
You didn't think I'd narrow the examples so much, but I do it to show only good models of Omori plush. Otherwise, I'd add hundreds from online stores with low-quality features. So, let's discover my Omori plush examples that survived my horror-themed requirements.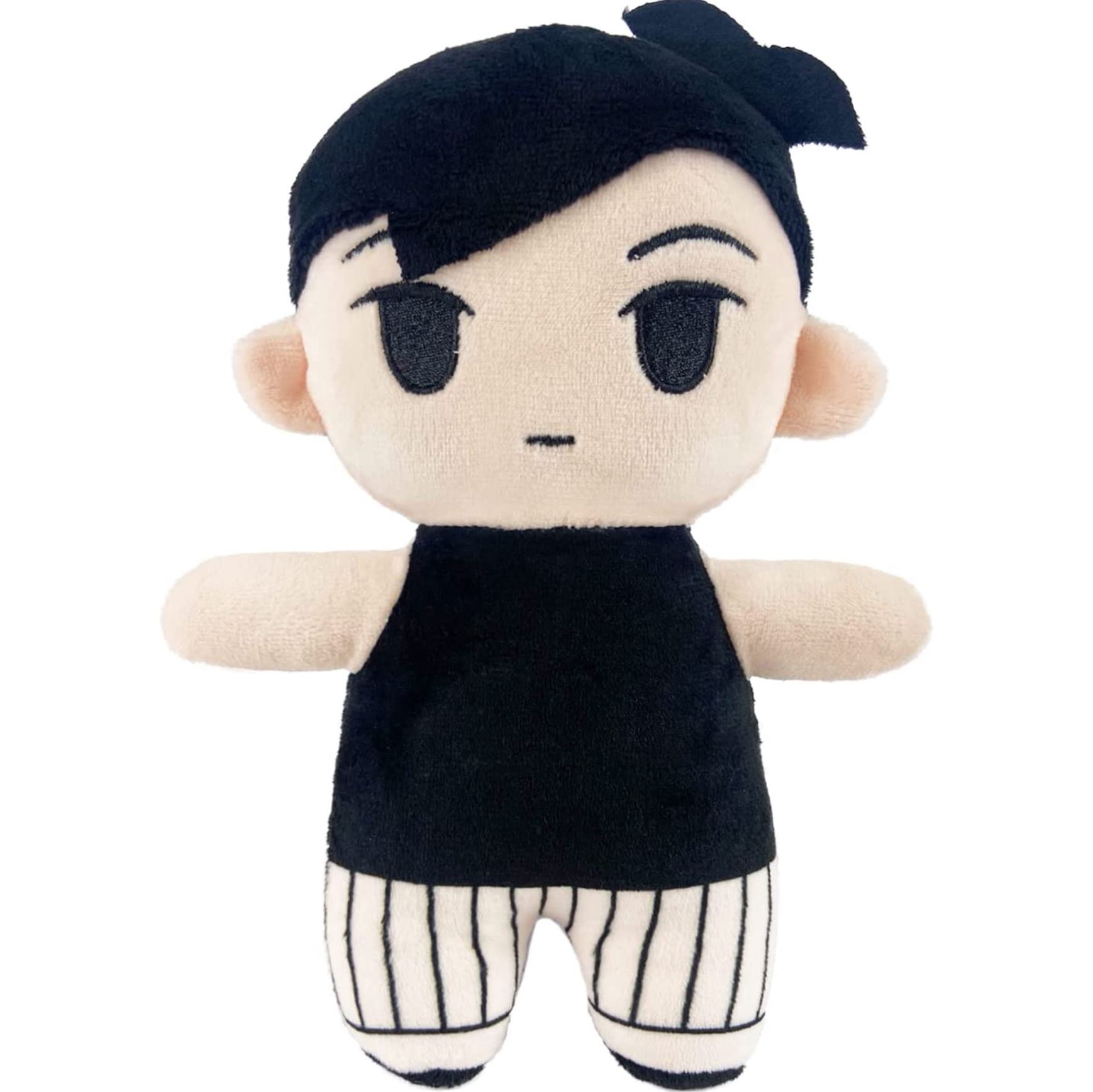 My favorite Omori plush example doesn't come from the Omocat designs because it has more color on its face. Nonetheless, it looks like the depressed boy avatar from the games and stories. Omori's plush design has excellent details and looks better than Omocat's black and white plush. So, it's an exception I'll make.
Pros:
The Omori plush looks suitable for the depressed boy avatar
The plush has near-human colors compared to the black-and-white versions
The eyes, clothing, and pants stripes are fantastic for an unknown plush brand
The Omori plush design is far more solid than Omocat's felt-happy plushies
Cons:
It's not an original Omori plush from Omocat
The plush's back has an awkward connection between the pants and shirt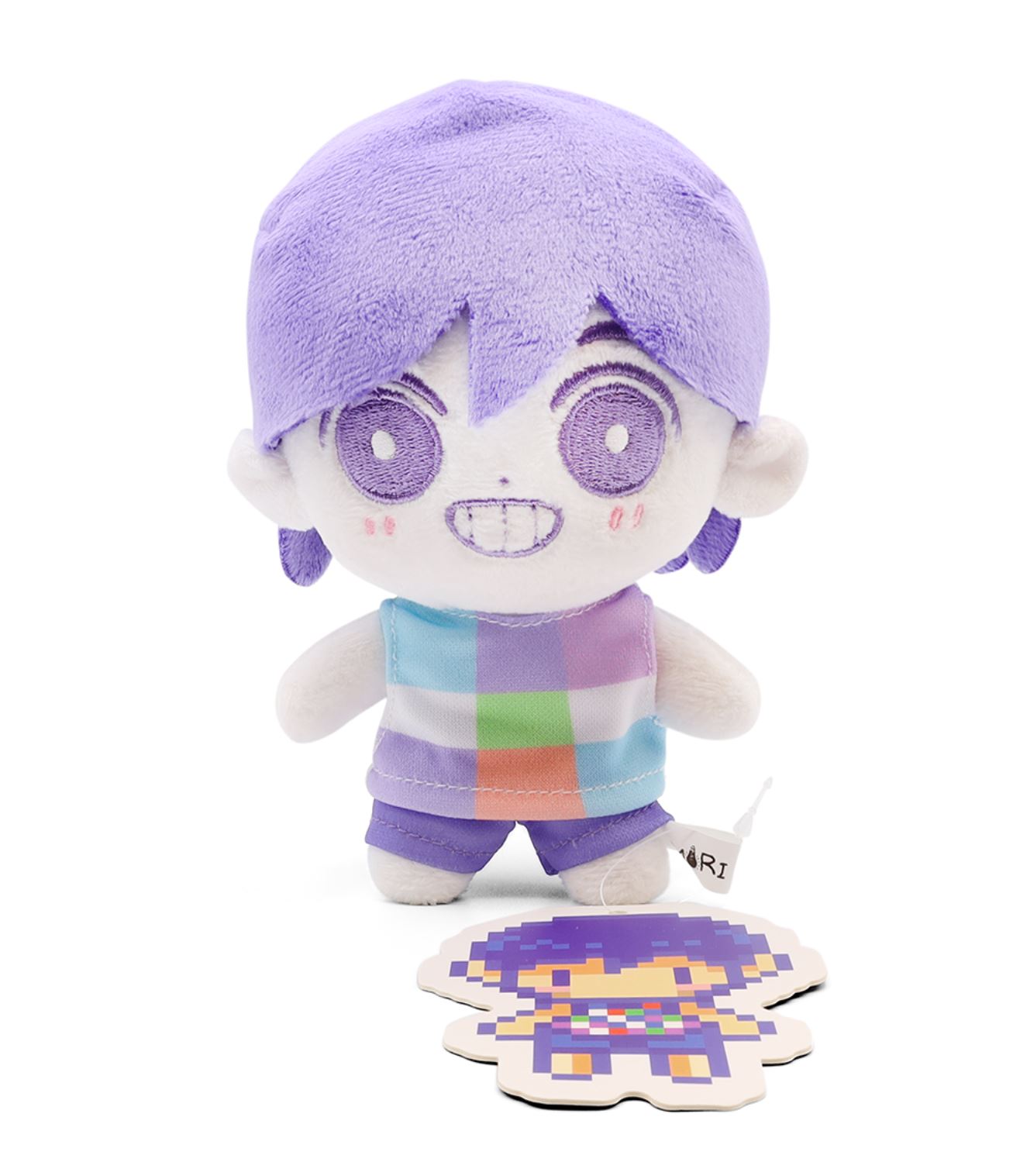 The Omori Kel plush brings color to the collection, much like Kel brings some color to Omori's life in the game. Indeed, the colors don't match the in-game character, but this plush represents how Omocat sees Kel's character. It has purple and all sorts of shades to bring brightness to the depressing life of Omori.
Pros:
The Omori Kel plush ideally represents how Omocat sees the character
This Kel plush from Omori is an original from the Omocat brand with a collector's tag
The Omori Kel plush design is brilliant, representing the character's quirky personality
The shirt, pants, expression, and patterns match the in-game character nicely
Cons:
The Omori Kel plush is like many others, replacing the in-game colors with more brightness
The felt pieces of hair, and loose clothing might come off with time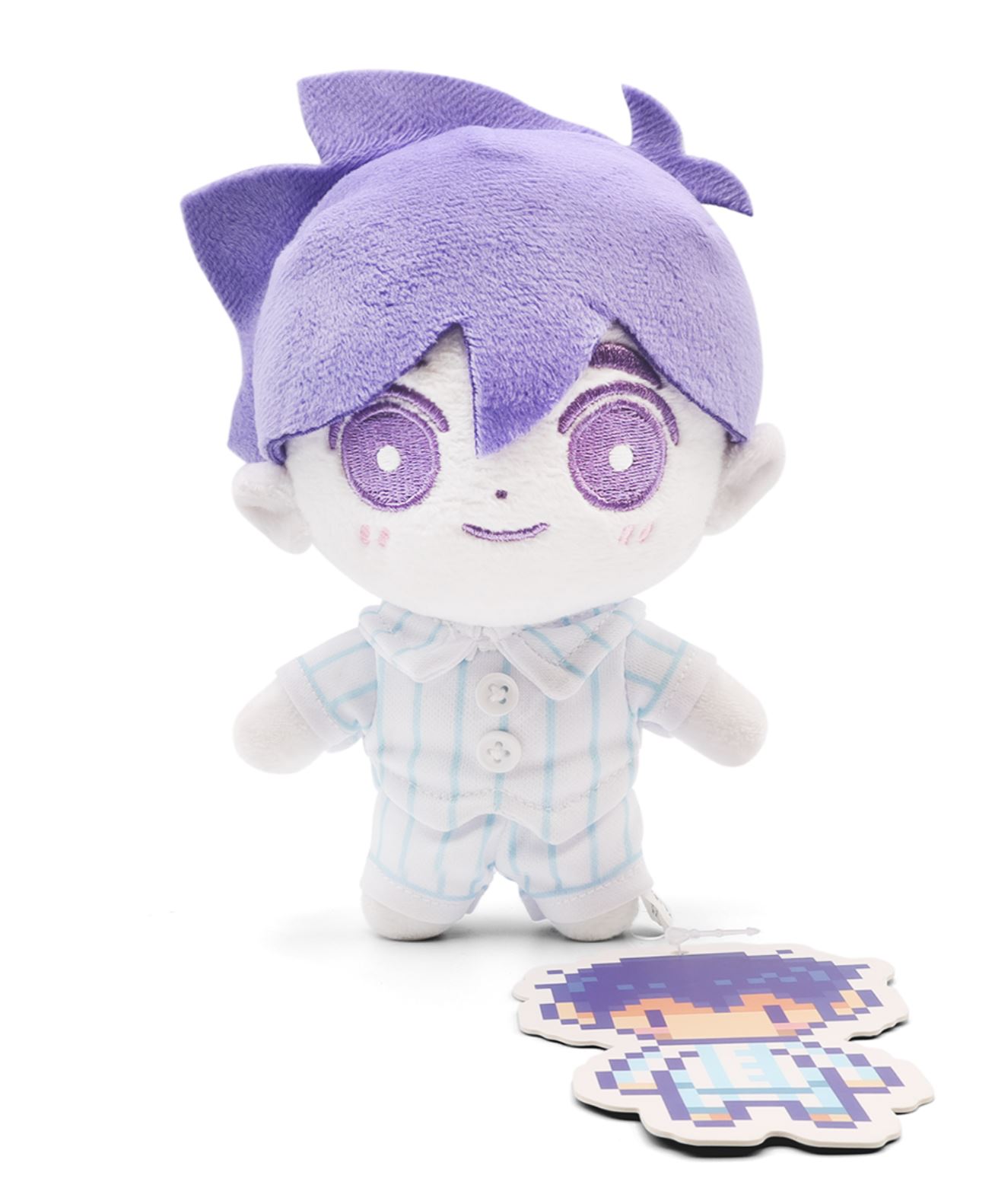 The Omori Hero plush nearly touches the color glitches from the game character. I've seen Hero shine with a slight purple tint in his hair, making him the closest match to his in-game colors. However, the pastel purple colors aren't spot-on, even though they represent Omocat's artistic flair and color injection of characters.
Pros:
The Omori Hero plush represents the in-game character's purple shine
Omocat brings you this original Omori Hero plush with a collector's tag
Omori Hero's pajamas are spot-on, and his expression matches his personality
The Omori Hero plush has surprisingly good details on his clothes, including buttons
Cons:
The Omori Hero plush also has that purple glow with pastel colors
The loose pieces of hair and the pajamas can deteriorate with time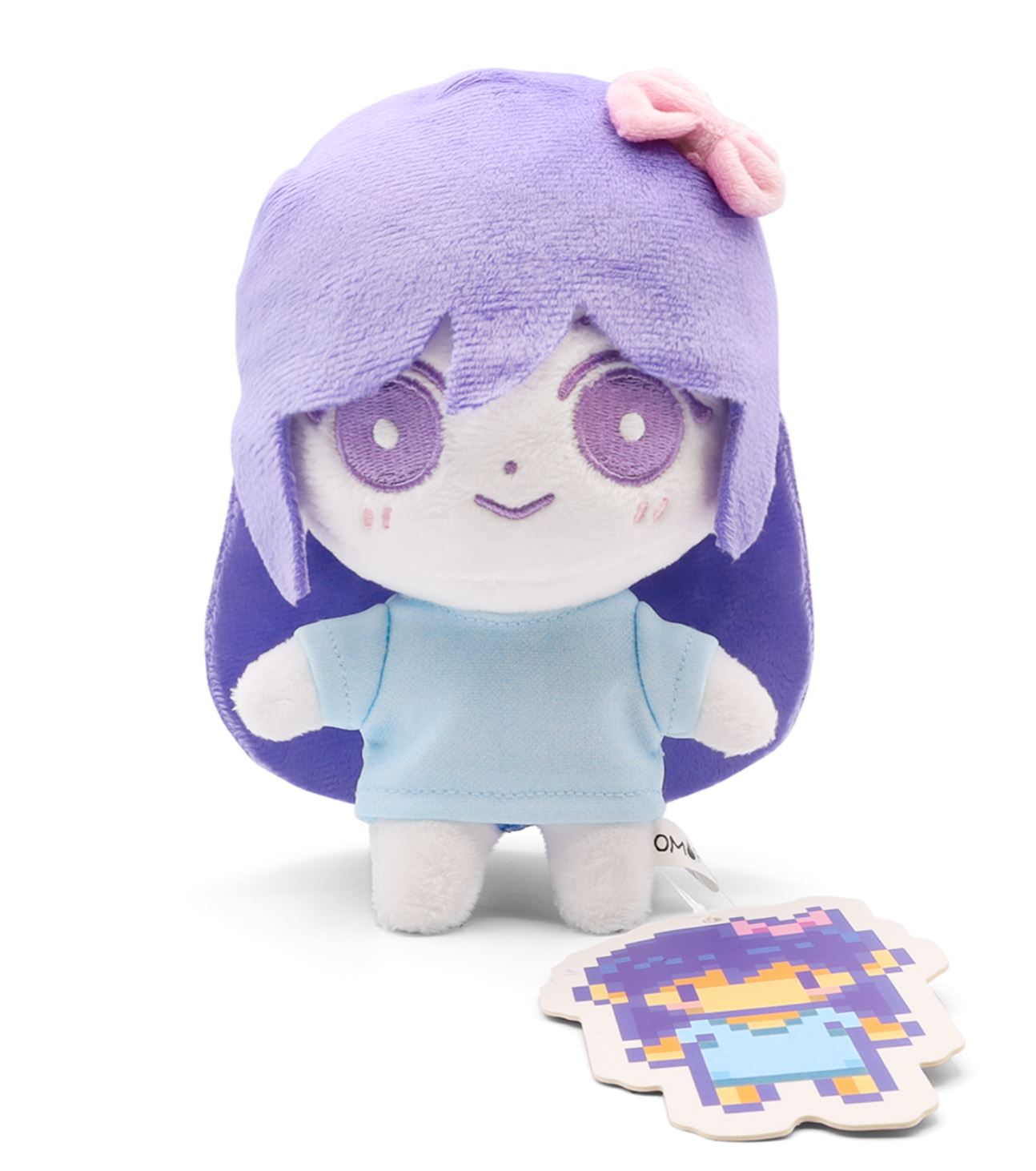 The Omori Aubrey plush captures the least artistic form of the primary characters in the game. I've seen beautiful artwork with Omori Aubrey's pink hair and deep blue eyes. She almost reminds me of Harley Quinn, but she's much kinder and subtler than my favorite anti-hero. Meanwhile, the plush has excellent features.
Pros:
The Omori Aubrey plush matches the game character nicely
You see Aubrey's personality shine through her expression and features
The Omori Aubrey plush is an original with a collector's tag from Omocat
Aubrey's expression also exudes a lot of Omocat's kitty designs
Cons:
Unfortunately, the Omori Aubrey plush could improve many things in the design
The arms are skew, and Aubrey's clothing doesn't match her game character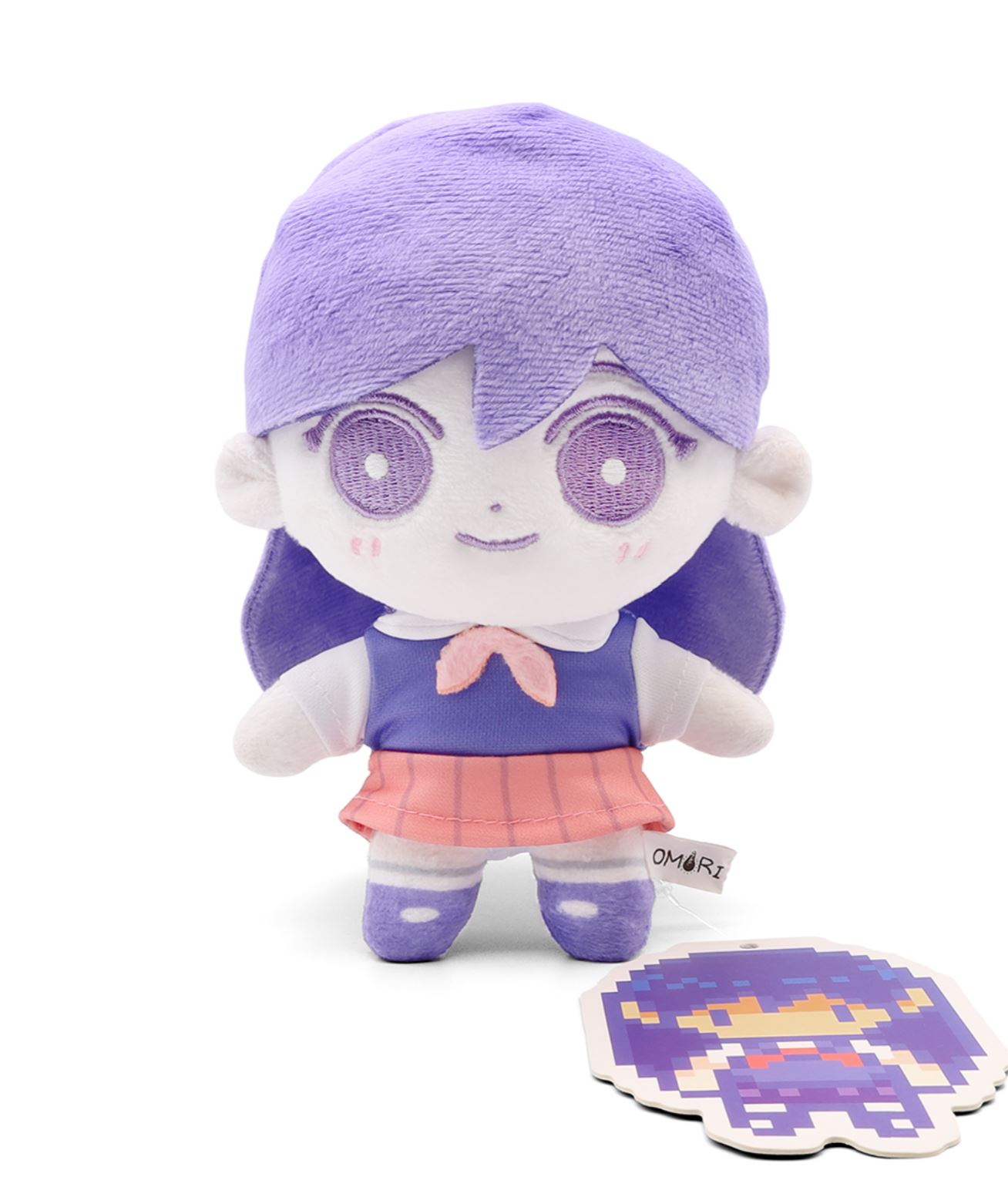 The Omori Mari plush is my second-favorite design because she also has the purple shine in many of her designs and the game. So, her Omocat plush colors don't seem so farfetched. Meanwhile, the Omori Mari plush is a sweet design representing a girl that came later in the game. However, the girl is an abusive monster.
Pros:
The Omori Mari plush represents the character's purple glow in the game
Omocat's Omori Mari plush is an original with a collector's tag
Her expression appears opposite of her personality, almost sarcastically, as she looks friendly but isn't
The Omori Mari plush has a well-detailed face with matching clothes
Cons:
Unfortunately, Omori's Mari character isn't a friend but a foe
The loose pieces and felt hair will break with time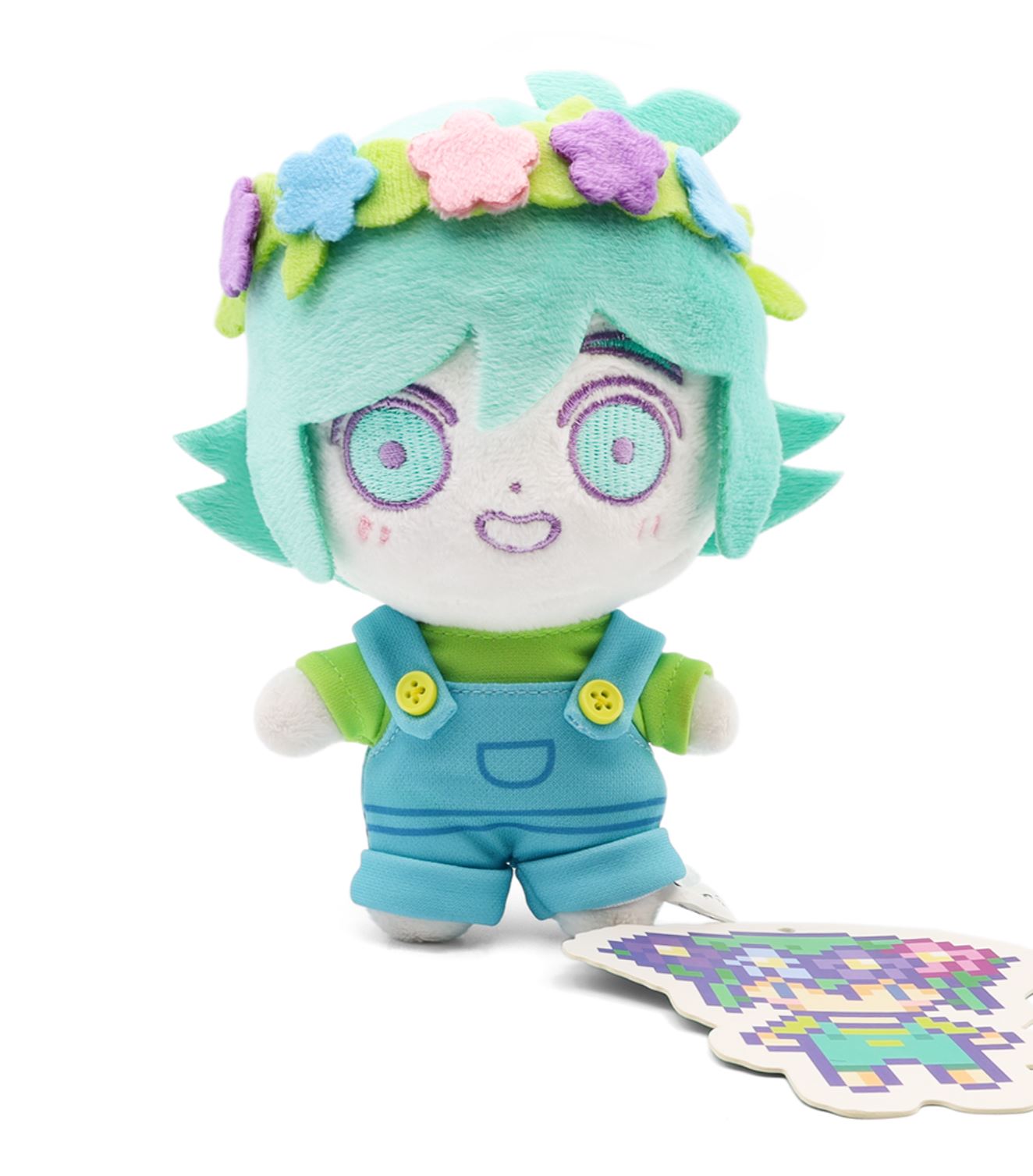 The Omori Basil plush represents the most controversial character in the game with a suicide ending. Perhaps Omocat's designs are more sarcastic than you realize. Again, the game is freaky and horror-themed, and it might not be suitable for kids under 13. However, the Omori Basil plush enlightens you with bright colors.
Pros:
The Omori Basil plush represents the most significant controversy about the game
Omocat's Omori Basil plush is an original design with a collector's tag
The Basil plush has a wired expression that makes the eyes look wild and uncertain
Basil's clothes, face, and features look excellent for the game character
Cons:
It's the most controversial character in the game and unsuitable for little kids
Basil's many loose pieces are a nightmare for collectors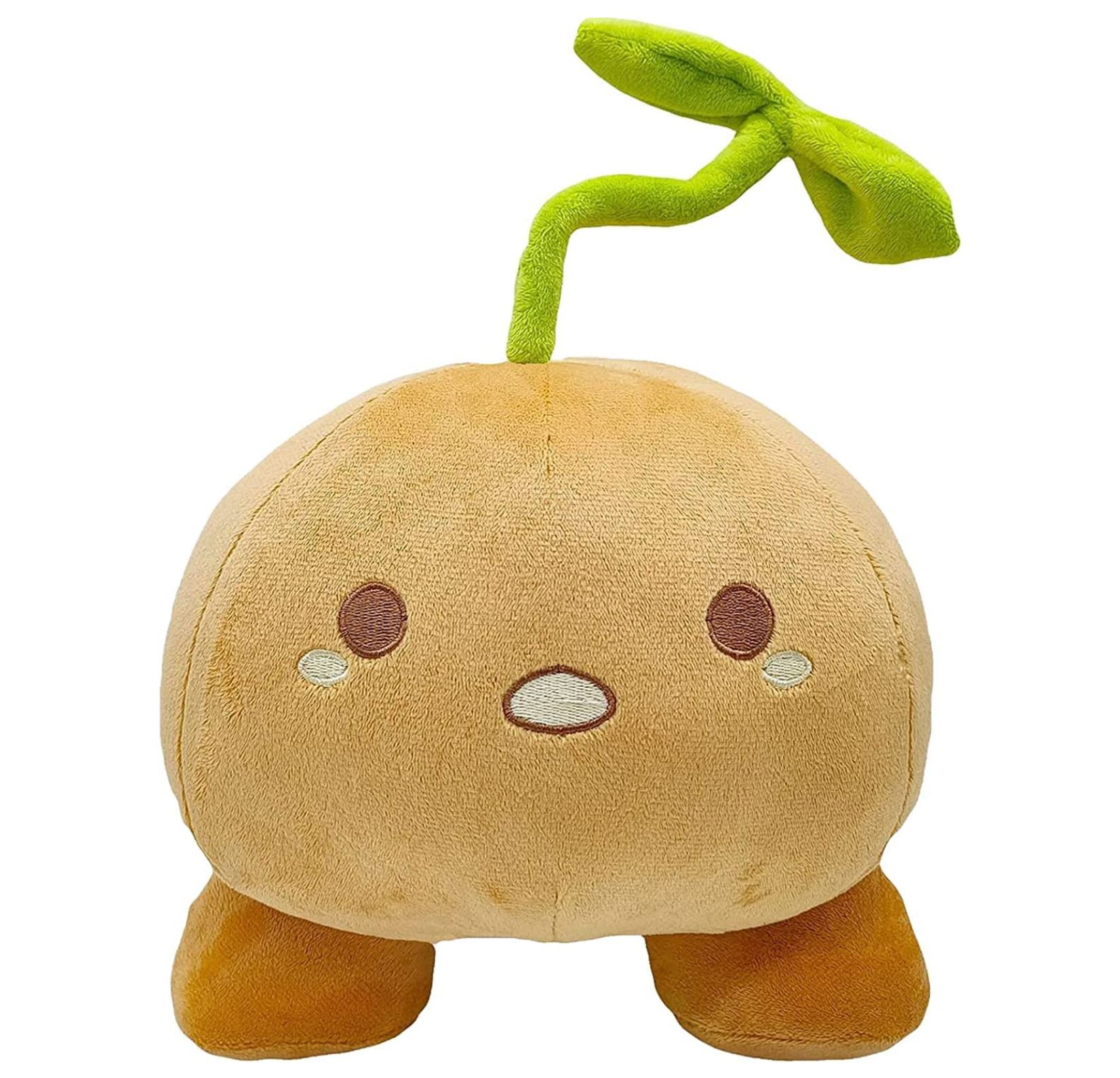 The Omori Sprout Mole plush is one of my favorite NPC characters because it's super intelligent in the game. I enjoy and admire any intelligent NPCs when playing a game. Sprout Moles have more intellect than most of the bad guys put together. Meanwhile, the Omori Sprout Mole plush is adorable but unoriginal.
Pros:
The Omori Sprout Mole plush represents the character better than the originals do
The Wanana Omori Sprout Mole plush has more color, better features, and is cuter
I love how goofy the plush looks, even though the NPC is brilliant
The Sprout Mole plush is adorable enough to look like a Pokémon
Cons:
The Omori Sprout Mole plush isn't an original and doesn't have a collector's tag
The goofy expression can also make the character look unintelligent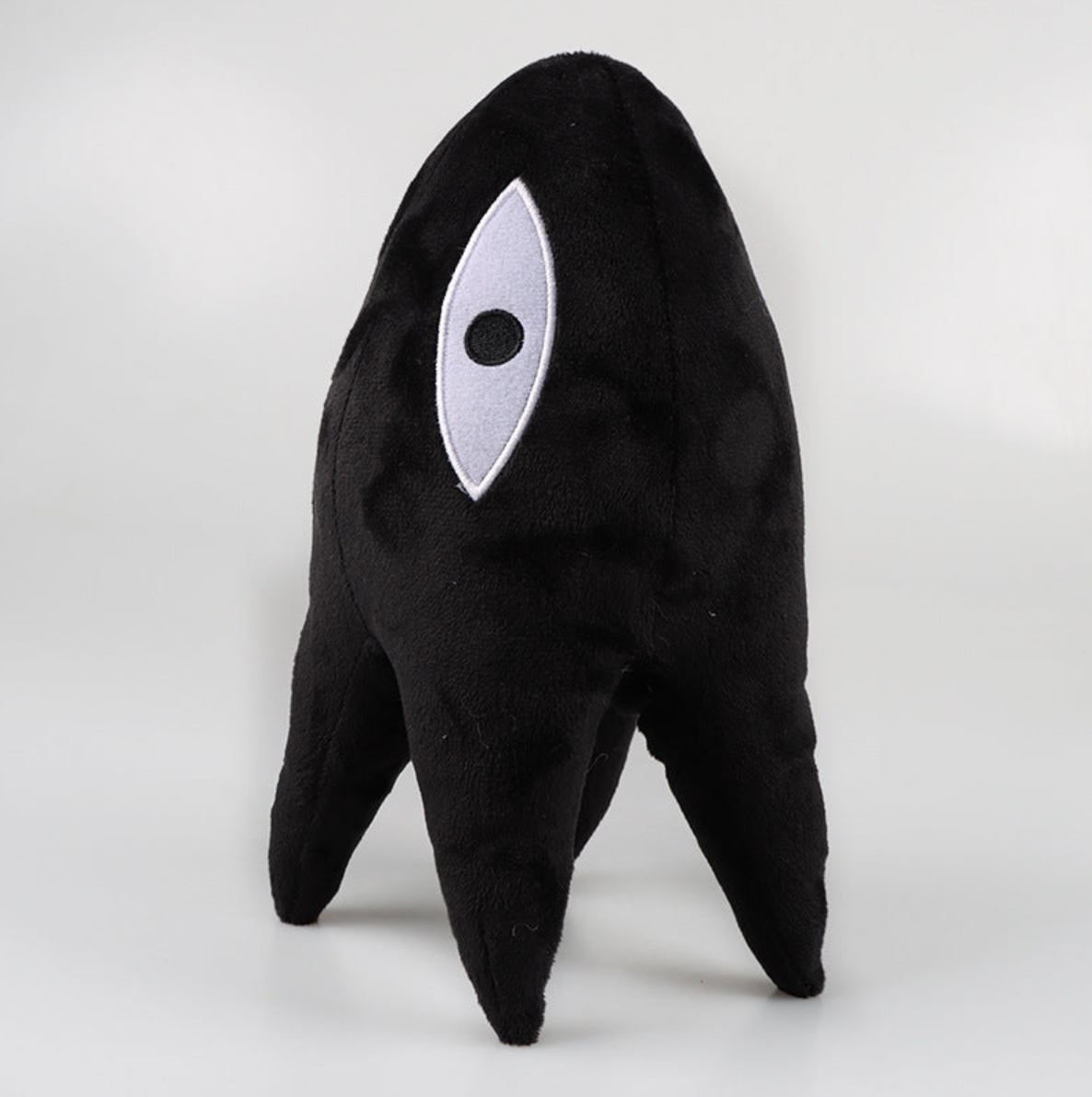 The Omori Something plush represents the greatest evil in the game, almost like a depression shadow that haunts Sunny and Omori throughout the scenes. However, the plush is popular and comes in multiple types from Omocat, not to mention the various unoriginal options from other plush designers. So, it's sought-after.
Pros:
The Omori Something plush looks as dreadful as the game NPC
The Omori Something plush has an excellent design and size for the others
Something looks like a mental health monster from the darkest corners
Omocat's Omori Something plush is an original with a collector's tag
Cons:
It would help if you enjoyed collecting the antagonists from the Omori games
The monster plush could install nightmares as it represents evil, unlike others
Recommended Alternatives for Omori Plush
Omocat's art studio creates unusual merchandise, games, and apparel. So, finding an alternative isn't straightforward. However, I can recommend an alternative horror-themed video game plush that shares a similar animation style. The plushies also look identical to Omori's style, without much color and simplistic.
You might be familiar with Bendy and the Ink Machine merchandise. Check out my Bendy Plush Guide for a plush inventory of the same league. Alternatively, the Friday Night Funkin Plush Guide matches Omori's style and inspiration from a video game. In addition, FNF matches Omori's depressing moods.
Finally, I'd recommend the Fredbear Plush Guide for gamers familiar with the Five Nights at Freddy's franchise. It doesn't match Omori's animation style or plush designs, but both games come from horror. I always recommend plushies that match something to the range I'm sharing in my articles.
FAQs
Question: Will Omori Plushes Come Back to the Store?
Answer: Omocat releases new stock every four weeks and will let you know if you can't buy an Omori plush anymore. The website listings will change from "out of stock" to "last chance" or "no longer available" once the brand stops making specific Omori plush merchandise. So, Omocat is on the ball for restocking Omori plush.
Question: Which Omori Plushes Aren't Available?
Answer: Omocat's Omori Mewo Pixel Plush and Omori Mr. Plategg Plush aren't always in the store. Meanwhile, other online stores haven't started stocking variations of Mr. Plantegg or Mewo Pixel plush yet. Fortunately, you can find them restocked in the Omocat store every four weeks, but you'll have to be patient as they're exclusive.
Question: Where Can I Buy Omori Plush?
Answer: Omocat's official online store is the first to look at. Unfortunately, it doesn't always have stock but promises a monthly restock. The second-best place to find Omori plush is on the Omori Plush online store. You can find Omori plushies on Amazon and Walmart as a last resort, but they aren't from the Omocat brand.
Omori Plush Guide: Conclusion
Omori plush requires a niche passion that fits into Indie games and artistic designs. The old-school Japanese style of these plushies stands out as anime-types, too. Omori and his friends undoubtedly look like an anime festival. Still, the characters represent profound and not-so-good qualities from a horror-themed game.
Ultimately, my favorite is the Omori Hero Plush because it captures the character better than others. The Basil plush is cuter and more colorful. Still, the controversy and dark secrets behind the character are too much for me. However, it doesn't matter which plush you pick if you grab one before the stock falls again.
For More Gaming Plushies:
• Gengar Plush Guide: The OG Ghost Pokemon – Avid Plush
• Sanshee FNAF Plush Guide: Gen 1 to Gen 2 – Avid Plush
• Sonic EXE Plush Guide: Guide for Horror Gamers – Avid Plush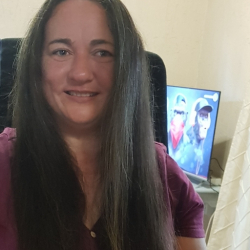 Latest posts by Caroline Lambert
(see all)