Sanshee FNAF plushes are among the most controversial, but doesn't that make them more collectible? As a long-time collector, plush enthusiast, and FNAF fanatic, I confirm controversy makes a big difference, a positive one. So, let me share everything I know in my Sanshee FNAF plush guide.
Collectible plush toys go far beyond the typical fame of Squishmallows and the long-running fandom behind Pokémon plush. Sanshee FNAF plushies have undoubtedly been around the block. Often, the most collectible plushies leave the market due to flaws before making a comeback. So, welcome to the story of collectible plush.
Sanshee FNAF Plush: Bottom Line Up Front
Sanshee FNAF plush has a story, unlike others, coming from a fan-based design that some fans hated. What happens to hated plushies? They become rare and unusual picks down the line. My son and I enjoy Five Nights at Freddy's and have long followed the rise and fall of various plush brands behind the fandom.
Never underestimate what a brand's collapse and rebirth can do for a collectible fandom, and you'll understand why soon enough.
So, let me share the tale of Sanshee plush, who made them, and what happened to the first generation. I'll include some tips that help you find collectible and valuable FNAF plush from Sanshee.
Meanwhile, let me share my favorite second-generation Sanshee FNAF plush. The Sanshee FNAF Hot Topic Foxy Plush is my ultimate pick from the coming examples because it's another Hot Topic exclusive to match the first-gen Foxy plush. Meanwhile, the Foxy plushies from Sanshee have more improvements than other plushes.
But first, let's discover the secrets and story behind Sanshee plush before seeing my top examples.
A Complete Guide to Sanshee FNAF Plush
I'm long collected and enjoyed pop culture plush merchandise, but some brands stood firm for a long time.
However, I found a new brand focusing on pop culture to create a top-notch plush, some coming as collector's pieces with cards. So, let's discover everything you must know about Sanshee FNAF plush.
Gen 1 vs. Gen 2 Sanshee Plush
The first generation of Sanshee plush was also known as Phat Mojo FNAF plush, the 2016 fan-made plushies that failed horribly. However, that doesn't mean you mustn't look for them. On the contrary, I'll show you some generation one Sanshee plush you'll want with everything in your FNAF passions.
Please note that I'll have to use eBay examples to share interesting facts about first-gen Sanshee plush because they've become rare finds.
The plush will also cost more than most FNAF plush on the market because they're rare. So, here are fun facts about first-gen Sanshee plush that make you crave them:
Generation one Sanshee FNAF plushies are mostly rare. The Sanshee FNAF keychain plush is so rare that you'll struggle to find pictures of them, and you won't easily find them on eBay. So, FNAF collectors, I recommend finding the 2016 Sanshee FNAF plush. However, let me advise you about the second-generation Sanshee plush.
How I Picked Sanshee FNAF Plush Worth Sharing
Sanshee FNAF plush has been sought after since the second generation brought better designs. So, I'll include every Sanshee FNAF plush from trusted stores, including Hot Topic and Sanshee's official online marketplace. None of my picks have first-gen Sanshee FNAF plush because they're retired and rare.
Nonetheless, I'll include every current Sanshee FNAF plush and only originals. Buying Sanshee plush from other online stores might leave you with unoriginal plushies.
Sanshee FNAF Plush Guide: Top Examples
The top Sanshee FNAF plush includes second-generation picks from the official sellers. So, let's meet the FNAF plushies from Sanshee to see how the designs have improved from the last generation. In addition, the plushies have pros and cons, and some are more collectible than others.
Sanshee FNAF Bonnie Collector's Plush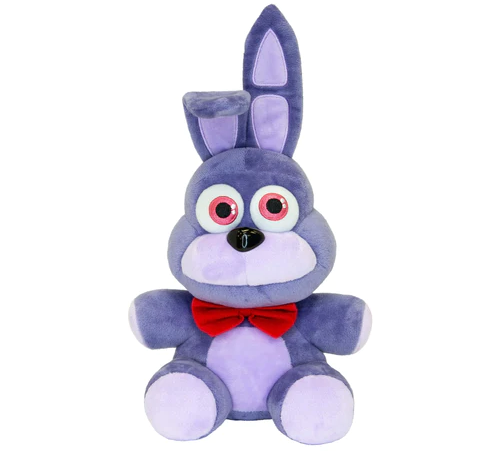 Sanshee's Five Nights at Freddy's collector's plush is ideal for FNAF fanatics who want to collect the more valuable options. It doesn't carry much value now because it's the second generation. However, it will grow in value as the years pass. Meanwhile, it comes with a collector's card to improve the desirability of this plush.
Pros
The Sanshee FNAF Bonnie plush carries more value with a collector's card
The design is better, as Bonnie's ears are more stable than generation-one plushies
The second-generation Sanshee Bonnie plush has good colors and features
Bonnie's body is softer than the first generation, with a texture similar to towels
Cons
Unfortunately, the Sanshee FNAF Bonnie plush has a crosseyed design
Sanshee's Bonnie plush also has a slightly skew nose that looks off-center
Sanshee FNAF Freddy Fazbear Plush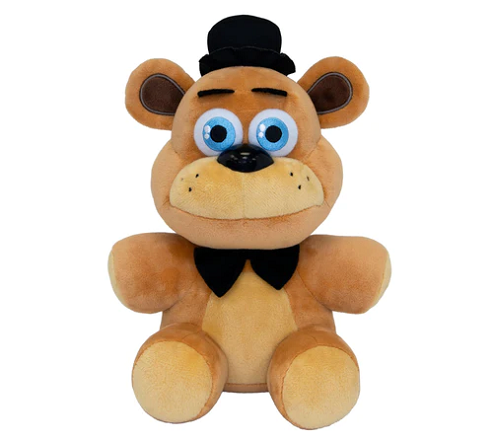 The Sanshee FNAF Freddy Fazbear plush also looks like it has many improvements from the first generation, having a softer texture and more robust features.
The first-generation Sanshee Freddy Fazbear plush looked lob-sided, and the ears were flimsy. However, this Freddy plush is ideal as a Sanshee starter for the main guy.
Pros
The Sanshee FNAF Freddy Fazbear plush is a must-have for the animatronics
Freddy Fazbear's improvements include a better top hat, bowtie, and eye details
Freddy Fazbear's eyebrows will remain in place much longer than gen-one Fredbear
The texture improves with slight fuzzy touches and a more durable embroidery pattern
Cons
The Sanshee FNAF Freddy Fazbear plush's arms look different sizes
The Sanshee FNAF plush's top hat is more sturdy but will break with young fans playing with the plush
Sanshee FNAF Golden Freddy Plush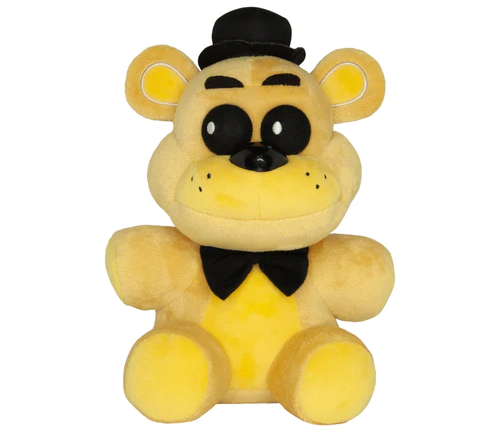 The Sanshee FNAF Golden Freddy plush doesn't seem like much improvement. Still, Freddy is the most collectible and famous animatronic plush from the FNAF franchise.
So, you'll have to collect the Sanshee Golden Freddy plush to complete the second generation's primary options. Meanwhile, the plush doesn't look terrible.
Pros
The Sanshee FNAF Golden Freddy plush is another collectible must-have for fans
The Sanshee Golden Freddy plush has improved eyebrows and a better nose
Golden Freddy's colors are spot-on for the bear with an edge in FNAF
Golden Freddy's bowtie and top hat look slightly better than the first-gen plush
Cons
Unfortunately, the Sanshee Golden Freddy plush's eyes have no detail or depth
Golden Freddy's entire body seems lob-sided, leaning to his left side
Sanshee FNAF Chica and Cupcake Plush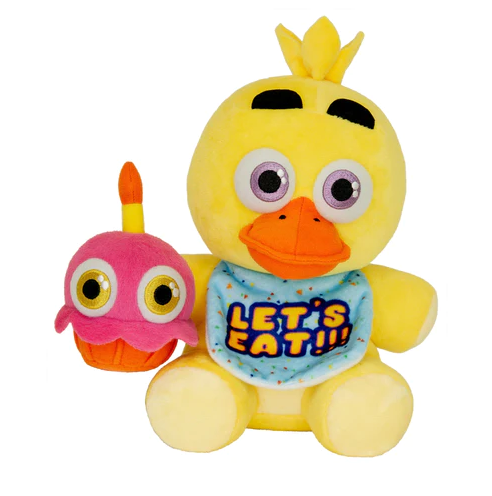 The Sanshee FNAF Chica and Cupcake plush has always been a winner. The first-gen Sanshee Chica plush already had an excellent design. Still, the brand took a nosedive right after her release. So, I can't tell you much about the improvements. Still, Chica and Cupcake make a fantastic duo with the magnetic connection.
Pros
The Sanshee FNAF Chia and Cupcake plush is the best among the designs
The two Sanshee plushies connect with a magnet to allow easy removal
The Sanshee Chica plush has adorable details, excellent features, and detailed eyes
The Sanshee Cupcake plush has bright colors and looks like the in-game animatronic
Cons
The Sanshee Chica and Cupcake plush looks more comical than horror-survival-themed
The Sanshee Cupcake plush's eyes are enormous, and Chica's bib is white at the back
Sanshee FNAF Foxy Plush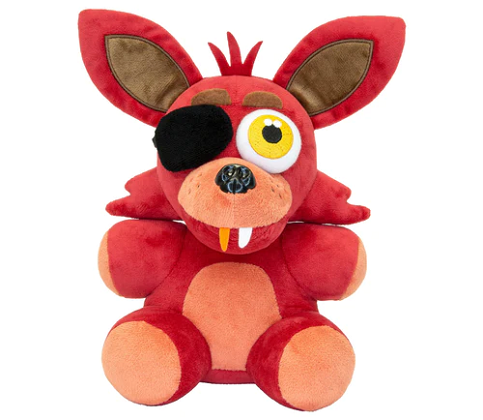 The Sanshee FNAF Foxy plush looks about 1,000 better than the first-gen pirate fox. The first launch of Foxy was a brilliant failure, and many fans were disgusted by the odd patching on his eye, making him look like a handsewn plush from a toddler's imagination. So, Foxy took a significant turn with his second-generation plush.
Pros
The Sanshee FNAF Foxy plush shows the most improvement from the first one
The Sanshee Foxy plush has brilliant features, a deeper color, and more details
Foxy has improved texture to feel like a towel against your skin
FNAF's Foxy plush has stronger ear liners to keep them up much longer than gen-one
Cons
The Sanshee FNAF Foxy plush improves in quality but not much in design
Foxy's teeth and nose look ridiculous for a collectible FNAF plush from Sanshee
Sanshee FNAF Hot Topic Foxy Plush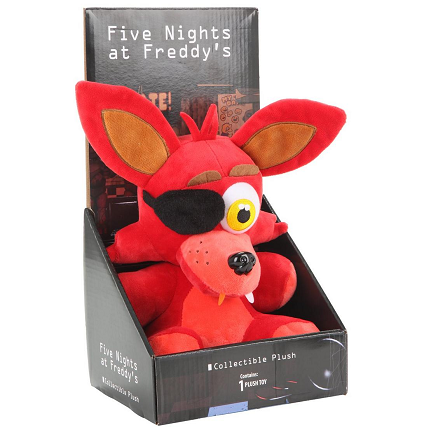 The Sanshee FNAF Hot Topic Foxy plush is an exclusive designed to take the same turn as the first-generation plush. However, the Sanshee brand removed the hideous eyepatches that looked like a child's imagination. Meanwhile, they do the same with Hot Topic's exclusive plush, allowing you to buy it in a box for added value.
Pros
The Sanshee FNAF boxed Foxy plush is more collectible and can last longer
The Sanshee FNAF plush from Hot Topic has the same improvements as the regular one
Foxy takes on a brighter color, more stable eyepatch, and improved ear durability
Collectors prefer buying plushies in boxes to add to their display
Cons
The Sanshee FNAF Foxy plush still doesn't improve much in its design
The boxed Sanshee Foxy plush from Hot Topic has worse teeth and the same ridiculous nose
Best Alternatives for Sanshee FNAF Plush
Sanshee plushes are unusual enough to say there isn't an alternative suitable for the brand. However, I can happily recommend alternatives from the fan-made plush brand without stepping away from the quirky designs and off-center ideations. So, let's see which Sanshee plush I'd recommend as an alternative choice.
Sanshee Persona 4 Plush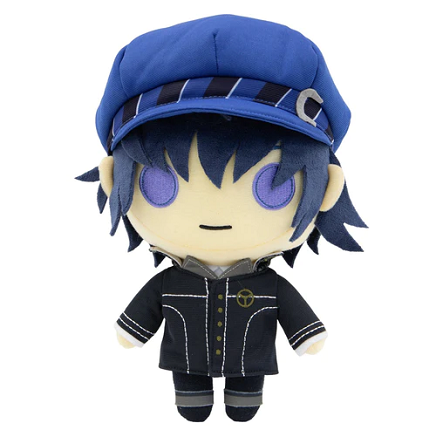 The Sanshee Persona 4 Naoto Shirogane plush is one example of another Indie fandom from the controversial brand with value-building plushies. You'll also find Yukiko Amagi plush, Chi Satonaka plush, and Kanji Tatsumi plush from the Sanshee brand. So, it's a fantastic alternative for Indie game fans and anime lovers.
Pros
The Sanshee Persona 4 plush collection has four options
Each Sanshee Persona 4 plush has acceptable details
The colors and features are spot-on for the characters
Cons
The felt features will break off with time
The eyes could use more details on each plush
Sanshee Dragon Age Plush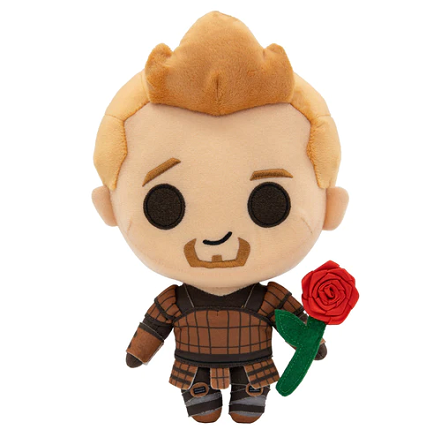 The Sanshee Dragon Age Alistair Thierin plush is my favorite example from the characters. Sanshee makes excellent Dragon Age plushies for fans and plush enthusiasts.
They're as unique and quirky as the FNAF plush selection. Meanwhile, you'll also find Sanshee Mabaris, Nugs, Morrigan, and Cassandra plushies.
Pros
The Sanshee Dragon Age plush selection offers wide varieties
Each Sanshee Dragon Age plush looks adorable and like the characters
The details on the character's clothing are excellent for the Sanshee brand
Cons
The Sanshee Dragon Age plush selection has some minimal designs
The Nugs and Mabaris plushes look simple and plain for Sanshee
Sanshee Mass Effect Plush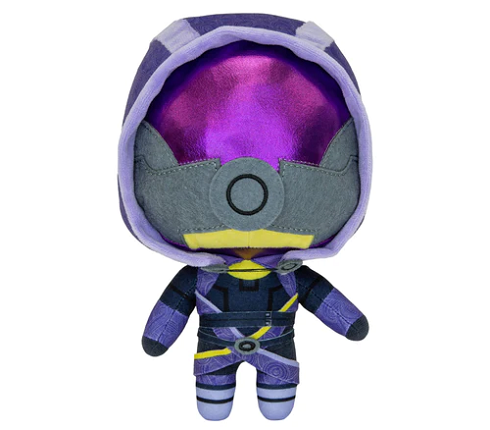 The Sanshee Mass Effect Tali'Zorah plush is an exquisite example of another Indie fandom from the brand. Meanwhile, you'll find other Mass Effect characters, like Garrus plush and Mordin Solus plush. In addition, the brand makes plushies for animal-type characters, like the Hanar, Grunt, and Elcor creatures.
Pros
The Sanshee Mass Effect plush selection offers a variety for fans
Many of the Sanshee Mass Effect plushes have acceptable features
The plushies bring creatures and characters to life
Cons
The creature plushies from Sanshee aren't brilliant
They should bring more character plushes to life
FAQs
Question: Where Do Sanshee Plushies Ship From?
Answer: Many rumors speak of Sanshee shipping their plush from China, which would take ages. But fortunately, rumors are just that and don't ring true. Instead, Sanshee plushies come from the heart of the small company in Washington. Meanwhile, the plushies only take up to six business days to arrive at your door.
Question: Are Sanshee Plush Legit?
Answer: Yes, Sansee plushies are a fan-made and fan-run store in Washington. They're as legit as Funko or any other plush brand focusing on anime and Indie games. The company offers excellent shipping, personalized customer support, and a unique twist on your favorite plushes from video games and anime.
Question: Where Can I Find Sanshee FNAF Plush?
Answer: Be careful about ordering Sanshee plush through third parties because that causes conspiracy about whether the brand is legit. Instead, only order your Sanshee original plushes from the Sanshee website or Hot Topic, which often runs exclusive deals from the Sanshee store.
Sanshee FNAF Plush Guide: Conclusion
The Sanshee FNAF plush collection is worthwhile for FNAF fanatics and collectors. Indeed, the brand had enough controversy to ram it off the market, but it came back strong with improved designs and trusted partners. Sanshee FNAF plushes are an excellent choice for fans who want merch that will grow in value.
Boxing a specific FNAF animatronic plush is a stunt. I admire it because Foxy isn't the most loved animatronic in the games. I recommend buying the Sanshee FNAF Hot Topic Foxy Plush because of the stunt to make it more worthwhile in the future. Next, maybe Chica and Cupcake will have an overall.
Meanwhile, look for the first-gen Sanshee plush if you want something valuable. But first, collect the second-gen plushes before they become retired to new designs.
For more FNAF plush: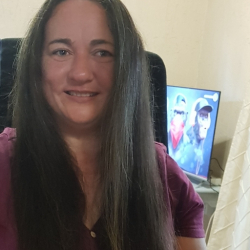 Latest posts by Caroline Lambert
(see all)