Can the poor boyfriend catch a break? Sadly, we'll wait for week eight to know. Meanwhile, let's dig into the Friday Night Funkin plush guide to see which characters are the most memorable from the games. Friday Night Funkin (FNF) is another flash game with horror and a unique rhythm genre, not to mention a crazy story.
The FNF plush toys are vast, but only the top-quality plushies can compete with collectible brands like Squishmallows. However, I'm a plush collector whose son enjoys the game. So, I'm here to dig deep into a few excellent FNF plush toys to start a gamer's collection. Welcome to my FNF week-by-week plush guide.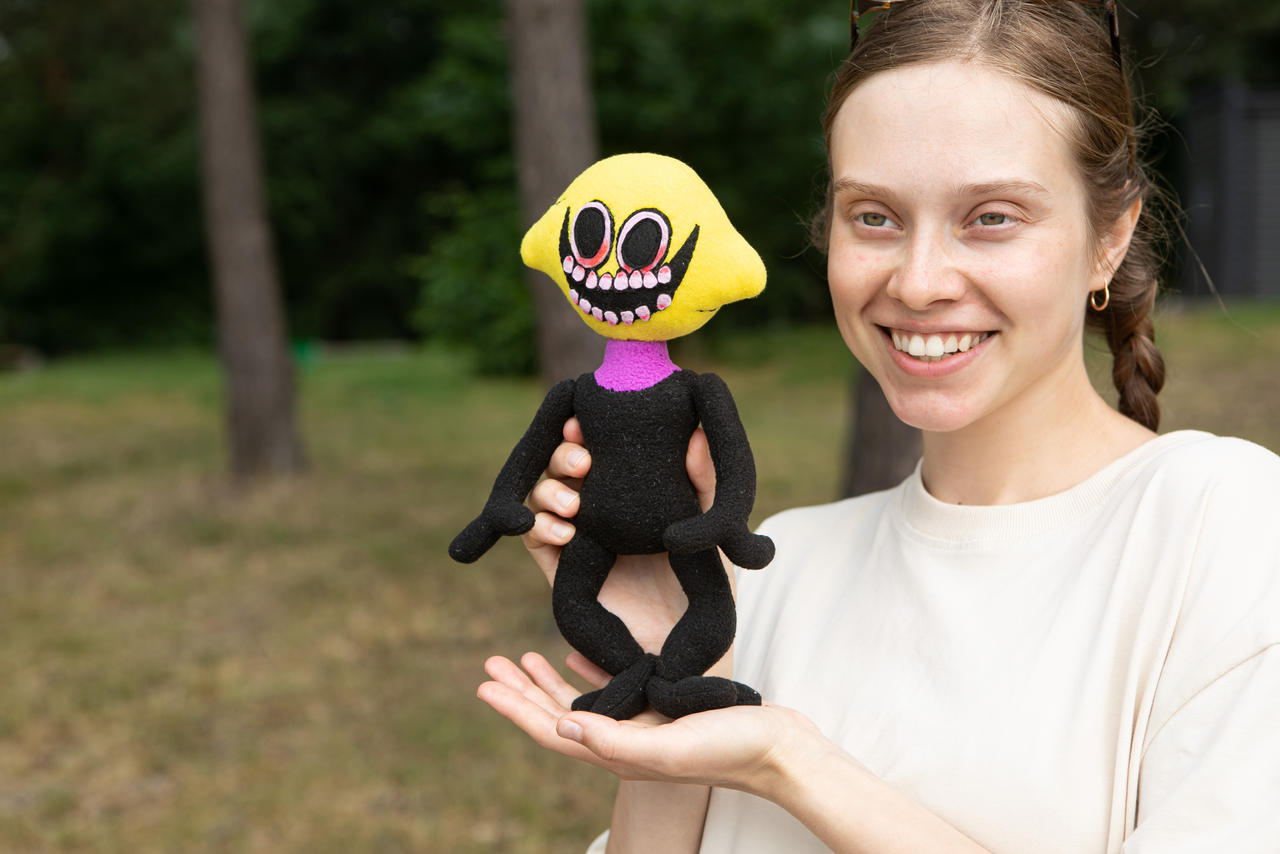 Bottom Line Up Front
Admittedly, I never got into Friday Night Funkin as much as my son holds the game-high, as I finally allowed him to play it as a 14-year-old. So, my family's hobby of collecting collectible plushies, combined with my son's game experience, results in a good batch of examples to help you start a collection.
Meanwhile, I'll also share the weeks and what to expect, including characters that may or may not become plush toys. Of course, many of the famous characters are already plushies. However, some plush toys aren't available yet, like Daddy Dearest, who has such a massive influence on the game, and Pico.
Furthermore, I'll share tips on keeping FNF plushies in good shape because some have undesirable fabrics, which you'll find from all the suppliers. So, my tips will ensure they stay in good condition. Finally, I'll share how I picked an excellent example for each available FNF character. But first, I must convey my favorite FNF plush.
The Friday Night Funkin Pico Plush is my ultimate starter because the character is the most memorable psycho from the game. In addition, the Pico plush is one of the best-looking designs, with an accurate facial expression that matches his in-game character before a sing-off challenge.
However, I have a few more exceptional starter plushies from FNF weeks. So, check them out before diving into the game's details and week's characters.
Some Top Friday Night Funkin Plush at a Glance
Don't worry; I won't spoil everything upfront. Instead, peek at four more favorite Friday Night Funkin plush before getting into the ultimate guide.
The Friday Night Funkin Boyfriend Plush is the perfect starter you need. In addition, adding the Friday Night Funkin Girlfriend Plush is the best way to start a Friday Night Funkin plush collection.
The Friday Night Funkin Kofi Plush is ideal for making your collection stand out because the character is a secret from week seven. So, not every player knows the Kofi character.
The Friday Night Funkin Sarvente Plush is another favorite character plush from a two-week mod. Meanwhile, she adds tons of personality to an FNF plush collection.

The Ultimate Guide to Friday Night Funkin Plush
Friday Night Funkin is another brilliant game that has everyone twisted into plush collectors. I don't mind because I love finding new collections of popular games. But first, you should know more about the game, who it's best for, and how you can find every plush as they are released. So, let's get down to plush business.
Friday Night Funkin: A Highly Unusual Game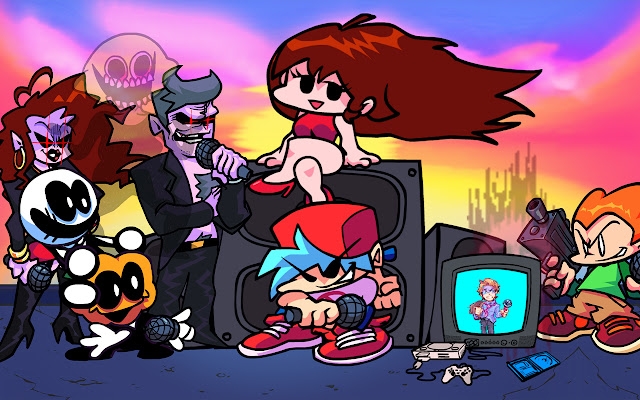 The Friday Night Funkin game is highly unusual because it's a rhythm game that invites players to defend their relationships with the girlfriend character. So, the boyfriend is the main protagonist, who has to sing three songs "weekly" to keep his relationship safe, which isn't the most inspirational game for kids.
Fortunately, the game is best for children 13 and older. I'm afraid I still have to disagree that the game teaches children suitable lessons. However, my son can learn that every relationship requires work. So, I see a silver lining in the game he enjoys because I love boyfriends who make an effort.
Meanwhile, girlfriends should learn to do the same because relationships are a two-way street. Nonetheless, the game is an open-source Indie rhythm game with colorful and creative play opportunities. FNF has a gorgeous graffiti-styled feel that welcomes artistic players with street smarts and modern creativity.
It doesn't have levels like a traditional game. Instead, the game features "weeks" with various challenges the boyfriend must complete to keep his girlfriend happy. So, the player sings, dances, and challenges other FNF characters to keep the girlfriend content in her relationship. Admittedly, it sends some poor signals.
However, teenagers can undoubtedly learn to work on strengthening their relationships with tiny gestures. So, my son gets a stamp of approval because I want him to have excellent relationships and expect nothing less.
FNF Plush Varieties: Weeks and Characters
So, how do you collect FNF plushies when so many exist? The answer is to look at the game's weeks and determine which characters belong in the collection. For example, the Friday Night Funkin Tankman Plush belongs to week seven. Meanwhile, it helps to know how the characters meet.
So, let's see the weeks as players experience them and how the poor Boyfriend fights to have a relationship with the girlfriend:
Week One, Daddy Dearest: The boyfriend has a sing-off against Daddy Dearest, who disapproves of him dating the girlfriend.
Week Two, Pico: The boyfriend will challenge Pico to a rap battle after the contract killer sent by Daddy Dearest fails to shoot the poor little guy.
Week Three, Mommy Must Murder: Mommy Mearest puts the poor boyfriend to a sing-off test on top of moving limousines surrounded by weird henchmen.
Week Four, Spooky Month: The boyfriend and girlfriend face numerous sing-off challenges on Halloween night, including a battle against Skid, Pump, and Monster.
Week Five, Red Snow: Poor boyfriend has to beat Daddy Dearest, Mommy Mearest, Mall Santa, and Monster to keep his girlfriend this week.
Week Six, Hating Simulator vs. Moawling: The boyfriend struggles a virtual battle within a game once Daddy Dearest pushes him into the simulator, facing Senpai and Spirit.
Week Seven, Tankman: The seventh week is deceiving because the couple goes on vacation at Daddy Dearest's word. At the same time, he hires Pico to kill the boyfriend again, but the poor boyfriend also faces Tankman and his army.
Week Eight, Upcoming: The new update will come soon, including antagonists like Pico, Nene, and Darnell.
Please note that there is a week before the first one I listed. Still, it's a pre-tutorial that doesn't relate to the plush collection because it doesn't have relevant characters. In addition, the Boyfriend and Girlfriend characters exist every week. So, I didn't add them to specific weeks. So, sadly, you might not find every character plush yet.
Bonus Mod Weeks: Many mod weeks came as "versus" games. For example, you could play Friday Night Funkin vs. Sonic Exe, where Sonic becomes a singer called Sunky. So, you'll find mod-week characters, some including Sunky, Sarvente, Kofi, and Pibby, among others. But I'll mention the mods as I share them.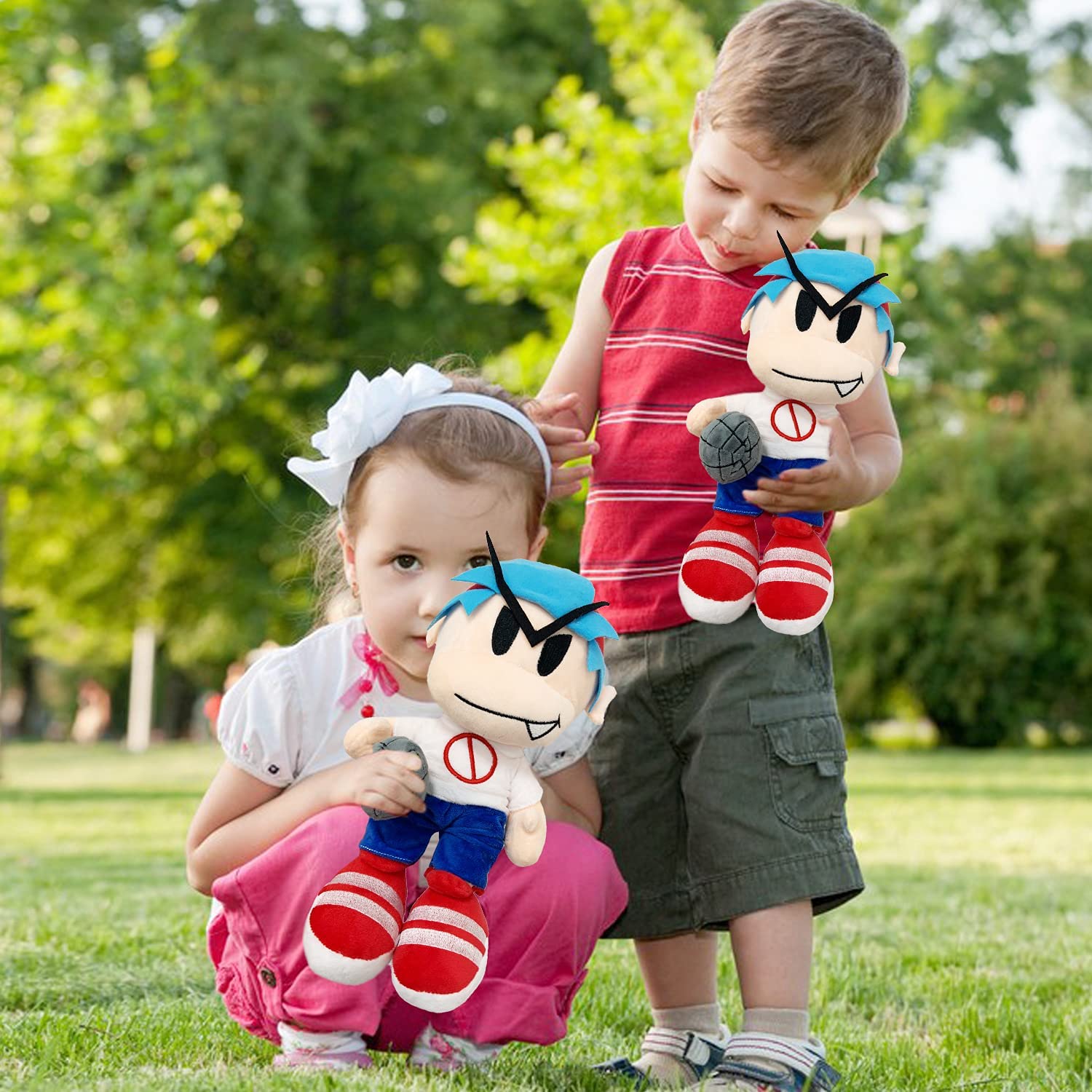 How to Keep FNF Felt Plush Decent
Unfortunately, many Friday Night Funkin plushies have felt parts. For example, the Friday Night Funkin Tricky Clown Plush has felt teeth, which can be a nightmare if you handle or clean the soft toy too often. The hard truth is that plush toys with felt fabric pieces shouldn't be controlled or washed as often as other plushies.
Friday Night Funkin has a few plushies with felt hair, teeth, or other accessories. So, I have three simple rules to keep your FNF plushies safe and decent for years if you love collecting every character. First, follow my directions to ensure the durability of felt FNF plushies:
Wash your FNF plushies with felt accessories as little as possible. Instead, store them neatly away from children's constant hands, and the same goes for gamers who want to hold their favorite plush while jamming the songs. Of course, you can't keep them clean forever, but less touching means less washing.
Use a damp cloth to wipe the felt fabric when you notice stains. A wet cloth beats a washing machine cycle that will slowly degrade the felt material, whether using my third rule or not.
Wash your FNF plushies in a lukewarm or cold yet gentle woolen cycle when they gather dust. You can wrap the plushies inside a pillow cover to ensure they don't hit the drum. In addition, add a few other plushies in the washing machine to soften the blow and skip the spin cycle altogether.
How I Selected Friday Night Funkin Plush Examples
FNF has a fantastic range of plushies for avid gamers and fans. So, I have my work cut out to choose a few excellent examples to share. Therefore, I'll rely on quality for each FNF character plush I find. Quality plushies must meet my standards, which are:
It must have good animation resembling the in-game character
It should have strong stitching and embroidered eyes and details
It measures ten or fewer inches to focus on quality collections
It's the best-looking FNF plush for the specific character
Friday Night Funkin Plush Guide: My Starters
I can't show you every Friday Night Funkin plush because I'll have you reading for weeks. As much as I love writing and reading, it becomes dull with long lists and endless banter. So, here are my recommended starters for a Funkin FNF plush collection, whether for teens who play the game or adults who enjoy them.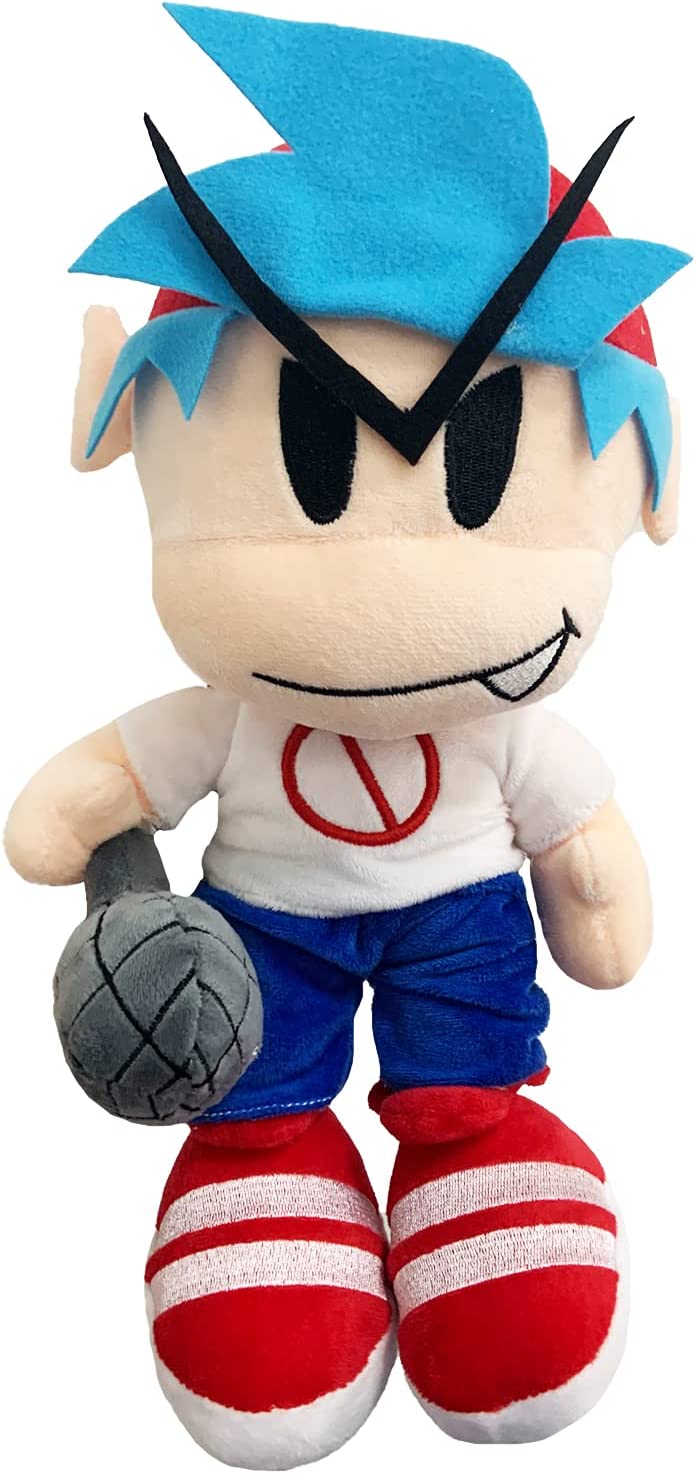 The boyfriend plush is a necessity for FNF fans and gamers. I feel sad for this little guy who must constantly fight song demons and assassins to win the love of his girlfriend's parents. I hope I don't treat my daughter's potential romance the same way when she's old enough. By old enough, I mean like 25 or older.
FNF Boyfriend Plush Facts
Week: All weeks
Size: 10″
Quality: Excellent
FNF Boyfriend Plush Pros
It's an adorable boyfriend plush with a ready-to-sing face
The overall quality and embroidery are excellent
It looks exactly like the in-game character before a sing-off
FNF Boyfriend Plush Cons
The felt pieces are plentiful
The microphone will come off with too much washing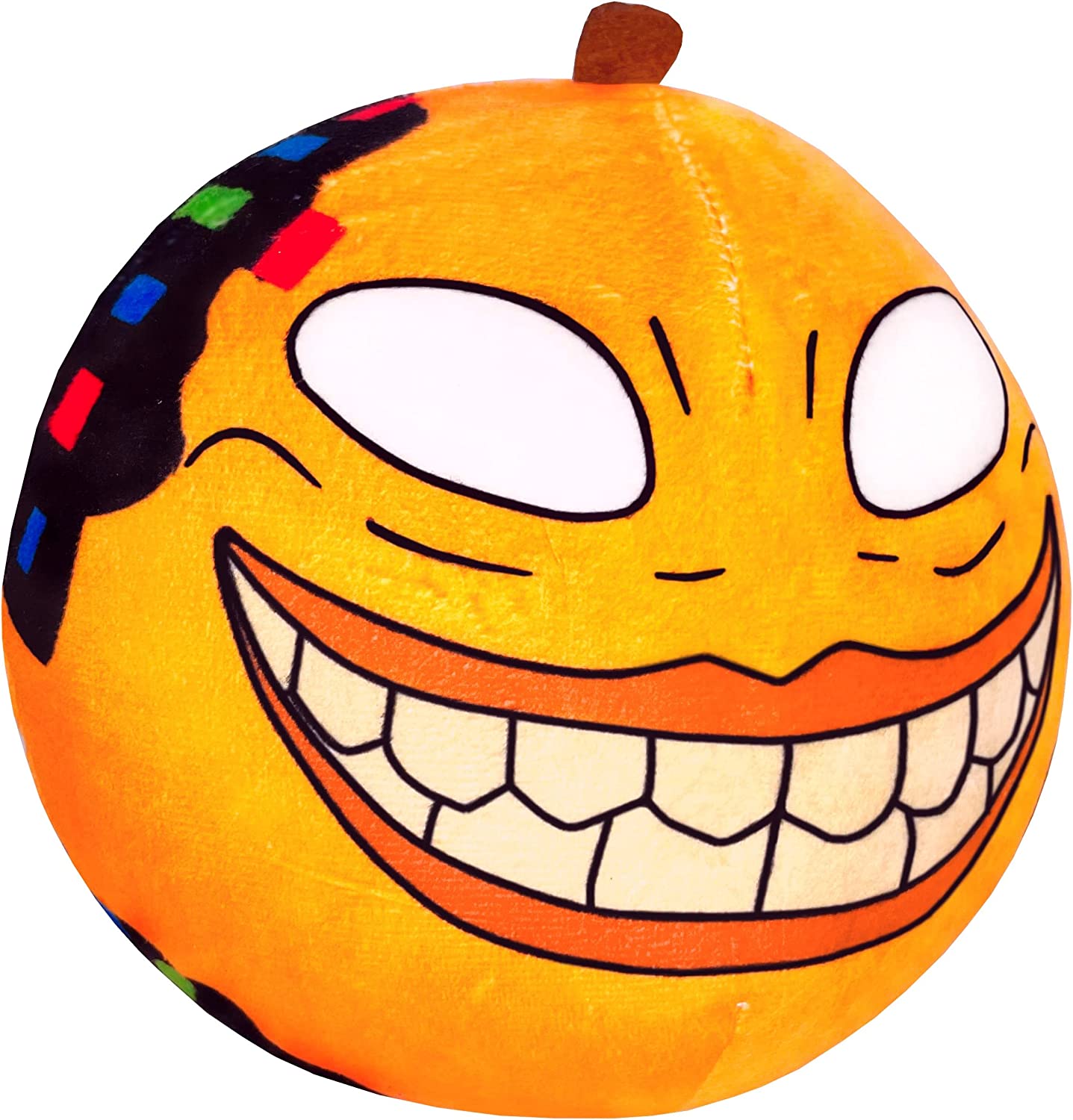 Friday Night Funkin throws a few surprise characters at the couple as they navigate different weeks. So, a lesser-known sing-off happens with the Corrupted Orange. It's a corruption mod some players experience during the week's "Winter Horrorland" sing-off. These plushies make excellent collector's pieces for avid gamers.
FNF Corrupted Orange Plush Facts
Week: 5
Size: 6″
Quality: Good
FNF Corrupted Orange Plush Pros
The corrupted orange is a unique addition that not all gamers know
The colors are bright, and the plush has a good-quality print
The plush looks creepy, like the in-game mod
FNF Corrupted Orange Plush Cons
Unfortunately, not all gamers know it
The plush has no embroidery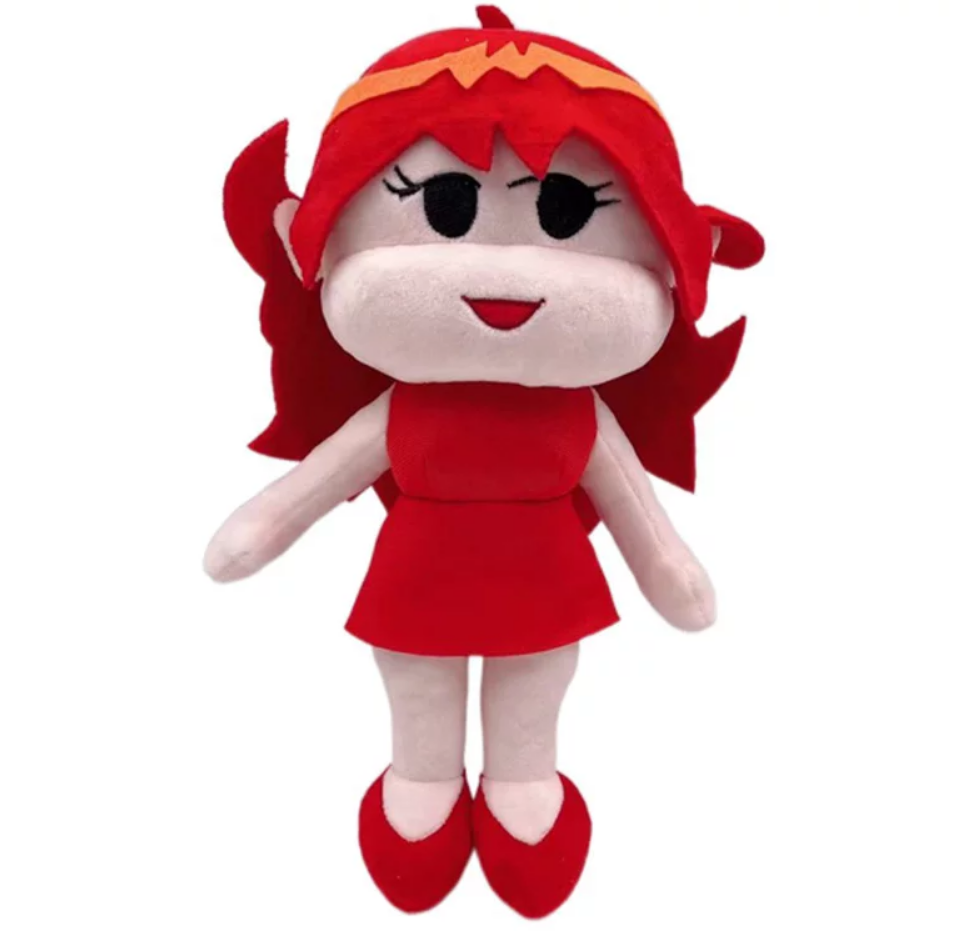 The girlfriend is the other essential plush starter for a Friday Night Funkin collection. Besides, what is the boyfriend's goal if the girlfriend doesn't exist? Indeed, I'm afraid I have to disagree with the endless fighting to keep the girlfriend and her family happy. Still, gamers have no issue with the weird horror-rhythm flash game.
FNF Girlfriend Plush Facts
Week: All weeks
Size: 10″
Quality: Excellent
FNF Girlfriend Plush Pros
The Girlfriend plush is necessary as a starter
The plush has gorgeously embroidered details and bright colors
She looks like the in-game girl Daddy Dearest tries to protect
FNF Girlfriend Plush Cons
The plush has a lot of felt pieces that break
I would prefer it if the girlfriend weren't smiling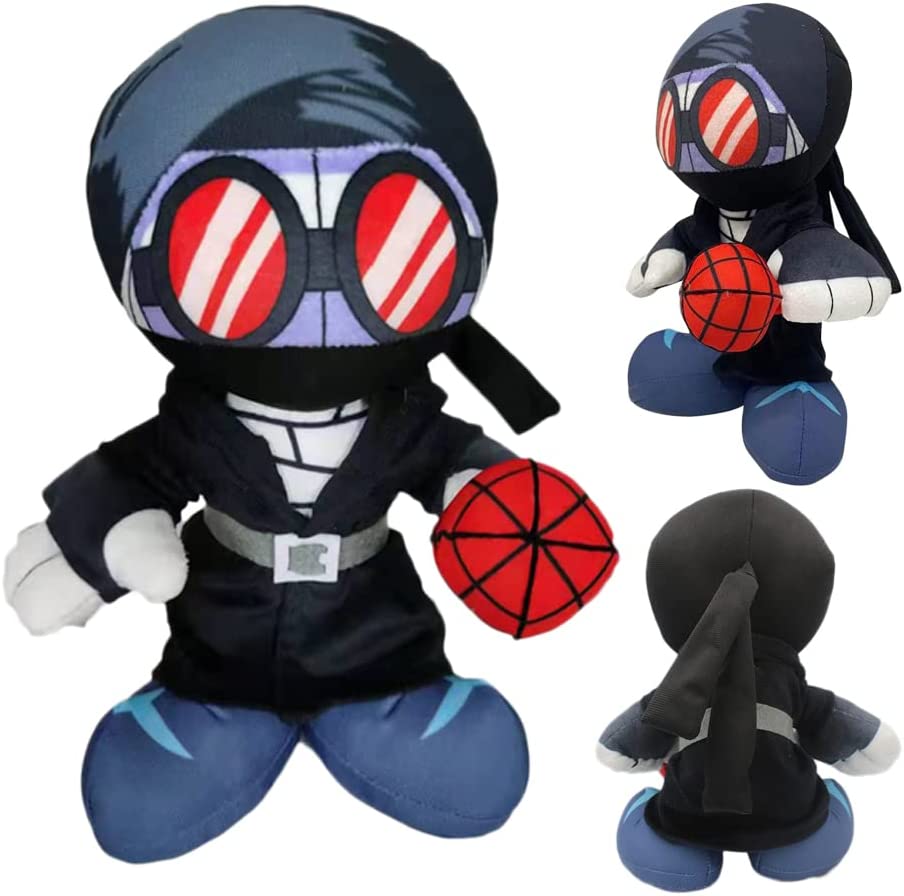 Hank J. Wimbleton is a crossover from another game. However, the challenger comes along with Tricky, the Clown. Meanwhile, Tricky is one of the creepiest characters after Daddy Dearest in the games. So, Hank gets a bad reputation right away. But the plush toys are an excellent addition for gamers.
FNF Hank Plush Facts
Week: 4
Size: 10″
Quality: Good
FNF Hank Plush Pros
The Hank plush looks like an adorable ninja singer
Gamers enjoy the Hank character, even though his appearance is short
The plush has a good-quality print
FNF Hank Plush Cons
It's a lesser-known character in FNF
The plush has no embroidery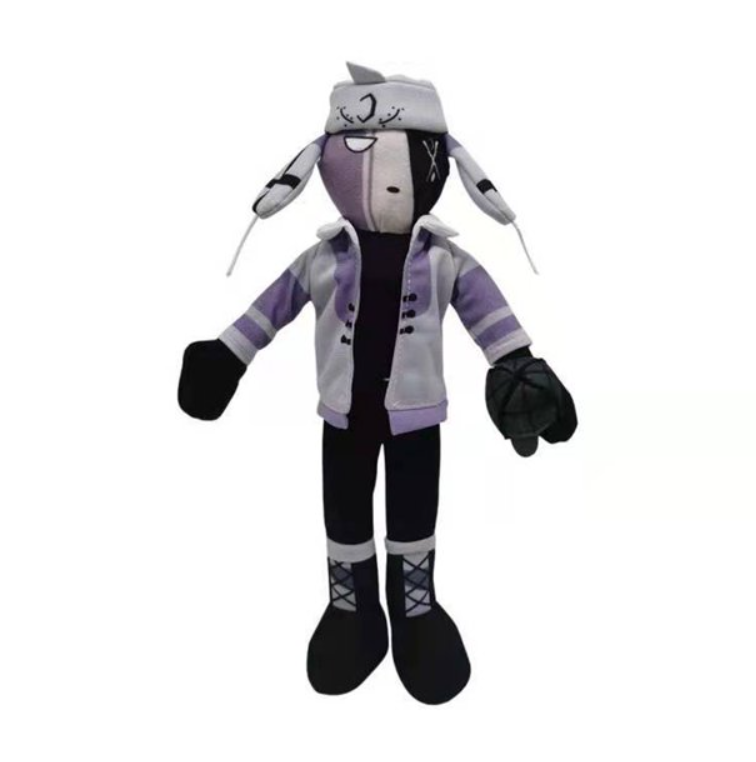 Kofi is a crossover from other popular games. In addition, he becomes a sing-off challenge in week seven. However, Kofi isn't well-known because he's available as a side challenge in the week. So, not every Friday Night Funkin fan challenges him with the boyfriend. But that makes Kofi more collectible than most FNF plush.
FNF Kofi Plush Facts
Week: 7
Size: 10″
Quality: Excellent
FNF Kofi Plush Pros
The Kofi plush is a unique option for collectors and gamers
The plush has exquisite details and quality
Collecting optional challengers makes your collection stand out
FNF Kofi Plush Cons
The Kofi character isn't well-known
The microphone will break off with too much washing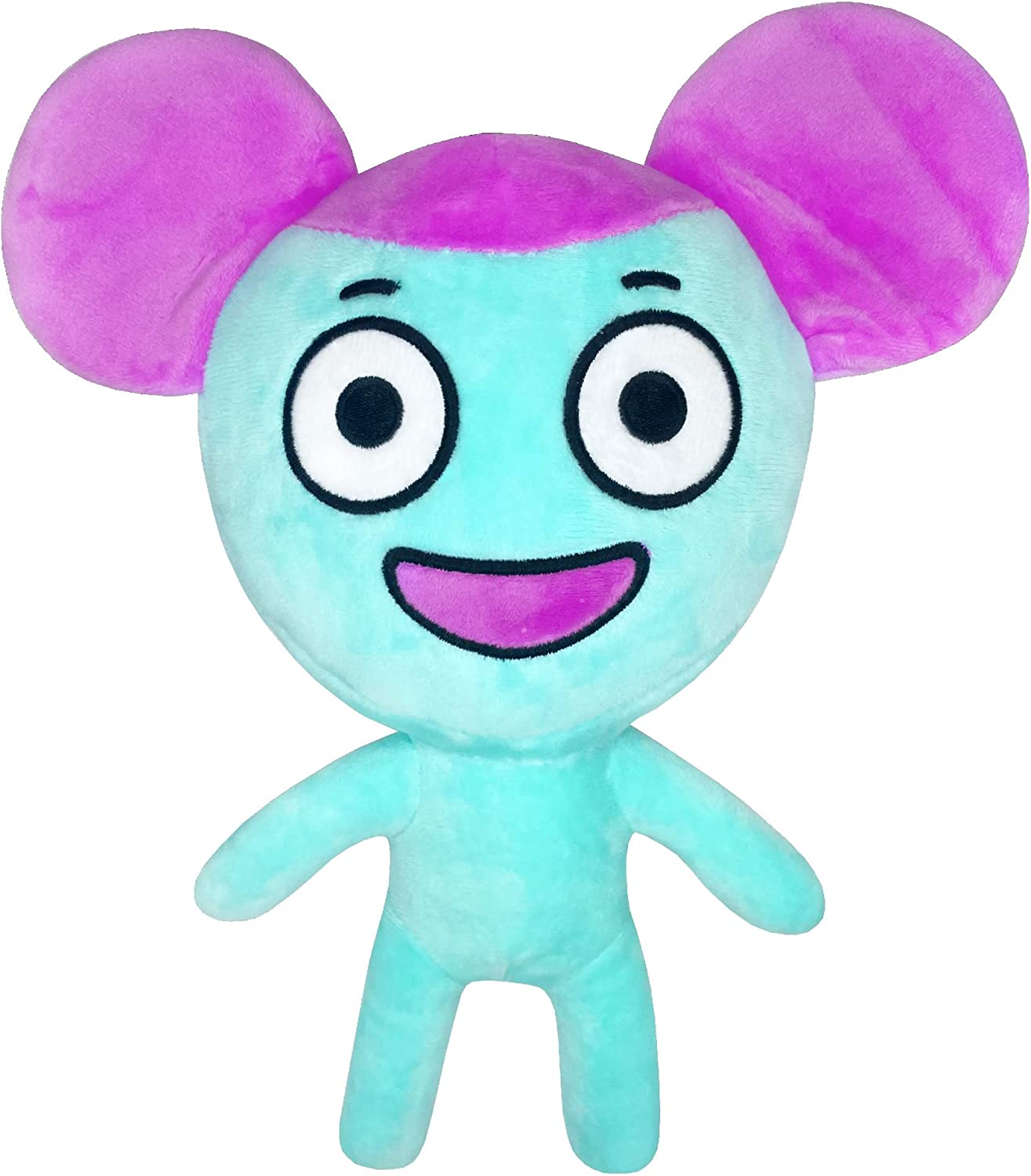 Pibby is another glitched or corrupted character you'll encounter in the second week. Oddly enough, Pibby is supposed to be a Pitbull puppy, but she looks more like a glitched bear with neon colors. However, the plush is a cute addition to a Friday Night Funkin collection. Meanwhile, she has loads of personality in the game.
FNF Pibby Plush Facts
Week: 2
Size: 9″
Quality: Good
FNF Pibby Plush Pros
The Pibby plush isn't a typical piece
The embroidery and colors are adorable for any child
Pibby looks less threatening as a plush than in the game
FNF Pibby Plush Cons
Unfortunately, Pibby's less-threatening look doesn't suit everyone
The poor plush's head is far too enormous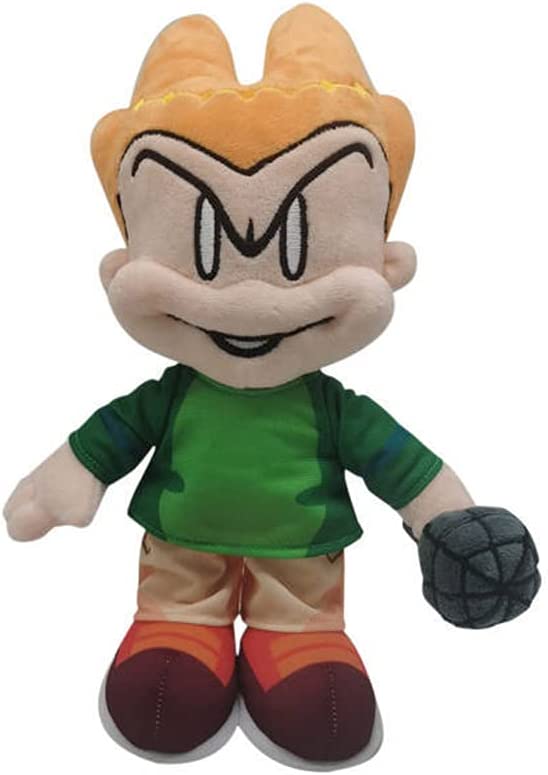 Pico seems like a true psycho in the game. Meanwhile, he has no issues following Daddy Dearest's orders to kill the poor boyfriend. Unfortunately, the latter can't seem to get anyone's approval. However, the Pico and Boyfriend plushies look similar. So, you'll have to remember that they have different colors in the games.
FNF Pico Plush Facts
Week: 2 & 7
Size: 10″
Quality: Excellent
FNF Pico Plush Pros
The Pico plush is the must-have psycho collectible
The plush has excellent details and embroidery
The colors pop, and Pico's expression is ideal
FNF Pico Plush Cons
Unfortunately, it's another felt-filled plush
The microphone might break off with time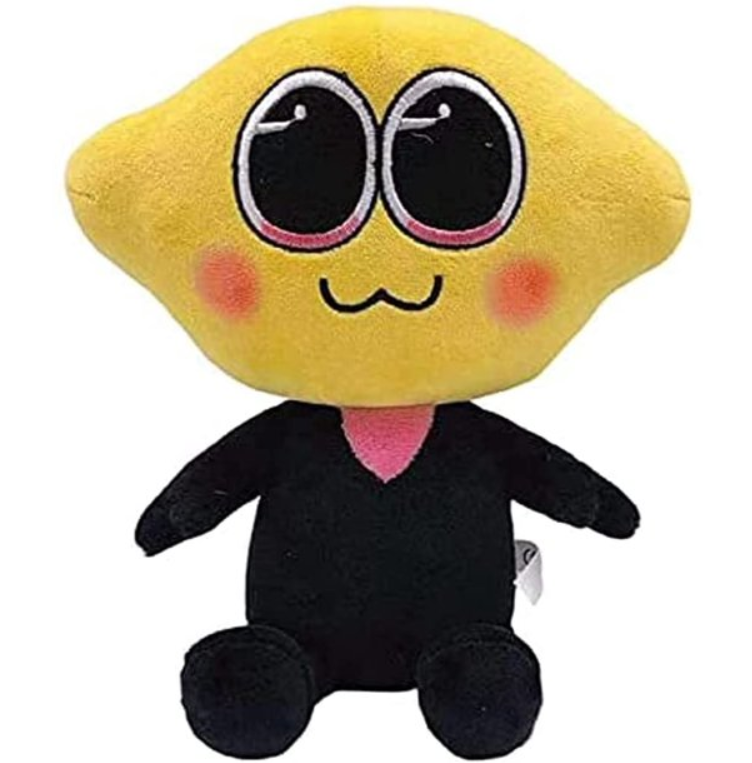 Pump looks weird without Skid, but the duo is a deceitful challenge in the second week. You think they're adorable until they break out in a battle. However, I didn't want to add the duo plushies. So instead, I'm adding them separately in case you don't want one or the other. Separate plush is better quality, too.
FNF Pump Plush Facts
Week: 2
Size: 10″
Quality: Excellent
FNF Pump Plush Pros
The Pump or lemon demon plush is cute
The baby face matches the game character's deceit
The character is an infamous challenge in week two
FNF Pump Plush Cons
The baby face might not work for every gamer
The head is too large for the body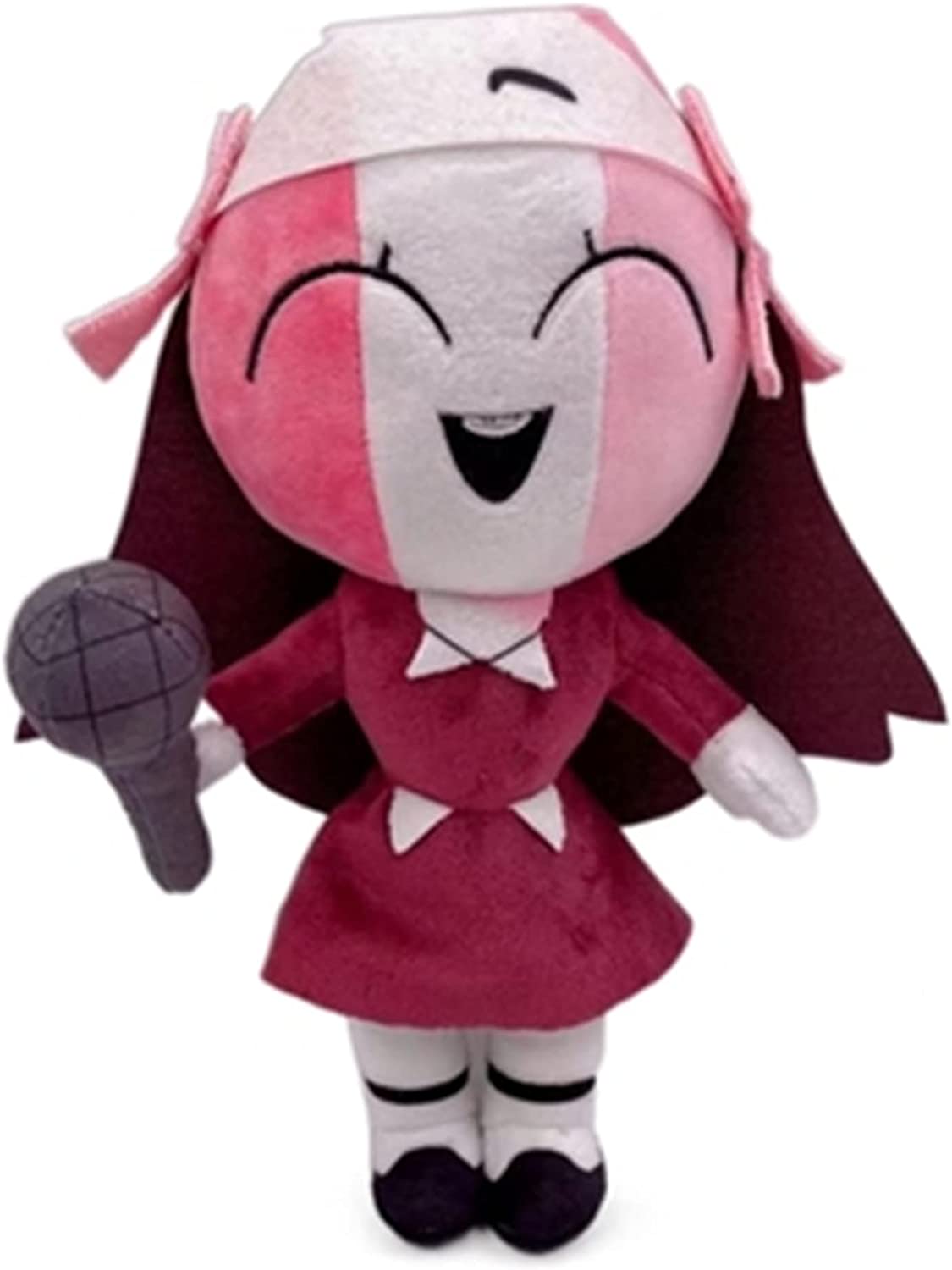 Sarvente is another mod from a two-week add-on called FNF Mid-Fight Masses. She's another character that deceivingly looks friendly until she's ready to sing off against the boyfriend. In addition, she's a nun, making her more deceitful. Unfortunately, the boyfriend never finds peace in his relationship with these challengers.
FNF Sarvente Plush Facts
Week: Mod Week: Mid-Fight Masses
Size: 10″
Quality: Excellent
FNF Sarvente Plush Pros
The Sarvente plush is another unique addition for gamers
The plush has pristine details and embroidery
The character has gorgeous colors
FNF Sarvente Plush Cons
She has too many felt pieces
I wish her eyes weren't closed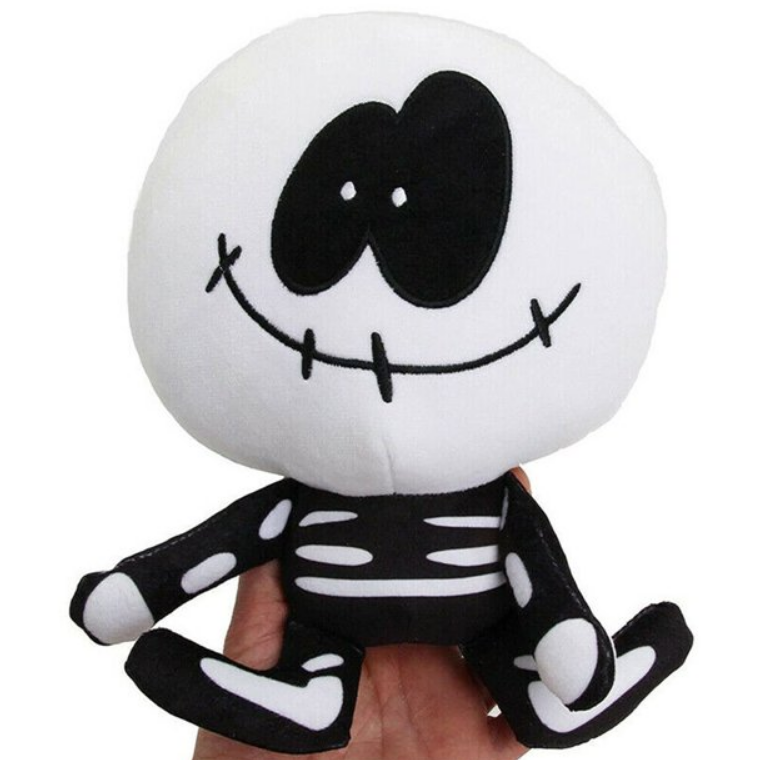 Skid is Pump's dynamic friend in the second week. The two undoubtedly make the poor boyfriend's life a living hell. Meanwhile, the Skid plush is adorable for kids who enjoy Halloween-themed soft toys. It doesn't look creepy to match the in-game character's terrifying personality. Instead, it seems like a cute Halloween plush.
FNF Skid Plush Facts
Week: 2
Size: 8″
Quality: Excellent
FNF Skid Plush Pros
The Skid plush is a good starter with Pump
The details and embroidery are pretty good
Little kids will enjoy this weird plush from FNF
FNF Skid Plush Cons
Too much white makes it hard to keep it clean
The Skid plush is smaller than the Pump plush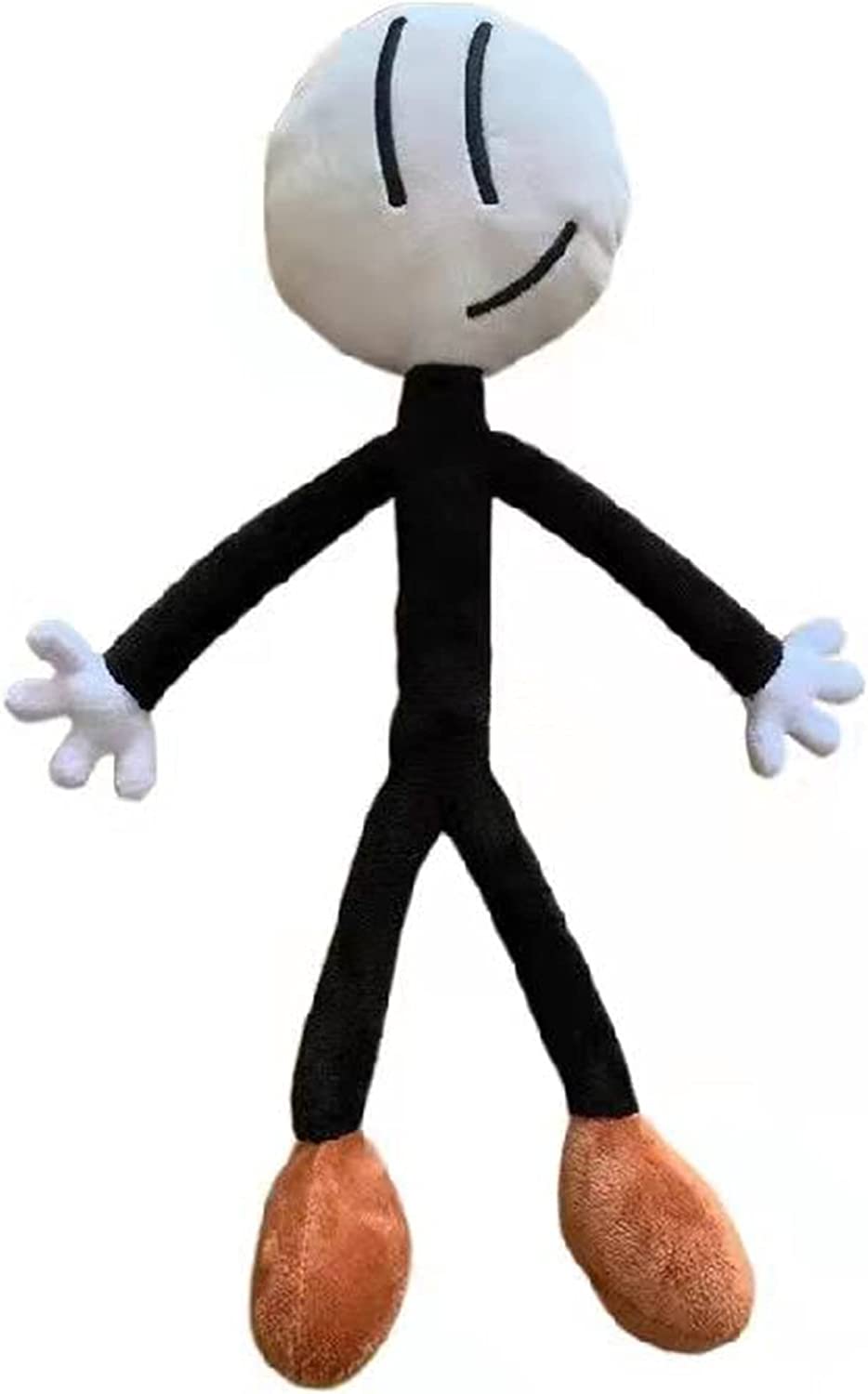 Admittedly, I'm trying to give you various starter plush for Friday Night Funkin gamers and fans. However, some plush is pretty bad, even if they represent the character well. For example, a Stickman plush is what you think and is somewhat dull. Besides, it's not a famous game character, and some gamers don't know it.
FNF Stickman Plush Facts
Week: Mod Week: Friday Night Funkin vs. Stickman
Size: 10″
Quality: Acceptable
FNF Stickman Plush Pros
The Stickman plush is unusual as a mod edition
The embroidery is acceptable for a simple plush
Die-hard gamers will know the Stickman
FNF Stickman Plush Cons
The plush is my least favorite for "acceptable" quality
It has no strength in the design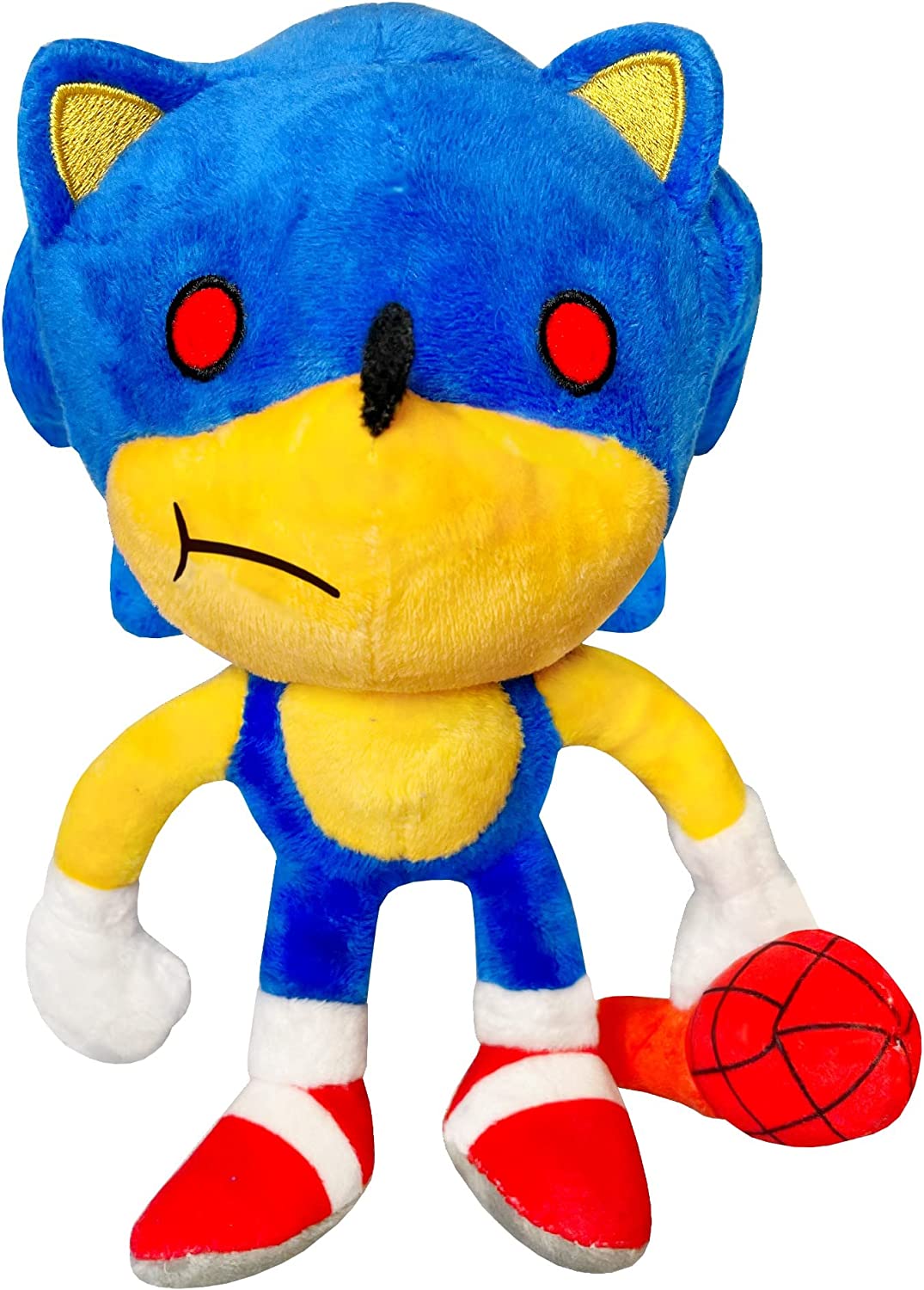 Sunky is another plush mod character from Friday Night Funkin vs. Sonic Exe. Sonic is one of my ultimate game characters. So, I have a liking for the Sunky plush, even though the quality is only fair. The plush doesn't have poor details, colors, styles, or embroidery. However, the face puts me off of buying it as a starter.
FNF Sunky Plush Facts
Week: Mod Week: Friday Night Funkin vs. Sonic EXE
Size: 7″
Quality: Okay
FNF Sunky Plush Pros
The Sonic EXE FNF Sunky plush is a unique collectible
The details, embroidery, and colors are fantastic
The plush's back looks better than the front
FNF Sunky Plush Cons
The face looks terrible (maybe it's because I love Sonic)
The microphone can break with too many washes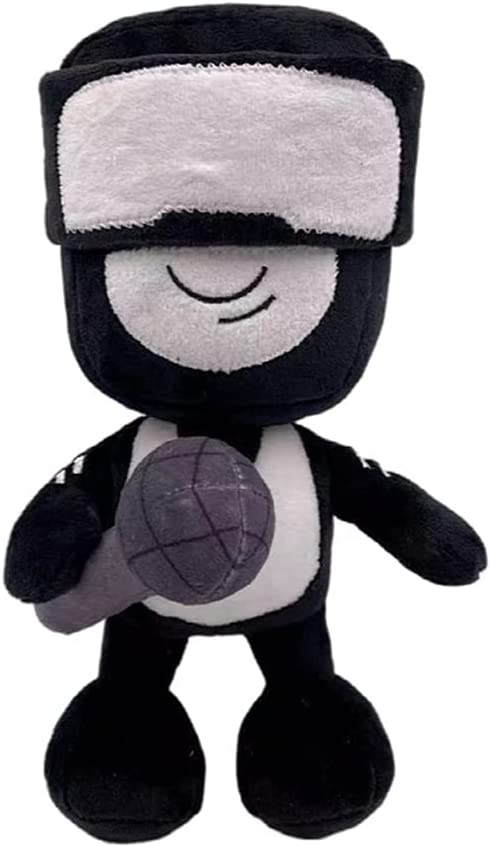 Tankman is one of the most memorable face-offs in the game. In addition, he reminds me a little of Bendy from another game, for which I also love finding plushies. Unfortunately, both characters have black-and-white designs, making them creepier for no reason. It might be a personal creepiness, but I find them horrifying.
FNF Tankman Plush Facts
Week: 7
Size: 10″
Quality: Excellent
FNF Tankman Plush Pros
The Tankman plush is a must-own collectible for FNF gamers
The contrast, embroidery, and details are excellent
Tankman's face is friendly to avoid scaring little kids
FNF Tankman Plush Cons
Some gamers want a battle-ready expression
The microphone and headband will break with many washes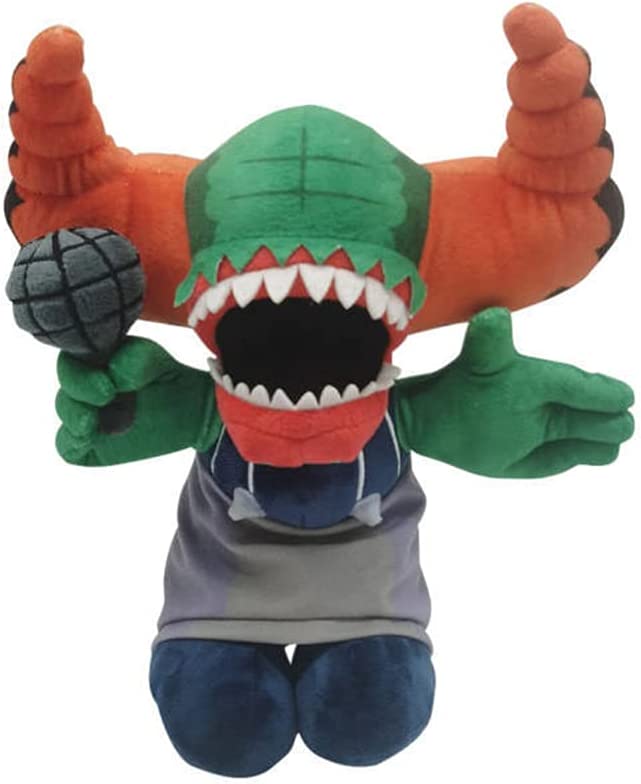 Tricky is a mysterious character the poor boyfriend faces in week four. So, I feel more sympathy for the boyfriend as I learn more about the troubles he faces to make everyone happy with his relationship. However, this plush is likely the best quality among the Friday Night Funkin collectibles. It has depth and personality.
FNF Tricky Plush Facts
Week: 4
Size: 10″
Quality: Excellent
FNF Tricky Plush Pros
The Tricky plush is the best-looking among all FNF plushies
Tricky is another crossover mod character for unique collections
The horns make him creepier than most, and the teeth will send chills down a boyfriend's spine
FNF Tricky Plush Cons
This plush might scare your actual boyfriend away
Unfortunately, the plush toy has various felt pieces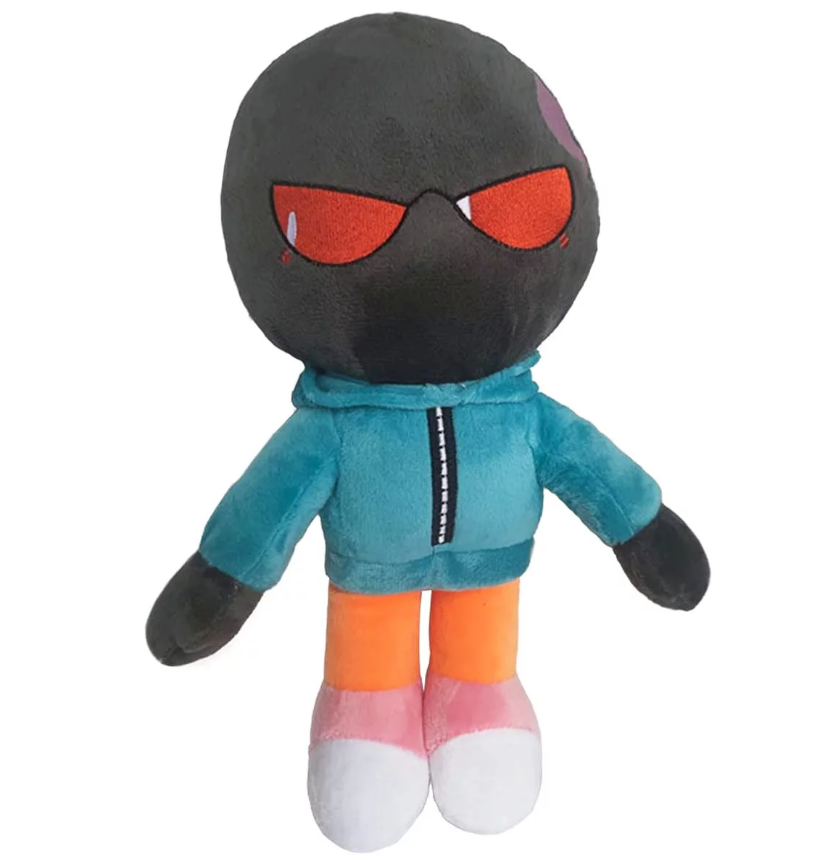 Whitty is another mod FNF character plush. Unfortunately, the plushies miss a few marks to match the in-game character. For example, Whitty has orange eyes and a bomb-shaped hand in the game. Still, this plush is the closest match I could find to the Whitty vs. Friday Night Funkin mod character. It's close enough for a win.
FNF Whitty Plush Facts
Week: Mod Week: Friday Night Funkin vs. Whitty
Size: 10″
Quality: Good
FNF Whitty Plush Pros
The FNF Whitty plush has the best details compared to the game character
It's another unique plush for gamers and collectors
The details are good, including embroidered pieces
FNF Whitty Plush Cons
The character plush misses a few marks anyway
The pink boots are simply ridiculous, but it matches the in-game mod character
FAQs
Question: Which Friday Night Funkin Plush Combo Is Popular?
Question: Does Sonic the Hedgehog Have an FNF Plush?
Answer: I have excellent news because Friday Night Funkin has a mod week from which you'll find the Sonic plush. So, Sonic shows up in the Friday Night Funkin vs. Sonic Exe game, except he becomes a mod character called Sunky. You'll find the Friday Night Funkin Sunky Plush available online.
Question: Which Friday Night Funkin Plush is the Creepiest?
Answer: The creepiest soft toy you'll find for the game is the Friday Night Funkin Tricky Clown Plush. However, the FNF Tricky Clown plush also has the best details among all Friday Night Funkin plushies. It looks insane, including the horns and teeth. In addition, it has brilliant colors and carries a microphone from the game.

Friday Night Funkin Plush Guide: Conclusion
Friday Night Funkin is a strange game that welcomes teens to play as a boyfriend. He must sing and battle against challengers weekly to impress the girlfriend, her father, and her mother. Indeed, it doesn't have the best lessons for kids to learn unless you want young boys and girls to know that effort makes relationships work.
Meanwhile, the game has excellent plushies for gamers, fans, and collectors. In addition, I use my week-by-week strategy to look for more characters as they turn into plushies. Many mod FNF character plushies exist, but there are more if you keep your eyes on the week-by-week characters.
However, I recommend the Friday Night Funkin Pico Plush as an excellent starter. It represents one of the main game's psychos every player will enjoy. In addition, the plush has excellent quality and looks like the in-game character. So, start your fan's collection today by adding beginners for most weeks.
For more gamer merch plushies
Plants vs. Zombies Plush Guide – Avid Plush
Best FNAF Plush Guide With Rare Picks – Avid Plush
Tails Plush Guide: Not Just Sonic's Sidekick – Avid Plush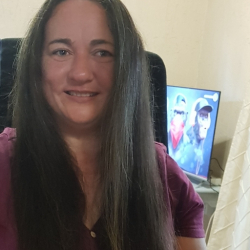 Latest posts by Caroline Lambert
(see all)