Baphomet has a bad reputation. However, various Baphomet plush appeal to Hindi, anime, goth, and video game fans, making Baphomet one of the broadest fandoms worldwide. As a result, I was excited to write a Baphomet plush guide because I don't see this fandom range much as a plush toys collector or mom.
Admittedly, my kids like Squishmallows more than Baphomet. However, I don't mind because the latter plush appeals better to a mature collector and enthusiast. Meanwhile, I'll use my years of experience collecting pop culture plushies to help you learn about Baphomet plush, including the inspiration and types.
Baphomet Plush Bottom Line Up Front
I haven't met a plush theme with as much controversy as Baphomet. Still, that makes him a favorite for alternative cultures, anime enthusiasts, and gamers. Meanwhile, some religious followers might also enjoy the selection of Baphomet plush. So, let me get to the point. I'm open-minded because I'm a plush collector.
In addition, I have a close friend who enjoys alternative plushies and merch. However, I won't buy these plushies for my kids because of a personal conflict. But it won't stop me from learning everything about them and sharing the various good-quality Baphomet plush with you. So, I'll share some of the plush toy's history.
Then, I'll help you distinguish Baphomet plush from other mystical creatures from similar storylines. Additionally, you'll be surprised how many fans Baphomet has in numerous fandoms. Finally, I'll use my identifiers to find the available plushies before sharing ideas on making or ordering a custom Baphomet plush.
But first, I always pick a favorite plush from a theme. So, the Mini Squishable Baphomet Plush is my favorite because I'm an anime fan. This version is popular among anime enthusiasts and looks adorable for an evil deity. In addition, it includes at least two recognizable features of the infamous Baphomet.
Next, check out some more fantastic Baphomet plush that does the diety justice.
A Glance at Some Fantastic Baphomet Plush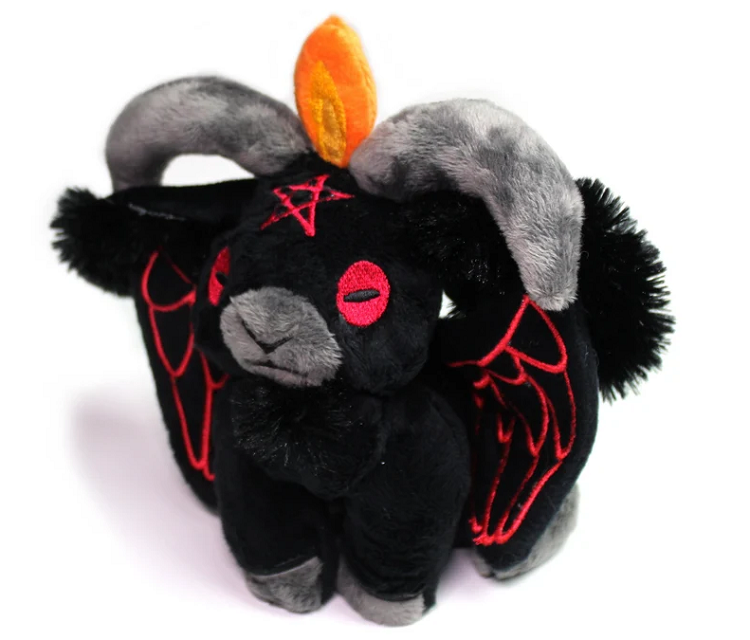 I'll share custom ideas soon. But first, let me glance at two more top Baphomet plush. Consider these plushies for alternative pop culture and gamers because I already shared a peek at my favorite anime choice:
The JP's Horror Premium Baphomet Plush is my ideal example for alternative culture fans because it has more Baphomet features than other plush toys. Meanwhile, the resemblance is the closest to Baphomet.
The Killstar Kreeptures Dark Lord Kinky Baphomet Plush is the perfect example for gamers because it looks like a villain you'd find in video games. In addition, the resemblance is uncanny.
The Ultimate Guide to Baphomet Plush
Baphomet plushies aren't for the faint-hearted or young at heart. I would never buy these plushies for my kids, but I'd consider them for the right friend as a gift. But first, I love understanding why a plush theme is so famous, and Baphomet undoubtedly has a relatively large fandom. Indeed, I have a friend who enjoys them.
So, let's see who Baphomet plushies appeal to, how you can identify the right one, and why I chose the recommendations I'll soon share.
Baphomet's Extensive Inspiration
Baphomet has a single origin as an idolized evil. So, Baphomet's history shows a colorful storyline filled with pagans, deities, and occult worship. The historical pagan deity dates back to First Crusade in 1,098 AC, making him one of the oldest idols. The infamous deity appears in most religious timelines as a false god.
Baphomet's infamous journey began when the pagans and Templars invented an idol to worship. Some scholars even believe that Muhammed was Baphomet, but there's no evidence to prove them right. Meanwhile, Baphomet was an infamous idol in France during the 1300s before the king arrested the Templars.
By the 19th Century, Baphomet became an idol among Freemasons. Unfortunately, they also have a terrible reputation for being occult and include some of the most powerful men in history. Finally, by 1861, Baphomet became an official occult idol among French Templars, Freemasons, and esoteric symbolists or worshippers.
As a result, Baphomet's colorful history undoubtedly makes him the center of attention for many fans and haters. Hence, Baphomet became part of many alternative cultures, including Satanism, Goth, and gnostic people. Meanwhile, he became a bad guy in video games and anime series.
Only mystical beings with a colorful history can traverse cultural, religious, gaming, and anime fandoms. Baphomet's other names include Lucifer, Satan, and the Devil because he resembles all things evil. But fortunately, Baphomet's plush can represent much more than his connection to ancient history and religion.
So, let's see how Baphomet fits into modern pop culture fandoms.
Baphomet's Game Appearances
Baphomet is an infamous character who appears in various popular video games, primarily as an antagonist. Some gamers enjoy collecting Baphomet plush as part of a game's collection. So, here are ten famous video games where you'll find the infamous character:
Broken Sword
Broken Sword II
Devil Survivor 2
Dungeons & Dragons (indeed, he shows up here, too)
Megami Tensei Gaiden
Monster Strike
Persona 5
Ragnarok Online
Shin Megami Tensei
The Binding of Isaac
Baphomet doesn't do anime evil. So, let's get my opinion straight on that from the get-go. However, he appears in some anime and manga series, including Baphomet: Makai Ouji and Blue Exorcist. So, Baphomet can be popular among anime and manga enthusiasts, too.
Baphomet's Gothic Connection
Baphomet's plush appeals to goth fans because they love individualism. They also enjoy dark merch and alternative collectibles. Baphomet fits nicely into the gothic lifestyle and merch collection. So, many plushies focus on finding homes with goth fans. There's no historical connection, but it shows another fandom group.
Know Your Baphomet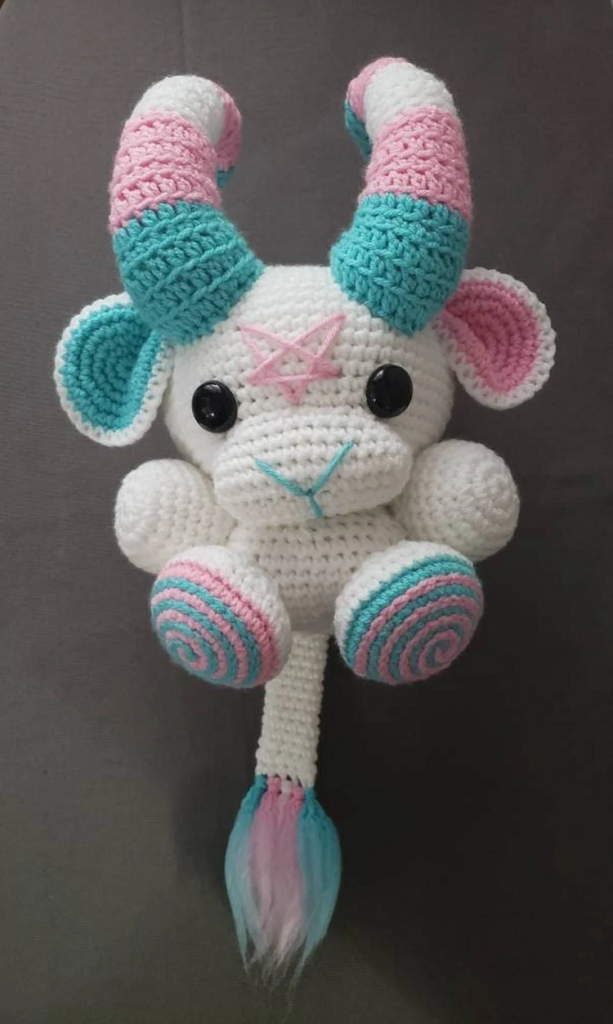 Many alternative lifestyle plushies exist, including the Hydra Dragon, the Cerberus dog, and the Cthulhu octopus. However, none of these gothic-themed plushies hit like Baphomet because he has so much history. So, learning to identify the proper deity for Baphomet fans is the best thing to do before collecting them.
Meanwhile, the deity's appearance never changes much. So, Baphomet is iconic for being a half-goat, a half-man with a pentagram on his forehead. Furthermore, Baphomet has wings and a long beard. Also, he has two serpents surrounding a staff against the deity's stomach while he holds a two-finger salute in his right hand.
The serpents are called Caduceus, and two young children stand on either end in some versions of the deity's image. Meanwhile, Baphomet's horns rise to the heavens, and traditional statues show breasts. However, modern Baphomet statues remove the breasts to avoid the gender debate.
In addition, the Baphomet statues and images traditionally have Latin words on his arms. For example, the left arm has the word Coagula, meaning "join together." In contrast, the right arm has the word Solve, indicating separation. Finally, Baphomet traditionally has a torch between his horns. So, he's easy to recognize.
How I Selected Baphomet Plush to Share
Baphomet plushies aren't standard because of the controversy behind the deity. However, the debate turns items, merch, and mystical beings into massive fandoms. So, there might not be many Baphomet plush available. Still, the fandom's size transcends the lack of plushies. So, I'll show you every example I can find.
But there's one rule to the Baphomet plushies I'll share. They must look like the description I gave or have at least two identifiers. For example, the famous Squishable Baphomet Plush doesn't resemble the devil well. However, it has characteristics that make it suit the description. Additionally, colors won't matter in my choices.
Baphomet Plush Guide: Perfect Examples
Please remember that I'm an open-minded mother. Some parents might approve of Baphomet plushies, even if I won't buy them for my kids. As a result, I'll rate the feeling of each Baphomet plush. It will be scary or cute. The cuter versions can work for kids, gamers, and anime enthusiasts. So, let's see which Baphomets are perfect.
Baphy the Baphomet Plush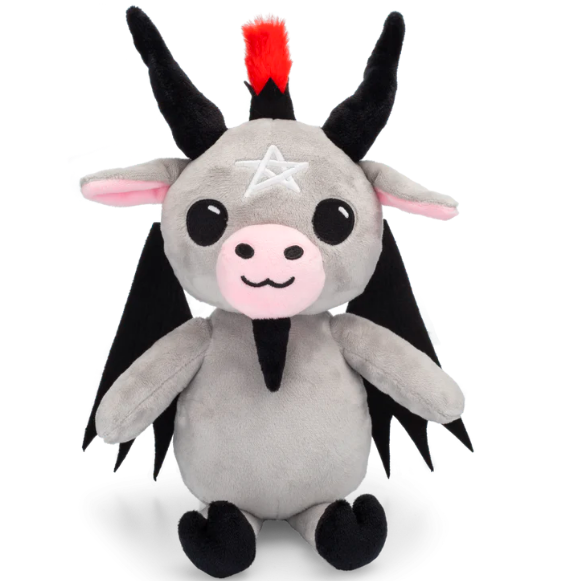 Baphy is my second favorite anime-enthusiast version of Baphomet because the creator uses a cuter variation to appeal to other fans. In addition, gamers would enjoy this little guy who looks more like a goat than Baphomet. However, Baphy has enough resemblance to the ancient deity to make my perfect examples.
Baphomet Plush Features
Maker: Pro Plush
Color: Gray and black
Size: 8″
Resemblance: Slight
Feeling: Cute
Baphomet Plush Pros
Baphy is an adorable plush toy that appeals to younger fans, gamers, and anime enthusiasts
It's a good-quality plush with solid stitching and a durable design
Not everyone will recognize this plush as the infamous Baphomet
The red fur representing the flame on Baphomet's head is smart
Baphomet Plush Cons
The gray color makes Baphy look less frightening
Baphy doesn't have many of Baphomet's features
The overall design looks more like an evil goat than Baphomet
JP's Horror Premium Baphomet Plush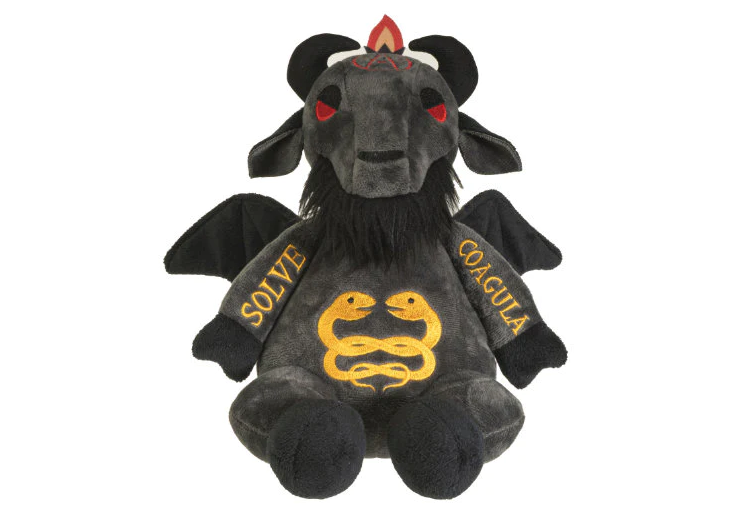 I love who supplies the premium Baphomet plush because it looks like a horror story that fits into the alternative culture. In addition, the resemblance between Baphomet and the plush is as close as you'll come. Meanwhile, it's the only Baphomet plush from commercial manufacturers with the symbol on his arms.
Baphomet Plush Features
Maker: JP's Horror
Color: Black
Size: 9″
Resemblance: Excellent
Feeling: Scary
Baphomet Plush Pros
JP's Horror version of Baphomet plush is as close as you come in resemblance
The Baphomet plush has nearly every emblem and symbol, apart from the two-finger salute
The plush toy's sitting position also resembles many of Baphomet's statues and images
This plush is the ideal pick for alternative cultures and goths
Baphomet Plush Cons
This Baphomet plush would undoubtedly give young children nightmares
The evil look in Baphomet's eyes better appeals to alternative cultures
The beard and flame on Baphomet's head will break with time
Kawaii Krampus Baphomet Plush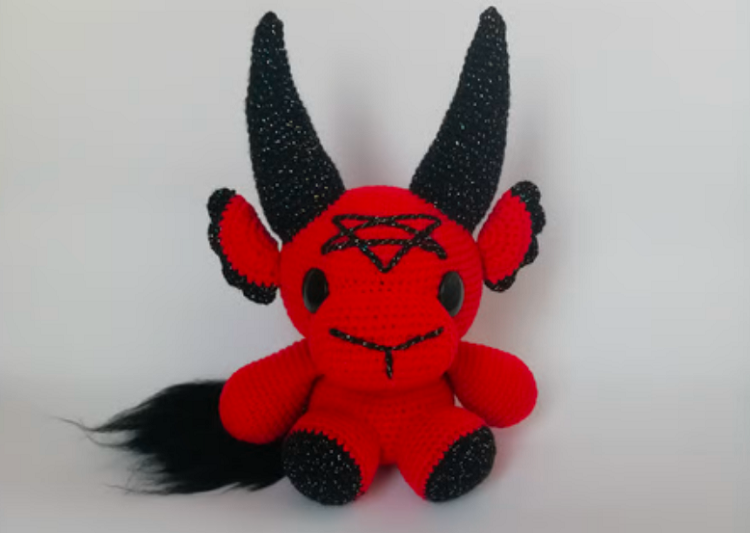 Krampus is merely another name for Satan, who comes by many titles. However, Krampus is traditionally red, like the devil we know in Western culture. So, this plush represents the connection between Krampus and Baphomet. In addition, it somehow touches a cute vibe with creepy aspects combined.
Baphomet Plush Features
Maker: Kawaii
Color: Black and red
Size: 8.6″
Resemblance: Medium
Feeling: Both
Baphomet Plush Pros
The Krampus Baphomet plush combines two variations of the devil
The red devil Baphomet plush has incredible details and is more significant than it looks
The yarn, furry tail, and big eyes make it suitable for little kids if you want that
This Baphomet plush looks like a better option for the alternative culture
Baphomet Plush Cons
The Baphomet red devil plush would send my daughter screaming at midnight
Krampus and Baphomet aren't entirely the same things
The cuteness might remove some value for goth and alternative cultures
Killstar Kreeptures Baby Dark Lord Baphomet Plush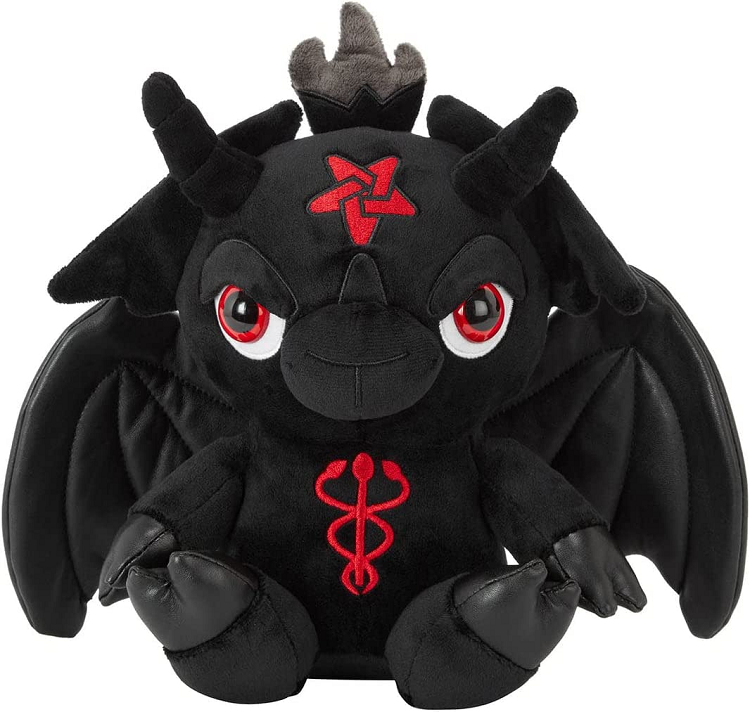 Killstar Kreeptures makes the best Baphomet and alternative pop culture merch, including plush toys. In addition, they have a few versions of Baphomet, even going into plush slippers and backpacks. Meanwhile, the baby version of Baphomet's plush is cute and creepy. However, the extra wings do the plush toy damage.
Baphomet Plush Features
Maker: Killstar Kreeptures
Color: Black
Size: 10.6″
Resemblance: Medium
Feeling: Both
Baphomet Plush Pros
This Baphomet plush is adorable and bitter-sweet as an evil-looking baby goat
Turning any plush into baby versions appeals to a different crowd
This Killstar Kreeptures Baphomet plush is better suited to alternative pop culture
Admittedly, the quality is next-level, and the colors are deep and dark
Baphomet Plush Cons
The extra set of wings behind Baphomet's ears is unoriginal and unnecessary
Baphomet's eyes shine too much, and he has a smile on his face
Somehow, this version of Baphomet looks more like a dragon
Killstar Kreeptures Bapho-Ted Baphomet Plush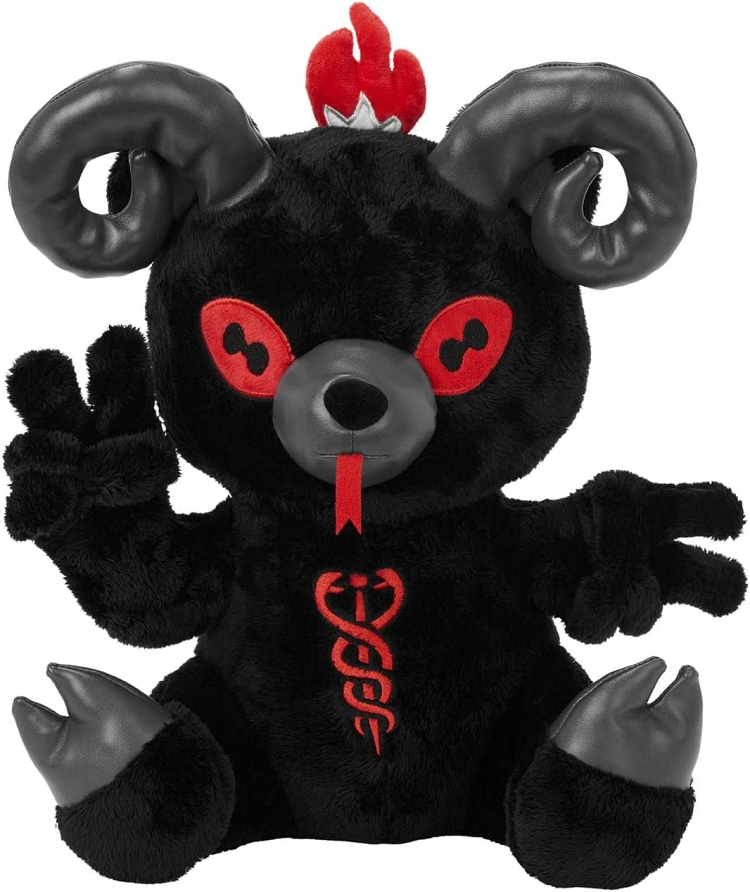 If I were giving out prizes for the creepiest, most evil Baphomet plush, the Bapho-Ted from Killstar Kreeptures would win repeatedly. In addition, this Bapho-Ted plush removes some of the deity's classical features to look more like a teddy bear. Instead, the brand focused on Baphomet's infamous two-finger salute with this one.
Baphomet Plush Features
Maker: Killstar Kreeptures
Color: Black
Size: 12″
Resemblance: Medium
Feeling: Scary
Baphomet Plush Pros
The Killstar Kreeptures Baphomet plushies are more in demand than others
The design of Bapho-Ted is insanely creepy, including the curled horns
The eyes, flame, and hooves will freak you out in the middle of the night
This Baphomet Bapho-Ted plush is ideal for the alternative pop culture
Baphomet Plush Cons
Please don't buy this plush for little kids because they have a frightening threshold
The teddy bear aspect removes resembling qualities from the plush
The protrusive tongue has nothing to do with Baphomet or his culture
Killstar Kreeptures Dark Lord Baphomet Plush Backpack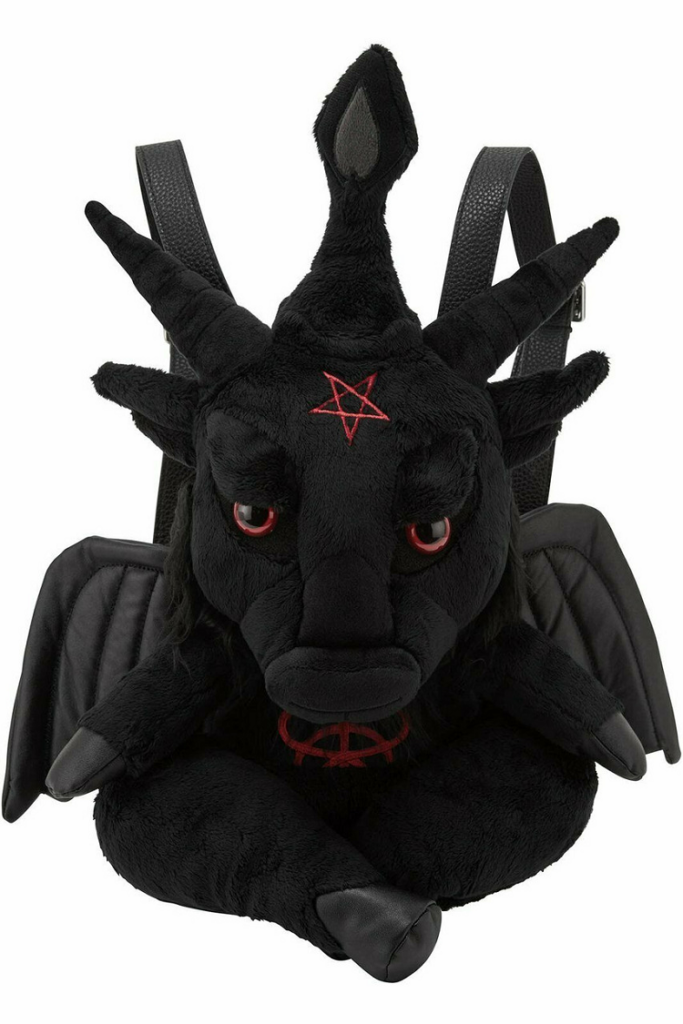 Killstar Kreeptures also makes a gorgeous Baphomet plush backpack to allow an on-the-go relationship with fans. Understandably, backpacks aren't traditional plush toys. However, nothing about Baphomet represents traditional styles. Meanwhile, Killstar's quality is top-notch on plush toys, backpacks, and slippers.
Baphomet Plush Features
Maker: Killstar Kreeptures
Color: Black
Size: 12″
Resemblance: Excellent
Feeling: Scary
Baphomet Plush Pros
Alternative pop culture fans can carry Baphomet around
The resemblance is uncanny for a plush Baphomet backpack with straps and all
The beard, symbolism, crossed legs, horns, pentagram, and flame are spot-on
It's one of the best Baphomet plush I found, but it's a backpack
Baphomet Plush Cons
Unfortunately, some fans prefer traditional-styled plush instead
Baphomet's eyes are gleaming with horror and evil, making him a no-go for kids
Killstar Kreepstures could improve the hooves with more detail
Killstar Kreeptures Dark Lord Kinky Baphomet Plush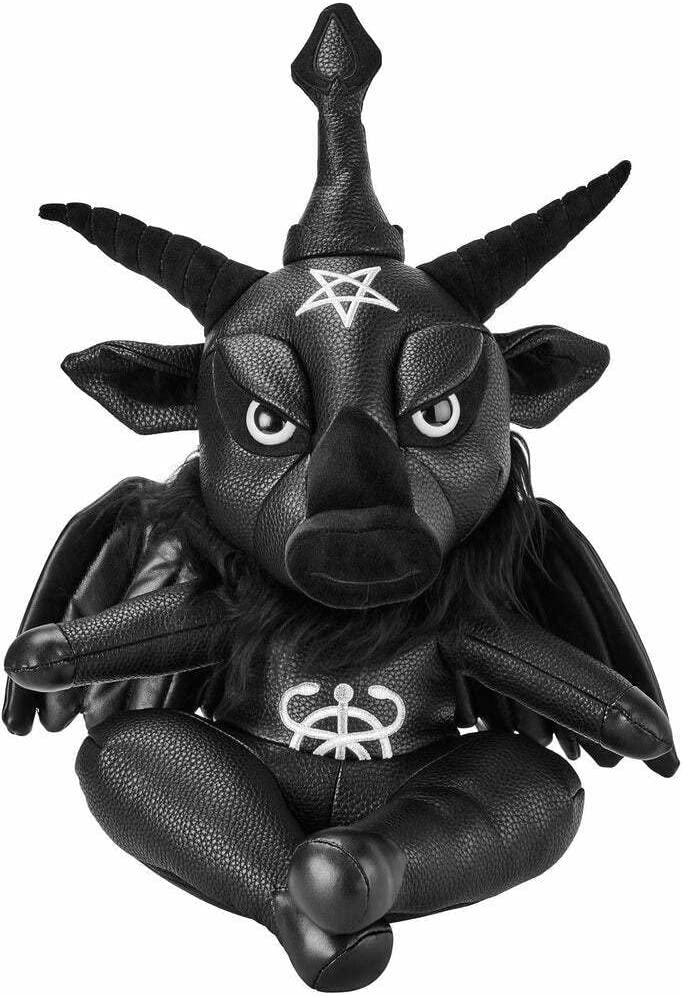 Alternative pop culture includes kinky and other aspects that traditional pop culture doesn't dabble in much. So, the Killstar Kreeptures Kinky Baphomet plush is insanely impressive. Meanwhile, the design looks like a demonic villain from video games. So, this Baphomet plush is ideal for gamers and the alternative culture.
Baphomet Plush Features
Maker: Killstar Kreeptures
Color: Black
Size: 12″
Resemblance: Uncanny
Feeling: Scary
Baphomet Plush Pros
The leather design and white background on this Baphomet plush are perfect
Even Baphomet's face has detailed expressions and sound symbolism
Baphomet's horns, crossed legs, symbolism, and eyes are spot-on
This Baphomet plush looks more like a goat-man than others
Baphomet Plush Cons
The Baphomet plush has white to replace red, which doesn't appeal to all goth collectors
The leather aspect looks excellent to me, but it might be too shiny for some fans
Baphomet's flame looks slightly too big for his head and body
Mini Squishable Baphomet Plush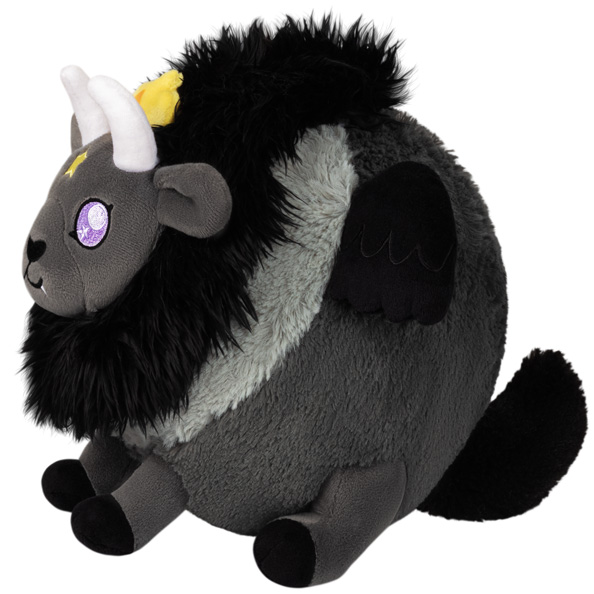 The Mini Squishable Baphomet is the furthest from the deity's iconic features. Still, this plush works for me as an anime lover. It looks like a creature I'd encounter in an anime series. In addition, it seems like a dark Pokémon creature more than Satan, which I hope doesn't offend genuine fans. But it's my honest opinion.
Baphomet Plush Features
Maker: Squishable
Color: Black and dark gray
Size: 8″
Resemblance: Slight
Feeling: Cute
Baphomet Plush Pros
The Squishable Baphomet plush is beyond adorable and suitable for younger fans
The color contrast works well, and the whiter eyes make him look slightly evil
The Baphomet plush is incredible, with an alternate pentagram
The Squishable Baphomet plush would be ideal for gamers and anime enthusiasts
Baphomet Plush Cons
Alternative pop culture enthusiasts might see the Squishable Baphomet as a joke
The resemblance isn't as close as I'd like
The white horns, teeth, eyes, pentagram, and round body make it look like a different animal
Custom Baphomet Plush Ideas
I won't stop searching for every example or possible plush just because I dislike the overall inspiration. So, I'll share two methods of finding Baphomet plush beyond the limited choices in alternative stores. Firstly, I'll share how you can make one. Then, I'll find the best custom jobs available. So, let's get into customized Bapho-plush.
How to Make Your Own Baphomet Plush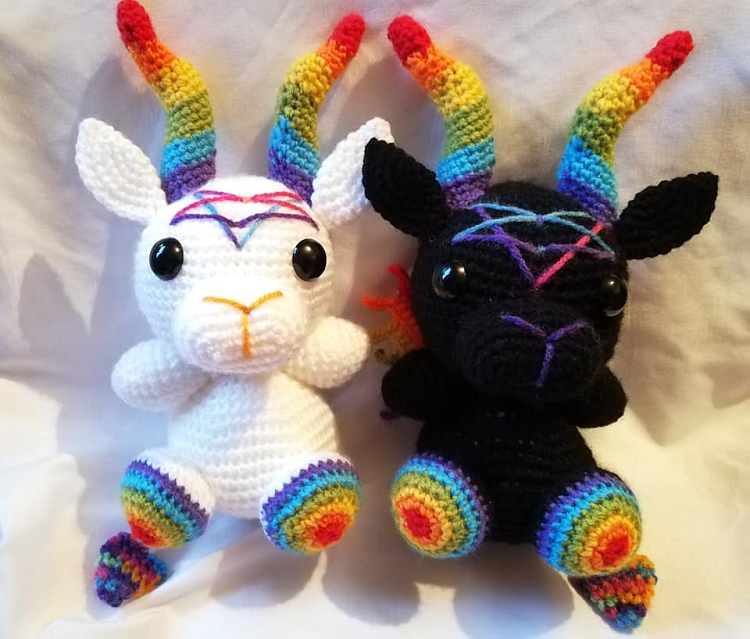 Are you a fan of following patterns and making gorgeous plushies that appeal to your alternative lifestyle? If so, I have the best method of customizing Baphomet plushies. In addition, designing your plush at home will make it much more satisfying. So, here are patterns and tutorials to create Baphomet plushies at home:
Please note that Ravelry's pattern design will look a lot like my red devil Baphomet plush with yarn. However, it's a gorgeous design with customizable colors. Meanwhile, I only shared patterns and tutorials that look easy. In addition, I would attempt to make these Baphomet plushies.
Ordering a Custom Baphomet Plush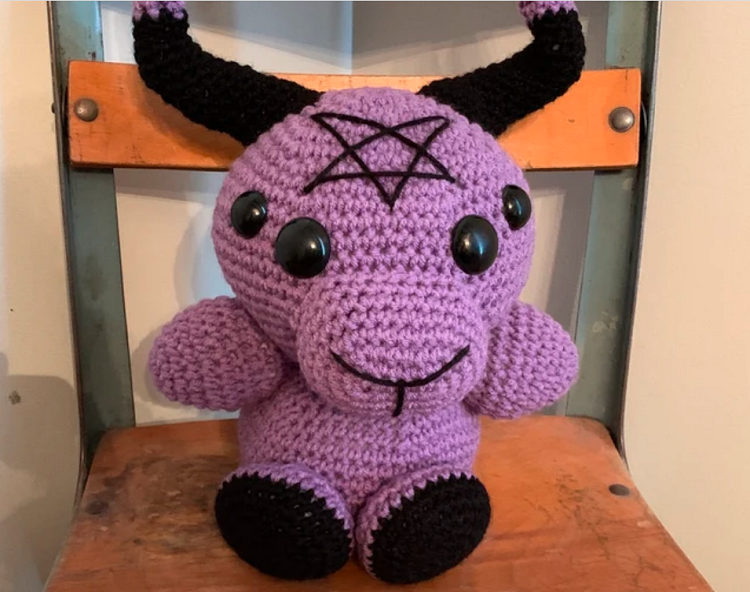 The alternative to making your own Baphomet plush is to order one from a custom designer. Meanwhile, I picked a few Etsy plush designers with good reputations that offer Baphomet plush orders. Also, remember that you can customize and work with these designers to create something new.
These Etsy designers offer gorgeous Baphomet plush and have good ratings:
NB: On a side note, you'll notice many Pride and LGBTQ+ Baphomet plushies among the custom jobs. The LGBTQ+ community also divulges in alternative pop culture, meaning Baphomet might appeal to some fans from the community. Baphomet's fame and fandom variety never ceases to amaze me.
Bonus: Budsies Custom Photo-Print Plush
My bonus Baphomet plush lead is a newer company called Budsies. I recently ordered a photo-print plush from this company. Admittedly, they take time to fulfill orders, and shipping can be troublesome. However, the result was brilliant. My daughter's drawing turned into the weirdest plush ever.
Moreover, I love that Budsies doesn't judge what you want from a plush toy. They'd be happy to make custom Baphomet plushies from images you upload on their website. However, I highly recommend Budsies for customized plush designs, Baphomet or others. Also, they do custom vinyl figures and other merch as a bonus.
FAQs
Question: Which Baphomet Plush Slippers are Good Quality?
Answer: Plush slippers aren't a traditional soft toy, but they keep your feet warm and are popular. So, alternative pop culture enthusiasts might desire a comfy pair of Baphomet slippers. For example, the Killstar Baphomet Slippers and the Killstar Bubblegum Baphomet Slippers are excellent for male and female fans.
Question: What Unique Baphomet Plush Comes from Killstar?
Answer: Killstar Kreeptures, the most famous manufacturer of alternative culture merch, makes plush slippers and backpacks. For example, they make a Kreepsville Goathead Baphomet Plush Backpack and a Killstar Dark Lord Baphomet Plush Backpack. Both options are fantastic for alternative pop culture enthusiasts and goths.
Question: Where Can I Find Baby Baphomet Plush?
Answer: Fortunately, two baby Baphomet plushies exist. Firstly, the Killstar Kreeptures Baby Dark Lord Baphomet Plush keeps the evil deity's signature features creepy while making him a cute baby plush. Alternatively, the Mini Squishable Baphomet Plush is another baby version but doesn't resemble the goat well.
Baphomet Plush Guide: Conclusion
Baphomet plushies are a thing, whether you love or hate them. The colorful past allows the plushies to appeal to various fandoms, including goths, alternative pop culture, gamers, anime enthusiasts, and religious followers. Knowing the plush's history before considering one is good. Moreover, you can recognize him now.
Meanwhile, I'll stick to my favorite example, the Mini Squishable Baphomet Plush. I'm ultra-tolerant of alternative pop culture trends, but I prefer the cuter version that appeals to my anime side. In addition, the slight resemblance makes this baby Baphomet plush more attractive and less frightening.
So, the Squishable Baphomet plush is my top recommendation. However, I encourage you to buy one that appeals to your fandom. However, I suggest buying one soon unless you plan to customize a Baphomet plush because there aren't many available.
For more collectible plush: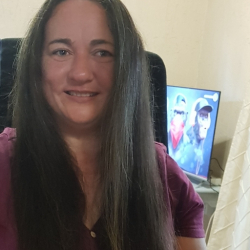 Latest posts by Caroline Lambert
(see all)