Monokuma is a condescending, convoluting, and hysterical mascot from the Danganronpa games and anime. Still, I enjoy the twisted storylines of the show. So, I'm excited to find every collectible option to share in my Monokuma plush guide. My family enjoys anime, and my son plays some Danganronpa games.
Meanwhile, we're a family of avid plush toy collectors with vastly different passions. For example, my daughter loves cute unicorn Squishmallows. However, my son's an avid fan of anime and its merch. For instance, Monokuma is an arrogant bear. Still, he's a much-loved pick various fans enjoy.
You can see his fame in the Danganronpa plush guide. So, let's see which Monokuma plushies can bring joy to anime fans and gamers.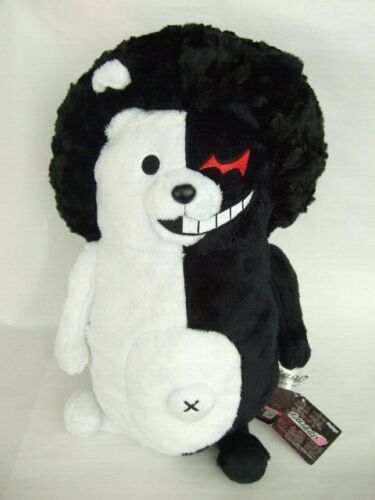 Monokuma Plush: Bottom Line Up Front
Monokuma is a sick character, but the entire Danganronpa game and anime franchise has twisted tales. It's a famous story theme from Japan. Meanwhile, I watch the series with my son, but my daughter's slightly young. My son and I agree that Monokuma is the best plush character from Danganronpa.
We love how he looks exactly like the on-screen bear because his design is a simple, plush copy. It's exciting to share the many Monokuma plushies, including one for a relative. In addition, I'll share tips on how to keep the two-tone colors safe while cleaning the bear. I'll also reveal potential ways to expand a Monokuma collection.
But first, glance at my favorite Monokuma plush example. The Medium Danganronpa Graduate Monokuma Plush is my ultimate recommendation for any collector because it's the only Monokuma available with a mascot costume this year. You'll find others, but you'll have to buy pre-owned soft toys.
However, peek at some quick facts about Monokuma plushies before learning about the character, his relatives, collector's tips, and cleaning advice for the two-toned bear.
Quick Monokuma Plush Overview
You must know which Monokuma-related plushies exist (he isn't alone)
You'll need tips on cleaning two-tone plushies to keep them neat
Quality Monokuma plushies have bright colors and excellent details
A Complete Guide to Monokuma Plush
Monokuma is a legend in the Danganronpa games and anime. However, the robotic bear has some personality clashes, and he isn't the only animatronic-styled plush available for the game. Meanwhile, it helps to know how to keep two-tone color plushies safe when washing them. So, let's dig into the details.
Danganronpa's Monokuma
Would you believe that Monokuma is a mysterious character on Danganronpa? The mystery originates in his character and appearance, which seem to contradict each other. I see the contradiction in Monokuma's animatronic-styled character because he represents the balance of the Japanese yin and yang.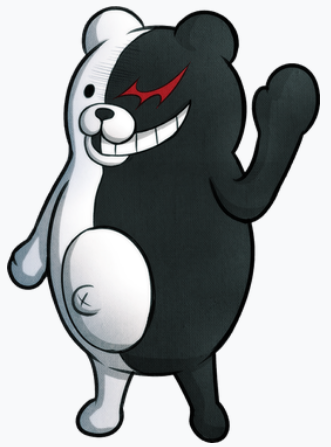 Meanwhile, Monokuma is a headmaster, also called an executioner. I've watched him in various series and seen my son play the games. Monokuma has no form of balance in his mind, even if his design represents it. Monokuma is an infamous character from Danganronpa, and kids and anime fans love him.
The black and white robotic bear oversees the killing games in various seasons. At first, Monokuma seems like a sweet bear, but he doesn't waste time showing his shadow side. He loves what he does and enjoys talking about it. Monokuma's laugh is a sadistic, somewhat mocking sound that gets everyone pumped for the games.
Monokuma thrives on chaos, murder, and violent showdowns at the killing games. Monkuma's  famous phrase is "thrills, chills, and kills!" Monokuma doesn't deserve a following, but he has a massive fandom. So, he comes in various plushies. My family loves anime shows and understands Japanese trends.
So, we don't mind the plushies.
Advice for Monokuma Plush Collectors
Monokuma is one of Danganronpa's most infamous animatronic-styled characters. However, anime collectors and avid gamers might enjoy collecting a few of his relatives from the universe. In addition, I enjoy finding other plushies connected to a specific character if I'm serious about collecting that character's soft toys.
So, my tip is to keep looking for Monokuma's relatives in the plush form to expand your Danganronpa animatronic-styled plush collection. So far, I quickly find Monomi, Monokuma's sister. However, I don't see his children yet. So, look out for Monokuma's Monokubs to expand your collection.
I'm also waiting to see if Great Eastern Entertainment will design plushies for the cubs. Here's a quick color breakdown to find the cubs when someone makes them:
Monotaro has a maroon-and-white contrast
Monokid has a blue-and-white contrast
Monophanie has a pink-and-white contrast
Monodam has a green-and-white contrast
Monosuke has a brown-and-white contrast
Nanokuma has a gray-and-white contrast
Furthermore, Monokuma also occasionally comes in different costumes. For example, Monokuma once wore a cowboy outfit for plushies. The infamous bear also wore a vampire cape as a Halloween special-edition plush. Sometimes, you'll also find crossover plushies from Sanrio, blending Monokuma with Hello Kitty.
However, I'll share some examples at the end of my article. Unfortunately, you'll only find pre-owned limited-edition Monokuma plush because they sell out fast. However, I'll also include a section on custom Monokuma plush soon to compensate for the necessary limited-edition Monokuma plush hunting.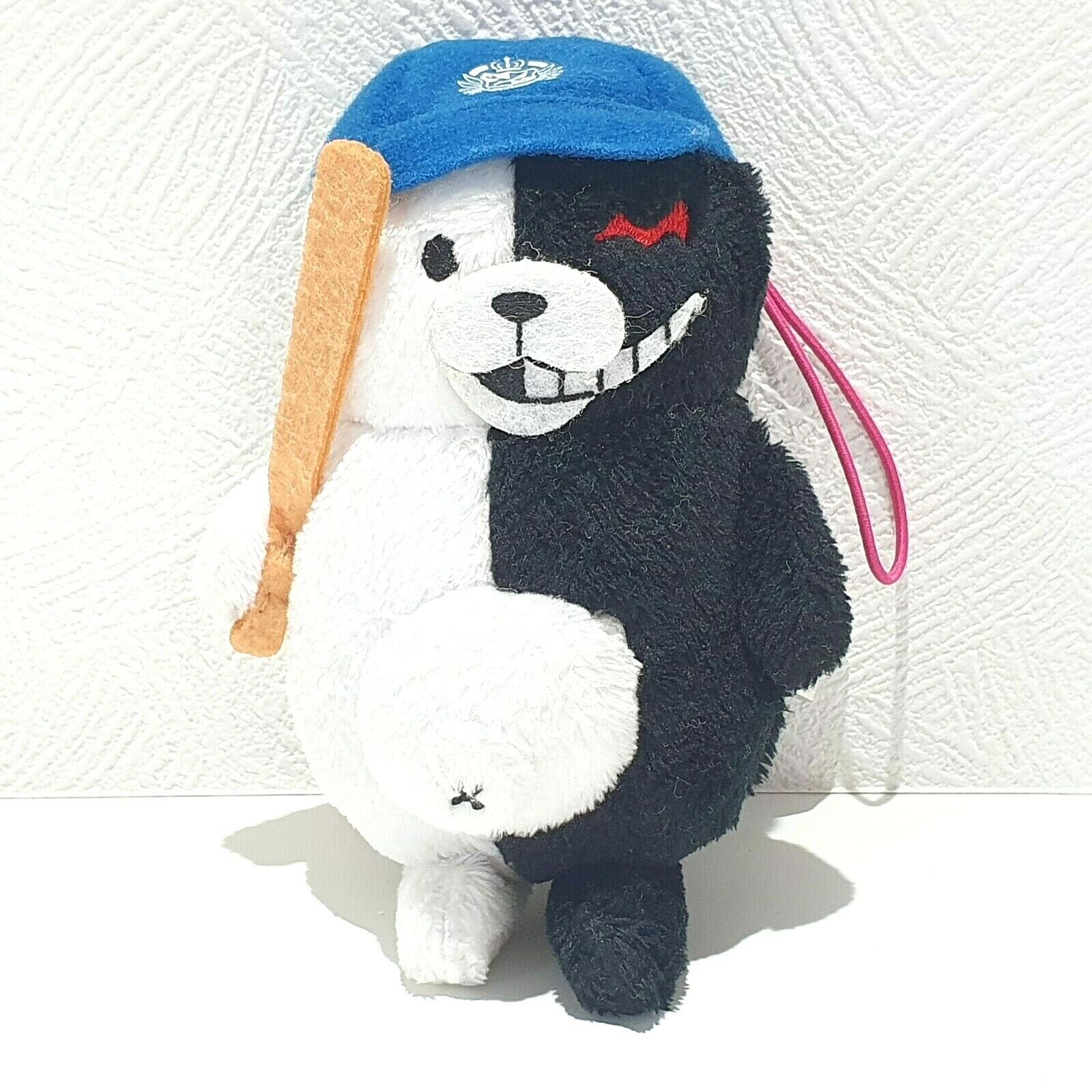 How to Clean Two-Tone Color Plushies
I'm a plush collector and an anime fan. However, I'm also a mom who must clean everyone's collectible plushies. I immediately knew Monokuma and Monomi plushies were problems because they have two-tone colors that could cause problems in a regular wash. So, I learned how to keep two-tone colors safe.
But first, know that handwashing is king for two-toned plushies. In addition, you should only use cold water to handwash your two-tone plush. Gentle soap is welcome, but avoid any detergents with bleach. So instead, I use handwashing detergent or a bar of white soap to wash the plushies.
Meanwhile, start washing your two-tone plush with the lightest color first. Next, soap the white color generously with your soap bar before rinsing it under cold water. Then, please move to the darker side to do the same before rinsing it under cold water.
Finally, avoid putting two-tone plushies in the dryer because heat makes the colors blend.
How I Chose Monokuma Plush Examples
Fortunately, Monokuma doesn't have millions of plushies. So, I'll share some good-quality Monokuma plush, including Monomi's plushies. Of course, good-quality plushies must have bright colors and well-designed embroidery. In addition, quality plushies don't have flimsy limbs that hang further than they should.
Finally, I'll add some style and size variations to show you a few examples. By style variations, I mean some Monokuma plushies come with an accessory. However, variety is my life's spice. So, let's find various plush.
Monokuma Plush Guide: Only the Best!
Only the best is what I'm looking for regarding Monokuma plush because too many poor-quality plushies stock the shelves. So, let me share the various sizes and variants for Monokuma. In addition, I have two gorgeous Monomi plushies to expand your Monokuma collection.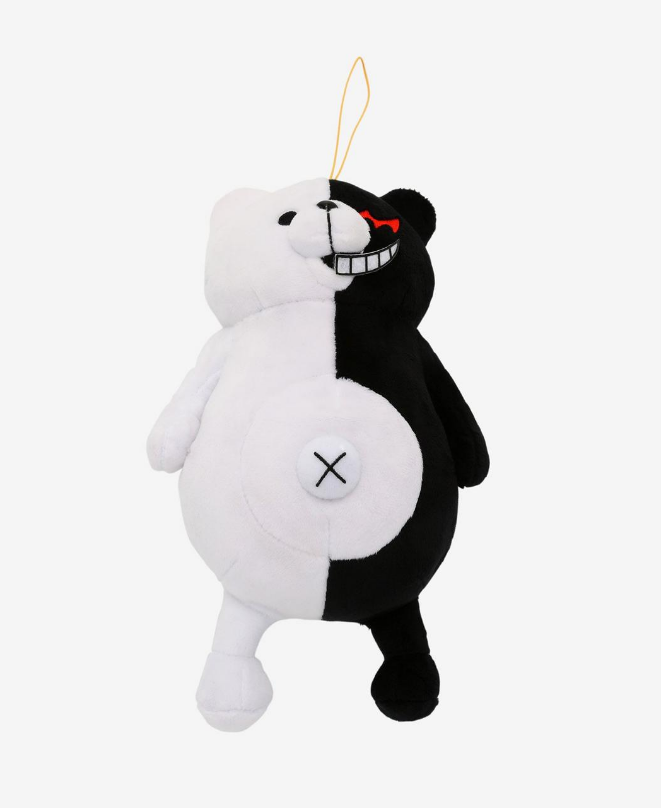 Hot Topic has the ultimate pick for quality and design regarding Monokuma's smallest plush size. The eight-inch Monokuma plush has excellent details with solid contrasts between black and white. In addition, it shows how much distinction Monokuma has in his personality, going from friendly and wise to hysterical and violent.
I have one issue with Hot Topic's Monokuma plush. The mouth has a weird design that doesn't allow the teeth on Monokuma's dark side to look like they naturally flow into his light side. Furthermore, there's nothing wrong with this gorgeous plush from Danganronpa. Monokuma's duel personality can shine bright with this plush.
Monokuma Plush Pros
Hot Topic's Monokuma plush is one of the best-quality options
Hot Topic only sells plush with collectible opportunities
The eight-inch Monokuma plush is ideal for more extensive collections
The colors are perfect, and the legs are solid
Monokuma Plush Cons
The mouth and teeth are my biggest problems
Monokuma's shape is slightly too round for the on-screen bear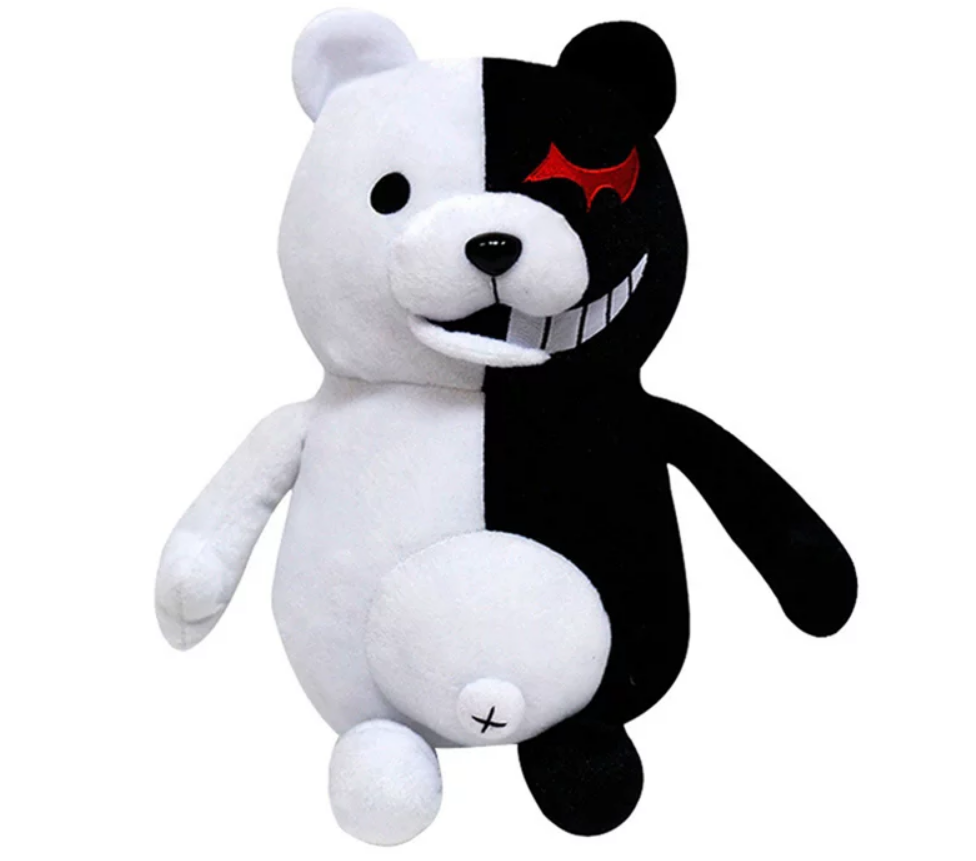 My second favorite choice for collectible Danganronpa and other anime merch is medium or ten-inch plushies. Smaller-size plushies allow me to expand my collection with custom designs and limited-edition plush when they hit the stores. I don't collect Monokuma plush religiously, but I recommend tinier plush if you do.
Imagine owning ten 15-inch Monokuma plushies. Furthermore, the ten-inch Monokuma plush has brilliant colors to enhance the character's insane change between dark and light. The sadistic side of Monokuma's mouth also blends better into the lighter side of his face, making it look more natural for the psycho bear.
Monokuma Plush Pros
The ten-inch Monokuma plush is fantastic for collections
It has some of the brightest contrast colors among them
The bottom legs are shorter to add more stability
The red eye's embroidery is magnificent, with intricate detailing
Monokuma Plush Cons
The ten-inch Monokuma plush's arms are slightly long
Monokuma's navel sits too low on this plush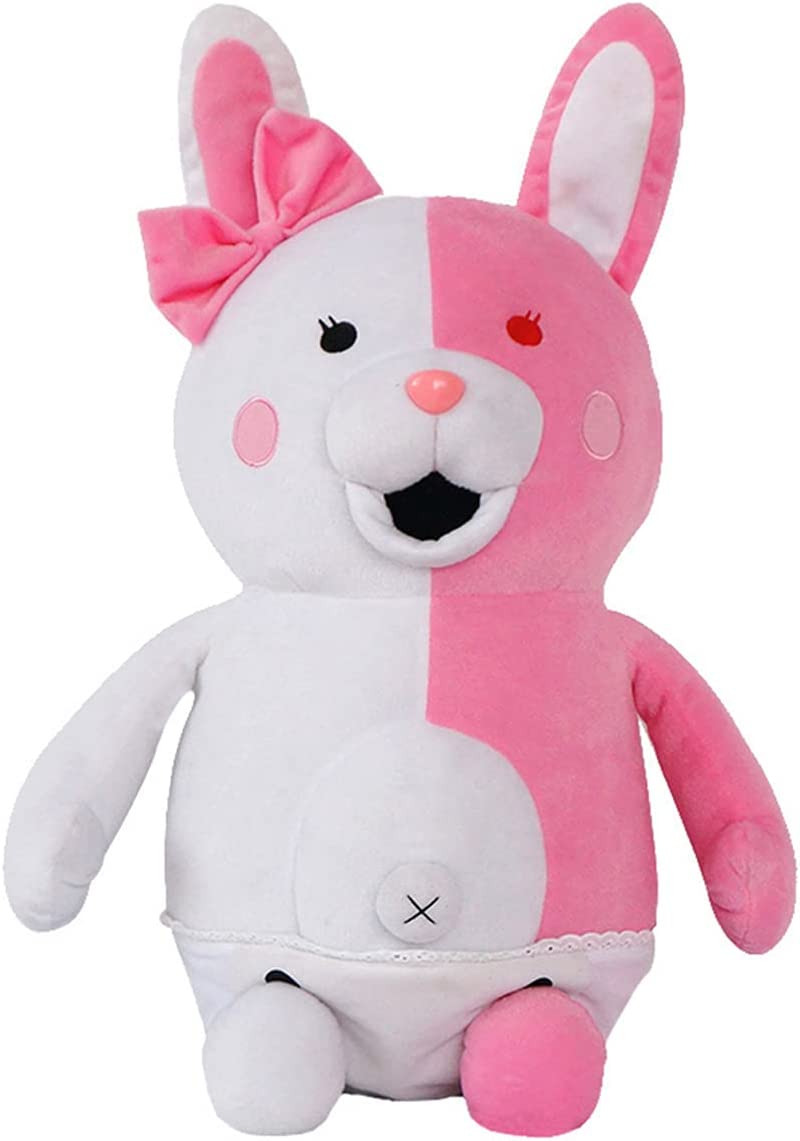 Unfortunately, I didn't find a small Monomi plush worthy of my quality checks. The colors were off, and the plush shapes looked awful. Finally, however, I found a brilliant medium-sized Monomi plush. The hot pink color on this ten-inch Monomi plush is beautiful. The brightness lights her up as a plush joy for anime lovers.
Meanwhile, Monomi is Monokuma's sister, meaning she's ideal for expanding Monokuma's plush collections. In addition, it adds a new lore element to your plush collection because Monomi's personality differs massively from Monokuma. She's a sweet robotic rabbit who would do anything to protect her students.
Monokuma Monomi Plush Pros
Monomi's ten-inch plush has brilliantly bright colors
The embroidered eye and cheek details are of excellent quality
She adds a new element to Monokuma plush collections
The hot pink bow and eye color contrasts increase her collectible value
Monokuma Monomi Plush Cons
Monomi isn't Monokuma and would only appeal to more extensive anime collectors
Monomi's diaper always looks weird on her plushies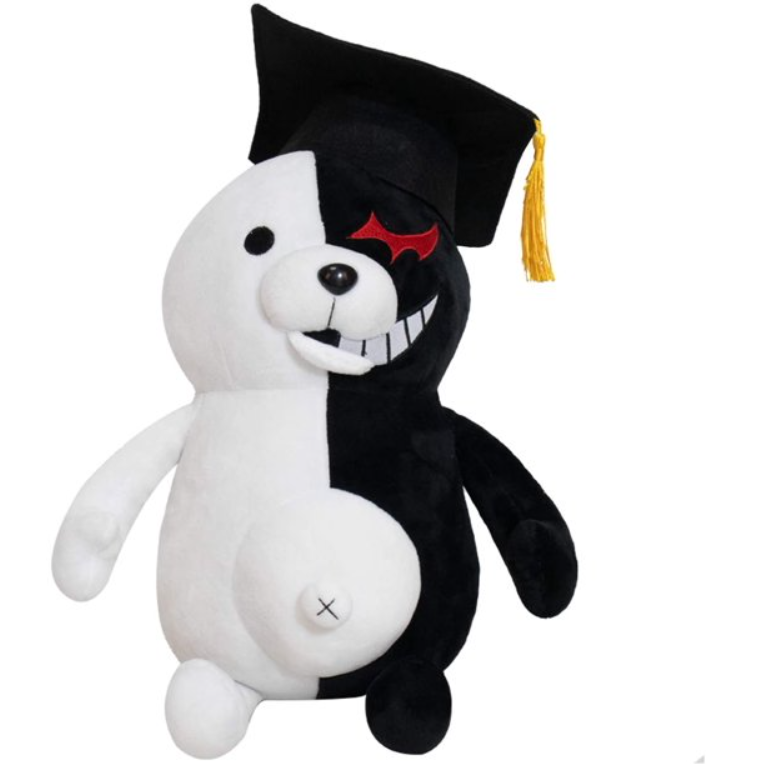 Finding the mascot costume Monokuma plush is like searching for gold in the ocean. So, I'm more excited about this Monokuma plush than any other. Indeed, the mortarboard graduate hat on Monokuma's head adds a unique element you don't see on standard plushies. In addition, mascot costumes are always limited-edition.
Meanwhile, I also see the irony of Monokuma's graduation cap because he's not the most inspirational character to his students. In contrast, Monokuma is a sadistic headmaster with violent tendencies. But that's what makes the show and games fun for anime lovers. So, I highly recommend collecting this Monokuma plush.
Graduate Monokuma Plush Pros
It's the only mascot costume Monokuma plush available this year
Monokuma plushies in costumes are limited-edition collectibles
The quality meets my standards for a collectible Monokuma plush
The shorter legs ensure a long-lasting plush
Graduate Monokuma Plush Cons
Monokuma's bottom lip slants too much to the right
The tassels on the graduation cap can break off with too much handling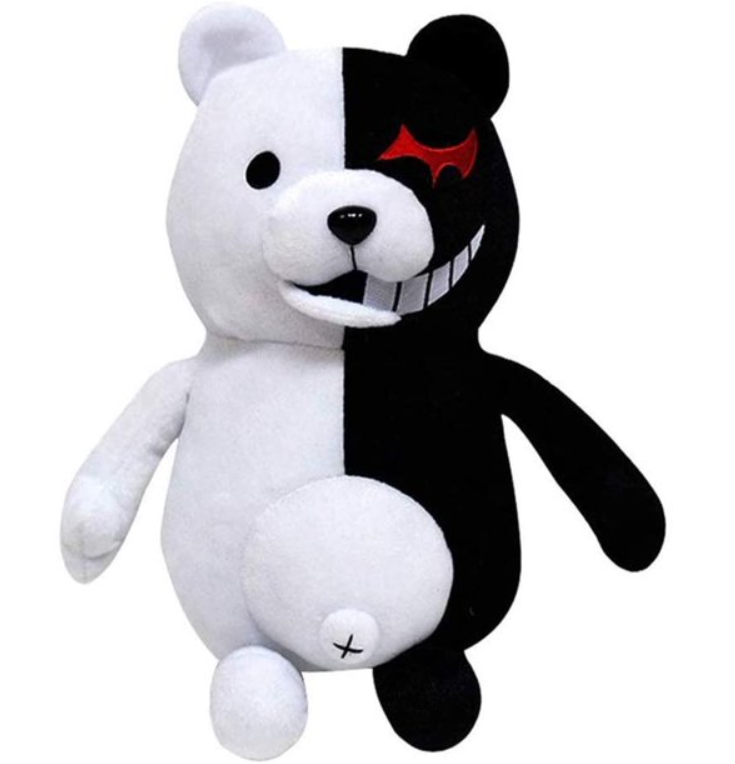 Giant Monokuma plushies are better suited to someone who loves the character enough to want him in everyone's face. The 14-inch Monokuma plush is enormous compared to the other plushies. Meanwhile, the more significant size Mokokuma plush could better represent the headmaster's gigantic ego.
Monokuma pretends to be friendly and lovable. Yet, he has a nasty side and appears as an arrogant bear willing to put the students through the worst horrors. So, some Danganronpa fans will enjoy his giant plushies because they represent how arrogant the bear appears in the seasons. Sadly, the big Monokuma plush isn't available.
Monokuma Plush Pros
It's the most prominent Monokuma plush available in stores
The color contrasts are ideal, and the embroidery is impressive
The shorter legs make this Monokuma plush more durable
The teeth and mouth on this plush blend perfectly
Monokuma Plush Cons
It would be best if you clarified wanting the large Monokuma plush when checking out
Monokuma's arms are undoubtedly too long for this plush's size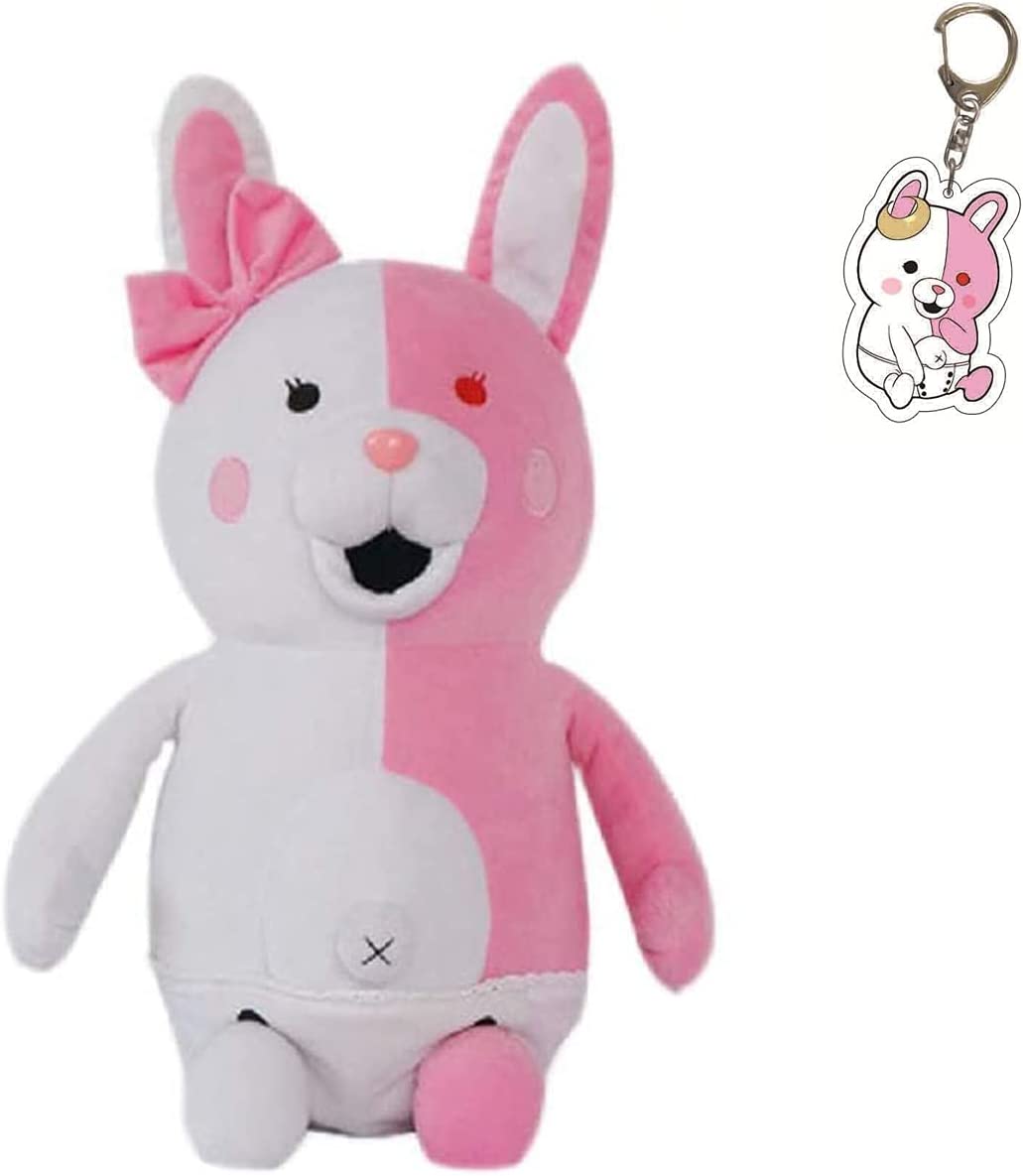 Monomi, the sweet rabbit with a cowardly side, also has a more prominent plush in stores. Admittedly, the colors and details deteriorate on the 14-inch Monomi plush. Sadly, you see poorer quality in larger sizes, no matter which character. However, Monomi comes with a brilliant surprise in her prominent plush.
Collectors and fans will love the Danganronpa Monomi keychain for free when buying the plush. I spend way too much money on plush and anime merch. So, any freebie is most welcome. In addition, the details still meet my quality checks, even though the medium Monomi plush looks better.
Monokuma Monomi Plush Pros
The 14-inch Monomi size is excellent for younger fans as a plush friend
Fans enjoy the Monomi keychain freebie when buying this edition
It's the most giant Monomi plush available in stores
The pink bow and eye color contrast are spot-on
Monokuma Monomi Plush Cons
Monomi isn't Monokuma and won't appeal to all collectors
Monomi's colors aren't too bright, and her details are slightly questionable
Bonus: Cosplay Monokuma Plush Items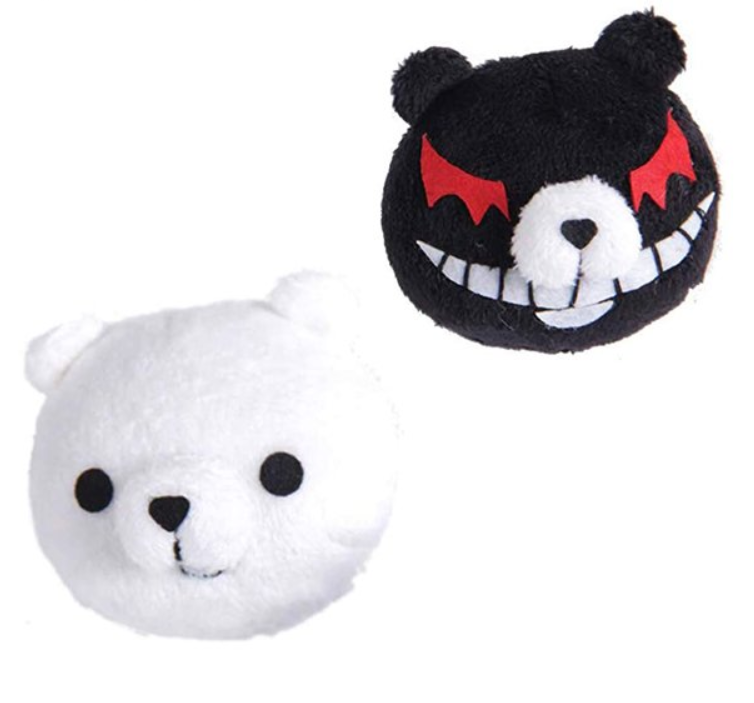 Some Monokuma plushies aren't traditional. For example, you'll find Monokuma plush merch for cosplay. The Danganronpa Monokuma Plush Cosplay Hairpins give you two versions of Monokuma, one for each side of your head. Meanwhile, the Danganronpa Monokuma Plush Cosplay Beanie will keep your ears warm.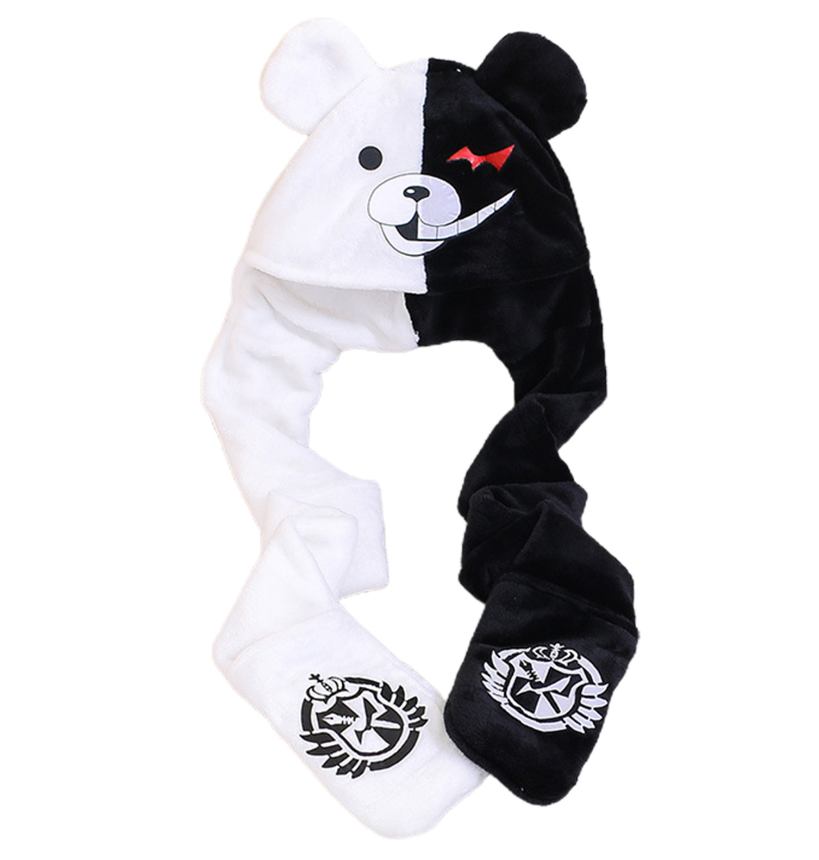 Bonus: Make Your Own Monokuma Plush
Fortunately, we live in a world where custom plush is one click away. You can custom design any plush, including Monokuma. However, there's one tip I can share about sourcing an Etsy plush designer. Please look at their ratings and feedback before using them. So, I'll only share Etsy designers that have excellent feedback.
Suppose you're ready to custom design a Monokub plush or other unique design for Monokuma. In that case, I recommend these two Etsy plush designers: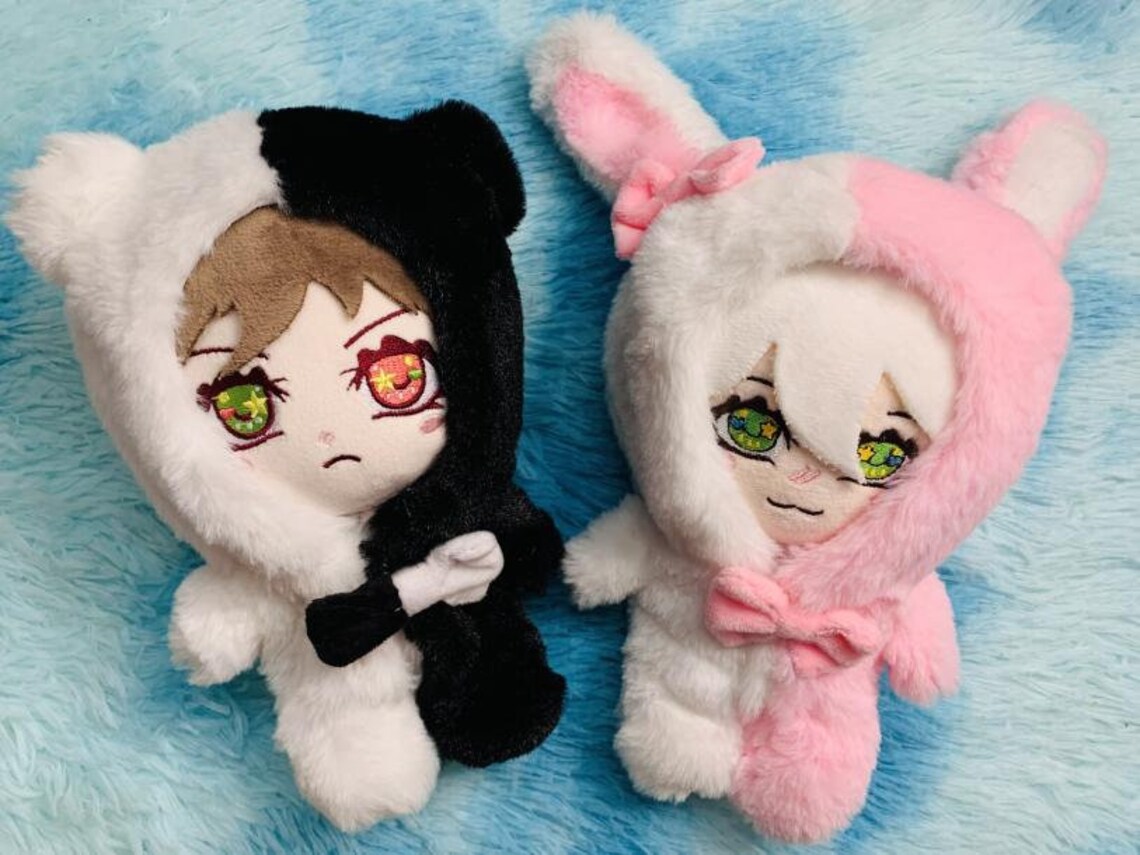 Sweet Candy is a plush designer who breaks the norms of expectations. The Monomi & Monokuma x One Piece Plush Dolls come from a trusted designer with positive feedback. In addition, it's super unusual to have a crossover with another anime character, showing her incredibly creative talents.
Kitty Pi Plush doesn't have a massive feedback pool. However, her Monokuma Octopus Plush design earns my respect. Although, her minimal feedback is pretty positive. So, she's a new designer with some trust. Meanwhile, her creativity and imagination have no limits.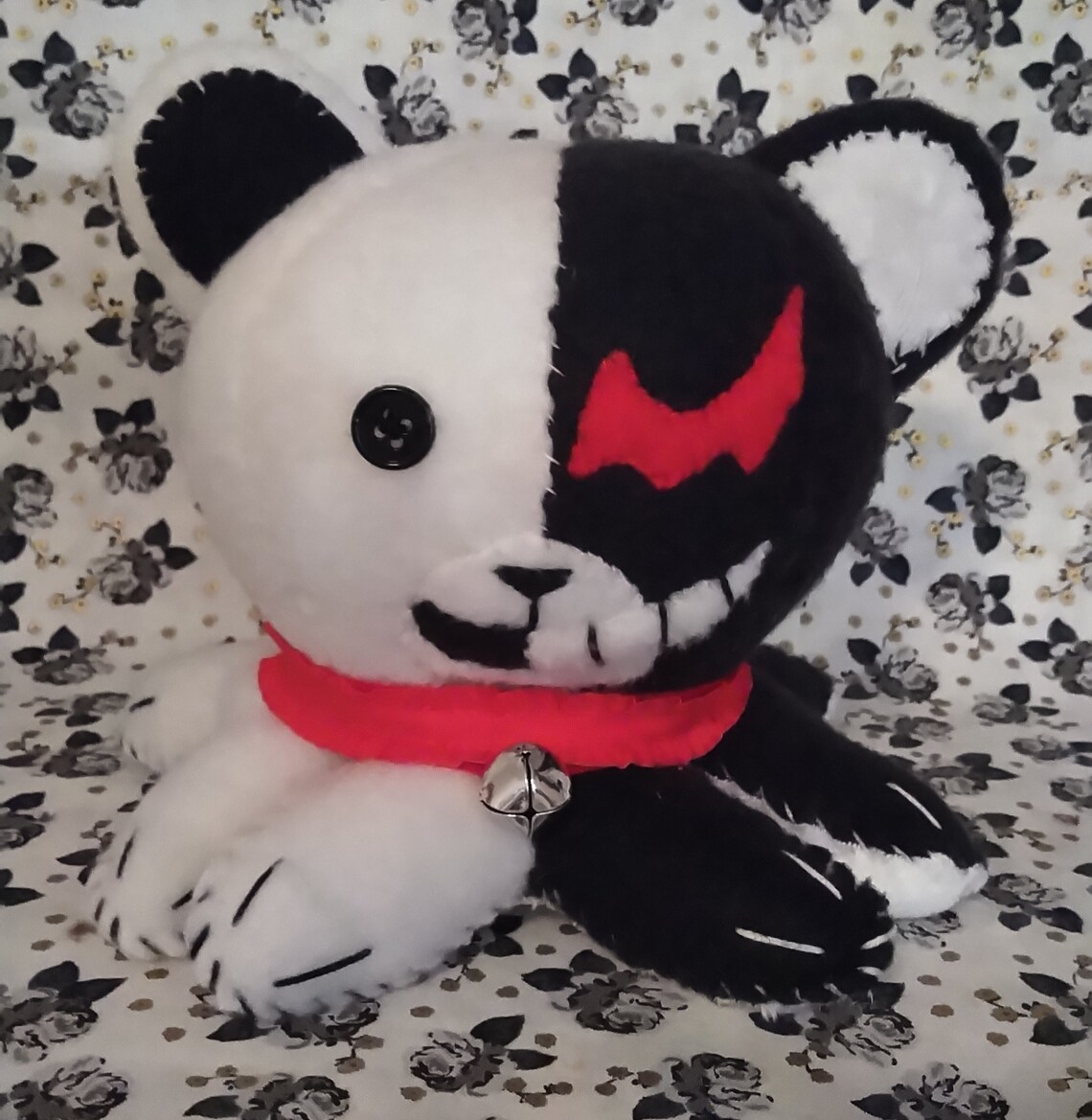 On a side note, remember that I picked these unique Etsy Monokuma plush designers by considering their feedback. You can also ask them about designing plushies of your choice. These designers impressed me more than others because of their unique plushies, but most designers make custom orders.
FAQs
Question: Where Can I Find Hello Kitty x Monokuma Sanrio Plush?
Answer: Unfortunately, Sanrio doesn't make the Hello Kitty x Monokuma Crossover Plush anymore. However, I wouldn't tease you with lousy news unless I found a way to buy one. Resellers on eBay have some brand-new Sanrio Monokuma x Hello Kitty Plush. Meanwhile, the prices aren't bad for a ten-inch plush.
Question: Where Can I Find Life-Sized Monokuma Plush?
Answer: Unfortunately, the 2016 life-sized Monokuma plushies aren't available new anymore. These giant Monokuma plush were so popular that they sold out fast. So, you'll have to look at resellers on eBay to find one. Sadly, I only see a Giant Monokuma Plush in the UK, making shipping a challenging task for the size.
Question: Which Limited-Edition Costume, Monokuma Plush, Exists?
Monokuma Plush Guide: Conclusion
Monokuma's character is memorable. So, the collectible Monokuma plushies will also be memorable. I shared top-quality Monokuma or Monomi plushies and tips on finding expandable options for the bear. Sadly, no one has Monokub plush in stores yet, and no one says they'll arrive soon.
However, searching for every expandable Monokuma plush makes your collection unique and personal. So, never stop hunting. Meanwhile, look for mascot costume Monokuma plushies to expand your collection further. I recommend starting with the Danganronpa Graduate Monokuma Plush before it's gone from stores.
Don't wait for the graduate Monokuma collectible to disappear before looking for a unique starter. So, go ahead, and buy your murderous Danganronpa bear today if you're a die-hard fan.
For More Anime Plushies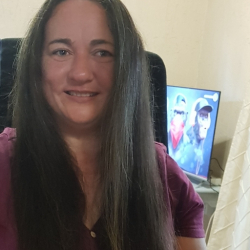 Latest posts by Caroline Lambert
(see all)