My Melody's infamous foe is a sweetie-pie, waiting for anime fans and plush collectors to scoop her many types up before misjudging her. I'm a long-time plush collector with two kids who love collecting Sanrio plushies. So, let me share the wonderful world of plush toys in my Kuromi plush guide.
Kuromi is a massive hit, whether you love or hate the bunny. She has over a dozen plush types, including Squishmallows. I'll share the truth about Kuromi's personality and how you can find endless plushies for her. Kuromi is so famous that she even appeals to emo plush fans. So, let's unravel her story to help you collect her.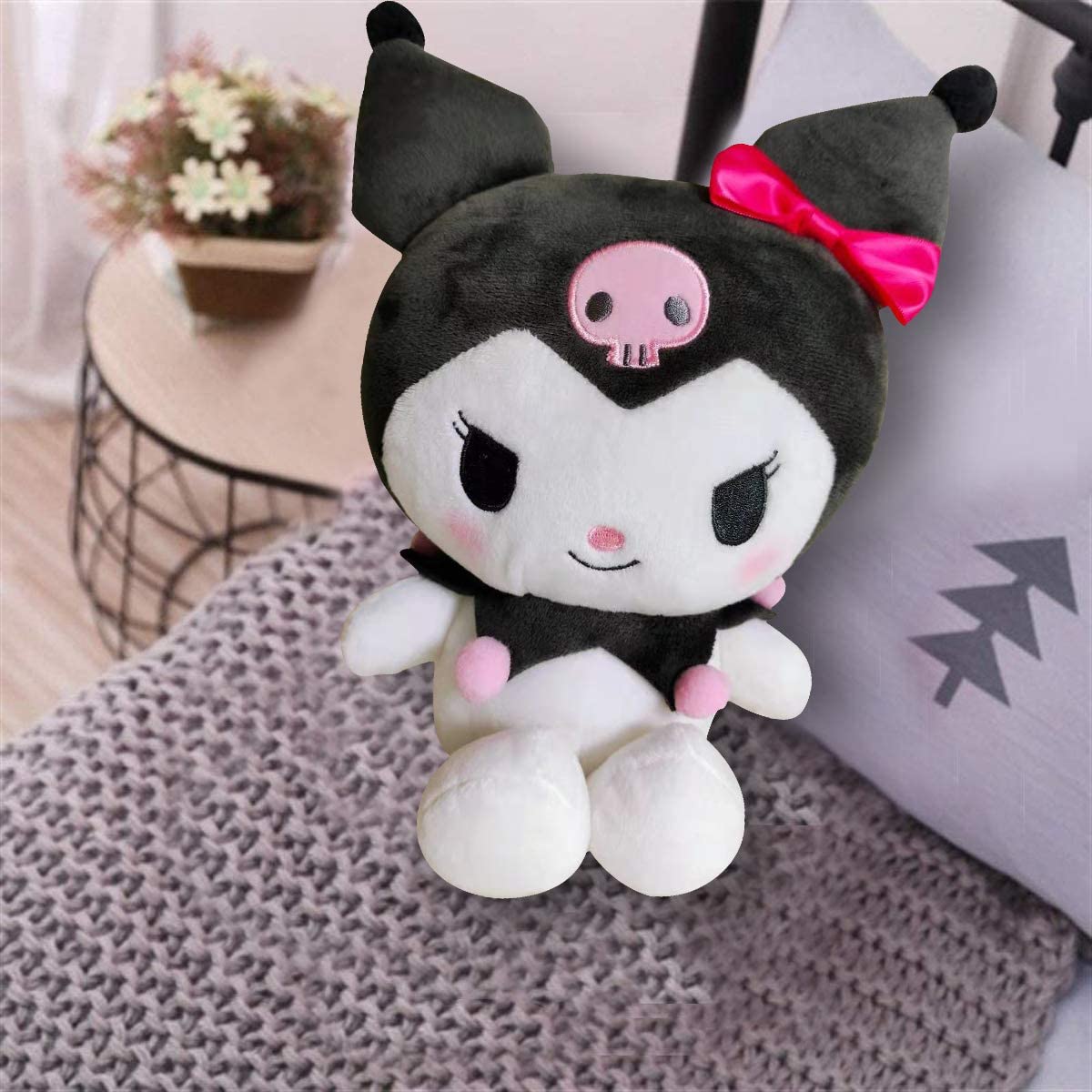 Kuromi Plush: Bottom Line Up Front
Kuromi plushies are an absolute joy to collect, whether you're emo, your children love the trendy bunny, or you're an anime enthusiast. So, I'll share details about what makes Kuromi the bunny we know and how you can identify her among other Sanrio characters. Besides, character confusion is easy with Sanrio plush.
Meanwhile, I'll also advise you to collect different series of Kuromi plush before sharing my cutest example for each. Of course, some series are similar. However, buying the plushies from the correct stores prevents character confusion. Alternatively, my identifier tips will ensure you only buy Kuromi plushies.
In contrast, you might enjoy collecting various series of Kuromi plushies for variety. In that case, you'll find a brilliant selection of examples for each series. But first, let's pause for me to share my favorite Kuromi plush example. The Kuromi Squishmallow is my ultimate choice, even though two Squishmallows exist.
I always prefer the one with Kuromi's natural colors because the other one doubles as her alternate series plushies. In addition, Squishmallows are insanely collectible and work well with Sanrio cuties. Next, glance at some favorite examples before learning about the misunderstood rabbit.
Some Fantastic Kuromi Plush at a Glance
Kuromi has a vast range of plushies. So, I'll share one favorite from each type. But first, let's see four more choices before diving into my complete guide:
The Ultimate Guide to Kuromi Plush
Kuromi plushies are famous among Sanrio and anime collectors. They appeal to emos, children, anime enthusiasts, and My Melo fans. So, what makes them unique, and how can you identify the right ones? In addition, it helps to have a quick breakdown of the various types available for die-hard collectors.
Meet Sanrio's Sweet Kuromi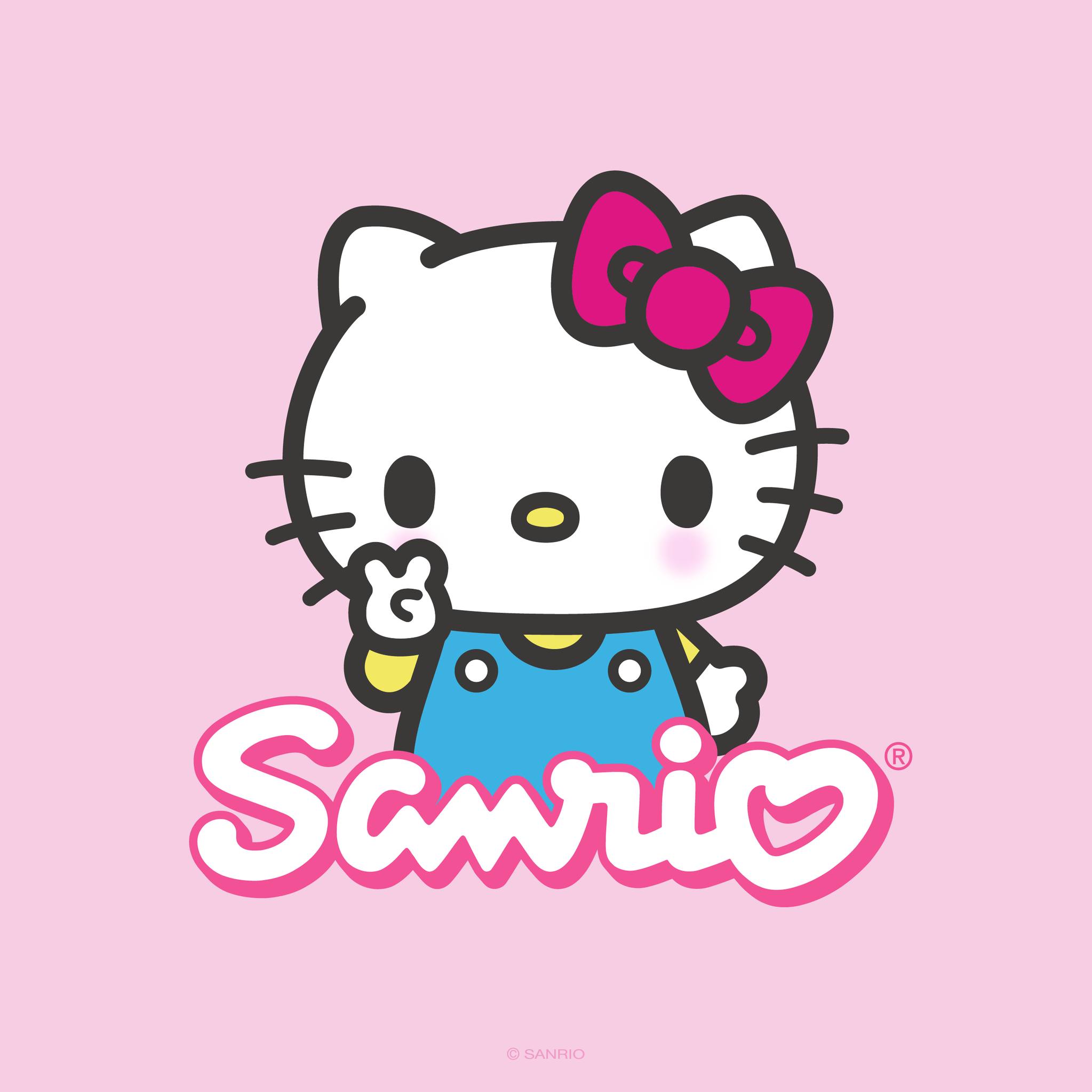 Sanrio is one of the best plush designers worldwide. My Melody is one of the brilliant anime-inspired plush collections from Sanrio you can collect. Meanwhile, Kuromi is infamous for being My Melody's foe in the series. However, every Sanrio character has a story to tell, even the so-called bad guys.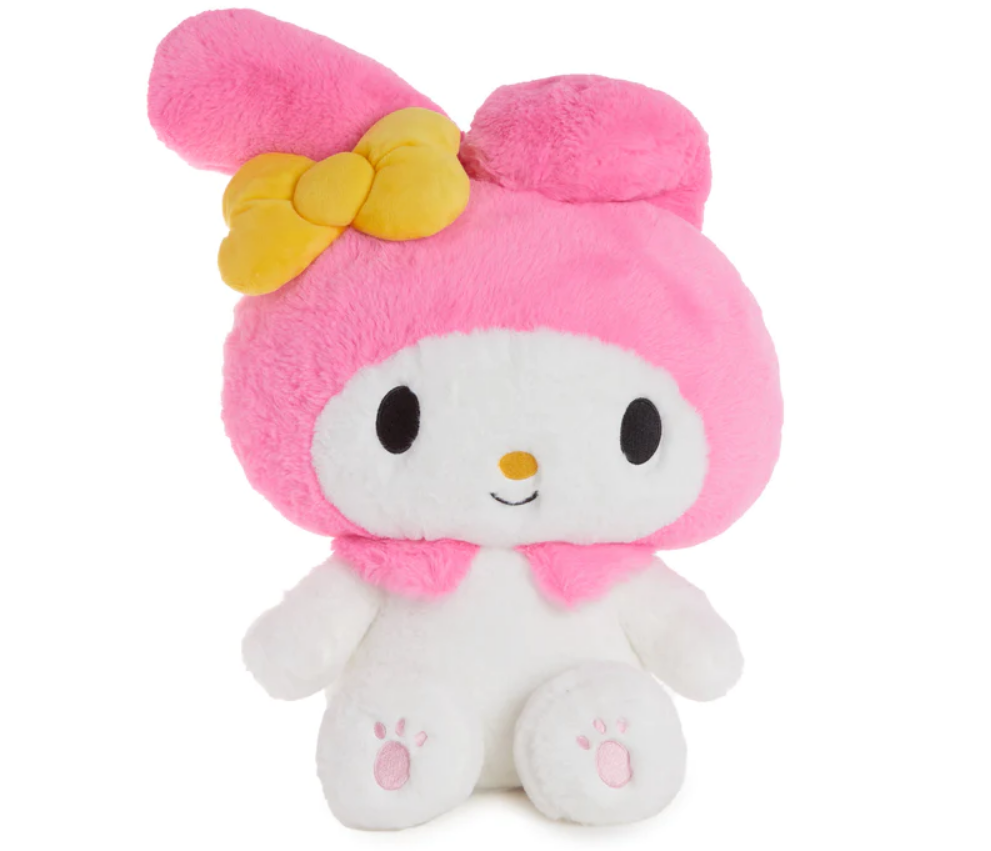 Indeed, Kuromi surrounds herself with troublesome friends like Wanmi, Nyanmi, Chumi, and Konmi. The trike gang gets into a lot of trouble. Still, it doesn't define Kuromi's entire personality. Instead, Kuromi is a sweet bunny with hobbies, interests, and endearing habits. Kuromi has loads of character to share with plushies.
Kuromi has a tough exterior in the anime series. Still, she's a proper girly rabbit who writes in a diary and enjoys romantic stories. Kuromi is a tomboy on the outside, but this so-called villain loves cooking and doing other girly stuff. Meanwhile, you'll find her acting tough against My Melody because it's her job in the anime series.
Fun Fact: Kuromi is a Halloween bunny baby known as Kurumi Nui.
Identifying Kuromi Plushies
Funny enough, Kuromi looks similar to another Japanese creation, Pichu from Pokémon. For example, remove her jester hat and devil's tail, and she seems like Pichu in another color. However, it's essential to identify the Sanrio characters correctly if you plan to collect them. People often confuse My Melody, Kuromi, and others.
Unfortunately, sellers often use a long list of names related to a plush character to draw more attention. But it doesn't help a Kuromi collector focus on the little white rabbit. So, the first identifier is that you're looking at white rabbits with black eyes and pink noses. In addition, you'll see black jester hats and devil tails.
The jester hat has a skull picture on Kuromi's forehead, which can be pink or change color for various versions. Sometimes, the jester's hat is purple with a black skull on the forehead. However, the skull is a giveaway that you're looking at Kuromi, not the Sanrio puppy called Cinnamoroll.
Tips for Collecting Various Kuromi Plush
Kuromi collectors will want every option, version, and plush type available. So, let me share some of the common types and variations you'll find. Some variations are simple changes to a single part of Kuromi. However, others will make her look quite different. Here are some popular versions of Kuromi plush:
Alternate Kuromi Plush are the cuties with a slight color change but no other accessories.
Besties Costume Series Kuromi Plush wears an adorable costume unrelated to other Sanrio characters.
Classic Kuromi Plush comes in various sizes but looks like her typical description.
Expressive Kuromi Plush have cute expressions, like shyness or sleepiness.
Girly Kuromi Plush has added bows on the ears, but they're girlier than the usual picks.
Holiday Kuromi Plush vary in styles and colors, changing the hat to purple, and some have sequins.
Kawaii Kuromi Plush comes in adorable costumes with extra texture, ideal for little kids.
Keychain Kuromi Plush are miniature plushies you can carry around.
Kuromi Plush Pillows are pillow-shaped plushies with Kuromi's famous black-hat head.
Kuromi Squishmallows feel like marshmallows and clouded heaven but look like a rabbit.
Mascot Kuromi Plush shows the bunny in other mascot and anime character outfits, like My Melody.
Pastel Baby Kuromi Plush looks like a baby version of Kuromi with lighter colors.
Pocket Pals Kuromi Plush are miniature brooches that resemble Kuromi's regular design.
Royal Princess Series Kuromi Plush dresses the little bunny in a cute princess outfit for a royal design.
Sequin Kuromi Plush are famous Sanrio choices that glamorize Kuromi's ears or hat with sequins.
Shiba Inu Kuromi Plush shows the rabbit dressed in Shiba Inu series outfits.
Additionally, you'll notice how Kuromi changes positions, expressions, and sizes. Meanwhile, a costume Kuromi plush could wear one of many outfits. The same goes for Shiba Inu, sequin, and keychain Kuromi plushies.
How I Selected Some Fabulous Kuromi Plush Examples
So, the bottom line is that many Kuromi plush exists, meaning I have to do a challenging thing to narrow down a few excellent examples. As a result, I'll pick one from each type of Kuromi plush. However, some classes have numerous sizes and variations. So, I'll use the following guidelines to narrow them down to one each:
The Kuromi plush must be the cutest Japanese rabbit in the class, which depends on my personal choice.
It must be the most miniature version available, or it has to match Kuromi's identifying factors the best.
Kuromi Plush Guide: Cute Japanese Rabbits
Sanrio plushies are popular beyond what you can imagine. So, picking a few gorgeous examples to share in my guide to buying Kuromi plushies was challenging. However, I narrowed them down to the cutest versions I could find. So, let's see which Kuromi plushies tempted me to purchase many new Sanrio collectibles.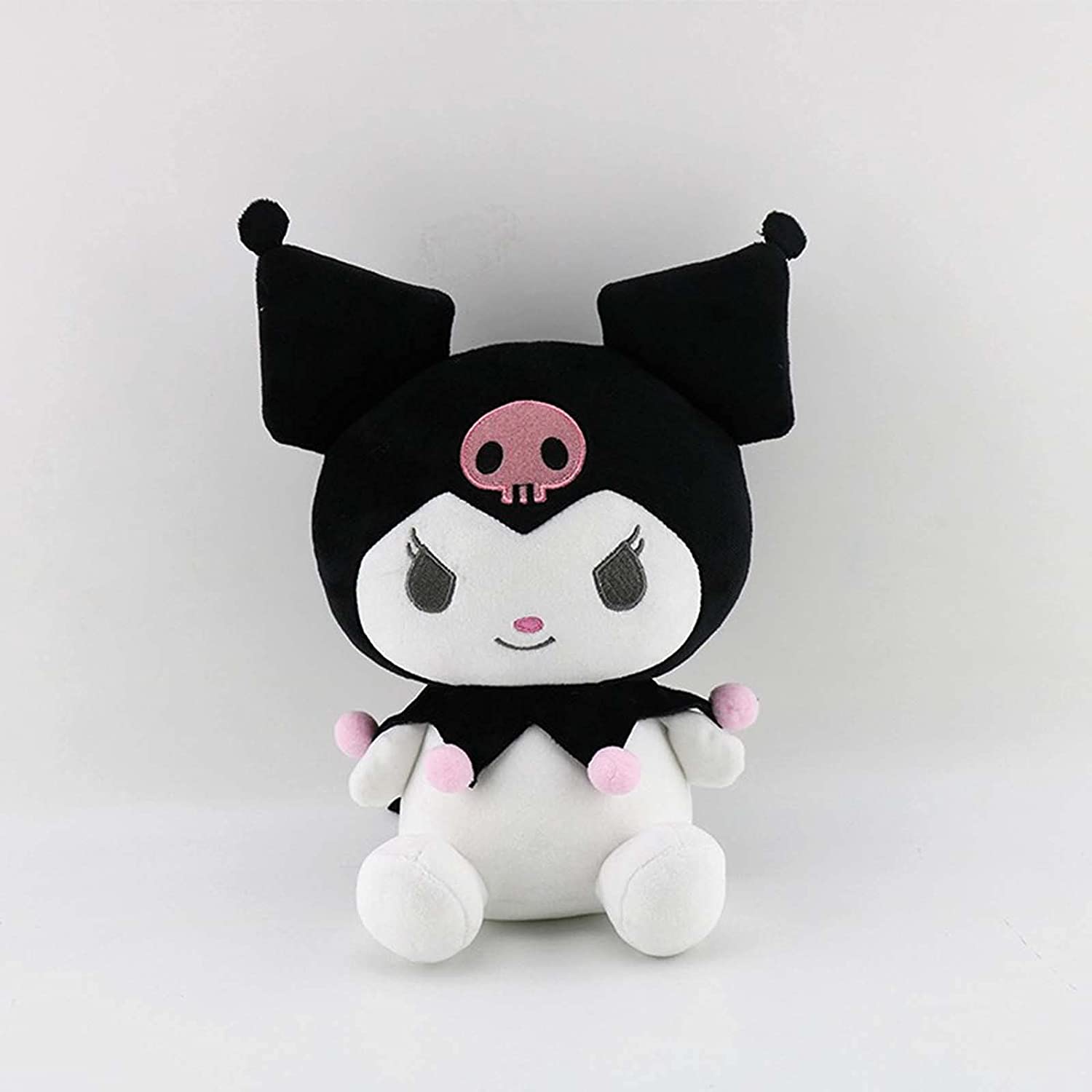 Kuromi is a sweet girl passionate about hot pink and black. However, she loves dabbling with purple colors in her outfits. So, this alternate variation of Kuromi plush changes her color arrangement slightly, but it stays within her original design. Meanwhile, the skull and tuffs on her jester's hat turn from pink to purple.
Kuromi Plush Facts
Expression: Mischievous
Size: 7.8″
Second Series: None
Kuromi Plush Pros
It's the closest alternative available for Classic Kuromi plushies
Kuromi maintains her naughty expression that leaves you wondering
The plush is a good size with beautiful details and the devil's tail
Kuromi Plush Cons
The purple variations of Kuromi aren't 100% accurate
Kuromi sits down and doesn't readily stand up as a plush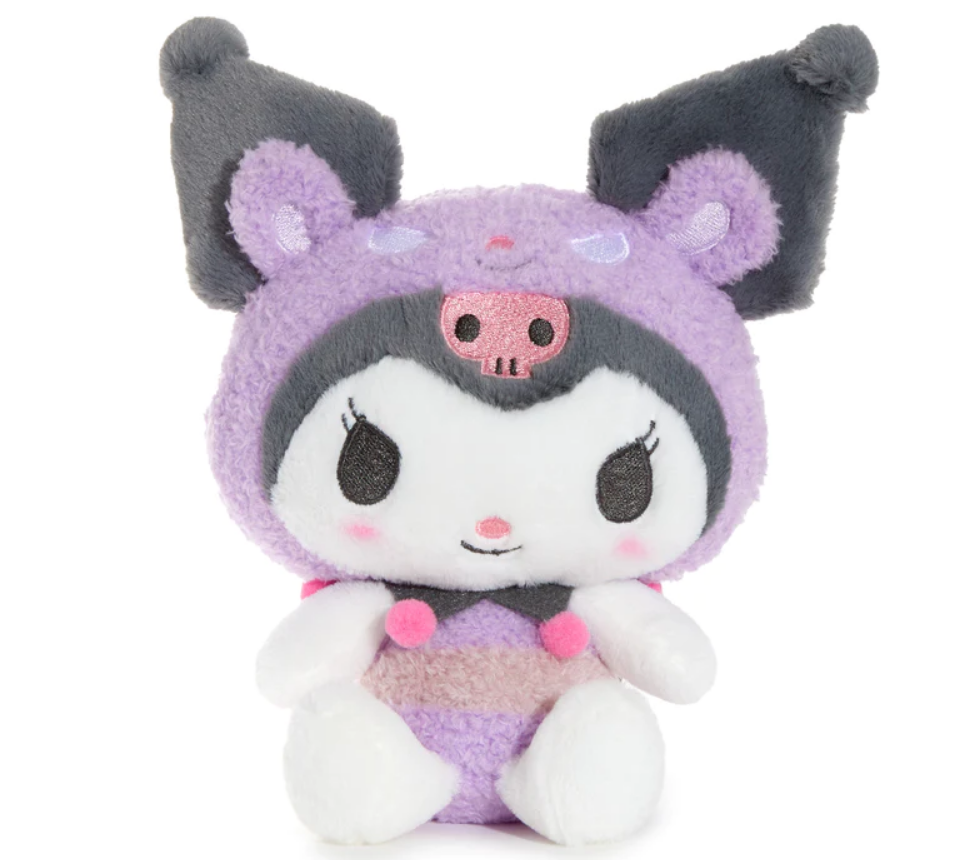 The Sanrio Besties Costume Series is similar to the mascot series from the same brand. However, the Kuromi plushies series are beyond adorable and fit the Pastel Baby Sanrio series. In addition, Kuromi has an ultra-soft texture that would be excellent for little kids who enjoy playing with tactile-enhancing plush toys.
Kuromi Plush Facts
Expression: Naughty
Size: 8″
Second Series: Pastel Baby
Kuromi Plush Pros
This Kuromi plush doubles on the series for avid collectors
Kuromi is gorgeous as a pastel-colored baby plush
Every detail is accurate for Kuromi's original design under a cute costume
Kuromi Plush Cons
The ultra-soft Kuromi plushies can be challenging to wash
The purple costume could've been pink for Kuromi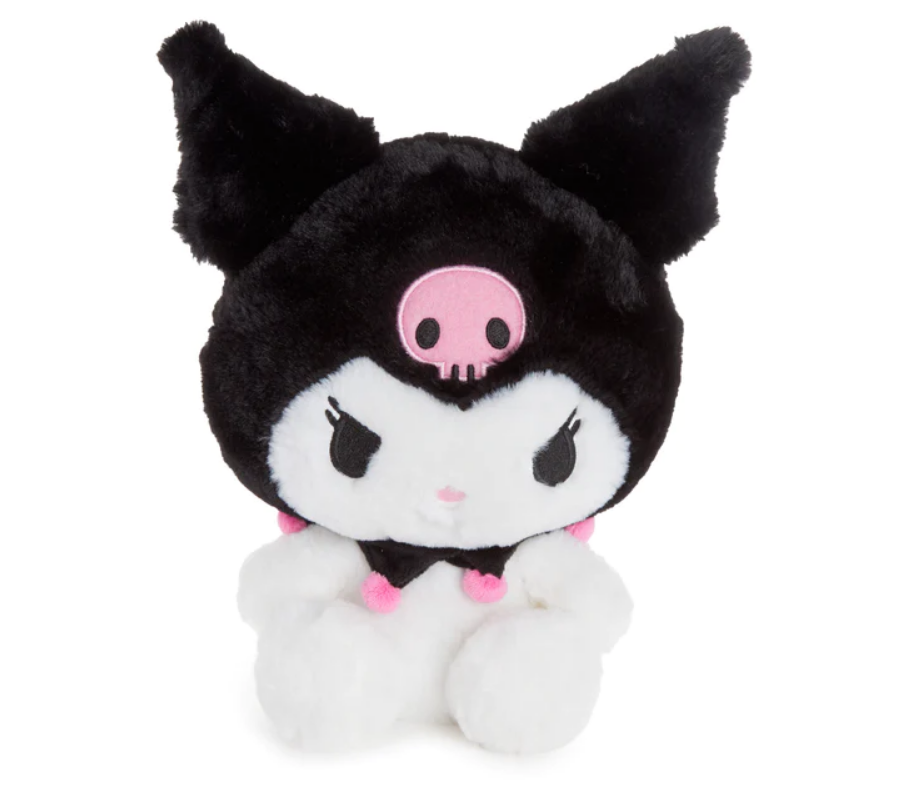 The Classic Series Kuromi plushies are ideal for fans and collectors who enjoy how the bunny looks in the My Melody anime. Unfortunately, the classic series don't always double into other types of plush. In addition, the smallest version of Kuromi plush is ten inches. Still, she's ten inches of cuteness with a takedown expression.
Kuromi Plush Facts
Expression: Takedown mode
Size: 10″
Second Series: None
Kuromi Plush Pros
This Kuromi plush looks more serious than most, ready to take anyone down
The Kuromi plush is authentic from the Sanrio website
She has incredible details, accurate colors, and an ultra-soft exterior
Kuromi Plush Cons
The ultra-soft plushies lose their touch after many washes
The bright white colors can also be challenging to clean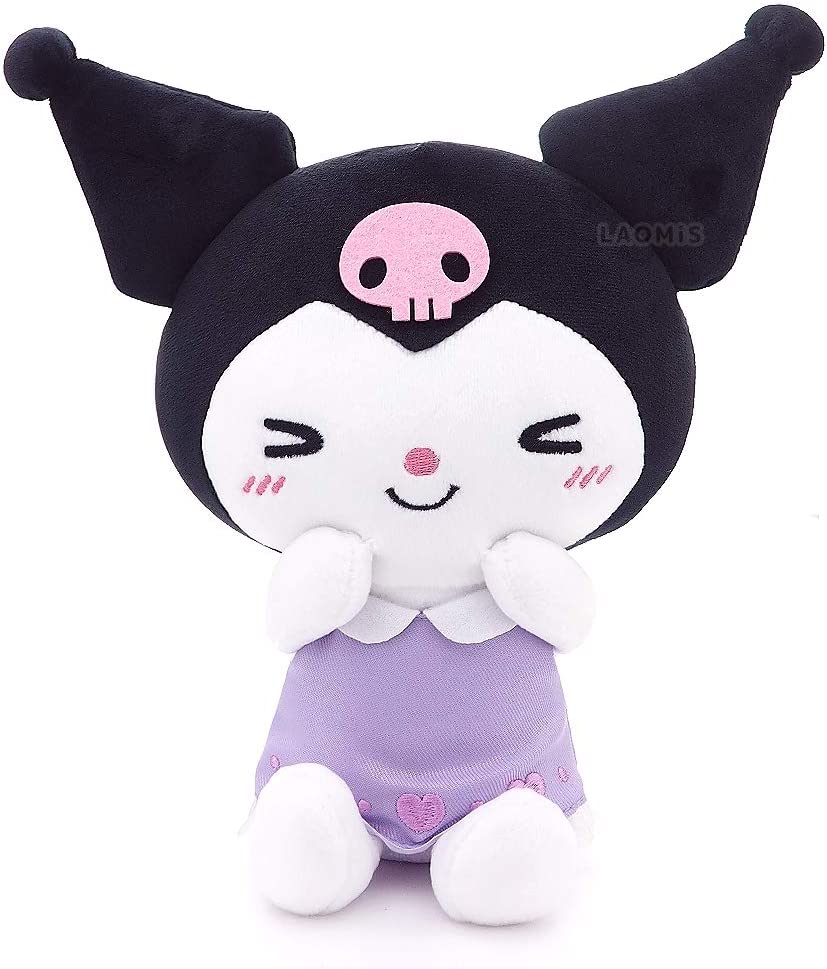 The expressive Kuromi range doesn't have many options this year, but I'm sure more will come soon. The shy Kuromi plush is a joy because I love collecting unusual variations. Unfortunately, you won't find her much longer. So, I recommend scooping her up before she's gone with the melodic wind.
Kuromi Plush Facts
Expression: Shy
Size: 9.4″
Second Series: None
Kuromi Plush Pros
The shy Kuromi plush is one of the unique options collectors enjoy
Kuromi has the original colors and details, but she looks cuter
She's a fantastic size and comes with a removable outfit
Kuromi Plush Cons
The shy Kuromi plush is nearly gone
Kuromi's closed eyes remove some of her original design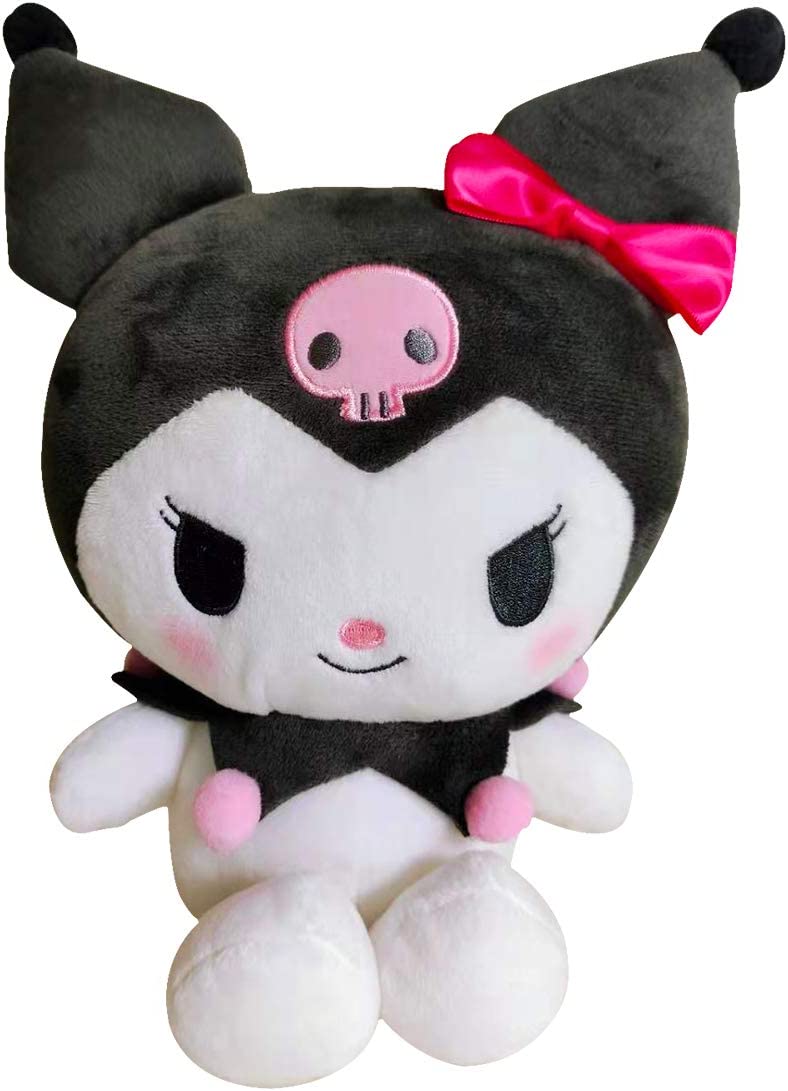 A few Kuromi plushies wear pretty bows and hairpieces. Still, I chose this plush because it has excellent details and matches Kuromi's original style and colors. In addition, the pretty pink bow doesn't deter you from Kuromi's naughty smile, and the pink cheeks look brighter. She undoubtedly looks girlier in this version.
Kuromi Plush Facts
Expression: Determined
Size: 10″
Second Series: None
Kuromi Plush Pros
The Kuromi plush is the cutest girl plush variation available
The pink bow barely removes any of Kuromi's authenticity
Kuromi has super bright cheeks and an ambitious expression
Kuromi Plush Cons
Not all Kuromi fans want a girly version
The hot pink bow should be much larger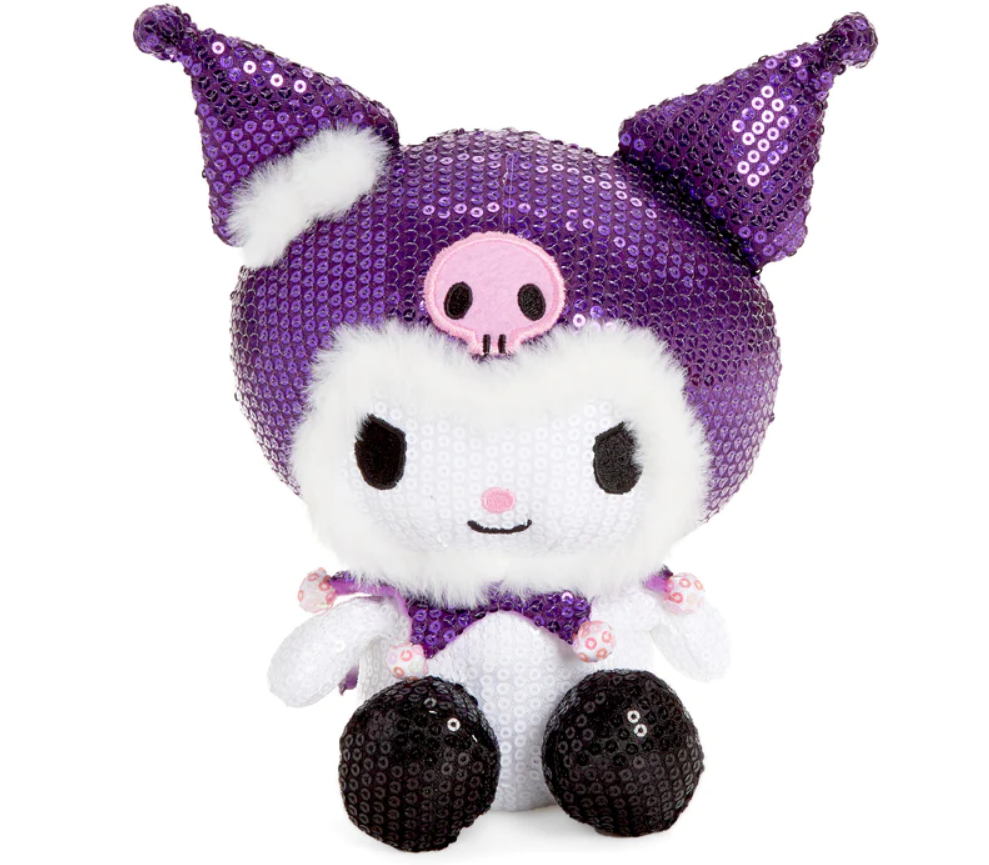 The Holiday Series Kuromi plush is a bullseye for anime enthusiasts, plush collectors, and Sanrio fans. Kuromi has beautiful sequins all over her outfit, and the small fur tuft on her ear is a silly yet cute addition. Meanwhile, Kuromi has the softest texture on any of her plushies. So, she's a triple-dynamite plush.
Kuromi Plush Facts
Expression: Smug
Size: 8″
Second Series: Sequin and Alternate Series
Kuromi Plush Pros
The Holiday Series Kuromi plush is one of the most collectible versions
Sanrio went over and above with details on this Kuromi plush
The smug expression suits the little cutie perfectly
Kuromi Plush Cons
Limited-edition holiday plushies don't stay in stores long
The ultra-soft texture is hard to keep with constant washing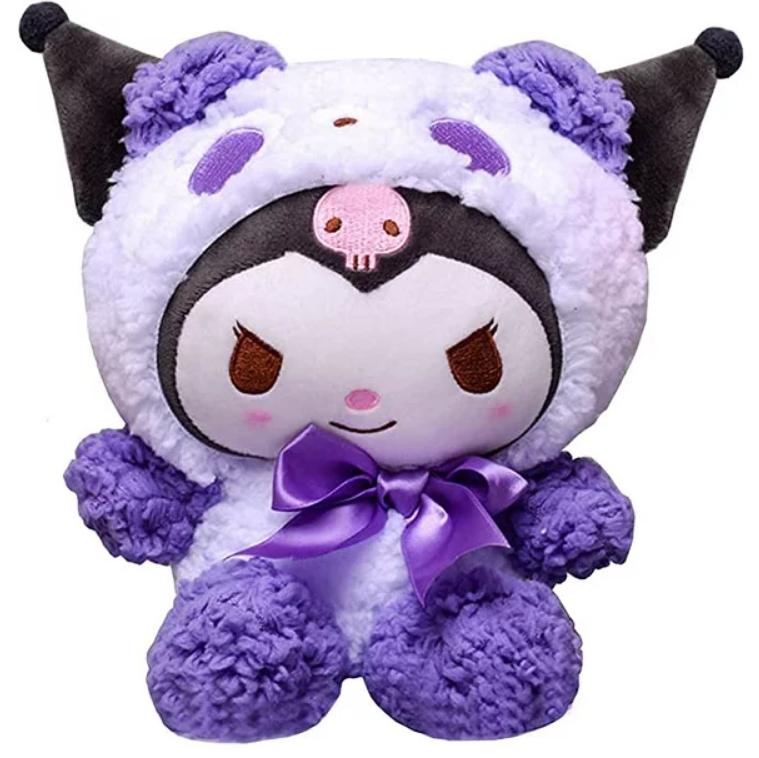 Kawaii is another adorable Japanese plush brand that often combines cuties with Sanrio characters and mascots. Sometimes, the Shiba Inu series falls into this perfect mix of Japanese plushies. Meanwhile, Kuromi is another excellent choice for brand collaboration. The fluffy purple costume enhances her expression.
Kuromi Plush Facts
Expression: Trouble's brewing
Size: 7.8″
Second Series: None
Kuromi Plush Pros
The Kawaii Kuromi plush is a favorite for many collectors
Most of Kuromi's details, colors, and features match her design
The plush has incredible textures for little hands to explore
Kuromi Plush Cons
Kuromi's famous devil tail is gone
Kuromi's eyes and mouth are brown, not black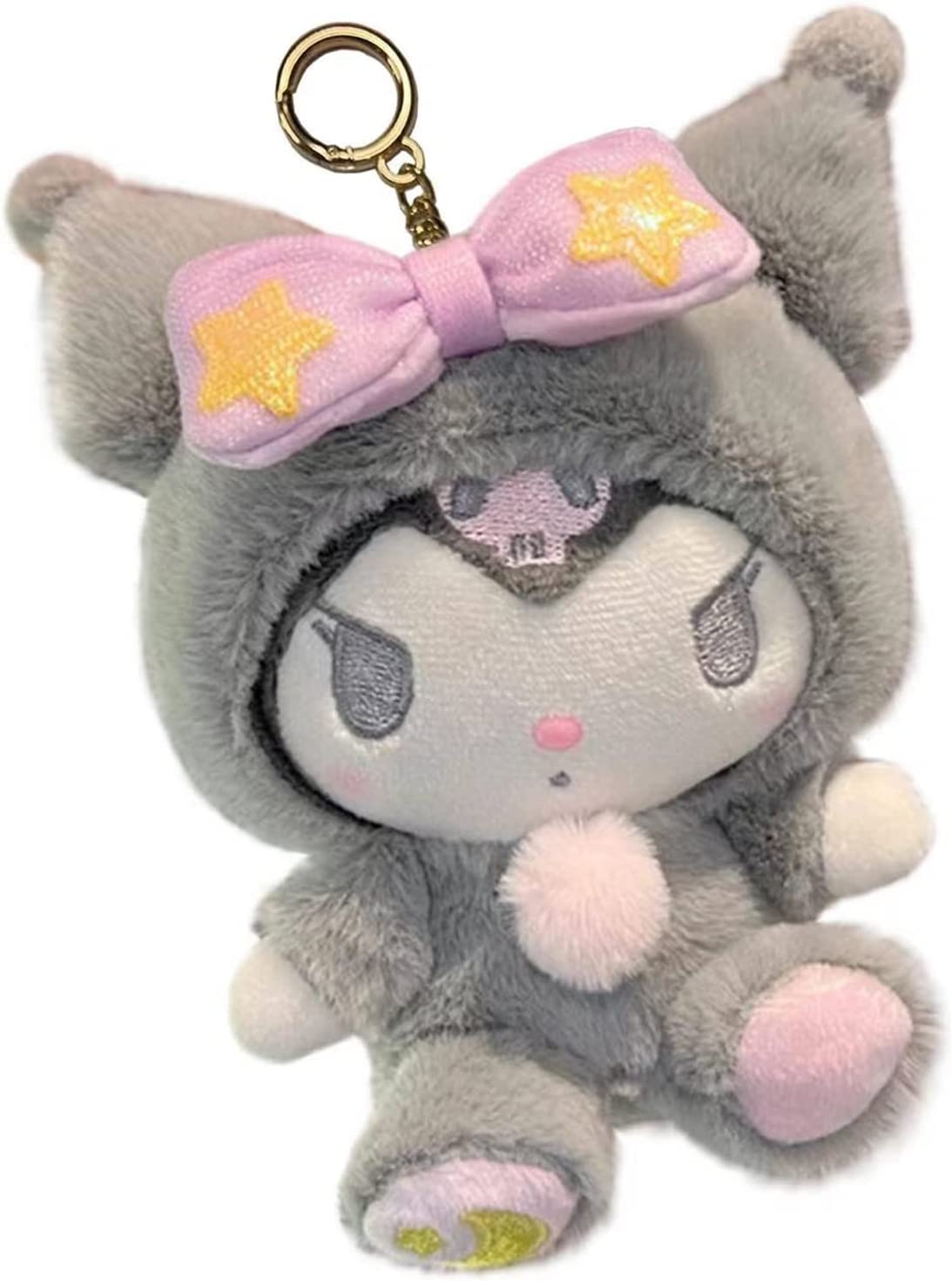 Kuromi has a few plush keychains, which are fantastic for display in an anime enthusiast's bedroom or office. However, I picked one that fits the Mascot Series, even though the colors are slightly off her original design. Meanwhile, some details are accurate, like the skull and ear shapes. So, she's still a cutie-pie.
Kuromi Plush Facts
Expression: Uncertain
Size: 5″
Second Series: Mascot Series
Kuromi Plush Pros
The Kuromi plush keychain is one of the most miniature collectibles
Kuromi's expression is adorable because she looks confused
Some details are accurate for Kuromi's original design
Kuromi Plush Cons
The colors are off, including the eyes and missing cheeks
The mascot costume isn't easily recognizable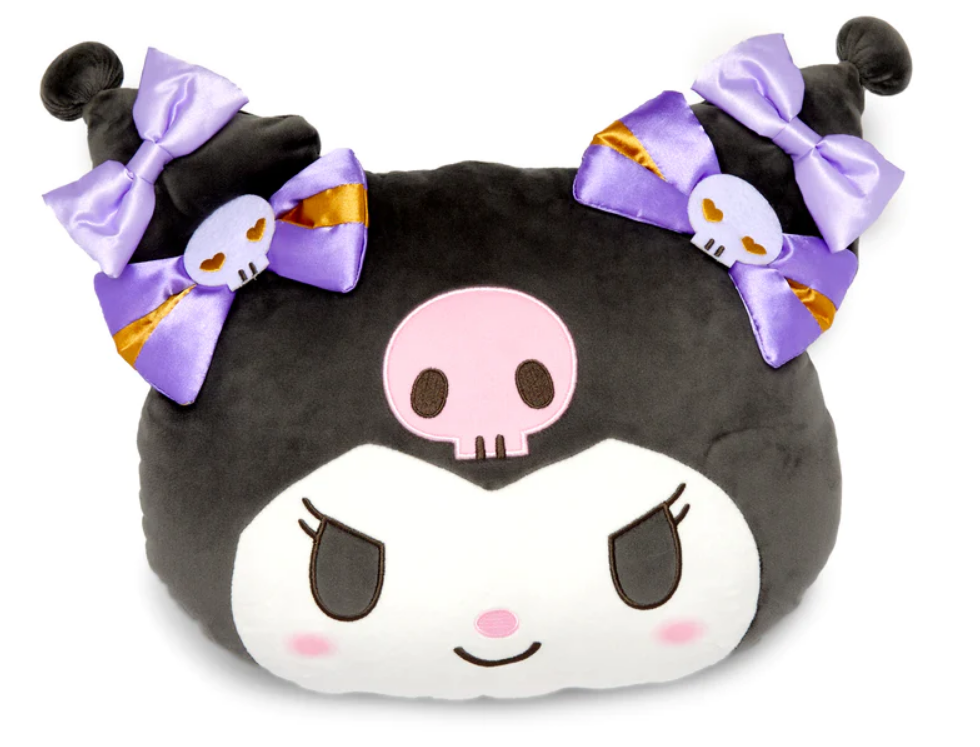 Do you know what I like the most about any pillow plush series? My daughter can own her favorite plushies and use them as comforting bedtime buddies at night. In addition, this Kuromi plush doubles the Sanrio series to be more collectible as a princess version. Meanwhile, her eyes have greater depth than most plushies.
Kuromi Plush Facts
Expression: Mischievous
Size: 11″
Second Series: Royal Princess Series
Kuromi Plush Pros
The Kuromi pillow plush has excellent details all-around
She's a beautiful plush with pretty bows and a princess vibe for little girls
Pillow plushies are a trend among anime characters
Kuromi Plush Cons
Unfortunately, you can't have the devil's tail on a pillow plush
The bows emphasize a lot on the royal purple color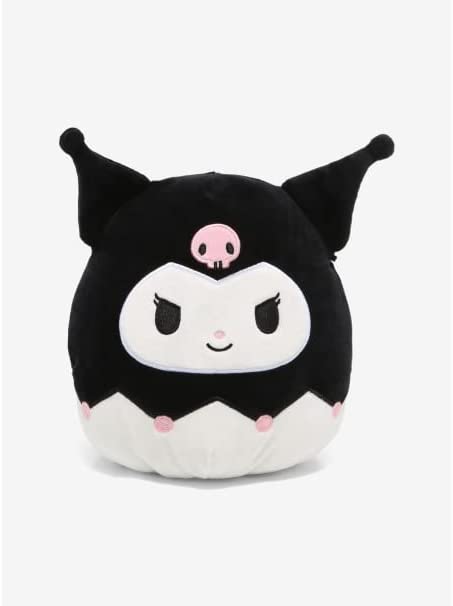 Squishmallows is one of my family's favorite plush brands. So, it's excellent news to see the brand making adorable Sanrio characters for anime enthusiasts. For example, Kuromi looks much like herself in Squishy form, even though her shape changes a lot. In addition, the marshmallow plush has the famous devil's tail.
Kuromi Plush Facts
Expression: Up to no good
Size: 8″
Second Series: None
Kuromi Plush Pros
Kuromi Squishmallows are insanely popular among anime collectors
Kuromi's details and colors are surprisingly accurate for the weird shape
It's the ideal size for Sanrio Squishmallow collectors
Kuromi Plush Cons
Squishmallows round the characters up slightly
The devil's tail is tiny compared to other Kuromi plush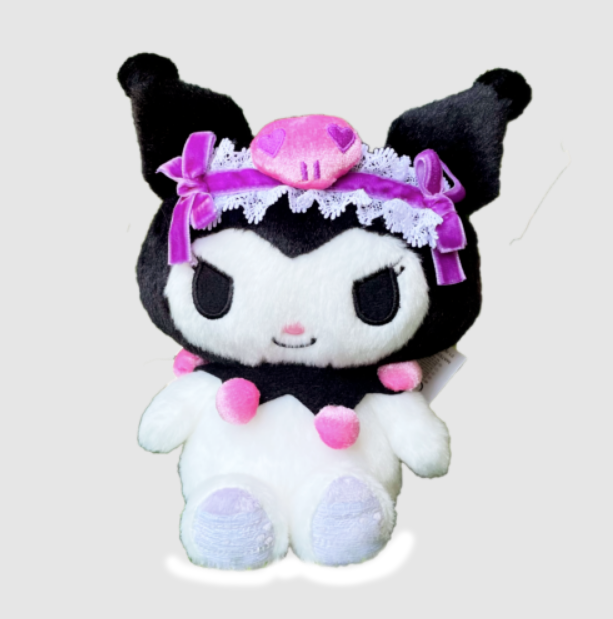 Sanrio's Mascot Series plushies place different characters from the brand in multi-layered costumes. It's slightly different from the Besties Costume Series in that the character must be a Sanrio anime plush. So, this adorable variation of Kuromi is a blended beauty again. Meanwhile, I love the skull on the headband.
Kuromi Plush Facts
Expression: I am Kuromi!
Size: 6″
Second Series: None
Kuromi Plush Pros
The Mascot Kuromi plush doubles into Lace Lolita's costume
The headband is my favorite feature, as it brings Kuromi's colors to Lolita's lace
The details are insane, accurate, and colorful enough for Kuromi
Kuromi Plush Cons
This plush isn't original to Kuromi's flat-skull design
It has a difficult-to-clean texture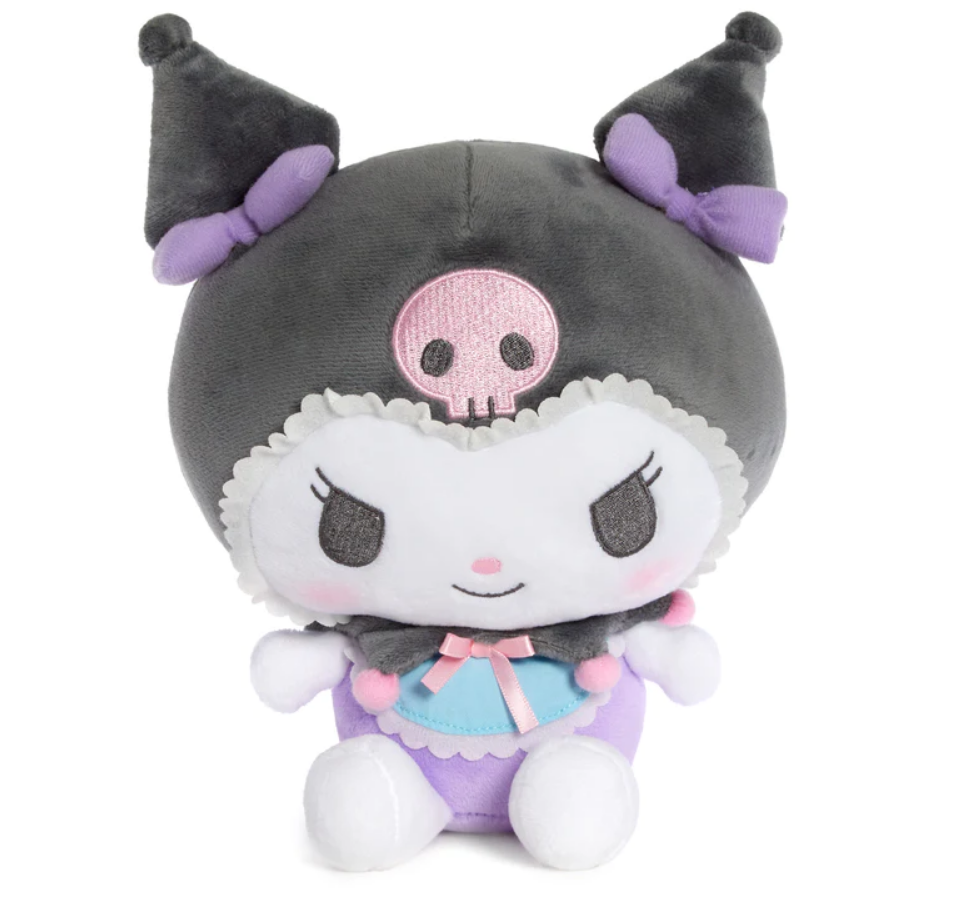 The Pastel Baby Series of Kuromi plush only includes four options. Still, this plush is my favorite because it's a smaller version. I'm not crazy about the lighter pastel colors or the baby outfit. However, it's another collectible Sanrio series to consider. Meanwhile, the plush also includes a girly factor in Kuromi's weird expression.
Kuromi Plush Facts
Expression: Crazy baby
Size: 8″
Second Series: Girly Series
Kuromi Plush Pros
The Pastel Baby Kuromi plush comes from a limited collection
Kuromi's details, face, and ears are accurate for her character
Little kids will also enjoy the Pastel Baby Sanrio Series
Kuromi Plush Cons
Kuromi's colors are too faded to match her original design
The baby frills around her face don't do the plush toy justice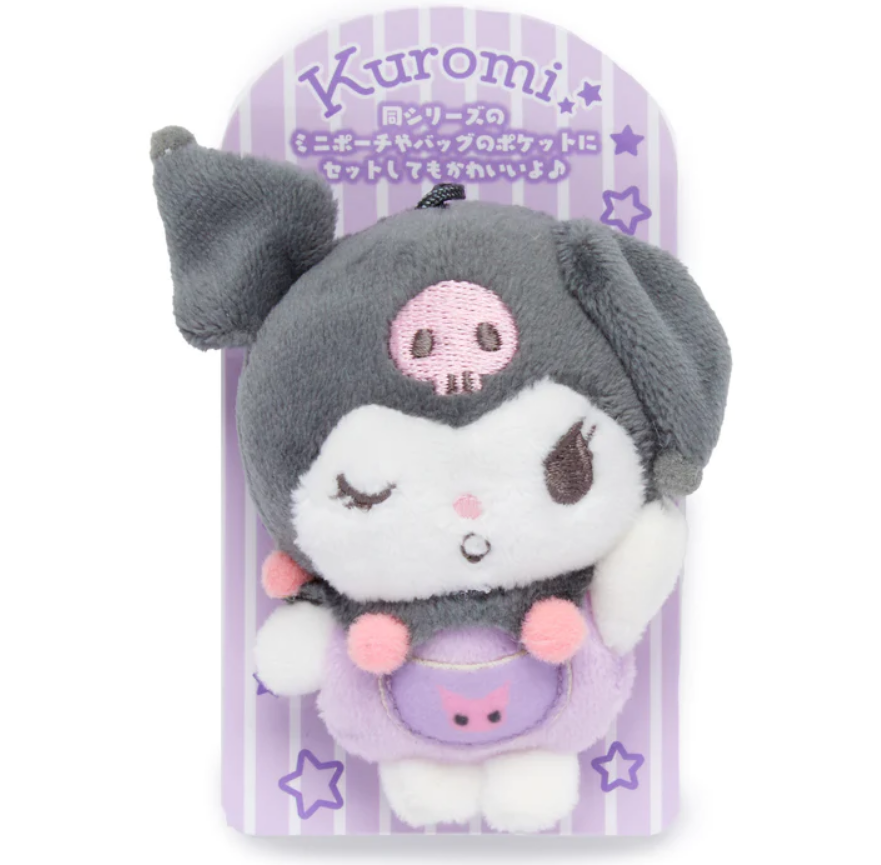 Sanrio's Pocket Pals Series is famous because it allows collectors and fans to collect numerous character plushies. You don't need much space to have a hundred of these cuties. In addition, they come on collectible cards and work as brooches. However, Kuromi has the colors from her Pastel Baby Series plushies.
Kuromi Plush Facts
Expression: Winking
Size: 3″
Second Series: Pastel Baby Series
Kuromi Plush Pros
The Pocket Pals Kuromi plush is the most miniature collectible from my series of options
It doubles into two plush series and looks adorable enough for young kids
The accuracy of Kuromi's eyes and ears matches her original character
Kuromi Plush Cons
Kuromi's expression and colors don't match her naughty character
I wish Kuromi's ears were stiff like her other plushies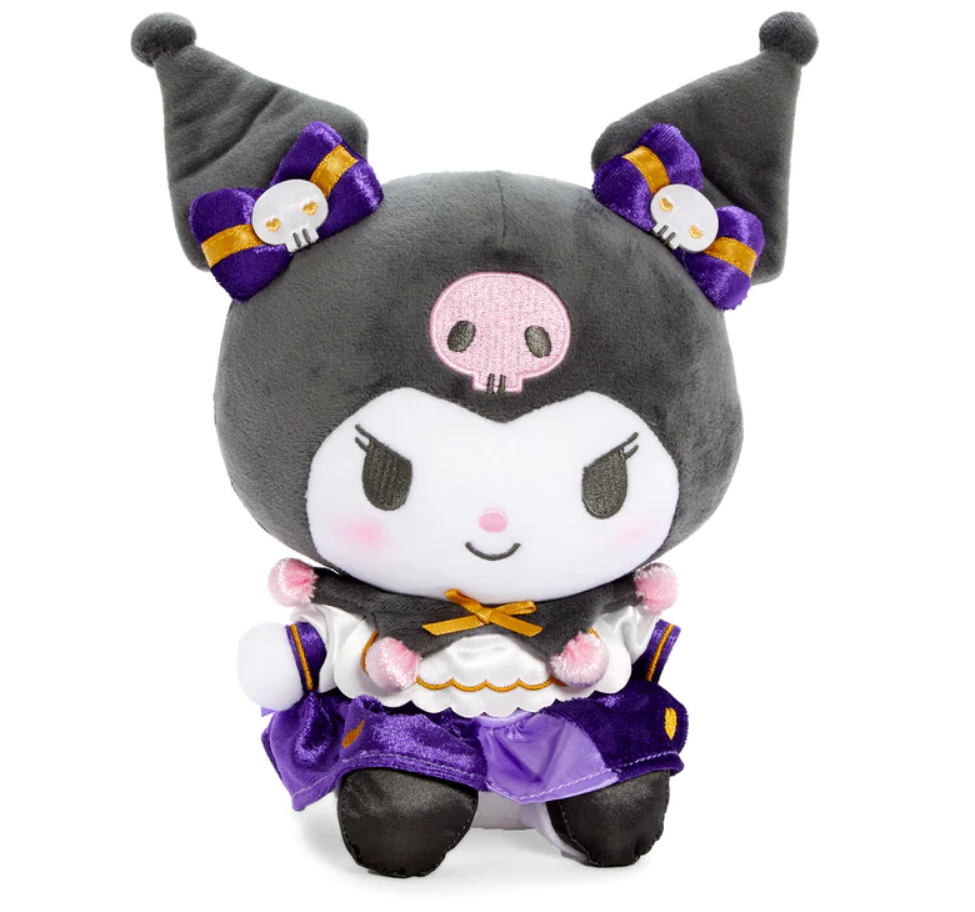 Kuromi hides her sweetness in the show because everyone assumes she's the villain and My Melody is the hero. However, this poor little bunny deserves some credit for her fame. Kuromi's fandom is as massive as My Melody. So, I must share her royal version that doubles into the Pastel Baby Series.
Kuromi Plush Facts
Expression: Naughty
Size: 8″
Second Series: Pastel Baby Series
Kuromi Plush Pros
The Royal Princess Series Kuromi plush comes from a limited range
Kuromi looks much more adorable in the princess costume for little girls
Kuromi might triple into the girly series with this plush toy
Kuromi Plush Cons
Unfortunately, Kuromi's colors don't match her original character
The costume makes you forget her naughty side until you see the expression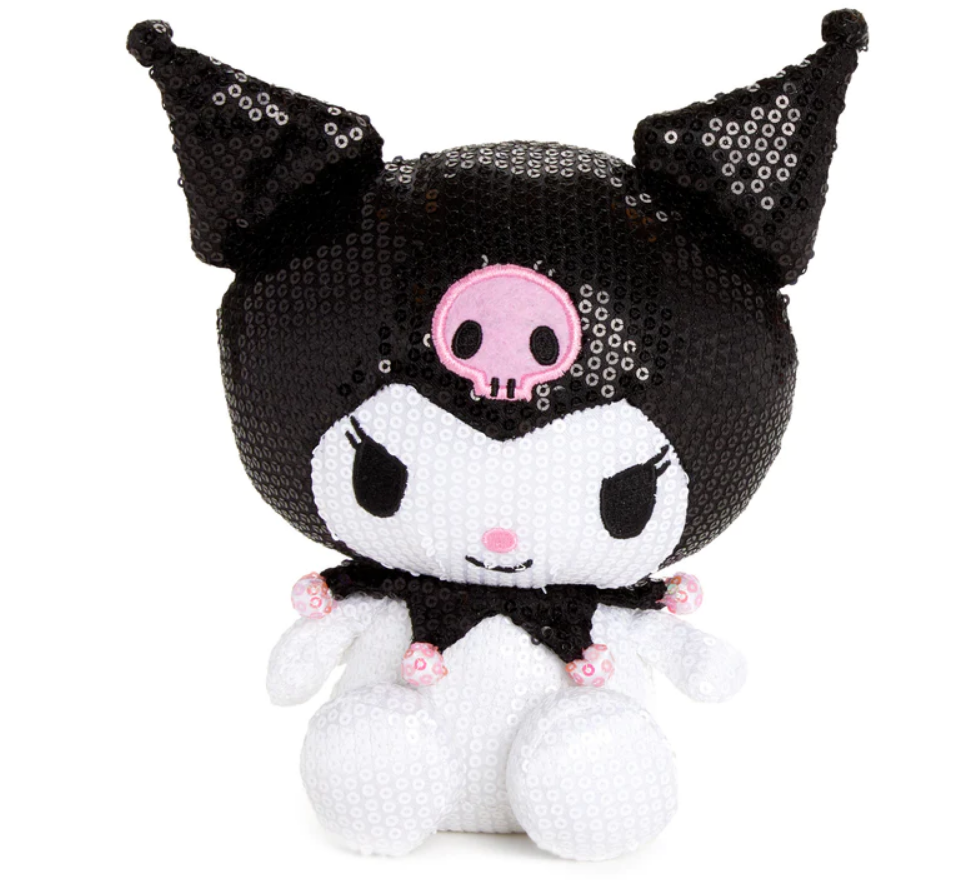 Kuromi is a confident bunny with mischief in her soul. But, unfortunately, it overtakes her sweetness most times. However, this version's expression reminds you of her sweetness because she looks friendly and ambitious. Meanwhile, the Kuromi plush fits multiple series as a classic design with sequin accessories for a stunning effect.
Kuromi Plush Facts
Expression: Ready for anything
Size: 8″
Second Series: Classic and Girly Series
Kuromi Plush Pros
The Kuromi Sequin plush fits three series for better collectibility
The accuracy is spot-on because she comes from the classic collection
This expression is one of my favorites for Kuromi
Kuromi Plush Cons
The sequin design can be challenging to clean
Some anime fans don't want the friendlier versions of Kuromi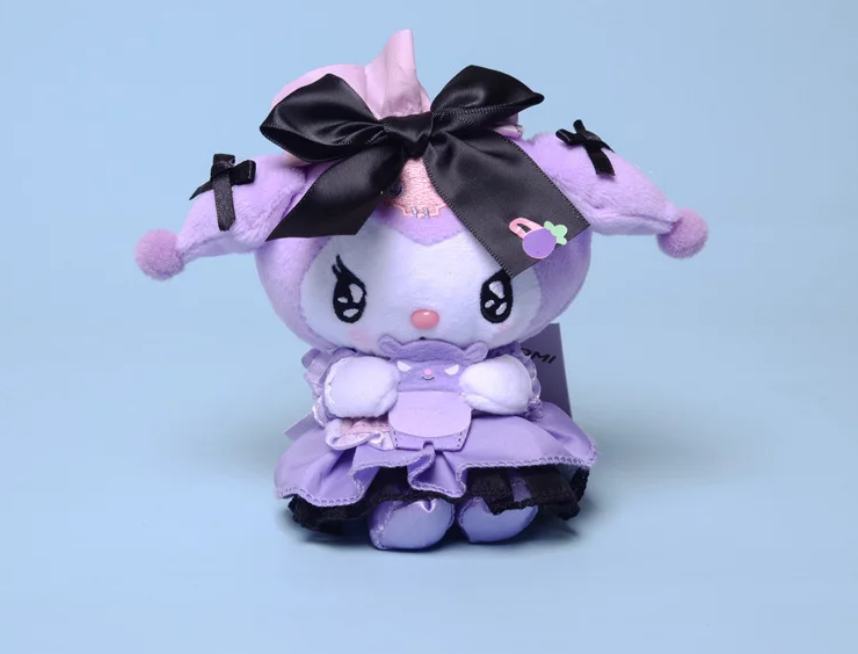 Shiba Inu is a Kawaii Series often blended with Sanrio characters, making the plushies highly sought-after and collectible for fans. However, this variation of Kuromi looks sad compared to others. Her mouth isn't visible, but her eyes look tearful. Meanwhile, the Shiba Inu costume is a gorgeous fit for the famous bunny anti-hero.
Kuromi Plush Facts
Expression: Tearful
Size: 4″
Second Series: Kawaii and Alternate Series
Kuromi Plush Pros
Shiba Inu Kuromi plushies are collectible among fans and plush collectors
Kuromi's expression adds a unique element to make her more appealing
I love that the bows are black, and her eyes have so much depth
Kuromi Plush Cons
Unfortunately, Kuromi's colors are all wrong on this plush
The costume might be overkill, but Shiba Inu goes all out on outfits
FAQs
Kuromi Plush Guide: Conclusion
Kuromi plush includes a universe of choices. So, it's hard to pick your first or fifteenth edition for an anime collection. However, I hope I helped you narrow down some available options with the series and crossovers. Meanwhile, I tried to pick the cutest version from each Kuromi plush type to suit your anime passions.
Kuromi is much more than My Melody's foe, and she deserves to set a new tune to the collection. I never understood Kuromi well until recently when I learned about her soft nature. She always acts tough but has a cloud of girliness over her head. As a result, the cutest examples were the perfect fit for Kuromi.
However, I recommend starting a Kuromi plush collection with the Kuromi Squishmallow. Not many brands are as collectible as Squishmallows. In addition, you get an authentic design of Kuromi, buy a licensed Sanrio product, and start something new with the most collectible plush brand worldwide.
Furthermore, I wish you the best or "cutest" of luck in finding every Kuromi plush you desire. Meanwhile, pick one of my adorable examples to begin the search.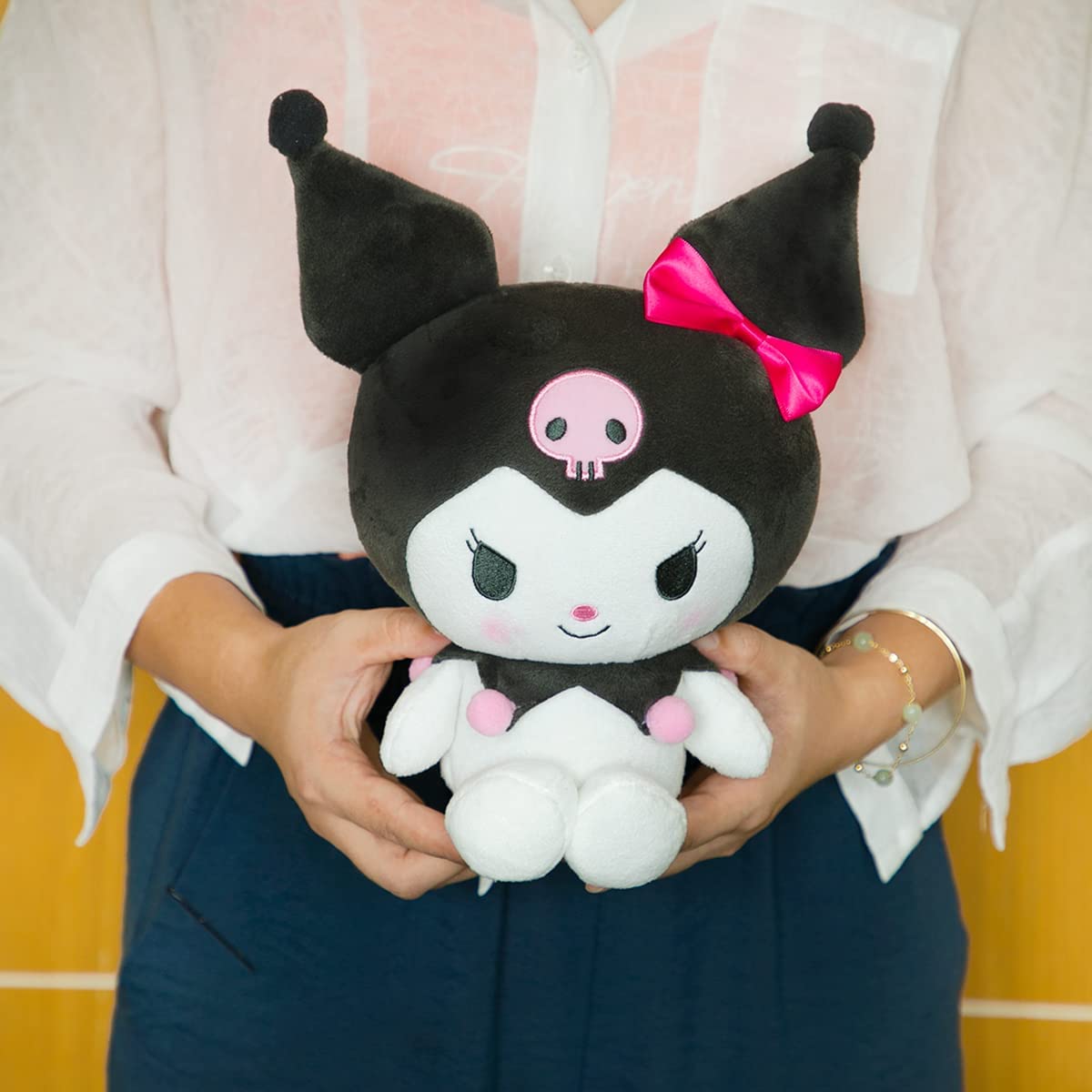 For more Sanrio plushies
Cinnamoroll Plush Guide: Puppies Only – Avid Plush
My Melody Plush Guide for an Adorable Overload – Avid Plush
Ultimate Hello Kitty Plush Guide – Avid Plush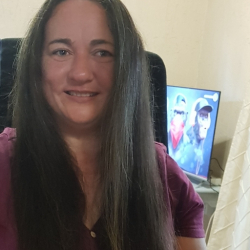 Latest posts by Caroline Lambert
(see all)