Are you curious why some people are so crazy about cow Squishmallows? If you had a farm while growing up, you'd understand why. These soft toys are a perfect way to remind you of home and the deep-seated values ​​that have shaped who you are today. This article will focus on the best Squishmallow cows as I help you pick the best among the many cow plushies available.
Everybody loves cow Squishmallows, and so do I, mainly because they're a hybrid: part pillow, part toy. I have hopped from one mall to another, looking for a Squishmallow cow. Why? Because these toys, best recommended for all ages, not only remind me of my childhood, but they're so squishy and soft.
Bottom Line Up Front
If you love cows, you will love this best Squishmallow cow article! These cow Squishmallows will provide you with softness and comfort and will also make great friends with your other Squishmallows. My favorite cow Squishmallow is Belana.
She has beautiful pastel colors and a cute little green bandana. She also has an eye for fashion, and she helps me put together cute outfits so that I always look on top of the game.
Let us look at my top picks.
Top Picks
Brace yourself, parents: if your kids are not obsessed with Squishmallow cows yet, it is coming.
For me, it's the connection and the sentiment. When I was growing up, my family raised cattle for meat and milk, and they still do today. Personally, I'm into collecting Squishmallow cows. So let's mooooo! Sorry, I meant let's go!
Tips When Buying a Squishmallow Cow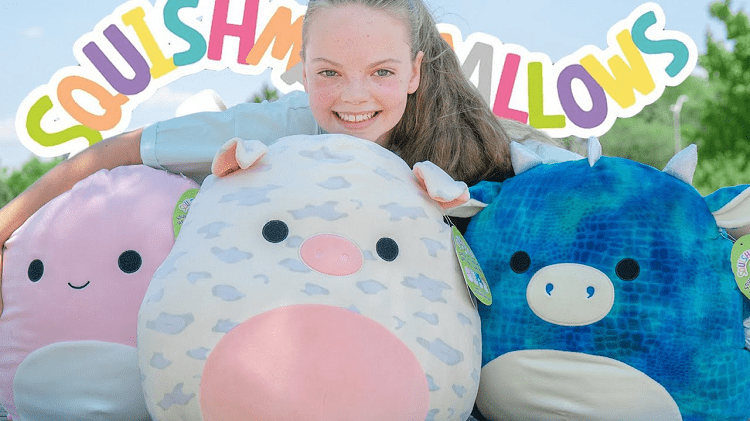 If you're planning to purchase a Squishmallow cow, I know you've been wondering how to buy the best. The truth is it is a challenging task. You must understand the different benefits and features of squishy toys and brands, but don't worry, it is doable. If you are shopping for cow Squishmallows for the first time, the tips below will help you select the right moo moo.
The Type of Squishmallow Cow
There are different types of Squishmallow cows available —some with white and black color patterns, others with white and tan spots. The unusual colors often come in light blue, pink, and purple. Remember that some Squishmallow cows are rare to get if you are searching for a specific type. So keep in mind the kind of squishmallow cow you are looking for.
Check Customer Ratings
Before buying a Squishmallow cow, it's essential to do online research. The Internet is one of the best sources for details about the items you are considering purchasing. You can read reviews, compare prices, and get an excellent Squishmallow deal.
Also, you can check reviews and even buy private label items if you're searching for an even more unique product. This will enable you to make a better and more informed decision.
Compare Prices
When looking for cow Squishmallows online, comparing different squishy toys is a vital step. Prices can vary wildly, so you can easily find a great deal by looking around. Visiting different sites and physical stores is a great way to get the best deal. The best products tend to get the highest ratings.
Ensure you read each description, pro, and cons of every Squishmallow cow. In short, a product's price can determine how popular the product will be.
Selection Criteria
Choosing a Squishmallow cow can be daunting as most Squishmallow cows have similar characteristics, so specific selection criteria are needed to save time and effort. Below is a list to put into consideration when acquiring a squishy cow:
Size
There are pros and cons to every different Squishmallow size, but ideal ones tend to be the ones big enough for the owner to snuggle. Based on the size of the squishy toy user, a little plush size may be ideal if you are looking for portability and convenience. Also, you can use it on the go if you prefer a cuddly toy to travel with.
Washable
Germs and bacteria get into everything, including toys. Since the little ones are always putting things in their mouths, it's advisable to wash Squishmallow cows to prevent the baby from getting sick while playing. The material used depends on the manufacturer, so whatever the fabric used to make the plushies, ensure it's washable.
Affordability
The squishmallow cow's price is a significant factor to consider, and it should match its value. You can opt to compare the reviews of Squishmallow Cows to ensure you get a fair price. At Amazon, comparing prices is very easy.
Smaller, more portable squishmallow cows are available for $40 or less. Larger squishmallows over a foot tall cost more, starting at $50-90, and vary drastically in edition and size.
Squishmallow Cow Recommendations
I have spent hours researching and comparing different Squishmallow cows to come up with the best for everyone's needs or budget. Here is a list of the best Squishmallow cows:
Belozi Squishmallow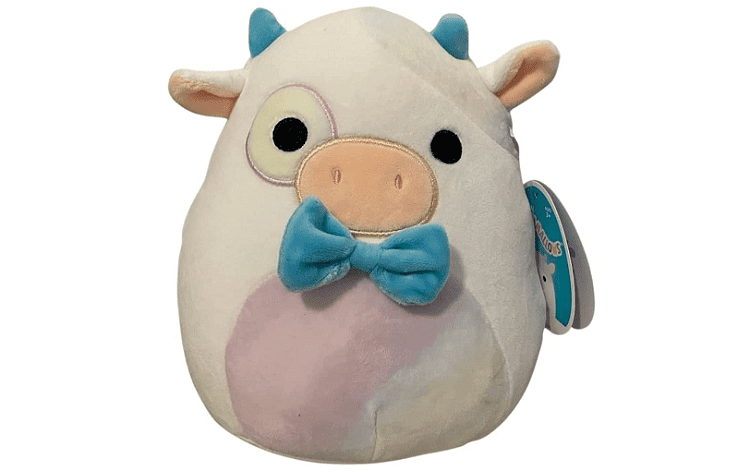 This Squishmallow is small hence portable and is light in color. Its tiny bow makes it stand out from the rest of the cow plushies' designs. Do you want to learn more about farming? Belozi will teach you everything he knows. He will even tell you all about his family and his best friend, Mr. Crispy Bacon.
Features
It's 8 inches

It has light blue antlers and a sky blue bow tie.

Its stomach and other body parts come in a mixed fabric in pastel shades.

Its simple and adorable face displays a neutral expression.

Both ears have inner fabric pieces matching the face's flat nose.
Pros
It is super soft

It is portable and easy to travel with

Has a cute little bow tie

The outline of his nose and one of his eyes are embroidered on

Has a cute little tail
Cons
Some clients find Belozi too small

He is a bit too small to use as a pillow

He will show dirty easily because of his white color
Caedyn Cow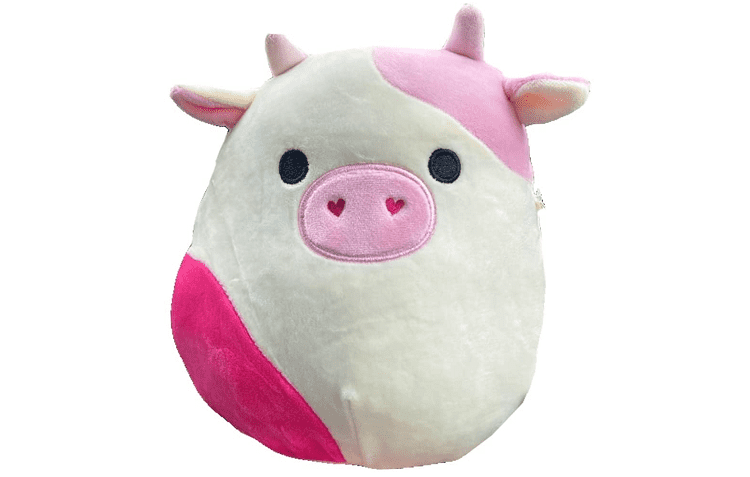 So it is exactly a month after Valentine's day when writing this article. But that doesn't mean that you can't surprise your significant other with this cutie. Caedyn is super cute with hearts as her nostrils, with light and dark shades of pink on her body. For some reason, she reminds me of ice cream.
Features
Mostly a white-colored cow with shades of light pink and darker pink on its body and face

The nostrils are heart-shaped.

It measures approximately 8 inches tall.
Pros
It's adorable

Perfect valentine gift.

Its heart-shaped nostrils are cute and unique

It is soft and squishy
Cons
It is expensive.

If you don't like pink, you might not like this cow.
Bubba Cow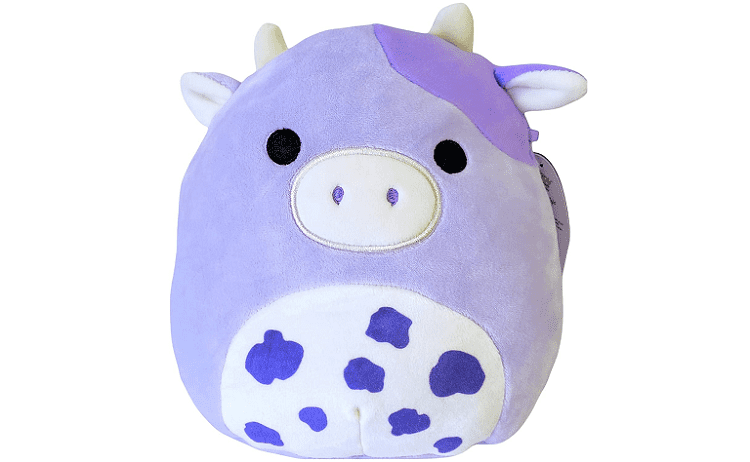 This purple Squishmallow cow is adorable, with tiny horns, ears, and other significant details to bring a smile to a cow lovers' face. At 8 inches, it's perfect for taking with you. I love the light purple as it makes me feel relaxed and less stressed. I also love looking at the darker purple spots on its belly. Because to me, it looks like little clouds floating in the sky.
Features
He has a dark purple patch on the top of one side of his face

It has a little white belly with darker purple patches that look like floating clouds.

It has silver embroidery on the outline of his nose

He is 8 inches big
Pros
It's super soft and snuggly

It's a beautiful color

The light purple color makes you feel relaxed
Cons
It is pretty expensive

Not everyone will like the purple color
Clover Cow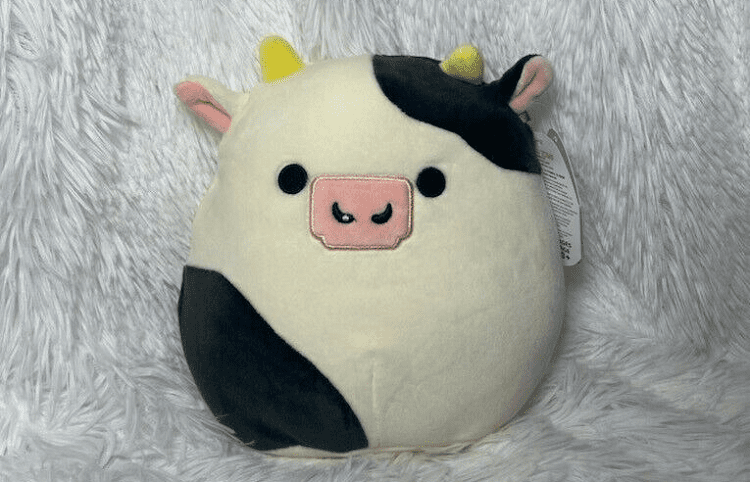 This super adorable Squishmallow bull cow is cuddly and soft and is exclusive to Cows Canada. Its rectangular nose is its distinctive feature. I love Clover's little pink ears and nose. If you are looking for a more realistic-looking squishmallow, Clover will be perfect for you.
Features
Clover is white in color.

It has light yellow tiny horns and little black eyes.

The ears' insides and its nose are both pink.

It has black patches on the top of its head and the bottom of its body.

It is 7 inches big.
Pros
It will add cuteness to any room

It's cuddly and soft.

Perfect gift for anyone who loves cows
Cons
The white parts might show dirty easily

It's pricey

Some might find the shape of its nose weird
Ronnie Cow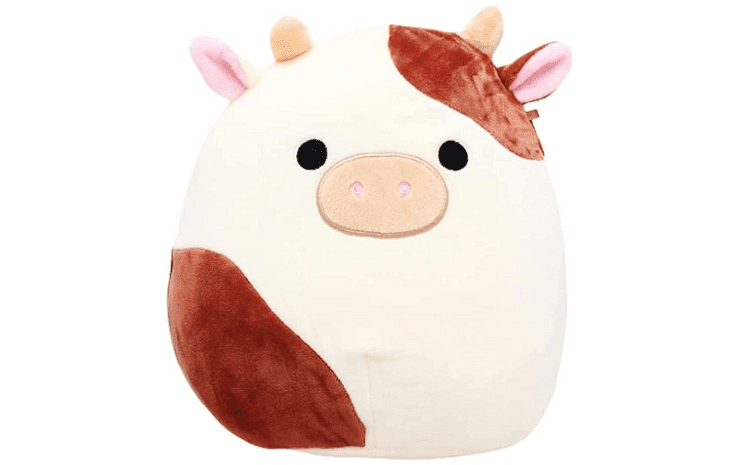 Ronnie is an adorable cow Squishmallow with his white body and dark brown spots. Whether you are 6 or 60, Ronnie will make a great friend and an even better cuddle buddy. Use him as a pillow and watch your favorite movies in comfort. Let us have a look at some of his features.
Features
Ronnie is a white cow with brown patches on the lower parts of its ears and the lower part of its body.

It has light yellow tiny horns and circular black eyes.

The inside of its ears is pale pink

It has a light brown muzzle that matches its horns.

It is 24 inches making it a perfect size for cuddling or using as a pillow.
Pros
It is super soft and cuddly

It's of top-notch quality

It's ideal for all ages

Has a more realistic look to it compared to the other cow squishmallows
Cons
It is too expensive

Because of the white-colored parts of his body, he will show dirty easily.
Belana Cow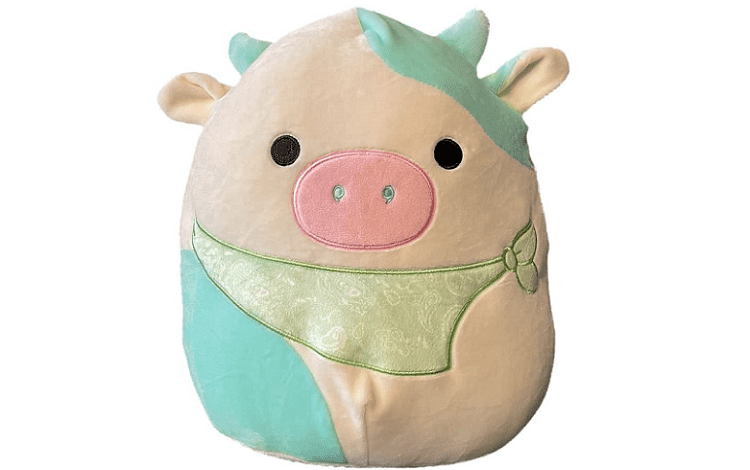 I left the best for last. Belana is too cute for words and is definitely my favorite cow, Squishmallow. She has beautiful pastel colors and a cute little green bandana. She is not too small and not too big and is the perfect size to take on adventures.
Her colors make me think of the colors of easter and easter eggs. Belana has a sweet personality and is always willing to help the other Squishmallows. Let us have a look at some of her features.
Features
The top part of its face and the bottom part of its body is covered in a turquoise color, and so is its horns

It has cute little eyes that are black and round.

She has a pink nose with tiny green nostrils

She has a stylish bandana that is green

It is 11 inches tall
Pros
It's perfect for all ages

Great for cuddling

She is stylish

Has a cute green bandana embroidered on her

Her colors make her aesthetically pleasing
Cons
It's too pricey

Not everyone will like her style and colors
FAQs
Question: How Big are the Cow Squishmallows? 
Answer: The cow Squishmallow varies in size and can be from 7 inches to 24 inches.
Question: What is the Name of the Blue Cow Squishmallow?
Answer: The cow Squishmallow that has parts of blue or turquoise on its body is, Belana. She is also my favorite Squishmallow cow.
Question: Is Rosie the Squishmallow a Cow?
Answer: No, although Rosie looks like a cow, she is, in fact a little pig. But we can all agree that she is adorable!
Questions: How Many Cow Squishmallows are There?
Answer: There are over 16 different squishmallow cow options, but in this guide, you can find 6 of my favorite squishmallow cows.
Conclusion
Holy cow! You have reached the end of the Squishmallow cow article. There are various cow squishy options in this article, with their features, pros, and cons. So if a cow is your favorite animal and you are looking for a cute cow plushie, this article will help you save effort and time.
Most people describe Squishmallow cows as cuddly and incredibly soft. These squishy cows are available in various shapes, colors, and sizes. Squishy cows are not just cute — they have personality and will be a great addition to your family. Get your Mooove on and get your Squishmallow cow today!
Find more inspiration: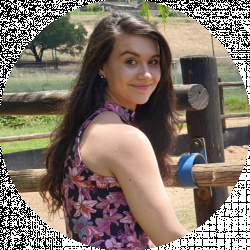 Latest posts by Christine Kent
(see all)