Squishmallows have exploded in fame since their debut in a TikTok video that went viral – and understandably so. These cute squishy toys are a joy to behold and extremely fun to play with. Therefore, it is no surprise that they are being eagerly sought after by adults and children alike, especially after the recent bout of depression and anxiety that has been doing circles all around due to the extended lockdowns and long periods of self-isolation. These cuddly stuffed toys have provided much comfort in these tense times.
Squishmallows come in various characters, but today I'm writing this guide for those, like me, who are devout lovers of the squid squishmallows. Whether you are frantically awaiting the newest version or simply want to know which squid squishmallow is your money's worth – you've come to the right place! I adore squids because they are such beautiful and unique creatures. Their squishmallow versions are even better because I can hug and squish them without worrying that they will attack me. But let us get to the incredible squid squishmallow recommendations. 
Bottom Line Up Front
If you have always been obsessed with the sea and the creatures in it. I'm sure you will love my squid squishmallow guide that I have for you today. The Squid squishmallow is a unique plushie and can be used as a sensory toy to help relieve anxiety. My favorite squid squishmallow is Valentines Squad Squishy Soft Plush. She is the perfect size to cuddle with and use as a pillow. She has just the touch to make any room feel cozy. Let us have a look at my other top picks:
Top picks
Squid Squishmallow Product Recommendations
Presented to you by the company that started it all – KellyToy – this baby blue squishmallow is your standard squid squishmallow. Therefore, this color and style are all the rage and are most common right now. The 8-inch size makes it perfectly portable. You are guaranteed quality when the name "KellyToy" is attached to it. So, if you are one of those squishmallow loving maniacs, this is the option you should go for –When you take this pick, you are guaranteed to get your money's worth!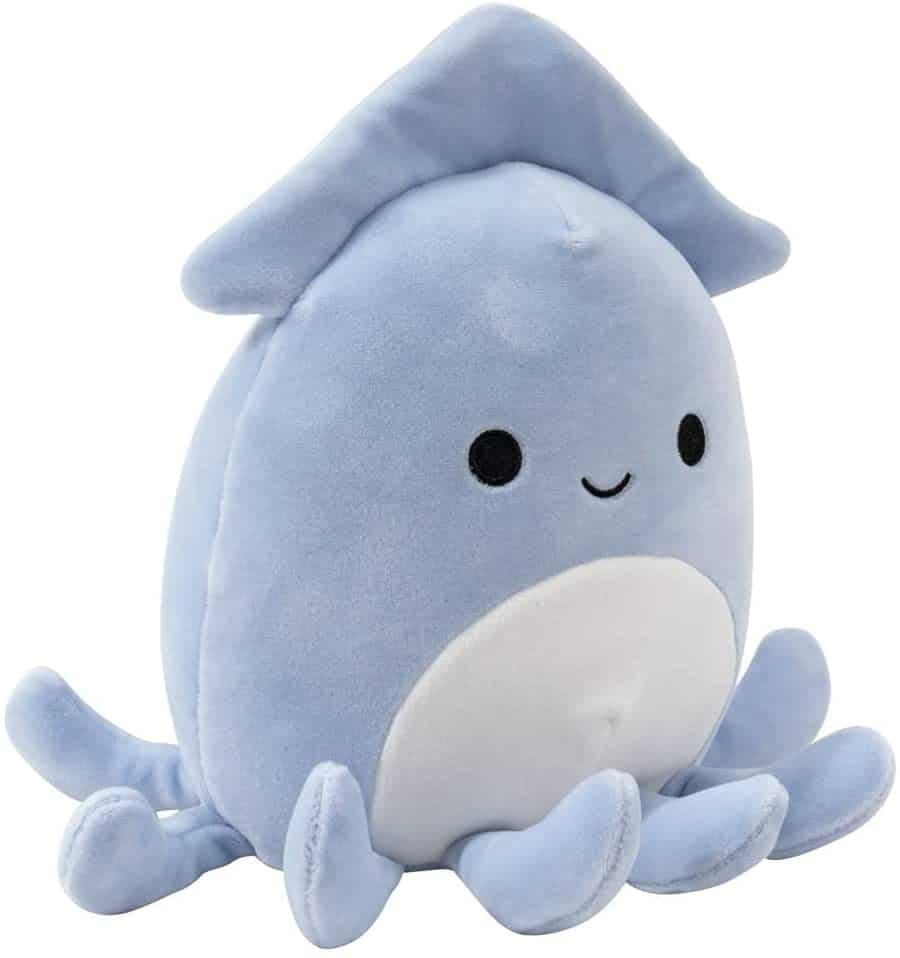 Features
Light blue color

White belly

It is 8 inches big

Round black eyes

A small smile

The top of its head looks like a hat
Pros
 It provides value for money.

 It's easy to carry around.

 It's a great quality product.
Cons
 It is a little too small for some people's liking (alright, mine!)– I mean, what is the purpose of getting a squishmallow if it's not big enough to cuddle up with!

 If you want to get a gift for a kid, this is probably not a good idea since the light coloring means the stains would probably set in from the constant dragging around the toy is probably going to suffer.
Now, this is what I'm talking about! This is a worthy choice for those who like their things one of a kind – this tie-dye blue and white squishmallow immediately catches the eye. It gives a unique spin to the usual. This is an excellent gift for an adult because of its coloring style – which adults are more likely to appreciate – and the 12-inch size. 
This means it is perfect for cuddling up with, using as a pillow, or spicing up your living room, yet it's not too big for a quick and easy wash in the machine. And if you have kids around, they can play with it too (if you're willing to share). All in all, I'd say buy it without a second thought for your SO for Valentine's day gift, birthday, or Christmas – if they're obsessed with stuffed animals.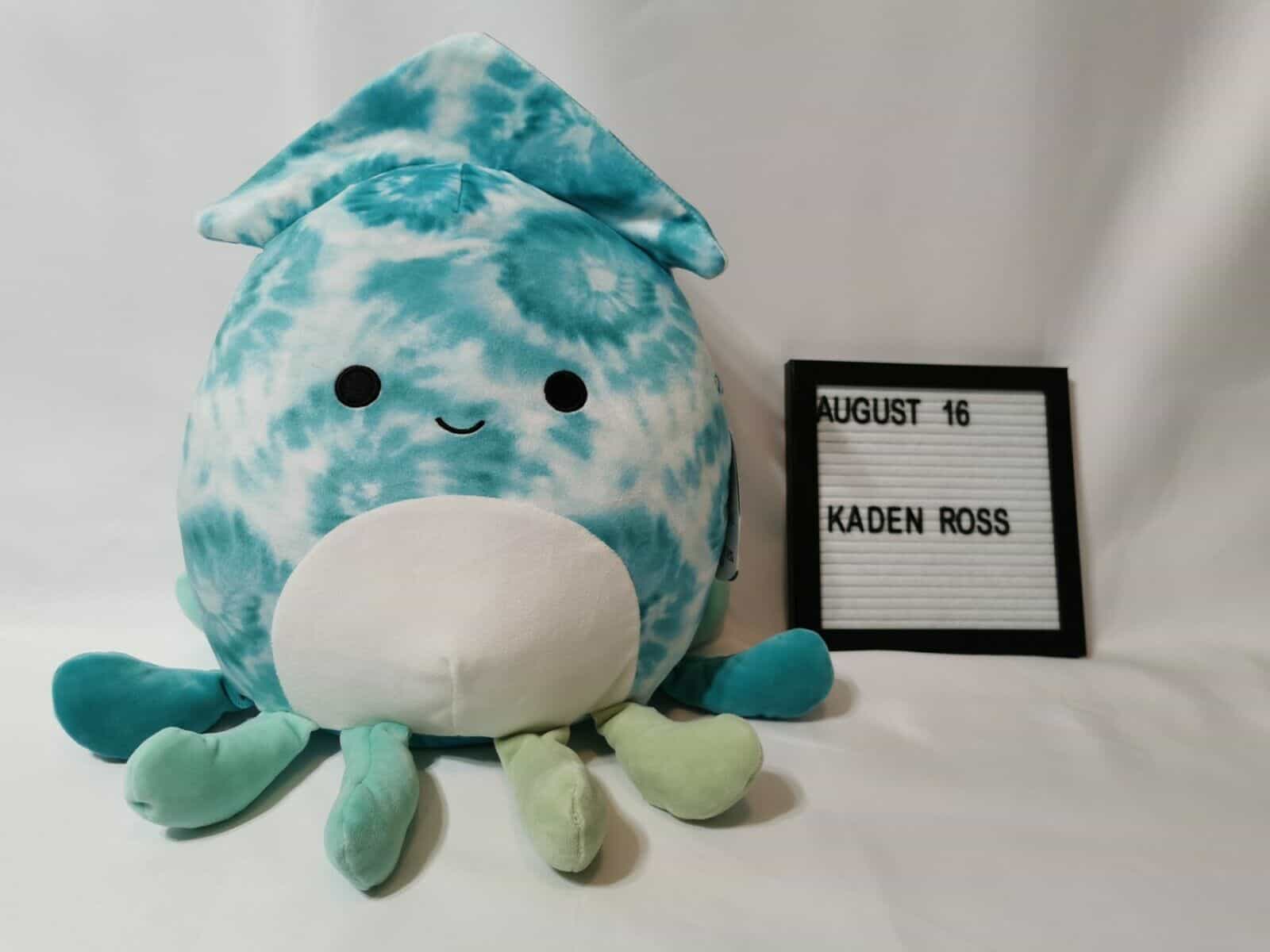 Features
Its tie-dye

It is 12 inches big

Its belly is white 

He has different shades of blue tentacles

Black round eyes'

A small smile
Pros
 The size is perfect to use for the purpose squishmallows are meant to be used for – cuddling!

 The design is unique.

 It's official KellyToy merchandise, so you just know the quality will be good.
Cons
 It might not be as well-liked by the kids; the design appears a little grown-up.

 The size might make it a bother for parents whose kids insist upon carrying it around everywhere.

It is costly.
It's 2 months after Valentine's day when writing this article. Are you still looking for something special for your significant other or just something to surprise them with? This Valentine's squad squishmallow will be perfect for them. It has cute heart details that will remind them how much you love them. And the best part is that it is 16 inches big, making it the perfect cuddle companion for when you are not there with your partner and they need something to cuddle. Just be careful that they don't replace you with the plushie. Let us look at some of this Valentine's Squishy's features: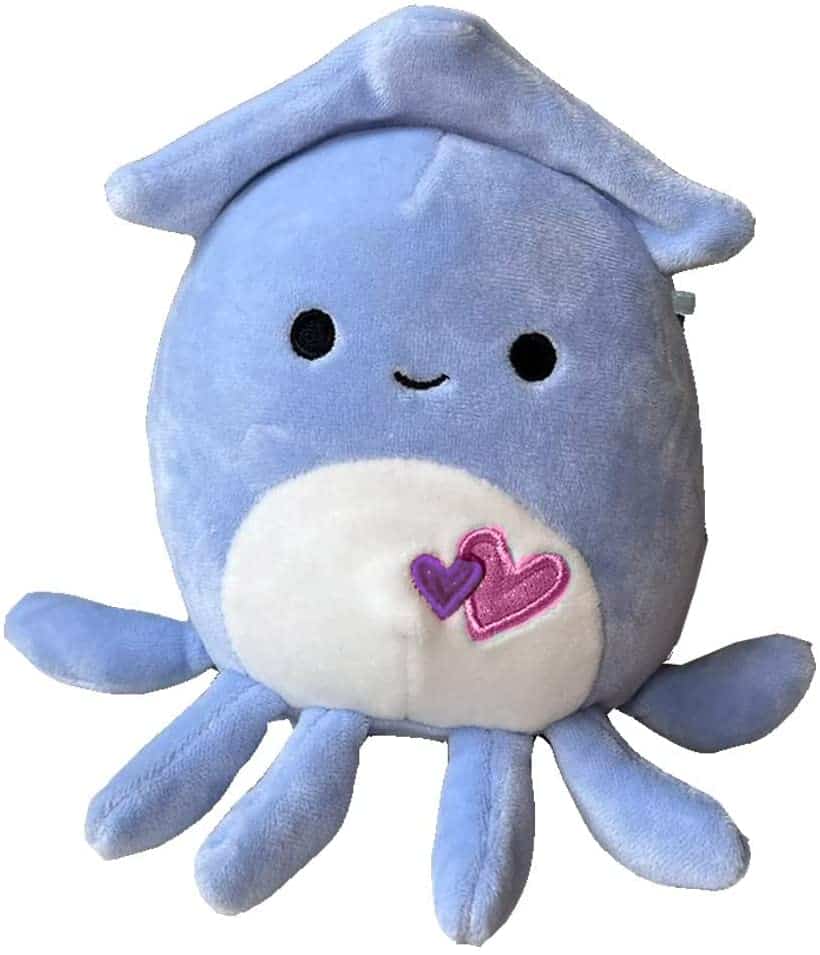 Features
A beautiful light blue color

White belly 

A big cuddly size

The squids head looks like a hat

One pink heart and one purple heart on its belly

Round big black eyes

Cute smile 
Pros
Cute and unique design

Beautiful color

Perfect gift for Valentine's day

It is soft and squishy
Cons
It is too small

It is very pricey
Do you have a key you need to keep handy but always seem to lose? Well, now you have the perfect solution! This extremely adorably tiny little squishmallow can be used as a keychain, so you can't help but keep it around wherever you go! It's something you're unlikely to forget in a hurry. Simply attach it to your backpack, and you put a distinguished, stylish spin on your otherwise boring work ensemble. It can also be used to add to your miniature display collection or something to give to your kid to keep them busy while driving around with them and running errands.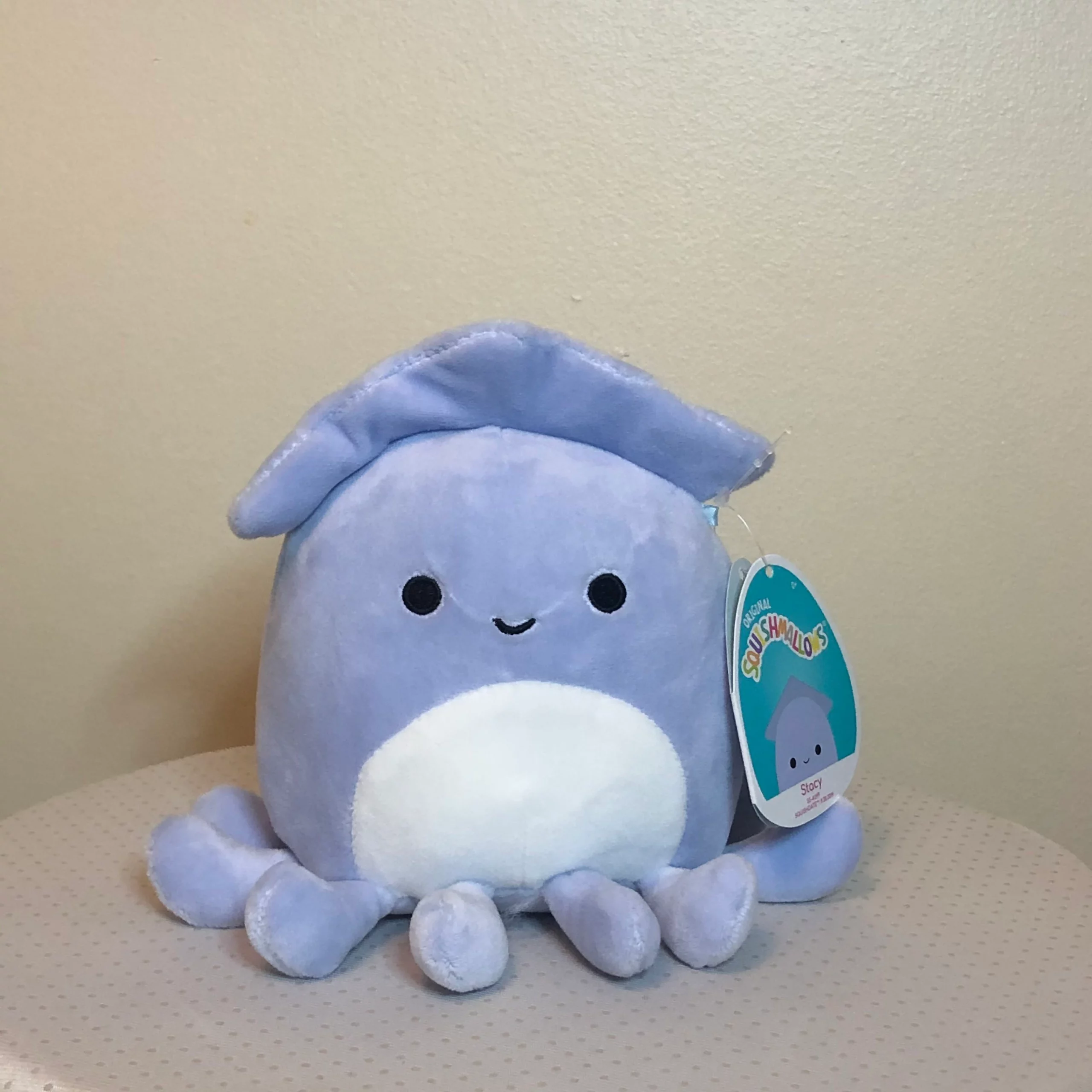 Features
It is small and is 3.5 inches big

It is a cute keychain

Beautiful blue, purple color

White belly

Small black eyes

Small smile
Pros
 The miniature size somehow adds to the already cute appeal of squishmallows.

 It's a multipurpose toy/keychain attachment.

 Quirky and inexpensive.

 Official KellyToy merch.
Cons
 It cannot be considered a toy.

 It appears a little flappy, not very well stuffed.
Alternative Options
Are you looking for something more realistic? I have just the options for you that I know you will freak out about, so let us get right to it.
This squid plush is gorgeous. It has the most beautiful colors, and it is a great size that you and your children can enjoy. You can even use his head as a pillow while watching a movie and then play with its tentacles that can act as a sensory toy and help relieve your stress and get your mind off of things. Let us look at this guy's pros and cons.

Pros
It is realistic looking

It has beautiful colors 

It has big beautiful eyes

It can be used as a sensory toy to relieve stress

It will give any room an aquarium vibe

Its size makes it great to be used as a toy or a pillow

It is very affordable

Great gift for both boys and girls
Cons
For some, it might be too big.
This guy is an excellent representation of his name as he is giant and is 31 inches big. I love its color and realistic look, although its tentacles freak me out a little. It has a hanging loop on its head, making it great for hanging up in your or your kids' room. 
Let us have a look at his pros and cons.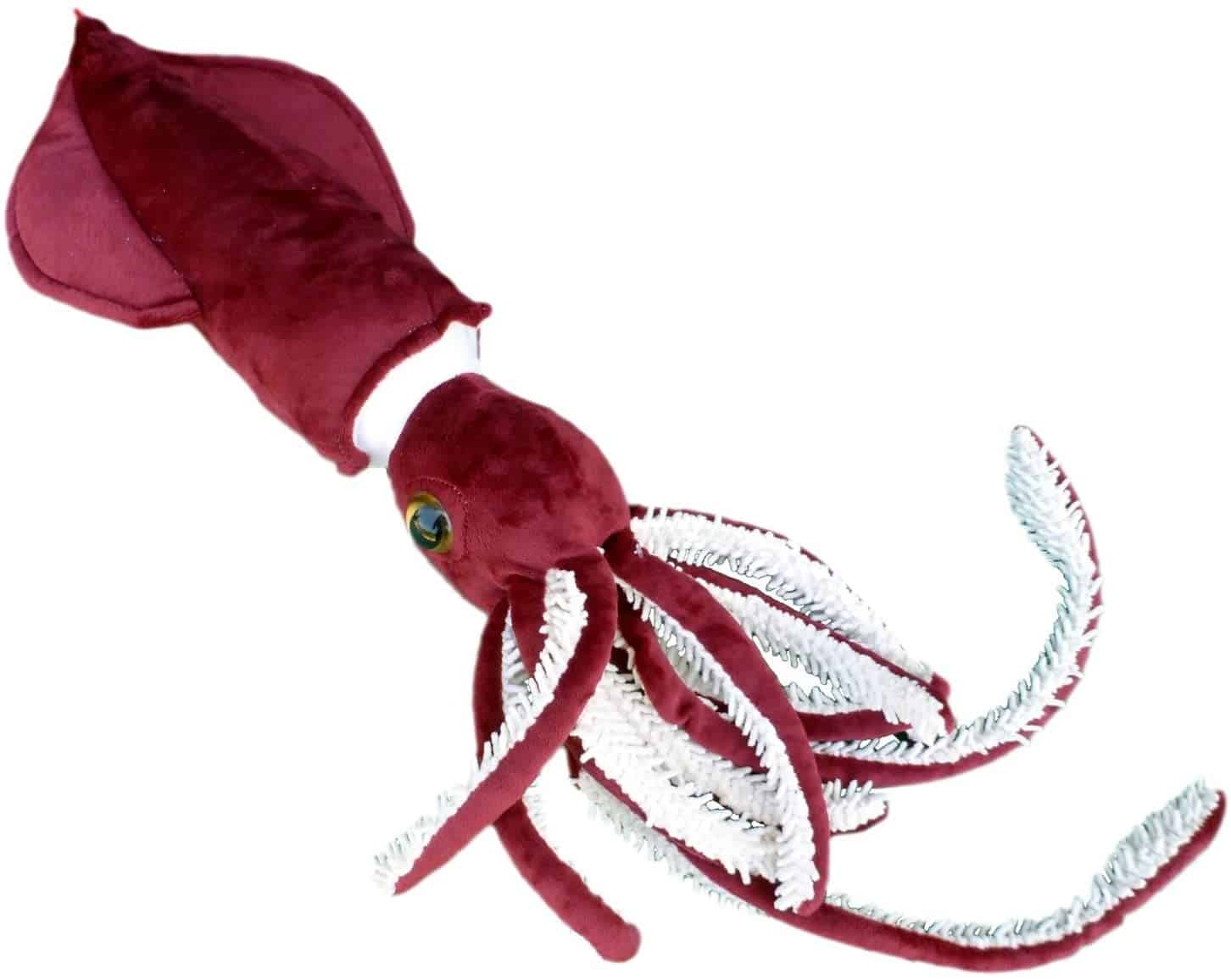 Pros
It is huge, making it fun to play with because your kids can drag it around the house and have hours of fun. Just note that the white tentacles will get dirty quickly from carrying around because you know how kids are; he will probably visit the mud and grasslands. 

I love that it is realistic looking.

It is soft and squishable.

Big beautiful eyes

A hanging loop that enables you to hang it up in your or your kids' room
Cons
It is a bit pricey 

The white tentacles will show dirty easily
Okay, I know this option isn't realistic. Still, I can't end this article without including our beloved grumpy character Squidward from Spongebob. Squidward is small and 6 inches big, which means you can take him wherever you go. Let us have a look at some of his pros and cons.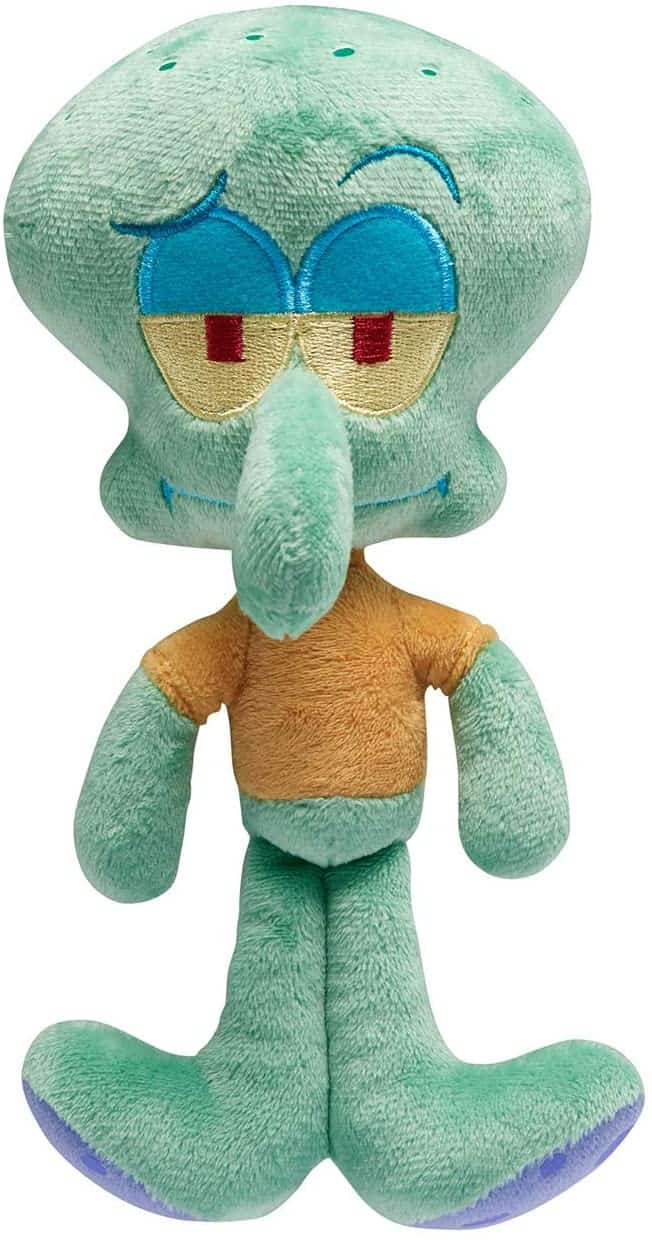 Pros
He is soft and squishy

He is an officially licensed plushy

Makes an excellent gift for children or anyone obsessed with Spongebob characters

He is a great size to take on adventurers 
Cons
He is a bit pricey for his size.
My Opinion
Having a unique spin on whatever I own is always a preference. In line with that, I'd have to say Squishmallows Official Kellytoy Valentines Squad Squishy Soft Plush is my favorite one out of all the squid squishmallow options. Because she keeps me company and gives excellent cuddles when my husband is traveling and is away from home for long periods. She also has a cute heart design on her belly, which makes me love her even more. 
Factors to consider when buying a strawberry squishmallow
The quality

The price

The squishiness

The size

The appearance

The cuddle-ability
Conclusion
We have reached the end of this article. You got to be squiding me?
What works for you depends on your reason for buying the squid squishmallow. Is it a gift? Is it for a kid? For your SO? Etc. So, think about the person you're getting this for, and based on that, pick the best option for you based on the great squid squishmallow options listed above. What was your favorite squid squishmallow I mentioned in this article? If you are unsure, you can go through my guide again, and don't forget about the alternative options. Choose a squid squishmallow that matches your vibe and personality or of the person, you are buying it for. Happy Squid squishmallow shopping, guys. 
Frequently Asked Questions
Question: Are Squid Squishmallows an Excellent Option to use as a Cuddle Toy?
Answer: Squishmallows, in general, are a very cuddly toy option. The reason behind the immense fame of squishmallows is that they are so squishy and, therefore, a delight to cuddle up with. Add to this the little 'extra' that squid squishmallows offer regarding the little squishy tentacle attachments that you can play around with. They make up a great and healthy way for you and your loved ones to cuddle up, especially when you are feeling a little overwhelmed.
Question: Can Squid Squishmallows Help With Anxiety?
Answer: Squishmallows became famous during the long periods of self-isolation and extended lockdowns when the Covid 19 pandemic was at its peak. Many people across the globe suffered from mental health issues like depression and anxiety during this period. At this time, after a TikTok video featuring a squishmallow went viral, they shot to fame.
According to studies, cuddling up with squishmallows can be a great way to combat feelings of depression and anxiety. Squid squishmallows, with their squishable tentacles, can offer a little extra help in this department.
Question: Is it Possible to Wash Squid Squishmallows at Home?
Answer: Squishmallows can be generally washed by hand or in the machine at home. However, this might also depend on the quality of the product. Some low-quality options can change the form or tear after a spin. The KellyToy options, although, are always a good quality choice. As for squid squishmallows, the smaller options are not a problem, but some of the bigger options might not be possible to wash in the machine. If you don't want to go to the trouble of handwashing, you can always get them dry-cleaned.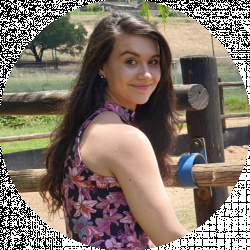 Latest posts by Christine Kent
(see all)