Do you remember your favorite bunny plush or teddy bear from childhood? You'll still have your childhood favorite if you're nuts about plush like me. I'm a plush fan and collector, often scooping up Squishmallows and Pokémon plush. Meanwhile, the best Jellycat plush guide returns memories of childhood stuffed animals.
Nothing inspires a more classic stuffed animal than Jellycat. However, the plush toys from Jellycat offer nostalgia like no other brand. I grew up with a bunny similar to one of Jellycat's plushies. It might not be photogenic anymore, but it remains in my collection. So, let's discover the best picks from various groups.
Best Jellycat Plush Bottom Line Up Front
Jellycat's history spans over 20 years, and the London-inspired stuffed animals offer unique picks. Jellycat turns the weirdest ideas into plush toys that provide a sensory experience for little fingers. In addition, they're lightweight and perfect to comfort children on long road trips. However, the brand offers more than you think.
Jellycat's stuffed animals come in 19 collections, each with a unique element and with multiple animals, plants, and even food items. Additionally, you can customize the plush you want for kids. Jellycat's plushes will drive your kids wild with super soft textures and a squishy interior that doesn't make it heavy.
Before we dive into the beautiful story of Jellycat, let me share my favorite. The Best Jellycat Bashful Woodland Bunny Plush is my ultimate choice because it reminds me of my Bun-Bun from childhood. Mine is faded and old but resembles this Jellycat bunny plush more than I can describe. It nearly jerks a tear to see this beauty.
Meanwhile, let's discover the brand, buying tips, and the best choices for Jellycat plush.
Your Guide to the Best Jellycat Plush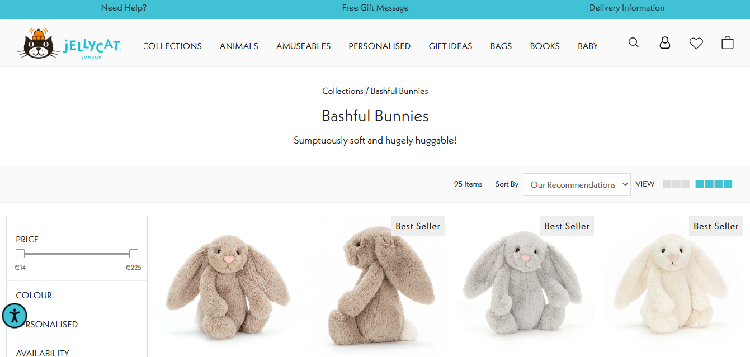 Jellycat plushies aren't new or some rage in the viral world. Instead, the brand has significant roots older than 20 years. It provides an unusual experience for kids (and older fans who enjoy plush). So, let's discover quick facts about the brand, share some tips to help you navigate the plushies, and find a way only to pick the best.
Quick Jellycat Plush Facts
Jellycat plush has been around since 1999 as a London toymaker targeting children. The brand expanded into Minneapolis in 2001 because it became a near-instant hit. The Jellycat plushies are quirky and always strive to stand out with unusual designs. The silky soft materials offer children a beautiful sensory experience.
In addition, Jellycat plushies are lightweight and ideal for travel companions, especially on long road trips. I love Jellycat plush for many reasons, but it's time to share some buying tips.
Buying Guidelines for Jellycat Plushies
Buying a Jellycat plush opens the door to many possibilities. Which one will you choose? Which character, range, or size will you pick? Admittedly, Jellycat has an enormous range of plush toys. It will be challenging to pick one among many. So, consider how Jellycat has various plush toy collections, including:
Amusable Object Plush includes unique designs like a heart, moon, rainbow, and teapot
Bashfuls Plush is a collection of traditional favorites like bunnies, giraffes, wolves, and puppies
Beautifully Scrumptious Plush is a silkier collection with polar bears, chinchillas, seals, and dragons
Big Toys Plush is the more extensive collection that includes ponies, lions, unicorns, and tigers
Blossom Bunnies Plush is bunnies with gorgeous floral patterns
Colorful & Quirky Plush looks like the name suggests and contains fairies, monsters, butterflies, and snails
Cordy Roys Plush is designed with corduroy materials and has elephants, foxes, dinosaurs, and cats
Dressed to Impress Plush are a collection of monkeys, snails, frogs, and unicorns in costumes
Food & Drink Plush is what you think, and the collection includes burgers, tacos, peanuts, and eggs
Fuddle Wuddle Plush are softer and squishy and include dragons, unicorns, dinosaurs, and monkeys
Little Legs Plush have shorter legs and include chicks, frogs, bunnies, and squirrels
Long Legs Plush have what you think and include monkeys, cats, orangutans, and pigs
Mad Menagerie Plush has more fur and includes orangutans, goats, chickens, and cows
Plants & Flowers Plush is what comes to mind and includes Bonsai trees, cactuses, seedlings, and roses
Pocket Pals Plush is a smaller collection of starfish, jellyfish, bluejays, and crabs
Sealife Plush provides anything from the ocean, like lobsters, pufferfish, seahorses, and whales
Spring Delights Plush is an adorable salute to spring with rabbits, sheep, ducks, and eggs
Super Softies Plush is the softest collection of puppies, bears, hedgehogs, and owls
Woodland Plush is a collection of trees, pine nuts, toadstools, and mushrooms
Furthermore, you could use the personalized plushies to create something even more unique. In addition, it helps to know each plush can belong in multiple collections. For example, the Jellycat Amuseable Birthday Cake Plush is Food & Drinks and Amuseables.
Meanwhile, my second tip is to choose one for babies and toddlers because the sensory experience is insane. Sensory play has immense benefits for kids. The plushes have different textures and feel ultra-squishy.
How I Picked the Top Jellycat Plush
How can you pick the best of a brand so phenomenal? Firstly, I'll choose one ideal choice from each collection. However, what makes each pick the best plush in each group? It must meet my criteria:
The Jellycat plush must be the most unusual from the collection, which won't always apply to collections with only animal plush. In that case, I'll select the one that looks the most traditional, accurate, or colorful. However, it must ultimately be most relatable to preschoolers and younger kids.
The Jellycat plush must come from a US store to make the shipping faster because no one wants to wait weeks. Unfortunately, the brand is overloaded with deliveries from the London store.
I'll only consider Jellycat plush from trusted stores like Nordstrom, Jellycat Amazon, Hopscotch Children's Store, Nancy's Floral, and Crate & Kids. These stores sell baby and toddler products and offer originals.
Best Jellycat Plush Guide: Cutest Picks
The best Jellycat plushes were hard to pick because many collections offer excellent options. However, let's discover the cutest picks for your kids and find out why I chose them.
Each Jellycat plush toy will have downsides and upsides, as with anything. Also, I'm a plush snob who judges every detail.
Best Jellycat Amusables Cosmopop Rocket Plush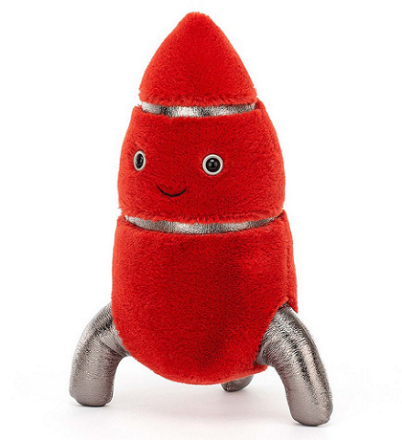 The Jellycat Cosmopop rocket plush stands out more than the rulers, coffees, and rainbow plush. Young kids know rockets, and this plush undoubtedly makes for an amusable stuffed toy. Jellycat plush toys also have incredible details and use quality materials to make the color brighter, and the eyes look realistic.
Pros
The Jellycat Cosmopop rocket plush is beautiful, unique, and trendy
The colors ad shimmering design will brighten any child's face
Cosmopop can also stand tall, making the plush ideal for a nightstand
Cons
Some amusable plushies are more unusual, but they aren't as relatable
Cosmopop's mouth should be bolder or designed with thicker fabric
Best Jellycat Bashful Woodland Bunny Plush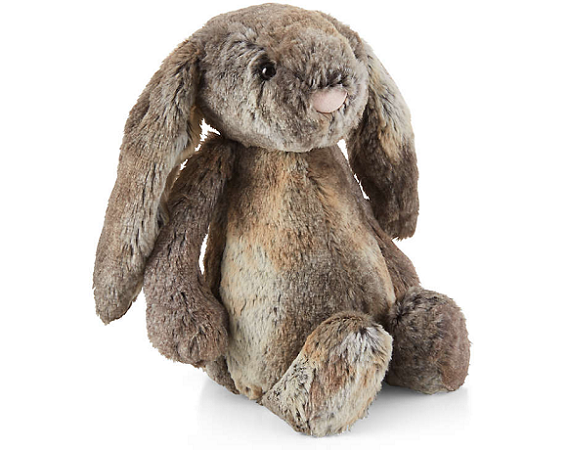 Admittedly, Jellycat's Woodland Bunny plush struck the nostalgia core of my soul because it looks too much like my childhood stuffed bunny. Mine hasn't much fur left, but the bunnies look similar enough to make this Jellycat stuffed animal my ultimate pick from the Bashful collection of traditional-styled plushies.
Pros
The Jellycat Woodland Bunny plush will feel nostalgic for most Millennials
The Jellycat bunny plush has an incredible texture with ultra-soft fur
Bunnies and bears are some of the most classic plush toys for kids
Cons
The Bashful collection of plush from Jellycat has many other ideal picks
Some kids might prefer colorful bunnies compared to the traditional style
Best Jellycat Beautifully Scrumptious Lavender Dragon Plush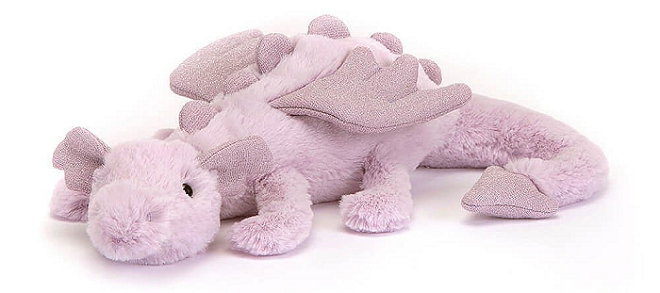 The Jellycat Beautifully Scrumptious collection has a secret. The plushies smell so good you think you can eat them. The Jellycat Lavender Dragon plush doesn't smell edible. Instead, it smells like I'm lost in a field where peace and harmony are the only things that matter. Lavender is a soothing smell that works great for kids.
Pros
The Jellycat Lavender Dragon plush is beyond gorgeous in smell and style
It looks like the dragon is peaceful to match the plush's scent
Young kids love dragon plushies, making this the ideal choice
Cons
The lavender color might be challenging to keep clean
The "huge" size is 29 inches and wouldn't be excellent for kids under three
Best Jellycat Big Toys Spotty Unicorn Plush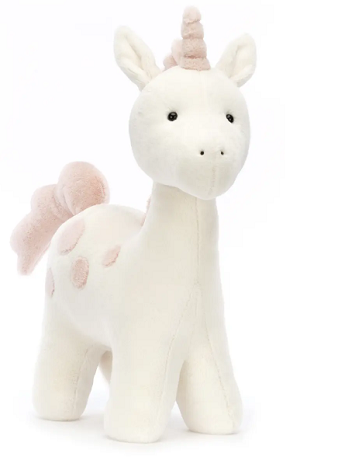 The Jellycat Spotty Unicorn plush isn't the most colorful or eccentric design, but it works well for younger kids. The size makes it stand tall as a plush friend in a child's bedroom, measuring nearly 18 inches tall. I'm nervous about reviewing this one while my daughter sneaks around because she wants every unicorn plush she sees.
Pros
The Jellycat Spotty Unicorn plush is the ideal style for younger kids
My daughter is like many other girls and would want a giant unicorn plush
The plush's design is sturdy to ensure it stands straight in a playroom
Cons
The color will be a nightmare to clean
It's unsuitable for unsupervised play under three because of the size
Best Jellycat Blossom Bunnies Lemon Bunny Plush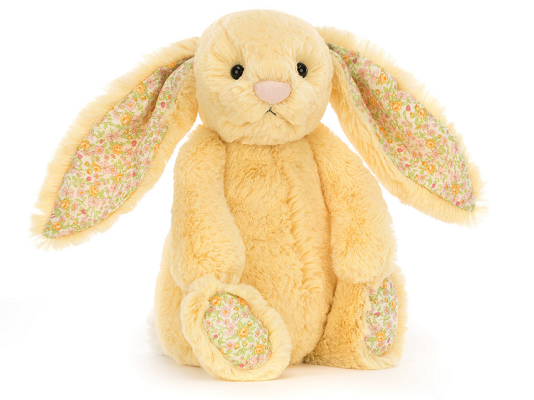 So, I didn't use a colorful bunny for the Bashful collection. Instead, I used a traditional color. Therefore, I'll add a brighter, sunnier bunny plush from Jellycat for the Blossom Bunny's best pick.
The Jellycat Lemon Bunny plush is as bright as daylight. Still, she also has beautiful floral patterns in her ears and under her paws.
Pros
The Jellycat Lemon Bunny plush is a mix of traditional and colorful
Little kids enjoy the brighter colors with patterns as an added sensory stimulation
Lemon Bunny's design is exceptional, sturdy, and ultra-soft, with long ears
Cons
Yellow wouldn't be my personal choice for a bright color
I'm not crazy about floral patterns, but kids benefit from it
Best Jellycat Colorful & Quirky Pandora Pixie Plush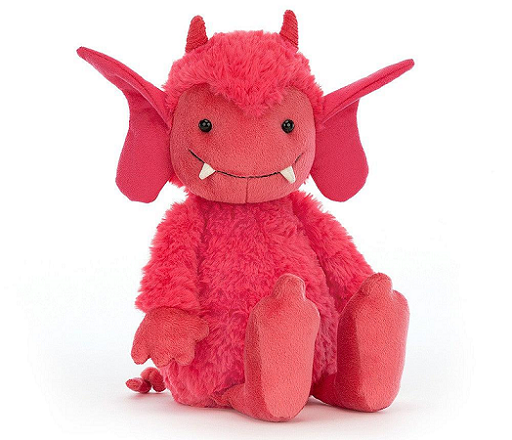 The Colorful & Quirky Collection of stuffed creatures has some incredible options. Still, I picked one that better relates to the target age group. The Jellycat Pandora Pixie plush is undoubtedly better known to little kids than a dilophosaurus or gremlins. Meanwhile, butterflies and frogs don't seem as flamboyant as pixies.
Pros
The Jellycat Pandora Pixie plush has a friendly demeanor compared to the monsters
The pink color, massive ears, and ultra-fuzzy exterior don't make it creepy
The details and varying textures make it an ideal pick for young hands
Cons
Admittedly, it gives off a slight gremlin vibe
It could lose the teeth, even if they look soft
Best Jellycat Cordy Roys Doopity Elephant Plush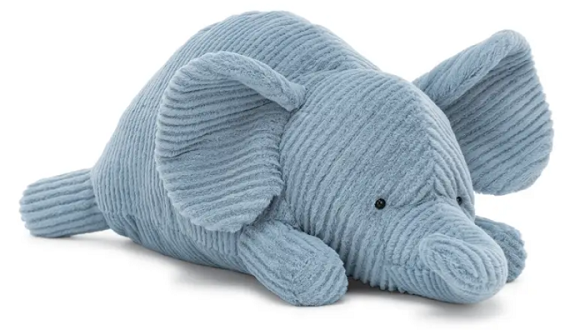 The Jellycat Doopity Elephant plush is one of a few Cordy Roys Collection picks in US stores. I immediately enjoyed this plush toy's name. However, I didn't give any others a second thought because of Doopity's name. The elephant plush looks like it's feeling Doopity if that was ever a word. It's an incredible plush for kids.
Pros
The Jellycat Doopity Elephant plush looks like its name, which isn't a word
The name sounds like something a toddler would say
The texture, color, and design are fantastic for younger kids
Cons
The design isn't accurate for an elephant's shape
The eyes are smaller than other Jellycat stuffed animals
Best Jellycat Dressed to Impress Madison Monkey Plush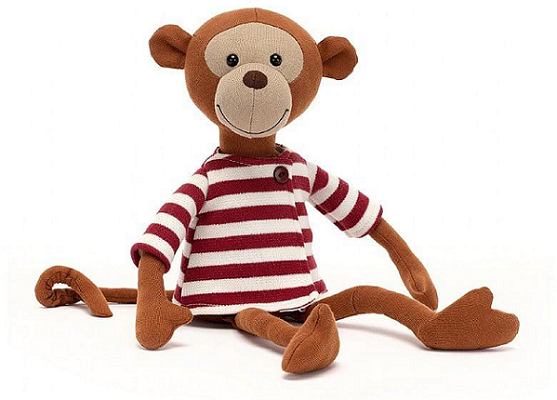 Choosing the best Jellycat plush for the Dressed to Impress Collection was another easy one. Kids love monkeys, and who doesn't love seeing one in an outfit? My kids enjoy the circus because of the monkeys. So, the Jellycat Madison Monkey plush would become a favorite for my son or daughter.
Pros
The Jellycat Madison Monkey plush is an all-time children's favorite animal
Somehow, Madison looks friendly yet curious, good yet naughty
The outfit is made of the same high-quality materials as the plush toy
Cons
Unfortunately, the Dressed to Impress Collection isn't soft like others
The Madison Monkey plush's arms and legs look awkward
Best Jellycat Food & Drink Burger Plush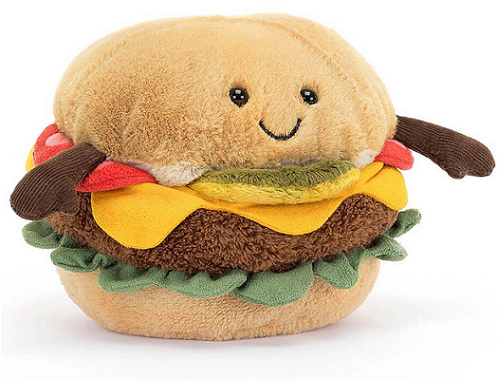 The Jellycat Food & Drink Collection has an extensive selection of choices. However, I stuck to the Jellycat Burger plush because kids know it better than tacos, pomegranates, and clementines. Meanwhile, which kids enjoy eggplants, broccoli, or radishes? So, the Jellycat Burger plush was the obvious choice for the age group.
Pros
The Jellycat Burger plush looks incredible with a fuzzy touch
The layers, details, colors, and features look nearly edible
Young kids know cheeseburgers, so they'll love this little amusable plush
Cons
The Jellycat Burger plush might make kids want burgers all-day
The arms should go because it seems slightly creepy
Best Jellycat Fuddle Wuddle Lion Plush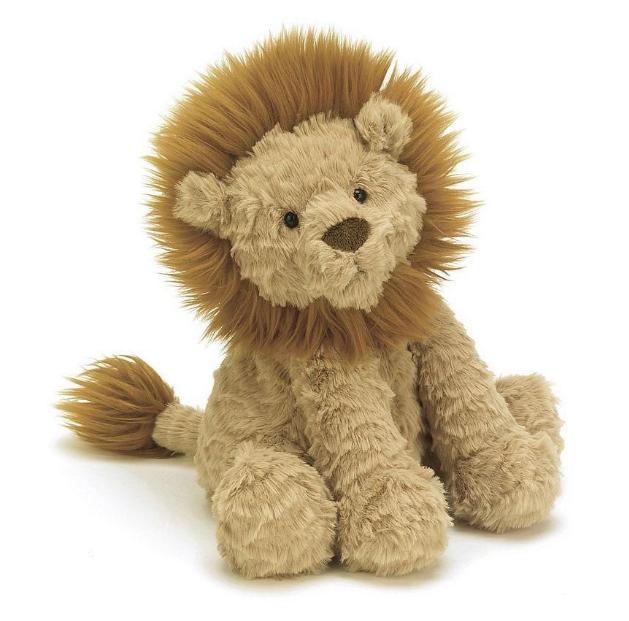 I'm South African and know lions are anything but cuddly. The Jellycat Fuddle Wuddle Collection has a different interior to feel softer than most plushies, except for the Super Softies range. However, the Jellycat Fuddle Wuddle Lion plush has ultra-soft stuffing with a textured exterior, ideal for young kids who enjoy snuggling.
Pros
The Jellycat Fuddle Wuddle Lion plush is a textured and squishy sensory experience
The Jellycat Lion plush has an adorable mane and details
Young kids enjoy lions and other big cats in plush toys
Cons
The African beast has nothing to do with cuddliness
This plush should be more significant for the animal
Best Jellycat Little Legs Yummy Duckling Plush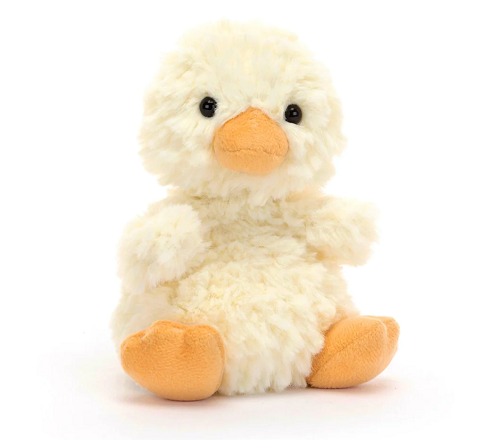 The Jellycat Little Legs Collection includes any animal or creature with oddly short or naturally short limbs. However, the Jellycat Yummy Duckling plush gripped my attention with its adorable design, ultra-soft fuzzy exterior, and the littlest legs on earth. Besides, which children aren't enormous fans of ducklings?
Pros
The Jellycat Yummy Duckling plush is one of the most adorable things you'll find
The exterior has a beautiful texture with ultra-soft touches and a pale color
It has the littlest legs and wings to appeal to young kids who enjoy baby animals
Cons
The colors are light enough to give you nightmares
It's not a large plush and only stands five inches tall
Best Jellycat Long Legs Andie Axolotl Plush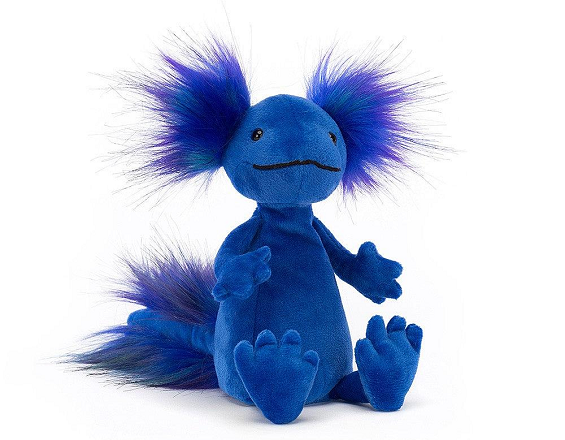 The Jellycat Long Legs Collection includes every animal or creature with oddly or naturally long limbs. So, the Jellycat Andie Axolotl plush is ideal for something unusual, and children know axolotls well because they're popular pets. Meanwhile, Andie's long arms and tail suit the collection as much as his legs.
Pros
The Jellycat Andie Axolotl plush is another famous but unusual pet
The design is insane, with good textures, colors, and fuzzy touches
The dark blue axolotl will appeal nicely to younger boys
Cons
Some kids might prefer the long-legged cats or monkeys
Be careful of little kids breaking and eating the features
Best Jellycat Mad Menagerie Oswald Orangutan Plush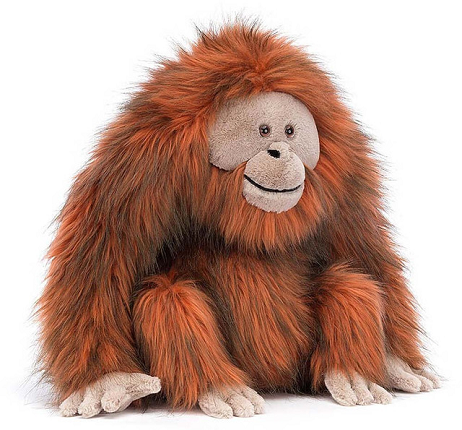 The Jellycat Mad Menagerie Collection includes animals with extensive fuzzy features, thicker fur, and softer exteriors. However, the Jellycat Oswald Orangutan plush is a newer stuffed animal with the longest, fuzziest hair I've seen in the entire collection. Oswald Orangutan is the most impressive plush after my top pick.
Pros
The Jellycat Oswald Orangutan plush is textured and ultra-soft
Oswald has longer hair than other Jellycat animal plushies
The colors, features, movability, and eyes are incredible for a child's plush
Cons
This plush will be the biggest nightmare to clean
It's not recommended for unsupervised play under three
Best Jellycat Plants & Flowers Poinsettia Plush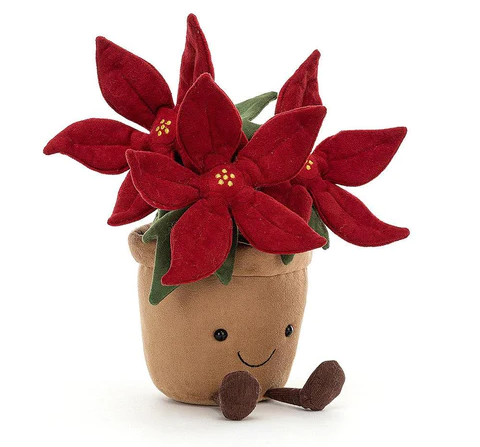 The Jellycat Plants & Flowers Collection includes fantastic beauties, but none appeal to younger kids. No child of three asks for a cactus or rose. So, I chose the Jellycat Poinsettia plush as a personal favorite pick. I've always enjoyed poinsettias with bright red colors and beautifully soft leaves.
Pros
The Jellycat Poinsettia plush is undoubtedly amusable
Young kids might enjoy playing with the sensory plush
The colors, features, face, and feet are adorable for kids
Cons
It's not the ideal collection for kids
The eyes and mouth are too small
Best Jellycat Pocket Pals Layla Ladybird Plush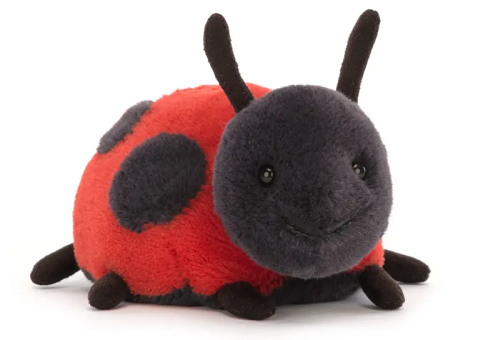 The Jellycat Pocket Pals Collection includes any plush five inches and under. Some plushes are keychains and weird types of stuffed animals. However, my priority is to seek the best choices for younger kids. So, the Jellycat Layla Ladybird plush is ideal because children find ladybirds fascinating. Also, it's a unisex Jellycat bug plush.
Pros
The Jellycat Layla Ladybird plush is bright and bug-like
Children enjoy ladybirds and will know Layla well
The colors and features on this tiny plush are incredible
Cons
Plushies of this size tend to get lost
The face could use some more details
Best Jellycat Sealife Storm Octopus Plush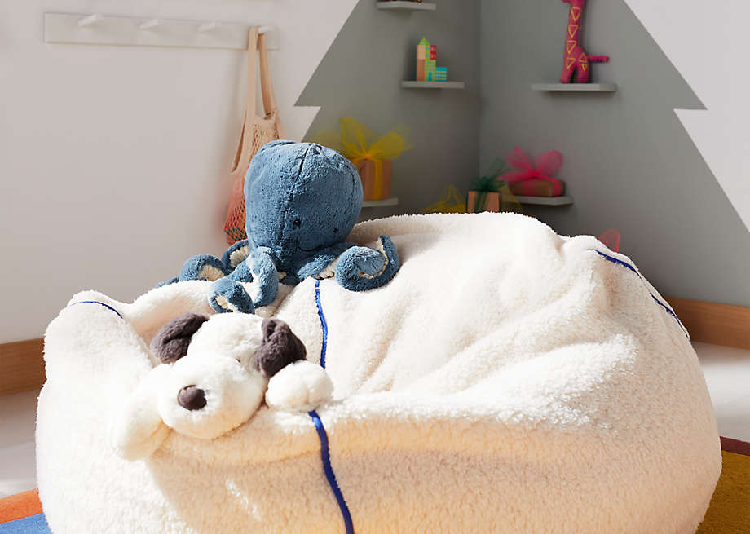 The Jellycat Sealife Collection was among my most challenging choices because it has crabs, seals, whales, orcas, turtles, and many other children's favorites. So, I relied on the most unusual design with the craziest features. The Jellycat Storm Octopus plush has insane tentacles that look complicated and interesting.
Pros
The Jellycat Storm Octopus plush has the softest touch
The tentacles are mesmerizing to keep kids busy for hours
Unraveling the tentacles is the perfect sensory play for younger kids
Cons
Some kids would relate better to other sealife animals
The eyes and mouth could use more details
Best Jellycat Spring Delights Bonnie Egg Bunny Plush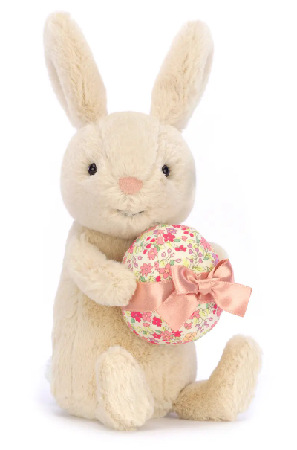 The Jellycat Spring Delights Collection includes various animals and items related to the season, sometimes as simple as a bunny holding an Easter egg, fruit, or flower. It's not the most extensive collection from Jellycat. However, the Jellycat Bonnie with a floral egg plush is my best pick for being more colorful than others.
Pros
The Jellycat Bonnie Bunny plush is adorable and Easter-themed
The plush has a modern shape for bunnies, unlike traditional bunnies
The colorful egg also has patterns to stimulate young children
Cons
Indeed, it's one more bunny among the many animals available
The colors are too light for young, sticky fingers
Best Jellycat Super Softies Drake Dragon Plush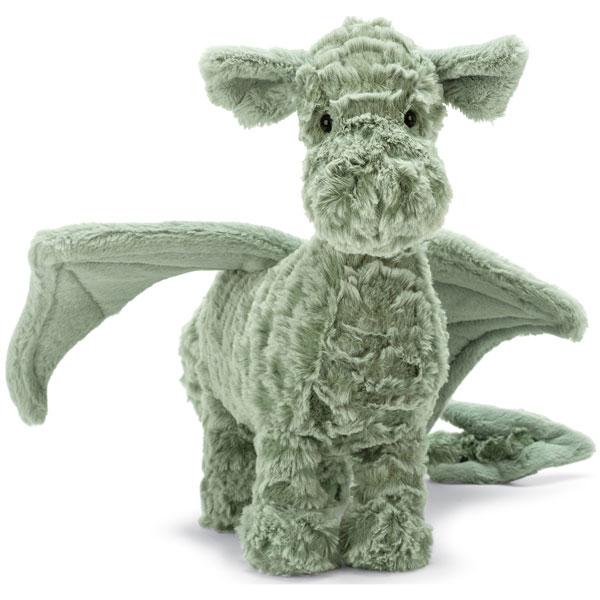 The Jellycat Super Softies Collection has a fantastic selection of small to giant plushies. However, the Jellycat Drake Dragon plush immediately took my heart to become my third-best option. My son loves dragons like most boys, and this ultra-soft, cuddly, fuzzy dragon will impress any child, even older kids, and adults.
Pros
The Jellycat Drake Dragon plush is a famous creature kids love
The texture, color, features, and fuzzy exterior will drive kids wild
The wings, tail, and ears are sturdier than they look
Cons
This Jellycat plush would appeal to any child of any age
The floppy ears look slightly sad for Drake
Best Jellycat Woodland Bonsai Plush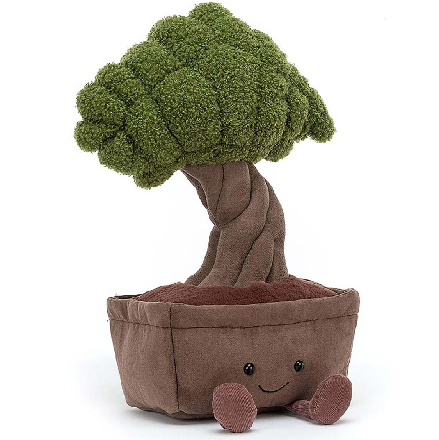 Finally, the Jellycat Woodland Collection isn't animals as you'd think. Instead, you'll find various trees and plants you see deep in the woods. So, it's another plush collection that doesn't make relatable sense to the correct age group. However, the Jellycat Woodland Bonsai plush is another personal choice because I love the trees.
Pros
The Jellycat Bonsai plush is as unique as they come
The details in the soil and leaves are beyond incredible
The little plush looks pretty friendly for kids who might enjoy trees
Cons
It's another Jellycat plush that doesn't make sense to smaller kids
The legs are wrong and should go away
FAQs
Question: Why Is Jellycat Plush Unique?
Answer: Jellycat is a London and US-based baby toy brand that makes special plushies. The brand uses unique features, creates plush of the most unusual things, and doesn't overlook quality. In addition, the textures offer a sensory experience for the targeted age groups. So, Jellycat is unique for various reasons.
Question: Are Jellycat Plushes Safe for Babies?
Answer: Jellycat is one of the only global plush brands focusing on ensuring their stuffed animals are safe for all kids from birth. Newborns, babies, and toddlers can safely enjoy Jellycat plushes unless the brand states otherwise in an ad. Sometimes, the plush's size, features, or materials aren't suitable for kids under three.
Question: Which Jellycat Plush Is the Most Popular?
Answer: Jellycat's collection, Bashful, focuses on traditional-styled stuffed animals we remember from childhood. So, the most popular group would be Bashful, but the most famous animal is the bunny. You'll find over 180 different bunny plush from Jellycat, including one that smells like an apple and a Caboodle bunny.
Best Jellycat Plush Guide: Conclusion
Jellycat plush is a world of wonder, sensory experiences, and traditional stuffed animals. Indeed, my picks focused on finding the most relatable plush from the 19 collections.
However, Jellycat plushes have a lot of collector potential. For example, you'll have over 180 bunnies to collect before any other animal.
The safety and versatility of Jellycat plushies made me love them. The brand offers quality, squishiness, and childhood benefits in some of the most unusual plushies. However, I recommend buying the Best Jellycat Bashful Woodland Bunny Plush right away if you feel as nostalgic as me.
Nothing can encourage me to buy a new plush more than nostalgia, but it's not the same for everyone. Maybe your kids enjoy smelling plush or feeling a tree's odd textures and folds. In that case, target the best collection to buy your little one their future nostalgia today.
For more adorable plush for kids: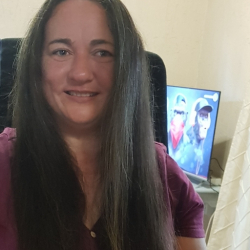 Latest posts by Caroline Lambert
(see all)