Are you curious why the squishmallow sloth toys have taken the world by storm? This article will focus on the squishmallow sloth guide and will help you understand why this adorable plush toy is a must-have in every home.
Bottom Line Up Front
Sloths are in my opinion, the cutest animals on the planet. And now you can have your own sloth in the form of a Squishmallow. I have listed my favorite Sloth Squishmallows in this guide to make the decision of choosing your next cuddle buddy a little easier. Here are my top 5 Squishmallow sloth options:
Aqua the turquoise sloth
Buzz the Squishmallow sloth
Taylor the Tie-dye Squishmallow sloth
Simon the Squishmallow sloth
Kenneth the Squishmallow sloth
These cuddly, collectible plushes rose to popularity during the COVID19 pandemic and have brought us comfort in times of pain and uncertainty. People are starting to embrace the sloth squishmallows as a constant reminder to always take it easy.
So let us get into the Squishmallow sloth guide.
What Makes the Squishmallow Sloths Unique?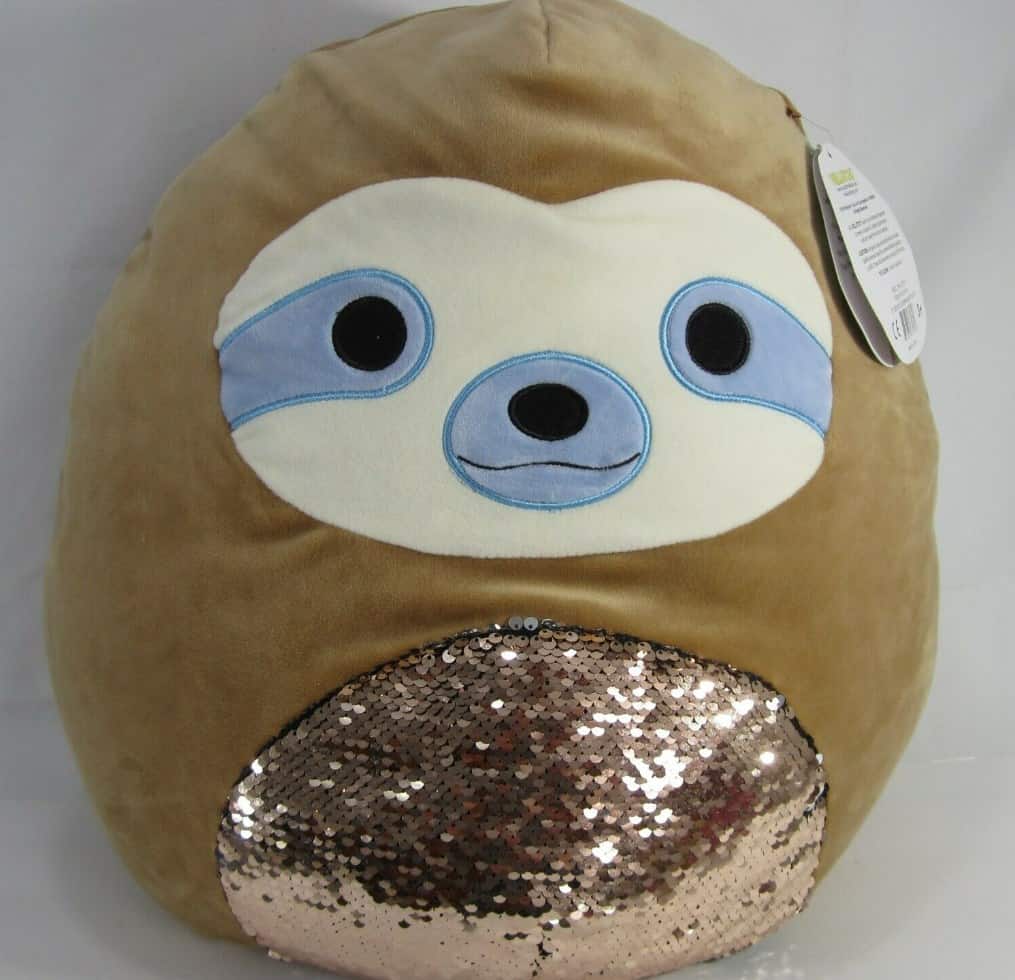 Squishmallow sloths have adorable tiny faces; they are round, soft, and fluffy. They also come in different sizes, cute names, and stories. What makes them unique is that no matter what the situation is, they always have a smile on their face. I think this is something we can learn from them, that no matter how tough things might get, we always need to keep a positive attitude. 
Because there is such a wide variety of sloth Squishmallows, people like to collect them. We will look at some of these collections later in this article. 
How to Choose the Best Squishmallow Sloth?
Before purchasing a squishmallow sloth, you should consider the following factors:
Your Child's Interest
What is your child's favorite color? Does he or she like toys that look more realistic or cartoonish? Keep this in mind when choosing your child's Squishmallow sloth. 
Determine the Toy's Size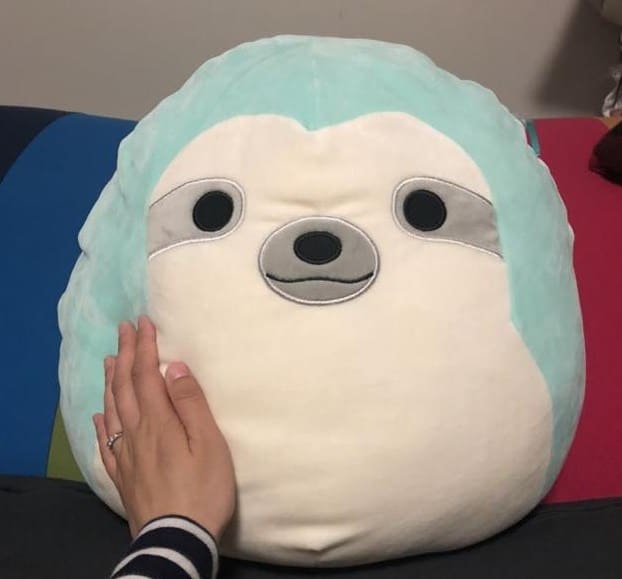 Look at your kid's general behavior to identify which size is perfect. A portable sloth toy will work better if your kids enjoy running around the house with their plushies.  
However, if your kid loves hugs and cuddling, you can purchase a larger squishmallow sloth.
Some cuddly sloth toys are so huge that they are difficult to store. Therefore, also consider your home's storage needs.
Quality is Important
Quality is an important factor to consider when choosing a squishmallow sloth for your kid. Because low-quality toys can be hazardous to your child, so make sure that you choose a sloth squishmallow that doesn't have parts that can come loose after a couple of washes or if your child plays rough with the toy.
Talk to Your Child
Have a conversation with your child and ask them which Squishmallow sloth is their favorite and why. You can also take them to your nearest store and let them pick out their own Squishmallow sloth. Or go with your child on a Squishmallow sloth hunt on the web and add their favorite one to your cart.
Let us have a look at different Squishmallow options: 
Different Squishmallow Sloth Options 
It's not hard to see why many people love the sloth. They live at their pace, are asleep almost all day, and their faces always seem to be smiling! With that in mind, I have created this list to bring together the cutest sloth options that are ideal for sloth lovers, regardless of their sex or age.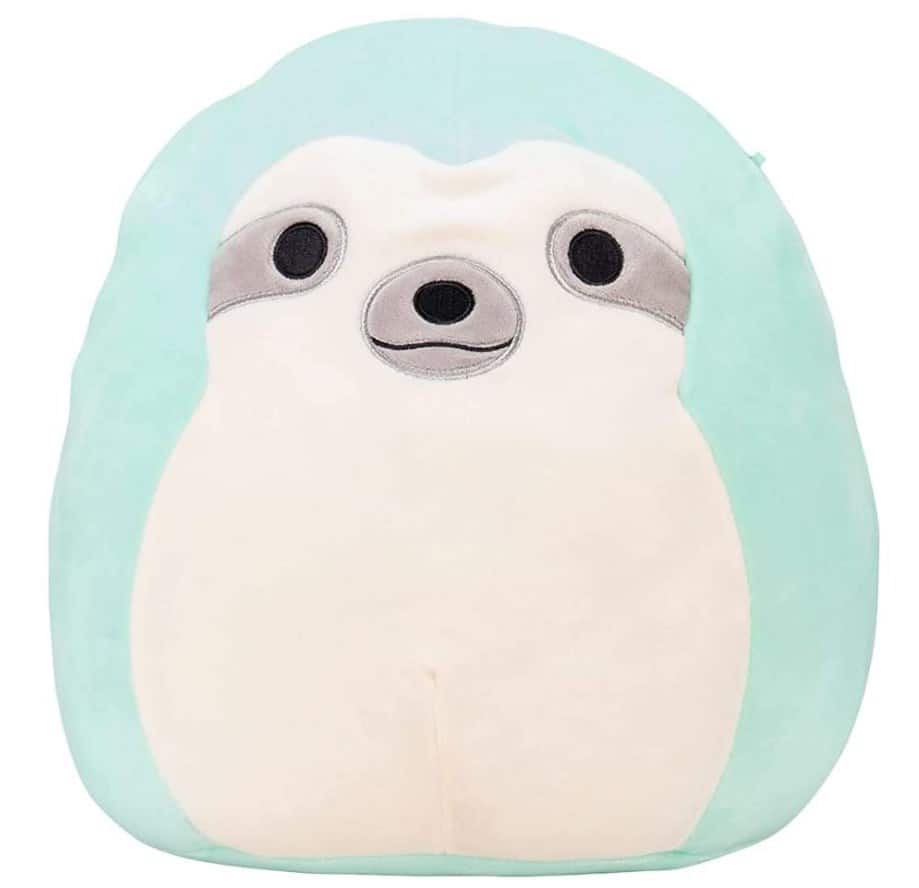 Aqua is a sloth that loves to party and eat great food. You can find him in the DJ booth partying his turquoise butt off. Let us have a look at some of Aqua's features:
Brand: Squishmallow
Character: Aqua
Color: White and Turquoise
Size:12 inches
Age ranges: Great for all ages
Pros
They are incredibly soft and make great cuddle buddies

It is made from excellent quality

It makes a great gift 

This sloth will always put a smile on your face

It is a beautiful color
Cons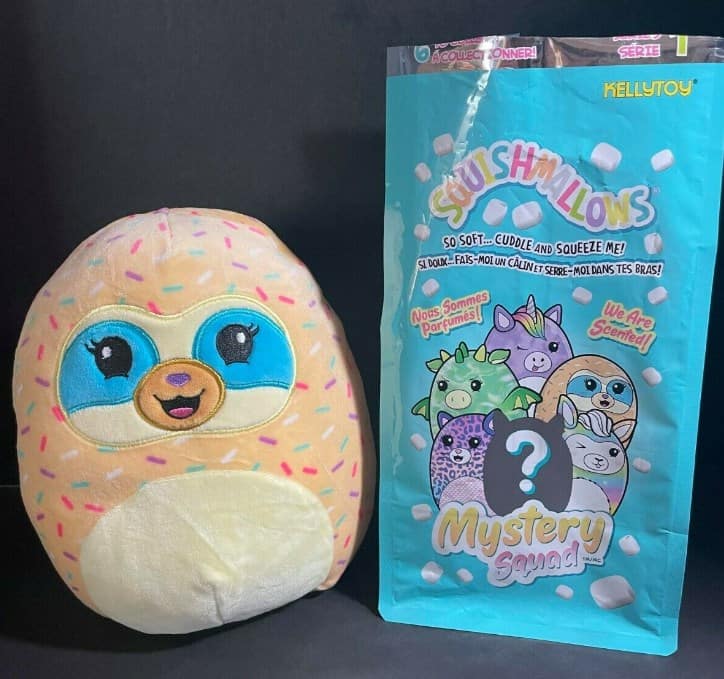 If you love donuts, you will love Buzz the Squishmallow sloth! Because he looks like a donut, and donuts are his favorite food. If you need help with anything, Buzz is the sloth to ask because he knows everything! He is also a great friend that will listen to you, give you advice, and keep your deepest secrets safe.
Let us have a look at some of Buzz's features: 
Brand: Kellytoy
Character: Buzz
Color: Multicolored
Size: 8 inches
Age range: Age 3 and up 
Pros 
Its eyes are happy and bright enough to brighten anyone's mood

It's washable

It is soft and cuddly

It is scented
Cons
For some, it might be a little pricey

Some people may not like the scent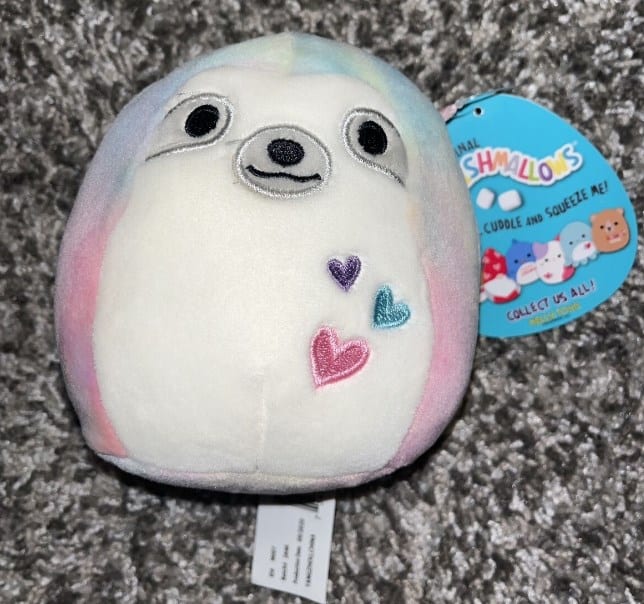 Do you have a red-carpet event and need an outfit ASAP? Taylor, the sloth, is the Squishmallow to approach! This seamstress's Squishmallow will design you an outfit that will have everyone in awe in talking for days. Whether you are going to a fancy dinner or red carpet event, Taylor has the skills to turn any outfit into a masterpiece. This is definitely any girl's or boy's dream plushie. 
Let us have a look at Taylor's features:
Brand: Kellytoy
Character: Taylor
Color: rainbow tie-dye with little hearts
Size: 4,5 inches
Age range: Ages 3 and up 
Let us have a look at some pros and cons of this sweetie pie: 
Pros 
It is adorable

It makes the perfect cuddle buddy

She is colorful

Perfect gift for Valentines day or a birthday for your partner
Cons
It is a bit small

Some might say it is expensive for its size

Not everyone will like that she is multicolored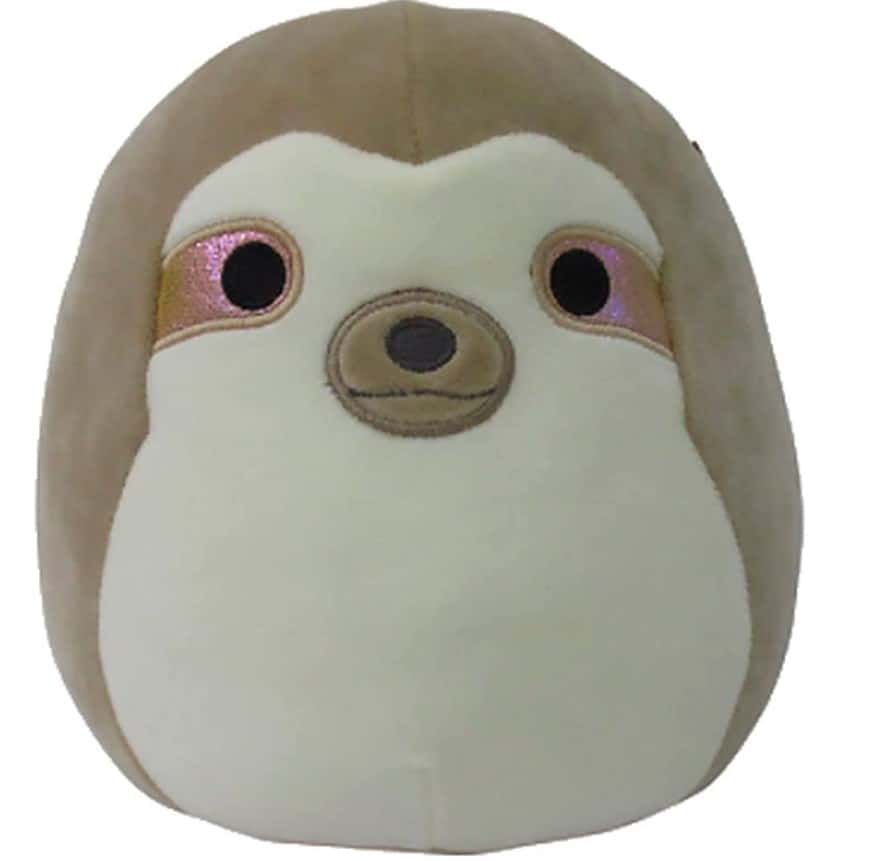 Do you love spending your time playing games and relaxing? If so, Simon the sloth will make a great friend. You can take him with you to purchase new games and have a great time. Let us have a look at some of Simon's features:
Brand: Squishmallow
Character: Simon
Color: Brown and cream 
Size: 8 inches
Age Range: Age 3 and up 
Pros 
He is highly durable

Extremely squishy

He makes a great buddy to take on an adventure

He is the perfect travel size
Cons
He is expensive

The glitter on his eyes may wear off after a few washes.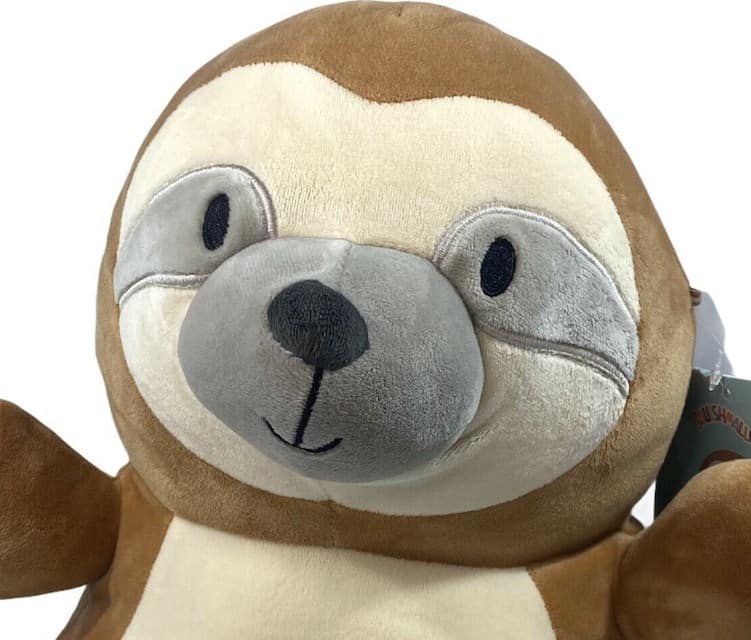 If you love cars and love speed, Kenneth will make a great addition to your Squishmallow collection. He dreams of becoming the next best race car driver. So you guys can share this passion. But don't be surprised if his foot is a bit heavy on the pedal. Kenneth has a beautiful brown color that gives him a more realistic look. Let us have a look at some of Kenny's features: 
 Brand: Kellytoy
Character: Kenneth
Color: Light brown and dark brown
Size:14 inches
Age range: Age 3 and up 
Pros 
It's soft and huggable

It's machine washable

It is large, which makes it better to cuddle with

It makes a great gift

It will be great to calm your anxiety
Cons
For some, it might be a little pricey. 
So maybe you are not a fan of the Squishmallow  sloths, and prefer the regular sloth plushies. Here are some alternative options for you:
Alternative Sloth Options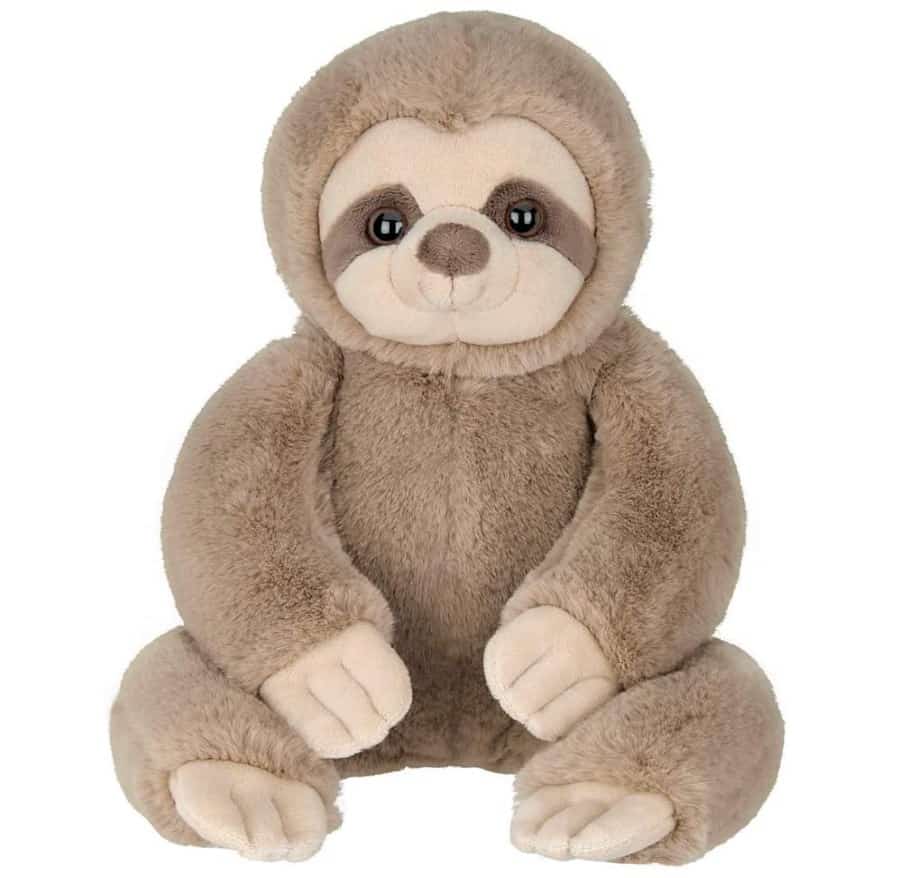 Meet Sammy, the sloth; she is cute and the perfect size for cuddling. Feeling a bit stressed lately? Sammy will let your stress melt away with only a hug.
Let us have a look at Sammy's pros and cons:
Pros
She has a cute face

She is soft and gives the best hugs

Great quality

A great gift for kids and adults

She will always put a smile on your face
Cons
For some, it might be a bit pricey.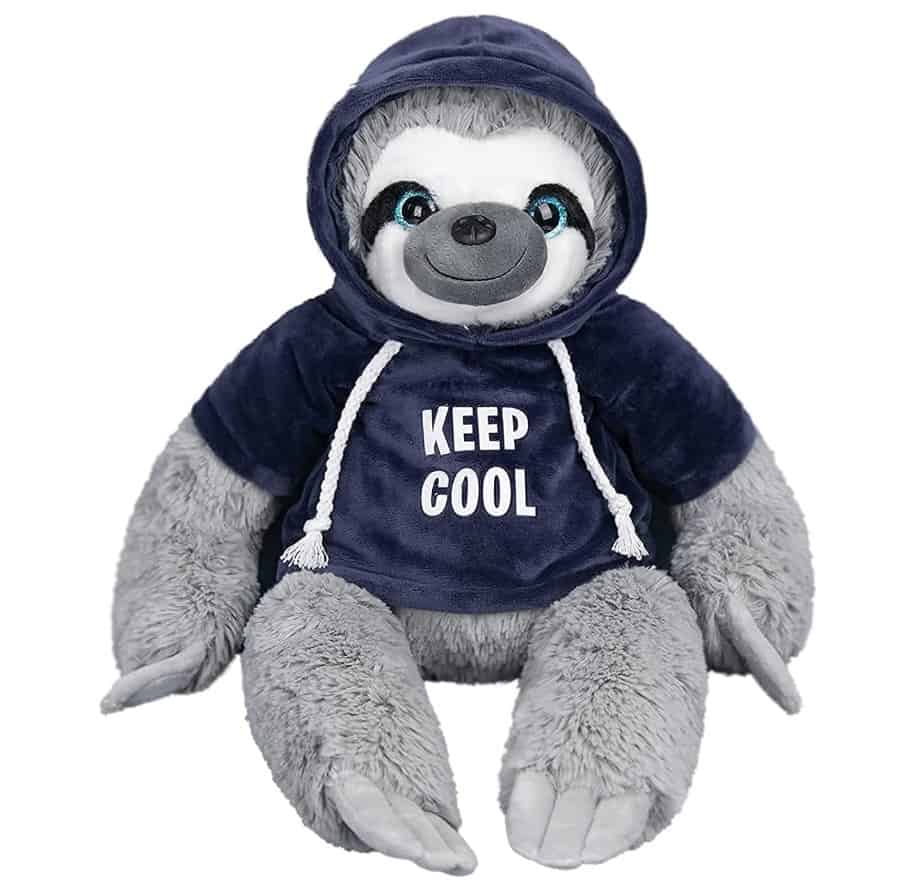 With beautiful blue eyes and an adorable smile, you can't help but fall in love with this cutie pie. He is super cute and makes the perfect buddy to cuddle and watch movies with. Let us have a look at his pros and cons.
Pros
He has a cute little T-shirt on

He is fluffy

The perfect size to travel with

Excellent quality

It makes a perfect gift for someone special
Cons
His face is white so it might show dirty very quickly.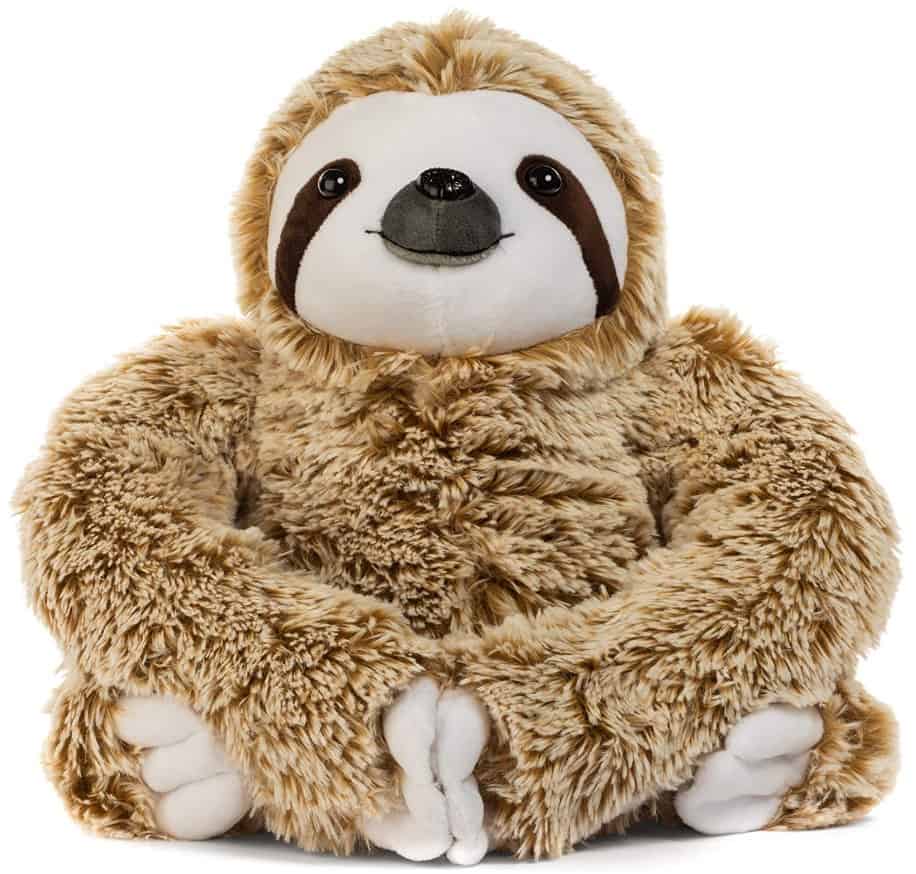 If your partner loves sloths, this realistic-looking plushie will be the perfect gift that you can get them. It is super soft and gives the best hugs. And that cute little smile will cheer you up on those days that you just don't feel yourself. Let's have a look at the pros and cons of this baby:
Pros
It has a realistic look

It is soft and fluffy

Gives great hugs

It makes an excellent birthday or Christmas present

A perfect cuddle size
Cons
Its little mouth might pull loose after a couple of washes or playing too rough

His face and paws might show dirty quickly
My Favorite Squishmallow Sloth Option
My favorite squishmallow sloth is Taylor the TieDye squishmallow. Not only is she super cute and cuddly, but her body is made up of all my favorite colors. She is also a Valentine's Squishmallow, so loving and caring comes naturally to her. And I never have to worry about having a fashion disaster when Taylor is by my side because she will ensure that I'm the best dressed at any event because of her passion for fashion. If you are a girly girl or need style advice, be sure to add Taylor to your Squishmallow collection. She will take your outfit to the next level.  
Inspiration Section
Need some inspiration for your Squishmallow sloth collection? I got you! Have a look at these cuties: 

These two sloths are so cute and in love. You can't just get one; you need to get them both! Here is an even better idea, get your partner one and yourself one so that you have the perfect cuddle buddies when your partner is not there with you. 

I know Valentine's day is over, but it is never too late to get your partner this cutie!
This sloth Squishmallow will make the perfect companion to watch a movie with or to take on a picnic, because she will help you feast on all things sweet. 
Frequently Asked Questions
Question: Are Squishmallows Very Popular? 
Answer: Oh yes! New editions of these cuties are coming out all the time. And people are starting to collect them more and more. These cute Squishmallows are now so popular that in February 2020, the company stated that it had sold 50 million Squishmallows already. And they are still selling Squishmallows to this day. 
Question: What are Squishmallows Made for? 
Answer: The Squishmallows are made to offer you comfort when you need a cuddle buddy. And support and love when you are feeling down or anxious. Some people also collect them because there are so many to choose from. 
Question: How Should you Clean a Stained Squishmallow? 
Answer: Squishmallows are easy to clean. All you need is a damp cloth to wipe away the stain. You can also use a stain remover pen if the stain is small. Please try and avoid using the washing machine to clean your Squishmallow because, over time, it will affect the quality of your Squishmallow. 
Conclusion
If you are looking for some inspiration to buy your next Squishmallow, I'm sure this Squishmallow sloth guide has been of great help to you.
Sloths are popular for being very slow, but they are fast at stealing our hearts. They are adorable animals, and the truth is told, we all strive to imitate them. Let's face it, who doesn't want to lay and relax all day? Get yourself a sloth Squishmallow today; they are sure to put a smile on your face. And if the sloth Squishmallows are not for you, there are always alternative sloth plushie options to choose from. Happy sloth shopping!
Find more awesome cuddly buddies by reading these guides below:
Best Sonic Plush Guide for Speedy Fans
Best Dog Squishmallows – A Guide To Finding Your Bestfriend
Snorlax Plush Guide for Pokémon Fans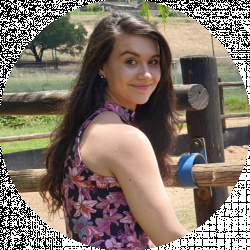 Latest posts by Christine Kent
(see all)