Valentine's Day is one of the most romantic and thoughtful times of the year. Even if you're not in a romantic relationship, love comes in various forms. Whether you love your friend, child, or have romantic love for another person, what better way to celebrate the day than with Squishmallows?
Squishmallows are insanely popular, thanks to Reddit and TikTok. Those young and old alike are collectors of the various options.
And since I've started my obsession with Squishmallows many years ago, I've learned a thing or two while I'm out shopping for them. So when I thought about coming up with this list to share my love of Valentine's Day Squishmallows, I was stoked! I mean, it was mainly my excuse to spend hours looking around for Valentine's Day-themed Squishmallows. 
Bottom Line Up Front
There are various options to choose from for you or another. Take your time going through the multiple options, and remember that one person might not like it, but another might love it!
It all comes down to personal preference. My personal favorite is the Valentine Plush Nefen the Gnome.
I love gnomes, and he's so adorable! While he's on the smaller side, he's still lovely and squishy like other Squishmallows. The creativity of his nightcap with white hearts is an added bonus.
Selection Criteria 
As I'm going through this list, I'm thinking about some good options for Valentine's Day. I'm considering what'll be unique and stand out more than traditional options. I made sure all of the Squishmallows on this list are affordable, easy to find online, and obviously a great fit for Valentine's Day!
Squishmallow Wren the Butterfly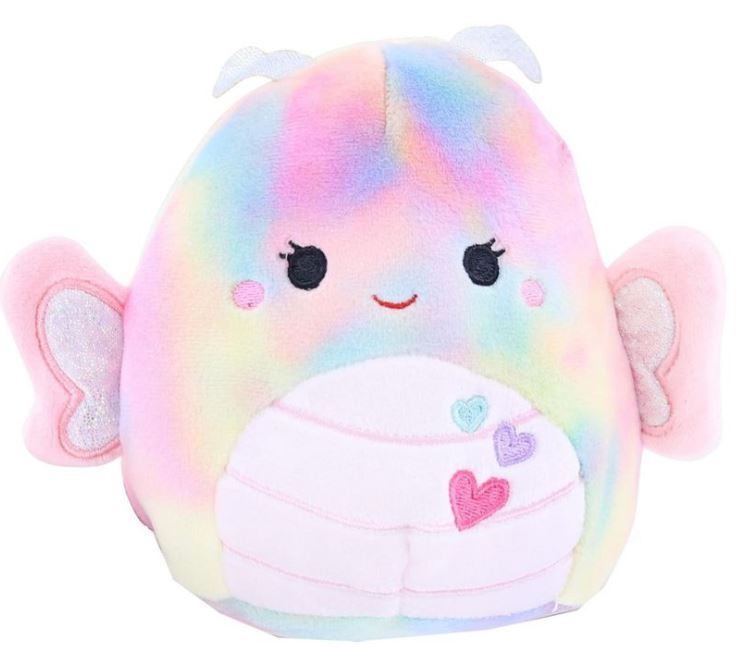 If I was ever given this Squishmallow as a present, I would be thrilled! I think there's so much to love about this Squishmallow. It makes the little girl inside of me so excited!
I love the rainbow coloring all over the Squishmallow's body. Plus, the wings are honestly my favorite part of the entire toy. Who doesn't love glitter? I know I do!
Key Features
A new release at Target
Cute little hearts on the stomach of this Squishmallow, to indicate she's for Valentine's day

Glitter accents, which make her a great addition to any little girl's bedroom
Squishmallow Opal the Octopus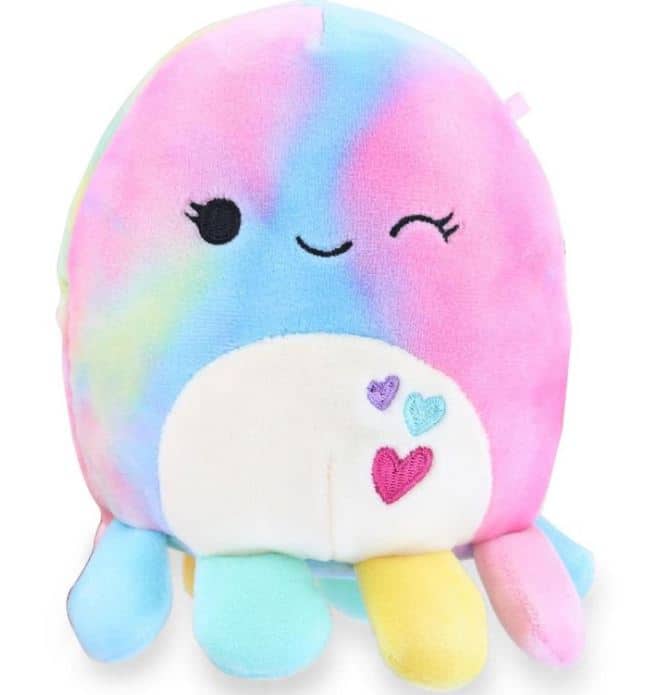 Besides diamonds, opals are my favorite stone. They're so beautiful! I love the rainbow shine that you can see on an opal stone. And I love how beautifully that's translated with this Squishmallow! If you take a look at her stomach, you'll see three little hearts. This is a sign that this Squishmallow was released specifically for Valentine's Day. I think her winking face is super cute; it's a small detail, but it makes her face less boring to look at. Personally, I love how all of her tentacles are different colors!
Key Features
Great option for someone who likes bright colors, but doesn't want glitter

Lots of colors available for someone looking to brighten up their bedroom

Her face isn't unique; there are a lot of Squishmallows that have a winking face
Squishmallow Nefen the Gnome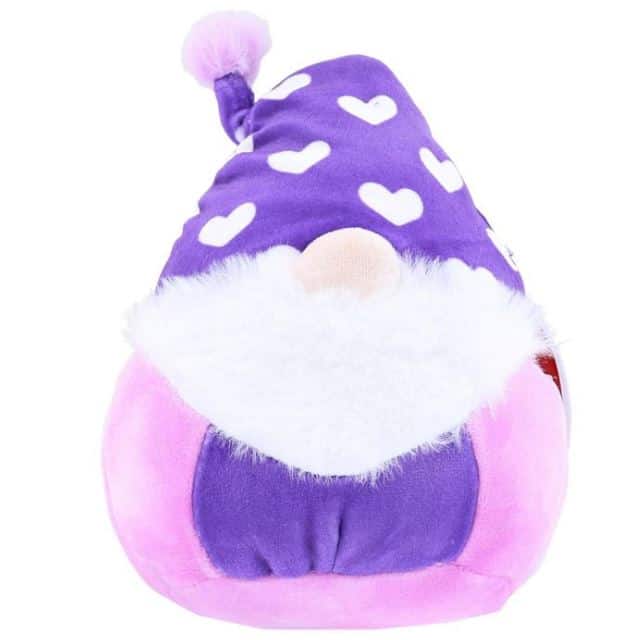 Who wouldn't love a big and snuggly gnome to cuddle with at night?
Me personally, I'm scared of gnomes. So, I'll pass on this one. I do think that with his colors, his big white beard, and the pattern on his hat don't really remind me of a gnome. Instead, he more reminds me of a wizard. Like Gandalf – but purple. 
While there isn't any heart shapes on this Squishmallow, he was a release that was added for Valentine's Day! I think this would be a great option if someone in your life is looking for something more unique for Valentine's day or just loves gnomes!  
Key Features
Unique purple color scheme

His fuzzy beard is soft; but you may find it difficult to clean

The hearts on his cap are cute and make this Squishmallow perfect for Valentine's Day
Doggy Squishies
All about the dogs! Perfect for the animal lover in your life.
Squishmallow Tommy the Boston Terrier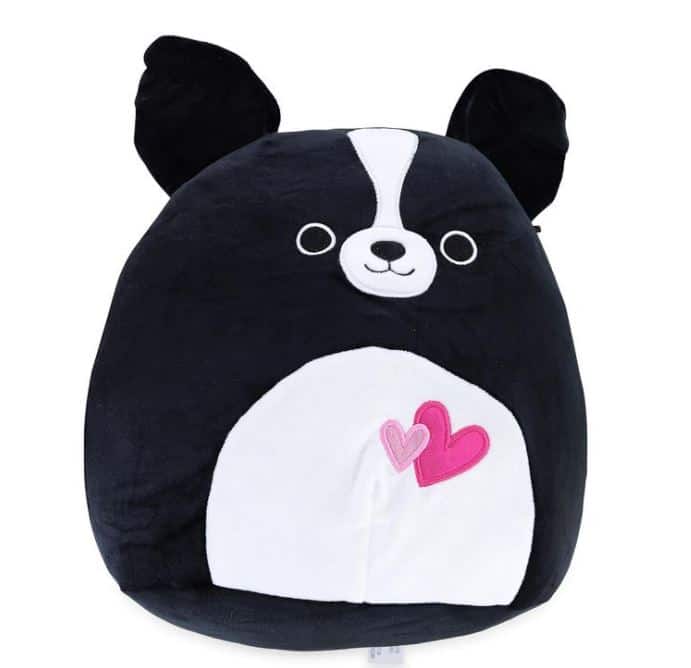 If you have someone in your life that's asking for a puppy – you can get them this super low maintenance puppy! There isn't anything about this Squishmallow that screams Valentine's Day, which I think makes him an awesome buddy to cuddle all year long with! 
The only hint that this is a Valentine's Day Squishmallow is the hearts that are on his stomach. Other than that, there isn't anything that makes him exclusively Valentine's Day. Personally, I wouldn't recommend this Squishmallow to anyone who's shopping around for a toddler. There's a choking hazard on this Squishmallow. 
Key Features
No flashy colors or designs

I think it's a great gift for little ones who want a puppy, but aren't ready for the responsibilities of a dog

There's no fur on this dog, which makes him super easy to clean up
The white parts on his body may stain easily 
Squishmallow Bernie the St. Bernard Dog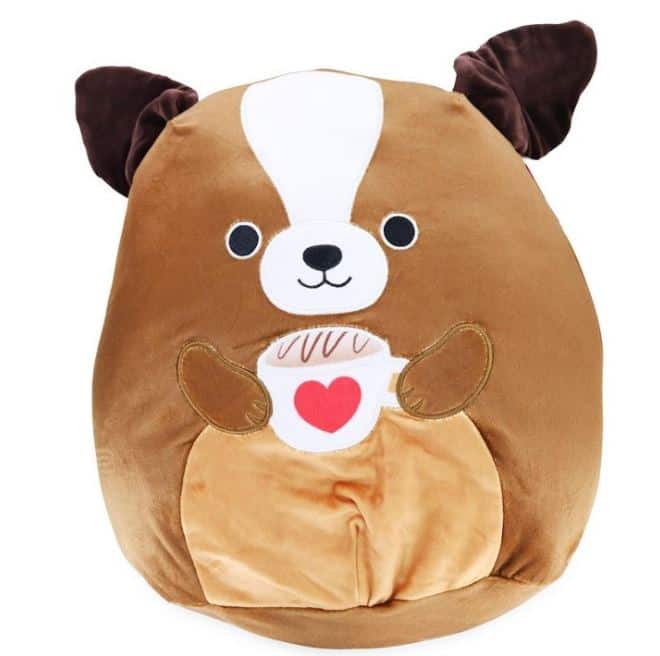 Are you more of a fan of big dogs? This Bernie the St. Bernard Squishmallow is adorable! I think my favorite part of this Squishmallow is how he's holding a cup of coffee in his paws. I love the detail on the cup of coffee; the drizzle of sauce on top, along with the big red heart. This definitely feels like a Valentine's Day Squishmallow, but mainly because of the big red heart on the cup of coffee.
For some reason, I feel like his es look a little haunting. Maybe it's the white circles around his pupils? I'm not a huge fan of his eyes, but I do love the different shades of brown on his body! 
Key Features
Different shades of brown make him look realistic for a Squishmallow
I think he's a great option for little ones who want a big dog

I love how floppy his ears are; they're so cute
Squishmallow Harrison the Dog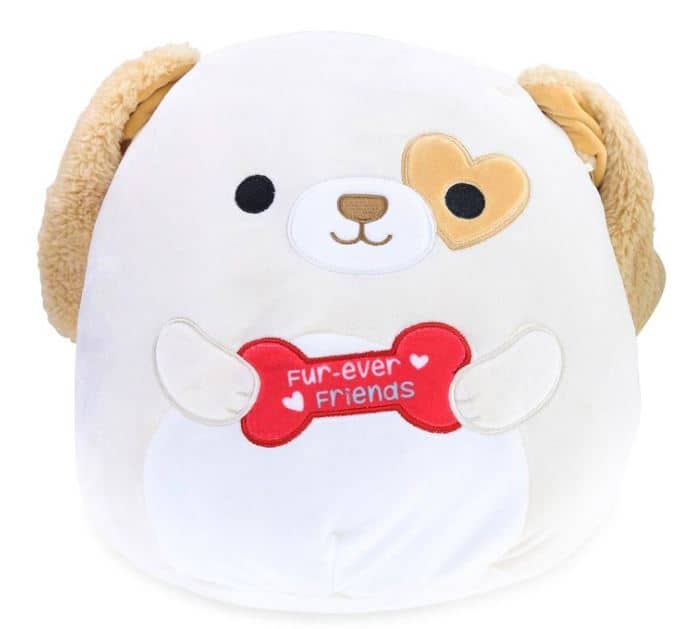 Want to grab a Squishmallow that looks like your family dog? I think this is the cutest option yet! I love the little heart spot over Harrison's eye. It's so cute and unique, especially compared to the other Squishmallows on this list! To make him even more Valentine's Day themed, his bone is red, with white, pink, and grey writing on it. 
Personally, I love how floppy his ears are. I also really like how his ears are a different texture of fur compared to the rest of his body. If you have a child who loves exploring with different textures, this may be a great Squishmallow to get them for Valentine's Day!
My only thoughts are, that he's super light. So if you have a messy child, I think the Squishmallow may get stained pretty quickly. 
Key Features
Quote on the bone makes him great for friends and family

I think the brown heart-spot on his eye is super adorable!

I love his floppy and soft ears

He's light in coloring, so he's going to stain quickly
Squishmallow Tabitha the Cat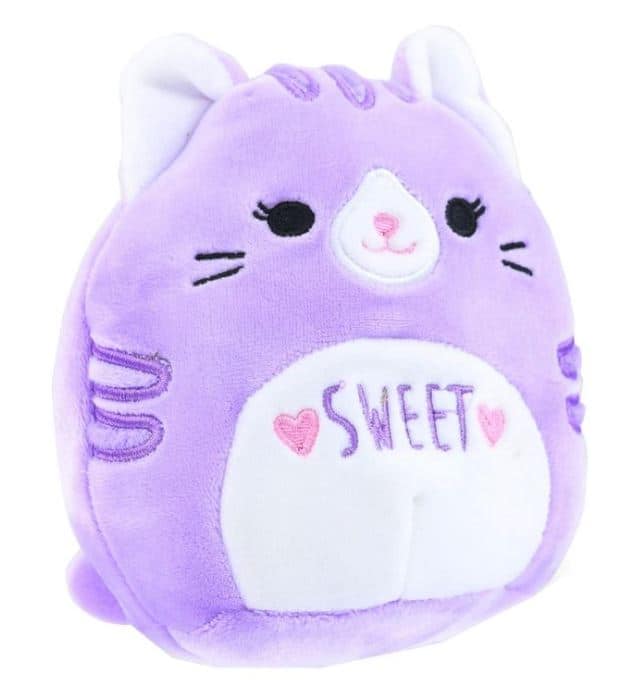 I love all of the purple on this Squishmallow! I think purple makes her a great option for both boys and girls. The coloring over her entire body reminds me of the Sweet Hearts you get on Valentine's Day. And the word 'Sweet' written on her body makes her the perfect gift for someone special in your life; if you have a significant other that you're shopping around for who happens to be a cat lover, I think this is an adorable option! 
My favorite part on this Squishmallow is the striping on her body. I think it makes her look super unique!
Key Features
Adorable whiskers

I love the coloring; a light pink and purple

Stripes on her sides make her unique looking

The addition of her tail is super cute
Squishmallow Feodora the Caticorn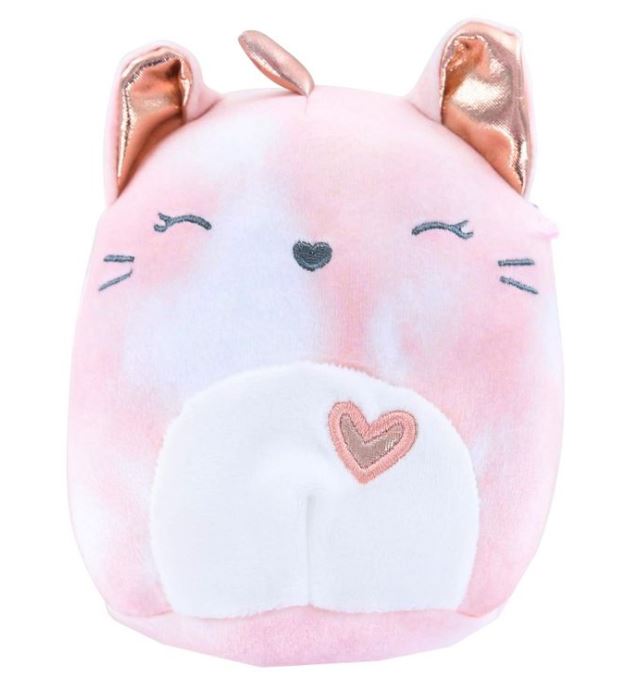 Now, this Squishmallow was a little bit harder to find. I was only able to find her at GameStop, but I think she's soo worth the extra time spent hunting! I adore the rose gold on her ears and unicorn horn. Plus, I think the light grey for her whiskers, eyes, and nose make her seem super friendly. And I think the heart on her nose makes her the perfect gift for Valentine's Day. Also, I love how the pattern on her body reminds me of clouds, with the white and pink! 
Key Features
Rose gold foil on her ears and horn make her unique

Gentle coloring, she almost reminds me of a princess

The heart on her nose is adoreable
Squishmallow Cherish the Elephant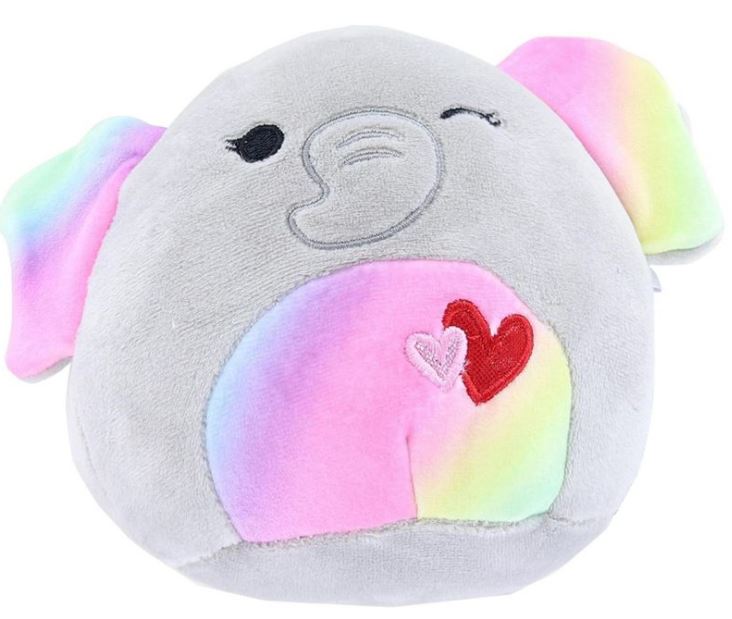 What can I say, I love the rainbow on her ears and stomach! While I don't think the winky face on this elephant is anything too creative, I do love her trunk! It's playful and adoreable. On the stomach, you can see there are two hearts, which is the only hint that this elephant was made for Valentine's Day. I love how bright and colorful this Squishmallow is; I feel like this is one of the most playful Squishmallows on the list!
Key Features
Rainbow tye-dye is bright and fun
I love the shape of her trunk, it's cute
I wish Squishmallows had done something more creative with her eyes
Squishmallow Kent the Chameleon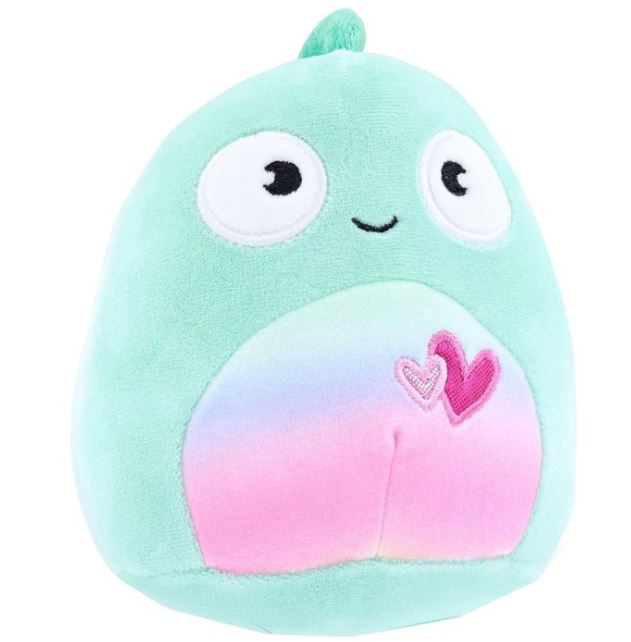 Personally, this is one of my least favorite on the entire list. I don't understand exactly what he is – the title of this Squishmallow is the only way I know he's supposed to be a chameleon. Other than that, there isn't anything that makes me know he's a chamelon. I think they could've done a cool rainbow effect with his body to make him more chameleon-like. In all honesty, this Squishmallow kind of reminds me of a seahorse. But, I can appreciate his eyes; I like how they're so different than any of the other Valentine's Day releases. 
Key Features
Super bright teal color, which I love
I love his eyes, they remind me of a fish
I think the smile on his face makes him look derpy, which I also like
Squishmallows Hershey's Kiss Scented Corgi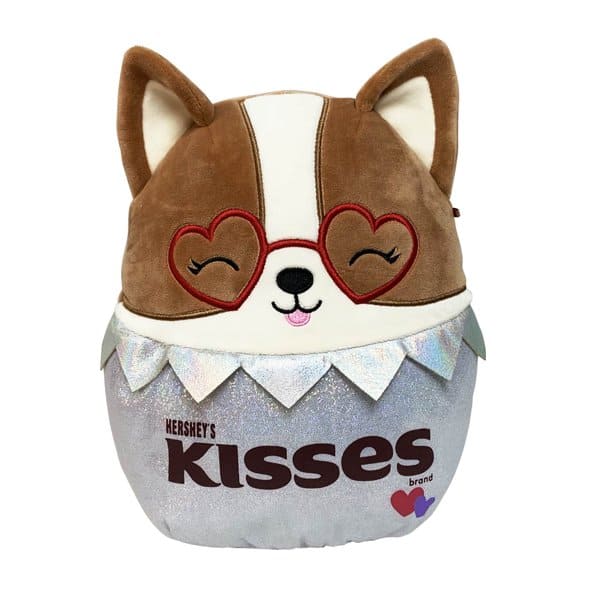 Yes, this is a scented Squishmallow! Isn't that so cool? This Squishmallow is supposed to smell like chocolate Hershey Kisses, but to me, it juts smells like the sweetness of candy. I'm not sure how long the scent is supposed to last though. I like how gentle the scent is; it isn't enough to make the entire room overpowered with scent. Plus, corgis are my favorite dogs! I really love how the bottom part of the kisses wrapper is holographic. I think it's so cute! And the heart glasses on the corgi are the perfect touch, in my opinion. There's so much to love about this Squishmallow!~
Key Features:
Adoreable heart-shaped glasses

I love how much the ears stick up from the corgi's head

The holographic kiss wrapper is so cute and would probably be beautiful under the sunlight
Valentine's Day Squishmallows Twizzler's Scented Cat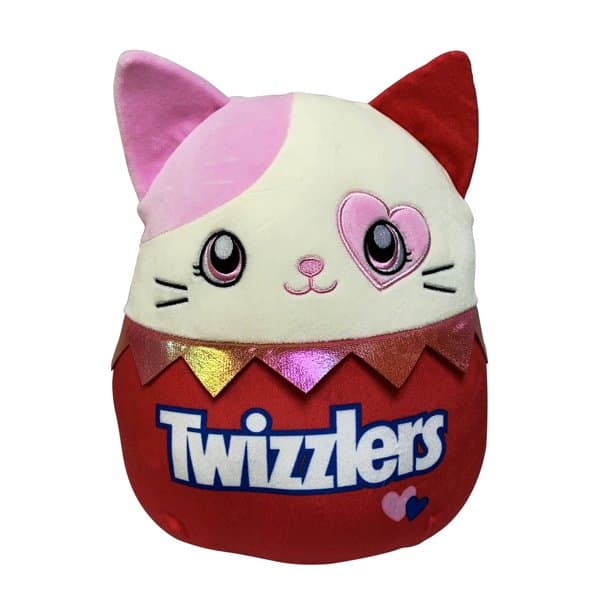 Yes, another scented Squishmallow! This one also smells sweet to me, but I definitely get more of a Twizzler scent from this Squishmallow. The eyes on this Squishmallow won me over; they're so big and so cute. They look glossy too, which I really love. And the different color ears are a great hint at Valentine's Day. I also love the different colors on the collar around the cat's neck, right before she breaks out of the Twizzler bag. Again, I'm not sure how long the scent on this Squishmallow is supposed to last – but I hope it's a long time! 
Key Features:
Colorful and shiny collar

I love how the areas on this Squishmallow are different colors
Smells sooooo good, like Twizzles
I love her eyes, they're so life-like
Fun Puns
For the punny person in your life, consider these fun Squishmallows! They're also super unique.
Squishmallows Valentines Day Henry the Turtle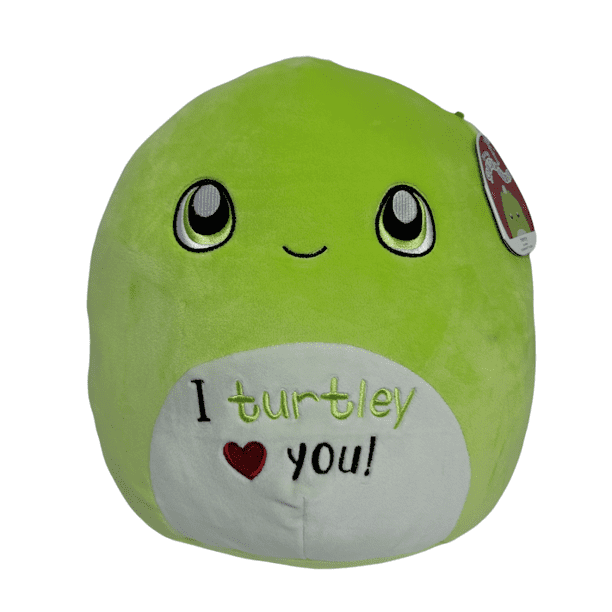 There aren't any turtles on this list, so this is a great Squishmallow to look into if you're looking to impress your loved one with a rare turtle find! Plus, the cute little saying on the front is enough to make anyone smile. I don't think this Squishmallow looks a whole lot like a turtle – I wish there was some sort of a shell on the back. Other than that, I think he just looks like a green blob. 
Key Features:
Bright lime green color makes him super eye-catching

I love how the 'turtley' on his stomach has a different texture

I like his eyes, they look realistic compared to other Squishmallows on this list 
Squishmallows Olina the Octopus (Valentines Edition)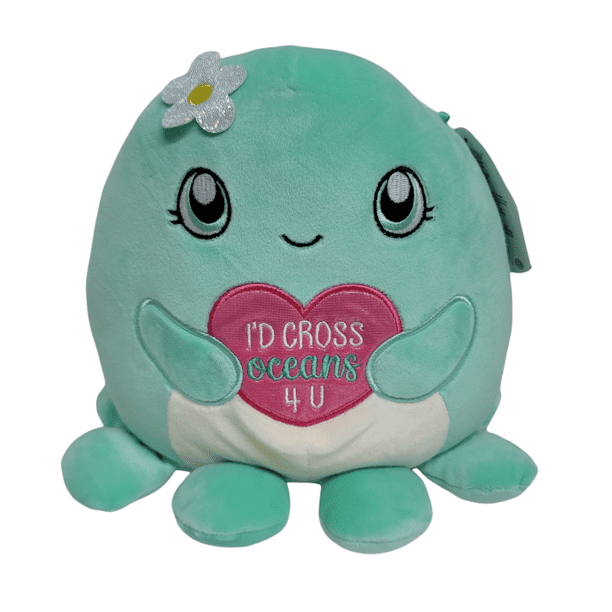 I think an octopus is one of my favorite animals, I think they're so cool. I love how soft her little tentacles are, but the message on the heart on her stomach won me over! I think the bow on top of her head is super cute too; it's just a little bit of detail, but I think it makes her so much more fun overall. It gives her a lot of personalities! Plus, I adore the lashes on her eyes; I wish my lashes were that long. 
Key Features:
Seafoam green coloring is beautiful

I love the flower on her head, it's super cute

I wish the tenticles had some sort of texture on the bottom of them
FAQs
Question: Where To Buy Valentine's Day Squishmallows?
Answer: You can find Valentine's Day Squishmallows at Target, Walmart, and Amazon. Your best bet is to check online.
I didn't see much of a selection in my local store, but they have a wide variety online! I was pleasantly surprised since I love Target.
Walmart and Amazon have many to choose from too. Walmart seems to enjoy having a wide variety of Squishmallows in general, like Amazon.
Question: Exploring the Best Valentine's Day Squishmallows?
Answer: After exploring this guide, I hope you have a better chance of finding the best Valentine's Day Squishmallows. Take your time thinking about what they enjoy including their favorite colors, hobbies, and animals.
Think about whether they'd like something unique or maybe more traditional. Cat and dog Squishmallows are good options for animal lovers. Those who beat to their own drum might prefer a special option to have something that stands out.
At the end of the day, I'd have to pick the Valentine Plush Nefen the Gnome for my personal favorite. But your favorite might be completely different, and that's okay!
I love how unique he is since he has a pink and purple body with a purple hat to match. The white hearts on the nightcap give a nod to Valentine's Day. He's still squishy and perfect for play too!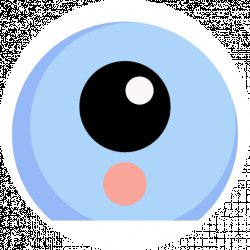 Latest posts by Avid Plush Team
(see all)