Are you struggling to sleep at night because your anxiety keeps you awake? I know the feeling all too well. There was a time when I would get a maximum of 3 hours of sleep at night. It was all because my mind could not stop thinking. I would be so tired during the day and would be cranky all the time. It got to a point where my husband couldn't even look at me, and I would snap at him. 
My husband decided to take matters into his own hands and do some research on how I could get a better night's sleep. He found the Moon Pals website, read the descriptions and reviews, and ordered me one immediately. Today, I'm excited to share my Moon Pals Plush Guide. I will share the benefits of these plushies and how they helped me.
Are you ready to kiss those sleepless nights away? Let's get started!
Bottom Line Upfront
If you struggle with anxiety, stress, and sleepless nights, I have the solution for you! Today I share my Moon Pals Plush guide and how these plushies will help you fight your anxiety and sleep like a baby at night. 
My favorite Moon Pal plush is Opal the Moon Pal. I love her colors and what she symbolizes. 
Let us have a look at my other top picks.
Top Picks
Opal the Moon Pal 

– She is my favorite Moon Pal, not only because she is pink and purple, but because she is the first Moon Pal my husband bought for me. I also love her positive energy and that she always looks on the bright side of things. 

Bo the Moon Pal 

– He is just a blue beauty! His color makes me feel calm and relaxed. I also love that he symbolizes peace and understanding. 

Mylo the Moon Pal

 – I love her color and that she symbolizes honesty and courage. 
More on the Moon Pals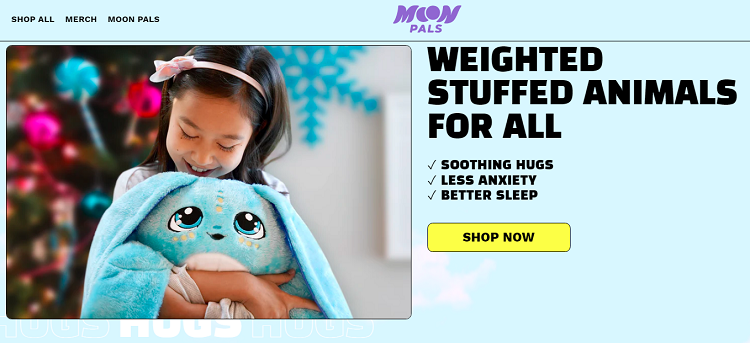 Moon Pals are weighted plushies that weigh 5 lbs. They were created to help you relax, reduce your anxiety, and help you sleep better at night. It also has the purpose of comforting you therapeutically by giving you hugs that feel like another person is hugging you. 
They come in different colors. Each Moon Pal has its own unique name and power. Yes, you read that right, power. The Moon Pals' mother is Mother Moon.
She gave each of the Moon Pals a unique power to make the world a better place. Each Moon Pal also comes with a storybook: "The Mighty Magical Moon Pals: Hugs That Saved The World." Now you can read all about the Moon Pals' adventures. 
I will share each of the Moon Pals' special powers later in this article. But now, let's get to the benefits of these plushies. 
How the Moon Pals Helped Me
As I said earlier, there was a time when I barely got any sleep. Instead of my brain going into relaxation mode and snoozing off, my brain was all like get ready; it is stress time.
Some nights I would even lay awake just thinking about the meals I needed to make for the next day. And then I just got more stressed if I realized that I didn't have those ingredients in the house. I know it sounds silly, but it was a thing that happened for weeks on end. 
And then, when my husband surprised me with a Moon Pal, it felt like a whole new world opened up to me. The weighted arms around me helped me calm down and feel less stressed. Feeling that comforting, soft, and weighted hug also helped me get better sleep at night. My Moon Pal is truly a lifesaver! Thanks, hubby!
Moon Pals Plush Options
Let us look at the different Moon Pal Options and their unique powers. 
Mylo, the Moon Pal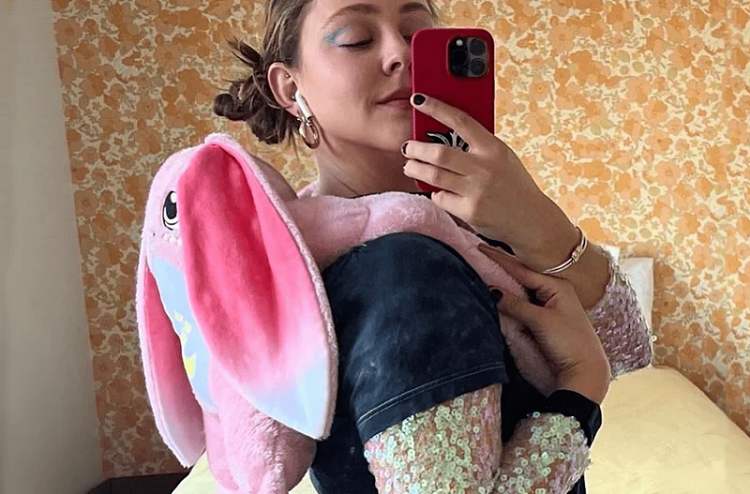 Features
Color: Pink

Power: Powerful Moon Fire Energy
Meet Mylo, the Moon Pal guys! Isn't she just adorable? She is a gorgeous light pink color with a darker pink color on the inside of her ears. Mylo was given the power of powerful moon fire energy by her mother. This power is for honesty and courage. Mylo is bright and strong and never scared to do what is right. 
This Moon Pal will be great for kids or adults. It will remind them that they are strong and that there might be tough times in life. But their life will be rewarding if they have courage, are honest, and choose to do the right thing at all times. 
I love this Moon Pal, especially because she is pink. She is one of my favorites!
Bo the Moon Pal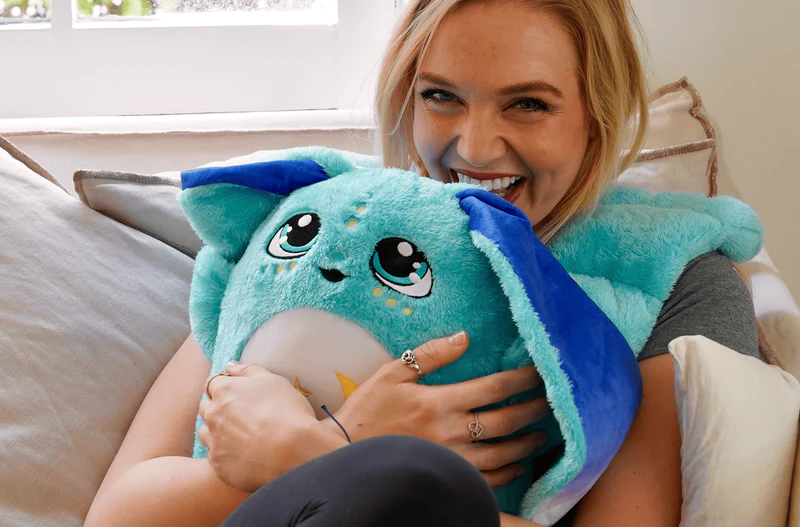 Features
Meet Bo Guys! Isn't he a beauty? He is a gorgeous light blue color with darker blue colored ears. Bo receives the moon's power of water from his mother. He can easily adapt and keep going without anything standing in his way. Bo is filled with peace and understanding. This helps him look at things from different perspectives.
I see Bo as a breath of fresh air, and he could be a great addition to someone who is scared of change and tends to be one-sided. Bo will make them feel calm and less stressed and motivate them to adapt and keep going. 
I'm not usually a fan of blue, but I love this light blue Moon Pal with his darker blue colored ears. It just makes me feel peaceful.
Echo the Moon Pal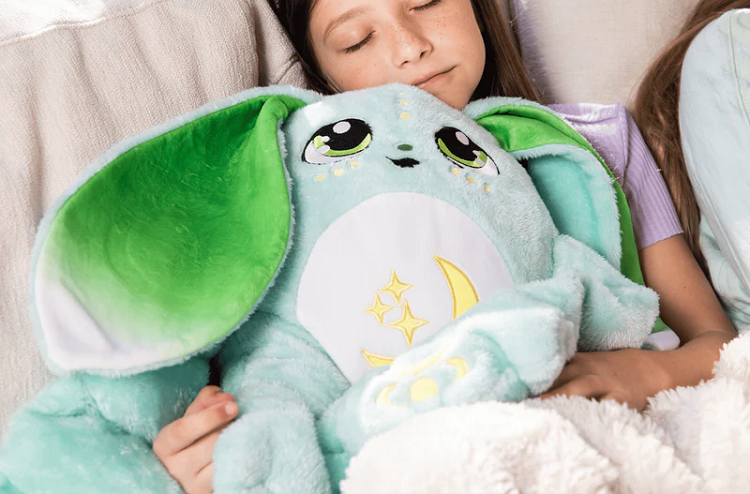 Features
Color: Green

Power: Nature
Meet Echo; he is a beautiful green color with darker green on the inside of his ears. He received the power of nature from his mother. Echo is good at figuring things out and is also very understanding. He is compassionate and patient and views things as if we are all in it together. 
Echo will be great for someone who is a bit impatient and who tends to not understand that things happen for a reason. Echo will motivate them to be patient and more understanding.
I love Echo because I love nature; he just makes me feel calm and relaxed. 
Nova the Moon Pal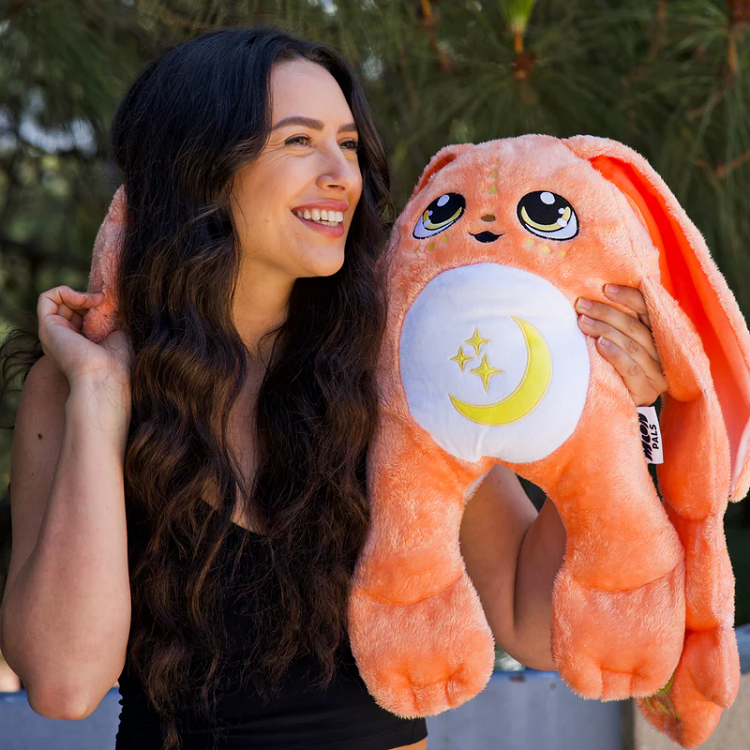 Features
Color: Orange 

Power: Lightning 
Meet Nova the Moon Pal. Nova is orange, and the inside of her ears is a brighter orange. She received the power of lightning from her mother. I think it is because she is so fast at learning things. She is curious, intelligent, and very quick at solving problems. She would make a great gift for the smarty pants in your life or the one who is always curious about everything and likes solving things. 
To be honest with you guys, I'm not a fan of this Moon Pal. Don't get me wrong, I think her power is awesome. I just don't like the color. I have never liked orange, so, unfortunately, it gets a no from me.
Opal the Moon Pal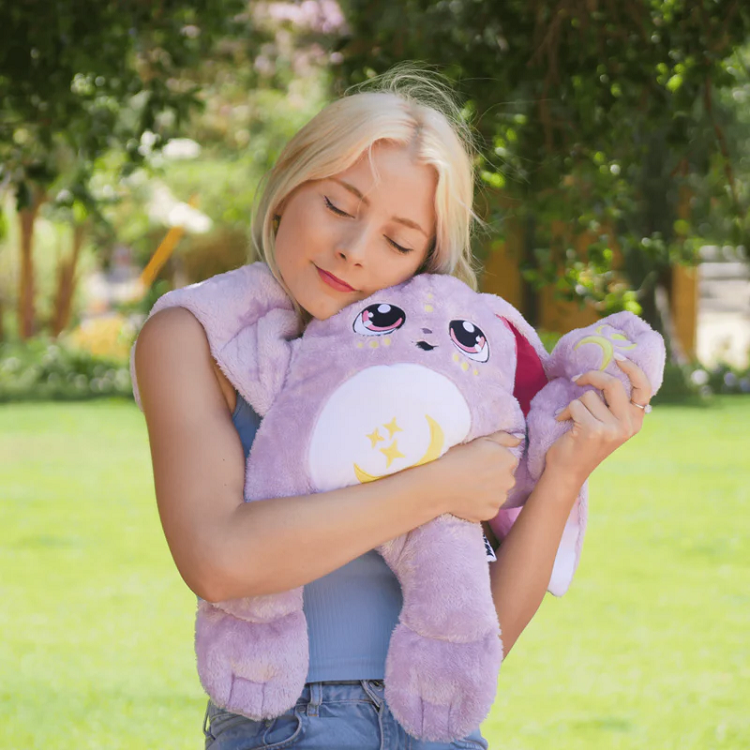 Features
Color: Purple

Power: Wind
Meet Opal, guys! She is a pretty purple Moon Pal, and the insides of her ears are pink. She received the power of wind from her mother. She is always smiling and has a carefree approach to life. Opal always sees the positive things in life and tries to look on the bright side of every situation. She is filled with hope and imagination. 
If you know someone in your life who is facing a negative situation, Opal will be the light in their dark times. She will remind them to look at things positively, be hopeful, and use their imagination again. Remember, "Imagination is the beginning of creation."
This is my favorite Moon Pal because this is the one my husband got for me. Not only does it help reduce my anxiety and stress and make me sleep better, but it also motivates me because I tend to get negative very easily. Opal reminds me to look at the bright side and be hopeful. She also is made up of my two favorite colors, pink and purple. My husband did a fantastic job in picking her out for me. 
Pros and Cons of the Moon Pal Plushies
Pros
They have weighted body parts that help to reduce anxiety and help you sleep better.

They come in 5 different colors with different personalities, so you can choose your favorite one. 

I love their embroidered features, like their cute anime-looking eyes and the cute detail on their belly and paws.

I love playing with the ears as it keeps my hands busy when I get anxious. It also makes a crinkly noise when I play with it, which is great for sensory stimulation. 

Their material is soft and great to cuddle with. 

You get a book with each of them.

They make thoughtful gifts for boys, girls, and adults. 

It is comfortable and feels like another human is hugging you. 

You can machine wash them on a cool setting.
Cons
Their white belly will show stains easily.

They are expensive. 

The inner material of the ears might tear after rough play.

I don't like the orange Moon Pal because I hate orange.

Because it is 5 lbs, it would make your suitcase so much heavier if you were to bring it with you somewhere. 

Except for the different colors, all the Moon Pals look the same and are the same size.
Alternative Weighted Plushies
If you love the benefits that the Moon Pals have, but they are out of stock or maybe not in your price range. Here is a list of other weighted plushies you might like. Let us have a look:
Dinosaur-Weighted Stuffed Animals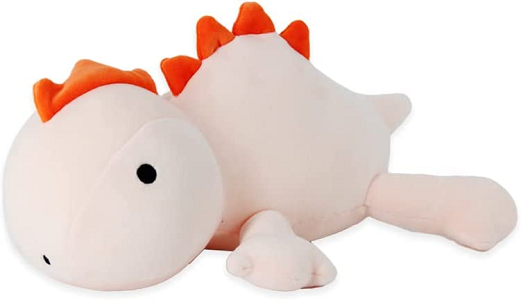 Now, this pink dinosaur plush might not be 5 lbs like the Moon Pals, but he is 3.5 lbs. Which is pretty close, right? He is made of the softest fabric, making him comfy and great to cuddle with. He is also huge and is 23.6 inches big. 
You can use him as a hug buddy, a cuddle buddy, or a pillow and say goodbye to your stress and anxiety. You can even use him as a throw over your bed to add some decoration to your room. I think it is adorable! If you love plushies than I bet you will also love these Dinosaur squishmallows as well.
Dog-Weighted Stuffed Animals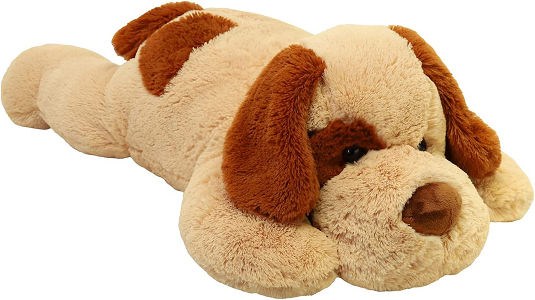 They say dogs are a man's best friend. And they are right because this weighted dog plush will become your best friend! He is 5 lbs, the same weight as the Moon Pals. So he will be the perfect option to get if you can't find a Moon Pal in stock. One hug from this big guy, and your stress and anxiety will be gone. 
I love dogs, so I really like this weighted plushie. He is huge, soft, and fluffy; I would never want to leave my bed if I got him. 
A Adairyan Weighted Stuffed Animals for Anxiety – Plush Cow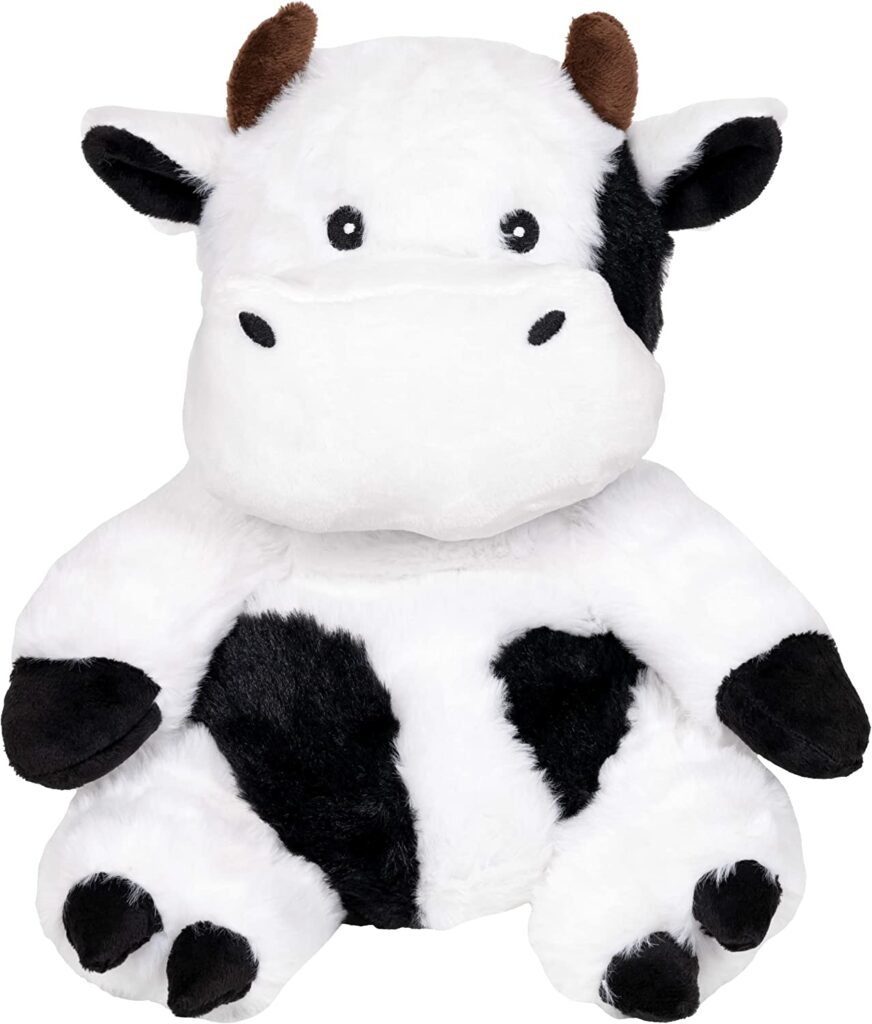 I love cows! So I'm so excited to include a weighted cow plushie for you. This cow plush might not be big, but it still reduces your anxiety because it is weighted. It is great for little ones, teens, and adults.
It is soft and fluffy and great to cuddle with. It is also a great size to take with you on trips, so you don't have to experience anxiety when you are away from home. I love it! 
FAQs
Question: Where Can I Find a Moon Pal?
Answer: You can purchase a Moon Pal from their official website, Moonpals.com or Amazon.
Question: Are Moon Pals worth it?
Answer: Absolutely! They help reduce your anxiety and help you get better sleep at night. They are also made of amazing quality and are super soft and cuddlable. It is totally worth it!
Question: Are Moon Pals for Adults?
Answer: Yes! The Moon Pals were created for both kids and adults. It helps them feel safe, comfy, and less stressed.
Moon Pals Plush: Conclusion
There you have it, guys! We have reached the end of the Moon Pals guide. I hope you are over the moon with the options. Moon Pals are not just great friends; they are lifesavers! They save the day with weighted hugs in a world of stress, anxiety, and insomnia. I love my Moon Pal to the moon and back!
What was your favorite Moon Pal mentioned in this guide? Let me know in the comments below. 
I would recommend getting Opal the Moon Pal. Her gorgeous color will have a calming effect on you. And her weighted hugs will comfort you. What are you waiting for? A world of peace and relaxation is waiting for you. Get your Moon Pal today!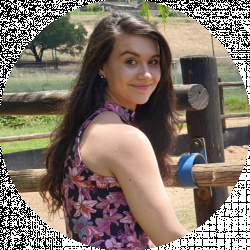 Latest posts by Christine Kent
(see all)