Imagine the funny yet ugly monsters children think are under the bed at midnight, and you'll have a close description of what I'm about to show you. I've collected plush since childhood, and my kids are obsessed with them. However, I never thought I'd find the plush toys I saw while writing the Fugglers Guide.
I'm familiar with countless plushies, including the cute Squishmallows and the weird-looking Pokémon plush. Admittedly, you'll be a fan once you know more about these funny-ugly monster plushies.
My family stays in the loop with the new plush, but the relaunch of Fuggler plush through everything we knew upside down.
So, let me share everything about Fugglers.
Fugglers Bottom Line Up Front
Fuggler plush is the most hideous yet hilarious plushes on the market. They range from toothy monsters to mouthy weirdos, and each one will have you in stitches. Meanwhile, the story of Fuggler plush is one of the most unusual you'll ever read, and it's odd enough to strike curiosity.
There's so much more to the tale of funny, ugly plush that looks like bedtime monsters. No brand has as much character as these plushes, and I'll tell you all about them. In addition, I'll share tips on finding authentic Fugglers and sourcing ones you don't see in American stores. But first, let me share my favorite little monster.
The Blue Sir Horns A Lot Fuggler Plush is everything I imagine from the funniest, ugliest plush on the market. He's almost cute of horror, but he also has creepy features. It's my ultimate pick from the US stores, but my favorite from the UK is the Squidge Fuggler Plush because nothing is weirder than this monstrosity.
The costume makes the Squidge a giggle-a-minute plush, and it's ugly enough to go on the show. Furthermore, let's discover more about the Fugglers before seeing a few fantastic examples.
A Complete Guide to Fugglers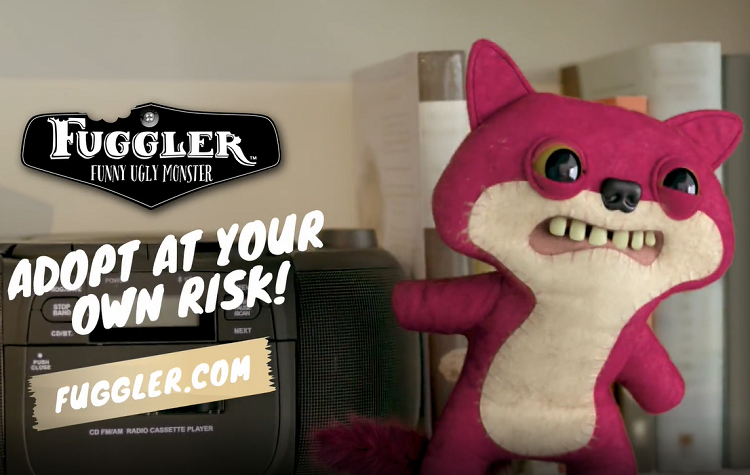 I'm sure you have many weird questions about Fuggler plush. I'll answer them with the most interesting plush toy history I have ever read. Then, I'll share how I picked the Fuggler plush examples in my guide. Fuggler plush has an unusual beginning, and they have tales fans will need to know before buying them.
What Are Fugglers?
Have you ever looked at a plush toy and thought of mischief, monsters, chaos, crazy antics, and next-level bonkers? Welcome to the Fuggler plush that combines everything mentioned and more. Admittedly, Fugglers are the ugliest yet funniest designs I've seen, making the name perfect.
The Fugglers story is unlike any plush brand. I admire the humble roots of Fuggler plush, and nothing strikes me more than a funny story. So, the creator, Louise McGettrick, never started as a plush toy designer. The dyslexic creative desired to be a well-known writer, even studying drama.
However, Louise grew tired of Christmas shopping on eBay, eventually muddling her words for shark until she got teeth. Suddenly, a Ziplock bag of dentures popped up, and the thoughts in Louise's mind went straight to creative humor. She imagined an old lady adding these dentures to plush toys and selling them on Etsy.
Before Louise could think twice, she bought the bag. Louise then designed a simple plush with button eyes and teeth that reminded her of the gut-wrenching laughter she experienced with her old lady scenario. Next, Louise put the creation on her Etsy store. Before she knew it, the toothy plush monstrosities sold like hotcakes.
Louise carefully considered the many sales pitches of toy companies wanting to buy her funny yet ugly monsters. No one could've expected monstrosities to sell as hers did. She couldn't believe the results but chose a company that treasured her primitive and beyond humorous plush toys, Spin Master.
The Canadian created a global phenomenon as ugly as the under-the-bed monsters she imagined in the 1980s. It took off faster than she could ever plan.
How to Recognize Authentic Fuggler Plush
The terms funny and ugly don't make a Fuggler plush alone. Instead, you must look for authentic details. Firstly, original Fugglers come in cardboard boxes without color. It seems like the horror wants to break out of its container to cause humorous havoc. In addition, they have a branded tag that tells you more about the plush.
For example, the Suspicious Fox Fuggler Plush has a suspicious nature. However, the Lil Demon Fuggler Plush warns you of naughty behavior on the original tag. It will have a single word warning you against the Fuggler's behavior before adopting the ugly little monster plush.
The tags and boxes help to identify the originals but look for the prominent features of each Fuggler, too.
How I Selected the Fugglers on Display
Unfortunately, Fuggler plush took a hit when many little monsters retired. You'll only find some Fugglers on eBay and Etsy stores. I shared the monsters to help you find the missing ones. However, many cute and ugly monstrosities are still in stores. So, I'll focus on the Fuggler monsters still in stores.
Meanwhile, I want a hideous version of each Fuggler plush still in stores. The plush must be the funniest, ugliest monster, in my opinion. Indeed, everyone differs. But you'll find one that makes you cringe and giggle simultaneously. Also, the Fuggler must be an original from a trusted store like Walmart or Amazon.
Amazon's Fuggler brand is original, but don't buy Fugglers under a different brand name. For example, a Fuggler doll prop isn't authentic. The Fuggler brand name is used, but it's not a Fuggler plush.
Fugglers Guide: Funny-Ugly Monster Plush
You've met 15 monstrosities from the funny, ugly monster plush brand. However, let's meet the seven top picks you can still find in North America. I'll share a tip to find other Fuggler plush soon enough. But first, let's see what creeps me out about each of my favorite little monsters.
Blue Sir Horns A Lot, Fuggler Plush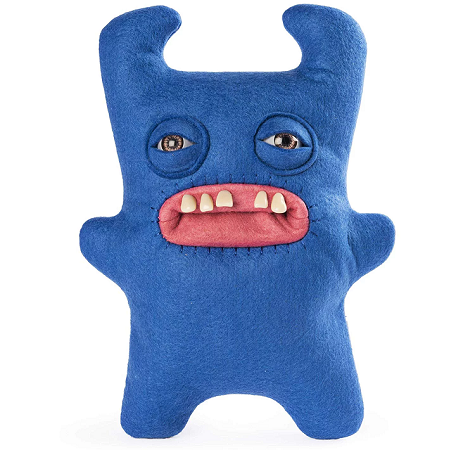 Sir Horns A Lot's Fuggler is hideous, with bulging eyes and inward horns. He looks like something from a nightmare children would have at a young age.
Meanwhile, the mouth with missing gory human teeth will creep you out and ignite laughter. This Fuggler plush is a dark blue to fit into the shadows of a child's bedroom.
Sir Horns A Lot Fuggler Plush Pros
Sir Horns A Lot's Fuggler plush is my favorite for being funnier than most
He has a goofy look on his monster face
The teeth are insanely amusing, with a big gap to match Gaptooth McGoo's plush
The eyes look squint and bulging, just like a childhood monster
Sir Horns A Lot Fuggler Plush Cons
The Fuggler plush has near-human eyes that are super creepy for kids
The monster has no mouth border for its lips
Blue Suspicious Fox Fuggler Plush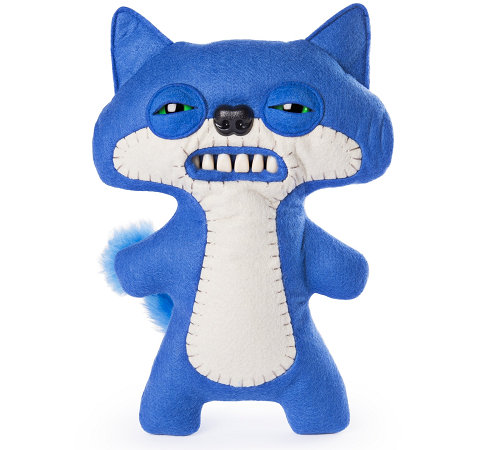 A fox is naturally suspicious. So, Louise's Suspicious Fox Fuggler plush design is spot-on. It has a hideous upper mouth of teeth, squinting eyes, and a fuzzy tail.
The dark blue color makes it pop as a suspicious monster again. However, the humor in this fox is that it looks like a scoundrel you'll see in children's cartoons.
Suspicious Fox Fuggler Plush Pros
The Suspicious Fox Fuggler plush is beyond ugly and has a funny nature
The Fuggler's color, eyes, and teeth will creep you out enough
Children would welcome the Suspicious Fox plush more than others, as it's not so scary
The fuzzy tail, short legs, and deformed head will make you laugh
Suspicious Fox Fuggler Plush Cons
The border stitching is too noticeable for the fusion of colors
The fox's nose doesn't suit the primitive design
Green Munch Fuggler Plush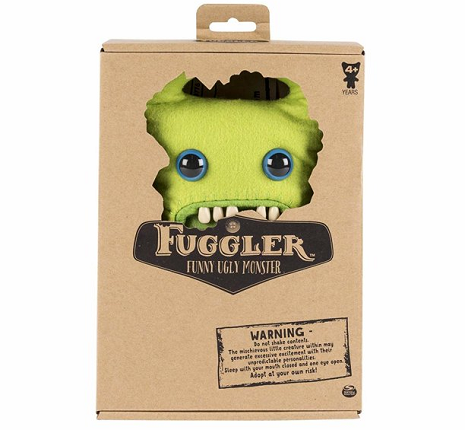 The green Munch Fuggler plush isn't my favorite, but it adds another choice for Americans. It doesn't have much detail or humor.
Indeed, the missing tooth adds some laughter. In addition, the bulging eyes make it slightly creepy. However, it doesn't emphasize the funny-ugly relationship much as other Fugglers.
Munch Fuggler Plush Pros
The Munch Fuggler plush is another pick available in stores
It's an original Fuggler to adopt in the famous breakout box
Children will enjoy this Fuggler as a less creepy option
The color looks like an alien monster or one from Monster's Inc
Munch Fuggler Plush Cons
The Munch Fuggler doesn't have the same edge as others
The safety eyes don't add as much depth and gore to the plush
Green Rabid Rabbit Fuggler Plush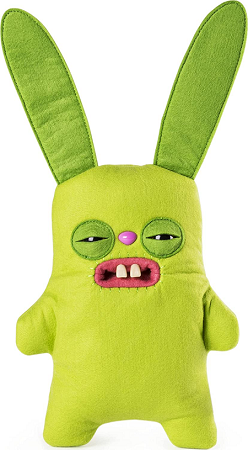 Meanwhile, this ugly monster plush takes creepiness to another level. Fuggler's Rabid Rabbit looks much better in green. The eyes look like they're planning utter mischief, and you might have to release this plush from its box before it causes havoc. Indeed, I recommend removing them from the boxes for the full effect.
Rabid Rabbit Fuggler Plush Pros
The Rabid Rabbit Fuggler plush looks like a criminally insane bunny toy
You can see how sneaky this ugly monster plush is with its squinting eyes
The goofy Bugs Bunny teeth and long ears make it ideal for kids who love giggling
The nose and shorter arms are perfect for a rabid rabbit monster plush
Rabid Rabbit Fuggler Plush Cons
The Rabid Rabbit Fuggler plush hardly has eyeballs
He doesn't have many teeth, but the Bugs Bunny look is amusing
Light Blue Gaptooth McGoo Fuggler Plush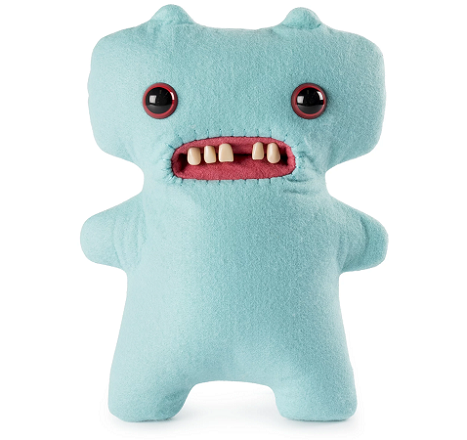 The Gaptooth McGoo Fuggler plush is my second ultimate pick because the childhood-themed monster is hilarious. The light blue color makes it look naughtier than creepy.
Still, it's an adorably ugly plush with a significant gap in its teeth. However, Gaptooth McGoo could help little kids during their toothy stages.
Gaptooth McGoo Fuggler Plush Pros
The Gaptooth McGoo Fuggler plush is inspirational for kids, ugly or not
It looks more primitive than most of the Fuggler monsters plushes
The eyes and the teeth make this poor little monster look stupidly funny
The tiny horns make it look like a childhood monstrosity
Gaptooth McGoo Fuggler Plush Cons
The color and shape don't do much for creepiness
The human teeth raise their creepiness because they're so exposed
Purple Lil-Demon Fuggler Plush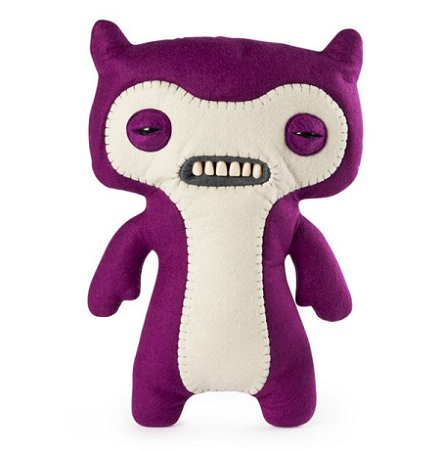 Lil-Demon is a fan-favorite Fuggler for many fans. However, if you want the nine-inch plushes, Lil-Demon Fugglers only come in the more oversized 12-inch plush. Meanwhile, Lil-Demon's face is super naughty.
He looks like he's about to turn the playroom into a war zone. In contrast, he also has a sleepy look in his eyes.
Lil-Demon Fuggler Plush Pros
The Lil-Demon Fuggler plush fits my hideous requirement perfectly
The bright purple color is famous for monstrosities in children's movies
Lil-Demon's face shows chaos or sleepiness, whichever you desire
Young kids will enjoy the matching naughtiness of this little guy
Lil-Demon Fuggler Plush Cons
Lil-Demon's stitches show too much of a border again
He is more significant than most Fugglers and will be hard to match with others
Yellow Indecisive Monster Fuggler Plush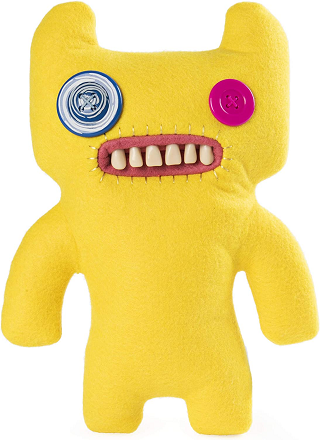 The Indecisive Monster Fuggler plush represents something beyond annoying, indecisiveness. No one likes it when someone can't make up their mind. So, this monster is funny, ugly, and annoying.
Hence, the Indecisive Monster Fuggler plush has different button eyes. He couldn't pick which he wanted at the button store.
Indecisive Monster Fuggler Plush Pros
The Indecisive Monster Fuggler plush is beyond hilarious, with two different eyes
It has goofy teeth with massive gaps to add to the humor
Children will love the color and details of this corny plush toy
It's as ugly as a yellow skirt in the sun
Indecisive Monster Fuggler Plush Cons
The Indecisive Monster Fuggler plush looks dizzier than anything else
He isn't uglier than goofy, and he seems like a lost pet
Recommended UK Alternatives for Fuggler Plush
More Fugglers exist, but you'll need to import them from the UK. However, they're so fantastically horrible, hilarious, and ugly that I must share them as recommended alternatives.
I'll pick my three favorites from the UK Fugglers plush to help you find more characters with goofy teeth and funny faces.
Annoying Alien Fuggler Plush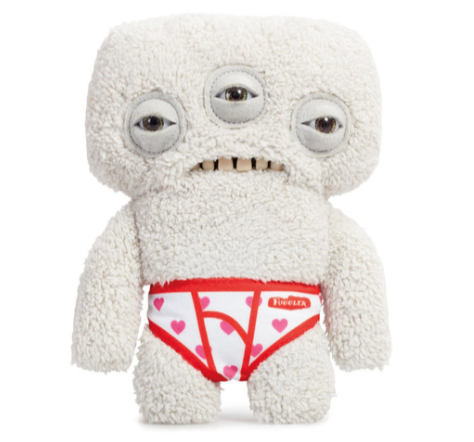 The Annoying Alien Fuggler Plush represents a creature from space, typically an ugly being with some funny features.
The Annoying Alien is also one of the few Fugglers with three eyes to throw you off your laughing game. It comes from the Budgie Fuggler series with underwear for added giggles, only available in the UK.
Annoying Alien Fuggler Plush Pros
The Annoying Alien Fuggler Plush is an ideal example of an ugly and funny monster
The Budgie underwear series is exclusive to the UK for added value
Children enjoy the tactile experiences of these Budgie series Fugglers
The eyes are goofy, and the plush has a hideous design overall
Annoying Alien Fuggler Plush Cons
The Annoying Alien Fuggler Plush is almost white, which is tricky with sticky children's fingers
It doesn't emphasize the toothy design much
Sasquoosh Fuggler Plush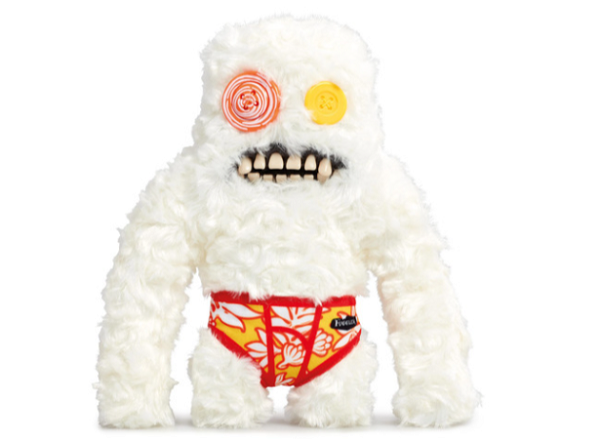 The Sasquoosh Fuggler Plush represents an infamous monster hidden in the woods, an American favorite. I'm surprised it isn't in our stores, but it's a special edition from the UK.
The Budgie Fuggler Sasquoosh Plush also wears underwear and looks like a hypnotizing monstrosity. It's a close favorite to my top pick from the UK.
Sasquoosh Fuggler Plush Pros
The Budgie Fuggler Sasquoosh Plush is beyond hideous and hilarious
Those cross-eyed expressions with hypnotizing effects will do the trick
Children will enjoy the funny underwear and fuzzy texture
The toothy mouth and different eyes make the Sasquatch monster look insane
Sasquoosh Fuggler Plush Cons
The Budgie Fuggler Sasquoosh Plush should be a top pick on American soil
The white plush will turn into a nightmare beyond its design
Squidge Fuggler Plush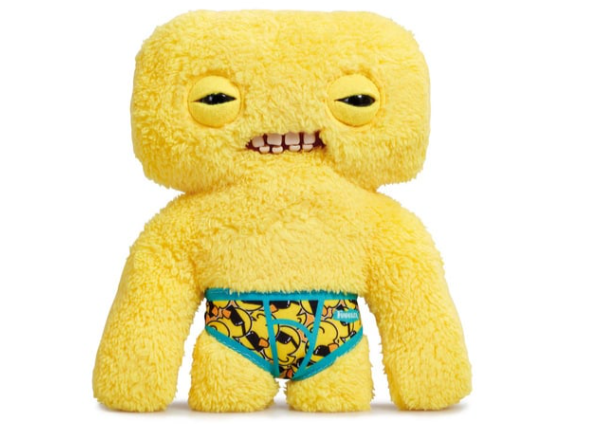 The Squidge Fuggler Plush represents a monster so ugly that you imagine it running for the hills to escape judgment. However, it's kind of cute from ugliness, and it has a mouth full of freaky teeth.
The Squidge Fuggler also has a lot in common with the Sasquoosh plush, with long arms and a dull look in its eyes.
Squidge Fuggler Plush Pros
The Squidge Fuggler Plush is insanely funny and ugly
The underwear adds to the toothy humor of the Squidge Fuggler
Kids will enjoy playing with such a funny plush, while the color is bright (and hideous)
The eyes look ultra-droopy to add to the monstrosity's failed design
Squidge Fuggler Plush Cons
The Squidge Fuggler Plush looks sleepy and uninterested in playing with kids
The bright yellow is my most significant letdown because it's not a favorite shade
FAQs
Question: Where Can I Find Retired Fuggler Plush?
Question: Which Fuggler Plush Are Rare?
Answer: Fugglers launched a few chase monsters to chase the rarity up, pun intended. Chase Fuggler Plush are ultra-rare and hardly found in stores anymore. However, if you're lucky, you'll find a few eBay resellers getting rid of their chase Fuggler plush. For example, a US seller has the Black Suspicious Fox Chase Fuggler Plush.
Question: What Other Fugglers Exist Besides Plush?
Answer: Fugglers were a phenomenon with fame and funny glory. So, you'll find odd plushes like Keychain Fugglers. Meanwhile, Spin Master Toys also launched a series of vinyl figures resembling the funny, ugly plush. Walmart stocks Fuggler Vinyl Figure Packs. Alternatively, look for old-series Fuggler Vinyl Figures on eBay.
Fugglers Guide: Saying Goodbye to Mischief
Did you know Fugglers are so attractive? Admittedly, I didn't realize how brilliant these primitive-design plush were until I read the creator's bio and hilarious story. So, I shared everything I could, including how to ensure you buy authentic Fugglers designed by the brilliant Louise.

Unfortunately, not many exist in America. You might have to import some from the UK or order them from eBay resellers. Furthermore, I recommend buying the Blue Sir Horns A Lot Fuggler Plush before it retires from our stores. So, act fast to start your funny, ugly collection.

Meanwhile, I recommend importing the Squidge Fuggler Plush before it runs off in the dark to hide its hideous yet hilarious face. Either way, get yours before it's gone.
For more exciting plush: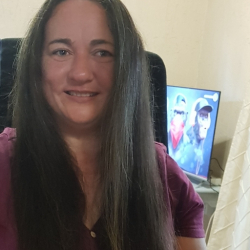 Latest posts by Caroline Lambert
(see all)