If you love wildlife, chances are you've encountered the world's tallest safari animal countless times. Have you ever thought of having a souvenir to honor your love for nature?
Since giraffes are renowned for their grace and elegance, a soft giraffe toy is a brilliant choice! I have always loved stuffed animals. I mean, what is not to love? They are cute, cuddly, and are always there when I need someone to talk to. And on those days that I'm feeling a bit anxious, one hug from my fluffy friend is all I need to calm me down. My stuffed animals also bring out my inner child and remind me to take life less seriously. 
Read on for the best Squishmallow giraffe guide, as I will help you understand why a stuffed giraffe toy isn't just perfect for you but for the whole family.
Bottom Line Upfront
Do you love giraffes and wish that you could own one as a pet? I think most of us do! I have compelled a fun guide of my favorite giraffe Squishmallows to make it easier to decide which one you want to take home with you. My favorite giraffe Squishmallow is Spotted Gary, the squishmallow giraffe. He is soft and cuddly and can be used as a pillow. If everything seems to be going wrong in your life, get Gary because he is excellent at problem-solving. And he will have everything sorted in no time!
If you're looking for a unique gift, a giraffe Squishmallow will be a perfect choice. As it will stimulate your kids' imagination. Also, giraffe plushies are incredibly fascinating, entertaining, and pocket-friendly. Additionally, kids love to pretend to play, and it's even better when you join in as a parent.
So let us have a look at my top picks: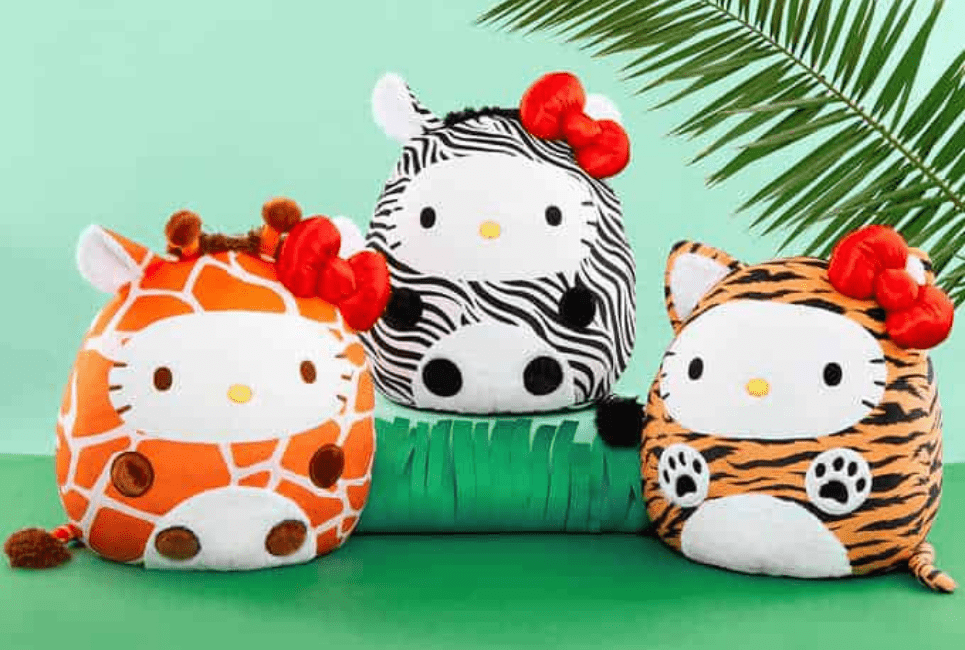 Top Picks
What Makes the Giraffe Squishmallows so Unique?
A giraffe plush can bring fun, pattern, and verticality to a dead corner. In simple words, a giraffe Squishmallow adds visual interest to a room, charm, and, most importantly, grandeur.
Tips on How to Choose the Best Giraffe Squishmallow
There are a few things to consider when looking for the best Squishmallow giraffe for kids. Keep in mind that this stuffed animal will most likely sit at the table, get countless kisses, and more.
Size of the Toy
Before you buy a giraffe Squishmallow, consider your child's size. Older children can easily handle big toys, but younger children may find playing with a big Squishmallow giraffe challenging if it's too large for them.
Cleaning
When cleaning children's toys, note that not every plushie is machine washable. How regularly you clean your stuffed toy will depend on the brand's features and the fabric used. Some Squishmallow giraffes can only be washed by hand, so examine the label if machine washing is critical to you for convenience or hygiene.
Closely Examine for Loose Parts
Stuffed animals with artificial eyes or strings can pose a choking hazard to small children. If possible, choose stuffed animals brands that are heat-sealed or embroidered, making sure no loose parts are hanging before giving the giraffe Squishmallow to your kid. 
Materials
Just to be sure your kid is safe, look for a Squishmallow giraffe toy made of quality materials. Consider one made of acrylic or polyester, something long-lasting but very soft. If you prefer a Squishmallow that your kid can chew on, ensure it's made from all-natural, non-toxic fabrics safe for them to chew on.
Color
Most kids are attracted to colorful objects because they associate them with pleasant emotions. The same goes for giraffe Squishmallow, and your kid will be happier with a giraffe that's colorful than a plain one.
Different Giraffe Squishmallow Options
Do you love giraffes, or is there someone in your life who adores giraffes? Giraffes are lovable creatures. Although most giraffe plushies are incredibly clumsy with skinny legs, extremely lengthy necks, and weird tiny horns, my giraffe Squishmallows are nothing of the sort; they are undeniably adorable. Please go through my various giraffe Squishmallow choices.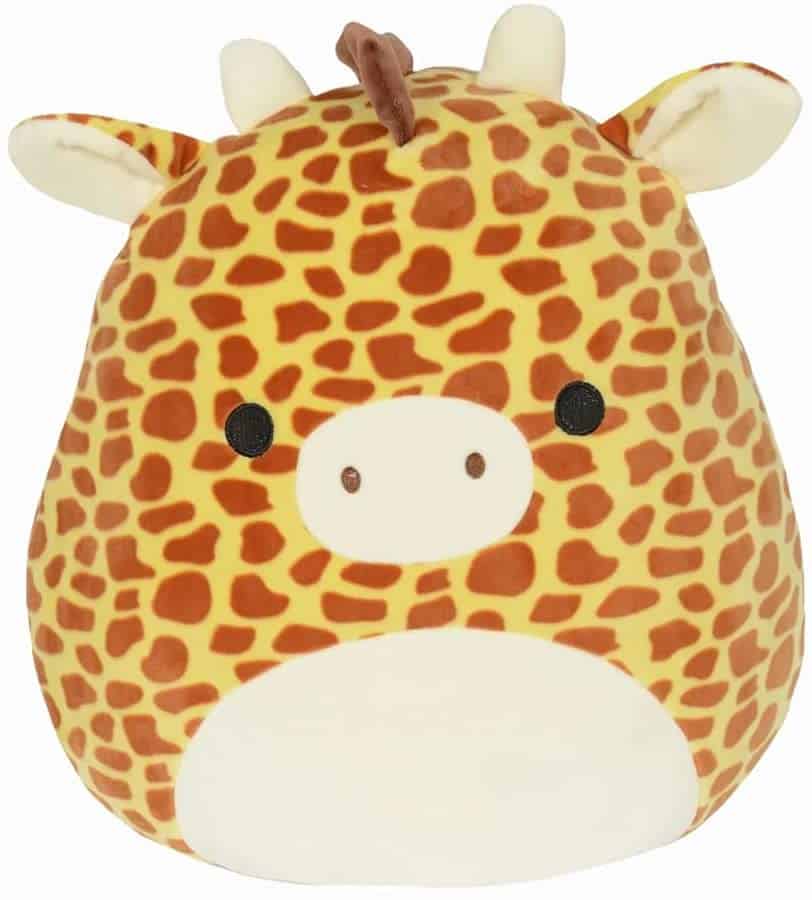 It's hard to miss Gary with his yellow body covered in brown spots. He's quick at solving problems, making Gary a wonderful kids' playmate! He is also great at listening, so if you have any issues, he will listen to them and solve them simultaneously. 
Features
Brand: Squishmallow
Character: Gary
Size: 8 inches
Age Range: Suitable for all ages
Pros
It's squishy and soft

Excellent addition to a little kid's bedroom

He is available in 2 sizes, 8 inches, and 16 inches

It is super cute

Has a cute little piggy nose

Great for kids or adults
Cons
For me, it is too tiny to cuddle with

It's too pricey for its size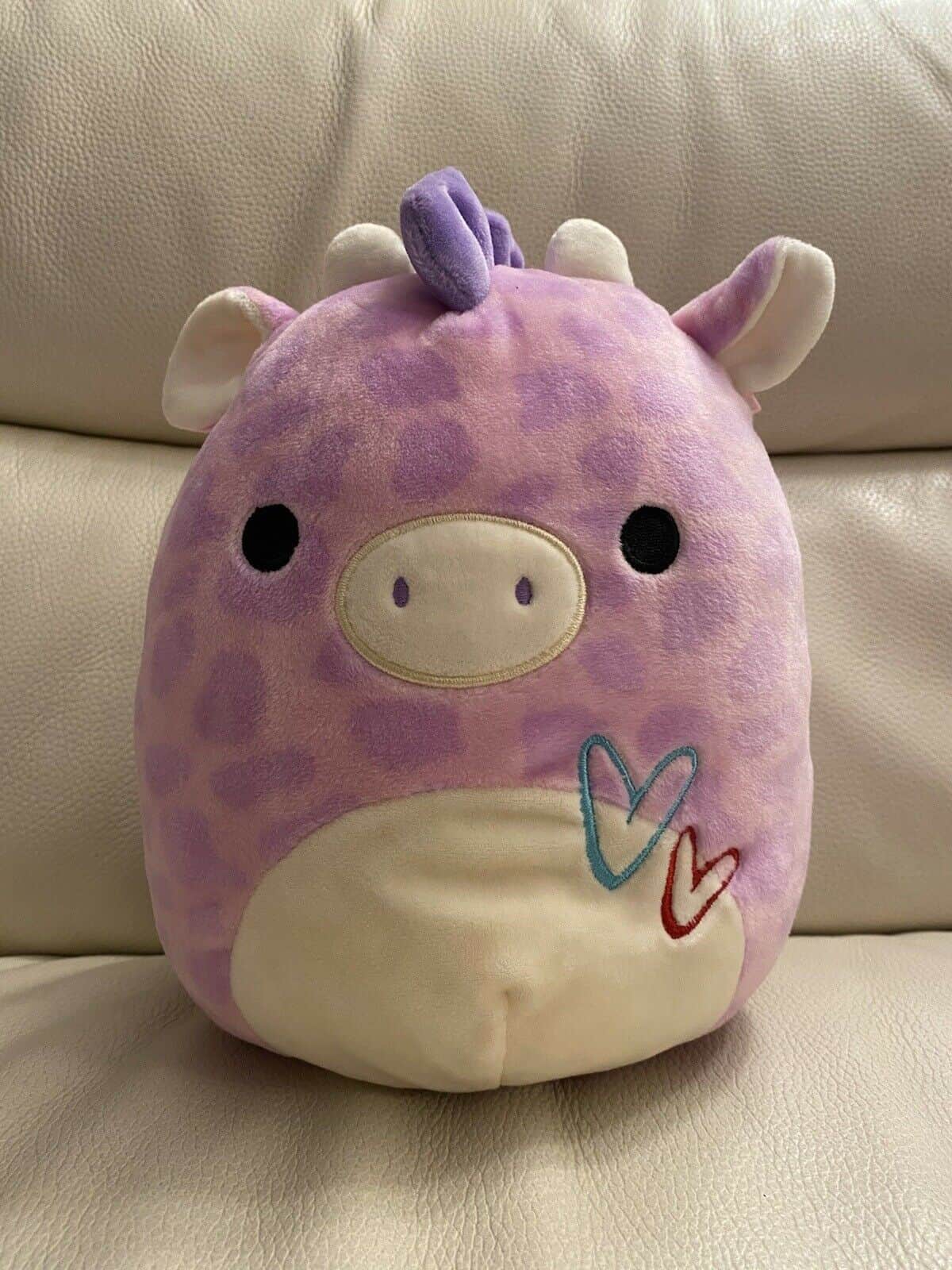 Suppose you love being outdoors and going to the beach. In that case, you will love Jazzy because she is an adventurous giraffe that loves going for a swim now and again. She is light purple with some darker purple spots. Her belly, ears, and horns are white, and she has a beautiful purple mane. And don't forget about the cute little hearts on her belly that just make her even more special. 
Features
Brand: Kellytoy
Character: Jazzy
Size: 8 inches
Age range: Age 3 and up
Pros
It is very soft

It's adorable and squishable

It's machine washable

Perfect gift for Valentine's day or your significant other's birthday
Cons
It is pretty hard to find

It's pricey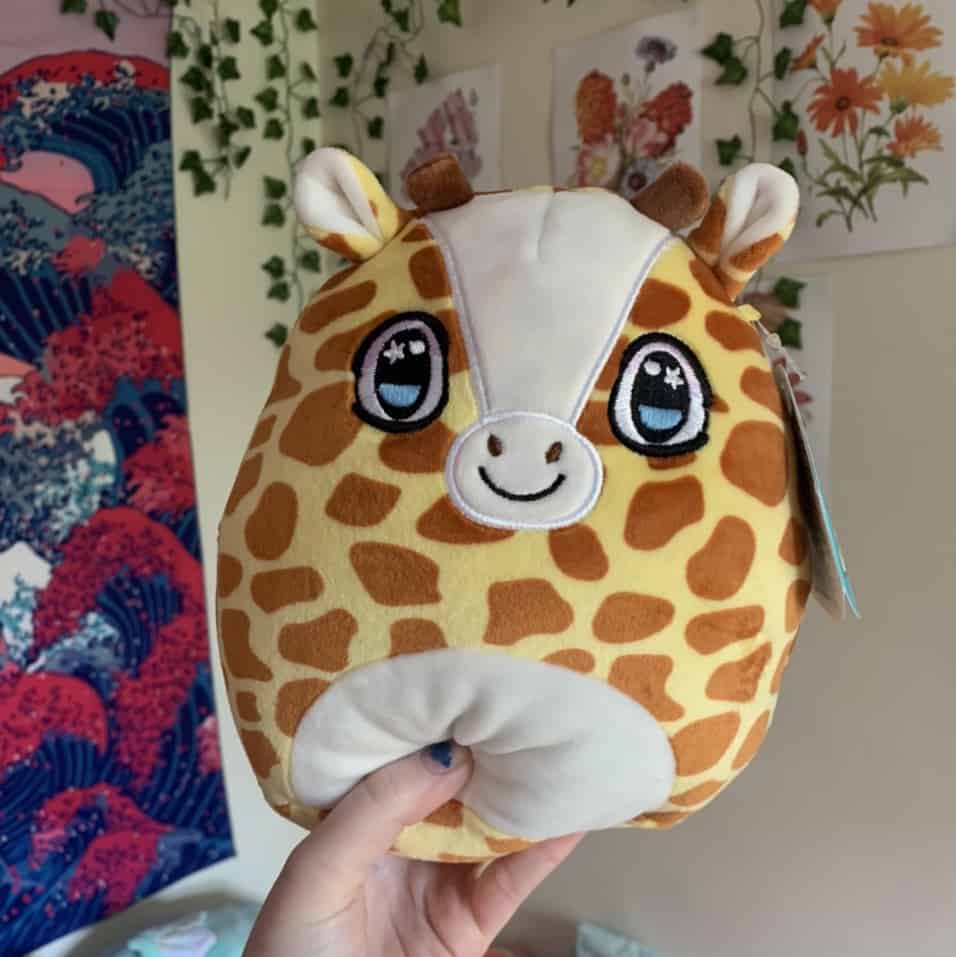 At just 7.5 inches tall, like all Squishmallows, Georgina is ideal for small hands while also making a great bedtime and travel companion.
Georgina is an adorable Squishmallow giraffe and very squishy since she's made from soft polyester. She enjoys cuddling and is looking forward to being your best friend!
Features
Brand: Kellytoy
Character: Georgina
Size: 7.5″ inches 
Age Range: Ideal for children from 3 years.
Pros
It's easy to clean and machine washable

It is super soft

Has cute sparkly eyes

Perfect size to travel with
Cons
Older people and kids find it too tiny to cuddle

It's too expensive for its size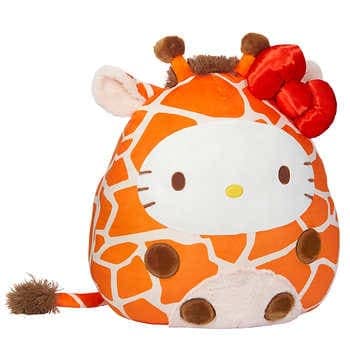 This Squishmallow giraffe is cute and cuddly and makes the perfect gift for friends or family obsessed with giraffes or Hello Kitty. It is unique compared to the other giraffe Squishmallows and will make a great addition to your Squishmallow collection. 
Features
Brand: Squishmallows
Character: Hello Kitty Giraffe
Size: 20 inches
Age range: Suitable for age 3 and up
Pros
It is suitable for all ages

Its large size makes it great to cuddle with or use as a pillow

It has unique features

Perfect gift for someone obsessed with Hello Kitty

Has a fluffy tail

Has a cute little red bow
Cons
Its price isn't pocket-friendly

Its face will show dirty easily
Special or Limited-edition Giraffe Squishmallows
Collectors are now willing to pay a lot for these rare giraffe Squishmallows. With quite a number of giraffe Squishmallow toys to pick from, some types are produced more frequently than others. There are promotional Squishmallows and exclusive editions that are pricey. Below are one of the rarest giraffe Squishmallows :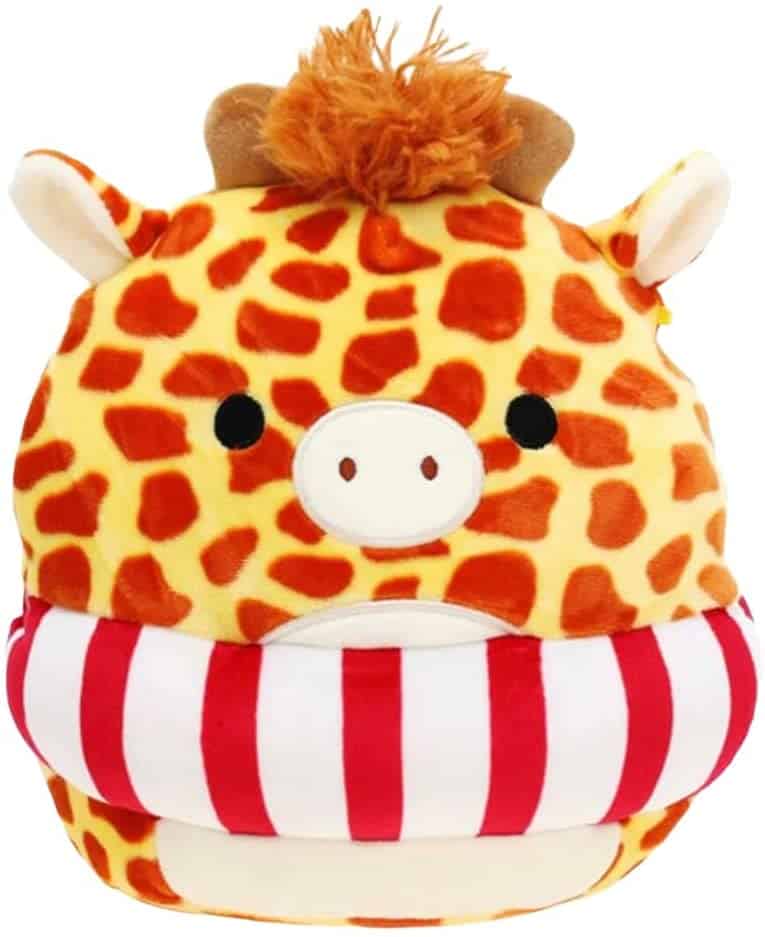 Gary is super soft and looks adorable with his little red and white tube. He is 8 inches which makes him the perfect size to take on vacation. Whether you are 5 or 50, Gary will be a great addition to your family.
Alternative Giraffe Squishmallow Options
Suppose you have been planning for a long time to move your toddler into a big boy's or girl's bed where they will start sleeping. Or maybe you are about to go on a long trip and want to ensure your kid feels comfortable; there are many alternative giraffe plushies to choose from if you are not a fan of the Squishmallow options or if you are a giraffe lover who wants giraffe toys that are a bit more realistic and has more features: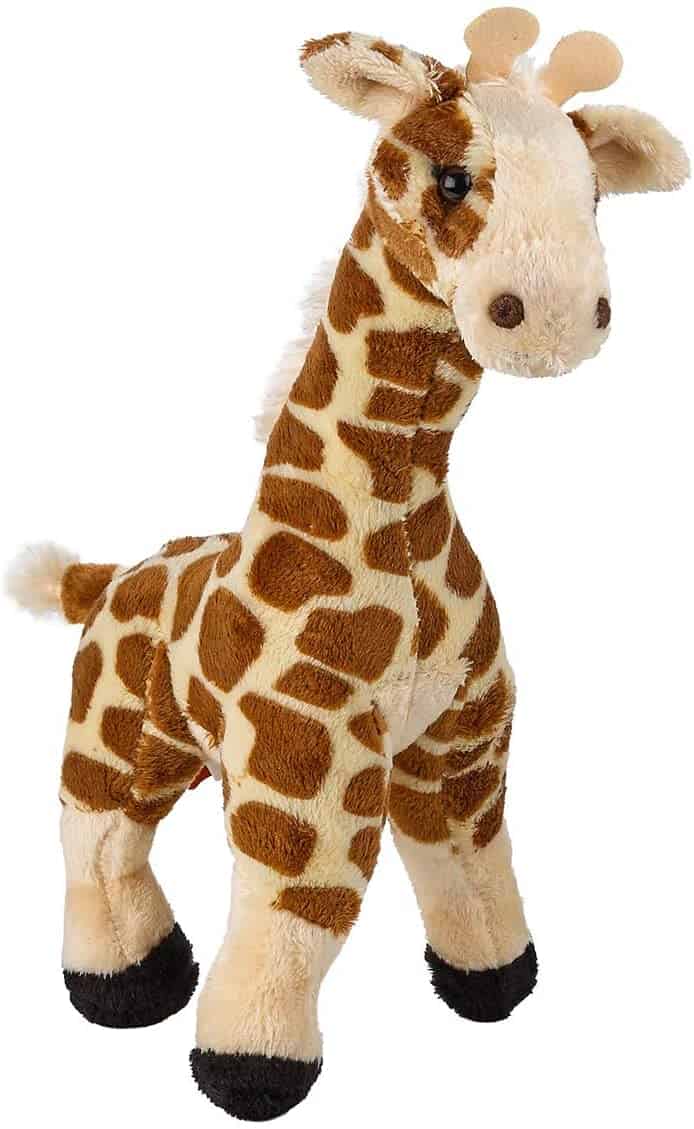 This ultra-soft plush is the ultimate snuggle buddy! This cozy giraffe is a perfect way to motivate your kid's healthy sleeping habits, make a great nap companion, and help them fall asleep faster. The giraffe stands 11″ tall and is made from a high-quality polyester/acrylic blend making for a super huggable stuffed toy.
 If you want a touch of wildness in your kid's room, this plush giraffe is an attractive option.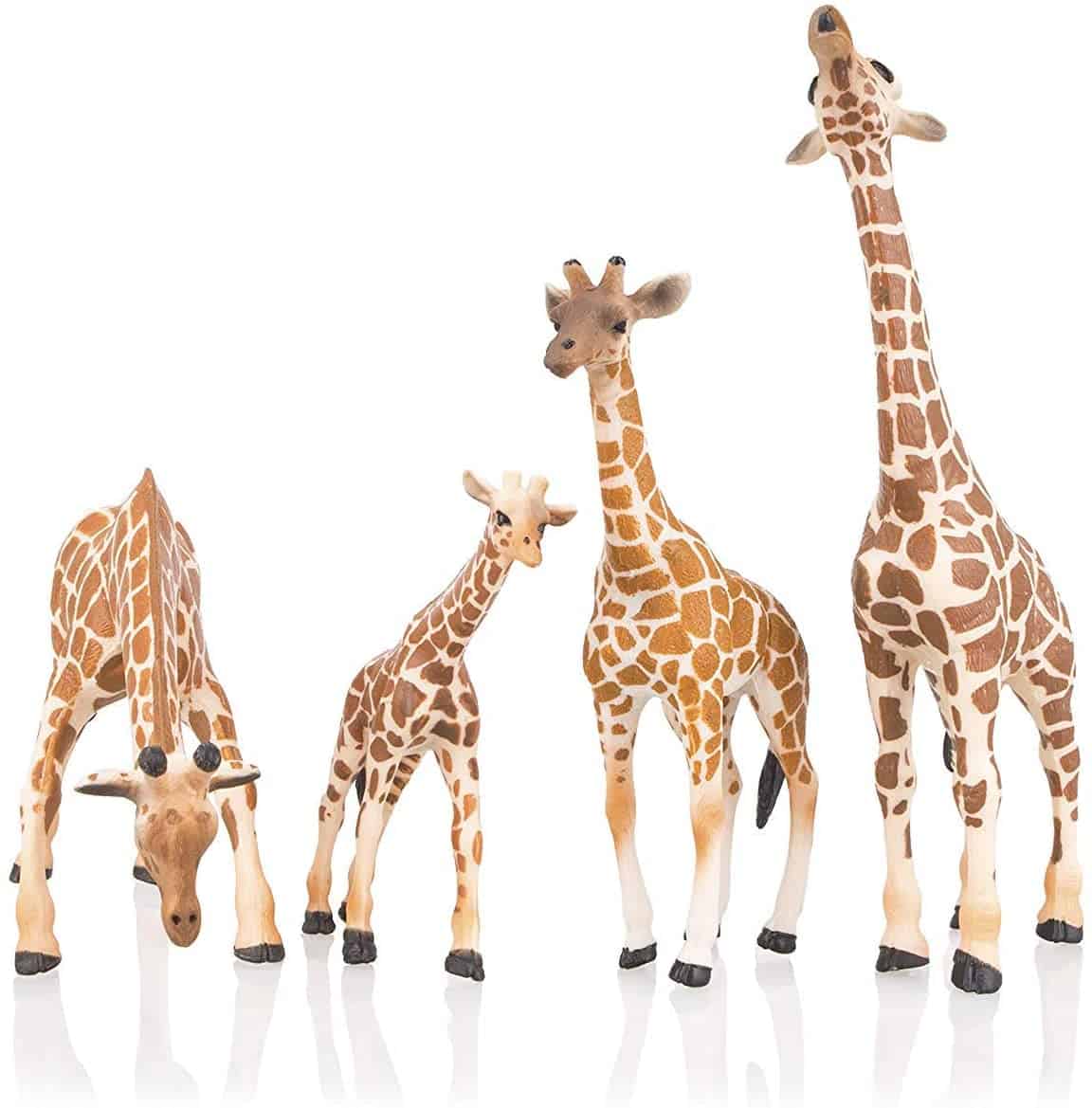 If you're searching for giraffe stuffed animals made to stimulate creativity, go for this giraffe figure set. Due to the open nature of the characters, your kid will be able to develop their imagination by inventing unique stories and enjoying free play. Also, they make good classroom teaching tools to teach kids about natural wildlife and land mammals. These giraffes are made from long-lasting PVC plastic. They are carefully hand-painted to bring out realistic detail. How cool are they?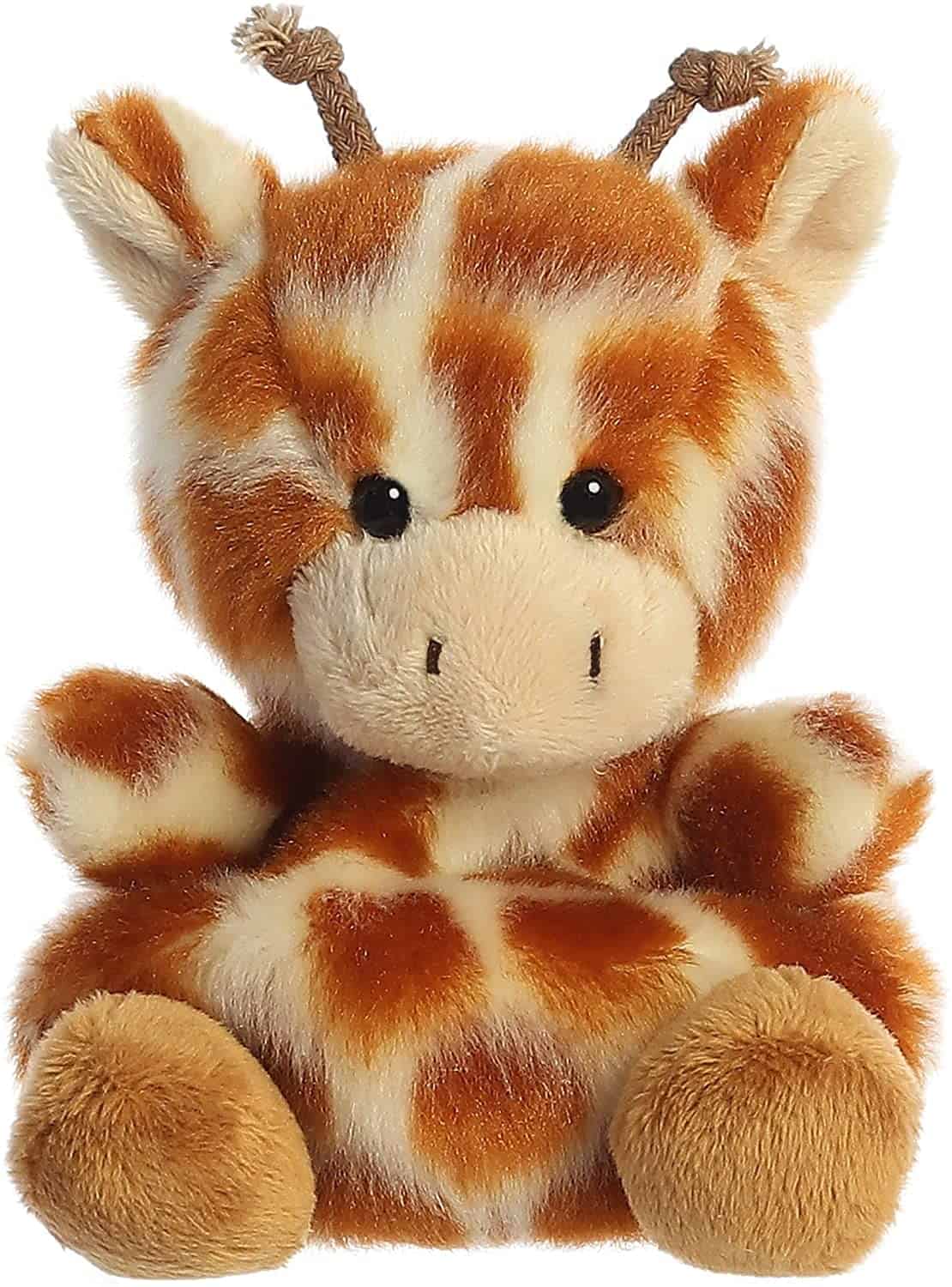 Oh my! This little giraffe plushie is absolutely adorable, and it will definitely be love at first sight when you see this little guy. He will fit perfectly in your hand, making him a great size to take with you wherever you go. It is also made of excellent quality. What are you waiting for? Add this little guy to your cart now!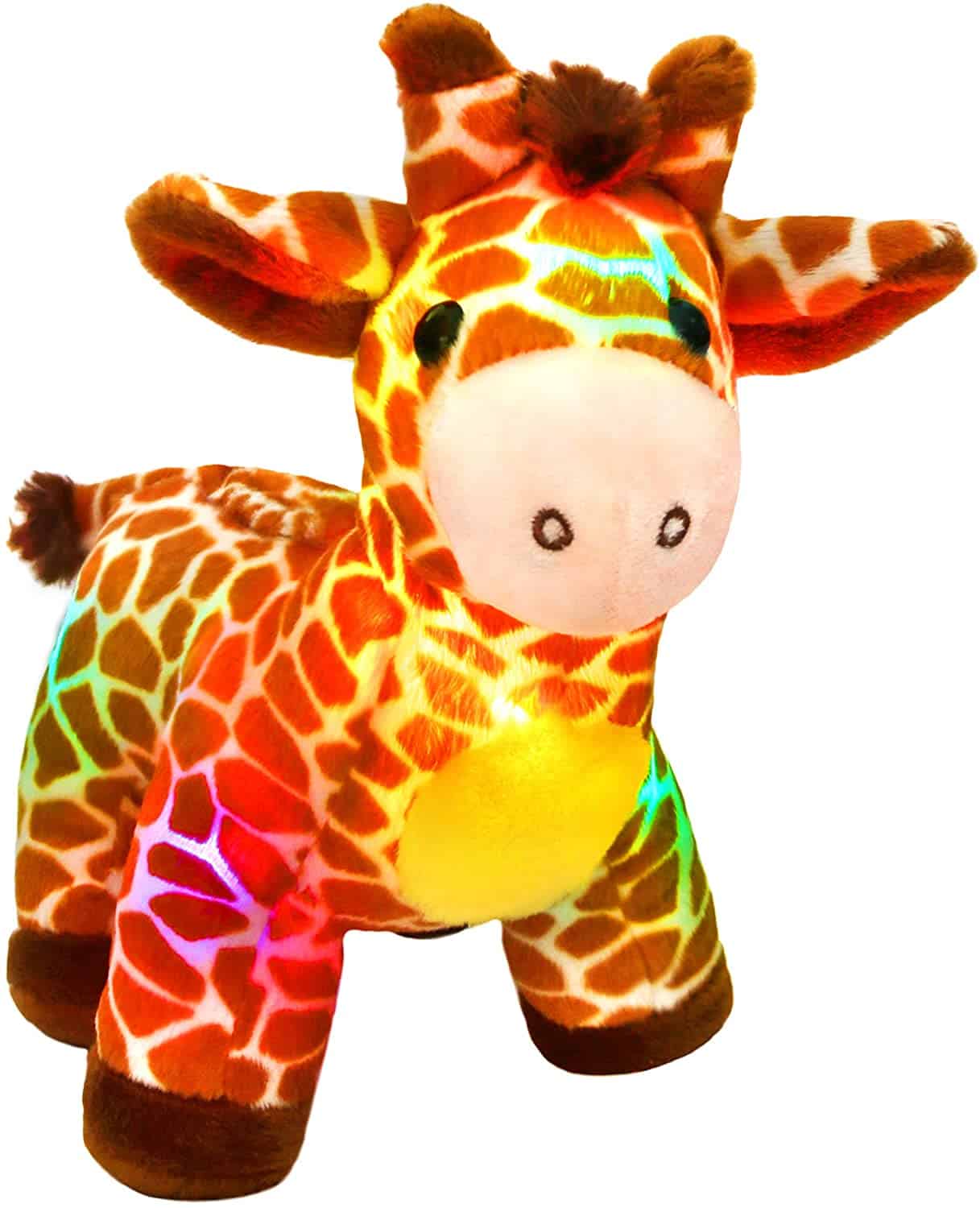 If the dark scares your child, you know how hard getting them to sleep at night can be. This giraffe plush with its beautiful lights will keep your kids company all night long and make them feel safe. It is even great for adults if you want to have a disco party in your room. It is also a perfect size, so you can take it with you when you and your family are traveling. So get yourself or your kid this cute giraffe plushie and light this baby up!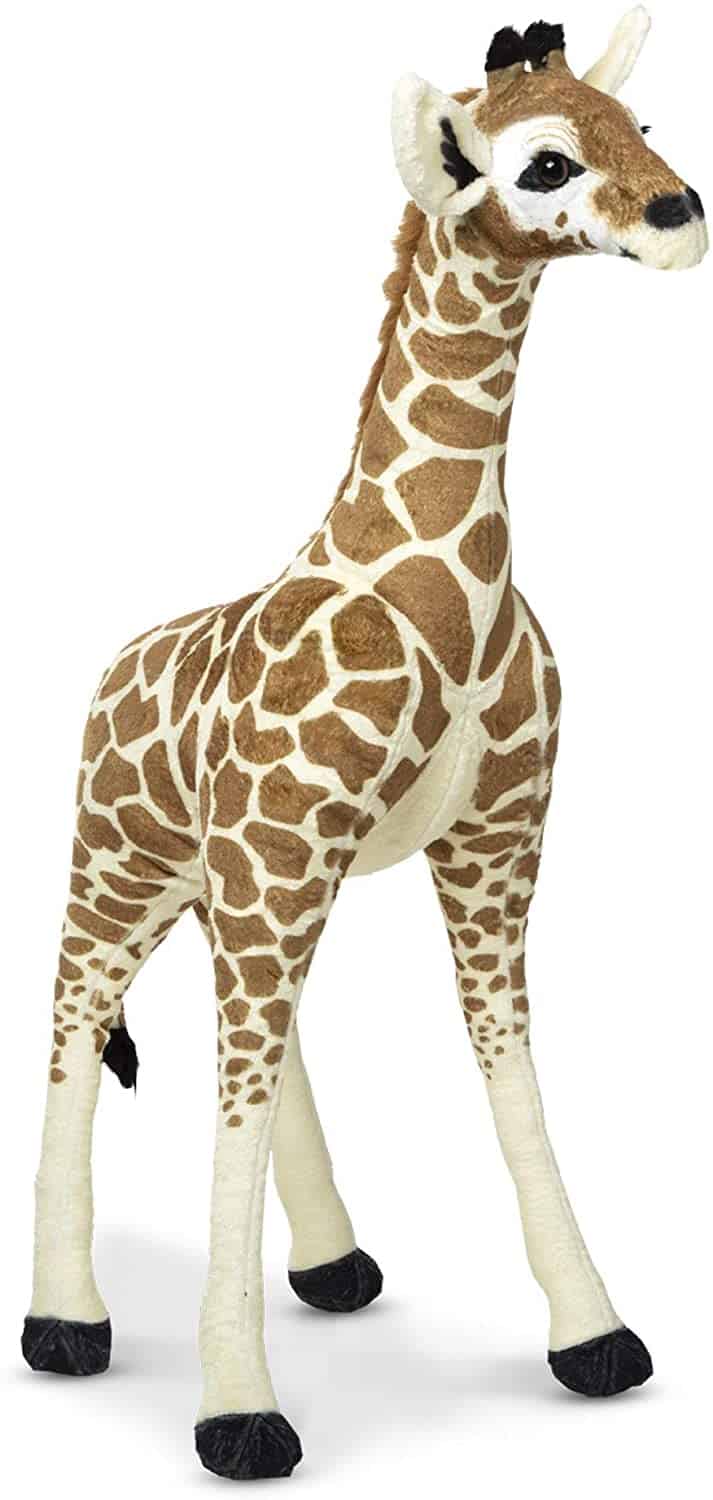 This giraffe plush might be expensive, but it is the closest your kid will get to having a giraffe as a pet. It will make a great addition to your décor and will definitely put a smile on your child's face. 
My Favorite Giraffe Squishmallow Option
Spotted Gary, the squishmallow giraffe available in 2 sizes, is my favorite Giraffe Squishmallow. I love the 16 inches one because I love to use him as a pillow when watching a movie. Just one hug from him makes any day better. I like to count his little brown spots; it is silly but always gets me in a cheerful mood. Get yourself a Gary today!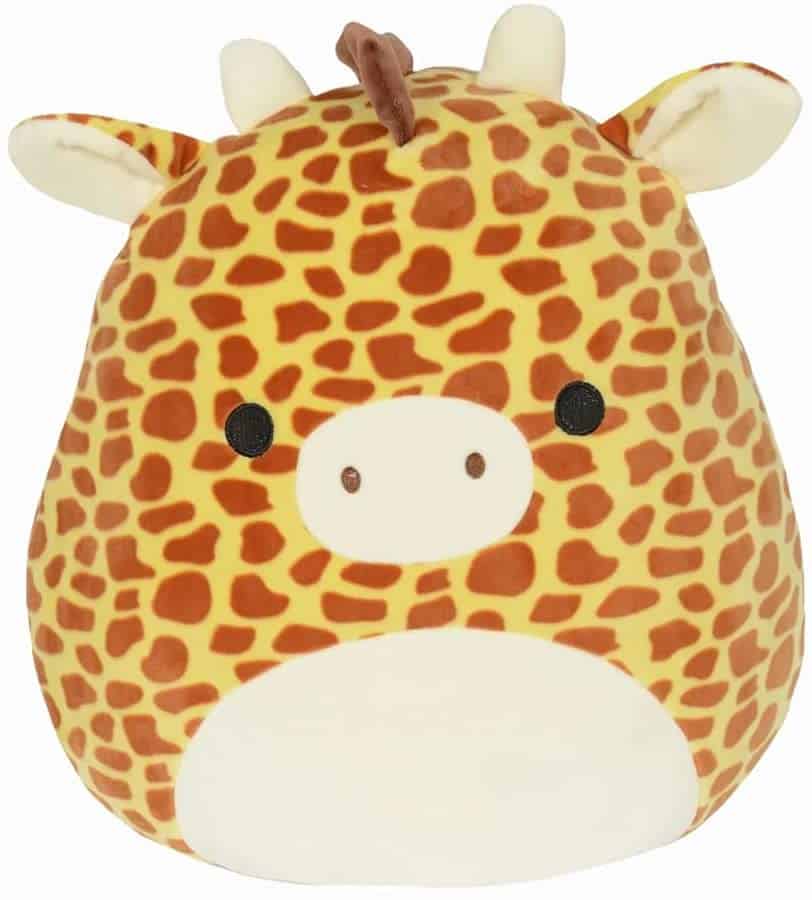 Conclusion
I understand that picking the most suitable giraffe Squishmallow can be difficult for a beginner. And that's why I'm glad that you went through my best giraffe Squishmallow guide to get a better idea of what giraffe Squishmallows to look for.
After reading this article, you now know why giraffe Squishmallows are exceptional, the available options in the market, and some alternative giraffe Squishmallow options. A Squishmallow giraffe is a beautiful companion and a loyal friend who will always be there for you. Get yourself a giraffe Squishmallow friend today!
Frequently Asked Questions
Question: How Many Squishmallows Exist?
Answer: There are over 1000 different Squishmallows for you to collect. So if you still haven't found your Squishmallow soulmate, don't worry. They are out there waiting for you to purchase them.
Question: Why are Squishmallows so Trendy?
Answer: When referring to plush toys, Squishmallows are the hottest trend. But why? Squishmallows are trendy because they have numerous characters to collect; each has its unique personality, name, and story to tell. The other reason for them being trendy is because they are cute, cuddle, and squishable. And with over 1000 Squishmallows to choose from, you are sure to find the one that is perfect for you.
Question: Do they Have a Giraffe Squishmallow?
Answer: Yes! As you can see in the guide mentioned above, there are a few different giraffe Squishmallows with different names, personalities, and stories. There are even some rare giraffe Squishmallows too!
Question: What's the Oldest Squishmallow?
Answer: So, you may be wondering who is the oldest of the Squishmallow family. And to answer your question, it is Cam the Cat.
Question: Are Giraffe Squishmallows Cute?
Answer: Oh yes, they are! They are adorable! And they make great cuddle buddies and look fantastic in any room you put them in.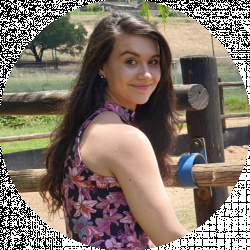 Latest posts by Christine Kent
(see all)