"Love me, feed me, never leave me." How can you not love Garfield? I was obsessed with Garfield growing up. The Garfield Movie was my favorite thing to watch during the holidays, and I would watch it on repeat for days. I loved Garfield even more because I related so much to him. No, not in the lazy kind of way, but I was and still am obsessed with lasagne, especially my mom's. Oh, and I can't stand Mondays. 
After the Garfield movies and the series came out, I wanted everything Garfield from the plushies and bedding to the pajamas. So today, I'm excited to share my Garfield plush guide, which includes my favorite Garfield plushies. So let's get started!
Bottom Line Up Front
Do you love Garfield and everything that has to do with Garfield? Well, I'm sure you will love the Garfield plushies I have in store for you today!
They are super cute and will make a great addition to your collection. My favorite Garfield plushie is the Yellow Fat Cat Garfield Plush Toy. He might be a little expensive, but I love his realistic look. He reminds me so much of the Garfield movie. 
Top Picks
Selection Criteria
The following criteria are the same criteria I used to make my plushie recommendations:
Determine what you or your kid likes
It is important to determine what you guys like in a Garfield plush. You can go to Walmart, Target, or any other store that sells plushies and look at the different Garfield's they sell. You can also scroll online to get some inspiration.
I searched the web for hours to find the cutest Garfield's that I liked, and that will fit most people's tastes.
Your budget
Now that you have seen the different Garfield plushies, you need to decide on a price range you are okay with. If the Garfield plush falls out of the budget range, you will need to get something more affordable. Or you will need to save until you can make the purchase. 
The plushies I recommended range from affordable to more pricey.
The Appearance
What appearance do you like? Do you like Garfield, who looks like the Garfield series (more animated)? Or do you want a Garfield with a more realistic look like the movie?
I included a variety of options for you to choose from. From different Garfield looks to different brands. You can choose the one that fits your needs.
The Quality
The quality is a very important factor to consider, especially if you are buying this Garfield plushie for a little kid. You want them to play with something of great quality that won't tear or lose some of its parts. This can be a choking hazard. 
If you are buying it for yourself or for someone who collects Garfield plushies, you want it to be of great quality and last for many years. Most of the Garfield plushies mentioned are of excellent quality.
Softness
Softness is another factor to consider because, let's be honest; no one wants to cuddle a rock. So if you are getting the Garfield plushie for your kid or for yourself for cuddling, then test its softness by squishing it or hugging it. 
I made sure to include Garfield options that will give the best soft hugs. 
The Size
Decide which size of the Garfield plushies you are looking for. Do you want something small to use as a decoration or that will be easy to travel with? Or do you want something bigger that will be great to cuddle with? I made sure to include a travel buddy, a cuddle buddy, and a Garfield you can use as a decoration. Enjoy!
Garfield Plush Options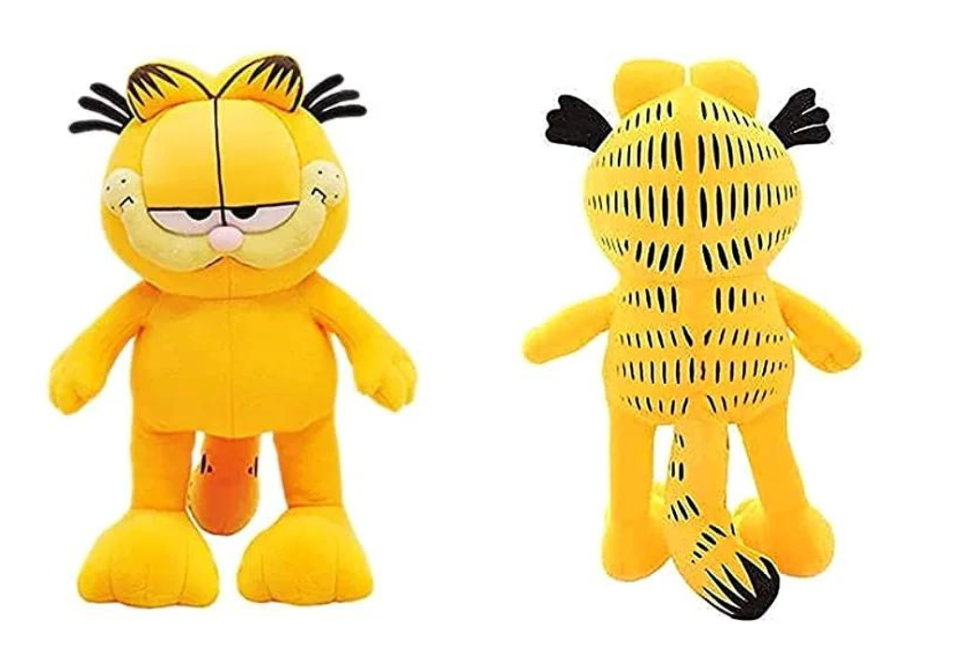 Features
Brand: Guantang

Size: 15.75 inches

Age range: Age 3 and up
This Garfield plush reminds me of how Garfield looks in the Garfield series. He looks adorable with his little grinning face. It also looks like he is going to get into mischief any second. He will make the perfect gift for your kiddies or even yourself this Christmas. You will also make any Garfield lover super happy by gifting them with this cute little guy on their birthday. 
The best part is he is soft and the ideal size to cuddle with. He will be great for those cold nights and mornings when you want to snuggle up with something. The only downfall is that some people might see him as overprized.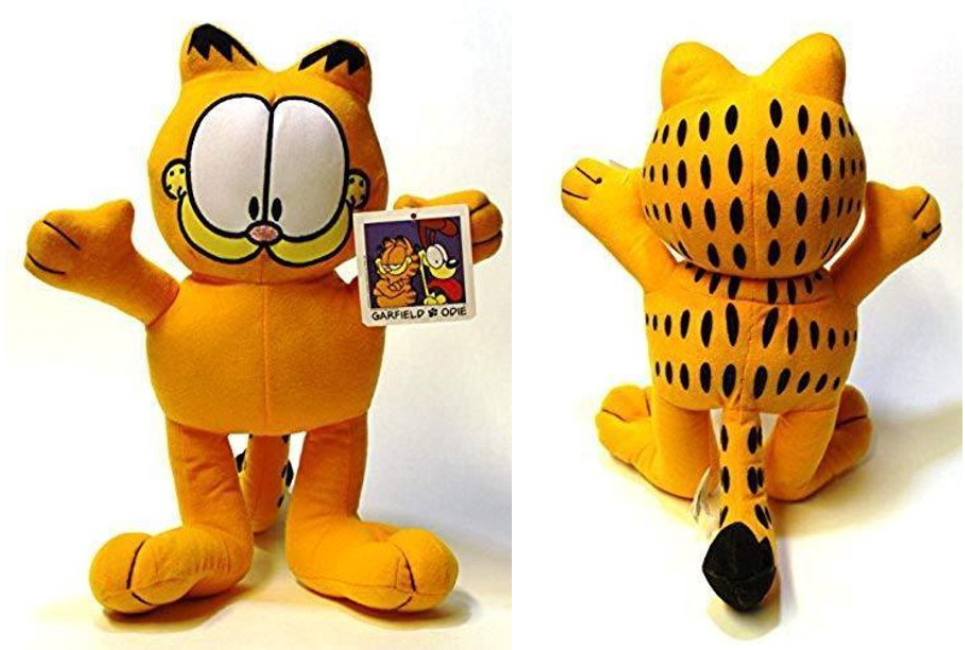 Features
Brand: Garfield 

Size: 12 inches

Age: Age 3 and up
It is an official Garfield toy! He will make the perfect addition to your Garfield collection. This is one of my favorite Garfield plushies! Any Garfield collector will be overjoyed to receive an official Garfield plush as a gift. I know I would! So if you have a Garfield lover in your family or in your friend group, you know what to get them this Christmas. 
It is the perfect size to travel with. So, you or your kiddies can take their favorite plushie on a trip and feel less lonely. Just note that your Garfield might quickly get dirty because of his white eyes.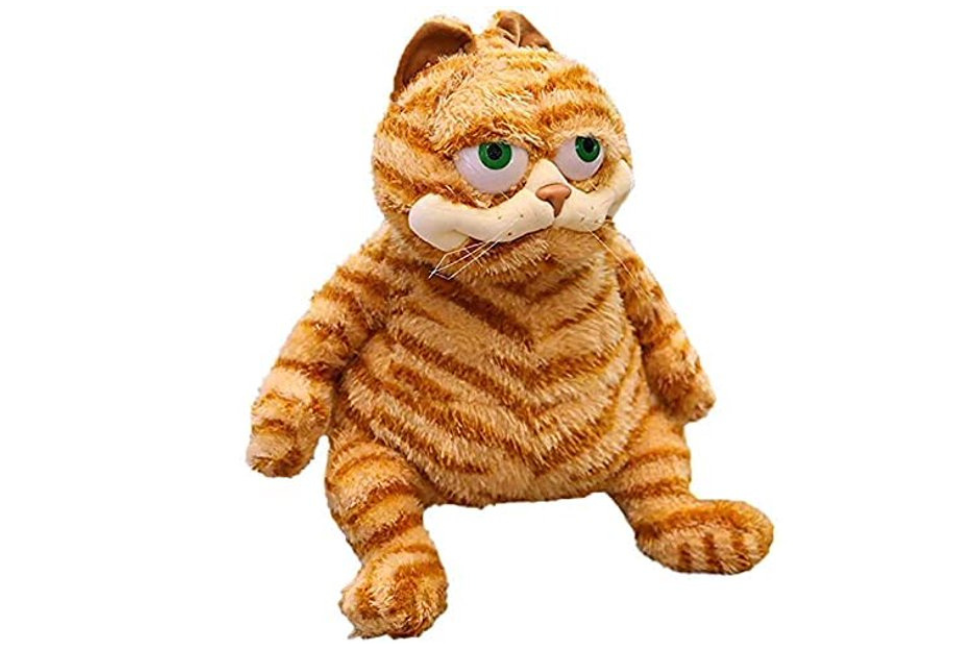 Features
Brand: 

biczng

Size: 11.81 inches

Age: 3 and up
Wow! Now, this is my favorite Garfield plush. He looks realistic as if he just jumped out of the TV screen. Baby, if you're reading this, I want him for Christmas, please. He is the closest you will get to having the real Garfield in your house. I love how he looks so grumpy, but at the same time, you want to squish and cuddle him to death. 
Compared to the other Garfield plushies, he is unique looking. And that is why I like him so much, and of course, because he is soft and makes the perfect cuddle buddy. 
Sadly, this Garfield plushie is expensive. And to some, he might look scary because of his weird hair and realistic look.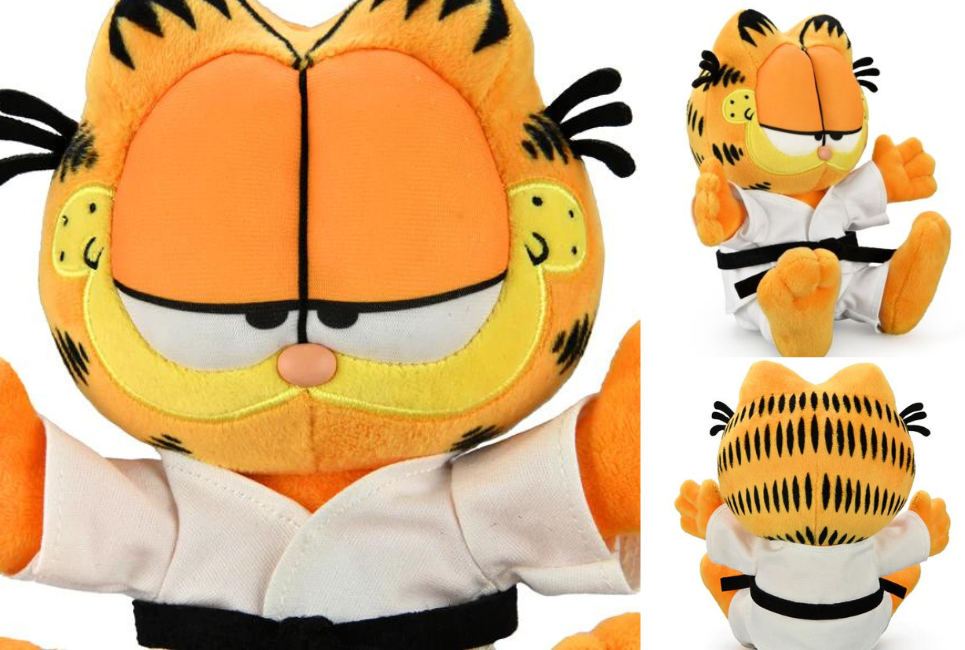 Features
Brand:

 Kidrobot

Size: 8 inches

Age range: 3 and up
If you have a friend or family member who loves Garfield and Karate, this would be the perfect gift for them. This little karate Garfield plush will also protect your other plushies against danger. So he will make the perfect addition to your collection.
I love his dogi and that he is a black belt. So you know your other plushies are in good hands. I also love that his eyes make him look as if he is concentrating so hard. Maybe it is to perfect his next move. The only con of this guy is that his cute little white karate outfit will get dirty very quickly.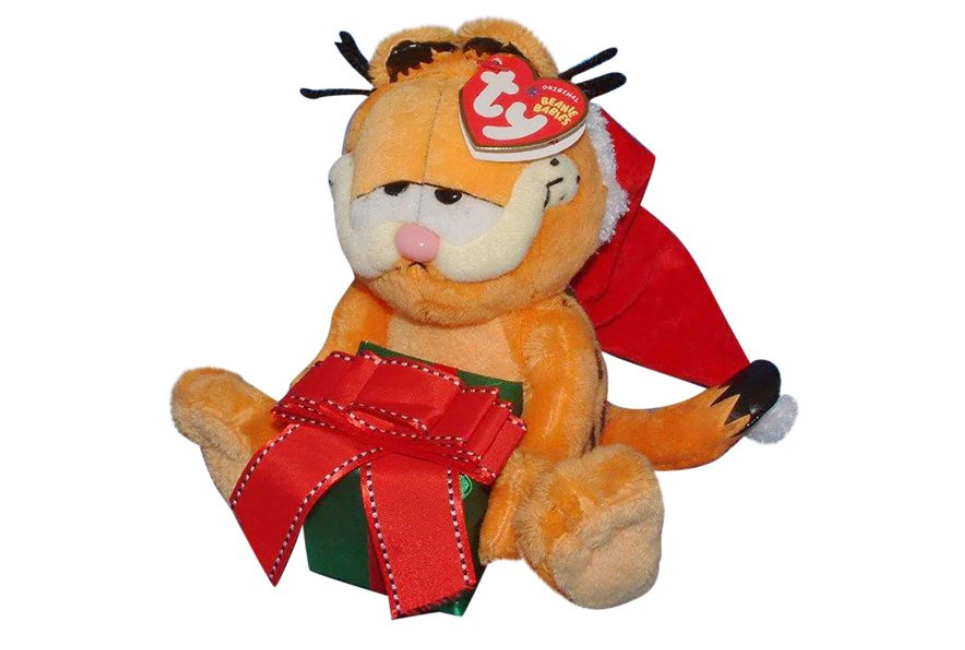 Features
Brand: TY

Size: 6 inches

Age: 3 and up
Let Garfield bring the gift of cuteness this Christmas with his little Santa hat and green-wrapped present. He will look cute under the Christmas tree or in your house as a Christmas decoration. He is adorable, and I will put him under my Christmas tree this Christmas. 
Get your friends and family matching Christmas Garfields. And celebrate Christmas on a cute note this year. I love this version of Garfield because he is a beanie baby! I love the cute details like the Santa hat and the Christmas gift in green with the giant red bow. He is a special version that I can keep forever. 
There are two cons of this plush. It is a bit expensive for its size. And the material of the gift might pull loose after playing too rough with it. But other than that, I love it!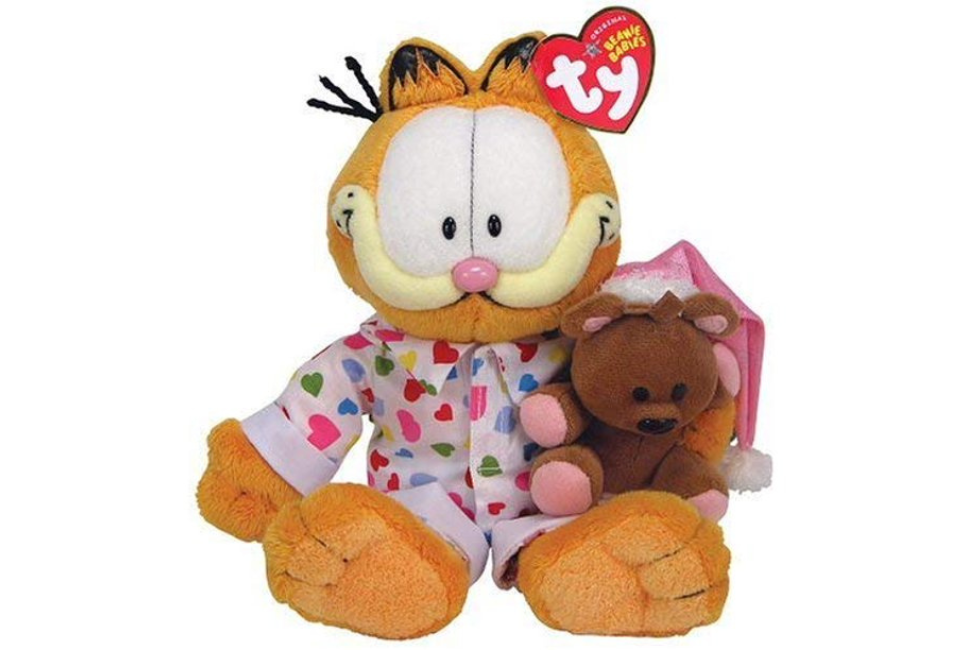 Features
This Garfield plushie is the definition of cuteness with his little pajamas and his Pookie bear. Oh, and he is a beanie baby! When I saw this Garfield, I just had to have it. Garfield loves naps; I love naps and cute pajamas. So this Garfield represents me perfectly.
I keep him on my bed as he makes my room look cozy. His little heart pajamas also make him the perfect gift for Valentine's day. The downfall of this plush is it is expensive, and his little white pajamas will show dirty quickly.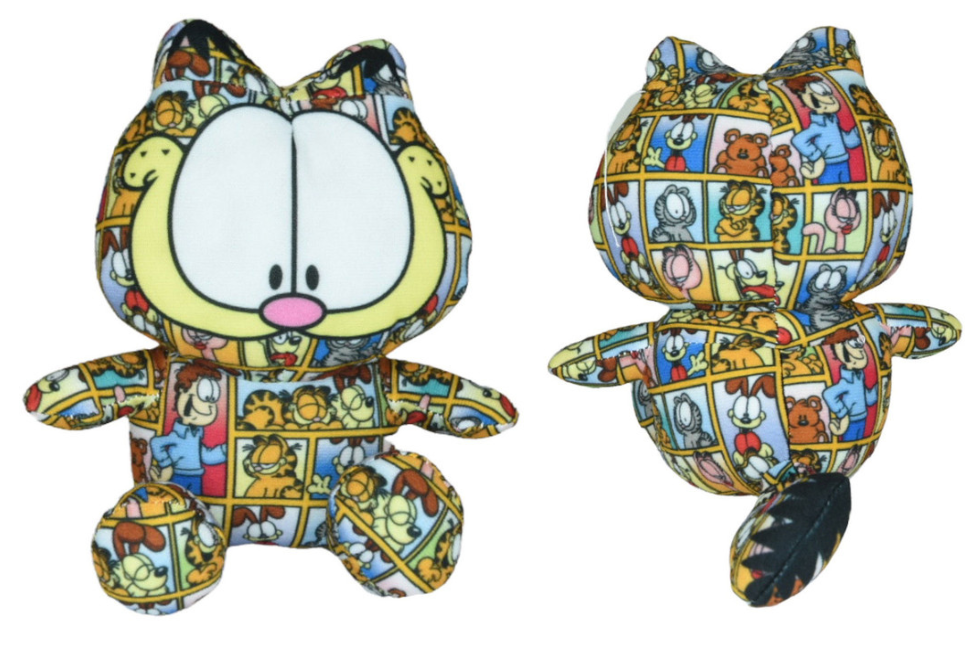 Feature
Brand: Garfield the Cat

Size: 6 inches

Age: 3 and up
I love that by looking at this Garfield plush; it is as if you are watching a Garfield episode. Each block on Garfield tells a story, which is very special. It is a cute and unique gift that you can get for a boy or a girl. Trust me, Garfield lovers will adore this gift!
I also love the fact that it is so tiny. It makes it easy to throw it in my bag and have a plushie with me when I travel. The best part is you get a unique Garfield at a very affordable price. I love it! Sadly not everyone will feel the same, and some might think the design is weird and over the top.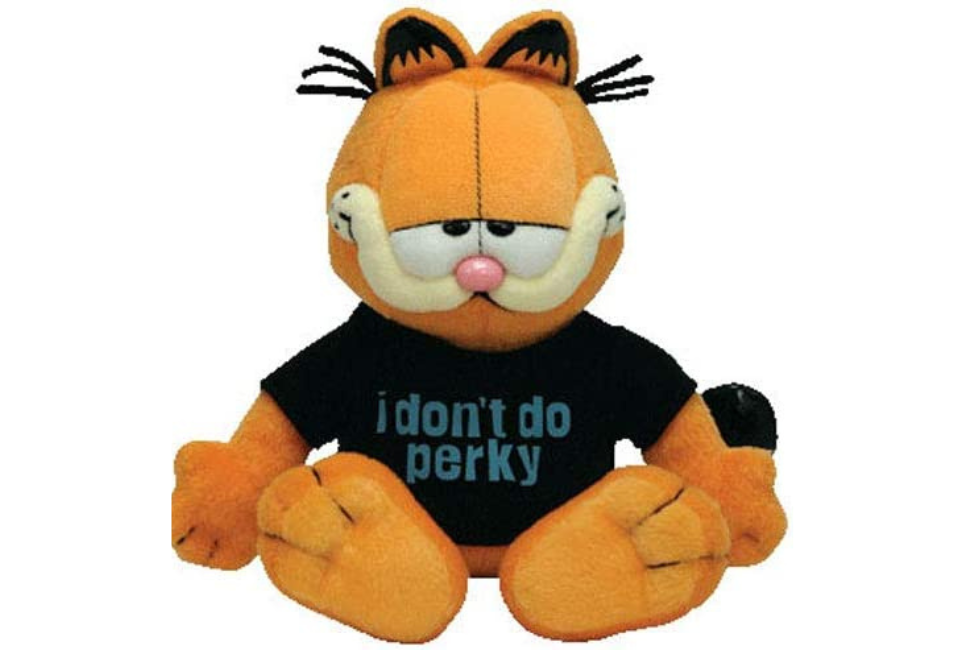 Features
Brand: Ty

Size: 8 inches

Age: 5 and up 
This Garfield plushie is so cute with his little black t-shirt. The T-shirt definitely gives him more character. On his little t-shirt, it says, "I don't do perky," which perfectly describes Garfield. This is because he is only energetic and positive when it comes to naps and lasagna. 
It will be a great gift for your friend that loves to be lazy and never has energy. I like to keep this Garfield on my desk. I know this will sound silly, but seeing that he doesn't have energy motivates me to get productive. He will make a cute addition to your Garfield collection. He might be a bit small to some people, but I think he is the perfect size to travel with. 
The only problem I have with this Garfield plushie is that it is very expensive. But I paid the price with a smile because I thought his little T-shirt was adorable.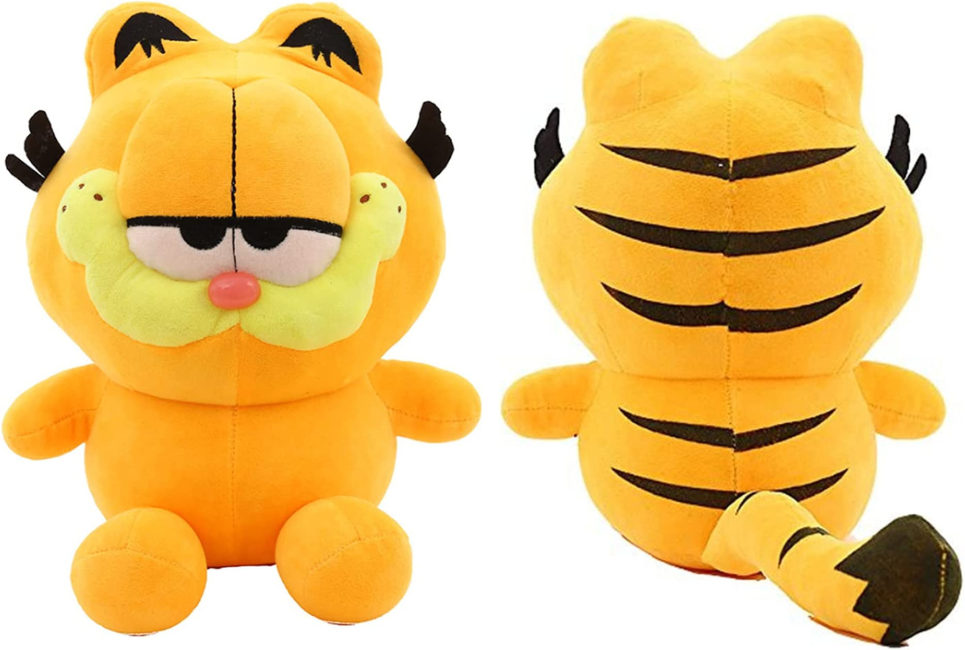 Features
Brand: SecretCastle

Size: 13.78 inches

Age: Age 3 and up
This Garfield plushie is super soft and cuddlable. The first time I saw this Garfield plushie, I wanted to squish it to death. I love to use it as a pillow when I'm watching movies because it is so comfy!
I love his chubby face, and the fact that he is hand-made makes him extra special! It will make a great gift for all ages. I'm sure your Grandma or Grandpa will appreciate a soft, comfy pillow that is cute and makes them think of you.
Just note that it might pull loose after a while because it is hand-made.
Alternative Garfield Plushies
You can't only add Garfield to your plushie collection. It would be best if you got his friends too. So if you are looking for an alternative Garfield plush, here are some cute options.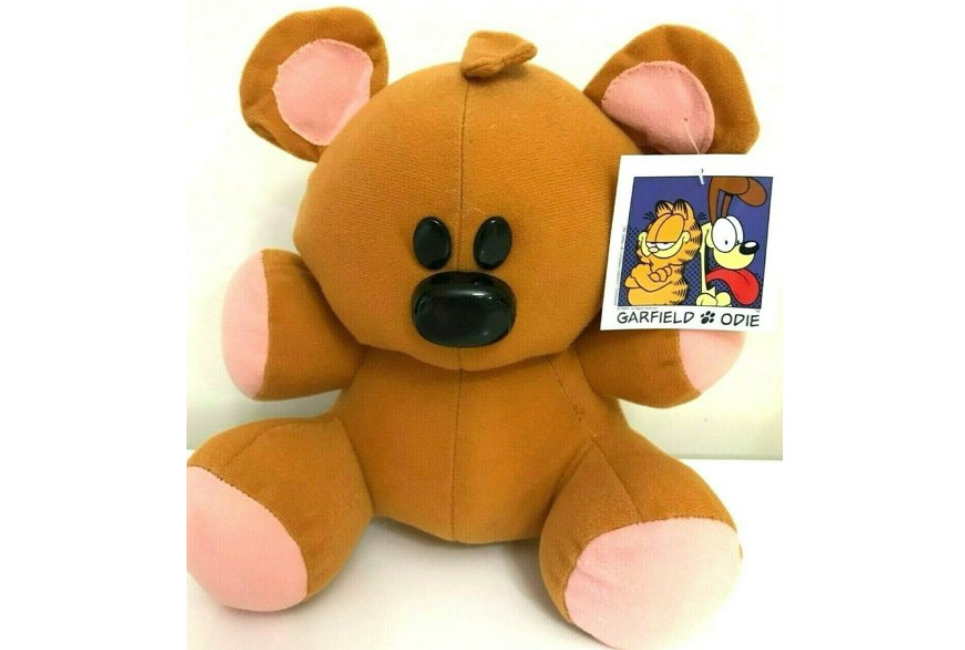 Pookie is not only Garfield's cute little brown teddy, but he is also Garfield's best friend. The pair is inseparable! So when you buy a Garfield plush, please get Pookie too. You don't want your Garfield plush to be even sadder and more depressed when he is with you. 
This Pookie bear is soft and from the official Garfield brand. Another reason you need to add him to your collection.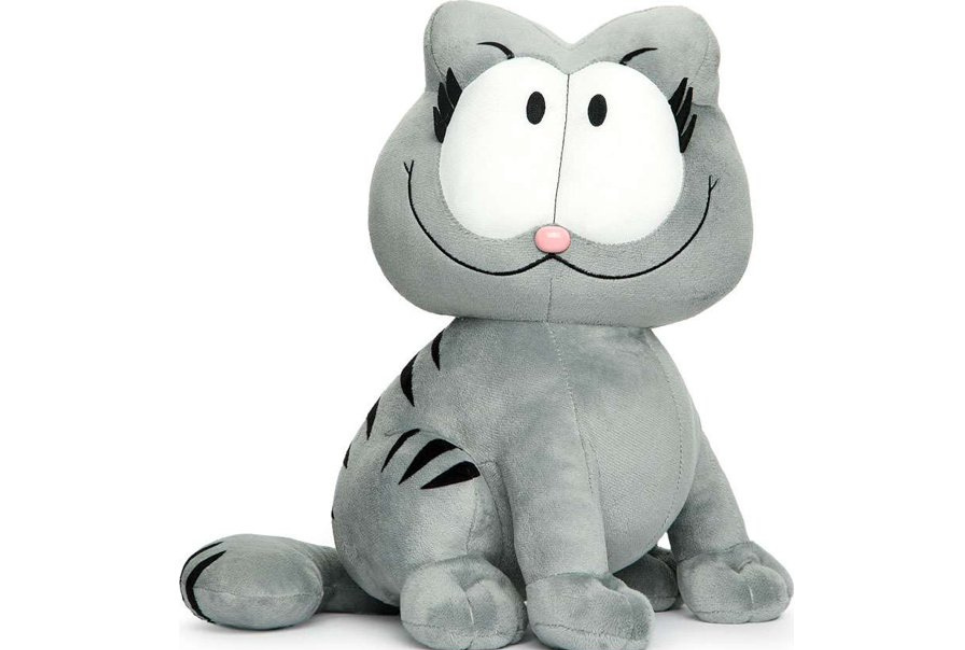 We all know Nermal as the "cute" cat in town and that he annoys Garfield and Odie occasionally. Garfield is also jealous of Nermal because John thinks of him as the "world's cutest kitten." You might be thinking, why do you want me to add the cat to my collection that makes Garfield jealous and annoys him? Sometimes jealousy is needed and is what drives some people or, in this case, cats. 
This cute little kitty will be a great addition to your collection. Just keep an eye on the 3 of them so things don't get out of hand.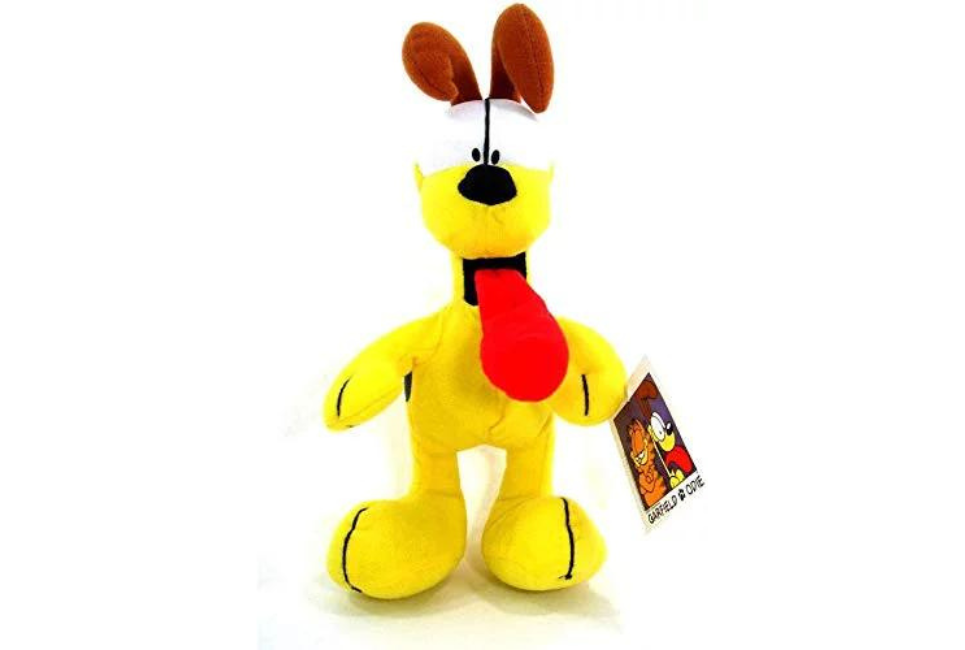 You have to add Odie to your collection. Yes, Garfield gets annoyed with him because he thinks Odie is stupid. But what will Garfield be without his caring dog brother? Add some brotherly love to your collection and get this cute Odie plush. Your Garfield might not be happy at first, but in the end, he will be pleased that you added someone who loves and cares about him. 
My Special Garfield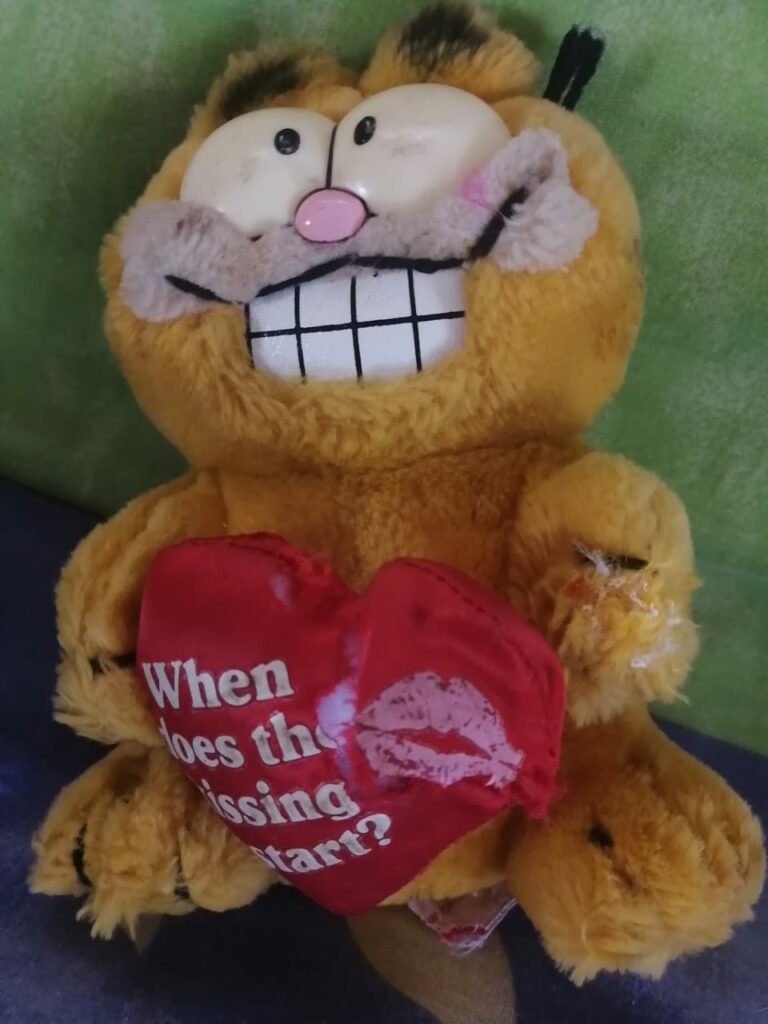 I just had to include one of my Garfield plushies, as he has an extraordinary story. My dad gifted this plushie to my mom when they first started dating in the early 90s. Thirty years later, their love is still strong, and they have an unbreakable bond. This little guy is still part of the family, and my mom gifted him to me a few years back. Even though he is older than me, I will cherish him forever. He holds a special place in my heart and my parent's hearts. 
Oh, and if you are wondering why there is a pink stain on his lips, that was me. Jip, I smeared lipstick on him when I was a kid. But now it just gives him more character. Now it's part of my parents' story and mine. 
FAQs
Question: What is Garfield's Cat Breed?
Answer: Garfield is believed to be an Orange Persian Tabby cat breed. 
Question: Does Garfield Have a Love Interest? 
Answer: Yes, Garfield has a love interest, and her name is Arlene. She is a pink cat, with big thick lashes and big lips. Oh, and don't forget her tooth gap that Garfield makes fun of from time to time. 
Question: When was Garfield First Created? 
Answer: The original Garfield was created on the 19th of June 1978 by Cartoonist Jim Davis. How crazy is that, guys? 
Garfield Plush: Conclusion
There you have it, guys! You have reached the end of the Garfield plush guide. I hope you enjoyed seeing the different Garfield plushies. And that you found one or more than one to add to your collection. Garfield has been around for many years and will be around for many more. I love the character, as many cherished memories are connected to him. 

Which Garfield plushie was your favorite mentioned in this article? Mine would be the Yellow Fat Cat Garfield Plush Toy. I love how he is so realistic looking, and when cuddling him, it feels like I'm cuddling Garfield from the movie. So, guys, what are you waiting for? Spoil yourself, your kiddies, or friends and family with the cuteness of Garfield this holiday season. Enjoy your holiday and eat lots of great food as Garfield would.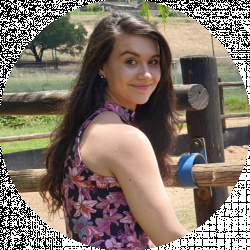 Latest posts by Christine Kent
(see all)