Owl Squishmallows are a "hoot" of fun for fans and collectors wanting enormous squad-based collections. My family loves targeting Squishmallows with as much collectible potential as the owls. So, welcome to my best owl Squishmallows guide if you're looking for every member, including some rare picks.
Owl Squishmallows are tremendous fun in the collectible plush toys universe because over 30 names pop up. In addition, many owls have the potential to enter other squads. However, let me not get carried away and spoil the fun. Instead, dive into my guide that shows you what every top owl Squishmallow offers.
Best Owl Squishmallows: Bottom Line Up Front
Collecting owl Squishmallows can keep you busy and entertained for years because so many exist. However, only some owls are easy to find. So, I'll introduce you to every owl Squishmallow before sharing tips on finding the lost and rare variants. In addition, I'll share some rare picks later in this article.
But first, let me share a peek at my ultimate owl Squishmallow. Ellette, the Halloween Vampire Squishmallow, falls into three squads, making his collection even more expandable. Indeed, it's not necessary with over 100 owl Squishmallows available. However, he's adorable because the Halloween owl Squishmallow isn't scary.
Instead, he brings a new color owl to the Squishmallow fandom. No other owl is orange, and he wears a fantastic costume as a Dracula version. Yet, his outfit makes him perfect for young fans who enjoy colorful Squishmallows. Nonetheless, I have 16 of the best owl Squishmallows to share. So, let me pause for now.
Look at four more top owl Squishmallows before meeting the entire squad and learning how to find them all.
A Few Top Owl Squishmallows at a Glance
A Complete Guide to the Best Owl Squishmallows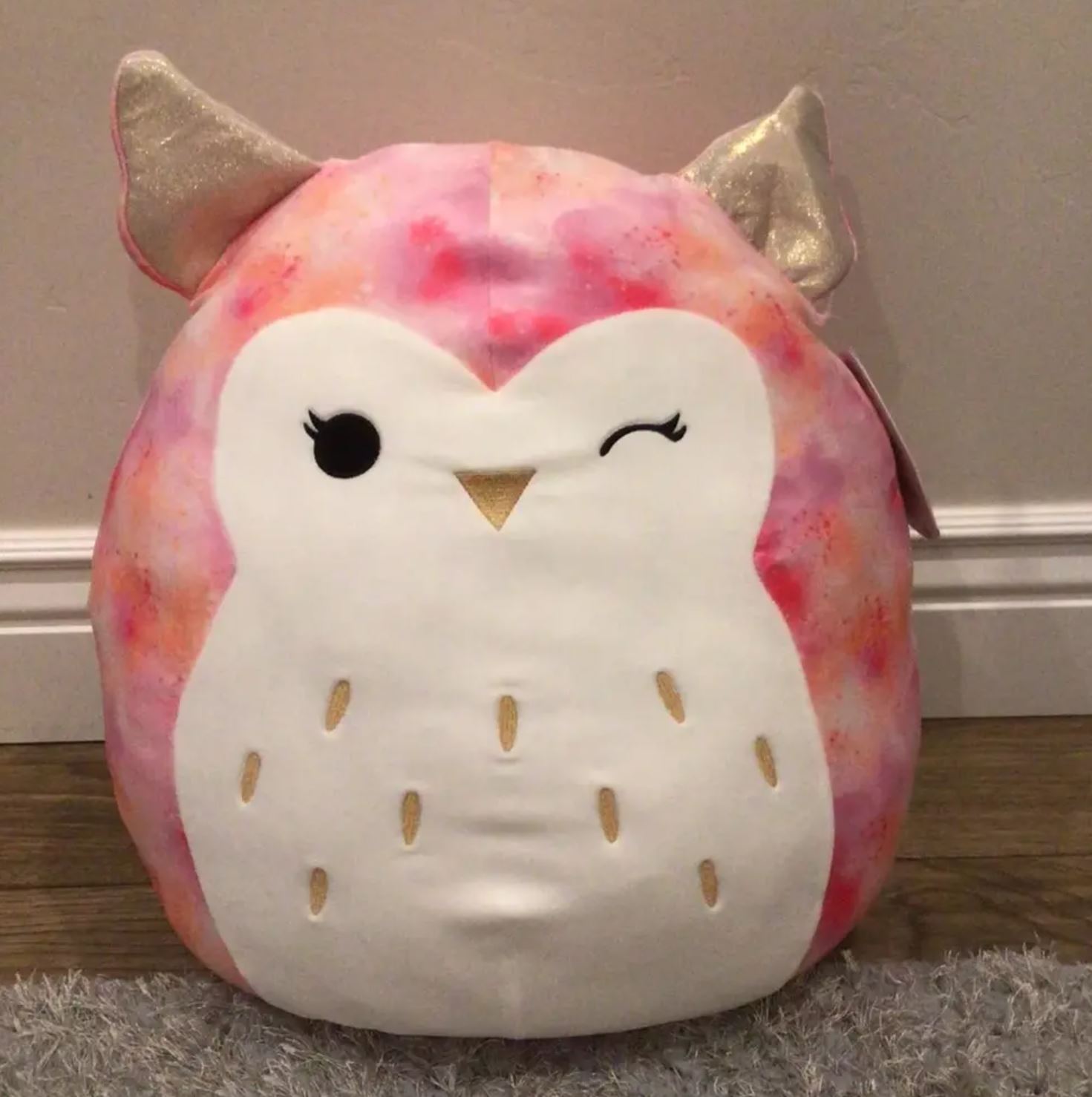 The Owl Squishmallow squad is vaster than the ocean. So, let's meet the team, see how they look, and learn some tips about finding the best owl Squishmallows. Meanwhile, you'll see how the best Owl Squishmallows earned their spot on my list because I needed strict requirements for such a vast collection.
"Hoot" Are the Owls From Squishmallows?
The Owl Squishmallow squad offers tons of excitement for fans who want massive collections. Some owls are available in stores now. However, others are discontinued but offer collectible opportunities if you find them. So, let's meet each owl Squishmallow and learn about their appearances.
However, I'll spare you from double introductions by not introducing the upcoming best owl Squishmallows. You'll know their names and appearances to search for more versions of each. So, here are the owl Squishmallows among the rare and discontinued options I can't add to the best picks:
Barnabus, the Owl Squishmallow, has a light gray tie-dye body with a white belly and gray speckles.
Britta, the Owl Squishmallow, has a fuzzy belly, a blue bottom, and a pink top. She also has shimmering effects around her eyes, ears, and stomach.
Demi, the Owl Squishmallow, is red with black horns, a matching cape, and black speckles on his belly.
Dr. Hoot, the Owl Squishmallow, is gray with a white belly and a doctor's costume.
Efua, the Owl Squishmallow, has a mint-green body with teal wings, sleepy eyes, and a blue bow.
Francesca, the Owl Squishmallow, has a pink body, white belly, and Valentine's hearts on her chest.
Harriet, the Owl Squishmallow, is a purple girl with a white belly and a purple heart on her chest.
Hoot, the Owl Squishmallow, is light gray with a white belly and yellow speckles.
Imogen, the Owl Squishmallow, is pale blue with a white belly and a pink heart on her chest.
Jaxton, the Owl Squishmallow, is a light-gray baby with a white belly and gray speckles.
Lilian, the Owl Squishmallow, has a light tan body with golden, shimmering ears and sleepy eyes.
Olalla, the Owl Squishmallow, is tie-dye pink with a white belly and hot pink eye borders.
Olive, the Owl Squishmallow, is baby pink with a white belly and light speckles.
Owen, the Owl Squishmallow, is light green with a lime green belly and matching speckles.
Petrina, the Owl Squishmallow, is mint green with a white belly, shimmering ears, and sleepy eyes.
Tazlow, the Owl Squishmallow, is tie-dye pink with a white belly and shimmering ears.
Tips to Find the Top Hooting Owl Squishmallows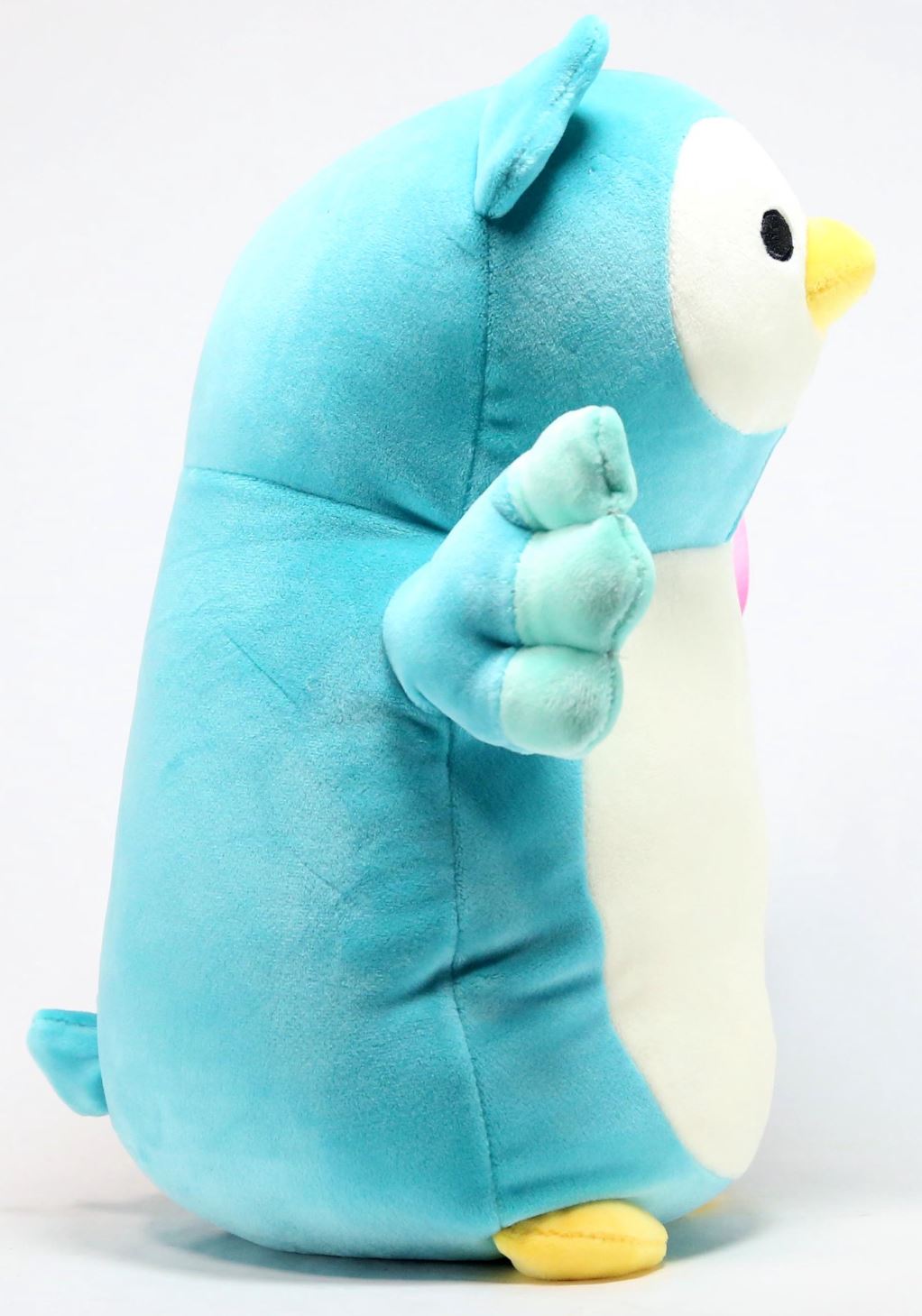 Wow, you didn't guess so many owl Squishmallows existed. However, I'll repeat it, not all of them are available constantly. So, you'll need the Squish Alert app to notify you when specific owls return to stores. Set each owl's name on your in-search-of (ISO) notifications to see if the discontinued owls reappear.
However, some owls are gone, and you'll have to turn to platforms like eBay to search for the lost and rare owl Squishmallows. Having every owl Squishmallow's name is a starting point for finding the rare collectibles. I'll share a few rare finds later. Meanwhile, know that some owls have multiple sizes and variants.
Here are some ways each owl can vary:
They come in various sizes.
They have multiple Squishmallow types, like keychains, HugMees, and accessory plush.
Some owls wear outfits naturally, but others wear them for special occasions.
They belong to multiple squads like fantasy, costume, Fuzz-A-Mallows, and Flip-A-Mallows.
I suspect over 100 owl Squishmallows exist if there are over 30 prominent squad members. So, use each owl Squishmallow's name to search for multiple variants and sizes in each store before selecting which one appropriately fits your collection. Meanwhile, let's see how I narrowed my best owl Squishmallow selections.
How I Picked the Best Owl Squishmallows
I'll have to use strict rules to select a few top owl Squishmallows to impress every fan or collector. So, the first rule is that every owl Squishmallow must be available to purchase from trusted stores. Then, they must fit two or more squads to expand their collection opportunities. Also, I want owls under 12 inches for collectibility.
Anything more significant will challenge you if you want to collect many owl Squishmallows. I prefer eight inches or smaller, but some of the best choices break my limit slightly. In addition, they're incredible enough to include a few more extensive options. Finally, I'll never repeat the same owl name to add variety.
Best Owl Squishmallows Guide: Hoots Galore
The owl Squishmallows in stores undoubtedly impress me. So, let me share what turned me into an owl Squishmallow lover. In addition, I'll share basic information about each owl, including the multi-squad formations, opportunities, and sizes. I'll even share what doesn't make me love each owl Squishmallow.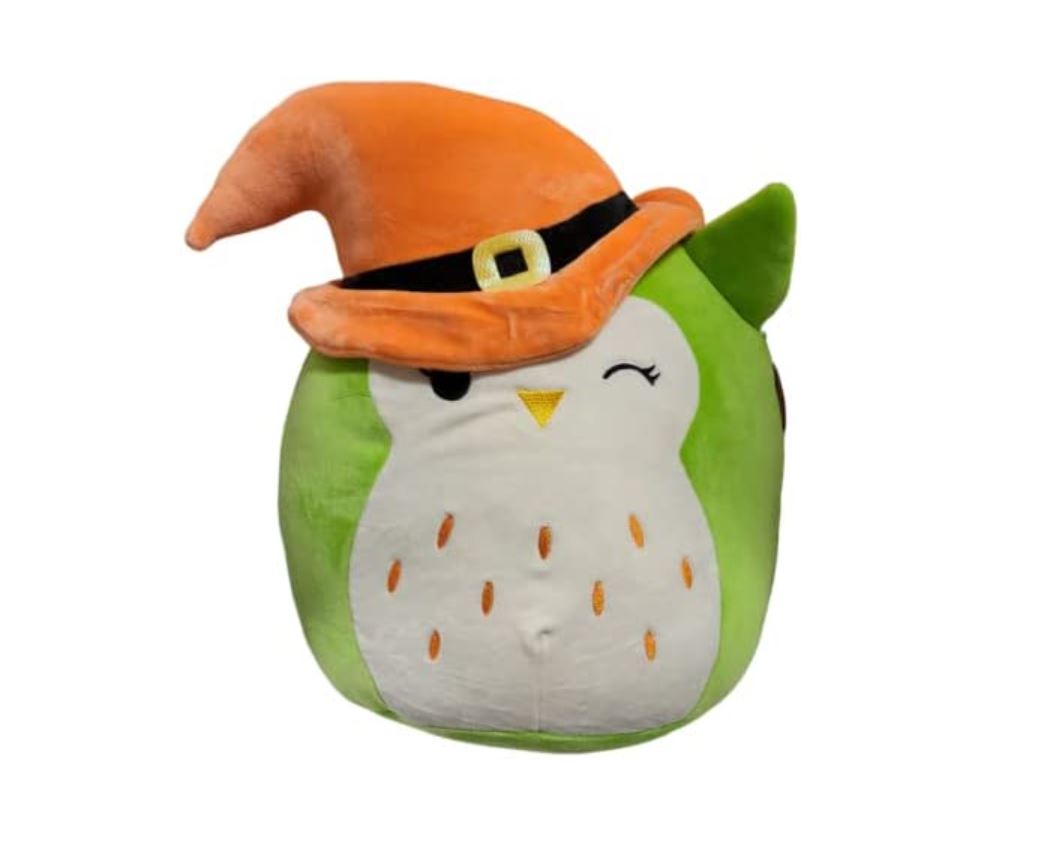 Alder is one-of-a-kind because he's a newer member of the owl Squishmallow family. He entered the adventure squad in 2022, wearing a costume and welcoming a new member to the Halloween squad. Meanwhile, Alder Squishmallow's design is beyond adorable with the orange witch's hat, typically black.
Size: 12″
Squads: Adventure, Costume, and Halloween Squads
Alder Squishmallow Pros
Alder Squishmallow is a multi-squad member in a cute Halloween costume
The witch's hat is an unusual orange instead of black
Alder's winking eye and skewed hat make him more adorable
Owls are synonymous with Halloween, perfecting this collaboration
Alder Squishmallow Cons
Alder is one of the more prominent picks from my best choices
Alder might not be available forever because he's a 2022 edition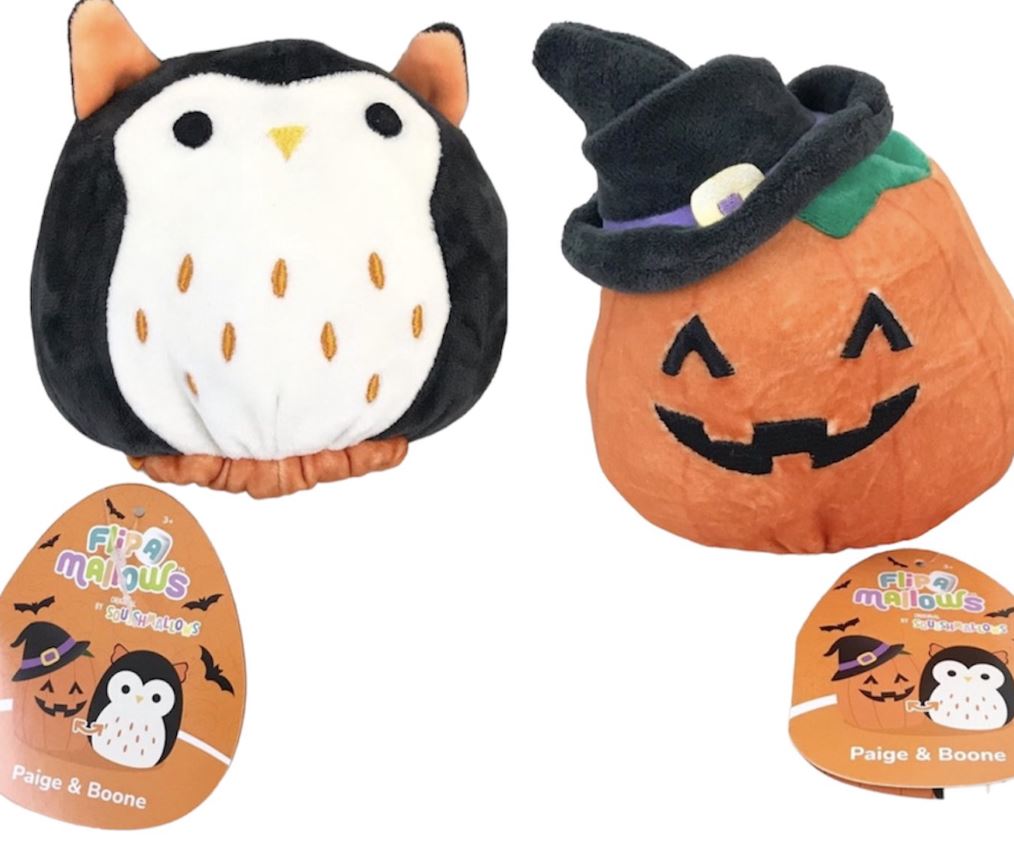 Boone is another new owl Squishmallow from the Halloween squad. He teams up with Paige, the Pumpkin Squishmallow, to bring you a Flip-A-Mallow. These reverse Squishmallows give you two plushies in one. They're some of my favorite Squishmallows. In addition, I love that Boone's stomach isn't white like every other owl.
Size: 5″
Squads: Adventure, Halloween, and Flip-A-Mallow Squads
Boone Squishmallow Pros
The Boone Owl Flip-A-Mallow is a two-for-one treat for Halloween
Boone's design is unlike any other owl on the squads
The plush size is incredible for kids and collectors
Boone and Paige look like old best friends from eons back
Boone Squishmallow Cons
Unfortunately, the second plush isn't an owl Squishmallow
Boone's ears are tiny, and his eyes have no details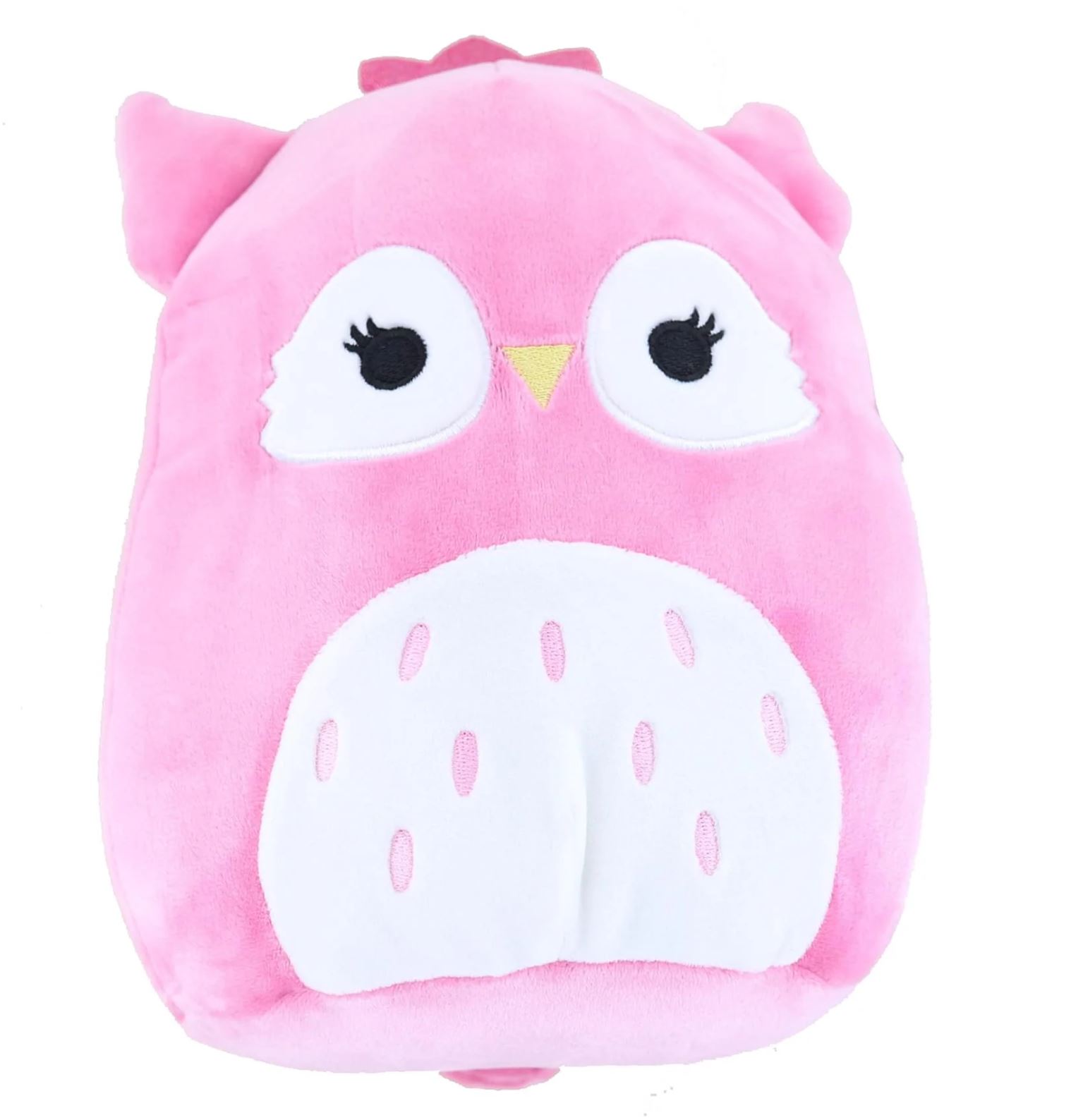 Bri Squishmallow's personality is sweet but spicy, and her plush perfectly captures her elements. Queen Bri Squishmallow has a sassier attitude than a toddler wearing a tiara. The crown on top of her head adds more personality. In addition, her tie-dye pattern gives her more depth and details.
Size: 8″
Squads: Sassy, Adventure, and Fantasy Squads
Bri Squishmallow Pros
Bri Squishmallow is a diva of note, and her crown shows it
The sassy team has a few queens and divas to add to a collection
Bri Squishmallow's colors are pretty and would suit young girls
The owl has feminine eyelashes to fit her diva attitude
Bri Squishmallow Cons
Bri doesn't have much going for her beyond the crown
You can't see Bri Squishmallow's speckled feathers nicely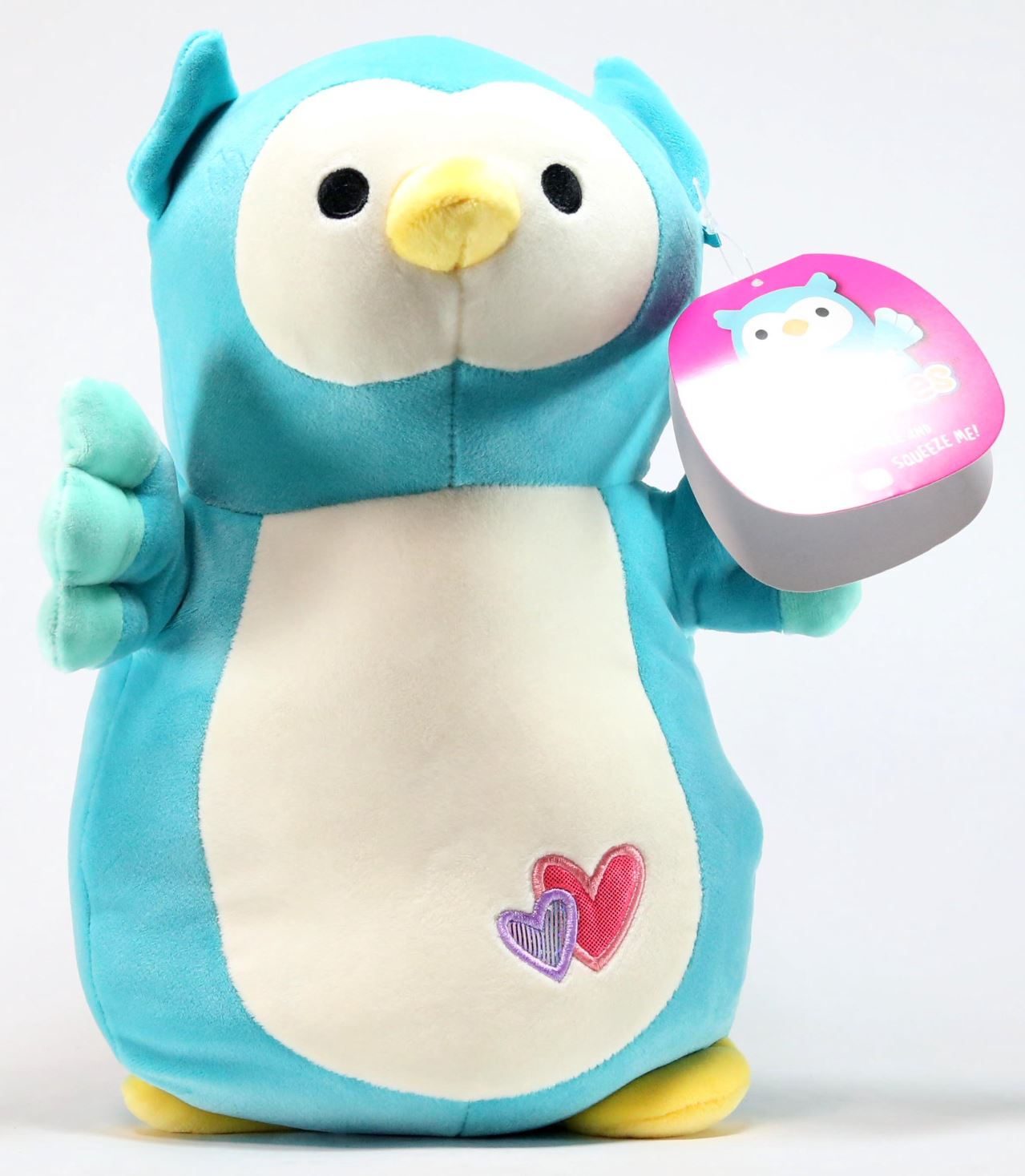 Dax doesn't have many variations, which is excellent news if you're worried about collecting every owl plush. However, his single version is adorable enough to melt any heart. Dax is a lovable boy owl who would hug children to comfort them when they feel low. I also prefer his colors to the darker Squishmallows.
Size: 12″
Squads: Adventure, Valentine's, and HugMee Squads
Dax Squishmallow Pros
Dax Squishmallow's wings are enormous for hugging and cuddling
The blue owl has much love to share with young friends
Dax also makes the ideal gift on Valentine's Day
Dax Squishmallow's design blends cuteness with a weird-looking owl
Dax Squishmallow Cons
Dax Squishmallow doesn't look like an owl, even though HugMees typically seem accurate
Dax is in the more extensive range and better suited to young fans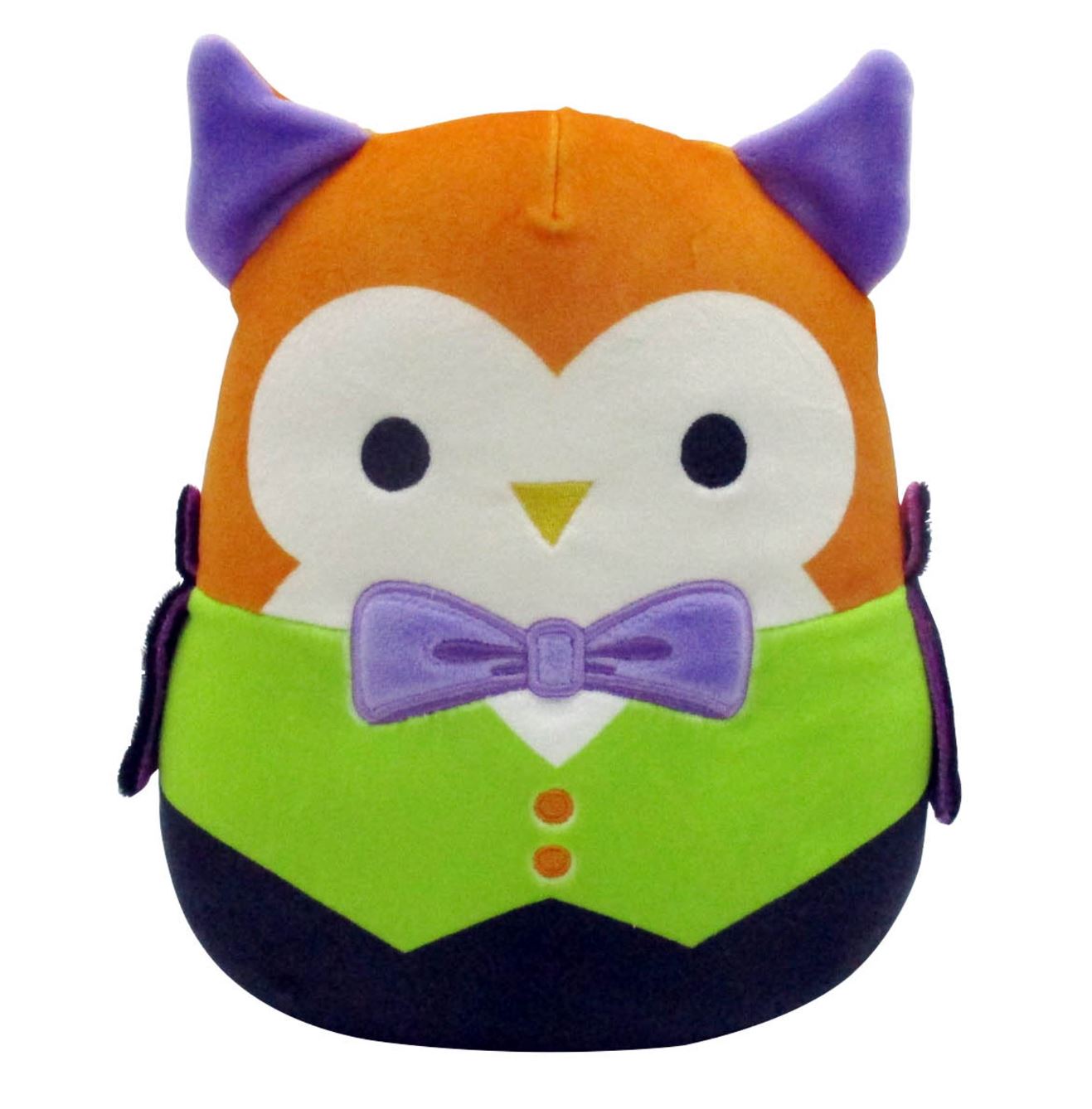 Ellette looks like a bright young owl until you realize he's a little vampire from the Halloween squad. Many owls fall into the Halloween squad. Some look spooky, but others have adorable designs and costumes. Ellette Squishmallow's outfit makes him look cuter than most. Besides, Ellette is the only orange owl.
Size: 8″
Squads: Halloween, Adventure, and Costume Squads
Ellette Squishmallow Pros
The Ellette Squishmallow is a unique color for owl plushies
Ellette is also the ideal size for collectors and Halloween squad fans
His purple inner ears and massive bow remove any spookiness
Children will take Ellette along for trick-or-treating or treat him as a friend
Ellette Squishmallow Cons
Ellette Squishmallow looks more like a penguin than Dracula
The Squishmallow's cape can detach and ruin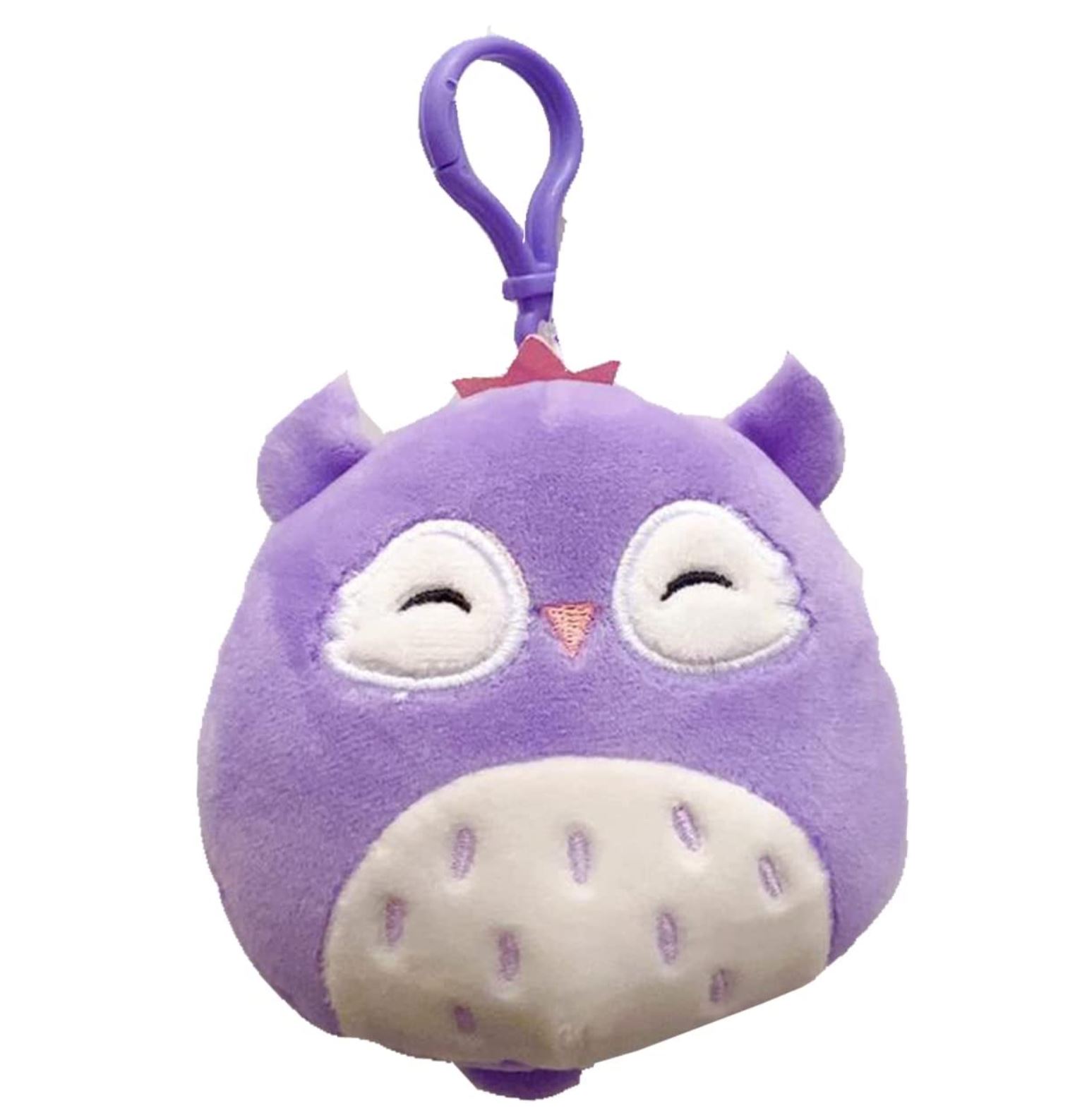 With a backpack clip, Fania Squishmallow is ready to take your child's adventure to the next level. In addition, she can join your driving ventures as a giant keychain plush. I love that Fania brings backpacks and wild adventures together because the ideas belong in a single box.
Size: 3.5″
Squads: Sassy, Sleepy, Adventure, and Backpack Squads
Fania Squishmallow Pros
Fania Squishmallow marries two of my favorite collaborating ideas
Fania's tiny body feels ultra-squishy with a touch of mini-cuddles
Her crown also puts her in the sassy squad as a triple collectible
Fania's colors are brilliant, and her feathers are bold
Fania Squishmallow Cons
Unfortunately, Fania Squishmallow also belongs to the sleepy squad
Small Squishmallows vanish too quickly, making children sad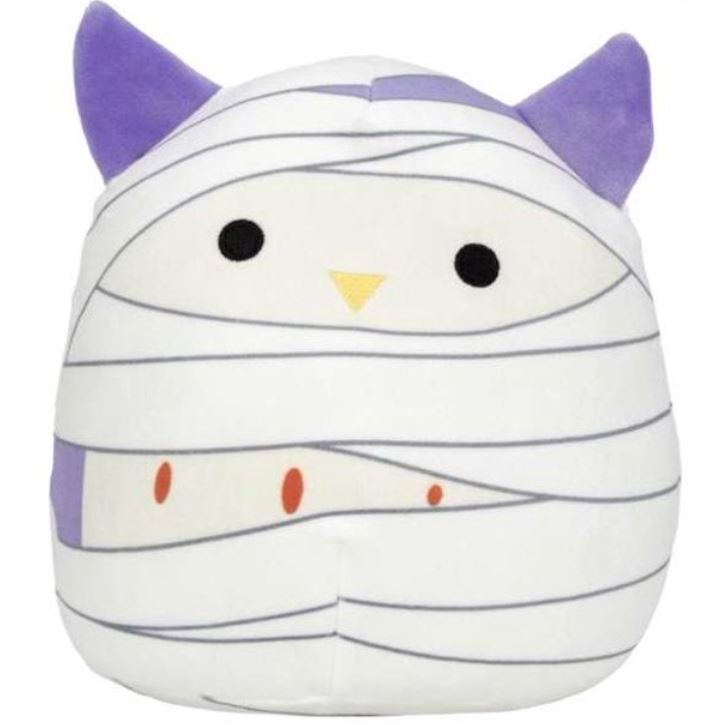 Holly takes Halloween to a new level with this adorable Squishmallow, turning herself into a mummy. Holly bravely acts like a mummy among the scary monsters on Halloween. Unfortunately, you'd have to know your owls to recognize which animal Holly looks like, but she's gorgeous nonetheless.
Size: 8″
Squads: Costume, Halloween, and Adventure Squads
Holly Squishmallow Pros
The Holly Mummy Squishmallow is the perfect size for collectibles
She has beautiful eyes and feathers you can see through the costume
Holly Squishmallow's multi-squad membership makes her more appealing
Holly also has that faded purple color that looks excellent on owl plushies
Holly Squishmallow Cons
You must know Holly to see which Squishmallow hides inside
The mummy costume nearly wraps her entirely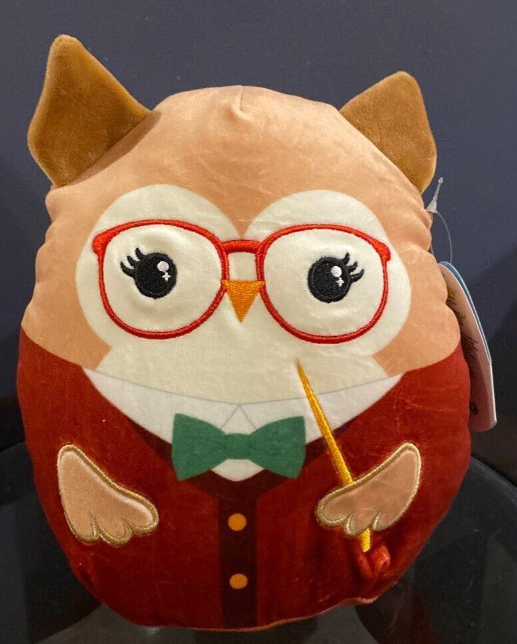 The back-to-school squad doesn't have many Squishmallow members, and only Jaydelle from the owl squad can wear the teacher's outfit. That alone makes Jaydelle Squishmallow super popular and appealing. Jaydelle will encourage your kids to work hard at school and enjoy the friendships along the way.
Size: 8″
Squads: Adventure, Costume, and Back-To-School Squads
Jaydelle Squishmallow Pros
Jaydelle is one of the most unusual owl Squishmallows to collect
Her outfit, teams, and size make her ultra-desirable
Jaydelle is the ideal gift for kids going back to school or starting at a new school
She looks intelligent with her glasses and pencil
Jaydelle Squishmallow Cons
It's hard to see that Jaydelle is an owl Squishmallow
Her wings look a lot like paws more than anything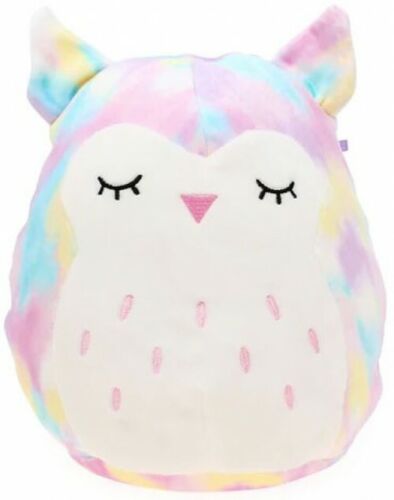 Lesedi Squishmallow is one of two owls with pastel rainbow colors, ideal for young fans who want girly plushies. It's a pity she has sleepy eyes, but her design is feminine and works for young girls. Meanwhile, Lesedi Squishmallow comes from a distant land where the name commonly rings: South Africa.
Size: 8″
Squads: Adventure, Fantasy, and Sleepy Squads
Lesedi Squishmallow Pros
Lesedi Squishmallow is a unique pastel-colored rainbow owl
She comes from a distant country, where the name is pretty common
Lesedi fits three squads to make her more appealing and versatile
Her rainbow colors are beautiful yet not overwhelming
Lesedi Squishmallow Cons
Lesedi is part of my least favorite squad: the sleepy team
Her ears are the same color, giving her no depth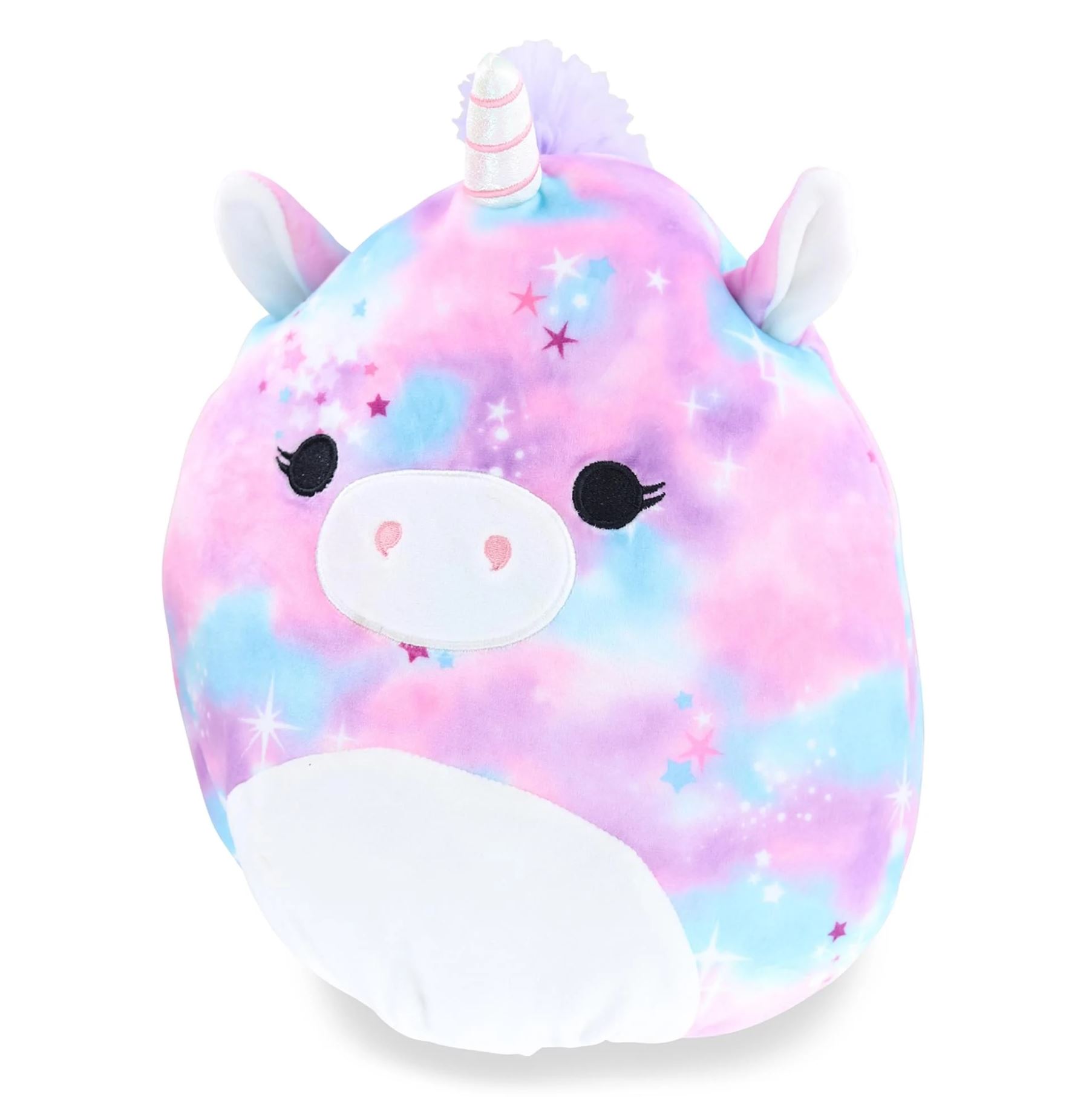 Miranda brings another Flip-A-Mallow to life, but I didn't pick it over the last one because it's bigger. The 12-inch Squishmallows are better for kids than adult collectors. Meanwhile, Prim, the Unicorn Squishmallow, hides on the other side. So, this Flip-A-Mallow just became perfect for young fantasy squad fans.
Size: 12″
Squads: Adventure, Flip-A-Mallow, and Fantasy Squads
Miranda Squishmallow Pros
My daughter would want the Miranda and Prim Flip-A-Mallow the most
Children get two beautiful Squishmallows in one design
Both Squishmallows fit nicely into the fantasy squad for little girls
Prim's design has the sparkling night sky patterns
Miranda Squishmallow Cons
Unfortunately, Prim Squishmallow looks better than Miranda
Miranda's Squishmallow is more significant than I like for Flip-A-Mallows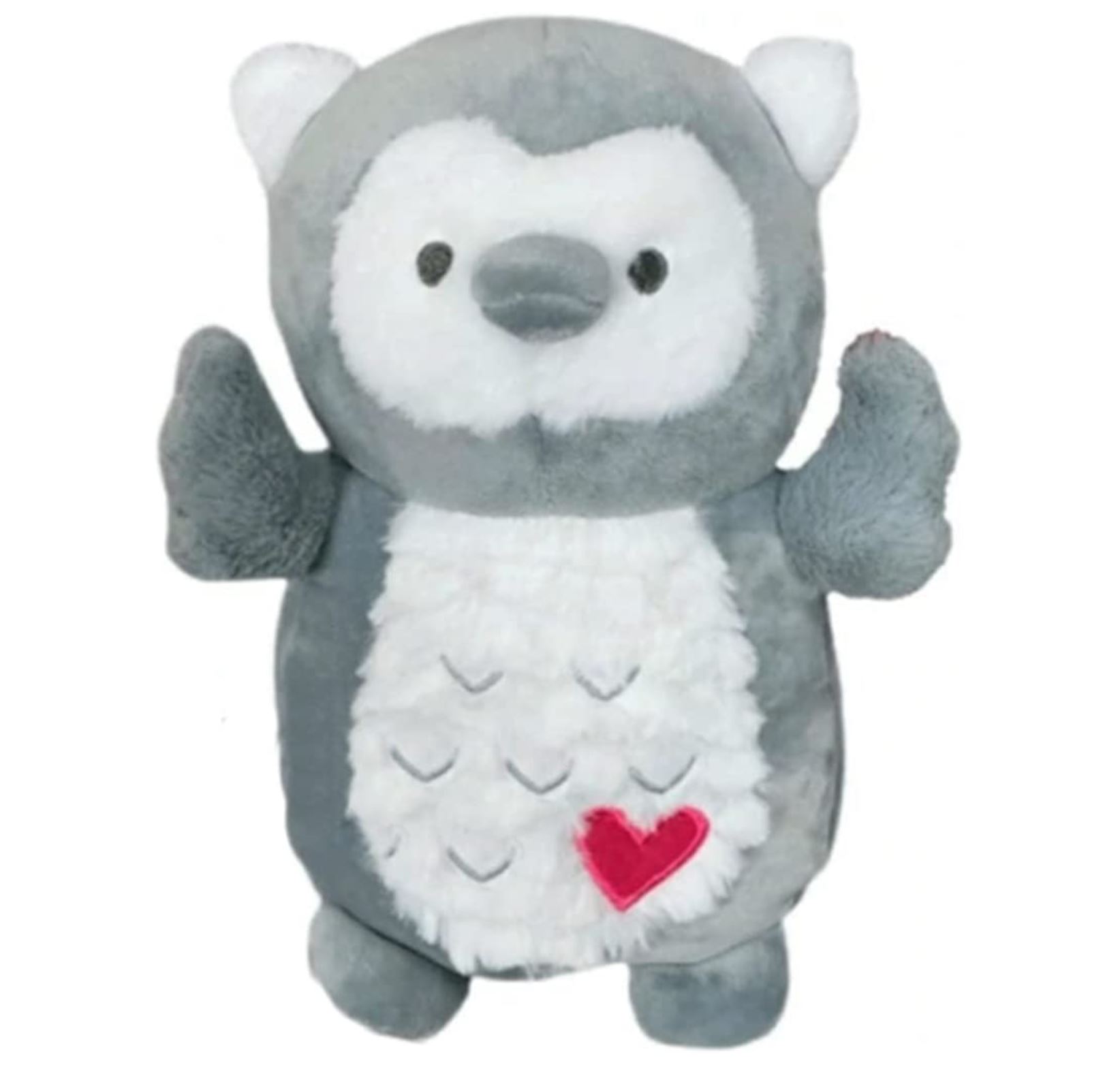 Nikita came a close second to my last HugMee because she looks much fuzzier and softer than Dax Squishmallow. However, Nikita lost because of her plainer colors. Meanwhile, she isn't a disappointing choice for owl plushies. Fortunately, she grabbed my attention with her Fuzz-A-Mallow squad membership.
Size: 10″
Squads: Adventure, Hugmee, Valentine's, and Fuzz-A-Mallow Squads
Nikita Squishmallow Pros
Nikita Squishmallow belongs to four unusual squads
Her body is as soft as you imagine with the Fuzz-A-Mallow membership
Nikita is also from a loving team with an adorable heart
Nikita's body shape looks more like an owl than Dax's
Nikita Squishmallow Cons
The gray color feels too plain for such a beautiful Squishmallow
Nikita's wings invite you to cuddle, and you might not get her away from kids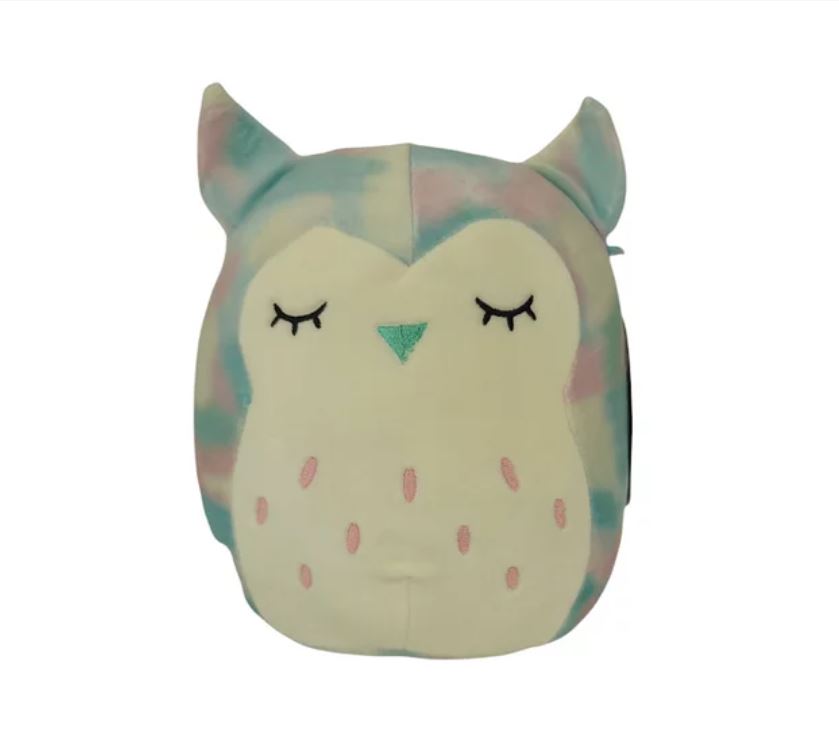 Onea Squishmallow is the second owl plush with pastel rainbow colors in a tie-dye pattern. These Squishmallows are perfect for young girls who enjoy feminine designs. In addition, she has a unique beak with enormous eyelashes, even though her eyes are tired. So, Onea is another special girl for little kids.
Size: 8″
Squads: Sleepy, Adventure, and Fantasy Squads
Onea Squishmallow Pros
The Onea Squishmallow has unique colors and patterns
She belongs to multiple parties to triple expansion opportunities
Onea's beak is embroidered, which isn't typical among owl Squishmallows
Onea's belly feathers are also colored and bold
Onea Squishmallow Cons
Sadly, Onea's third squad is the sleepy team
Onea should be more prominent for little kids to enjoy at bedtime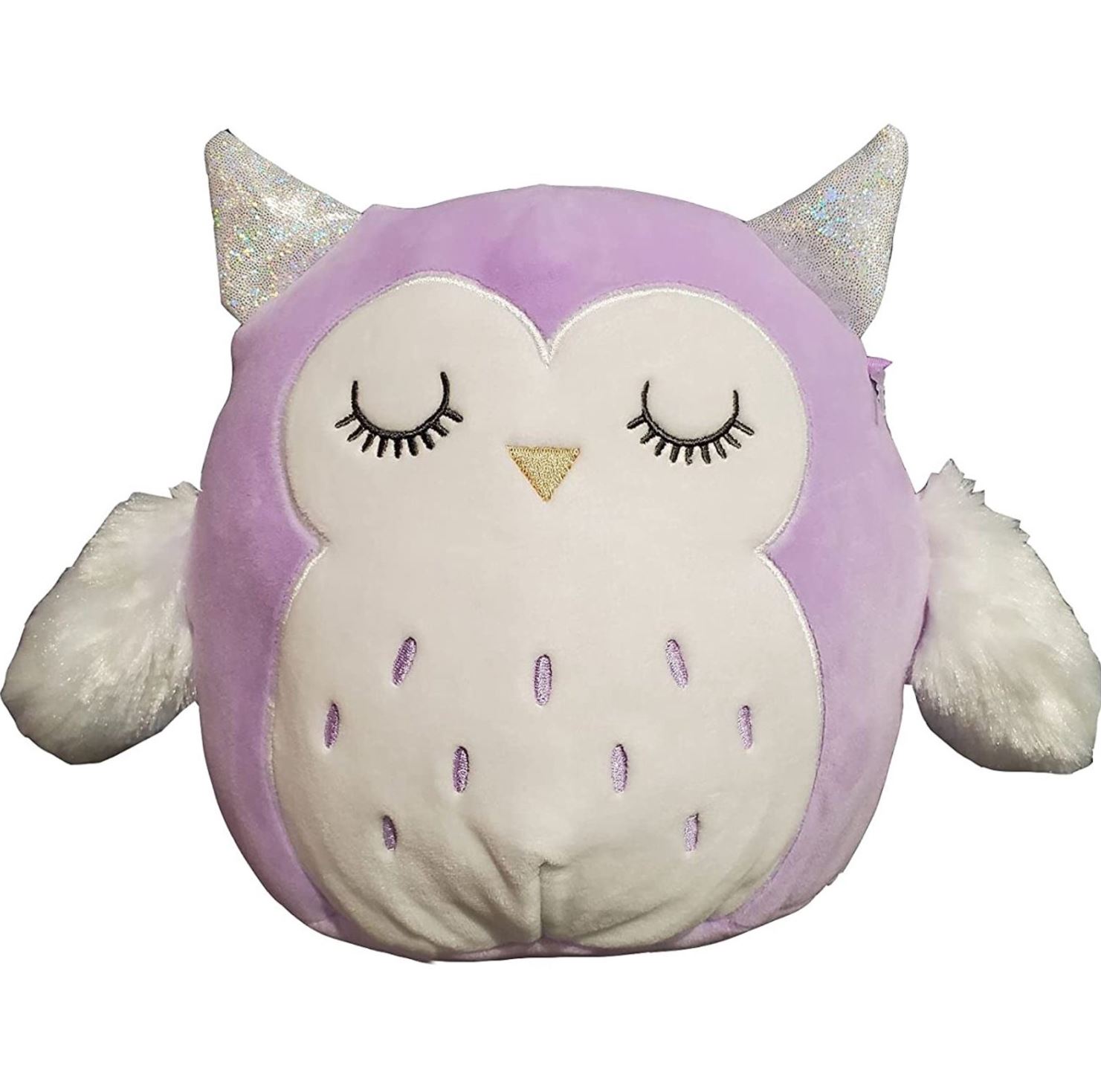 Quartz Squishmallow is an ultra-unique owl plush with shimmering ears, fuzzy wings, and tired eyes. Meanwhile, the triple-squad member has pretty colors and a unique beak. She looks like an owl with many details from a child's imagination. However, it undoubtedly makes Quartz stand out among the owl plushies.
Size: 8″
Squads: Sleepy, Fantasy, and Adventure Squads
Quartz Squishmallow Pros
Quartz Squishmallow has many features in her favor
The wings are ultra-soft and cuddly, and the beak is embroidered
The shimmering ears and massive eyelashes make her more girly
The color is perfect, and Quartz is the ideal size for collectors and children
Quartz Squishmallow Cons
Unfortunately, Quartz belongs to the sleepy squad
Some fans might think Quartz Squishmallow has too much detail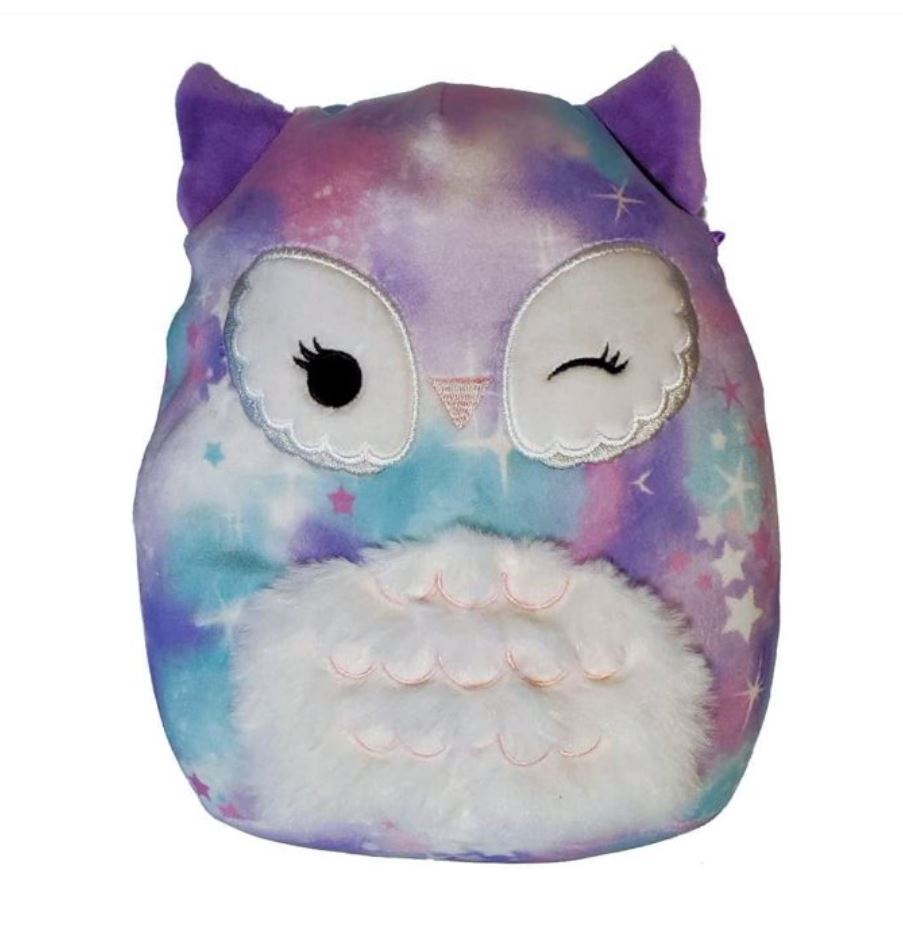 Solina's colors are uncommon among owl Squishmallows, making her fall into the alien squad with a night sky pattern and sparkling stars. Meanwhile, Solina is another diva with a bolder attitude than her sparkling design. However, this Squishmallow owl is one of my top picks for her unique colors and squads.
Size: 8″
Squads: Adventure, Fantasy, Sassy, and Alien Squads
Solina Squishmallow Pros
Solina Squishmallow is a four-squad member with beautiful patterns
Solina sparkles with an attitude like her winking eyes share the boldness
She also has a shimmering design around her eyes and a fuzzy stomach
This owl Squishmallow is more girly than any other pick
Solina Squishmallow Cons
Unfortunately, Solina would better suit girls than boys
Solina Squishmallow might go overboard with her design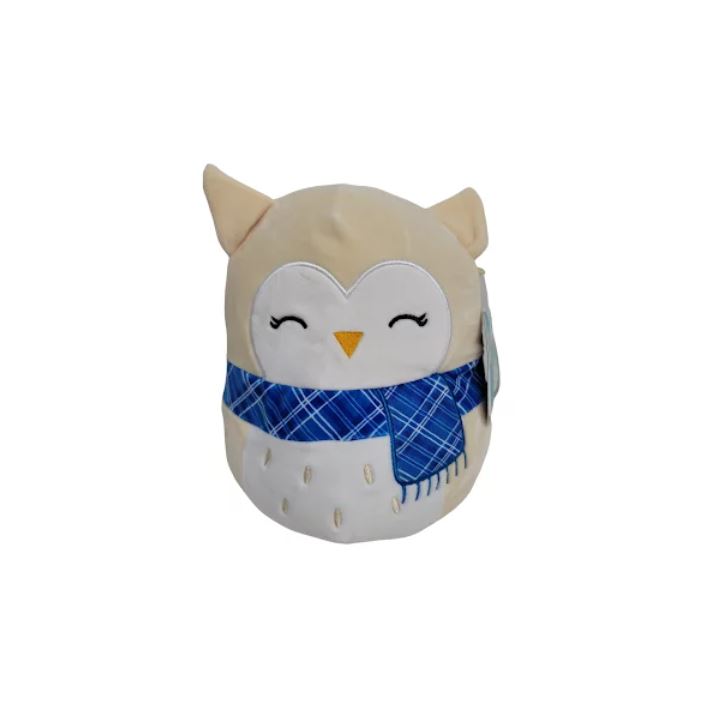 Vee Squishmallow is the only Christmas-themed plush I find, although she has two holiday-related variants. Vee's colors undoubtedly make her ideal for a Christmas-themed Squishmallow. Meanwhile, her tan body and white belly make the scarf stand out more. So, Vee is another ultimate holiday squad member.
Size: 8″
Squads: Adventure, Accessory, Sleepy, and Holiday Squads
Vee Squishmallow Pros
Vee Squishmallow has the perfect colors for her squads
Vee also wears a comfy scarf for the winter nights
Her design is adorable with the bold scarf
Vee is ideal for collectors and children as an eight-inch Squishmallow
Vee Squishmallow Cons
Unfortunately, light-colored Squishmallows are a nightmare for moms
Vee also falls into my unlikable sleepy squad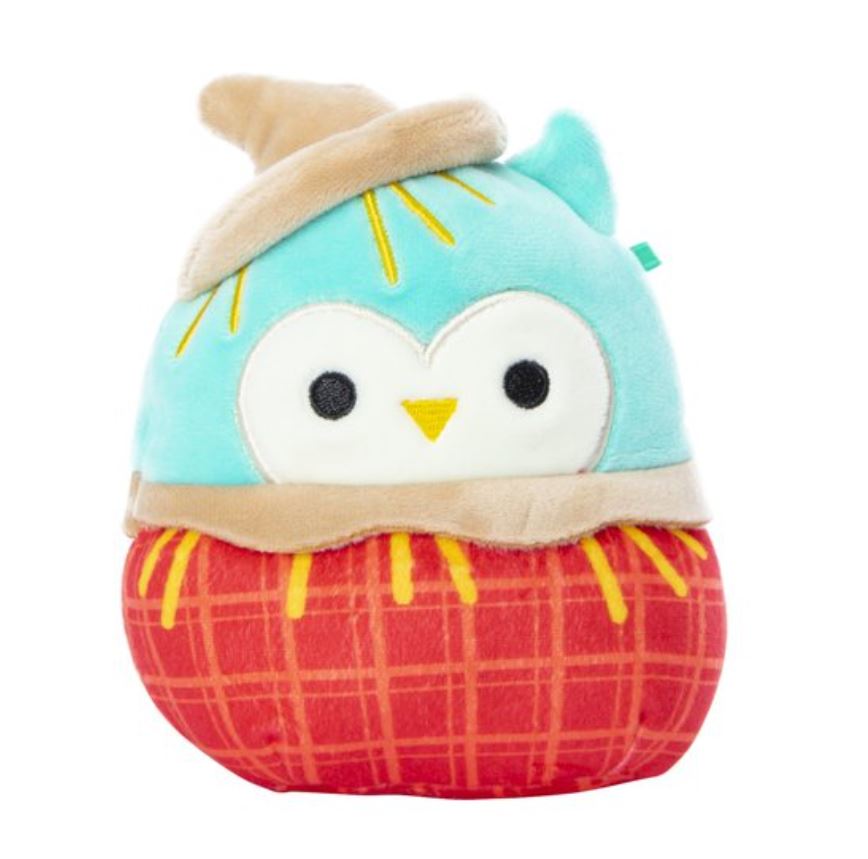 Don't you think owls and scarecrows have a lot in common? I believe the one is as creepy as the next. However, Winston turns everything around by looking like an adorable scarecrow, Squishmallow. The colors also work well on this Squishmallow. Meanwhile, Winston deservingly earns his place with the weird outfit.
Size: 5″
Squads: Costume, Halloween, and Adventure Squads
Winston Squishmallow Pros
Winston Squishmallow is a cute owl in a costume for Halloween
I love the straw details coming from Winston's hat and pants
Winston's color and size make him collectible and unique
The pleated pants pattern is highly unusual for Squishmallows
Winston Squishmallow Cons
Winston's size isn't ideal for kids who enjoy snuggling their Squishmallows
The owl removes any fright from the two ideas
FAQs
Question: Which Owl Squishmallows Are Discontinued?
Answer: Unfortunately, a few owl Squishmallows aren't around anymore. However, that shouldn't stop you from finding them. I took time to find a few owl Squishmallows on eBay I can't find elsewhere anymore. So, here are some owl Squishmallows no longer available in retail stores:
• 11-Inch Hoot, the Gold Tie-Dye Owl Squishmallow
• 12-Inch Holly, the Black Owl Squishmallow
• 12-Inch Ollala, the Sequin Owl Squishmallow
• 12-Inch Olive, the White & Gold Owl Squishmallow
• 14-Inch Harriet, the Valentine's Owl Squishmallow
• 16-Inch Britta, the Faded Shimmering Owl Squishmallow
• Limited-Edition 16-Inch Tazlow, the Tie-Dye Owl Squishmallow
• Target-Exclusive 11-Inch Fania, the Purple Owl Squishmallow
Question: Which Owl Squishmallow Is the Rarest?
Question: What is the New Squishmallow Squad's Name?
Answer: Squishmallows only recently launched the back-to-school squad, including Beula Octopus, Chip Chipmunk, Chloe Poodle, and Ressie Apple. However, the back-to-school team also has an owl Squishmallow. Jaydelle, the School Teacher Owl Squishmallow, is a new member dressed as a teacher.
Best Owl Squishmallows Guide: Conclusion
Owl Squishmallows have one of the widest varieties for any young or old fan to collect as many plushies as possible. In addition, the particular types and multi-squad members allow further growth. The best owl Squishmallows introduces over 30 squad members, each with the opportunity to find multiple variants.

So, remember my tips to find more owl Squishmallows from the over 30 names you know. Meanwhile, I recommend buying Ellette, the Halloween Vampire Squishmallow, because she's adorable and highly collectible. Additionally, she fits multiple squads, has beautiful bright colors, and wears a cute costume.

Furthermore, pick any of the best owl Squishmallows from which you can start an enormous collection. However, you'll need to start as soon as possible to collect as many owls as your home can store. So, don't waste time waiting to buy your first owl Squishmallow.
For More Gorgeous Squishmallow Friends: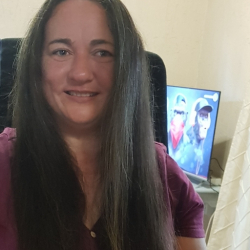 Latest posts by Caroline Lambert
(see all)