How cute is Zero from Nightmare Before Christmas? You've come to the right article if you wish to find every version of him in my Zero Squishmallow guide. My family watches the movie every holiday season, and our passion for Squishmallows matches our love for Zero. So, I looked for every size of the ghost dog in plush toys.
The various sizes of Zero Squishmallows will suit different fans. The puppy also appeals to other fandoms. Meanwhile, Zero seems straightforward, but there's much to learn about the puppy. He has more personality than you think. So, welcome to the ultimate guide for the puppy's Squishmallows.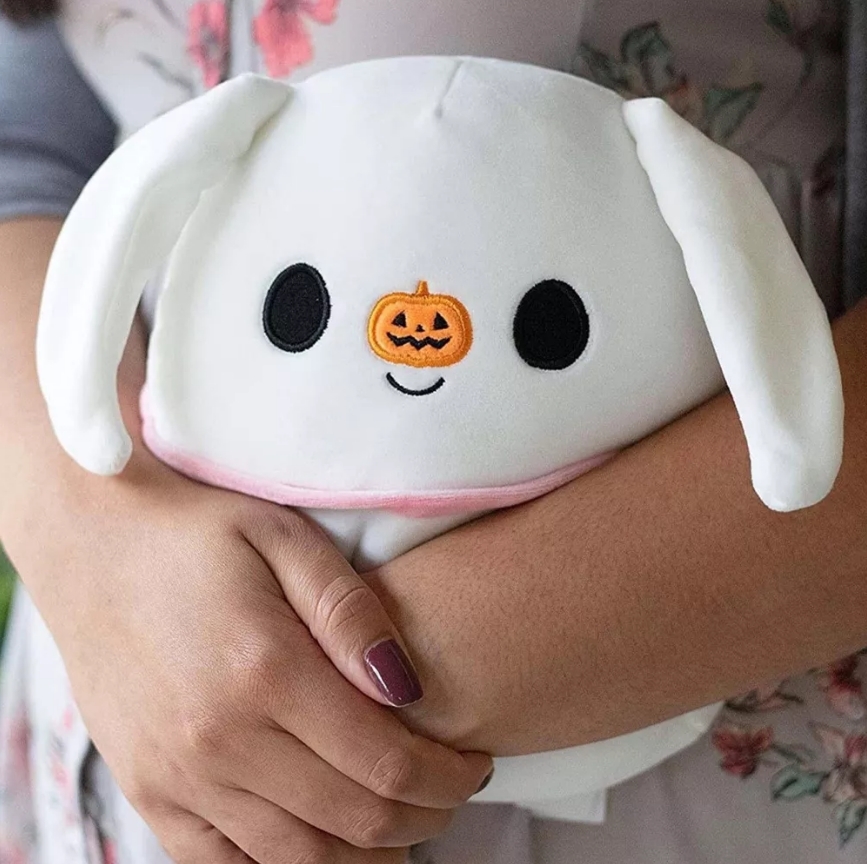 Zero Squishmallows: Bottom Line Up Front
Let me get straight to the point. Zero is a gorgeous Squishmallow, but he only has five versions now. I can't wait to see different types of Squishmallows for the movie's puppy star. However, I'll cover every version of him in the meantime. In addition, I'll share three brilliant alternatives that suit my ultimate Zero Squishmallow.
My entire family loves collecting our favorite pop culture characters with Squishmallows. So, the Nightmare Before Christmas 8″ Zero Squishmallow is my best option because I'm a collector. Zero's design is perfect, but the size matters the most for my favorite pick. Furthermore, Zero isn't a dull puppy.
I'll share information about the puppy that not every fan knows, and I'll show you how to keep a ghostly white Squishmallow clean and intact. Finally, you'll see the Zero puppy Squishmallows and who they suit best. But first, let's dig into Zero's character because he's more incredible and famous than you believe.
A Complete Guide to Zero Squishmallows
Zero is a loyal puppy who would do anything for Jack Skellington. The friendly ghost dog became rather famous with Squishmallow fans recently. So, let's learn about Zero from the movies and poems. Then, let's see how you can keep him clean and how I selected the Zero Squishmallows I shared.
A Famous Nightmare before Christmas Puppy
Tim Burton's Nightmare Before Christmas is an iconic movie, originally a poem. Jack Skellington and the other main characters get tons of attention. However, a previous dachshund puppy is a popular character that never speaks. Zero, the ghost puppy with a pumpkin nose, has a more significant role than you think in the movies.
Zero is one of three film characters mentioned in the poem that inspired the movie. In addition, Zero had shape-shifting ghost abilities and could change moods, according to Jack Skellington. Furthermore, the puppy has his comics and appears in various video games. So, Zero is more famous than you realize.
Zero is famous, loyal, and awe-inspiring. In addition, the up is like Casper because he's the least scary part of Tim Burton's creations. So, Squishmallows scooped up the puppy, among other characters. The plush brand loves making deals with famous characters. Zero is so renowned that you can buy him in various sizes.
Finally, Zero appeals to many fandoms, including puppies, ghost dogs, and Nightmare Before Christmas fans. So, you've come to the right article to look for winning Squishmallows for your child or your collection.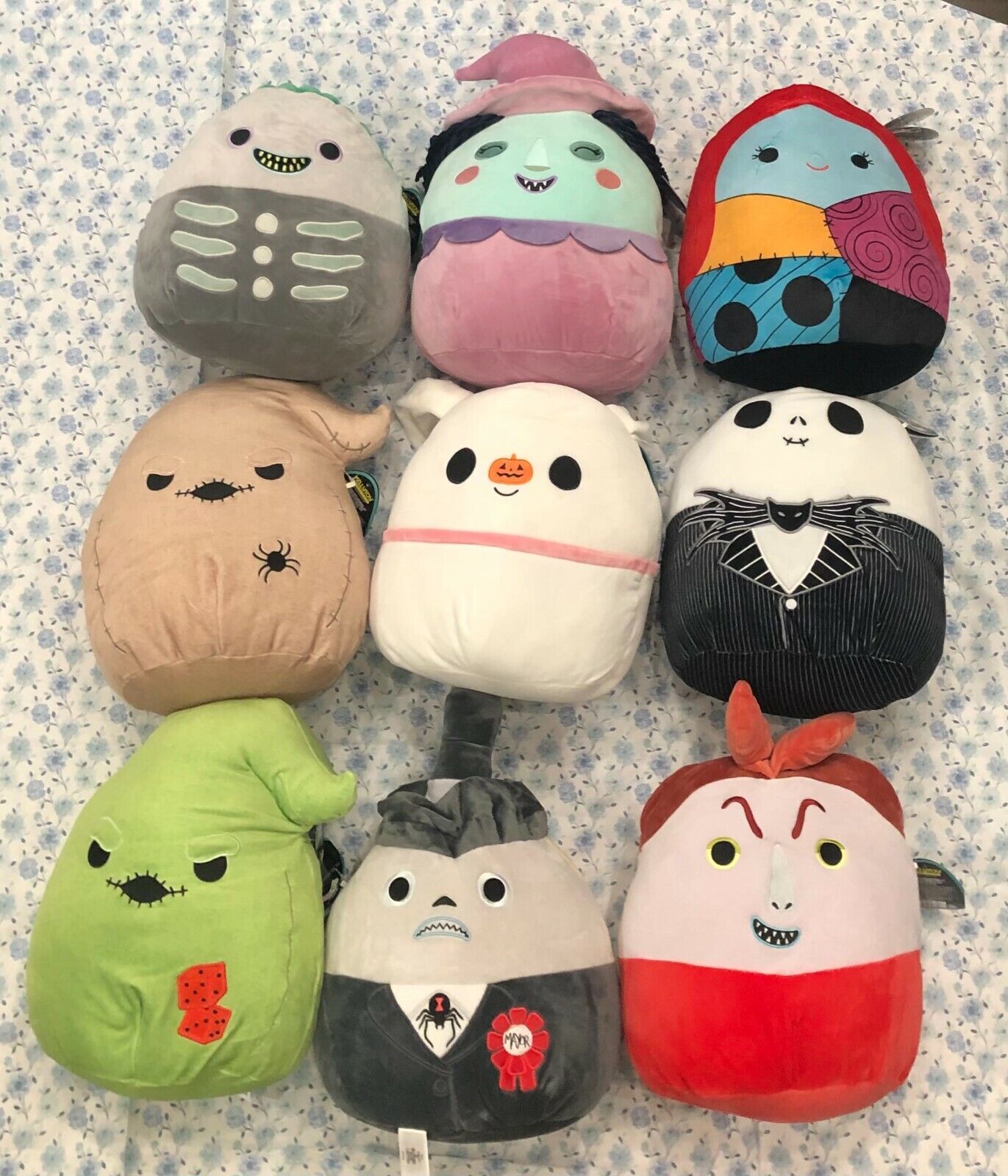 Zero, a Multi-Squad Ghost Puppy
Multi-squad Squishmallows are popular among collectors. I love plush which allows me to expand in any direction I wish. Zero is another one that enables my expansion of passions. A four-squad Squishmallow appeals more to me than a single-squad alternative.
Zero, the ghost dog Squishmallow, belongs to the following Squishmallow squads:
Halloween Squad
Nightmare Before Christmas Squad
Dog Squad
Buddy Squad
Cleaning Zero, the White Puppy Squishmallow
Unfortunately, Zero is one of the whitest Squishmallows on the market. That means cleaning him is a nightmare, pun intended. The first rule is never to use bleach products on Squishmallow plushies. Instead, you can wash Zero with other monotone white plushies or clothes in the washing machine.
A gentle cycle is the best for Squishmallows. Meanwhile, you can further protect the puppy by lowering the spin cycle. Once the cycle finishes, allow Zero to dry naturally, away from the sun. A trick to ensure white Squishmallows remain intact is to place them inside laundry bags before putting them in the machine.
You don't need to worry about his white body or orange pumpkin nose. Avoid bleach products and use a gentle or baby detergent with cool or lukewarm water. It's the secret to keeping Zero Squishmallows clean, fresh, and intact. Fortunately, Squishmallows are durable in washing machines.
My only advice about machine-washing Squishmallows is to avoid doing it as often as your linen. Instead, washing them every three months will work much better. On the other hand, keeping them vacuum-sealed or packaged will ensure less washing, too. The three-month rule applies to puppies you often handle.
Which Zero Squishmallows Will I Share?
Of course, I'll share every available size for the ghost puppy because he deserves the limelight. However, I'll only share original Squishmallows and no other brands. Then, I'll select three excellent alternatives closest to five inches each. They must also be 100% authentic and from the Nightmare Before Christmas movie.
Zero Squishmallow Guide: Every Little Pup
So, sharing every version of Zero seems to take the best out of him. Therefore, I'll tell you what makes each size better than another and who it suits. Furthermore, Zero's design is pretty straightforward. So, each size will look similar, but they work better for different collectors and fans. Meanwhile, collectors can grab them all.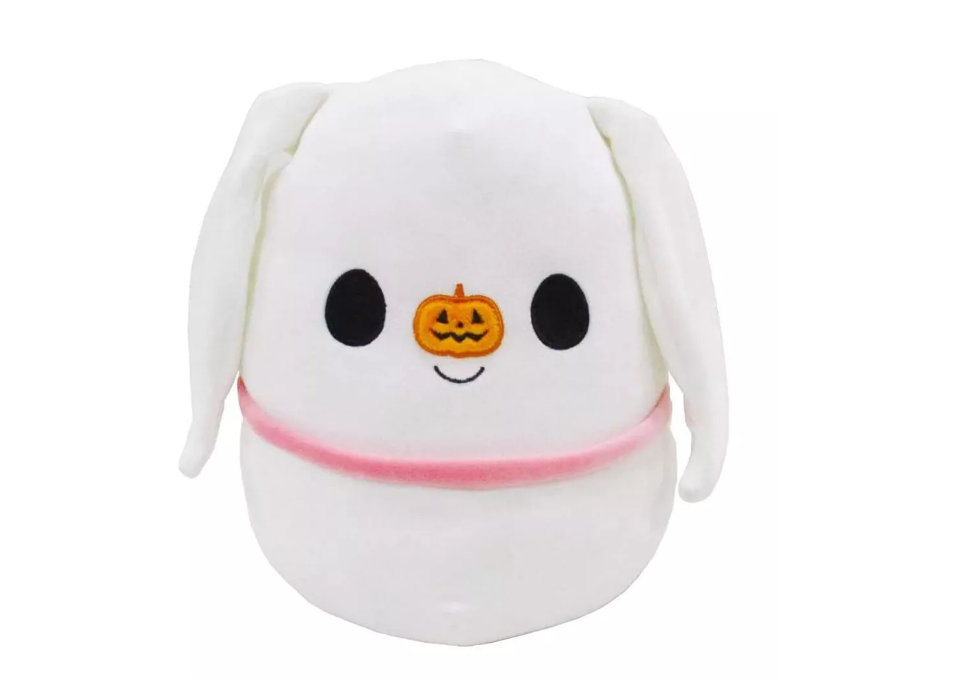 You can't find a more miniature size in Zero Squishmallows than the five-inch plushy. The tiniest Squishmallow size for the puppy isn't my ultimate pick because these plushies have a different texture compared to the eight-inch plush. However, every Zero puppy has a place in someone's heart. So, let's see the pros and cons of it.
Tiny Zero Squishmallow Pros
Five-inch Zero Squishmallows are fabulous travel companions for kids
They're large enough to allow babies to play with them
The plush has no small parts that could come off
The pumpkin nose is fantastic on this Squishmallow
Tiny Zero Squishmallow Cons
The texture of smaller Squishmallows can feel rougher than others
The size doesn't make the best cuddle buddy or collectible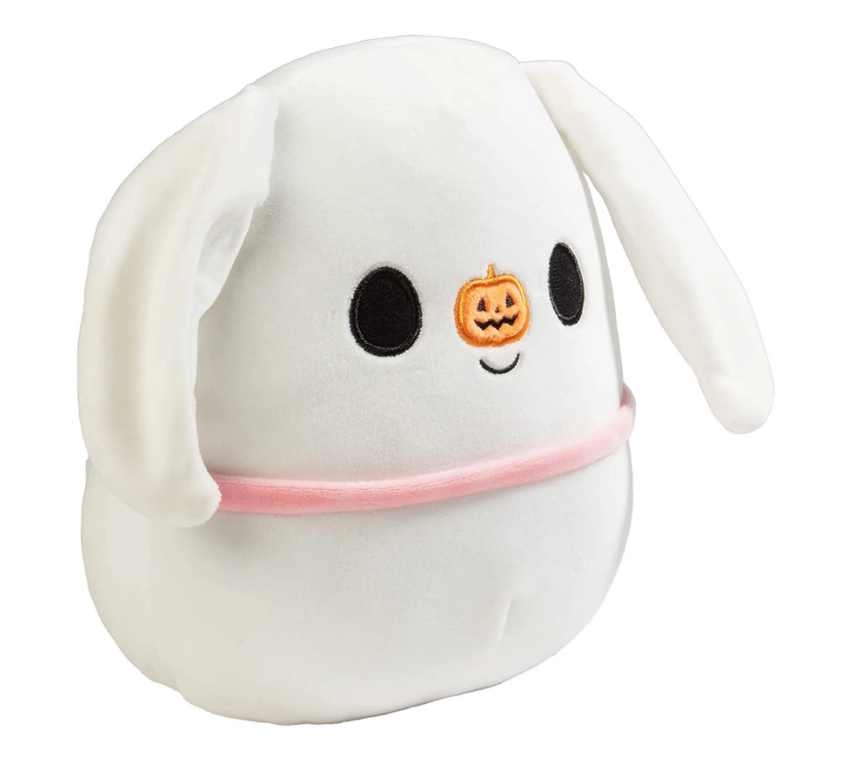 Zero Squishmallow's next size is brilliant because many fans don't know it exists. In addition, it's not six inches. The Zero Squishmallow is just under 6.5 inches, making it an ideal size between the tiny and collectible plushies. Meanwhile, Zero maintains his long ears and happy pumpkin-patched face.
Mini Zero Squishmallow Pros
The six-inch Zero Squishmallow also allows for a traveling companion
The size is super safe for babies and young toddlers to travel in a stroller
The long ears give young fingers exercise, and nothing comes off
Zero Squishmallow's plush is perfectly shaped and feels softer
Mini Zero Squishmallow Cons
Six-inch Squishmallows are still better suited to babies and young toddlers
It doesn't intrigue little ones to cuddle much, and it's not a collectible size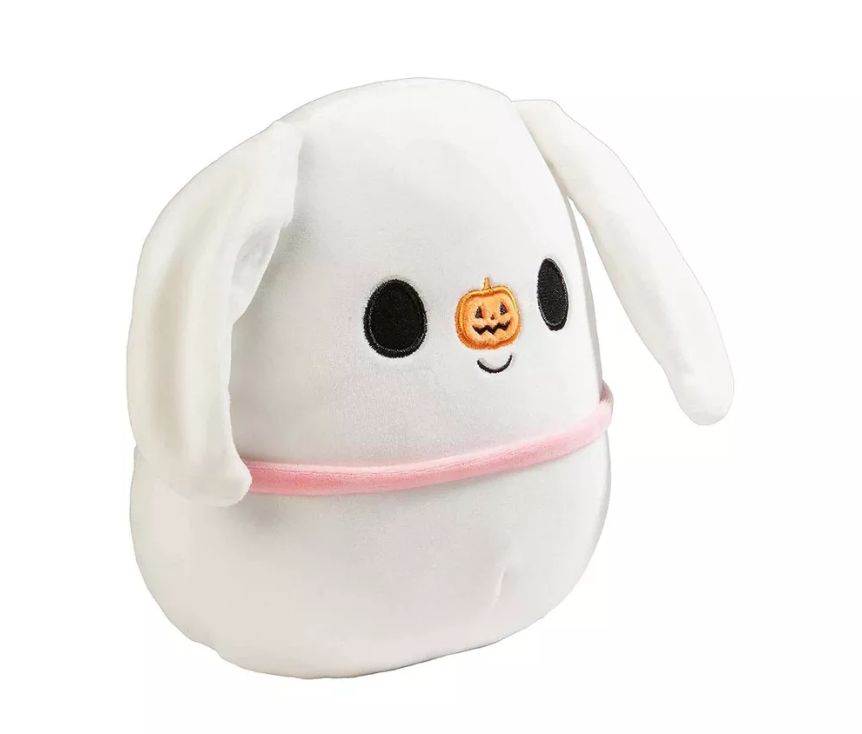 My family collects Squishmallows, meaning we are four fanatics under one roof. So, we need space and expansion opportunities. Therefore, we determined that eight-inch plushies are ideal for vast collections in a multi-fan home. So, Zero Squishmallow's eight-inch size would suit us perfectly.
Small Zero Squishmallow Pros
Zero Squishmallow's eight-inch plush is perfect to collect
Visitors and fans will notice the puppy while he doesn't take an entire bed
The details and color always appear exceptional on an eight-inch Squishmallow
The size also starts feeling cuddly and still welcomes little ones
Small Zero Squishmallow Cons
Next-level collectors wouldn't be able to collect hundreds of eight-inch plush
This size starts growing too large to be safe in a baby's crib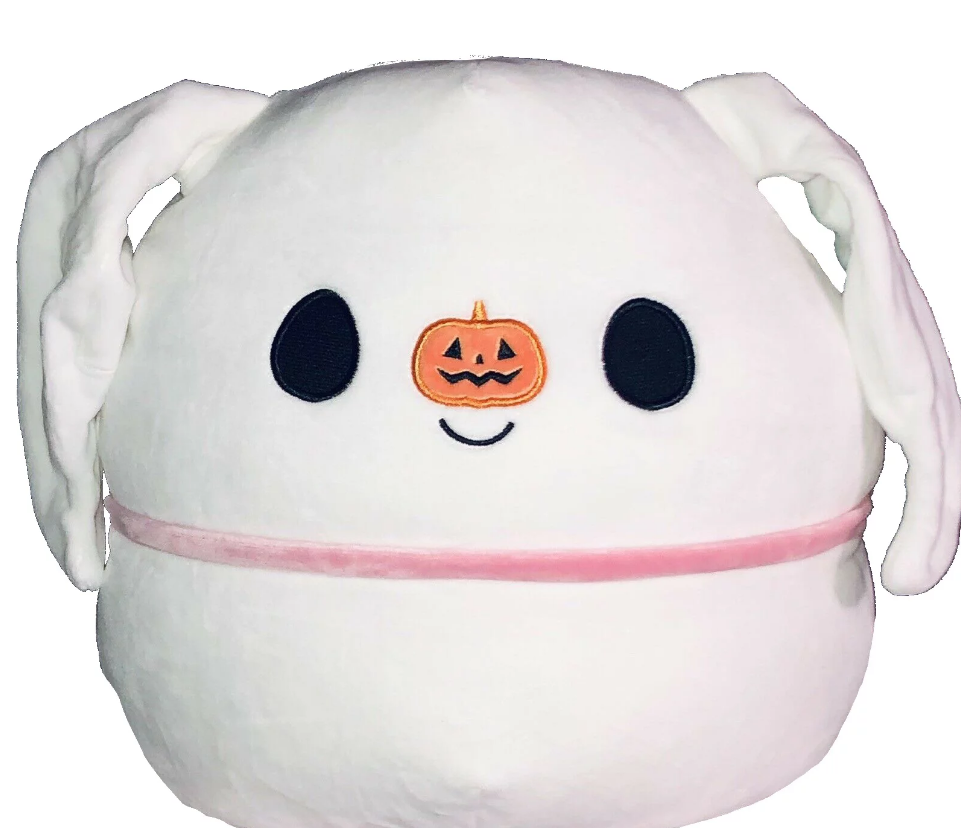 Twelve-inch Zero Squishmallows start grabbing the attention of die-hard fans of the little puppy. Meanwhile, Zero Squishmallow's body shape changes slightly, making him look more egg-like. Admittedly, it's adorable. My kids choose a few absolute favorite Squishmallows to buy in this size. A top Zero fan will love this size.
Medium Zero Squishmallow Pros
Medium Zero Squishmallows suit small-scale collectors
Fans who go wild over Zero, the puppy, will also enjoy this size more
Zero Squishmallow's egg-shaped body is adorable
Zero's pumpkin nose is enormous, nearly diminishing his long ears
Medium Zero Squishmallow Cons
Zero Squishmallow's 12-inch plush is far too big for babies' cribs
Some fans might not love the egg-shaped body (then opt for the next one)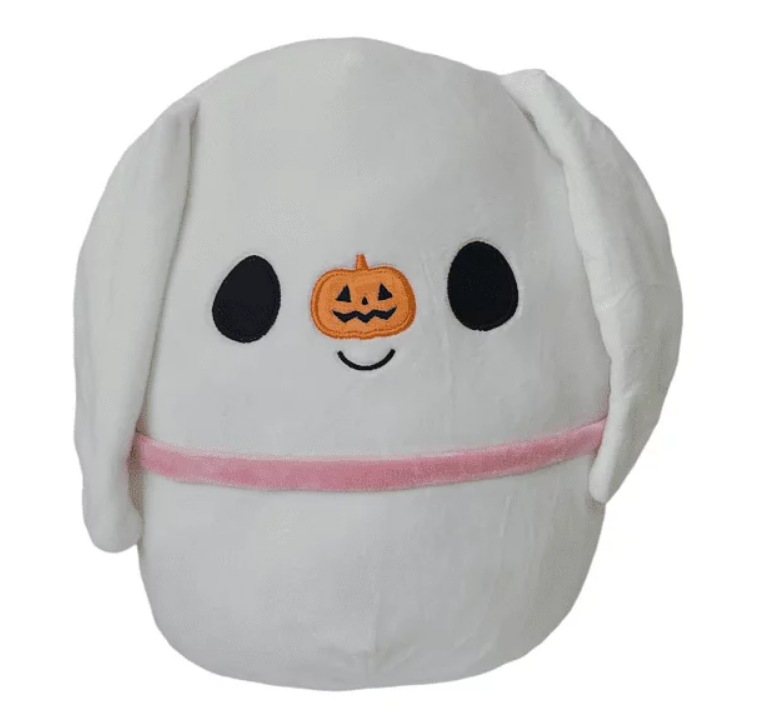 The 14-inch Zero Squishmallow is the final size, but it's better suited to ultimate movie fans. Zero's final size marries the joy of owning a noticeable plush while maintaining a sleeker body shape. Meanwhile, Zero's super-long ears are more notable in this size again, having improved balance with his pumpkin nose.
Large Zero Squishmallow Pros
You buy 14-inch or larger Squishmallows to showcase your best fandoms
Zero Squishmallow's 14-inch plush looks better than the egg-shaped body
The ears, nose, and massive eyes find a balance with this size
A 14-inch Zero Squishmallow is ideal for older kids who enjoy cuddling their plushies
Large Zero Squishmallow Cons
You can't collect many Zero Squishmallows in this size
Zero's left eye looks lower than his right one
Best Alternative Nightmare before Christmas Squishmallows
Zero deserves friends if you're collecting the Nightmare Before Christmas Squishmallow Squad. So, I selected three other characters from the movies. In addition, they're authentic Squishmallows. However, I'm sticking to eight inches for my alternatives because it's the most collectible Squishmallow size you'll find.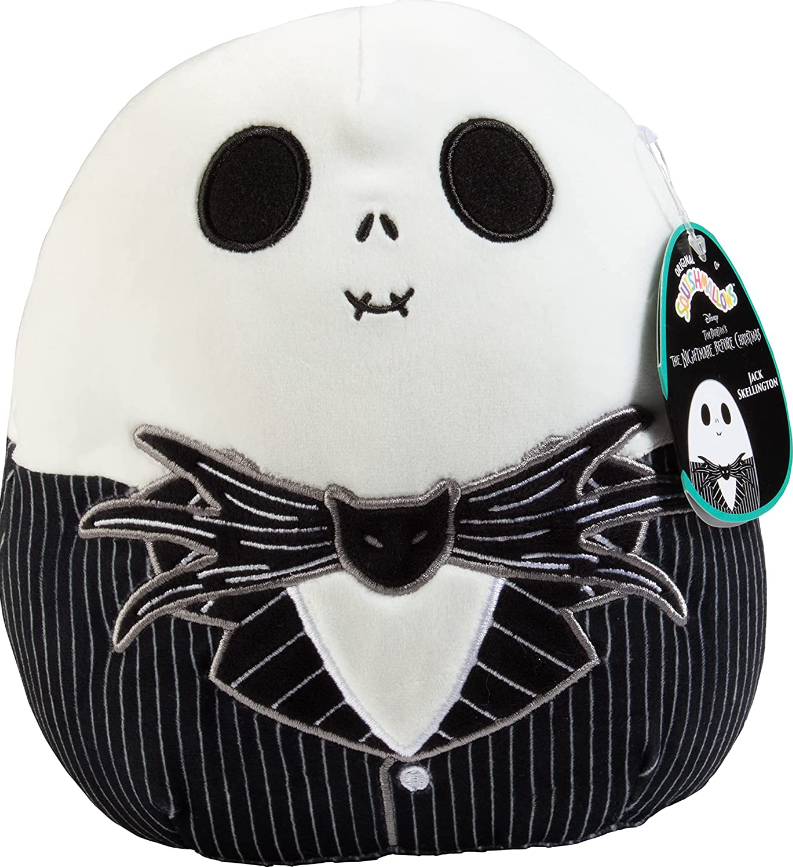 I would undoubtedly buy Jack, the Skellington's Squishmallow, to put with Zero's collectible size. Indeed, I also think Jack Skellington's body shape and Squishmallows don't make sense together. However, collectors don't care about what makes sense. Instead, they want every character available from their favorite fandoms.
Jack Skellington Squishmallow Pros
The 8-inch Jack Skellington Squishmallow is highly collectible
Adding Jack to Zero's collection brings friends together
The size and character are ideal for Nightmare Before Christmas fans
It's cuddly enough for kids and small enough to display
Jack Skellington Squishmallow Cons
Jack Skellington makes zero sense as a Squishmallow
Two-tone Squishmallows are harder to clean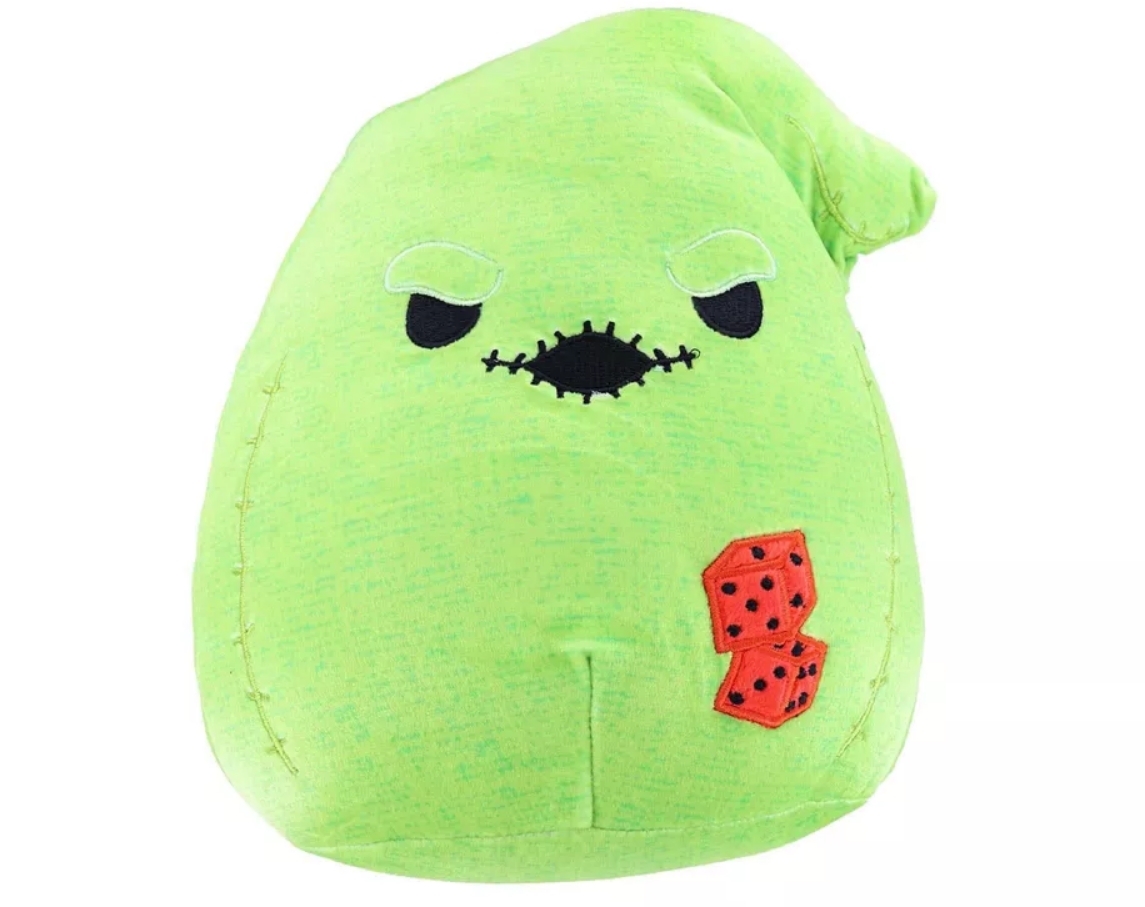 Admittedly, Oogie Boogie Squishmallow's green variant makes me think of boogers, and I'm sure many parents can agree. Nonetheless, Oogie Boogie is another of the four most-loved characters from the Nightmare Before Christmas movies. He belongs to a collection as an eight-inch plush.
Oogie Boogie Squishmallow Pros
The 8-inch Oogie Boogie Squishmallow is a collectible size
He makes another excellent alternative or addition
Oogie Boogie looks like a blob of boogers, which entertains kids
The size is ideal for light cuddles, and the design is spot-on
Oogie Boogie Squishmallow Cons
The Oogie Boogie Squishmallow isn't the safest in baby cribs
He won't make the best travel mate for older fans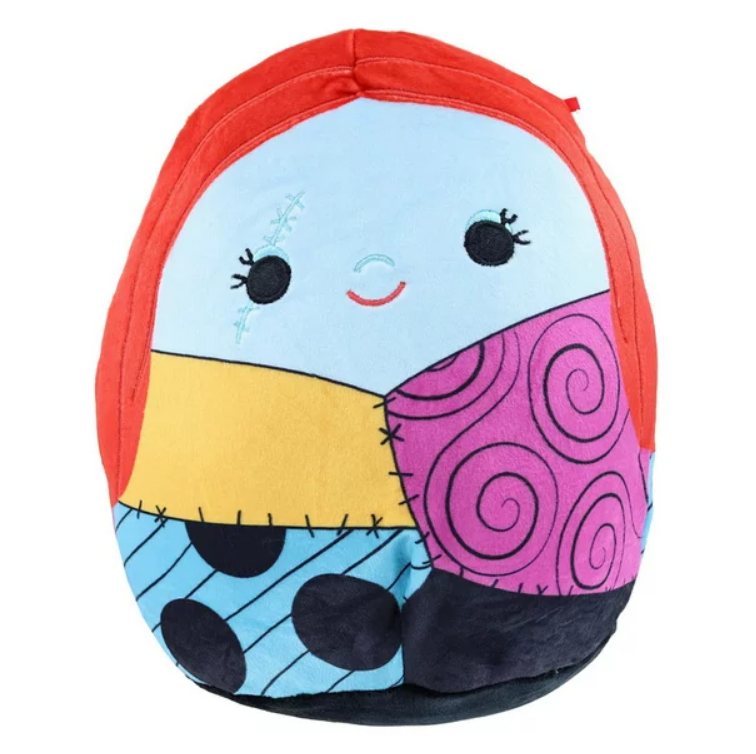 I love Sally Squishmallow as an alternative or addition because she finally brings some color to the collection. She also reminds me of a hybrid Squishmallow with various patches pieced together. Sally Squishmallow's eight-inch plush is ideal for kids who love movies and collectors. She undoubtedly brings pizazz.
Sally Squishmallow Pros
The eight-inch Sally Squishmallow is collectible
She's one of the four much-loved movie characters
Sally's Squishmallow can brighten up a collection
Children can enjoy cuddling her without her consuming the bed
Sally Squishmallow Cons
Sally Squishmallow's 8-inch plush isn't safe in a baby's crib
She's not the best traveling companion as she's slightly oversized
Bonus Nightmare before Christmas Squishmallow Alternatives
Some Nightmare Before Christmas Squishmallow alternatives fit the collection but come in odd sizes. So, I'll briefly share them without going into much detail. Unfortunately, these Squishmallows weren't as popular. So, you can still find them a year later. Let's see the lesser-known Nightmare Before Christmas Squishmallows.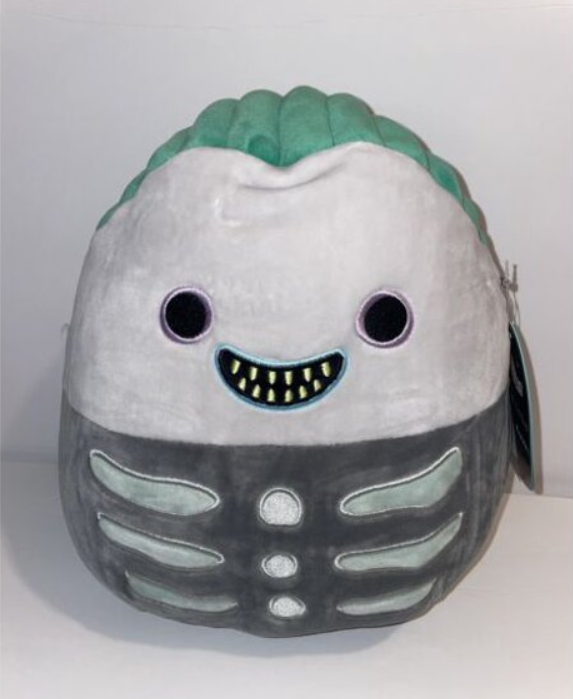 Nightmare Before Christmas also introduces us to Barrel, a naughty young man who works for Oogie Boogie. The trio of trick-or-treaters includes Lock and Shock, a handful of mischiefs. It's not surprising their Squishmallows aren't as popular as the four main characters. Nonetheless, Barrel is another alternative.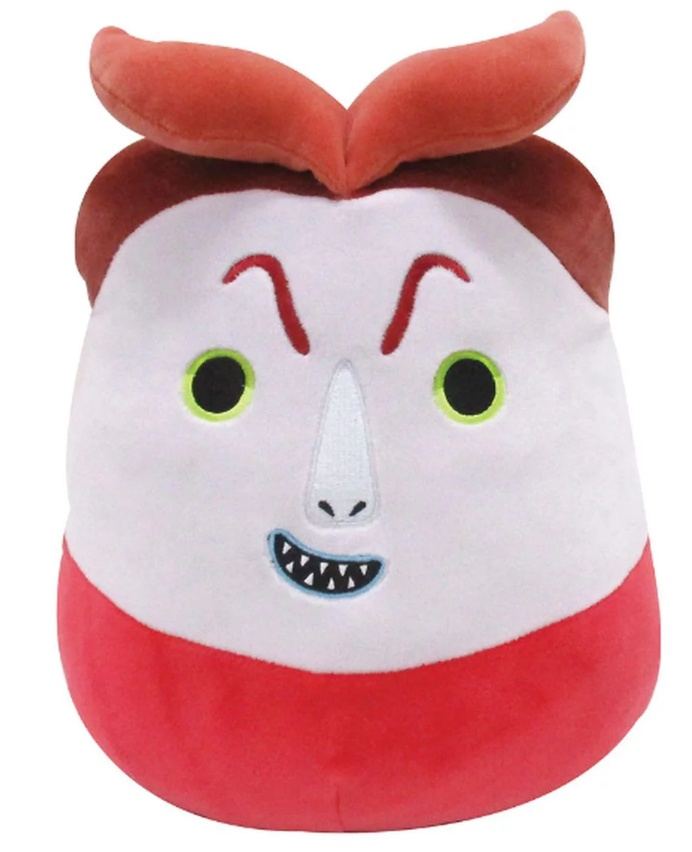 Lock is one of Barrel's best and naughtiest friends. However, the Lock Squishmallow is another alternative for kids who want every character from the show. Unfortunately, the secondary antagonists don't have collectible sizes of Squishmallows. Hence, I never added them as primary alternatives or additions.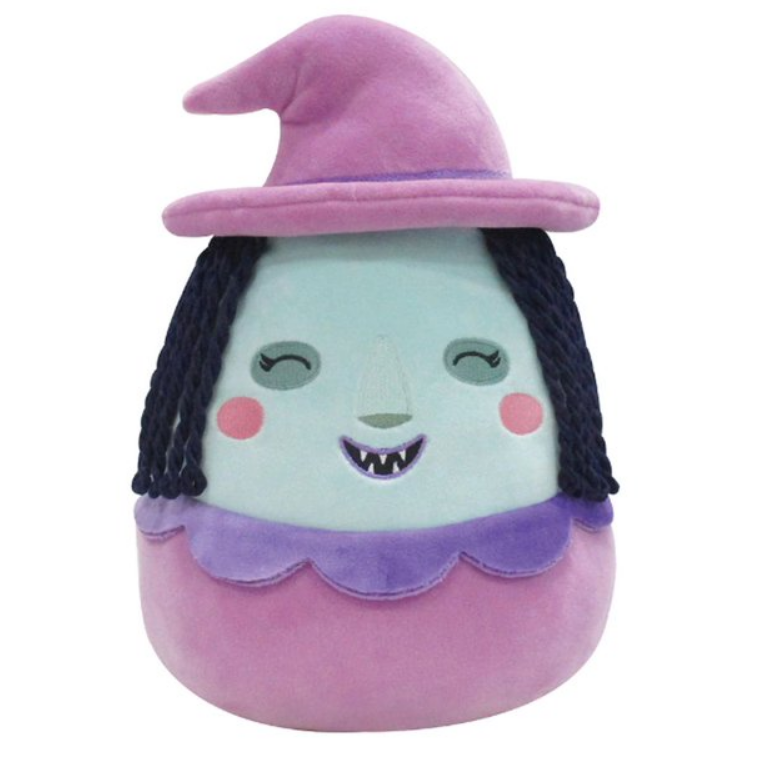 Shock is the film's third little tyrant if I'm allowed to say that. Shock has a deceivingly sweet style until you see her henchman ways in the movies and series. Unfortunately, she doesn't have a collectible size that suits my requirements for Zero Squishmallow alternatives or additions.
I'm disappointed that The Mayor's Squishmallow isn't smaller because he's one of my favorite characters. Indeed, he's as bad as Jack Skellington. However, The Mayor's personality is goofy, which I love in animated films. Meanwhile, The Mayor's Squishmallow has exquisite details and bright colors.
FAQs
Question: Why Do Zero Squishmallows Have a Pumpkin Nose?
Answer: Zero's famous pumpkin nose came from Rudolph's red nose. Squishmallow tries to accurately portray the characters they use for their wildly-popular marshmallow-touch plushies. The puppy has a pumpkin nose in the film. So, adding it to the Squishmallows makes them more authentic to the famous pup.
Question: When Did the Nightmare Before Christmas Squishmallows Come Out?
Answer: The Nightmare Before Christmas Squishmallow Squad started as a Halloween special in 2021. The squad welcomed Jack Skellington, Oogie Boogie, Zero, Sally, Lock, Shock, Barrel, and The Mayor. Since then, Squishmallows expanded the Halloween Squad, adding more sizes for each character, especially Zero.
Question: What Are Zero, the Ghost Dog's Squishmallow Sizes?
Answer: The theory is that there are four sizes for Zero, the Ghost Dog Squishmallows. Many fans know about the five, eight, 12, and 14-inch Zero Squishmallows. However, I found one size that breaks the theory—the Nightmare Before Christmas 6″ Zero Squishmallow measures just under 6.3 inches. So, five sizes exist.
Zero Squishmallow Guide: Conclusion
Nightmare Before Christmas is a classic. However, if your child loves the story, you can add the other three main characters or even the last four I shared. So, collecting every Squishmallow is the dream. I wish more Zero Squishmallows existed, but five is the number for now. It's a pity the final four come in poor sizes.
Furthermore, remember my tricks to keep the white Zero Squishmallows clean. Meanwhile, I recommend buying the Nightmare Before Christmas 8″ Zero Squishmallow before the collectible size is gone. Alternatively, buy the one that suits your fan's needs, whether a child or a die-hard movie fanatic.
For more adorable puppy plush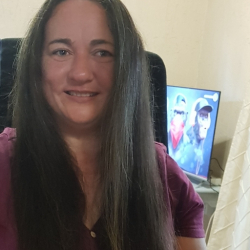 Latest posts by Caroline Lambert
(see all)