Bear Squishmallows allow collectors and fans to enjoy a traditional form of plush. My family and I always look for the best in class for every Squishmallow squad, often finding plush families we'd love to collect. The best bear Squishmallows guide opened our plush toys' passion to new frontiers with a classic touch.
Bear Squishmallows are the closest thing you'll find to iconic teddy bears. Meanwhile, the roaring fun of searching for every bear squad member is beyond explanation. You'll have to see the adventure for yourself. So, welcome to my family's incredible selection among the over 20 bear Squishmallows.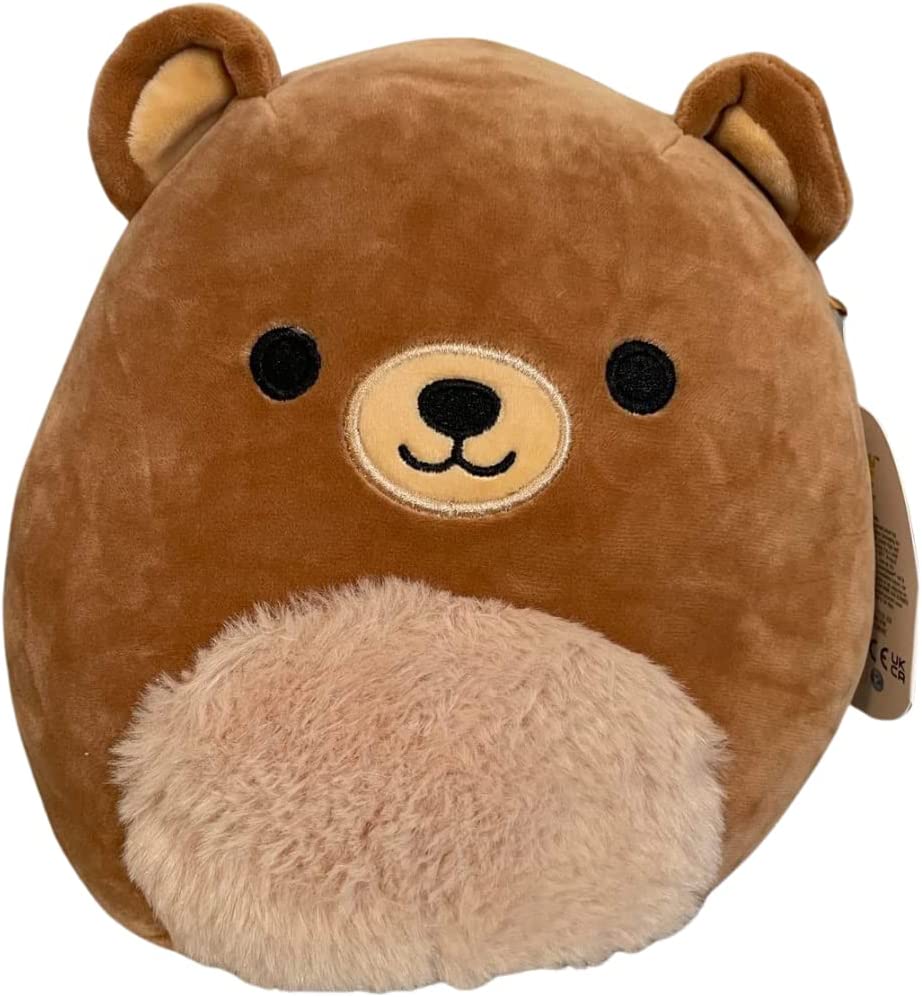 Best Bear Squishmallows: Bottom Line Up Front
Bear Squishmallows take me back to my childhood when my bedroom was full of teddy bears, Build-A-Bear, and Wellington bears. It's a touch of classic combined with a modern collectible brand. In addition, Squishmallows feel much cuddlier and suit younger fans more.
However, it helps to meet the entire bear Squishmallow family first. I'll share tips to distinguish one brown bear from another before sharing the names of rare and discontinued plushies. But there's more! Depending on a few criteria, I'll also share the best of every bear Squishmallow still available in stores.
So, I hope you're ready to meet a fantastic family of Squishmallows. But first, let me share my ultimate choice. Brooke, the Polar Bear Squishmallow, is my favorite pick. I usually go for the most insane option, but Brooke takes the North Pole to a new level by looking like she's going on a skiing adventure.
So, Brooke earns my ironic plush respect. Meanwhile, glance at a few more favorites before entering the complete guide to bear Squishmallows.
A Glance at Some of the Best Bear Squishmallows
A Complete Guide to the Best Bear Squishmallows
Bear Squishmallows are another joy to collect, but it helps to know who you must find first. So, let me introduce the famous bear Squishmallows you'll find in many stores. Then, I'll share tips on expanding the bear Squishmallow collection to its maximum potential before showing how I selected my favorites.
Meet the Bear Squishmallows
The bear Squishmallow family is vast, with over 20 primary members. Even worse, many bear Squishmallows are similar colors and could confuse fans. So, let me introduce the brown and tan bear Squishmallows that have everyone wondering who they collected. Then, I'll introduce the others and similar designs together.
The Brown and Tan Bear Squishmallows
Many bears have brown or tan colors. So, you'll have to focus on the slight differences between them. Fortunately, some brown bear Squishmallows have more noticeable differences. However, some are merely a different shade of brown. So, here are quick notes on the slight differences:
Baron, the Bear Squishmallow, has a chocolate-brown body with slightly lighter brown accents. Baron also has a golden brown and round snout with circular eyes.
Blake B, the Bear Squishmallow, has a similar color to Baron, but his accents are tan-colored. In addition, Blake's snout is long and narrows between his round eyes.
Brownie, the Bear Squishmallow, is dark brown with tan accents and looks like a HugMee.
Goldie, the Bear Squishmallow, easily stands out with the golden writing on his belly. He also has a white muzzle and matching inner ears with round eyes.
Greta, the Bear Squishmallow, stands out with a chocolate brown body with tan accents and a highly detailed muzzle. A border surrounds the muzzle, and you can see her mouth underneath the round eyes.
Hilary, the Bear Squishmallow, doesn't need much detail because she wears an inspirational or kind message costume.
Kofi, the Bear Squishmallow, is another brown and tan plush. However, you'll recognize his various ensembles, like the blue Hannakuh outfit.
Omar, the Bear Squishmallow, is a popular boy with many variants. However, Omar has one dead giveaway on his chocolate brown and tan body: the two pink blushing cheeks. No other brown bear has blushing cheeks.

Meet the Rest of the Bear Squishmallow Family
Fortunately, the rest of the bear Squishmallow family has noticeable differences. So, let me share simple appearance features you'll notice with each bear. However, I won't share the upcoming bear Squishmallows with non-brown colors because you'll see what they look like as they come.
Meanwhile, here are the bear Squishmallows I haven't included in my top picks because they're not in stock now:
Belinda, the Bear Squishmallow, is bright teal with hearts and comes as a HugMee.
Belton, the Bear Squishmallow, is luminous yellow with lemon-styled ears and pink cheeks.
Bliss, the Bear Squishmallow, is mint-green with pink cheeks and tired eyes.
Celeste, the Bear Squishmallow, is ocean blue and looks like a HugMee.
Jonessa, the Bear Squishmallow, has a white belly, a purple tie-dye body, and big eyelashes.
Molly, the Bear Squishmallow, is hot pink with hearts and looks like a HugMee.
Shellie, the Bear Squishmallow, is styled like a Mexican skeleton with black and purple contrasts.
Thekla, the Bear Squishmallow, is gray with a white muzzle, belly, and inner ears.
How I Found the Best Bear Squishmallows
The best bear Squishmallows take careful consideration because some names have multiple options. The best variant might be an exclusive or unusual plush type or the only variant available for the current bear Squishmallow. So, I'll stick to the bears still available in stores before choosing the best variant.
Best Bear Squishmallows Guide: Roaring Choices
Bear Squishmallows take me back to my childhood. My bedroom was overwhelmed with teddy bears because my mom was a toy hoarder. Of course, I didn't mind because I was a kid. However, I teach my children only to find the best Squishmallows that deserve to be collected. So, let's meet the bears that won my attention.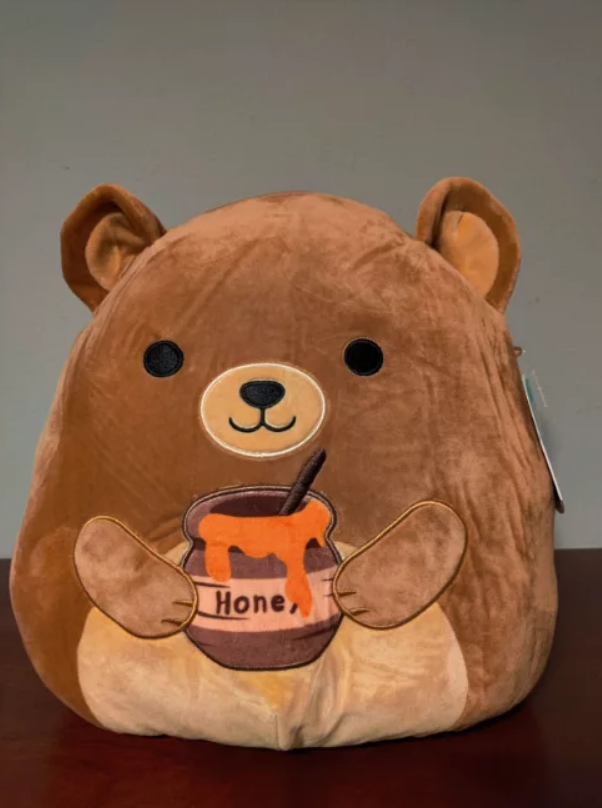 Baron Squishmallow is an adorable bear that reminds me of his squad mate, Winnie the Pooh. He loves honey and carries a particular honeypot in this Squishmallow version. Meanwhile, you'll find other variants for Baron, including multiple sizes of standard plush without accessories. However, this is the most adorable Baron plush.
Squads: Wildlife and Accessory Squads
Size: 14″
Baron Bear Squishmallow Pros
Baron Squishmallow carries a honeypot as a special surprise
Baron is a friendly-looking bear with a sweet tooth
He makes an ideal bedtime friend for kids who enjoy larger Squishmallows
Baron Bear Squishmallow Cons
Baron's Squishmallows often get mixed up with the discontinued Blake B.
Baron's size doesn't make him collectible, as he takes up a lot of room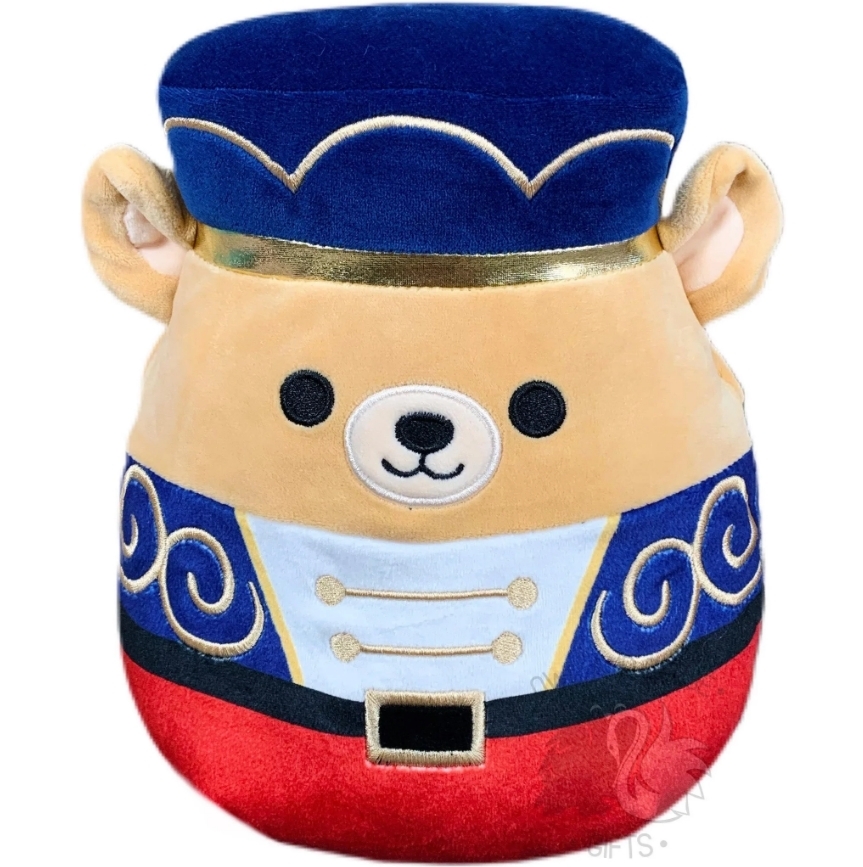 Braven is a 2022 Squishmallow bear that only comes in one version. The light tan bear Squishmallow in a nutcracker costume makes him a special boy from the start. In addition, he has an adorable muzzle with big, round eyes. However, I won't complain about Braven's holiday-themed nutcracker personality.
Squads: Wildlife, Christmas, and Holiday Squads
Size: 8″
Braven Bear Squishmallow Pros
Braven Squishmallow is a cute costume plush with a Christmas-theme
Braven's outfit and lighter colors make him stand out from other brown bears
The costume's details are exquisite, and it's a collectible size
Braven Bear Squishmallow Cons
Braven only has one variant for now
Braven and Kofi are easy to confuse (you'll meet him soon)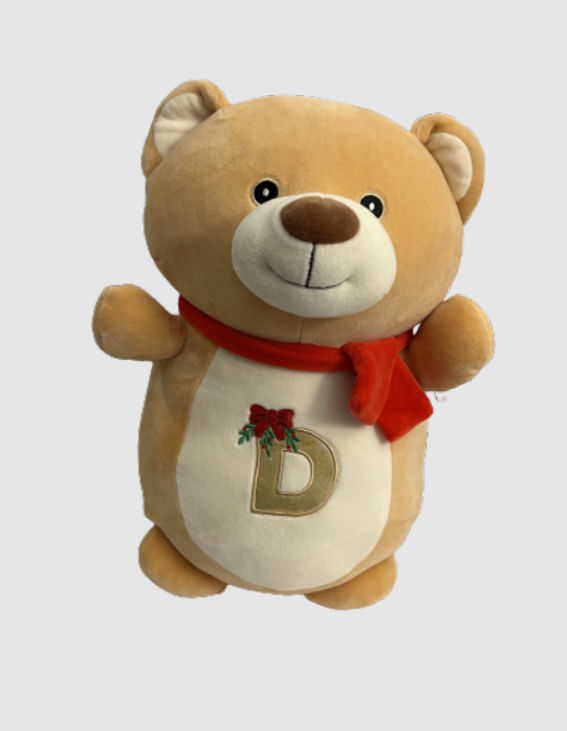 Bristle is another beautiful bear Squishmallow that wows you with her holiday-themed version. You'll find regular Squishmallows for Bristle, with those light tan contrasts and detailed eyes. However, this variation allows children to enjoy cuddling more with the plush. HugMees also look more like real-life animals.
Squads: HugMee, Christmas, Holiday, and Wildlife Squads
Size: 14″
Bristle Bear Squishmallow Pros
Bristle Squishmallow has a lot to offer as a HugMee with multiple squads
Bristle wears an adorable scarf with a belly letter and Christmas decorations
She'd make a perfect buddy for kids at bedtime
Bristle Bear Squishmallow Cons
Bristle's type and size don't suit collectors
Bristle's other variants are plain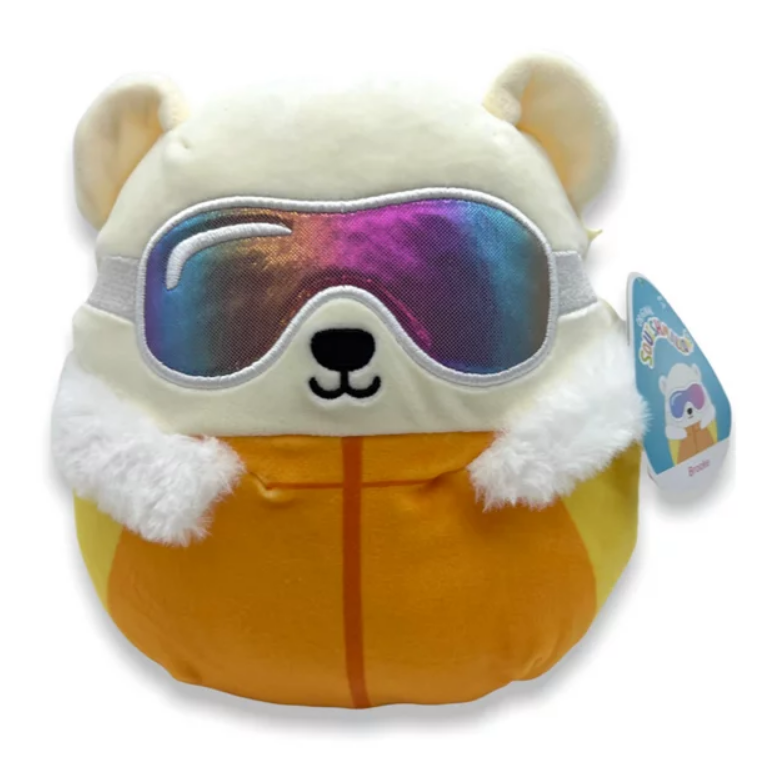 Have you ever imagined a polar bear skiing down the Swiss Alps? I haven't guessed it, either. However, I can't stop thinking about Brooke skiing on those slopes now. The snow-white bear Squishmallow with fuzzy paws is incredible. In addition, you'll find Brooke in various sizes and versions without a costume.
Squads: Wildlife, Costume, and Zoo Squads
Size: 8″
Brooke Bear Squishmallow Pros
Brooke Squishmallow looks ironically adorable and funny
Brooke is an incredible collector's piece and the perfect size
Brooke's shimmering goggles and costume add attitude
Brooke Bear Squishmallow Cons
Children want giant plushies to cuddle at bedtime
White Squishmallows can be challenging to wash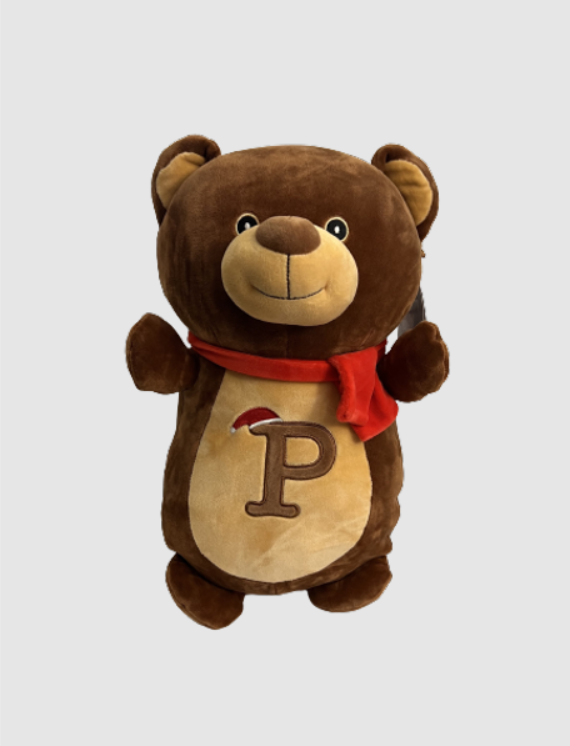 Brownie Squishmallow's name makes me feel like the matching treat. Meanwhile, Brownie is the darkest of bear Squishmallows with noticeably tan accents. Furthermore, you'll only find him in the HugMee range for now. Hopefully, Brownie will bring more variants soon because he looks like a traditional Wellington bear.
Squads: HugMee, Wildlife, Holiday, and Christmas Squads
Size: 14″
Brownie Bear Squishmallow Pros
Brownie Squishmallow sounds and looks delectable
Brownie's HugMee shape makes him ideal for children and bedtime cuddles
He has a cute scarf, letter, and Santa hat picture
Brownie Bear Squishmallow Cons
Squishmallows should've put the Santa hat on Brownie's head
HugMee bears aren't collectible because they're too big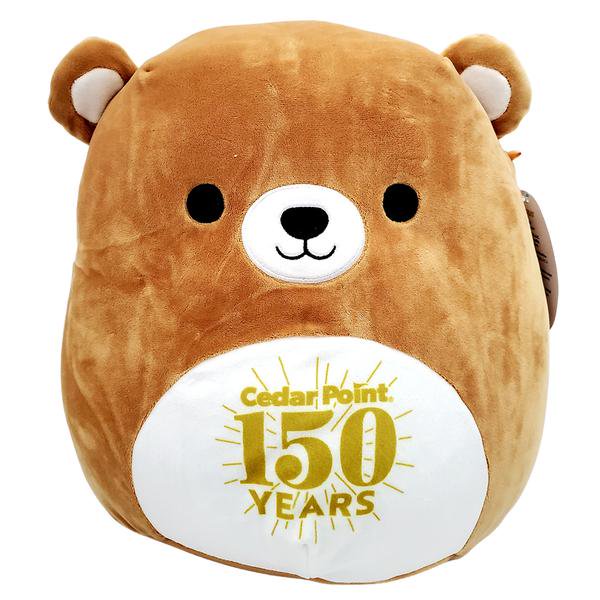 Goldie is an unusual boy with one version. However, the golden-colored Squishmallow bear is a celebration exclusive to the Cedar Point stores. Goldie's eyes are profound, nearly like a wise old bear in the wild. In addition, the exclusive part makes him more collectible and desirable. I hope to see more of the golden bear.
Squads: Wildlife and Celebration Squads
Size: 12″
Goldie Bear Squishmallow Pros
Goldie Squishmallow has a near-golden color and a special message
Exclusive bears are more collectible (even if the size is wrong)
Goldie is a gorgeous bear with cuddle potential for kids
Goldie Bear Squishmallow Cons
Goldie Squishmallow is too large for my collections
The Squishmallow celebrates a store's 150th anniversary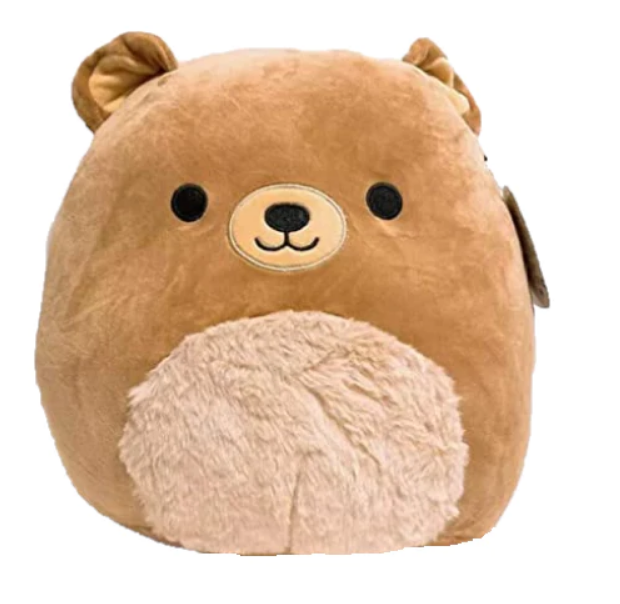 Greta, the Brown Bear Squishmallow, is a unique girl with a fuzzy belly. It doesn't put her in the Fuzz-A-Mallow squad, but she feels softer than silk. In addition, Greta once had many variants but only has this one left for now. I love adding near-gone Squishmallows to my collection, and she's the perfect size to fit in with others.
Squads: Wildlife and Zoo Squads
Size: 5″
Greta Bear Squishmallow Pros
Greta Squishmallow is an adorably soft plush
Greta also has a traditional vibe with old teddy bears
Her stomach is ultra-soft and her face inviting
Greta Bear Squishmallow Cons
Children prefer larger bear Squishmallows
Greta will soon become a challenging find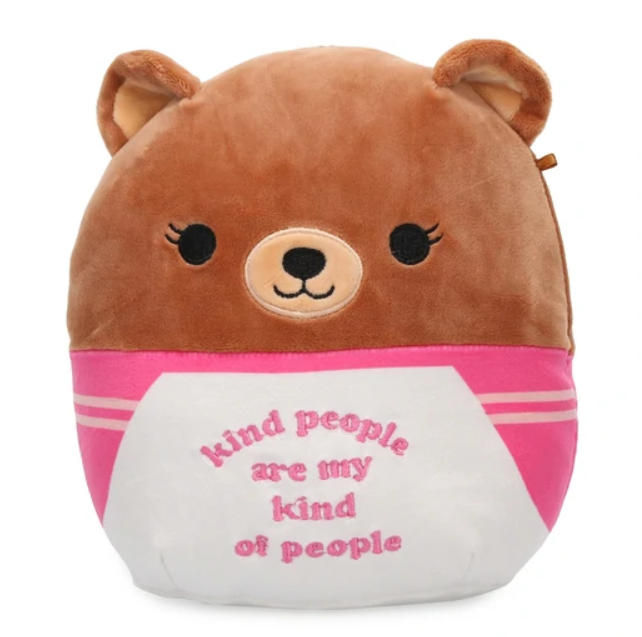 Hilary is another unique girl with a single Squishmallow. She only spreads kindness with her costume message. In addition, Hilary is a girl with dramatic eyelashes and a pink outfit. The contrast between the brown and tan is also perfect, making her look more like a bear than most Squishmallows.
Squads: Wildlife and Kindness Squads
Size: 8″
Hilary Bear Squishmallow Pros
Hilary Squishmallow wants everyone to be kind to each other
"Be Kind" Squishmallows have lessons for children to learn
Hilary Squishmallow is the ideal size for collections
Hilary Bear Squishmallow Cons
Unfortunately, she only has one variant
Hilary's costume looks weird because you don't know what it is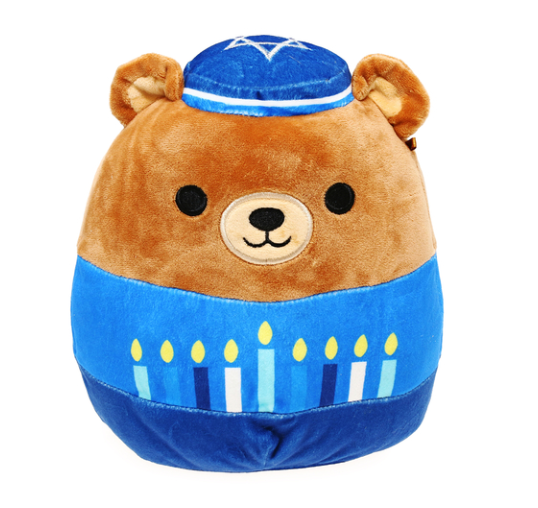 Kofi is Braven's closest bear Squishmallow cousin. The two bear Squishmallows wear costumes with similar details and colors. So it's easy to confuse them. However, Kofi is a limited-edition Hannukah bear Squishmallow. Not many Hannukah versions of Squishmallows exist. So, Kofi is ultra-special.
Squads: Wildlife, Costume, and Holiday Squads
Size: 7.5″
Kofi Bear Squishmallow Pros
Kofi is a unique and collectible bear Squishmallow
Kofi's outfit perfectly captures Hannukah as a holiday theme
He finally brings a Jewish holiday to life
Kofi Bear Squishmallow Cons
Other religions might not want Kofi in their collections (same with Christmas plush)
Kofi doesn't have another version and will become rare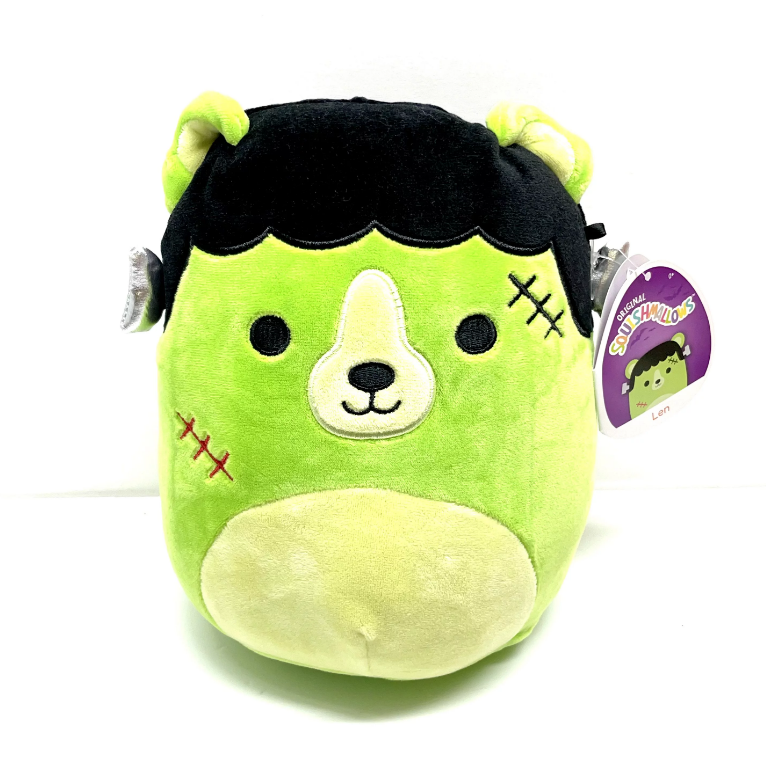 Len, the Frankenstein bear Squishmallow, is unique for obvious reasons. The poor little bear turned into the Halloween squad's Frankenstein. However, he wears the monster like a beast, with pride and an adorable attitude. So, Len is welcome to join my collection as a Halloween or bear Squishmallow.
Squads: Monster, Wildlife, Costume, and Halloween Squads
Size: 8″
Len Bear Squishmallow Pros
Len Squishmallow is unique and bright for collectors
The Frankenstein bear Squishmallow has gorgeous details
He would make an excellent friend for kids on Halloween
Len Bear Squishmallow Cons
Sadly, Len will become rare once he sells out
Some kids don't love the idea of Frankenstein plush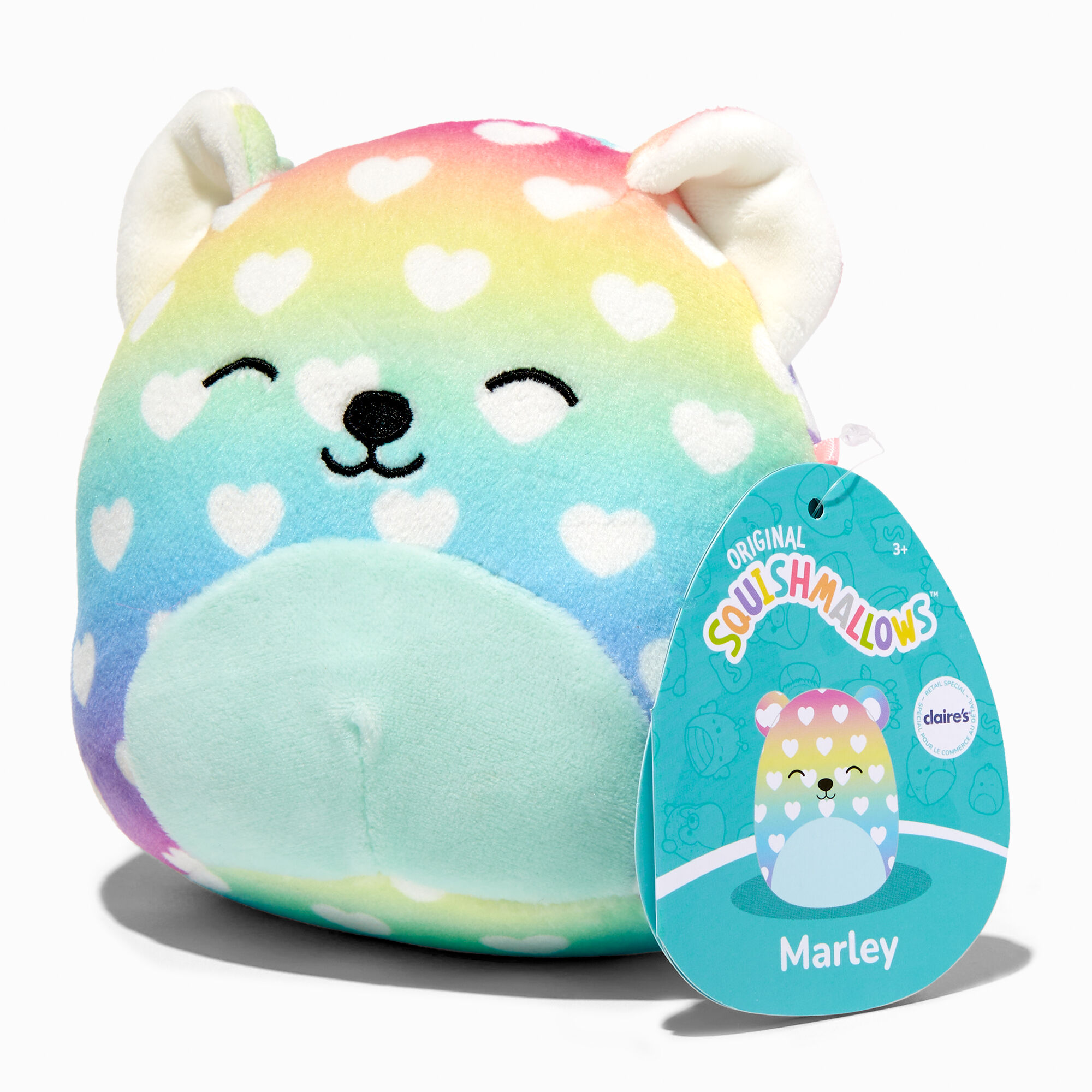 Marley brought thoughts of that sad movie to mind when I found her squad name. However, seeing her replaced all the sadness with absolute joy and passion. Marley has the cutest design with a heart-shaped pattern to wiggle her way into your heart. In addition, she's a Claire's exclusive with a single variant.
Squads: Wildlife and Fantasy Squads
Size: 5″
Marley Bear Squishmallow Pros
Marley Squishmallow will melt your heart with her rainbow pattern
Marley is a collectible size and exclusive from Claire's
She would make an impressive gift for any fan
Marley Bear Squishmallow Cons
Marley will become rare because she's unique and exclusive
Marley's size isn't the best for kids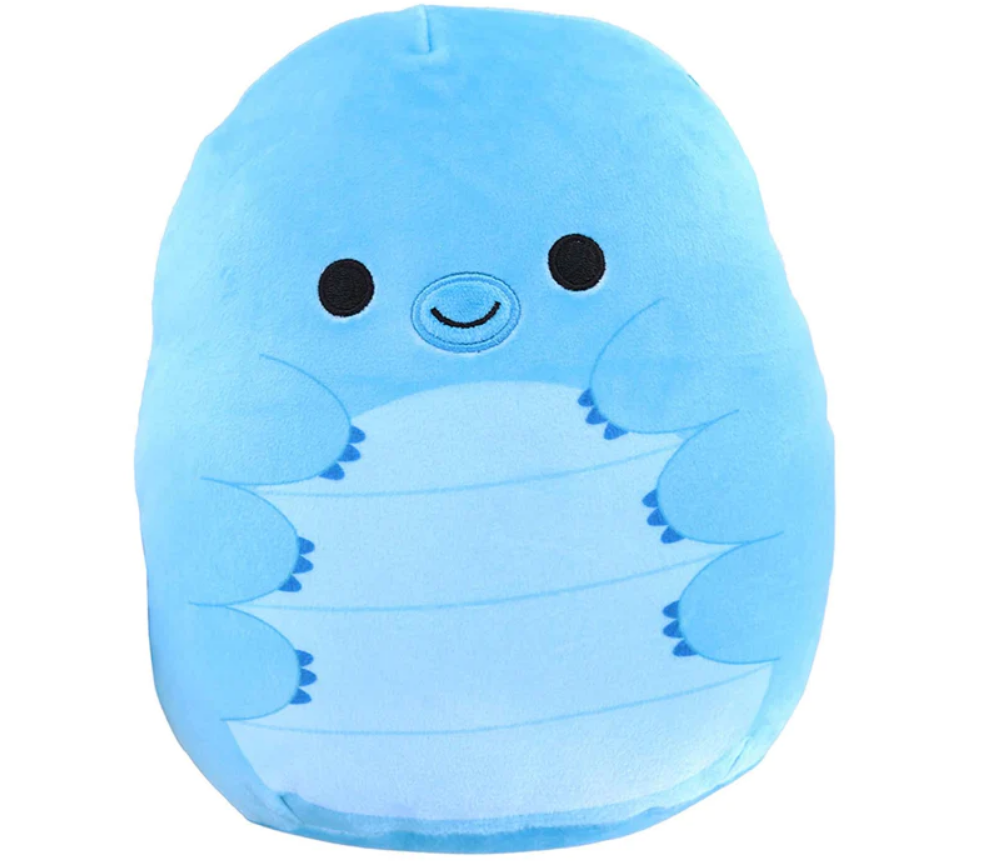 Did you know water bears are bugs? Still, Misko Squishmallow is a part of the bear family and wildlife squads. He's the most unusual "bear" you'll ever see from Squishmallows, including his six paws with tiny claws. Meanwhile, Misko looks like he belongs in the sealife squad with seals and seahorses.
Squads: Wildlife and Bug Squad
Size: 8″
Misko Bear Squishmallow Pros
Misko Squishmallow is the most unusual bear in the squad
Misko makes a fantastic collectible by size and uniqueness
He can teach children about new bugs
Misko Bear Squishmallow Cons
The water bear bug that inspires Misko is gross
Water bears aren't technically related to bears or polar bears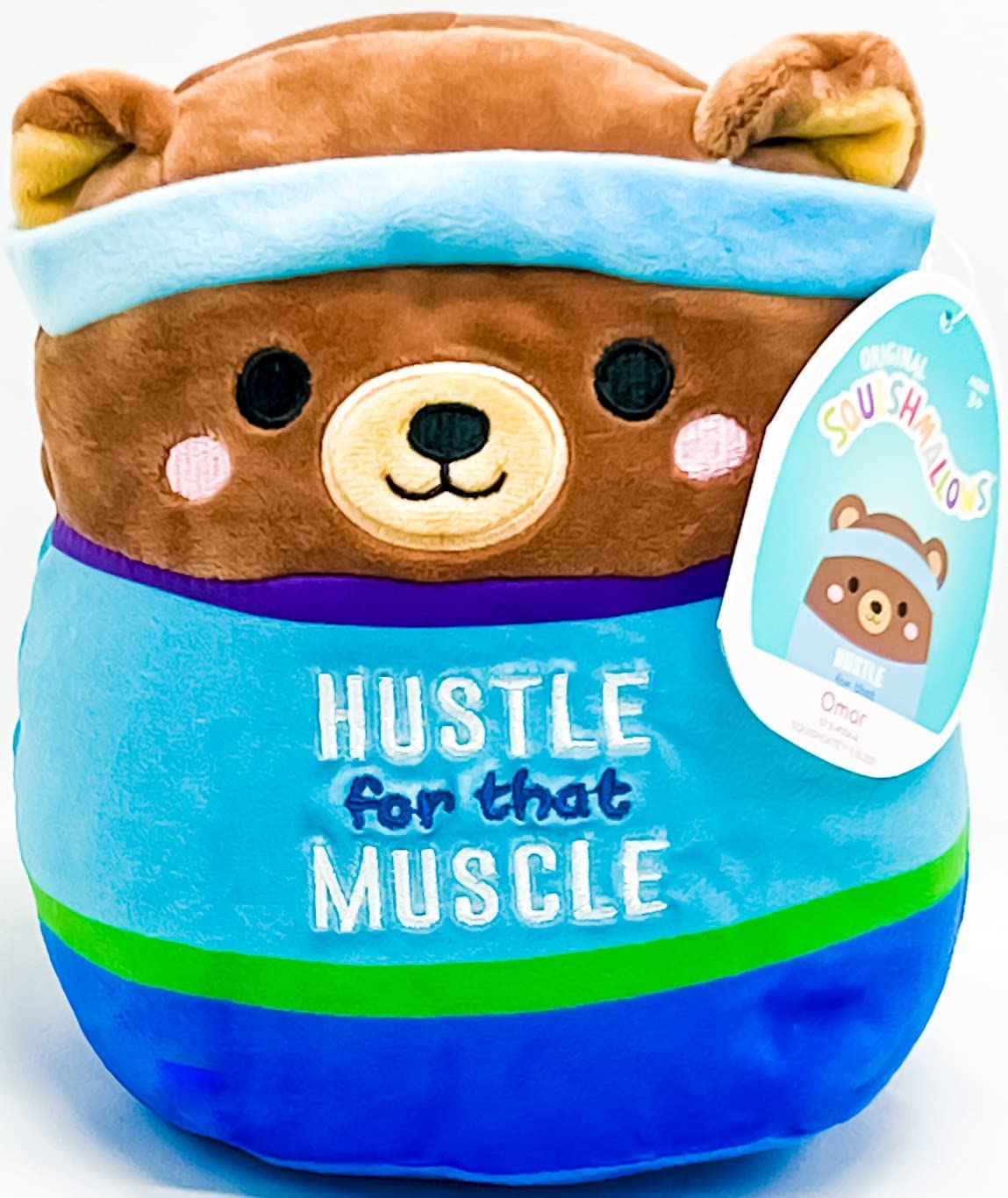 Omar is one of the most famous bear Squishmallows, and you'll find various sizes and types. However, Omar's latest Spring Edition Squishmallow is cute and sassy. The only brown bear Squishmallow with pink cheeks will encourage you to revisit the gym with his adorable outfit and headband. Are you ready for spring?
Squads: Wildlife, Costume, and Spring Squads
Size: 8″
Omar Bear Squishmallow Pros
Omar Squishmallow is collectible because he has many variants
The size also makes him desirable, and the outfit is beyond cute
The "Hustle for the Muscle" message is perfect
Omar Bear Squishmallow Cons
Omar is a typical bear Squishmallow and not unique
Omar's outfit colors nearly look like a candy bar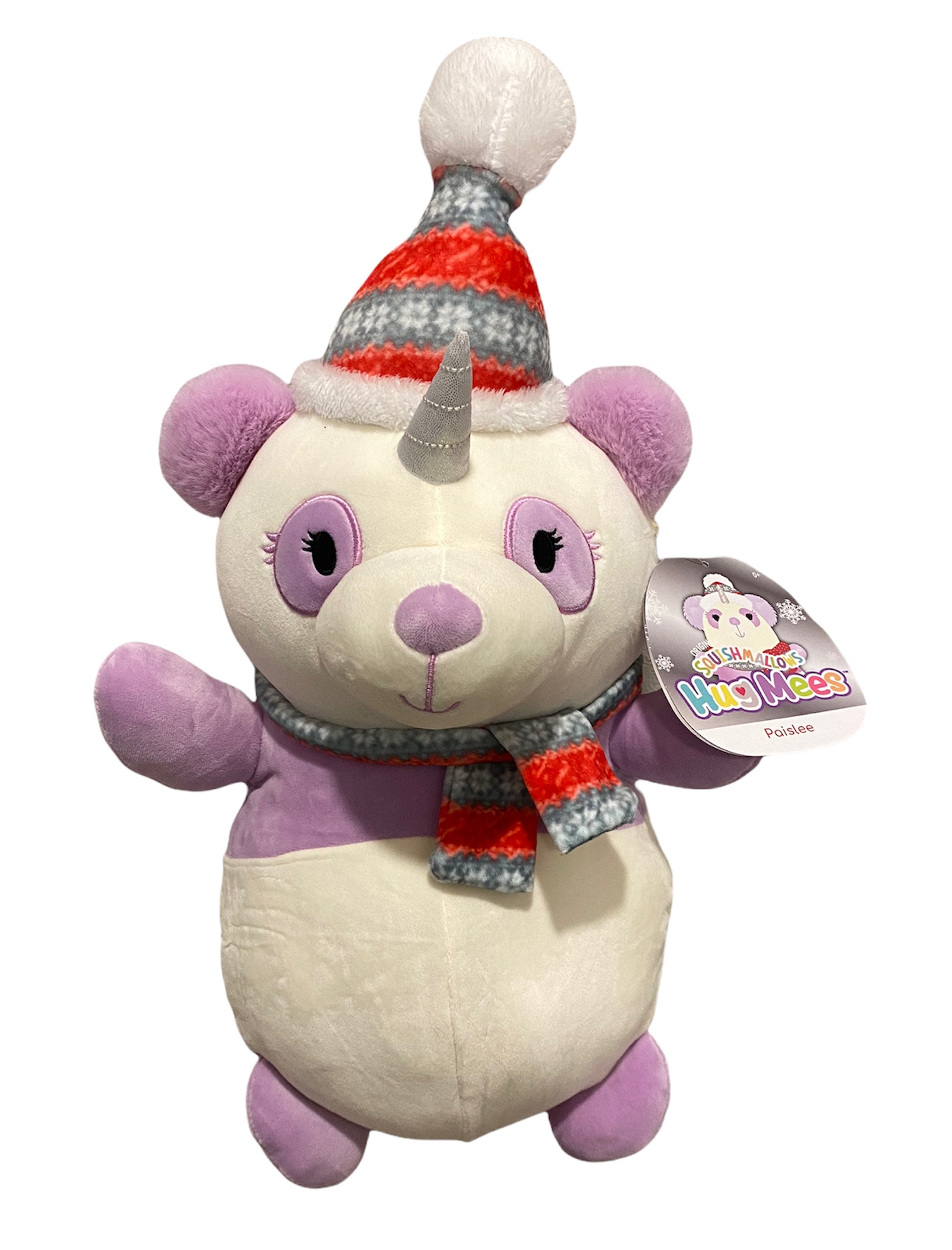 Paislee would undoubtedly be my daughter's first choice because she believes slapping a unicorn horn on any animal looks good. Meanwhile, Paislee impresses me for fitting into many squads and looking cute as a winter-themed Squishmallow bear. It's ironic because bears hibernate in winter. However, Paislee is ultra-special.
Squads: Fantasy, Wildlife, Zoo, Holiday, and Christmas Squads
Size: 14″
Paislee Bear Squishmallow Pros
Paislee Squishmallow fits into more teams than most bears
Paislee's style, colors, details, and hat look fantastic
Paislee would make an ideal gift for young girls with unicorn dreams
Paislee Bear Squishmallow Cons
Paislee Squishmallow combines too many squads for some fans
She's a limited holiday edition that might become rare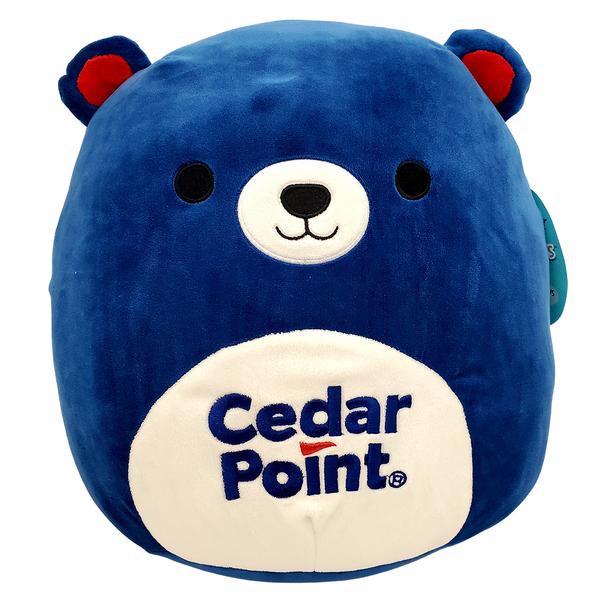 Rider is unique because he's the only bright blue bear Squishmallow. I enjoy any outstanding quality Squishmallows because I'm less likely to collect regular plushies. So, I have something in common with Rider. We both stand out from the crowd. He's blue, and I'm a Squishmallow collector who wants the unusual ones.
Squads: Wildlife, Cedar Point, and Zoo Squads
Size: 12″
Rider Bear Squishmallow Pros
Rider Squishmallow is bright, royal blue with brilliant features
Rider is also exclusive to Cedar Point, without the celebration belly
His deep red inner ears pop against the blue background
Rider Bear Squishmallow Cons
Rider Squishmallow is larger than the plushies I add to collections
The Cedar Point stomach puts some fans off of Rider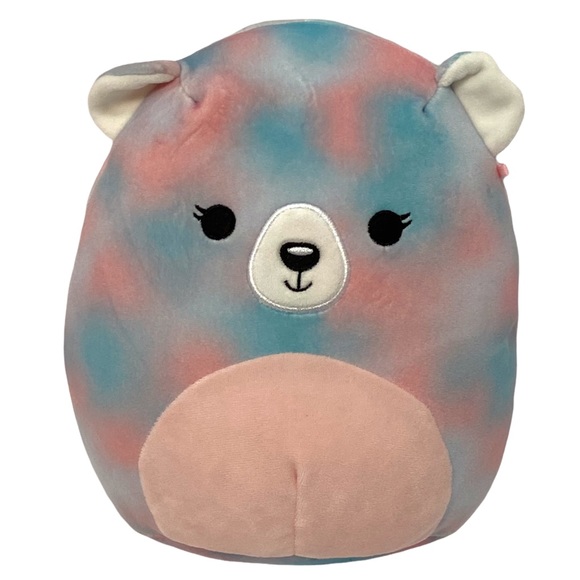 Tula Squishmallow has an exciting name beyond her brilliant rainbow and tie-dye colors. Tula is a typical South African word meaning hush. It's a gentle way of telling someone to hush. It has no negative connotations. So, it's a familiar word South African moms tell babies and toddlers when lulling them to sleep.
Squads: Wildlife and Fantasy Squads
Size: 8″
Tula Bear Squishmallow Pros
Tula Squishmallow is mesmerizing in name and patterns
Tula would make an adorable and brightly colored friend for kids
She also comes in sizes suitable for collections
Tula Bear Squishmallow Cons
Tula Squishmallow's color looks slightly faded
She only has a blue and pink blend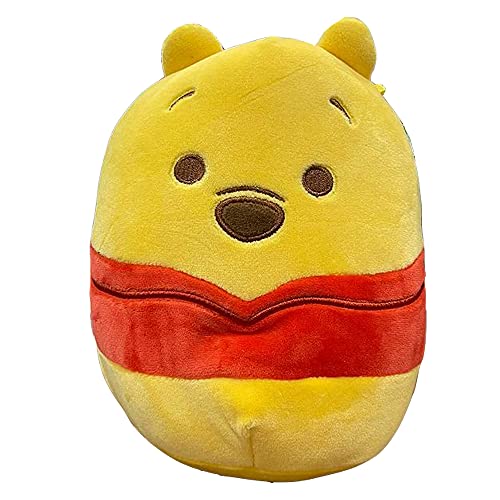 Winnie, the Pooh Squishmallow, is a well-known and much-loved character. Every child knows the Disney superstar and his friends. However, Winnie is also a honey-obsessed bear. So, he fits perfectly into the Wildlife squad. In addition, you'll find the famous Disney Squishmallow in two more sizes.
Squads: Fantasy, Wildlife, and Disney Squads
Size: 5″
Winnie the Pooh Squishmallow Pros
Winnie Pooh Squishmallow is a famous and loved character
Winnie, the Pooh, comes in an adorable size to collect
Winnie's facial details are spot-on and impressive
Winnie the Pooh Squishmallow Cons
Unfortunately, Winnie Squishmallow won't be an excellent cuddle friend
Winnie's outfit looks awkward and out-of-place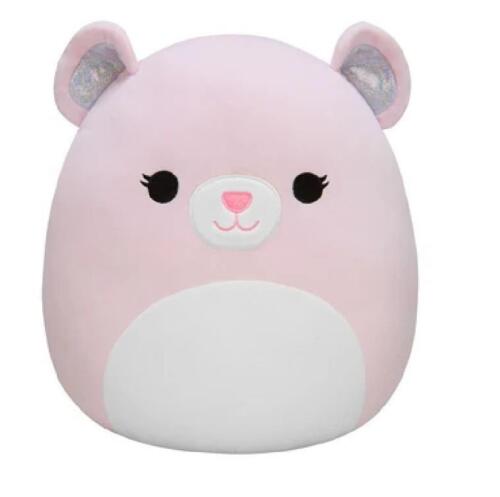 Zaya, the pink bear Squishmallow, seems like a more straightforward choice. However, I love Zaya's shimmering inner ears that turn her slightly glamorous. Zaya also has ultra-feminine eyes and comes in a pastel pink color to suit young girls. Unfortunately, she's not the most significant bedtime cuddle buddy.
Squads: Wildlife and Zoo Squads
Size: 5″
Zaya Bear Squishmallow Pros
Zaya Squishmallow is an adorable little girl bear with shimmering ears
Her eyes also have ultra-long lashes for extra pizazz
Zaya is a collectible size and pretty color
Zaya Bear Squishmallow Cons
Zaya Squishmallow isn't significant enough to keep children happy
Her pink nose almost fades away against her body color
FAQs
Question: Which Bear Squishmallows Are Discontinued?
Question: Which Bear Squishmallow Is Rare?
Question: Which Bear Squishmallow Is the Most Popular?
Answer: You can measure Squishmallow's popularity by looking at how many variants each bear plush includes. For example, Brooke, the Polar Bear Squishmallow, has a few versions and sizes. However, Omar, the bear Squishmallow has more variations than any other plush, including:
• 3.5″ Omar, the Bear Clip-On Squishmallow
• 4″ Omar, the Mystery Bear Squishmallow
• 5″ Omar, the Fuzzy Bear Squishmallow
• 5″ Omar, the Valentine's Bear Squishmallow
• 5″ Omar, the Valentine's Claire's Bear Squishmallow
• 8″ Omar, the Fuzzy Bear Squishmallow
• 8″ Omar, the Monstera Leaf Bear Squishmallow
• 8″ Omar, the Spring Wellness Bear Squishmallow
• 8″ Omar, the Beary Valentine's Bear Squishmallow
• 12″ Omar, the Fuzzy Bear Squishmallow
• 16″ Omar, the Rosy Cheek Bear Squishmallow
• 24″ Omar, the Giant Bear Squishmallow With White Cheeks
Best Bear Squishmallows Guide: Conclusion
The best bear Squishmallows took careful consideration because so many exist. It helped to know the fundamental differences in primary bear Squishmallow family members before meeting the remaining squad. It also helps to have tips to continue finding more bears, and there will come many more bear Squishmallows.

Meanwhile, pick the bear that strikes you as the perfect choice. Brooke, the Polar Bear Squishmallow, is my ideal pick for having an ironic connection. Who would ever assume polar bears and skiing were a thing? Ironic Squishmallows make me giggle, making me want them even more.

So, don't miss out on Brooke's skiing Squishmallow because it's unusual enough to become rare soon. Instead, buy one today to avoid disappointment.
For more adorable Squishmallow plush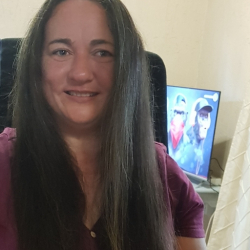 Latest posts by Caroline Lambert
(see all)