Avocado is a fruit that people either love or hate. And I'm one of those people that absolutely love it. Avocado toast is my favorite food ever! I can eat it for breakfast, lunch, and supper. That is why I'm so excited to share my Avocado Toast Squishmallow Guide with you today. 
I love avocado on toast and the Squishmallow plush version of it too. Both bring me joy and comfort. I'm so obsessed with the avocado toast Squishmallows that I already have two sizes. The 16-inch and the 20-inch. I plan on getting all of the sizes very soon. So without further due, let us go on an avocado toast journey and find your favorite size Avocado Toast Squishmallow. 
Bottom Line Up Front
Do you love avocado toast? And Squishmallows? Well, you will love the guide I have for you today. The avocado toast Squishmallow is adorable! And I love the added touch of the black and red pepper seasoning. The avocado toast Squishmallow is named Sinclair and is available in different sizes. 
My favorite size of the avocado toast Squishmallow is the Squishmallows Sinclair Stackable Avacado Toast 20″ Plush. I love using it as a pillow and the fact that it is stackable. But my cat seems to use it more than me these days. He loves to take naps on it. It is a win-win for us both.
Top Picks
Squishmallows™ Claire's Exclusive 5″ Avocado Toast Soft Toy

– I love that it is so tiny! I would love to put him on my dashboard or desk. 

Squishmallows 12-Inch Avocado Toast

 – It is the perfect size to cuddle with.

Squishmallows Sinclair Stackable Avacado Toast 20″ Plush

 – I love that it is stackable and makes a great pillow. 
The Story of The Avocado Toast Squishmallow
The Avocado Toast Squishmallow is named Sinclair, and he is from the food squad. He and his cousin Austin love outer space, and they can go on and talk about the topic for hours. The problem comes in when Austin starts talking about Aliens. Sinclair doesn't believe they exist and is a bit skeptical. He first wants more proof. 
That is why he and his cousin Austin are preparing to go on a space adventure to find out whether aliens exist or not. Are you ready to help them prepare for their adventure? 
The Appearance of the Avocado Toast Squishmallow
Sinclair is a piece of toast. Most of his body is covered with avocado. He also has seasoning on top of him, namely black pepper and red pepper flakes.
He has the cutest little round black eyes and a red smile that is embroidered on. When you see him for the first time, your initial reaction will be to squish and hug him. You won't be able to resist. He will be coming home with you that same day. 
Avocado Toast Options
The following are different avocado toast Squishmallow options. And why this specific size is a great choice.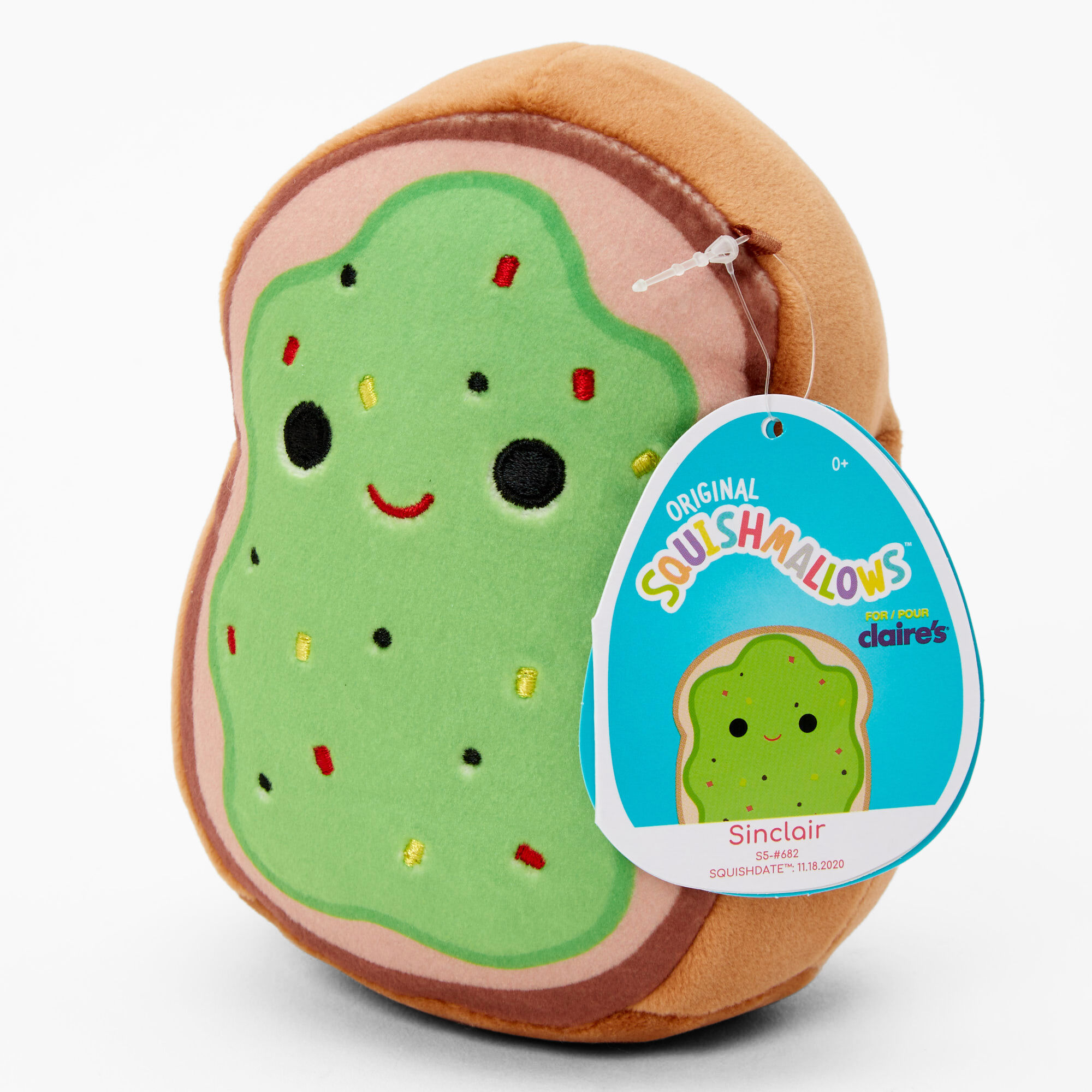 This little Sinclair is 5 inches big and from Claire's. He is the perfect size to carry with you in your bag, travel with, or put on your desk. He will also look so cute if you put him on your dashboard. 
I love this little guy! I always need to carry something special with me to feel safe. Sometimes it is a jewelry piece, and sometimes a plushie. This 5-inch avocado toast Squishmallow will be perfect for me to take everywhere I go. I know he will reduce my anxiety by making my environment feel more relaxed. I love him!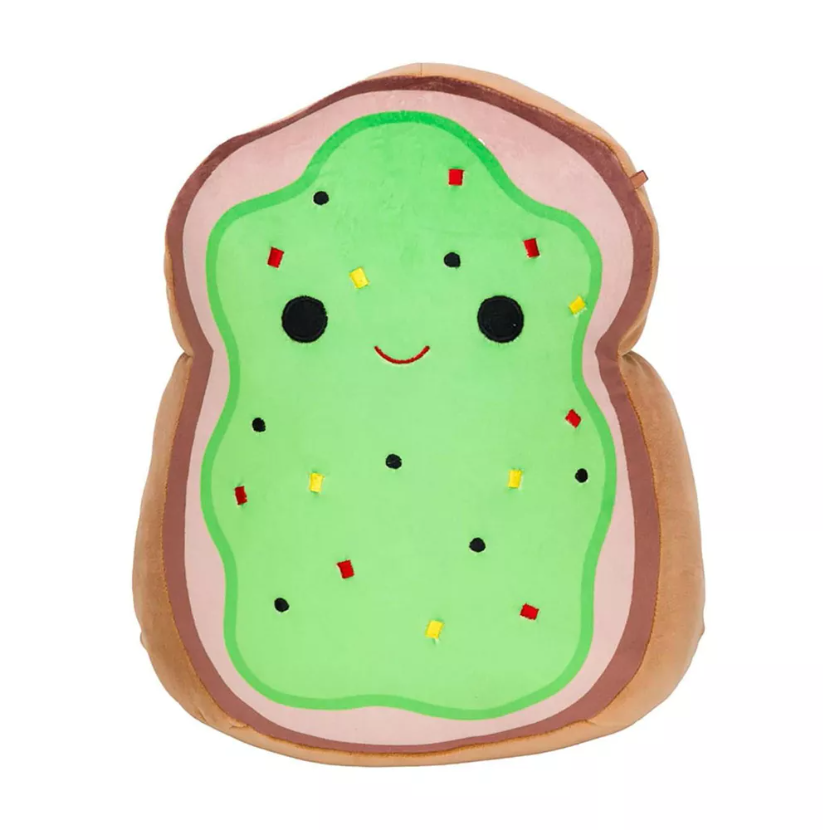 This 8-inch Sinclair from Target is the ideal size for your kiddies to cuddle and snuggle up with. He is a bit pricey for his size, but you can't put a price on cuteness. He will also motivate your kiddos to eat delicious avocados that are packed with fiber and great for their health. 
This size Sinclair will make a great gift for their birthday or Christmas. Or if you just want to surprise them with something cute.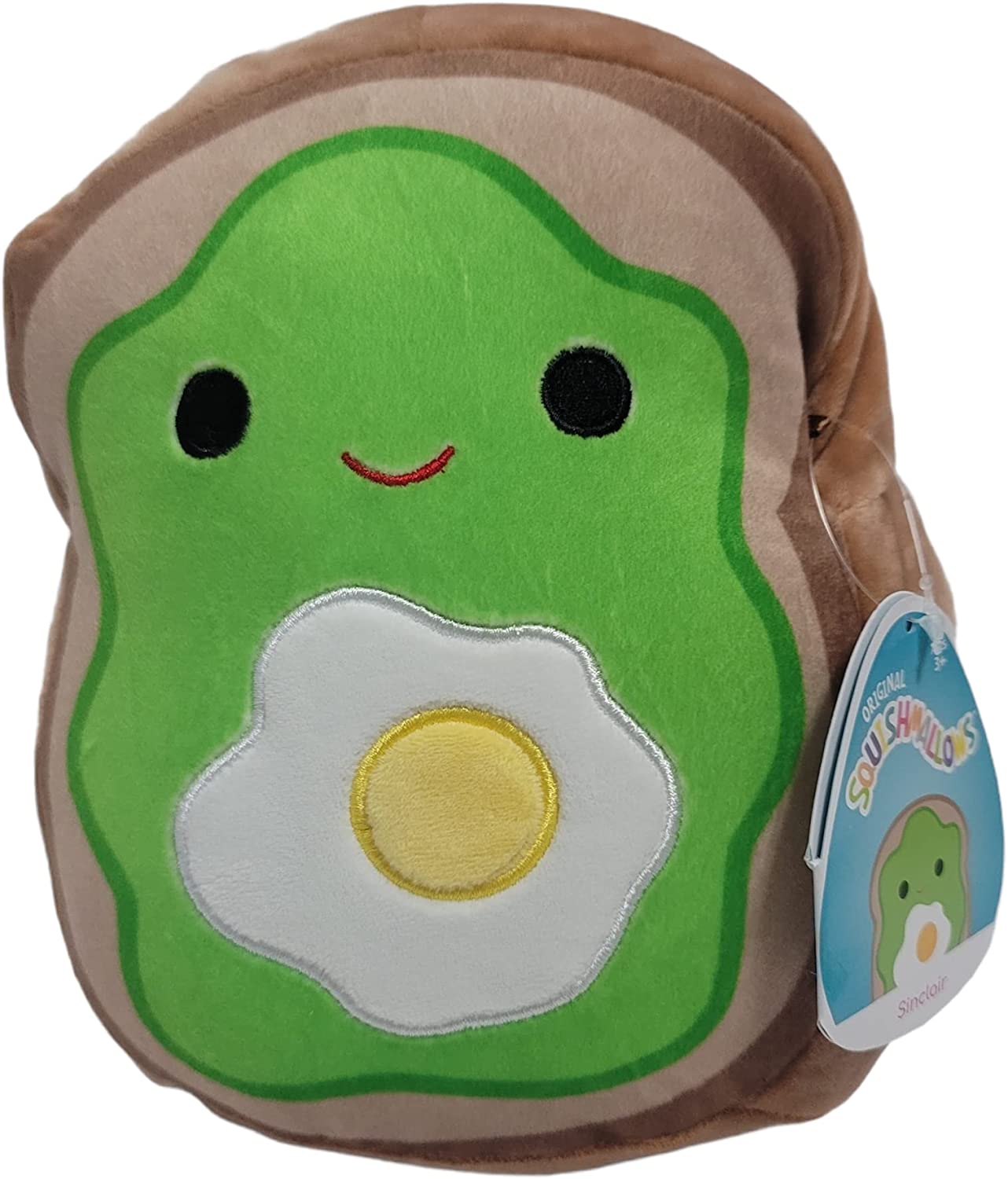 This Squishmallow is different from the regular Sinclair Avocado Toast Squishmallow. He has an egg on top, no seasoning, and the avo on the toast is a darker green compared to the other avocado toast Squishmallows. Egg and avocado on toast is a match made in heaven! It is egg-cellent! So it is a must that you add this little guy to your collection. 
He is also a great size to travel with, so you can have your egg and avocado toast Squishmallow on the go.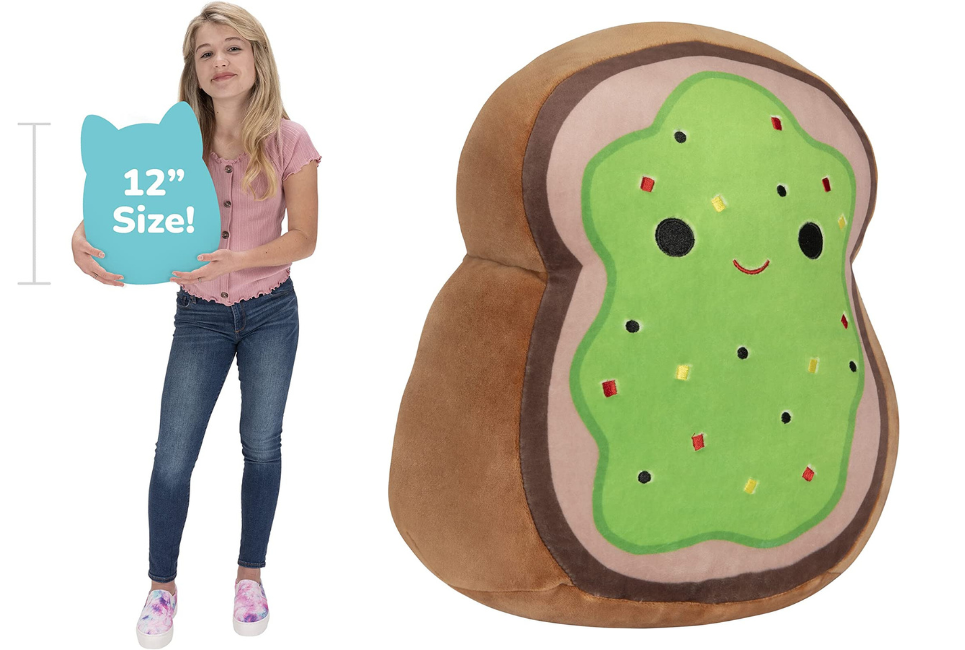 Now, this Sinclair Avocado Toast Squishmallow is the perfect size for adults to hug and cuddle with. If you are someone who loves to snuggle up with a plushie at night, this is the perfect size Squishmallow to do so. 
I love to cuddle up with a plushie at night. My husband is on a lot of work trips, so the bed feels empty most of the time. But if I get this, Mr. Sinclair, the bed will feel less empty, and I will be able to get a good night's rest.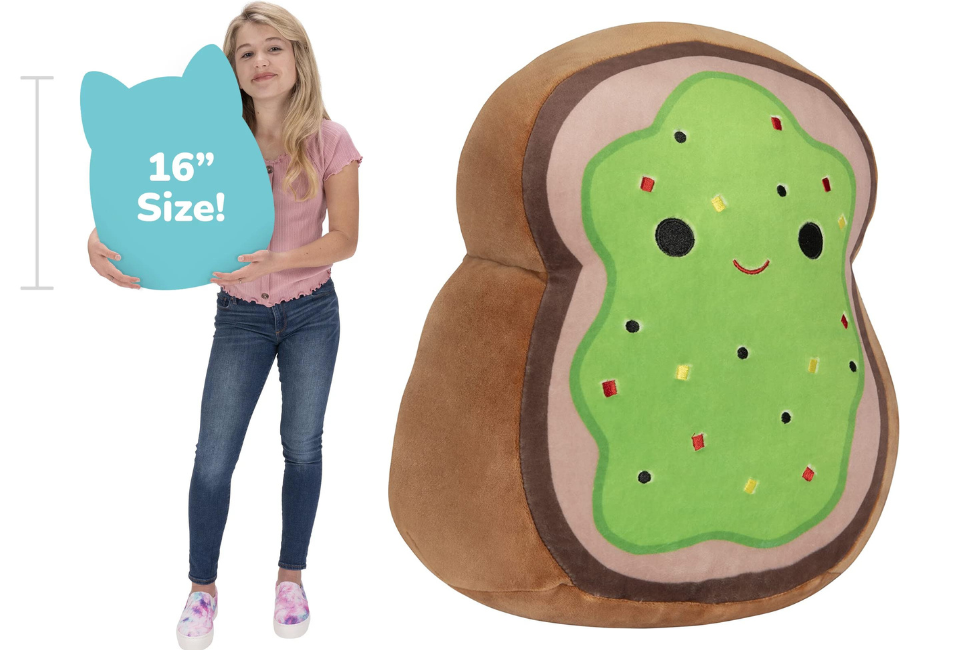 This 16-inch Avocado toast Squishmallow is the perfect size if you want a Squishmallow that you can play with, hug and cuddle with, and even use as a pillow. I call it the all-in-one avocado toast Squishmallow. 
My 16-inch Sinclair is on my sofa. I leave him there because he creates a fun and playful environment. It is also so comfy to lay on while binge-watching my favorite series. So if you need to upgrade your pillows and your cuddle plushie, keep this Sinclair in mind.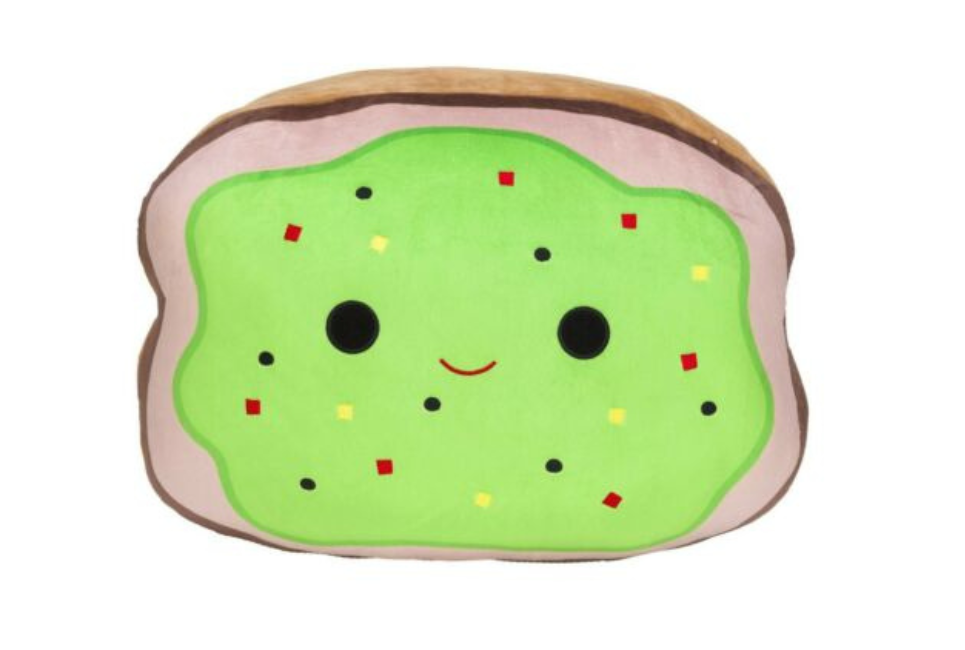 Now, this Sinclair is my favorite! It is huge and stackable! I think my cat "Whiskey" likes this Squishmallow a bit more than I do because he always takes his naps on it. I use it as a pillow when my cat doesn't use it. It is soft and very comfortable. 
Instead of a slice of toast, you get an entire loaf of bread with this Squishmallow. I love him to bits. My husband is even considering getting himself one. 
Pros and Cons of the Avocado Toast Squishmallow
Let us have a look at the pros and cons of the avocado toast Squishmallow:
Pros
All the sizes are soft and of great quality.

They are great to cuddle with for small children and adults.

All of them have an adorable appearance. 

They make a great addition to your collection. 

An avocado lover will be obsessed with receiving these Squishmallows as a gift.

They add a fun vibe to any room you put them in.
Cons
The avo part of the Squishmallow is light green, so it might show dirty quickly.

My husband sometimes gets jealous because I cuddle more with my two avocado toast Squishmallows than with him. 
Alternative Avocado Toast Squishmallow Options
Here are some alternative avocado and toast plushies.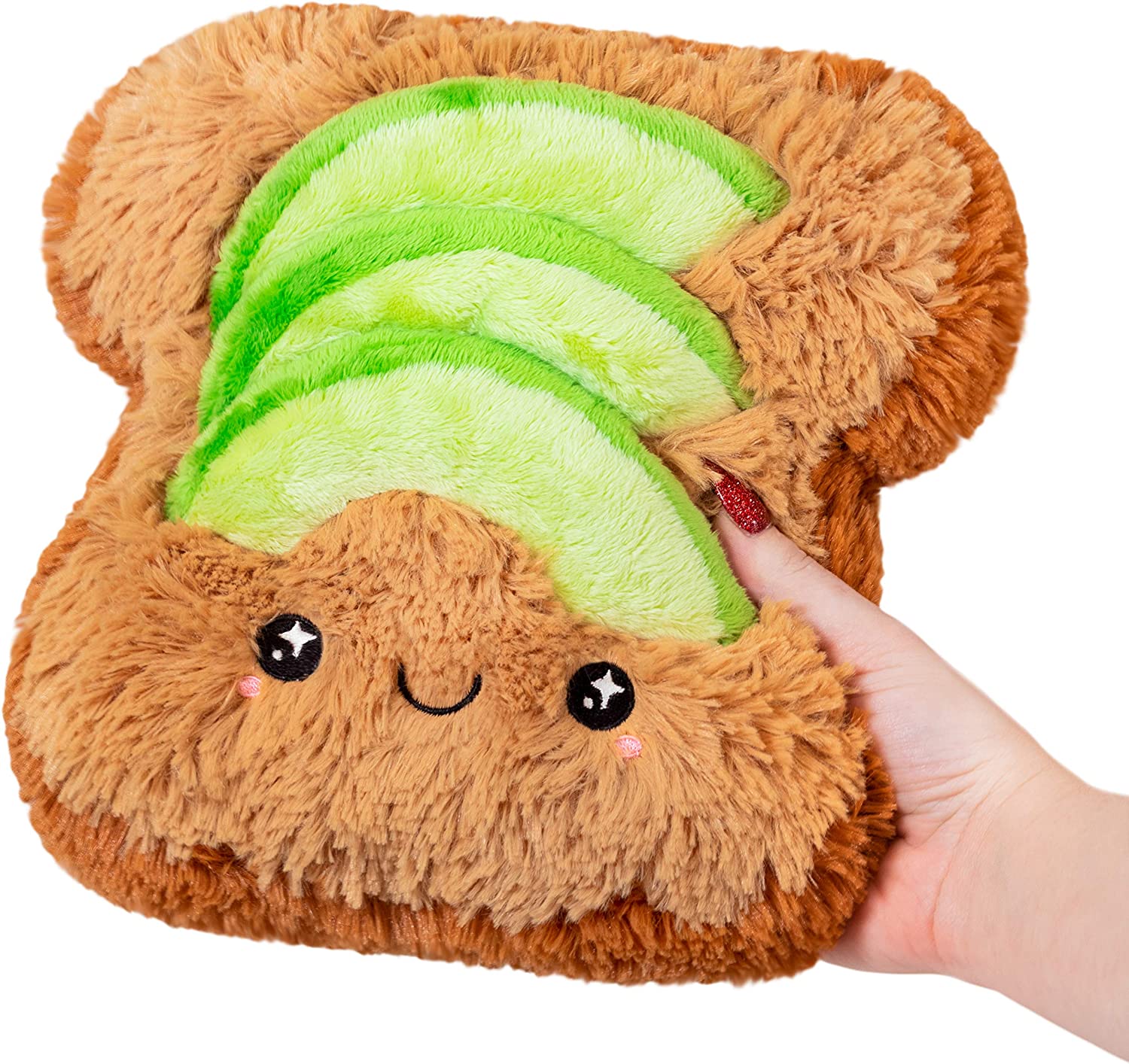 I think this little avocado and toast plushie is adorable! It has such a realistic look to it with the form of the bread and the slices of avocado. I love how fluffy and soft it is. The best part is that its cute little facial expressions are embroidered on. So I don't have to worry about parts coming loose and my dog kiddies choking on it. 
It will make a very cute gift for avocado lovers. So go get yourself or a friend this mini avo and toast today!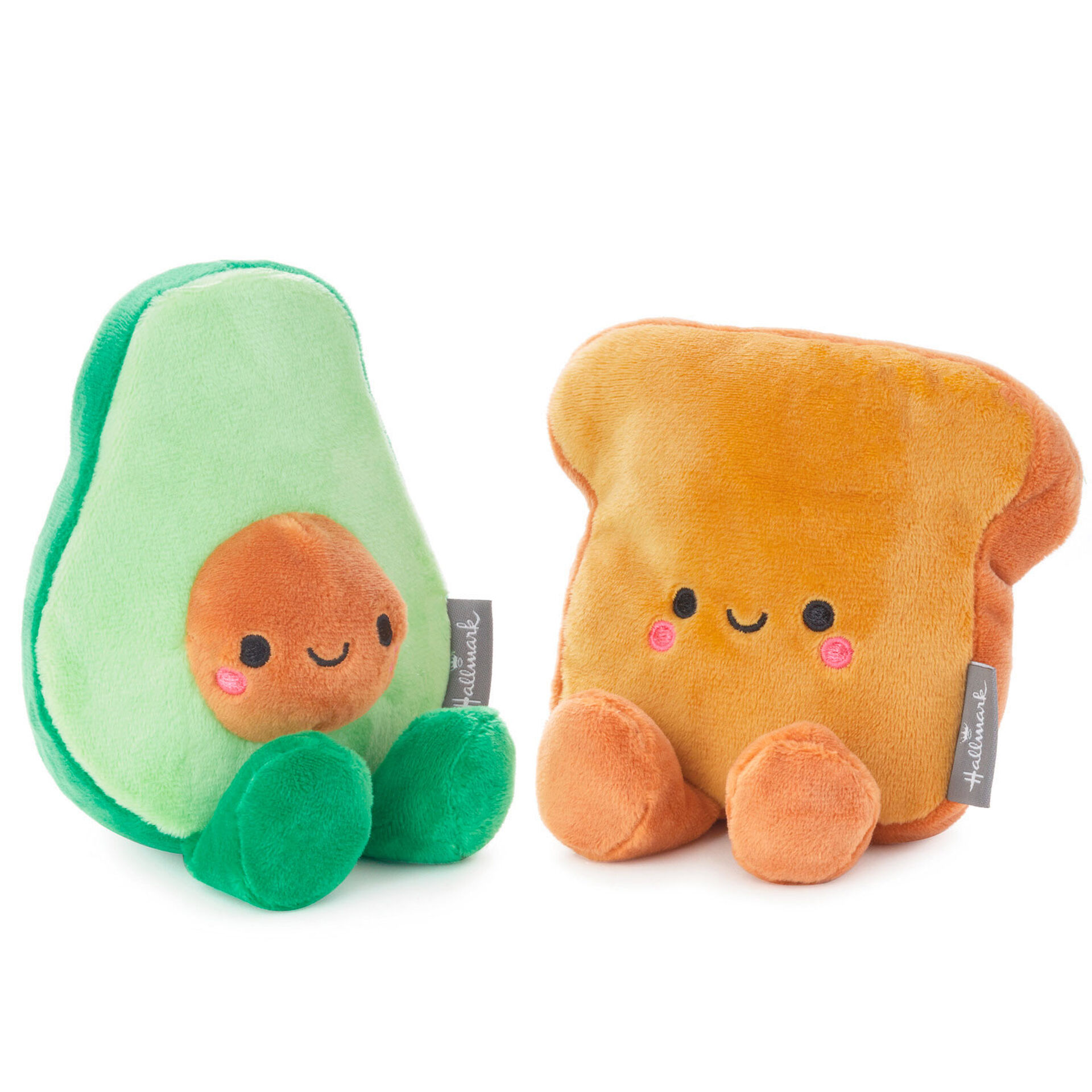 Aww! Now, if you can't get an avocado toast Squishmallow or plushie, you can get these two friends. Because avocado and toast are better together! These two are adorable and will look great on your dresser or dashboard. Super cute! And who wouldn't want to get 2 plushies at the same time? They are also magnetic, so they will always be together.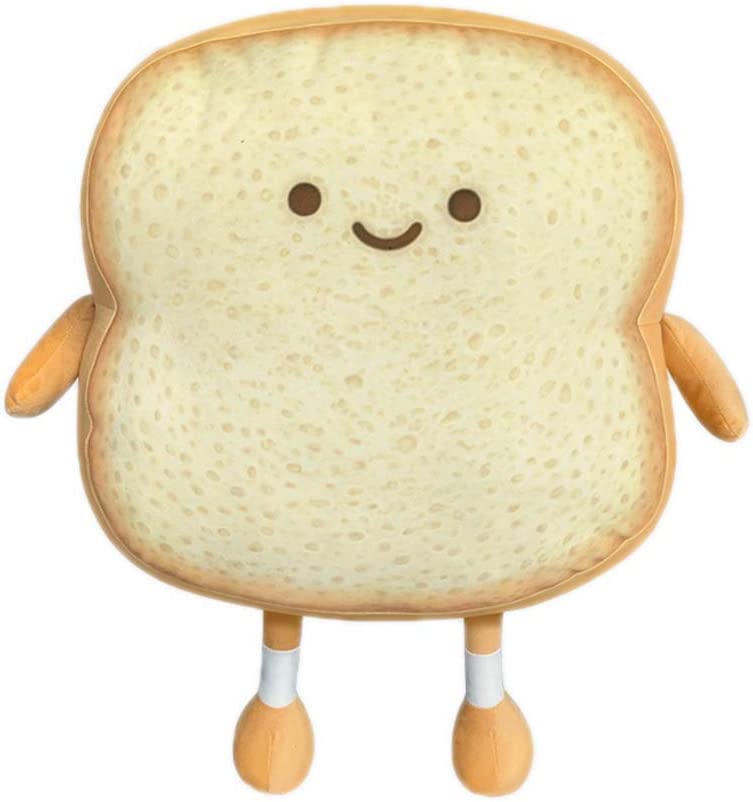 This golden toast plushie would be a great option if the avocado toast plushies or the combo plushies above weren't available.
Now you can purchase the toast and avocado plushies separately and make your own version of avocado toast. This toast plushie will make a great pillow. You can also use him in your kitchen as decoration. Trust me, your friends will freak out when they see it.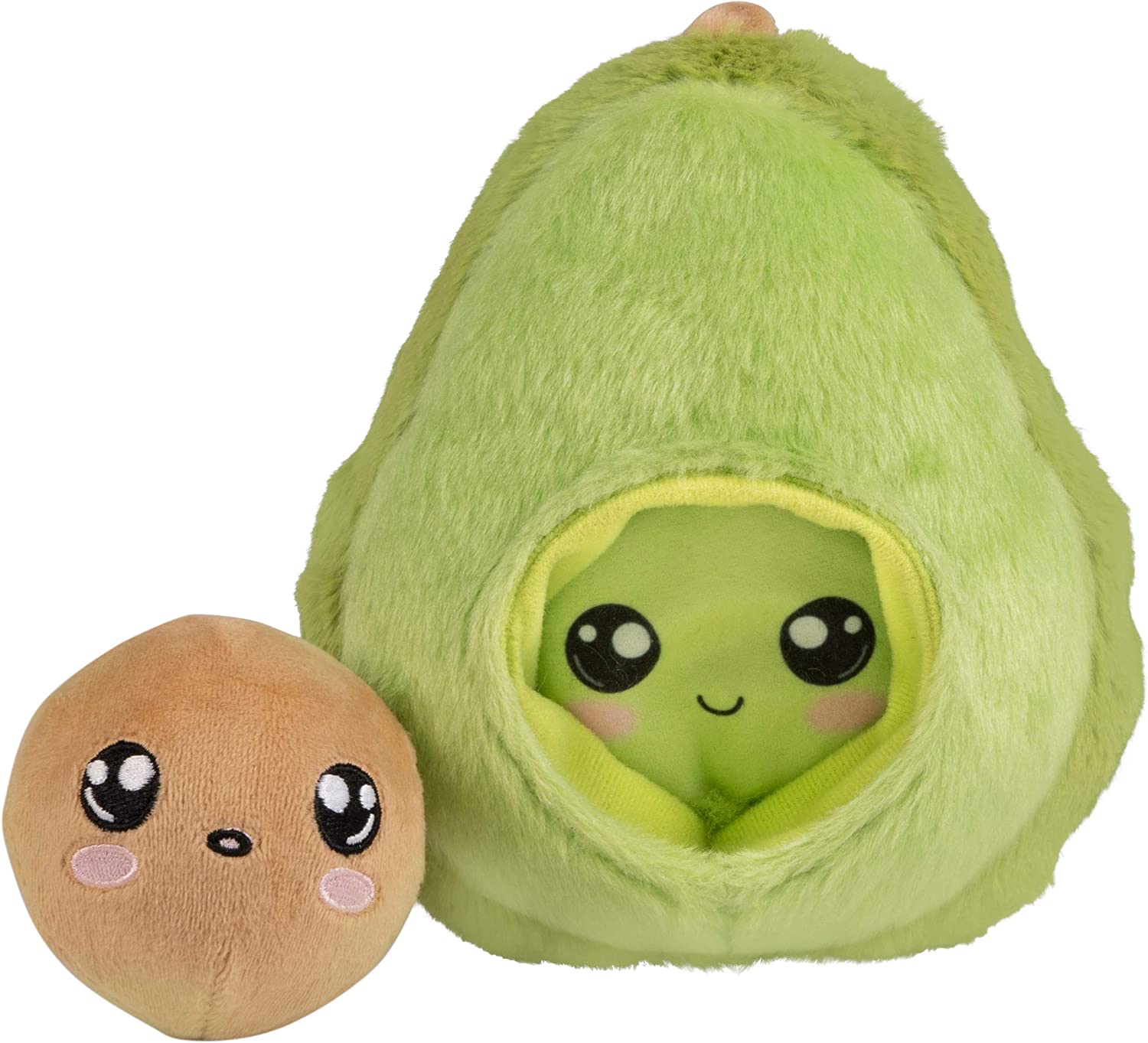 You have the bread with the plushie above, and now you have the avocado with this cute plushie. This plushie is small, soft, and squeezable.
My favorite part is that you can remove the pit and have a separate plushie. It is a great toy for kids to play with and be entertained with. And just like the bread plushie above, you can also use this avo plushie as decoration around your home. Love it!
How to Choose The Best Avocado Toast Squishmallows
It would help if you considered the following factors when you are planning to purchase your next Squishmallow. 
Price Range
Do you have a budget or price range that you are specifically looking at? The price is an important factor to consider. It will determine if you can purchase your avocado toast Squishmallow or not.
Size
Size is also important to consider when looking for your avocado toast Squishmallow. Are you looking for an avocado toast Squishmallow that is small enough to put on your desk or dashboard? Or do you want an avocado toast Squishmallow to play with? Or do you want an avocado toast Squishmallow that is big enough to cuddle with and to use as a pillow? 
Determining the reason why you want this avocado toast Squishmallow will help you decide on a size. 
Quality
Quality is also very important to consider when searching for your avocado toast Squishmallow. You don't want your Squishmallow to fall apart or to pull loose. So before purchasing, inspect the plushie and look at its quality. If you are ordering your Squishmallow online, read the description and the reviews first. This will help you determine whether the avocado toast Squishmallow is worth purchasing. 
FAQs
Question: What is the Name of the Avocado Toast Squishmallow?
Answer: The name of the avocado toast Squishmallow is Sinclair the Avocado Toast Squishmallow. 
Question: Is the Avocado toast Squishmallow for Boys or Girls?
Answer: For both! The Avocado Toast Squishmallow is for anyone who loves avocado toast, is a Squishmallow collector, or wants a soft plushie to play and cuddle with. 
Question: Is the Squishmallow Trend Over?
Answer: No, the Squishmallows will still be trendy for a very long time. No one can resist their softness and amazing quality and how they help reduce our anxiety. As of 2022, there are over 1000 different Squishmallows to collect. How cool is that? 
Where to Buy the Avocado Toast Squishmallows?
Amazon
Walmart
Claire's
Target
eBay
Conclusion
There you have it, guys! You have reached the end of the avocado toast Squishmallow guide. I hope you found it avo-mazing! And that you found the perfect-size Avocado Toast Squishmallow to add to your collection. 
What was your favorite size avocado toast Squishmallow? My favorite avocado toast Squishmallow is the Squishmallows Sinclair Stackable Avacado Toast 20″ Plush. I love it, and my cat loves it. It is so soft and makes the perfect pillow.
I would recommend getting the Squishmallows Sinclair the Avocado Toast 8″ Plush. It is an excellent size for your kiddies to cuddle and play with. And it is also the ideal size for them to take with them on trips.  I would also recommend getting the Squishmallows 16″ Avocado Toast. It is a great size for adults to cuddle with, and you can use it as a pillow. 
There is nothing better than to cuddle your avocado toast Squishmallow or use it as a pillow. So what are you waiting for? Add Sinclair to your collection and have an avo-mazing time! Happy shopping, guys!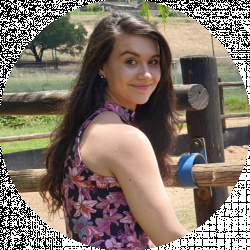 Latest posts by Christine Kent
(see all)