I have withdrawal symptoms from not writing about or searching for more Squishmallows the last few weeks. Indeed, I'm that insanely obsessed with them. So, where better to start looking again than Amazon? Welcome to the best Squishmallows on Amazon guide, where I search for the most attractive options.
Aesthetics sometimes consume my mind more than squads. So, it makes sense to hunt the cutest, most gorgeous, most uniquely collectible Squishmallows on the platform. In addition, Amazon has one of the largest plush toy selections. So, are you ready for my top picks? If so, I'm already running.
Best Amazon Squishmallows: Bottom Line Up Front
Amazon has one of the most extensive selections of adorable Squishmallows. However, cuteness is subjective until you realize what makes each Squishmallow more unique and prettier than the others. So, I'll teach you what makes the best Amazon Squishmallows unique, collectible, adorable, and eye-catching.
In addition, I'll advise you about the most collectible sizes and how to avoid unoriginal purchases from Amazon. Then, I'll get to the best selections, which I chose with strict requirements for the most gorgeous, unique, and collectible options available from the authentic Squishmallows on Amazon.
Soon, your eyes will light up as mine did. But first, I have to share my ultimate Amazon Squishmallow. Bart, the Day of the Dead Neon Squishmallow beautifies everything about bats and Halloween. In addition, Bart's body has multiple embroidery details with neon colors, and he celebrates something that obsesses me.
Meanwhile, see more of my favorite picks before becoming an Amazon Squishmallow expert.
A Preview of Some Best Amazon Squishmallows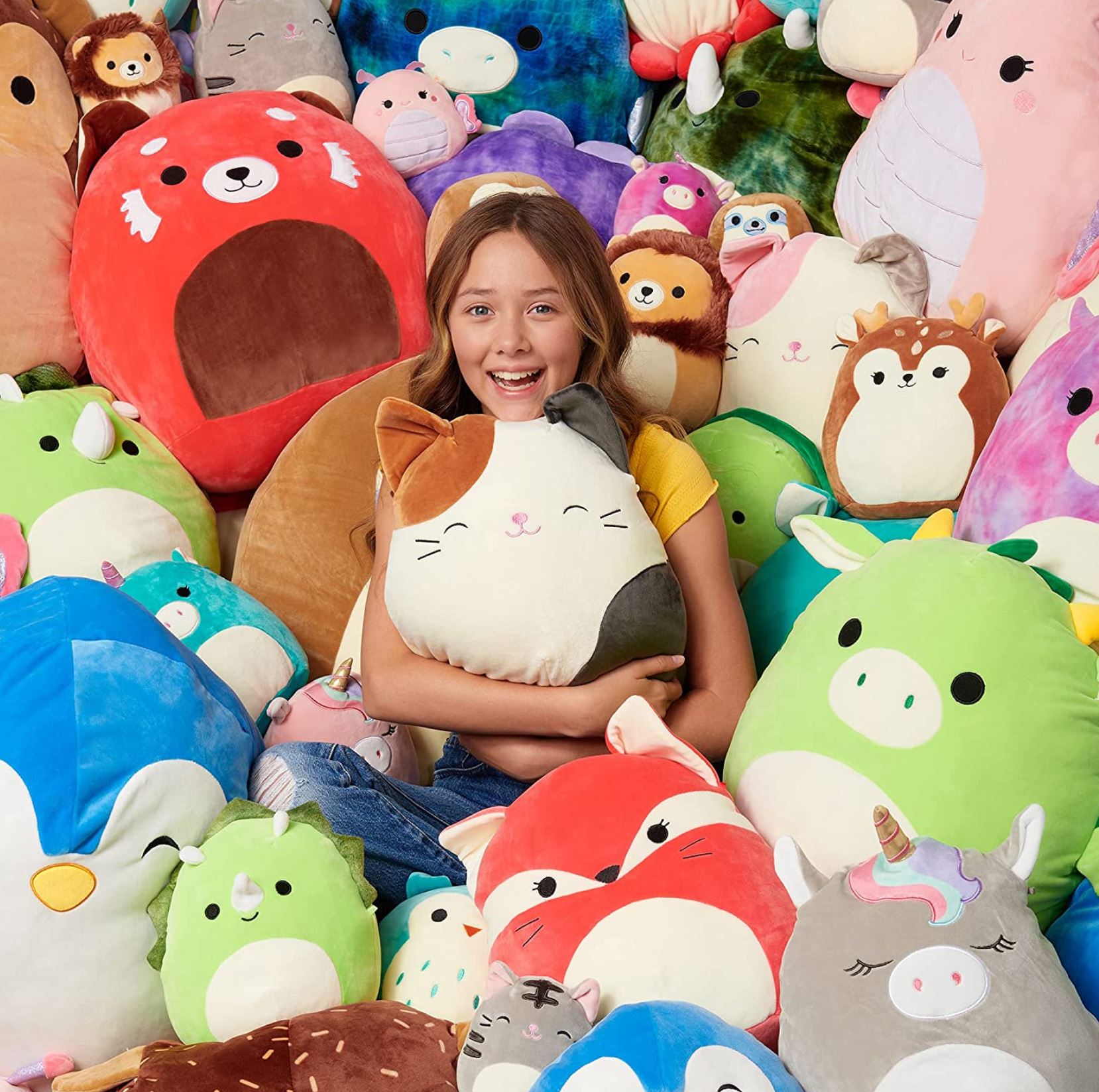 You can't believe how many options I had. So, I had to use strict guidelines for picking the best Amazon Squishmallows for unique reasons. Here's a peek at four more unique winners from my 16 best choices:
A Complete Guide to the Best Squishmallows on Amazon
Understanding what makes specific Squishmallows stand out more than others will help collectors and die-hard fans enjoy the cream of the crop. So, let's learn about what makes them unique, appealing, and collectible. In addition, I'll share tips about shopping for Squishmallows on Amazon and how I picked the best options.
What I Consider When Collecting Beautiful, Unique Squishmallows
What makes a Squishmallow cuter than others? What makes it look more beautiful than another? Of course, the aesthetics and design have much to do with the appeal and uniqueness of each Squishmallow squad member. So, let's see how they can look unique and pretty enough to float my plush boat.
Best Amazon Squishmallow Aesthetics
The aesthetics are where my search begins. I want pretty Amazon Squishmallows, which should have bright colors or patterns. Here are some designs and colors that make me smile:
Best Amazon Squishmallow Features
Squishmallow features can include textured touches, fuzzy manes, or unusual shapes on the plush toy. The extra features can place some Squishmallows in multiple squads. Here are some examples of the best Amazon Squishmallow features:
Awesome Amazon Squishmallow Uniqueness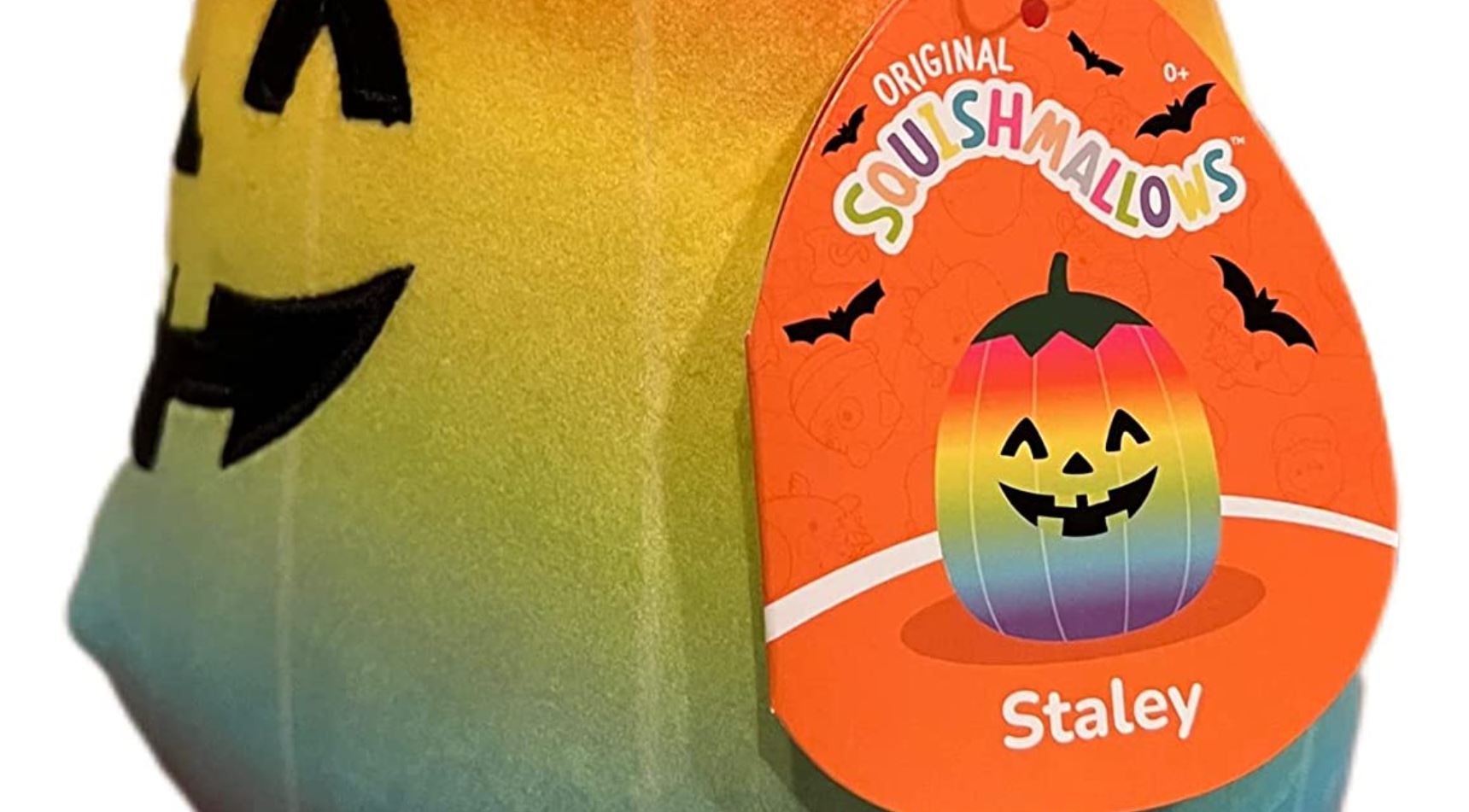 Unique Squishmallows are members of odd squads. For example, some Squishmallows come from original squads but have an added Valentine's patch as a love-month edition. So, these unique features also put the Squishmallows in multiple teams. Some examples of fantastic plush include:
Size Matters if You're a Collector
How many Amazon Squishmallows do you wish to buy? If you don't have a fixed number like me, it helps to stick to collectible sizes. You can't collect 50 Squishmallows if you don't have room for them. So, collecting Squishmallows eight inches or smaller can help you expand your collection and fandom.
Advice to Ensure Original Squishmallow Purchases on Amazon
My family takes authenticity seriously. So, we won't buy any Squishmallows from unlicensed resellers on Amazon. My family wants the original tags from the official Squishmallows store on Amazon. There's only one authorized store on Amazon, and I recommend searching for Squishmallows on the store itself.
Unfortunately, the resellers might not be selling original Squishmallows. In addition, the quality won't be the same. However, some resellers sell the old stock you can't find on the Squishmallow store anymore. But sadly, you can never guarantee the same quality or authenticity from an unofficial store.
How I Selected the Best Squishmallows on Amazon
Amazon offers an incredible selection of Squishmallows, meaning I had to use strict requirements to pick the winners. So, these four rules selected my best Amazon Squishmallows:
It must be eight inches or less to allow for more extensive collections.
I want aesthetically unique and beautiful Squishmallows with bright colors or special features.
The Squishmallow must be from the original store on Amazon.
It should fit two or more squads to make it more unique.
Best Squishmallows on Amazon Guide: Addictive Picks
Unfortunately, many of the collectible beauties on Amazon don't fit my size requirements, which helps narrow them down to the ultimate Squishmallows on Amazon. So, let's see who won my collectible heart with the prettiest designs or most unique features among the eight-inch plushies.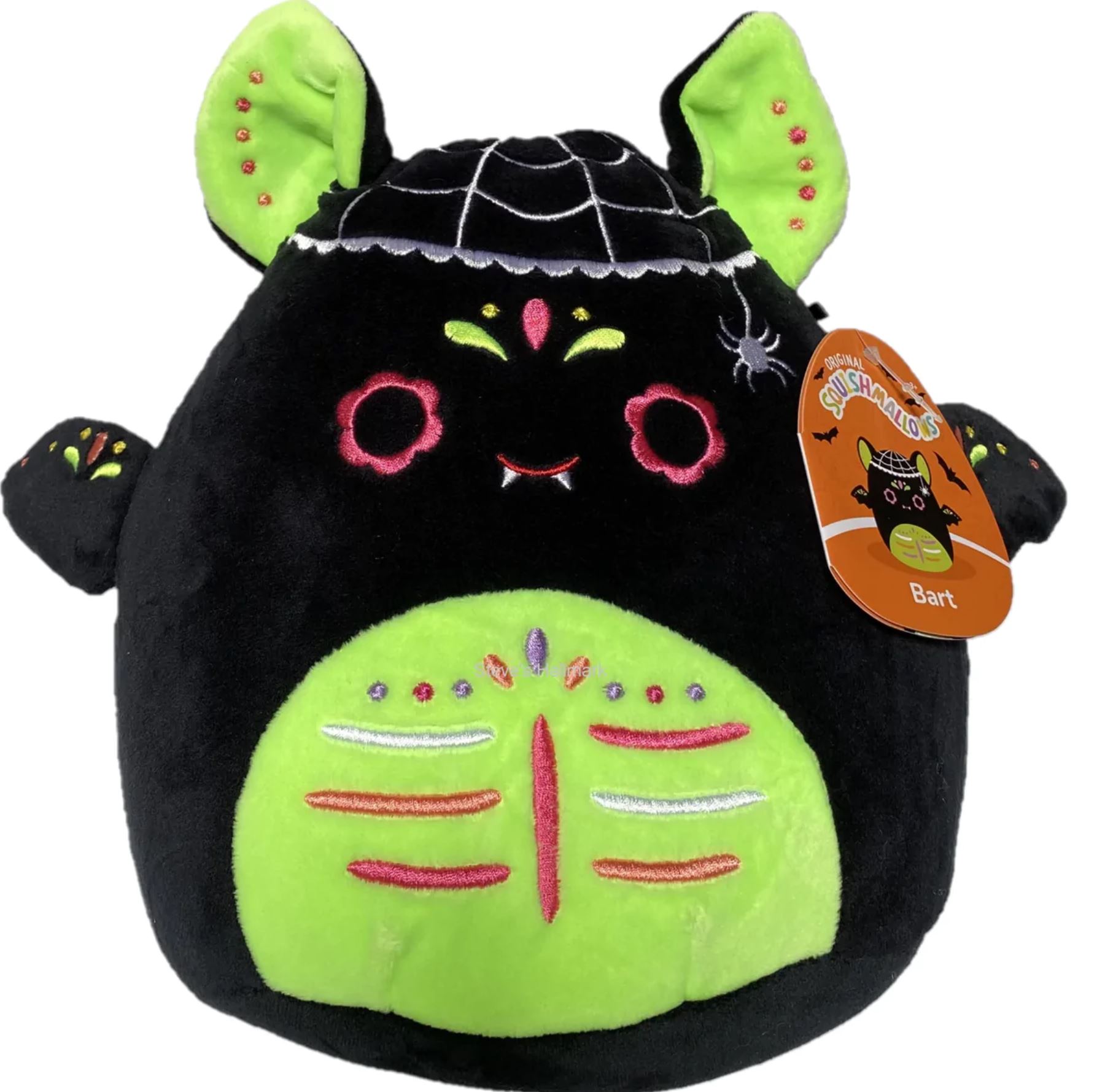 Bart, the Bat Squishmallow is my ultimate favorite. I'm obsessed with the Day of the Dead Halloween Squishmallows. However, Bart steals the cake for having bright neon colors even the International Space Station would spot. In addition, Bart has excellent textured parts with intricate embroidery on his belly and face.
Size: 8″
Squads: Halloween, Day of the Dead, and Neon Squads
Bart Squishmallow Pros:
The colors pop more than any other Squishmallow
Bart also has a webbed pattern on his head
He has textured parts for younger fingers to enjoy
Bart doesn't look scary and works for kids
Bart Squishmallow Cons:
Some children don't enjoy bats
The spider dropping from the web is slightly creepy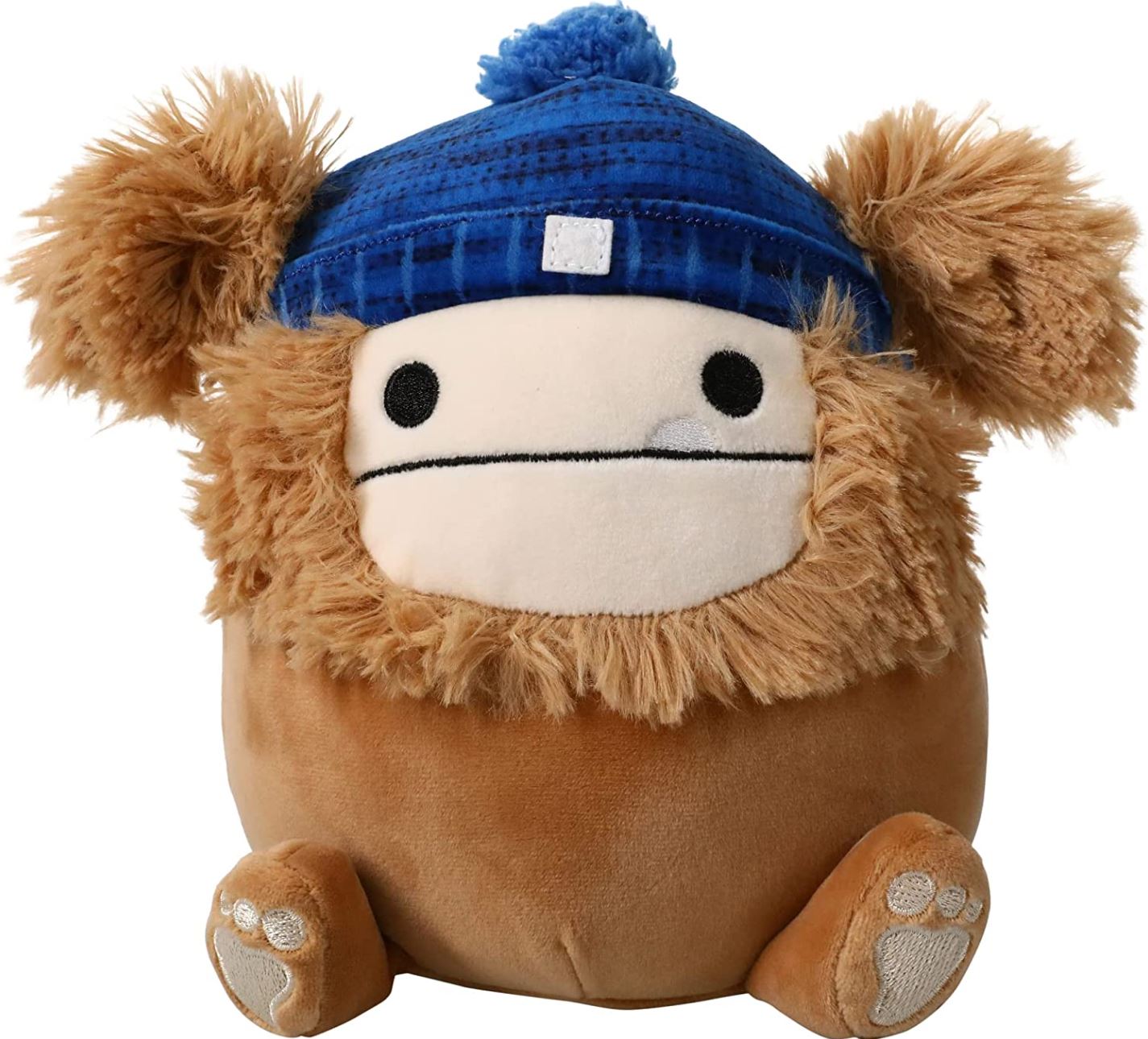 Benny is a famous member of the fantasy squad. He comes in many shapes, sizes, and color schemes. However, the collectible-size Benny Squishmallow offers two unique features. Firstly, he has a textured mane. Secondly, he has an adorable denim hat accessory that feels different to provide more tactile experiences.
Size: 7.5″
Squads: Fantasy, Textured, and Accessory Squads
Benny Squishmallow Pros:
Benny is an ultra-popular Squishmallow
The yeti is also a bigfoot, popular with fantasy squad fans
Benny's mane is massive and super soft to the touch
Benny's denim beanie feels different for added texture
Benny Squishmallow Cons:
The beanie doesn't feel like denim
Benny doesn't smile much in any size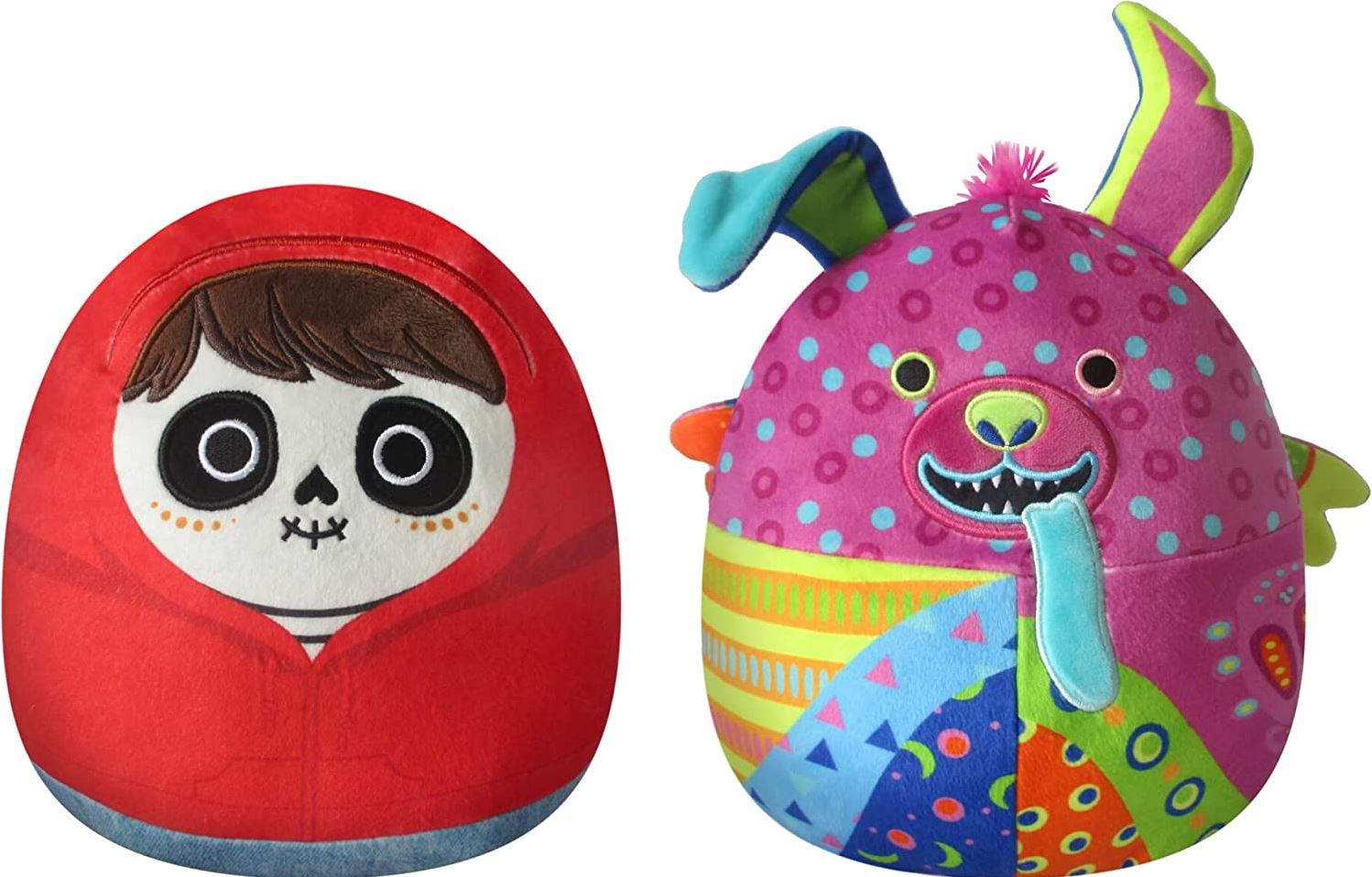 I never wanted to add a two-pack Squishmallow from Amazon. However, the Coco and Dante Squishmallow pack brings the most colorful puppy to life. Dante doesn't need particular patterns or unique coloration because the puppy naturally has everything it needs. Dante Squishmallow is beautiful.
Size: 8″ each
Squads: Puppy, Neon, and Disney Squads
Coco and Dante Squishmallow Pros:
You get two Disney Squishmallows in the pack
Dante has more colors and patterns than any other choice
Dante Squishmallow's design is true to the movie
The puppy looks as insanely happy as the Disney character
Coco and Dante Squishmallow Cons:
You'll buy Coco, who doesn't fit my requirements
Dante's colors are too bright among regular Squishmallows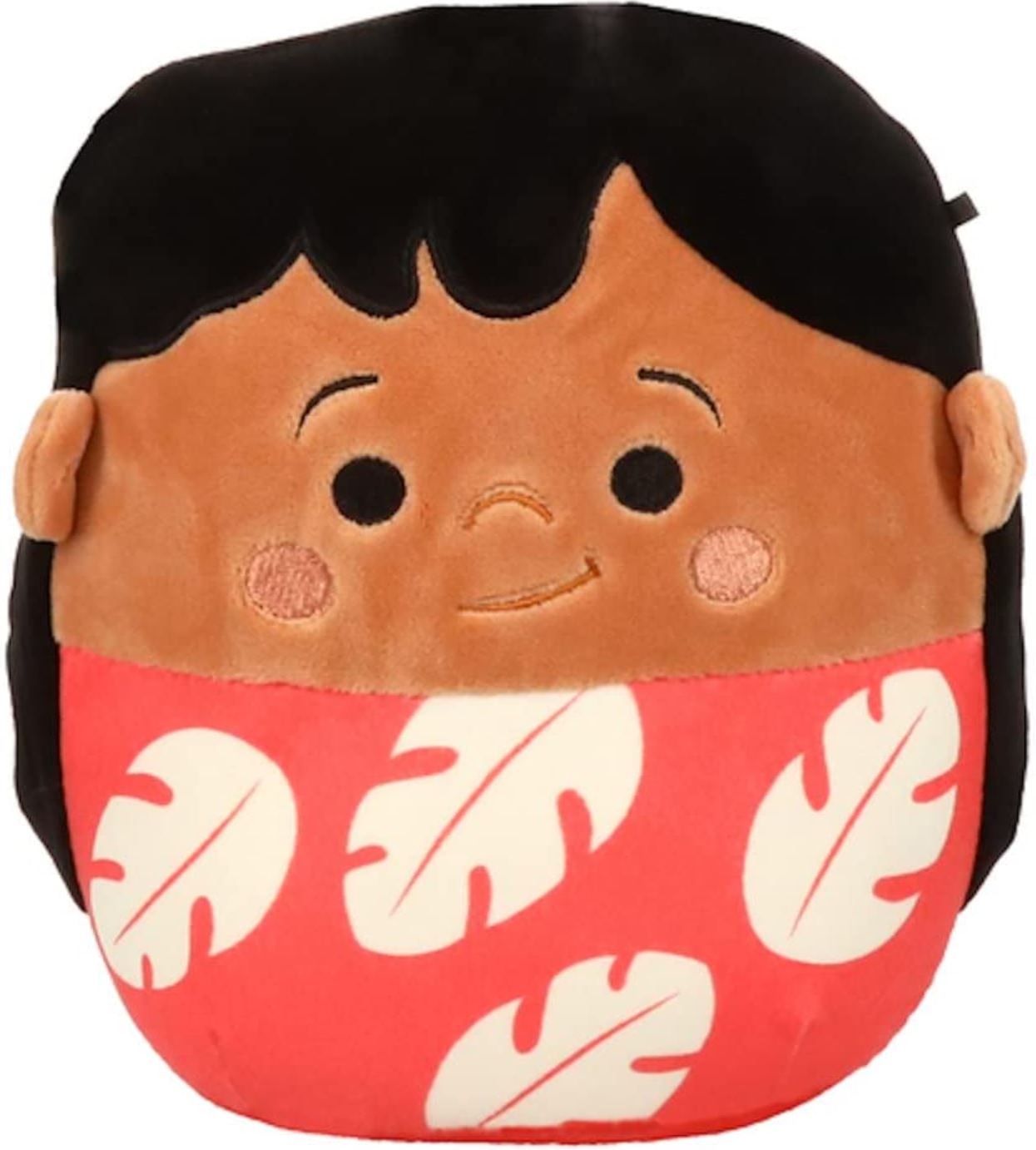 Lilo is my second character-original pick because her dress has a leafy pattern. In addition, she has more embroidery around her face to add textured features. Meanwhile, her dress is an entirely different fabric to enhance the tactile experiences for little kids. However, she's a beautiful Squishmallow from Amazon.
Size: 6.5″
Squads: Disney and Textured Squads
Lilo Squishmallow Pros:
Lilo is another famous Disney Squishmallow
She comes in a super-collectible size
Her dress pattern is pretty and feels different
Lilo's face has depth in her embroidered details
Lilo Squishmallow Cons:
Unfortunately, Lilo's pattern isn't squad-specific
Lilo's head looks weird on a Squishmallow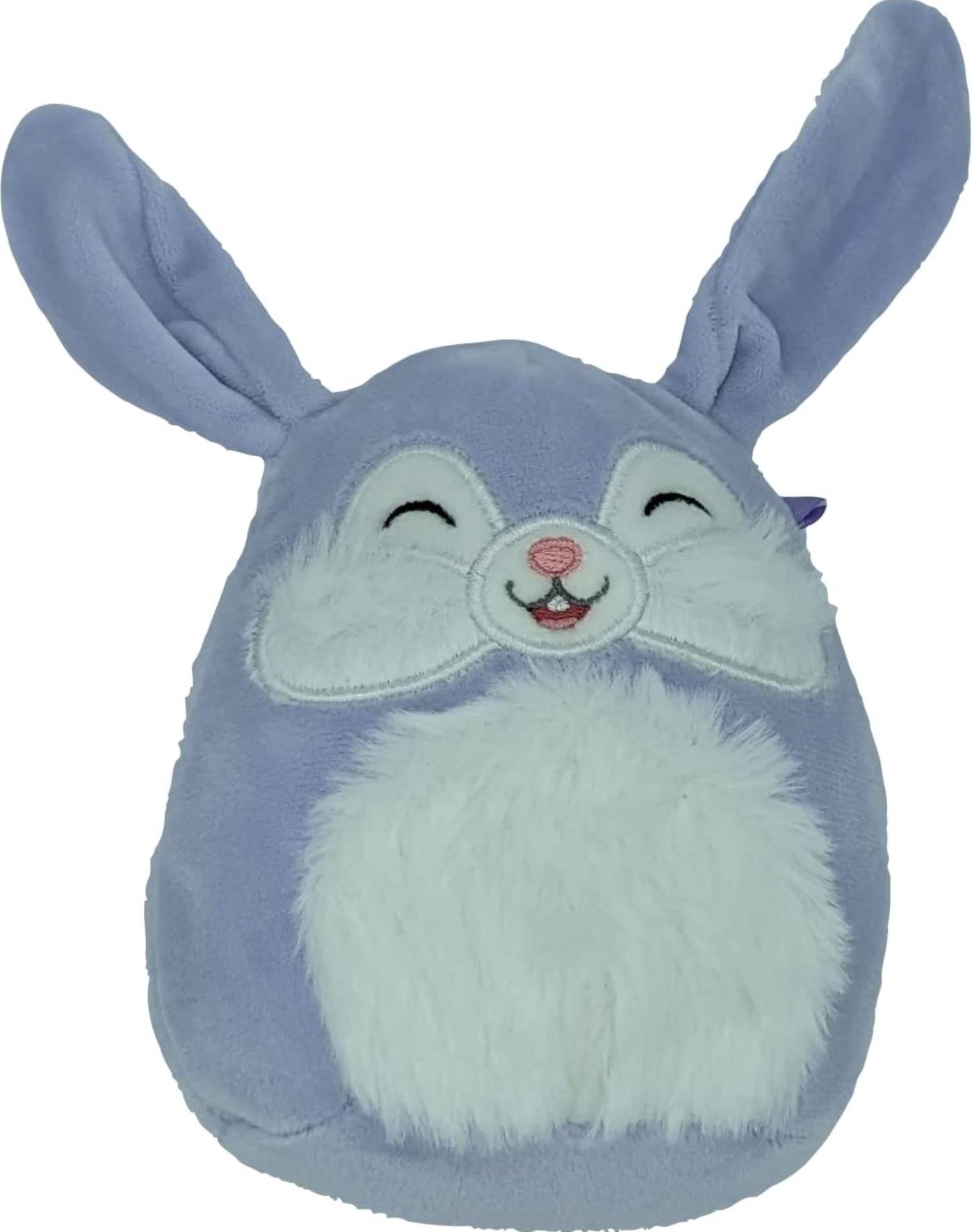 D'Marie's face lit mine up as soon as I saw her. She has the happiest look in her laugh. I haven't seen a happier-looking Squishmallow. In addition, she might not have bright colors, but she has incredible fuzzy fur on her belly and cheeks. D'Marie Squishmallow is undoubtedly a unique pick for tactile fun and collections.
Size: 5″
Squads: Forest, Easter, and Fuzz-A-Mallow Squads
D'Marie Squishmallow Pros:
D'Marie is an adorable Easter bunny
Her belly and cheeks have ultra-soft fur
D'Marie has the happiest face ever
Her ears are massive, making her look bigger
D'Marie Squishmallow Cons:
D'Marie Squishmallow doesn't have pretty colors
She laughs hard enough to close her eyes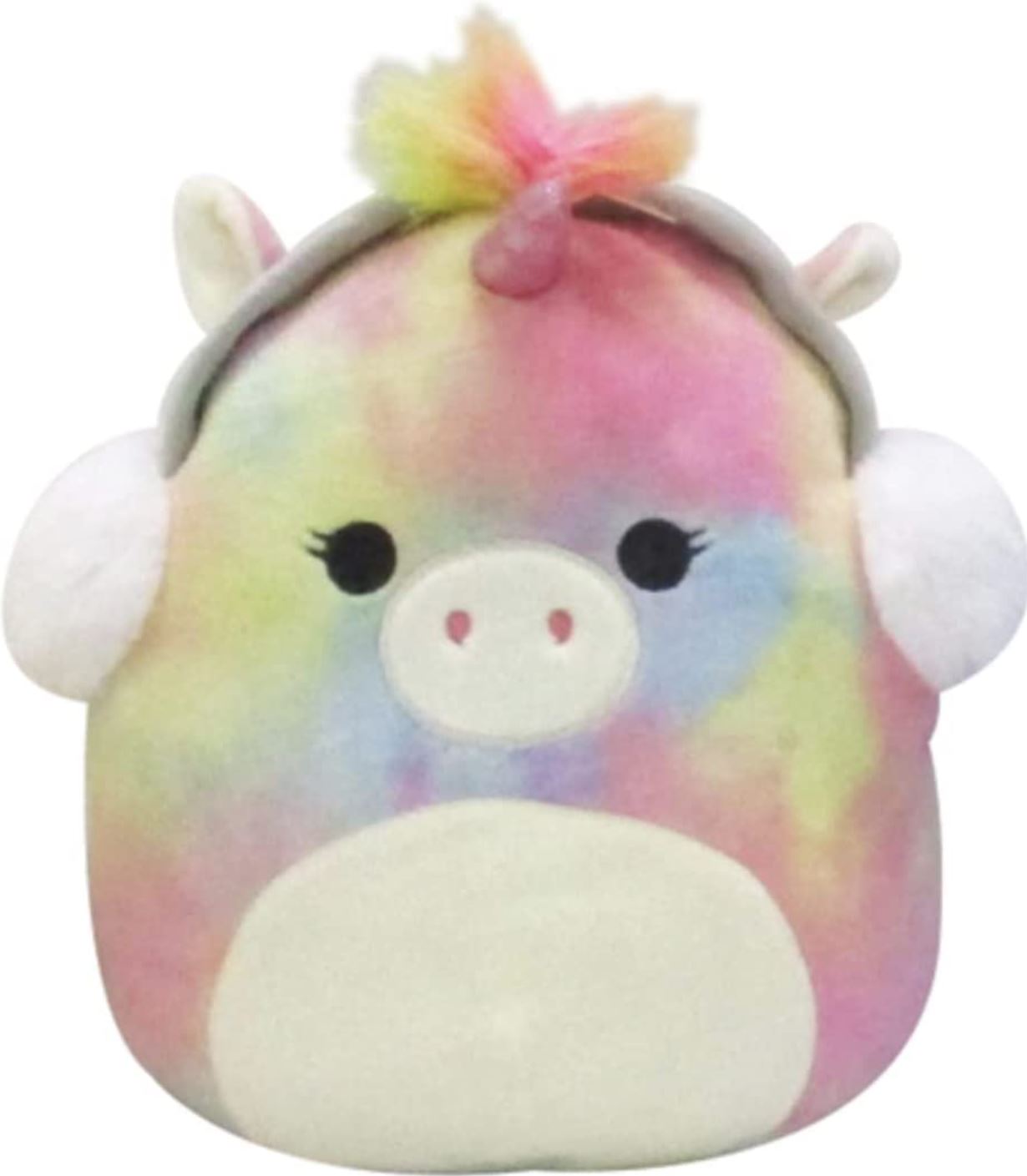 I see Esmerelda as a best friend to my daughter, who loves unicorns and music. So, she's not merely a pretty face. Instead, she comes from more squads than most Squishmallows on Amazon. Meanwhile, my daughter would take her to violin lessons and dance classes. Indeed, my daughter is as musical as this unicorn plush.
Size: 8″
Squads: Accessory, Textured, Rainbow, Tie-Dye, and Fantasy Squads
Esmerelda Squishmallow Pros:
Esmerelda Squishmallow is a five-squad member
She has gorgeous colors and patterns
Esmerelda wears a headphone accessory
She has a rainbow-textured mane
Esmerelda Squishmallow Cons:
The headphones don't cover her ears
She might have too many rainbow colors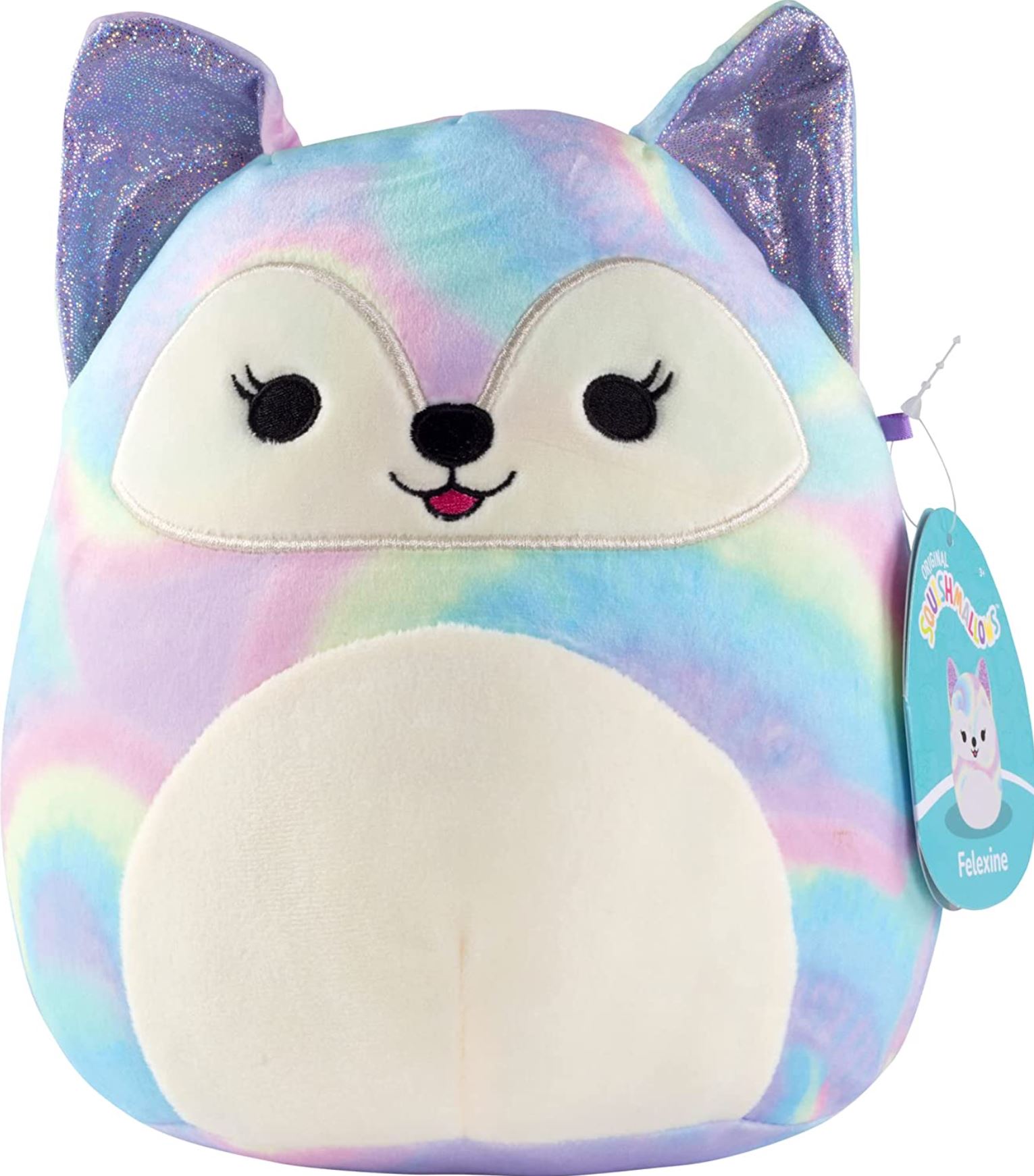 Felexine Squishmallow has an extraordinary name. So, she already stole my attention before I saw her beautiful colors and inner ears. Meanwhile, her face appears foxy, pushing her into the sassy squad. However, the sassy team isn't official. So, I won't give you the wrong information.
Size: 8″
Squads: Forest, Rainbow, Tie-Dye, and Glitter Squads
Felixine Squishmallow Pros:
Felexine's name intrigues me
Her colors create a beautiful tie-dye pattern
Felexine's inner ears have gorgeous glitter features
She's a four-squad member
Felixine Squishmallow Cons:
Her pink tongue fades her colorful body beauty
She's not an official member of the sassy squad (but she should be)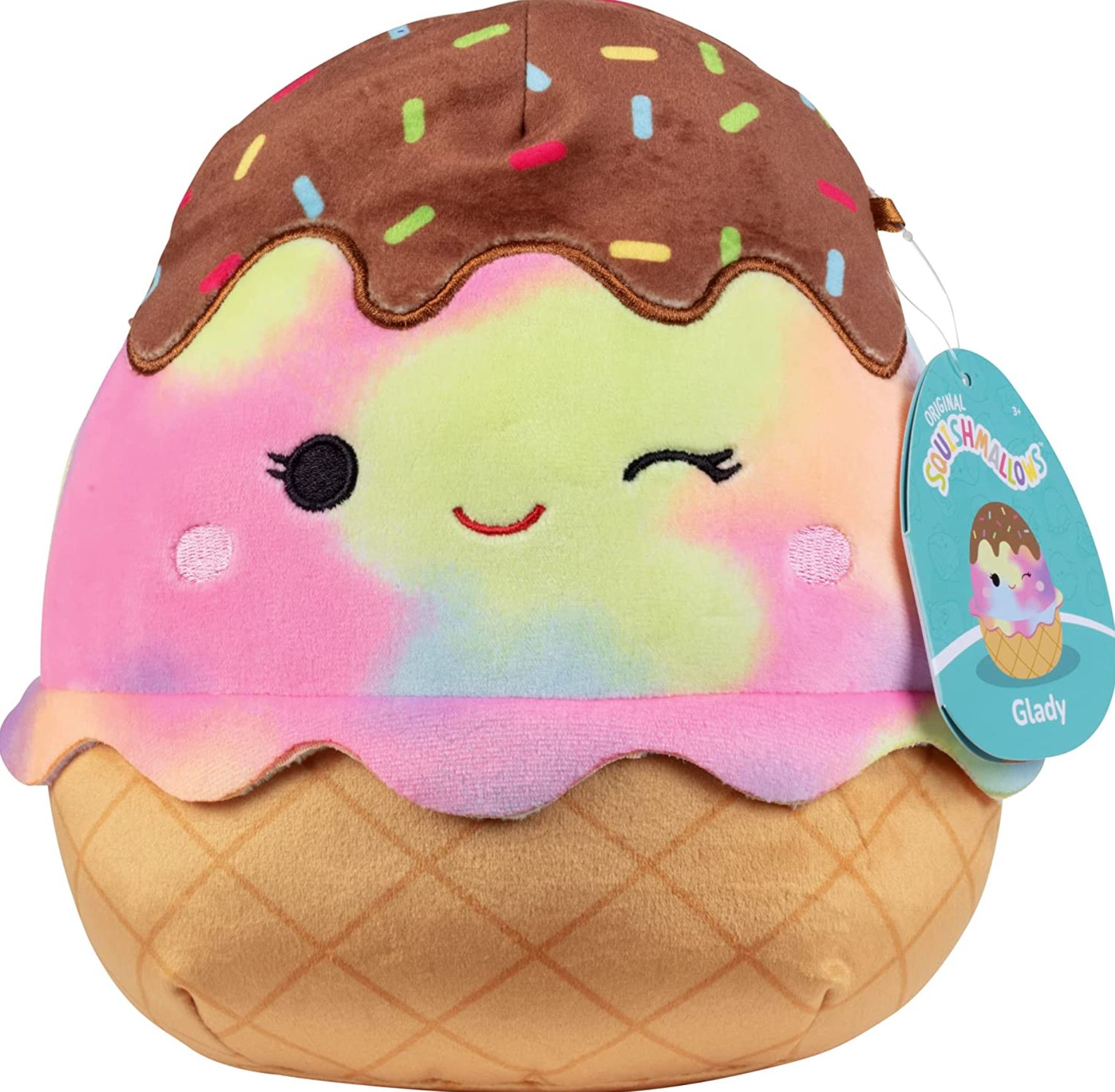 Gladys makes me want to lick the screen because she looks like an ice cream I'd eat. I love rainbow-colored ice cream with sprinkles. Adding chocolate sauce drives me insane on a hot summer's day. Meanwhile, Gladys seems to have tons of personality with her fabulous colors, cute face, and friendly wink.
Size: 8″
Squads: Tie-Dye, Rainbow, Food, and Summer Squads
Gladys Squishmallow Pros:
Gladys reminds you of a summer's day
She has beautiful tie-dye rainbow colors
Her expression is friendly and inviting
She also has an ice cream cone pattern
Gladys Squishmallow Cons:
Gladys might make you hungry whenever you see her
Her cheeks should be a brighter pink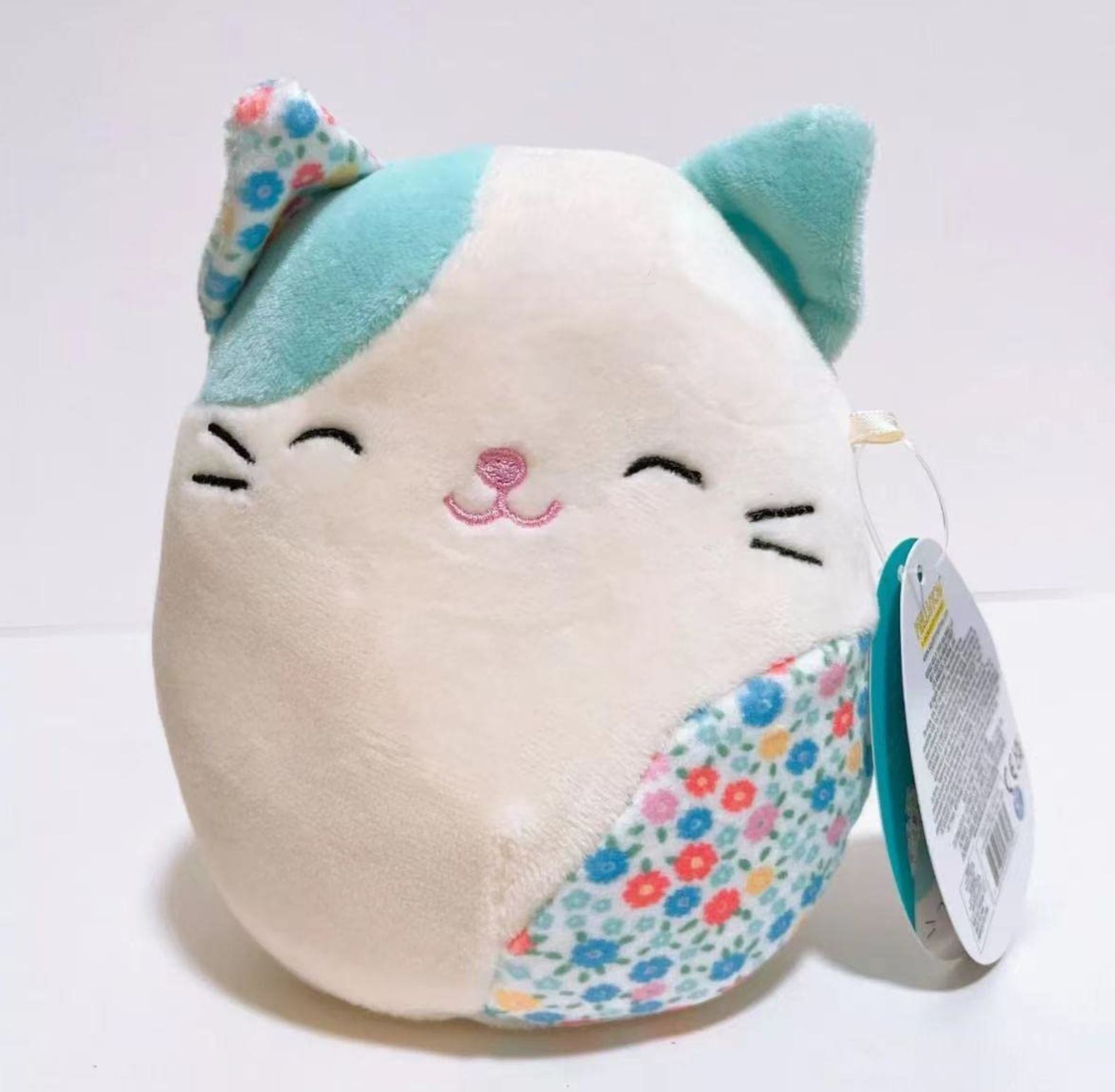 I'm not much of a floral pattern woman. Still, Kesla meets my requirements for unusual Squishmallows from Amazon. In addition, the floral patterns on Amazon's Squishmallow plushies include spring editions. So, Kesla has enough to offer a collector or fan wanting something unique and pretty.
Size: 8″
Squads: Floral, Spring, and Cat Squads
Kesla Squishmallow Pros:
Kesla has gorgeous floral patterns on her belly and ear
She looks content, like a cat in the warm sun
She's a three-squad member
Kids love the cat squad
Kesla Squishmallow Cons:
Kesla's eyes should be open
Kesla's belly is in the wrong position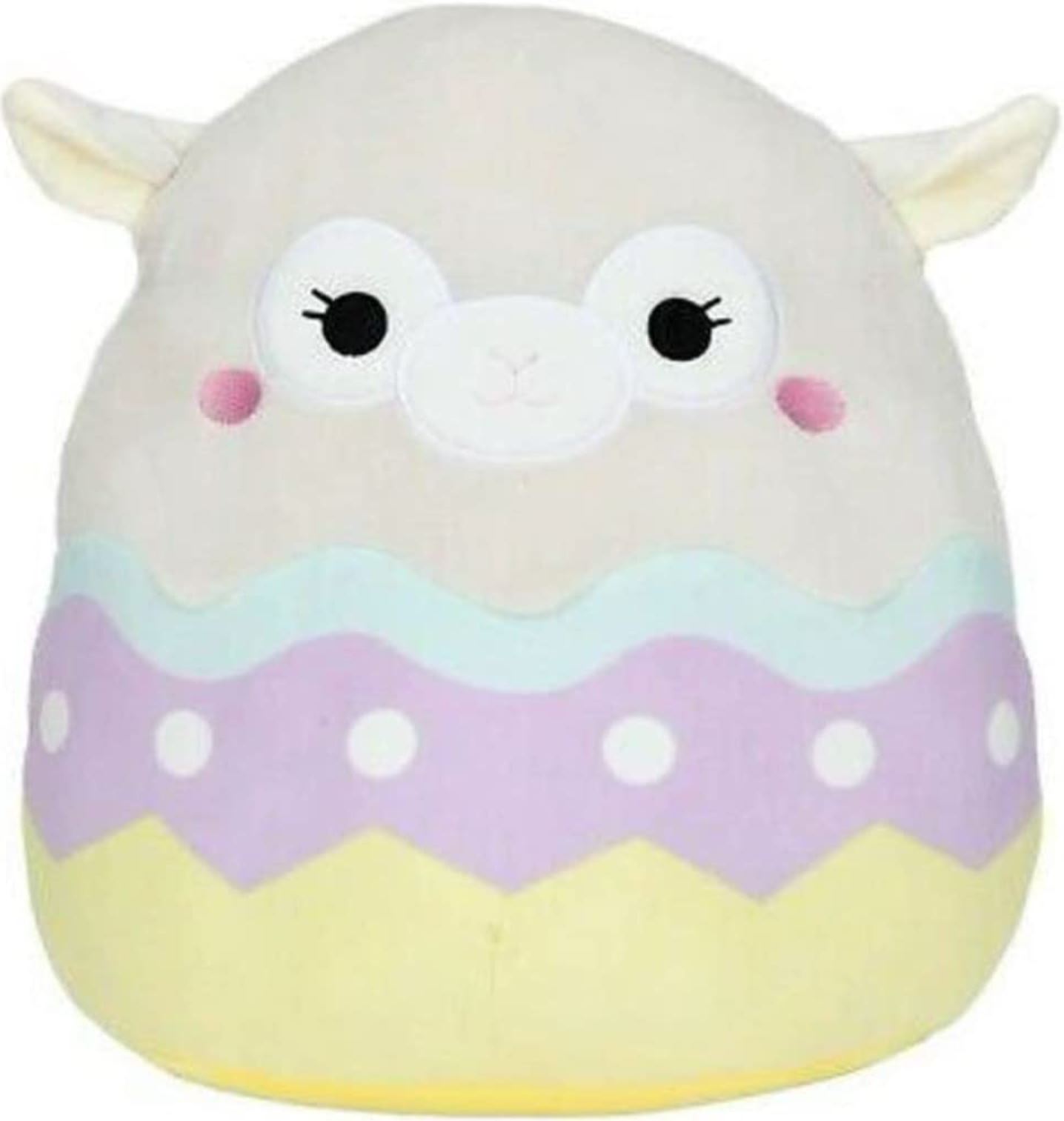 Leah is an adorable alpaca with a few beautiful features. Firstly, she has an Easter theme, leading to her spotted design. In addition, she has layers of pastel colors from her belly down. Meanwhile, I love Leah's cute face with exceptional embroidery details. She's light in color, but her spirit shines brightly.
Size: 8″
Squads: Easter, Spotted, and Farm Squads
Leah Squishmallow Pros:
Leah is a popular farm squad animal
Her bright pink cheeks make her look much better
She has spots and patterns for the Easter squad
She's a three-squad member
Leah Squishmallow Cons:
Leah's colors might not be bright enough for some fans
You can't see her mouth and nose nicely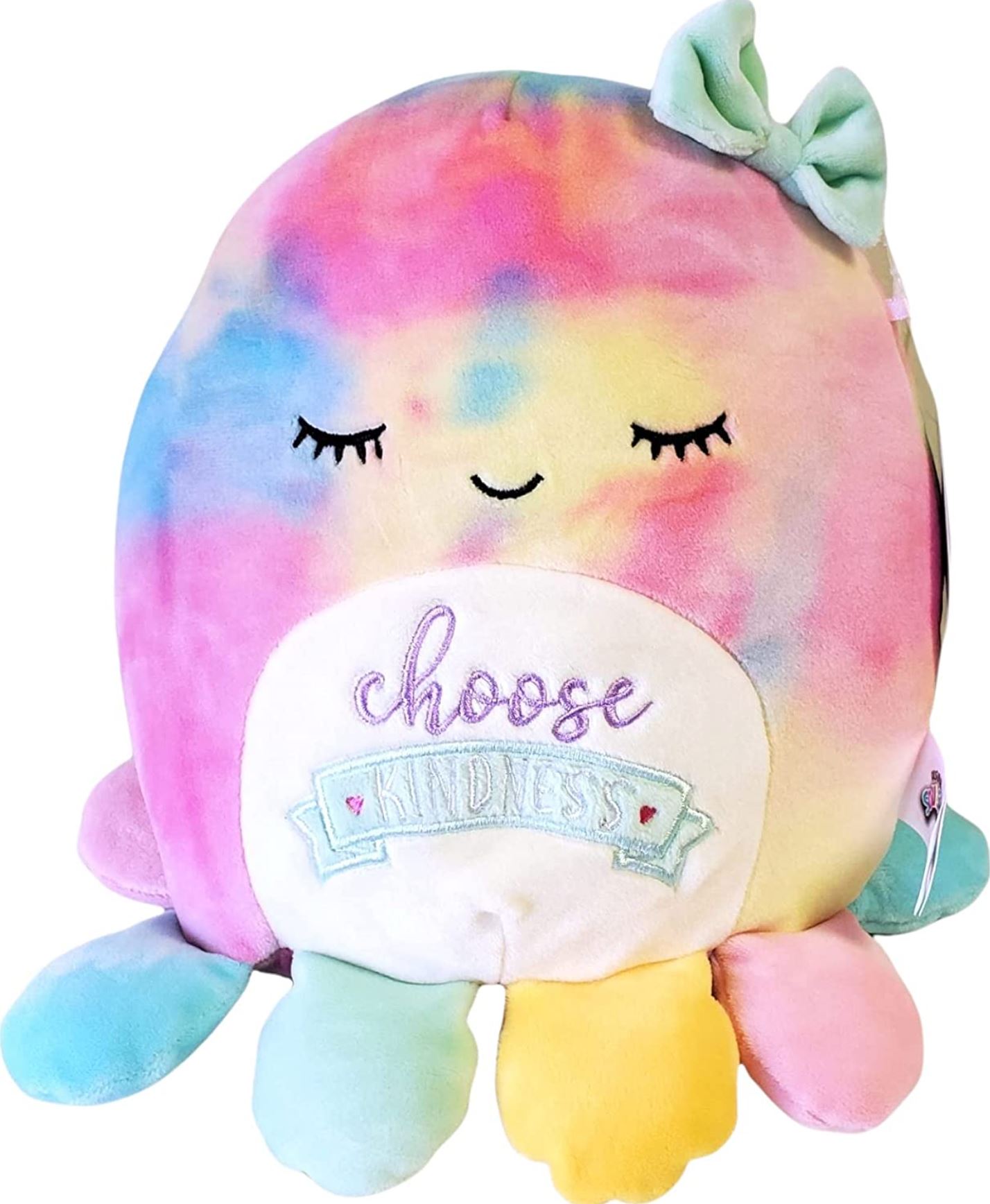 Opal is another five-squad member with much to offer. She encourages children to be kind with her inspirational belly message. In addition, she has brilliant rainbow colors with a pretty tie-dye pattern. The bow and multi-colored tentacles finish her off with a splash of pizazz.
Size: 8″
Squads: Sleepy, Tie-Dye, Rainbow, Inspirational, and Sealife Squads
Opal Squishmallow Pros:
Opal also looks like she belongs in the sassy squad
She's a gorgeous sealife squad member
She belongs to five teams and looks fantastic
The inspirational message is an excellent final touch
Opal Squishmallow Cons:
Opal's eyes should be open
Her bow would look better in hot pink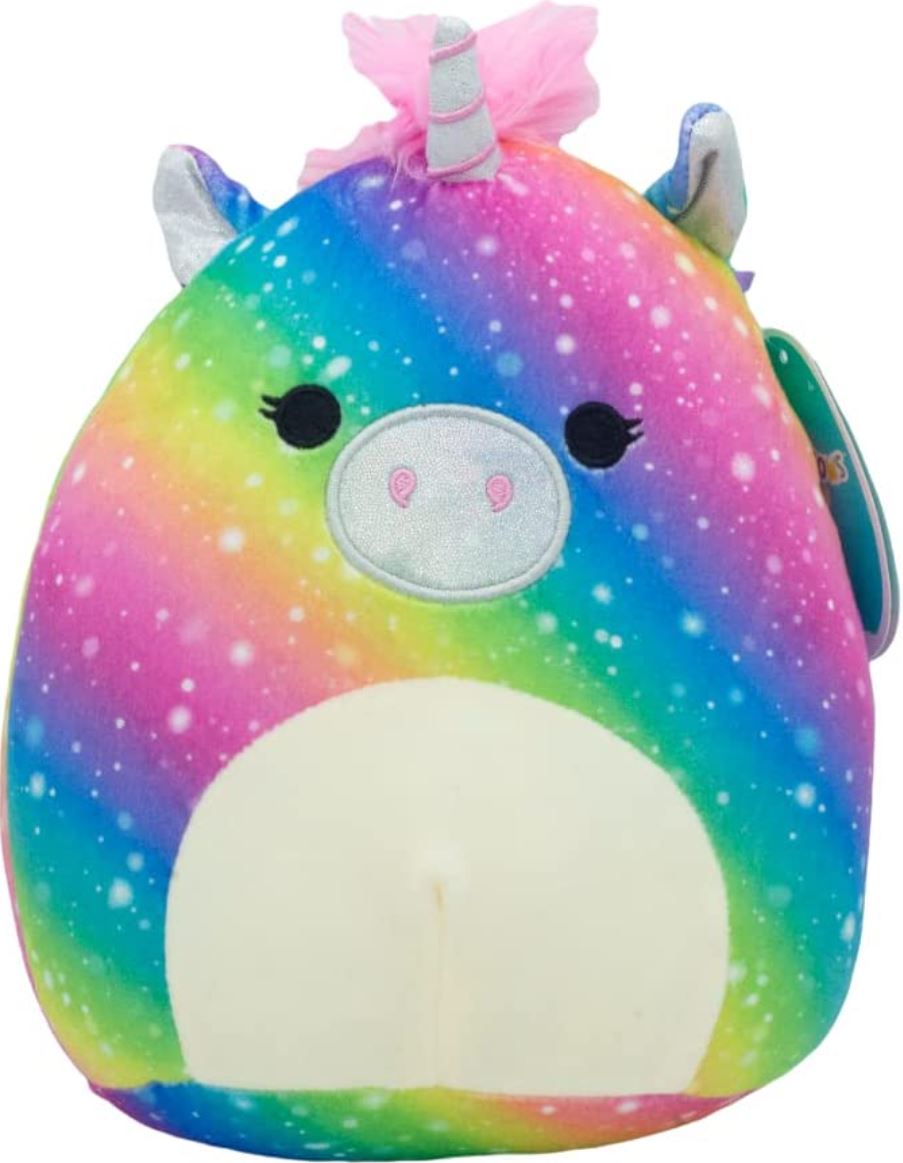 Prim is a newer fantasy squad member who appeals to the Pride movement. However, his rainbow colors are different from other Pride squad members. They feel more natural than some I've seen in the squad. In addition, Prim has various features that light my world. He's a proud pride member, pun intended.
Size: 8″
Squads: Glitter, Rainbow, Tie-Dye, and Fantasy Squads
Prim Squishmallow Pros:
Prim is a famous fantasy squad member
He has rainbow tie-dye colors with sparkles
He has a fuzzy mane and glitter on his nose and inner ears
Prim is a beautiful salute to the Pride movement
Prim Squishmallow Cons:
The snow-white belly is bright
The mane only has one color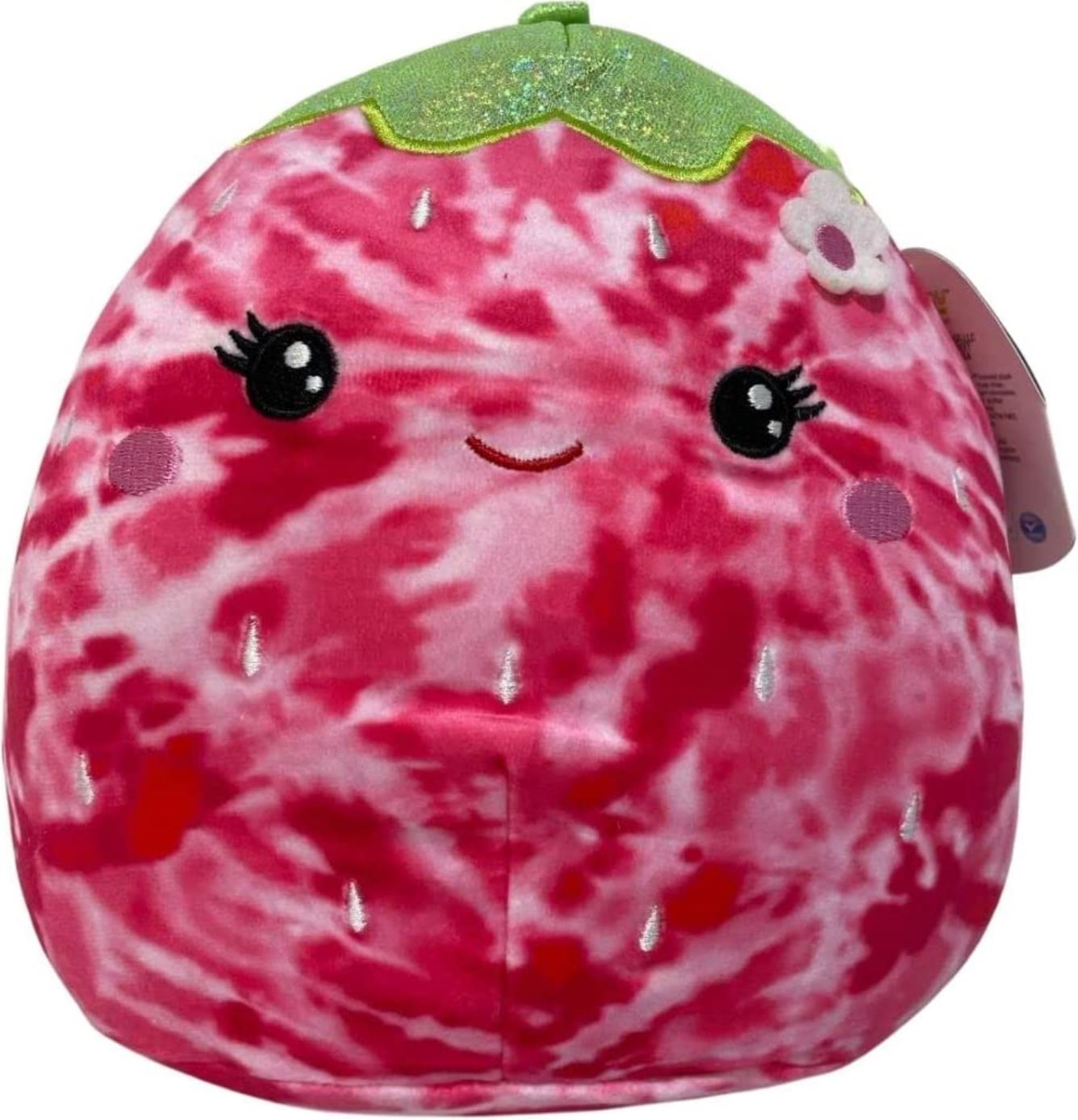 Reva is the only marbled Squishmallow I can find in the eight-inches or less category on Amazon's store. That makes her exceptional, and she's a beautiful plush toy with multi-squad memberships. The details are gorgeous, from Reva's colors to strawberry seeds around the body.
Size: 8″
Squads: Glitter, Summer, Marbled, and Food Squads
Reva Squishmallow Pros:
Reva is the prettiest girl I've seen, with deep eyes
The Squishmallow has a marbled pattern with bright red colors (highly unusual)
Reva has a glitter fruit stem
Her smile and eyes invite you
Reva Squishmallow Cons:
Reva is better suited to girls and women
You can't see her cheeks nicely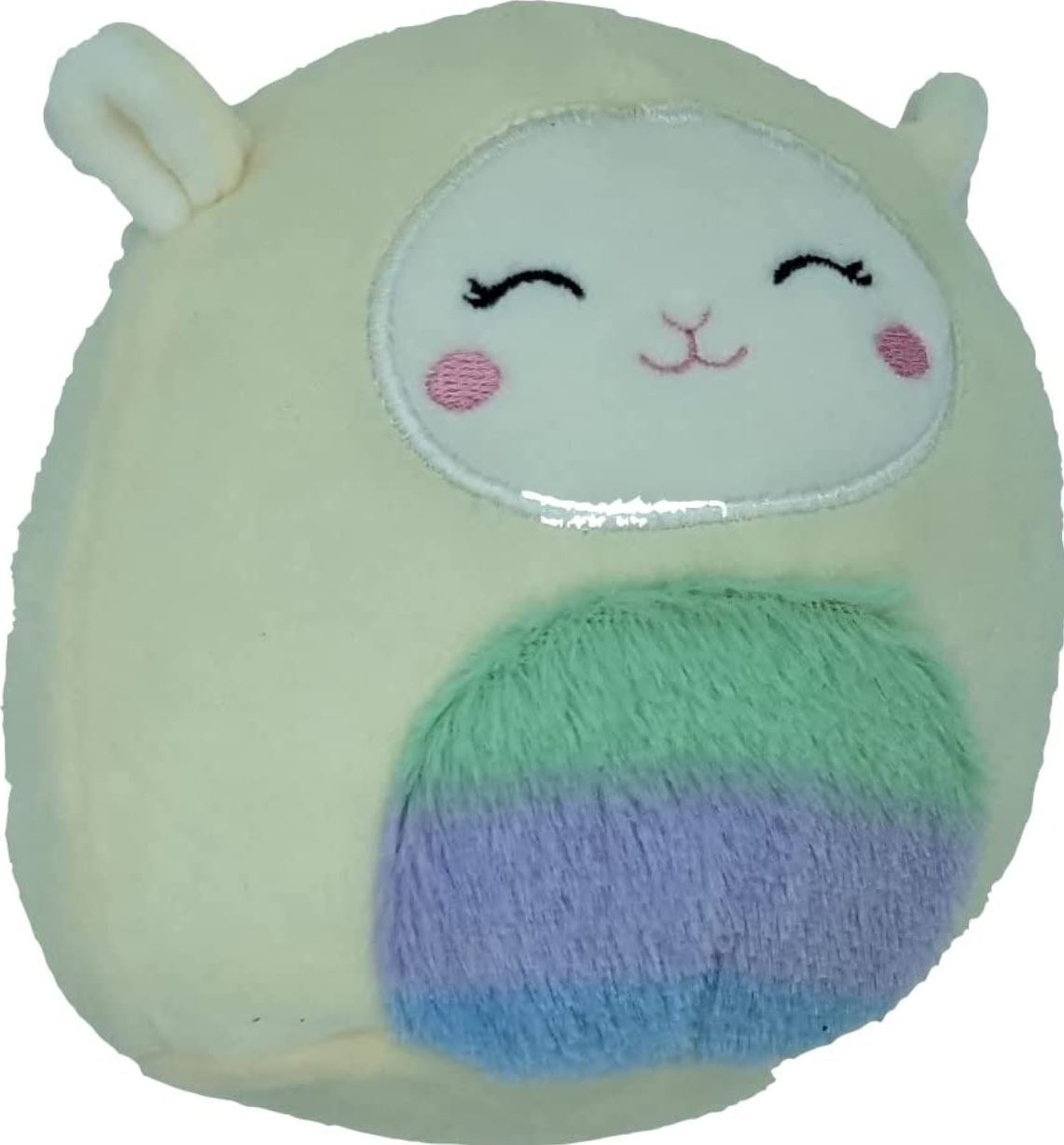 Sofie is another pastel-colored cutie pie. However, it doesn't mean she's any less gorgeous than my other picks. Instead, she's a beauty with a super fuzzy belly to help little kids with tactile exercises. In addition, children love the farm squad members. Sofie is a multi-squad cutie that belongs among the unique choices.
Size: 5″
Squads: Striped, Easter, and Farm Squads
Sofie Squishmallow Pros:
Sofie's belly is super soft with a textured touch
She has beautifully soft pastel colors on her belly
The lamb Squishmallow is wearing an Easter costume
She looks happy with a girly face
Sofie Squishmallow Cons:
Sofie is one of the more miniature collectibles
Her pastel colors don't suit everyone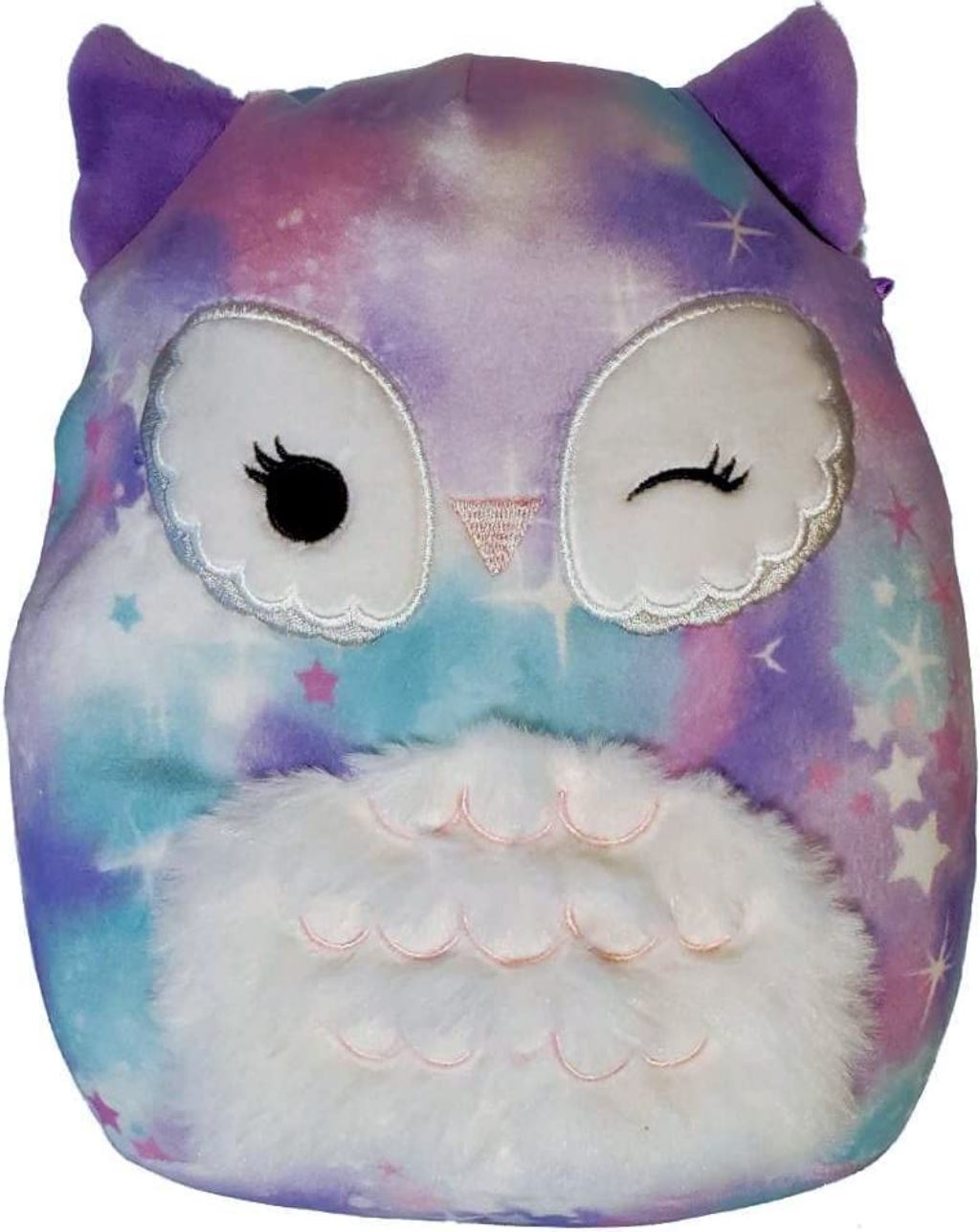 Solina Squishmallow's colors are slightly different from most of her Amazon besties. As a result, she has similar patterns to the alien Squishmallows with sparkling rainbow colors. So, she belongs in the fantasy squad because no animal could have such prestigious colors as a regular earth-bound critter.
Size: 8″
Squads: Glitter, Forest, Tie-Dye, and Fantasy Squads
Solina Squishmallow Pros:
Solina has a beautiful night sky design
She looks similar to the alien Squishmallows
Solina also has textured parts on her belly
The night owl has glitter around her eyes
Solina Squishmallow Cons:
Solina's squads seem confusing
I wish she weren't winking at me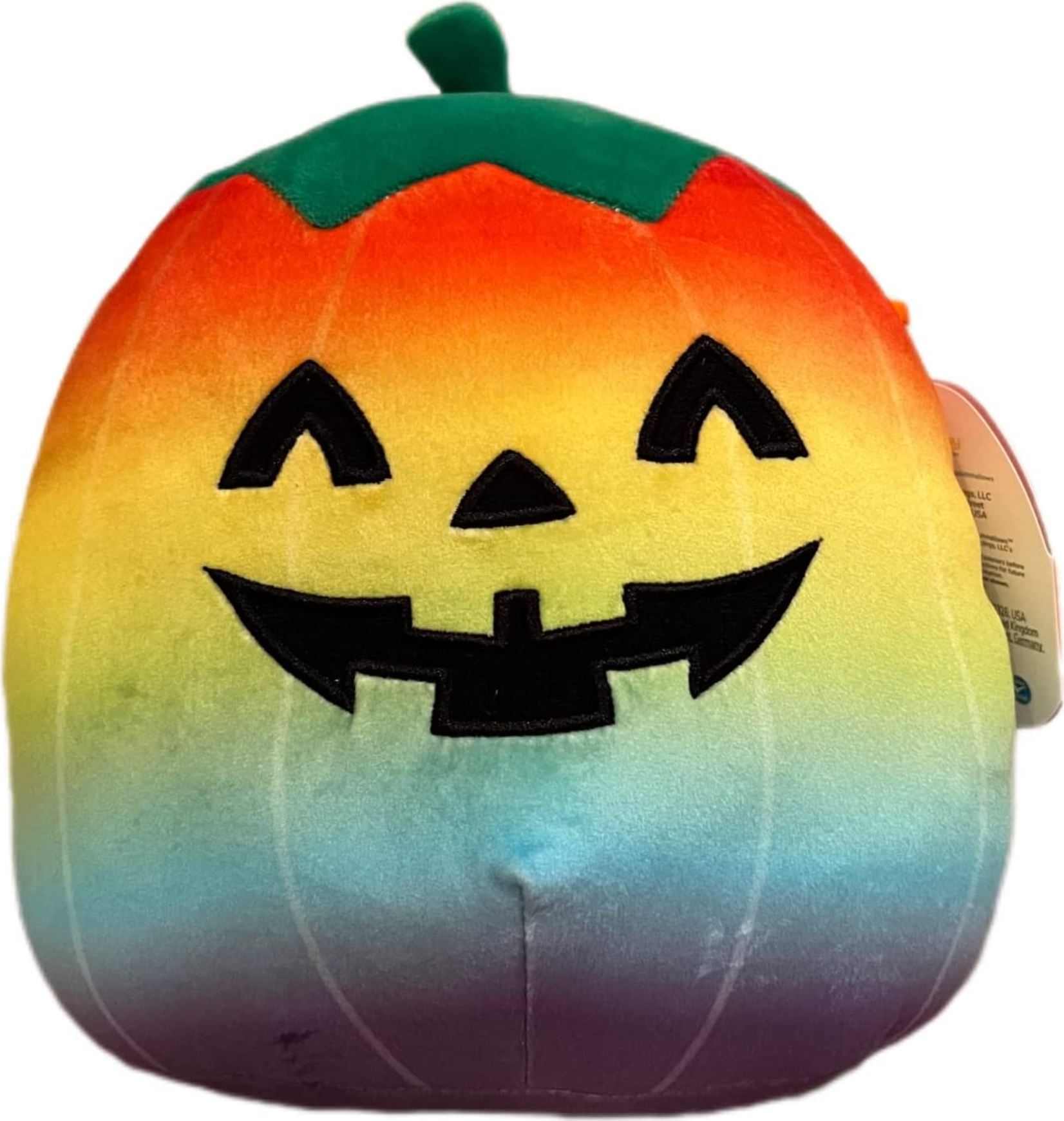 Staley is a weird name for a pumpkin because it makes me think he's gone stale. Still, Staley is a unique pumpkin with gorgeous rainbow colors and a massive smile. Admittedly, carved pumpkins look like they're smiling. However, some of them have frightening grins. So, Staley is perfect for little kids.
Size: 8″
Squads: Food, Rainbow, and Halloween Squads
Staley Squishmallow Pros:
Staley is a fun Halloween Squishmallow
He has beautiful colors different from other pumpkins
Staley's expression is friendly and inviting
He belongs to multiple squads
Staley Squishmallow Cons:
Every pumpkin Squishmallow has some creepiness
Some fans prefer the traditional Halloween pumpkin colors
FAQs
Question: Can I Buy Real Squishmallows From Amazon?
Answer: You can find authentic Squishmallows from the original Amazon store. Meanwhile, they typically have a more extensive selection than other stores and the Squishmallow store. I only recommend buying Squishmallows from the authentic Amazon store owned by the creators of your favorite marshmallow plushies.
Question: Does Squish Alert Work for Amazon Squishmallows?
Answer: The excellent news is that Squish Alert works for the official Amazon Squishmallow store. So, select your targets, and be ready to rush to your keyboard when the store launches your desired plushies. You'll get notifications when your favorite plushies return to the Amazon scene.
Question: Where Can I Buy Cheap Squishmallows?
Answer: Every die-hard Squishmallow fan wants every squad member, but they come at a price if you like the unique ones. Fortunately, the Amazon Squishmallow store allows you to sort them by price. You'll even find uniquely marbled Squishmallows for under $20. In addition, you'll find Disney Squishmallows packs under $20.
Amazon has one of the most incredible selections of Squishmallows. The store even has a Foxicorn Squishmallow for under $8. Or, you can find Disney's Piglet Squishmallow for under $13. Also, Squishmallows uses the marketplace to clear stock, meaning you'll find many Squishmallows with one or two left under $20.
Best Squishmallows on Amazon Guide: Conclusion
Amazon's Squishmallows are some of the best, all of them. The range is unmatched by other stores, even the Squishmallows store. So, it's the best place to have calmed my urges after experiencing Squishmallow withdrawal symptoms. Follow my strict requirements if you're a collector.
Alternatively, buy your kid the Jumbo Rema Rainbow Bunny Squishmallow if they prefer cuddly plushies. Meanwhile, keep my advice in mind about the Amazon marketplace. Use my colors, unique factors, and unusual features to find more incredible Squishmallows on Amazon.
But first, buy Bart, the Day of the Dead Neon Squishmallow, if you want a unique plush with exceptionally bright colors. Trust me; you won't regret it when you see him in person. So, click away to start your unique Amazon Squishmallow collection today.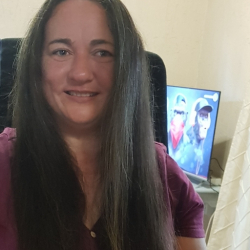 Latest posts by Caroline Lambert
(see all)