I can't help thinking about the cuteness of the late queen's corgis and the comforting softness of plush. However, my family is gaga over Squishmallows. So, writing a corgi Squishmallow guide will bring two passions together. It honors the queen's memory and soothes my love for finding incredible Squishmallows.
Squishmallows are trending plush toys every child and plush collector wants. In addition, the Squishmallow dog squad has long been a favorite for parents to appease their children's needs for adding too many real-life pets to the home. So, let's see how I can honor the queen by sharing every corgi Squishmallow with you.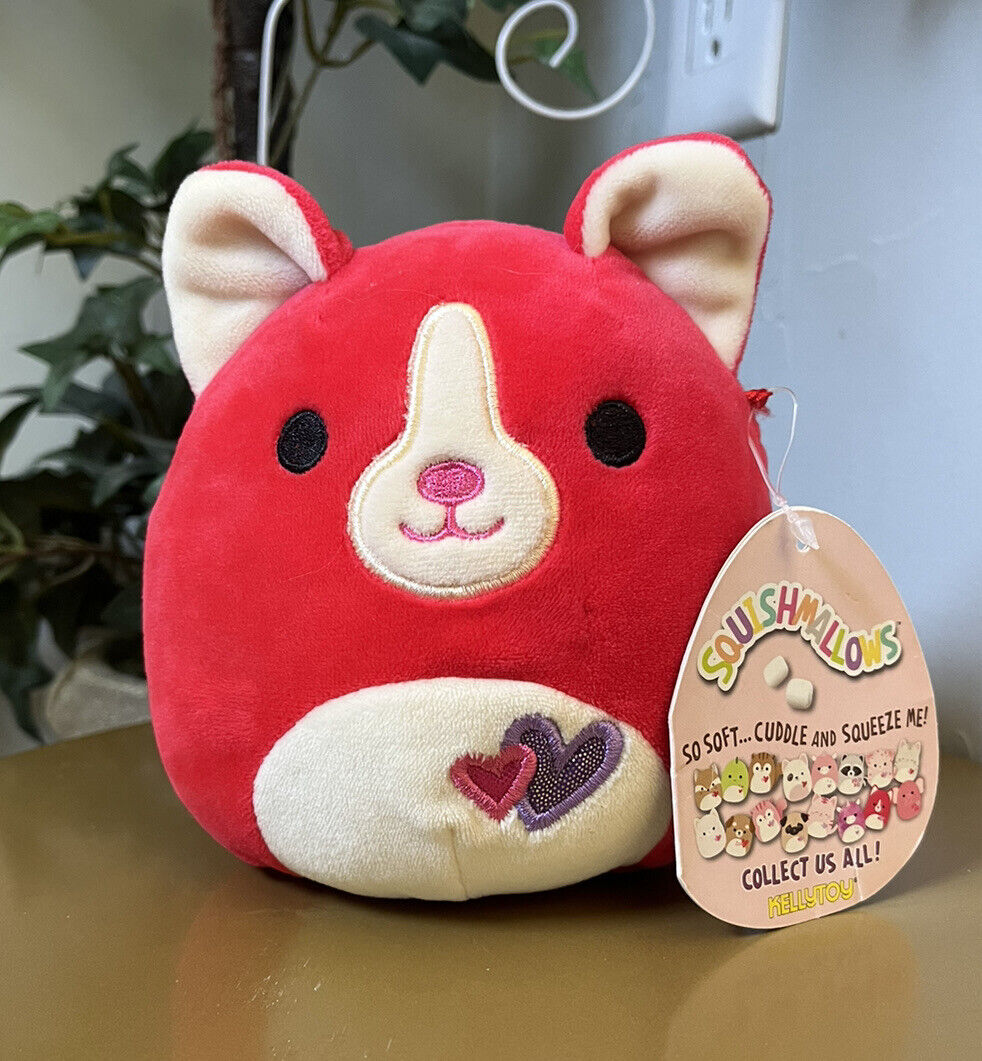 Corgi Squishmallows: Bottom Line Up Front
My family follows the royal family closely. So, our hearts broke into pieces when corgi Willow passed away in 2018. Since then, my family has had a soft spot for corgis, especially the Pembroke Welsh corgis. So, we love trying to honor the memory of the royal puppies. Meanwhile, we love collecting Squishmallows.
So, why shouldn't we blend our passions? We did! As a result, I found every corgi Squishmallow available and how you can find the missing squad members. I'll share the many types of corgi Squishmallows and the names for which to search. In addition, I'll share tips about Squish Alert as well!
But first, let me share my ultimate corgi Squishmallow. Gustavo, the Mexican Corgi Squishmallow, is my top pick. Turning a Welsh corgi into a Mexican fiesta squad member makes him more unique than most puppies. Besides, I love his costume and colors. Gustavo is welcome to become our new plush pet.
Meanwhile, glance at a few more favorites before learning about the corgi Squishmallow family and why I enjoy each one.
A Glance at Some Cute Corgi Squishmallows
A Complete Guide to Corgi Squishmallows
I'm as excited as you to jump into the corgi Squishmallows. But first, let's learn about the squad members, their unique features, and their different squads. Corgi Squishmallows are famous and have a lot to understand if you plan to collect them. So, let's get into the know-it-all information before seeing some "pawsome" options.
Knowing Your Corgi Plush Friend
Reginald was the first corgi to join the Squishmallow brand in 2018, looking like the queen's dearest corgi family. Corgi Squishmallows are from the dog squad, which I love calling the puppy squad instead. In addition, the corgis automatically double into the buddy squad because dogs are your child's best friend.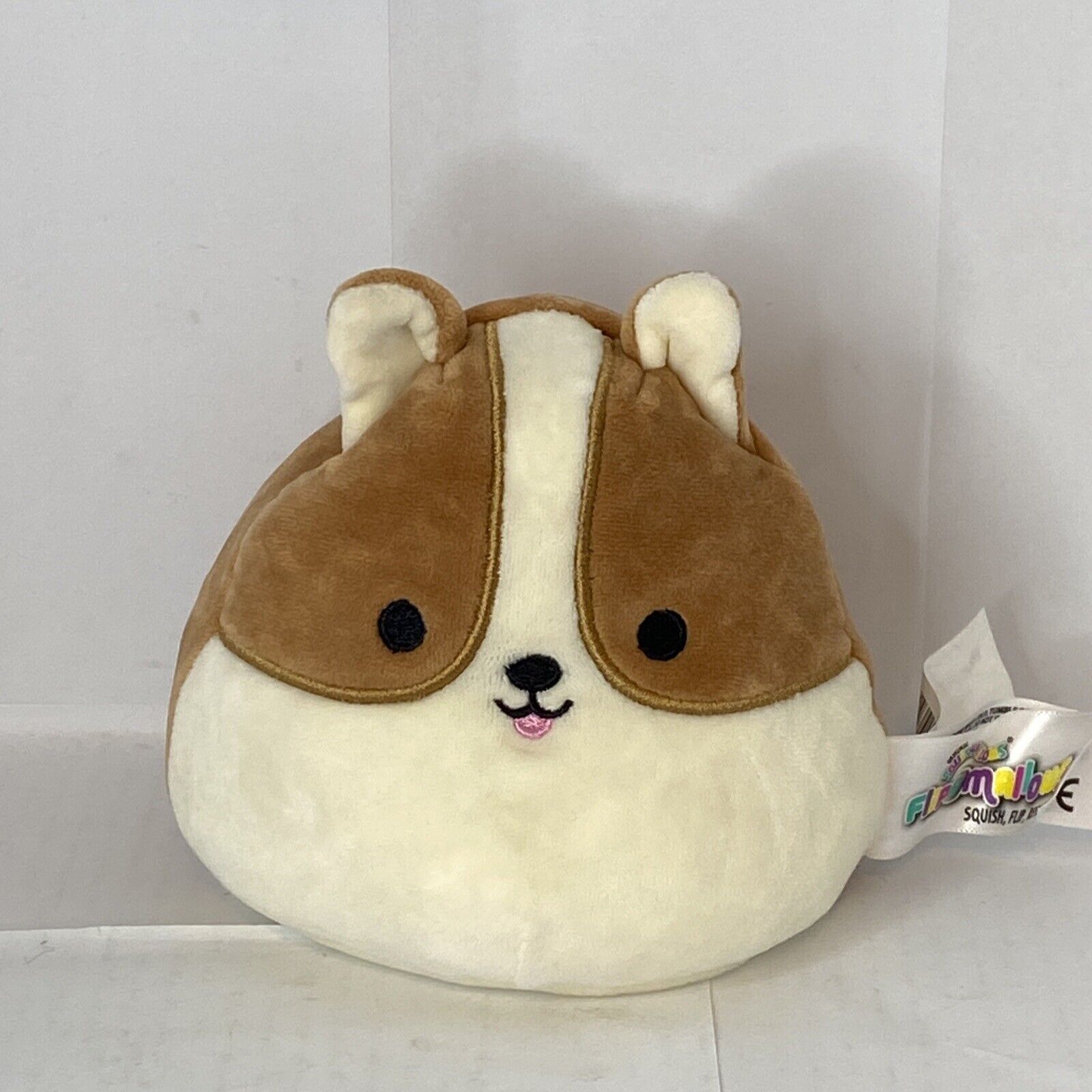 Meanwhile, you'll find five primary types of corgi Squishmallows:
You'll find the main corgis from the dog and buddy squads, some coming in various sizes. Each corgi has different features, which I'll share soon.
Special-edition corgis also come in varying sizes, but they have something unusual about them. They might be exclusive to limited stores or represent a holiday like Halloween or Christmas. These puppies often belong to multiple squads.
Unique corgi Squishmallows are the rare HugMees, miniatures, and keychains. You won't find many of these multi-squad members.
Costume and accessory corgi Squishmallows often wear outfits with other designs or hold something unique. They also fit into multiple squads.
Squishmallow original corgi creations blend the puppies with other animals. Sometimes, the blends include fantasy creatures, like unicorns.
Leading Names and Styles of Corgi Squishmallows
Reginald welcomed various corgis to his squad as the lacrosse team leader. Some corgis look similar to Reginald, while others differ. You'll need to know the typical corgi Squishmallow names and how they look to hunt each one down:
Reginald Corgi Squishmallow is a white and tan corgi with brown ears, a black snout, and masculine eyes. His nickname is Reggie Squishmallow. In addition, Reginald has one neon edition that changes the tan color to lime green. Finally, he comes in various costumes as the main corgi Squishmallow.
Regina Corgi Squishmallow is a white and brown corgi with slightly darker colors than Reginald. Her color schemes are the same, except that she's darker brown. She has various sizes, often wears costumes, or holds items to multiply her squads. Finally, Regina's eyes look girly compared to Reginald's.
Candace Corgi Squishmallow has a lilac and white color scheme with a white belly and lilac ears. She also has a notably white snout and often closes her eyes. However, she doesn't have many variations.
Halver Corgi Squishmallow has a blue and white design. His belly and inner ears are white, but the blue parts have a gorgeous tie-dye pattern to spruce him up. Halver doesn't look like a traditional corgi but is a unique Squishmallow puppy. You won't see many sizes or editions for Halver.
Fitz Corgi Squishmallow is a red and white puppy with unique edition qualities. He doesn't have many sizes but comes in particular Squishmallow types, like a stackable plush. He typically appears as a Valentine's Day edition with hearts on his chest. Finally, Fitz has a red nose.
Gustavo Corgi Squishmallow isn't easy to find, but he also has a tan and white color scheme. However, the tan parts are much more prominent, and he only wears his Mexican Squad costume. Gustavo has a long white snout with black eyes.
Marceline Corgi Squishmallow is a newer squad member who looks tan and white. The difference is that she has a unicorn's horn to recognize her quickly. She doesn't have different sizes or editions yet.
Colleen Corgi Squishmallow is another limited-edition squad member without many choices. In addition, she has a light blue and white color scheme and often falls into Valentine's Day squads. However, she closes her eyes like Regina.
Unfortunately, you won't find every squad member anymore. However, I'll share tips on finding the missing members later. Meanwhile, let's see how you can find the corgi Squishmallows that come and go.
How to Find Corgi Squishmallows
Every Squishmallow comes and goes in stores. I know it's heartbreaking, but I have joyous news. Squish Alert will help you find corgi Squishmallows once they return to stores if you set them as your in-search-of (ISO). You'll receive notifications on where to find your favorite corgi if it comes back to stores.
Unfortunately, some corgi Squishmallows will sell out before you click on them in this guide. I'll try to share corgi Squishmallows with plenty of stock available. However, you might have to use Squish Alert to know quickly when the stores have them back. In addition, I only share stores that will restock Squishmallows.
So, you're safe clicking on my links if they're in stock again. My only advice is that you know limited-edition, unique, exclusive, and holiday-themed corgis might not return. Squishmallows might change the design the following year. They're the only ones that might not come back to the stores.
How I Picked the Corgi Squishmallows to Share
I'd love to share every corgi Squishmallow with you. However, corgis are famous. So, too many exist, meaning I need some rules to narrow down which corgi Squishmallows make my list. The rules are as follows:
The corgi Squishmallow must come from a store that restocks and notifies you on Squish Alert, including the official Amazon store for Squishmallows.
The Squishmallow must not repeat the variation if it holds an item or comes from a unique collection. For example, two sizes exist for Regina in a Hershey's Kisses costume. In this case, I'll choose the one closest to eight inches because the size is collectible. However, each option must be unique in some way.
Corgi Squishmallow Guide: Every Royal Pup
So, welcome to the cuddly world of corgi Squishmallows. My two rules narrowed the corgi puppies nicely. Unfortunately, some pups remain missing. However, I'll share secrets to finding them soon enough. But first, let's see why each corgi Squishmallow is unique by looking at its features and sizes.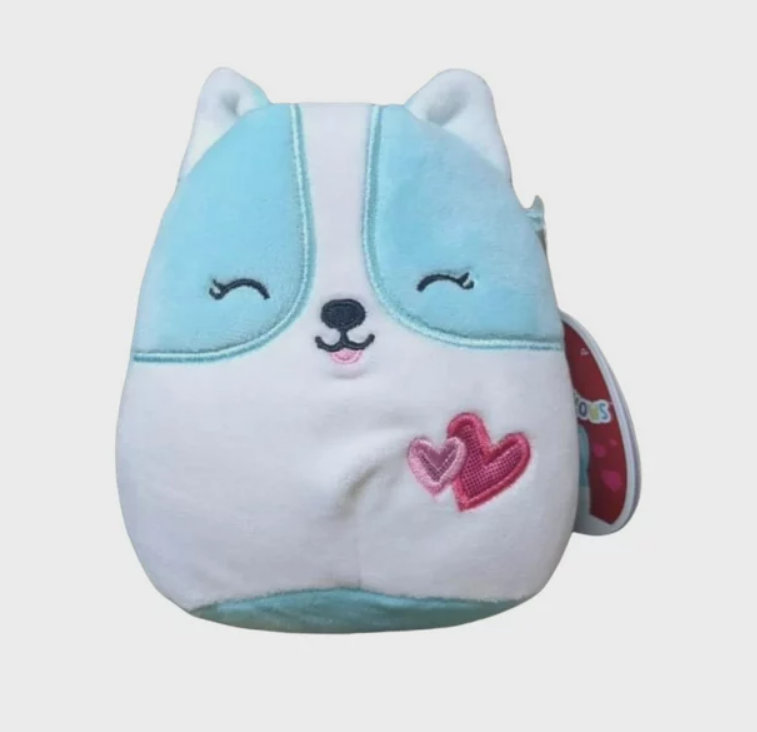 Colleen is a blue and white corgi, which doesn't seem natural. Still, Squishmallows brings new ideas to life with their animal creations. So, she's an adorable puppy with cuddle potential. Her white belly has a pretty double heart for Valentine's Day. However, Colleen is one-of-a-kind for now. Hopefully, more of her are coming soon.
Size: 5″
Squads: Dog, Buddy, and Valentine's Squads
Colleen Squishmallow Pros
The Colleen corgi Squishmallow is a collectible size
She's an adorably bright pup with cute patterns
Colleen's snout makes her look happier than a pig in mud
Colleen Squishmallow Cons
Colleen's eyes don't open like Regina, which isn't my favorite from Squishmallows
The blue color doesn't relate to corgis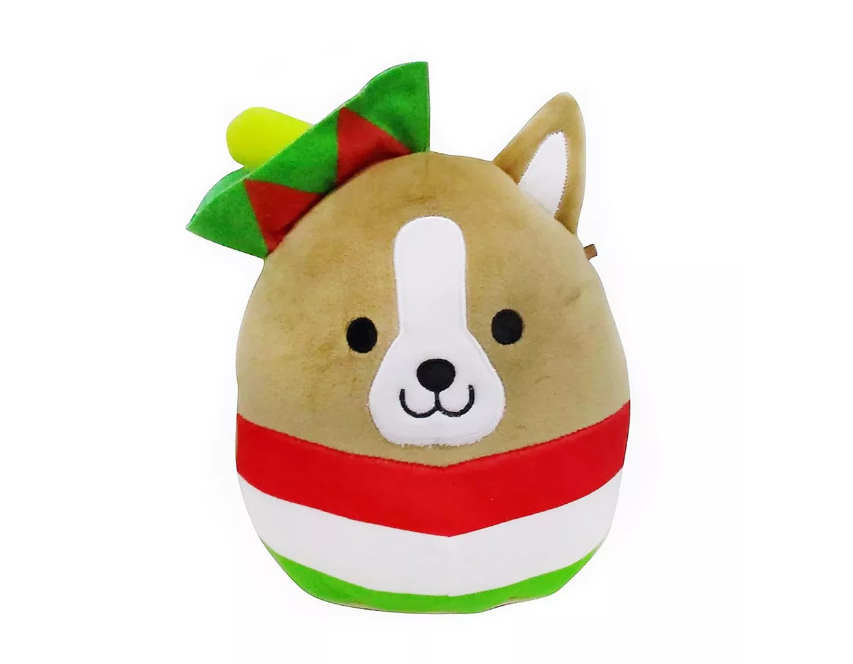 Not many puppies make the fiesta Squishmallow squad. I've seen more piñatas than animals. However, Gustavo's entry is a phenomenal one. He looks ready for the fiesta and will likely enjoy a siesta after the party. The costume is brilliantly colorful to match Mexican traditions, and Gustavo is my ultimate favorite pup.
Size: 7″
Squads: Buddy, Dog, and Fiesta Squads
Gustavo Squishmallow Pros
The Gustavo corgi Squishmallow is highly unusual
The outfit brings colors to life, and he looks content
The Squishmallow blends two entirely different cultures
Gustavo Squishmallow Cons
Gustavo's roots have no Mexican influence as a dog breed
He looks similar to Reginald, and some fans might confuse them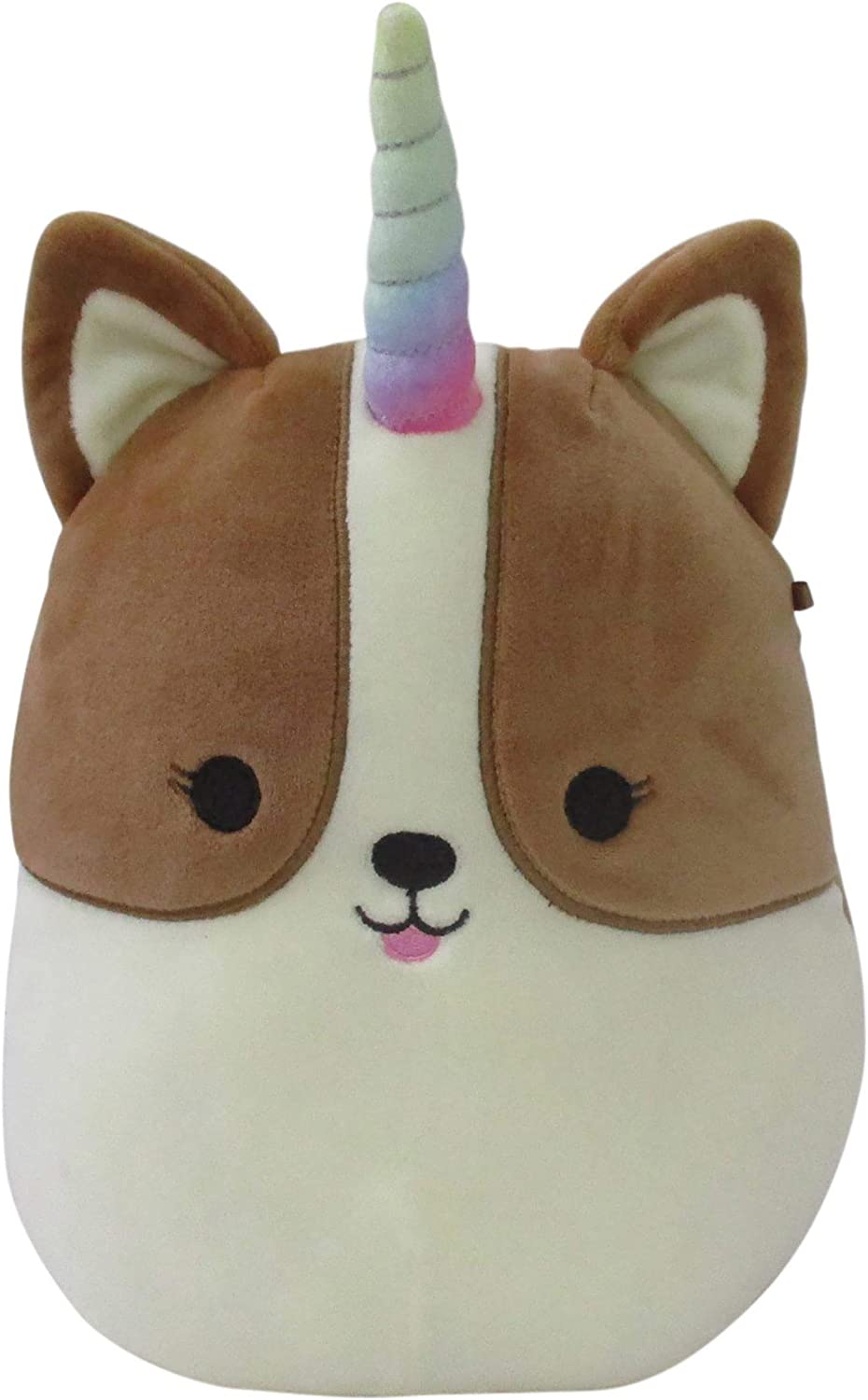 I love Squishmallow's original animal and creature creations, like pegacorns and llamacorns. So, combining a corgi puppy with a unicorn is fantastic news for my daughter. She might want this plush for Christmas. Meanwhile, the hybrid animal also becomes part of a fourth squad, making Marceline phenomenal.
Size: 8″
Squads: Buddy, Dog, Hybrid, and Fantasy squads
Marceline Squishmallow Pros
The Marceline corgicorn Squishmallow is the most creative option
Children who love puppies and unicorns will go wild for her
She's the perfect size to fit into a hybrid collection
Marceline Squishmallow Cons
Marceline looks like Regina with open eyes, and fans might confuse them
The unicorn horn and colorful tail are the only unusual parts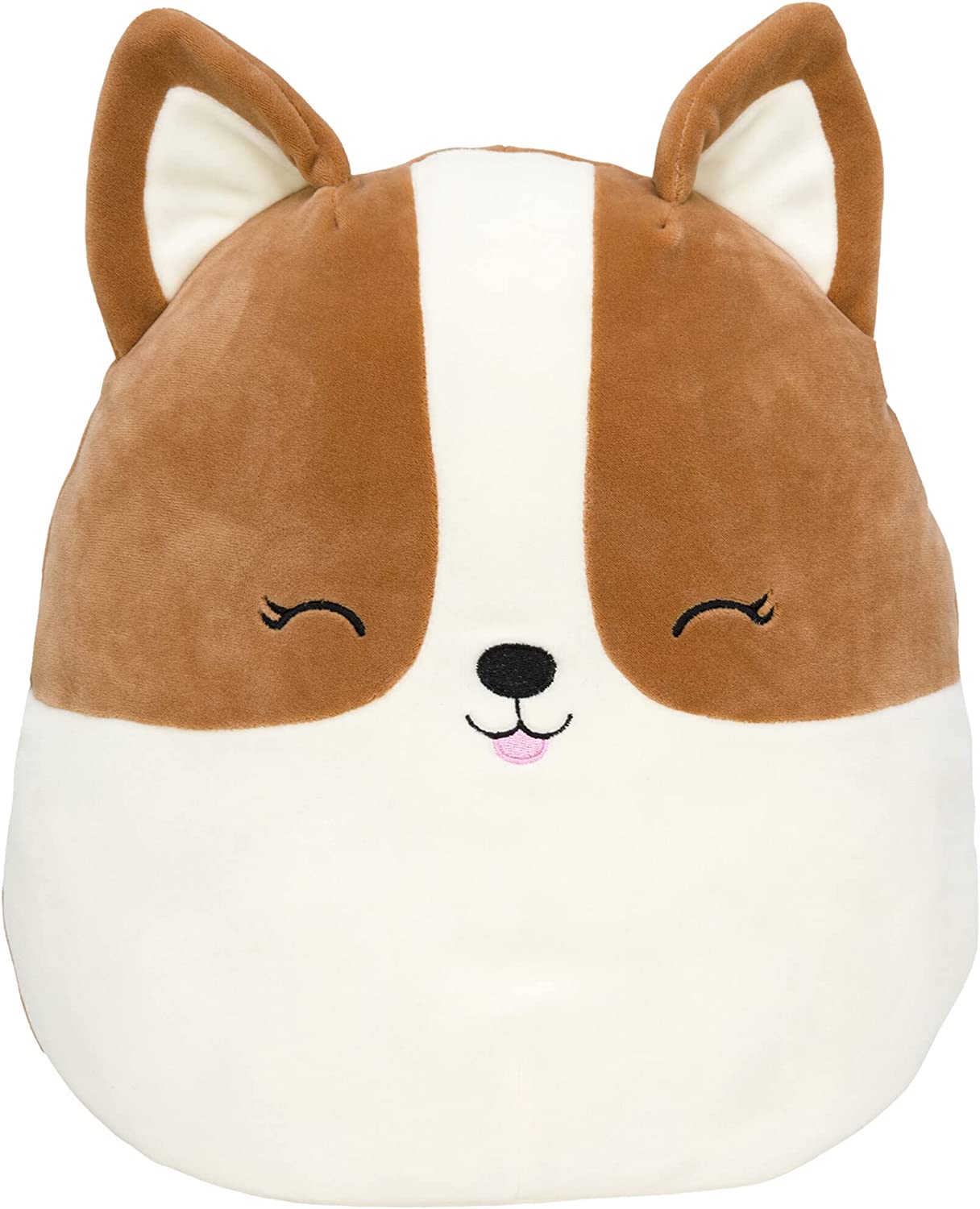 Regina, the corgi Squishmallow, has more variations than any other corgi in the dog squad. However, this variation is the most original one. Regina doesn't have unique features or rainbow tails. In addition, she doesn't wear an outfit or hold an item. So, this Regina Squishmallow is the most classic from the range.
Size: 12″
Squads: Buddy and Dog Squads
Regina Squishmallow Pros
The Regina corgi Squishmallow is the classic pick
The 12-inch Squishmallow is an excellent cuddle buddy for kids
The puppy looks like she ate something, with her cute tongue sticking out
Regina Squishmallow Cons
I can't urge myself to like Squishmallows without open eyes
Regina's classic size isn't the best collectible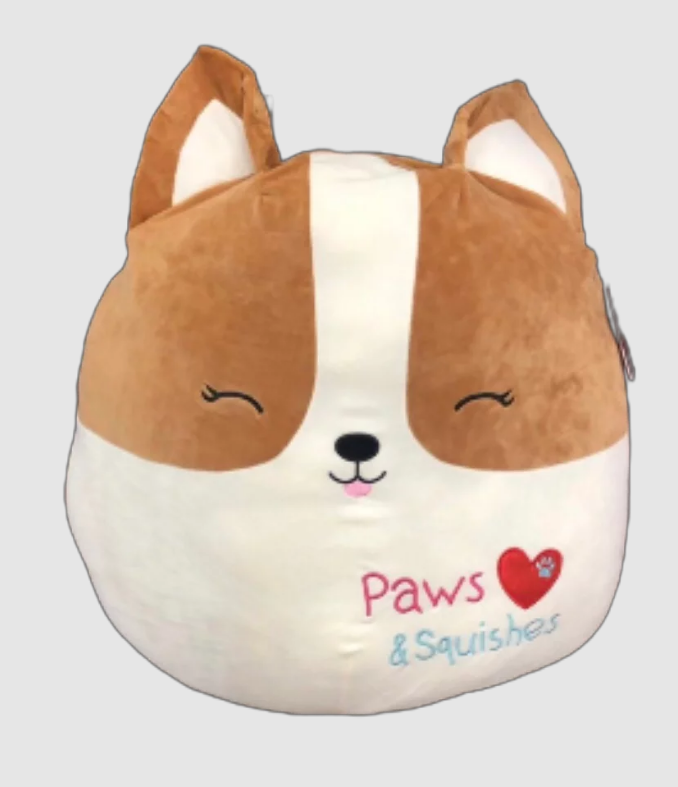 Regina also comes as a giant Squishmallow that looks like Godzilla turned into a cute puppy. Meanwhile, she fits into four squads as Valentine's features. Additionally, kids will go wild when they see a giant corgi. It's ironic because corgis are typically small-breed puppies. Regina has much to offer this size.
Size: 24″
Squads: Buddy, Dog, Valentine's, and Giant Squads
Regina Squishmallow Pros
The giant Regina corgi Squishmallow is the most significant size available
Regina's details are pretty fantastic for her size
Her belly has an adorable "Paws and Squishes" message
Regina Squishmallow Cons
Squishmallows could've opened Regina's eyes to this giant plush
Giant plushies take up a lot of space, and you'll need the room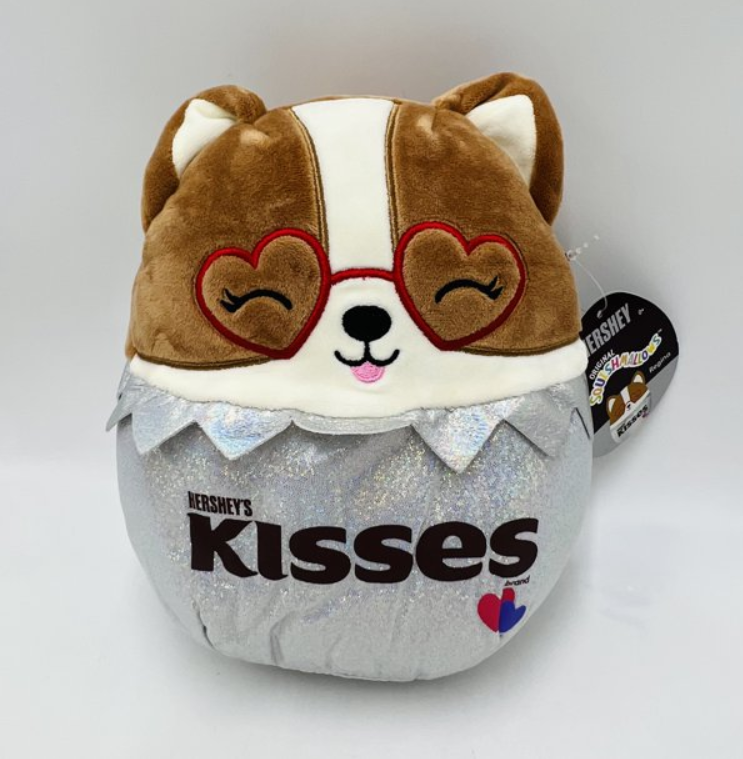 Regina makes another appearance as a Hershey's candy bar, making me crave the flavors. My local supermarket imports Hershey's candy. So, I know how delectable this candy bar tastes. Meanwhile, it's my favorite version of Regina because it teases another passion, chocolate. So, she's a gorgeous corgi Squishmallow you must buy.
Size: 8″
Squads: Buddy, Dog, Valentine's, and Candy Squads
Regina Squishmallow Pros
The Hershey's Regina corgi Squishmallow looks divine (literally)
This edition has the silver, shimmering wrapping to enhance her style
Regina also has adorable heart-shaped glasses for Valentine's Day
Regina Squishmallow Cons
The brand must open the poor puppy's eyes
Regina's style might be over-the-top for some fans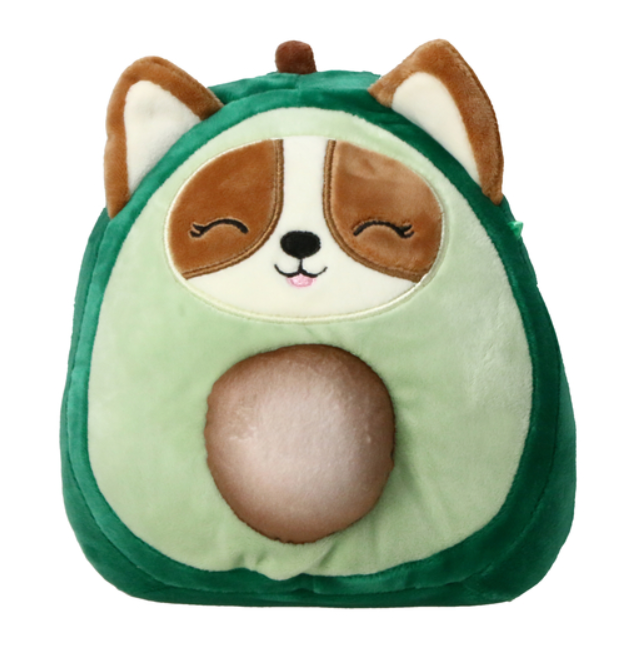 No outfit looks as glamorous as Regina's Hershey's costume, but the avocado appeals to other fans. I don't know where Squishmallows find the inspiration to put animals in food costumes, but it's hilarious. So, I'll go with it. Regina looks pretty good in her avocado outfit. In addition, it's a collectible size for fans.
Size: 7.5″
Squads: Buddy, Dog, and Food Squads
Regina Squishmallow Pros
The Regina corgi avocado Squishmallow blends two unusual things
She comes in a collectible size and as a travel companion for kids
I love the bright green colors of Regina's outfit
Regina Squishmallow Cons
The two ideas don't relate at all
Regina's belly has a strange white hue over a brown background, unlike her style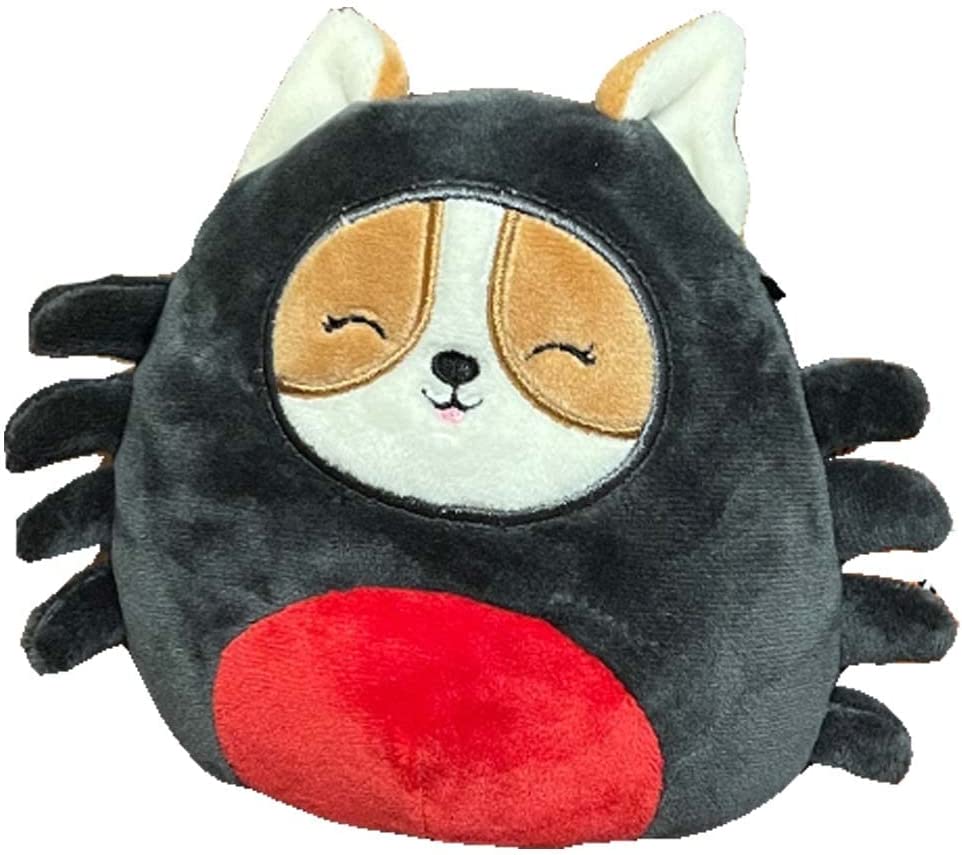 The spider costume is my second favorite outfit for Regina Squishmallow. However, I imagine it would be far more popular if it were a Spiderman outfit. Admittedly, Squishmallows have many original ideas. So, I'll merely leave this one here for inspiration. Meanwhile, Regina looks adorable in a spider costume.
Size: 5″
Squads: Dog, Buddy, Halloween, and Bug Squads
Regina Squishmallow Pros
The Regina corgi spider Squishmallow is an adorable idea
The black and red costume distracts Regina's closed eyes
Regina falls into four squads as a collectible Squishmallow
Regina Squishmallow Cons
The heavy color contrasts require extra care when cleaning this plush
It looks like a spider ate poor Regina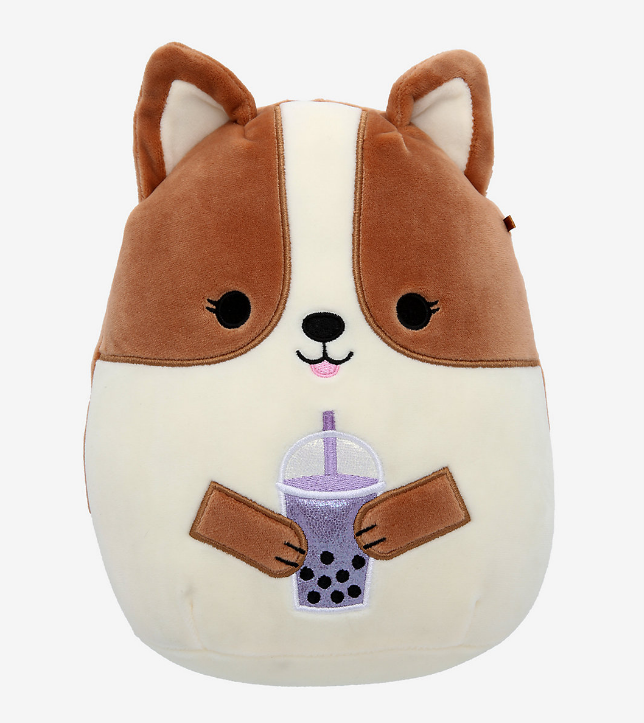 So, there's currently a huge fad about Boba Squishmallows, tea, and everything bubbles in a liquid. It makes sense that the famous Regina would join the Boba squad by holding a drink. Meanwhile, I can't believe Squishmallows finally opened her eyes. It's a miracle. Indeed, this is the female Regina puppy.
Size: 8″
Squads: Dog, Buddy, and Boba Squads
Regina Squishmallow Pros
Regina's eyes finally open on this Squishmallow
It's a popular version because Boba and corgi Squishmallows are trending
It's a collectible size, and the item looks perfect
Regina Squishmallow Cons
Fans might confuse her with Reginald, the male corgi (look at her eyelashes)
Regina awkwardly adopts two paws with this plush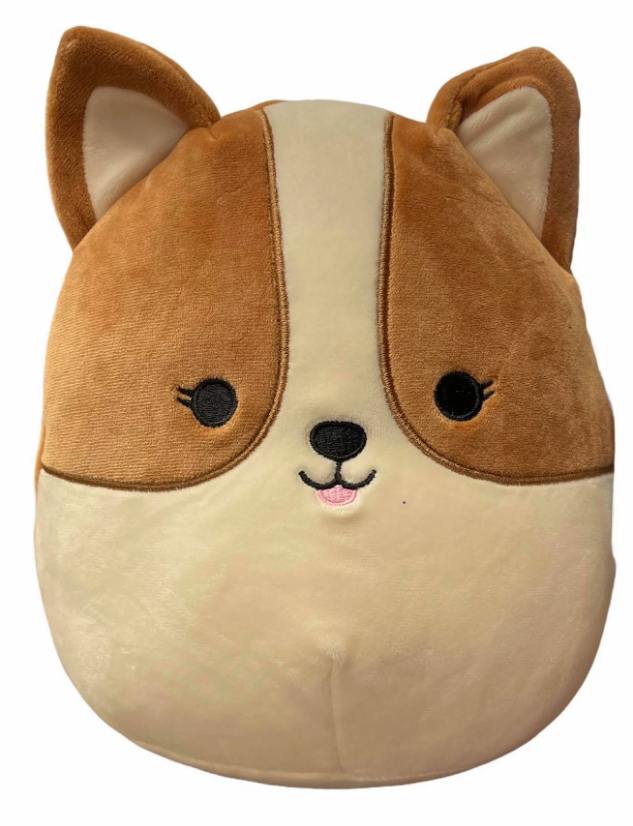 Regina is a girly corgi. So, it makes sense for Squishmallows to show her feminine qualities with a rainbow tail. In addition, they must be listening to someone about closed eyes because they're wide open on this plush again. Meanwhile, the rainbow-colored tail adds a touch of fantasy to Regina's new style.
Size: 8″
Squads: Dog, Fantasy, and Buddy Squads
Regina Squishmallow Pros
The Regina corgi Squishmallow with a rainbow tail is adorable
The darker color scheme helps to keep this plush clean longer
Regina's eyes are beautiful and feminine
Regina Squishmallow Cons
The color scheme changes, but it's undoubtedly Regina
The rainbow tail limits Regina's fans for this plush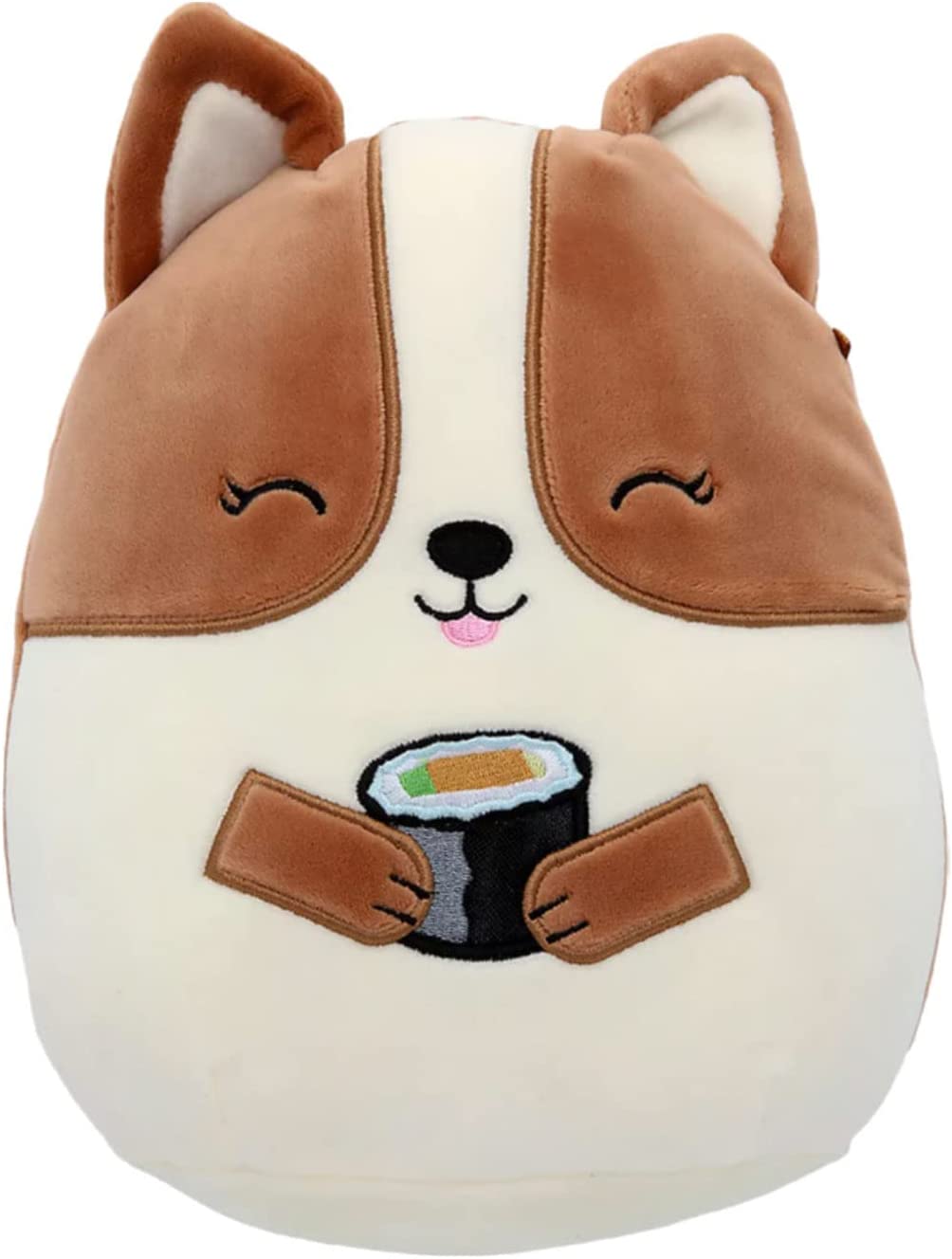 Regina is from the Welsh region. Yet, she appears to have Eastern cravings for sushi with this Squishmallow. I don't mind because it allows for one more collectible size of Regina Squishmallow. Meanwhile, Regina's brown parts appear more prominent with solid borders. So, she's another brilliant choice for corgi fans.
Size: 8″
Squads: Buddy, Food, and Dog Squads
Regina Squishmallow Pros
The Regina corgi Squishmallow with sushi is another collectible size
Regina's smile seems more prominent with solid borders
The sushi variation isn't easy to find, making it collectible
Regina Squishmallow Cons
Squishmallows closed the poor corgi's eyes again
The arms holding the sushi look awkward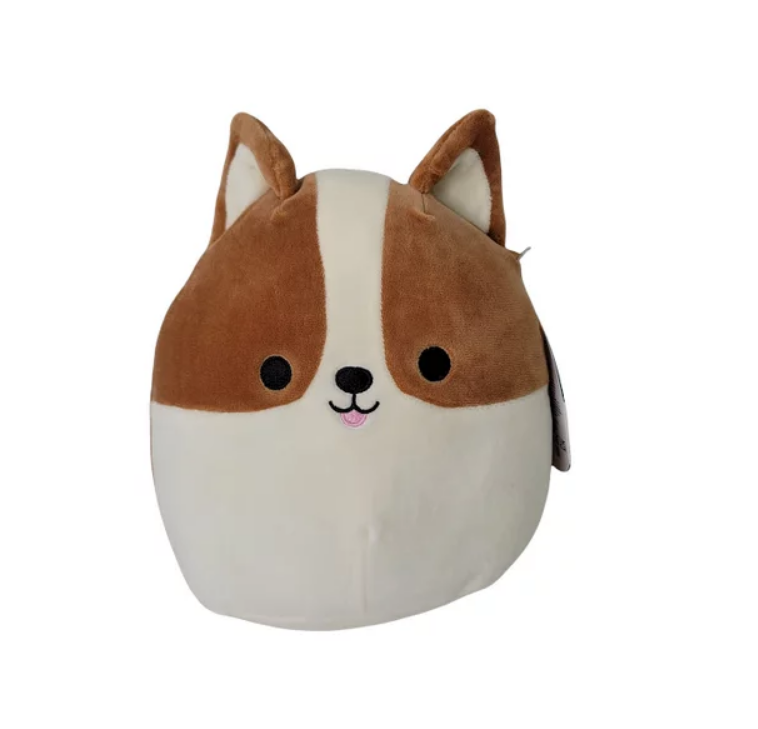 Reginald is the original corgi Squishmallow. I enjoy Reginald more in general because his eyes are open. So, let's see how his classic Squishmallow measures up to others. Meanwhile, the collectible size is a classic piece for corgi fans. It would be best if you started your corgi Squishmallow collection with the original designs.
Size: 8″
Squads: Dog and Buddy Squads
Reginald Squishmallow Pros
The Reginald corgi Squishmallow is a classic collectible
He's a good size with a cute design
Reginald always looks so happy on his plushies
Reginald Squishmallow Cons
It's the plainest variation of Reginald Squishmallow
Reginald's tiny tail is comical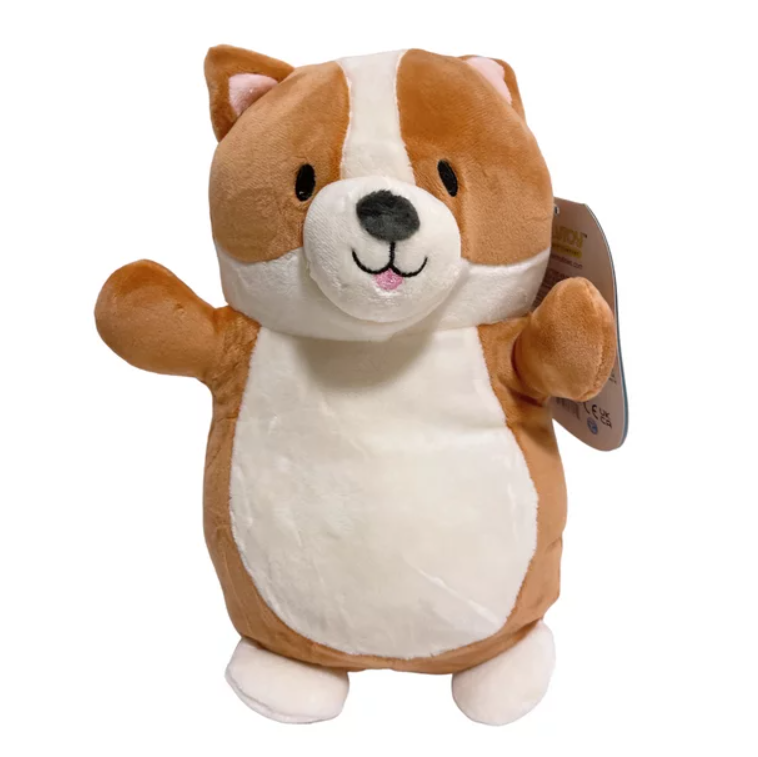 Not many corgis are available as HugMee Squishmallows. So, Reginald has a special place in the brand's hearts. Meanwhile, I love the HugMees squad because the plushies look more like real-life animals. So, this version is my ultimate pick for Reginald. However, I still recommend starting with his classic Squishmallow.
Size: 10″
Squads: Dog, Buddy, and HugMee Squads
Reginald Squishmallow Pros
The Reginald corgi HugMee Squishmallow is unusual
Unusual Squishmallows make excellent collectibles
HugMee Squishmallows have more cuddling potential for kids
Reginald Squishmallow Cons
HugMees don't look like traditional Squishmallows
The paws look awkward on Reginald Squishmallow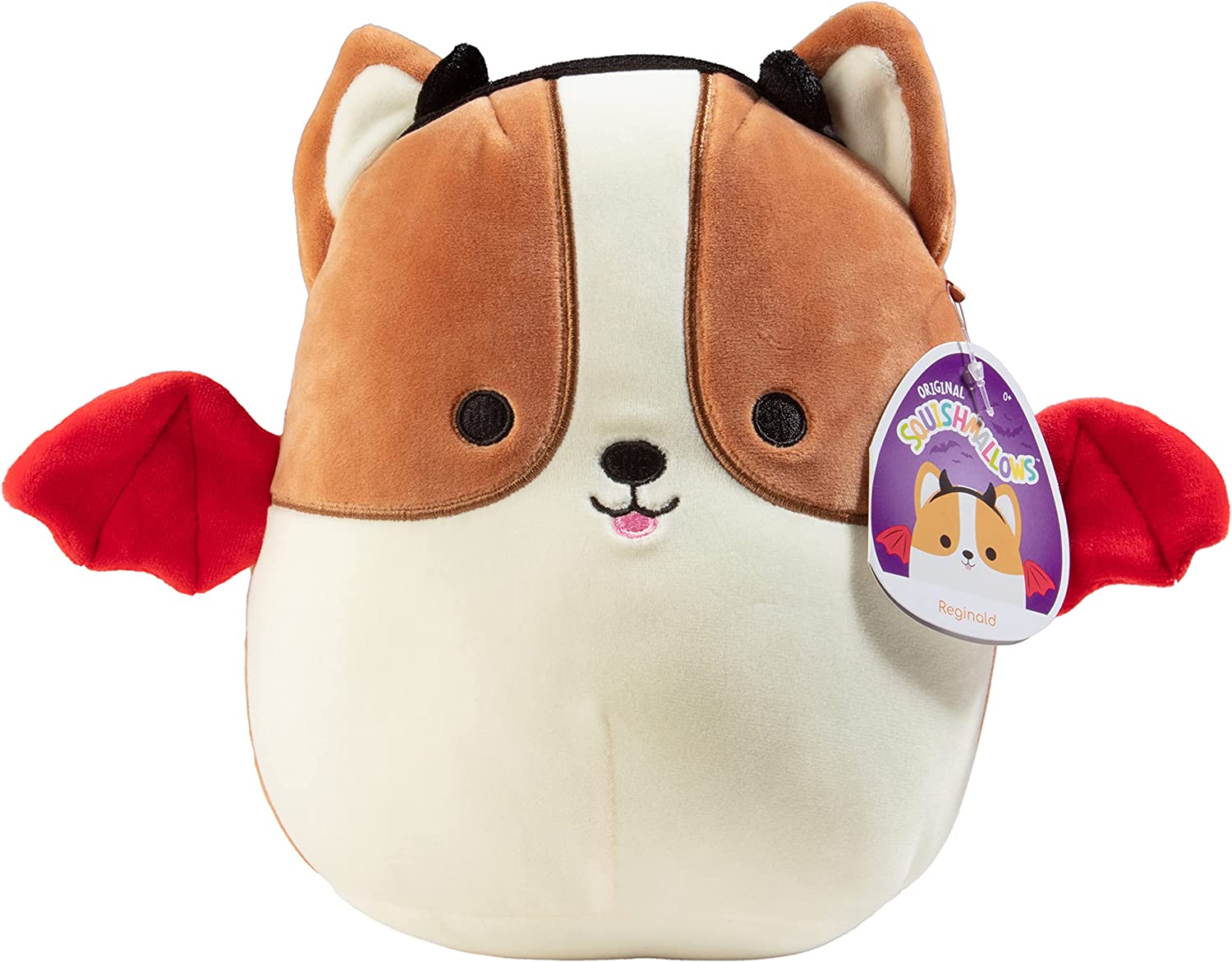 Corgis have attitude. So, Squishmallows might be on to something with the Halloween squad variation of Reginald, the corgi. Reginald looks adorable as a devil dog Squishmallow. However, the little wings and horns make him more precious than ever. In addition, the bright colors add a touch of uniqueness.
Size: 8″
Squads: Dog, Buddy, and Halloween Squads
Reginald Squishmallow Pros
The Reginald devil dog Squishmallow is a collectible size
It's one of Reginald's brightest designs
It appeals to Halloween fans who want costume plushies
Reginald Squishmallow Cons
Reginald's devil horns aren't big enough
The wings can break when washing him too often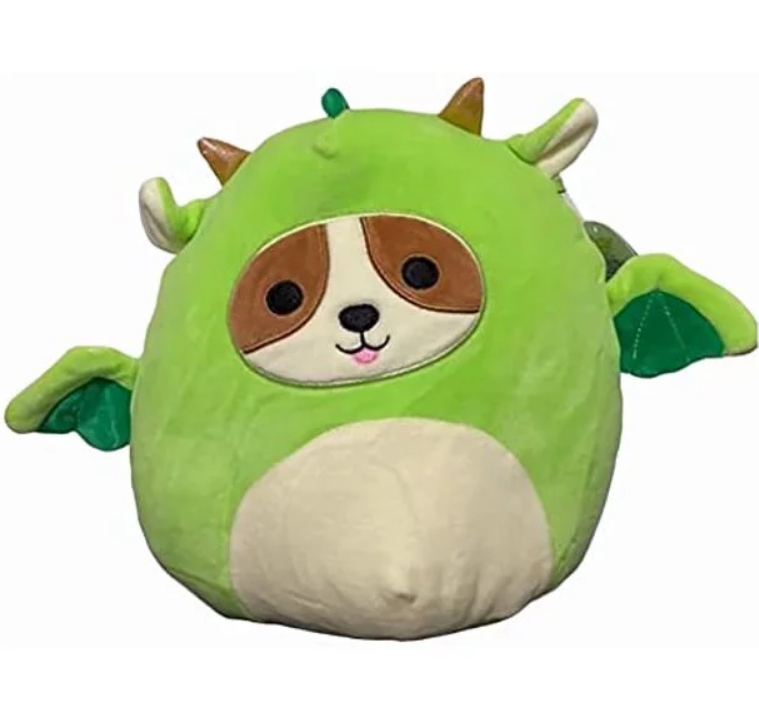 Reginald continues growing cuter with each variation. In addition, my son is smitten with Dragon Squishmallows. So, he'll hop over a fire to own this version of Reginald. My Squishmallow passions and writing often get me into trouble with my kids. Fortunately, he isn't around while I write today.
Size: 8″
Squads: Buddy, Dog, and Fantasy Squads
Reginald Squishmallow Pros
The Reginald corgi in dragon outfit Squishmallow is adorable
It brings the fantasy squad to life with puppies again
The green dragon costume and shimmering parts make him look much better
Reginald Squishmallow Cons
You can't see much of Reginald in this costume
Reginald's face is skewed, which doesn't appeal to me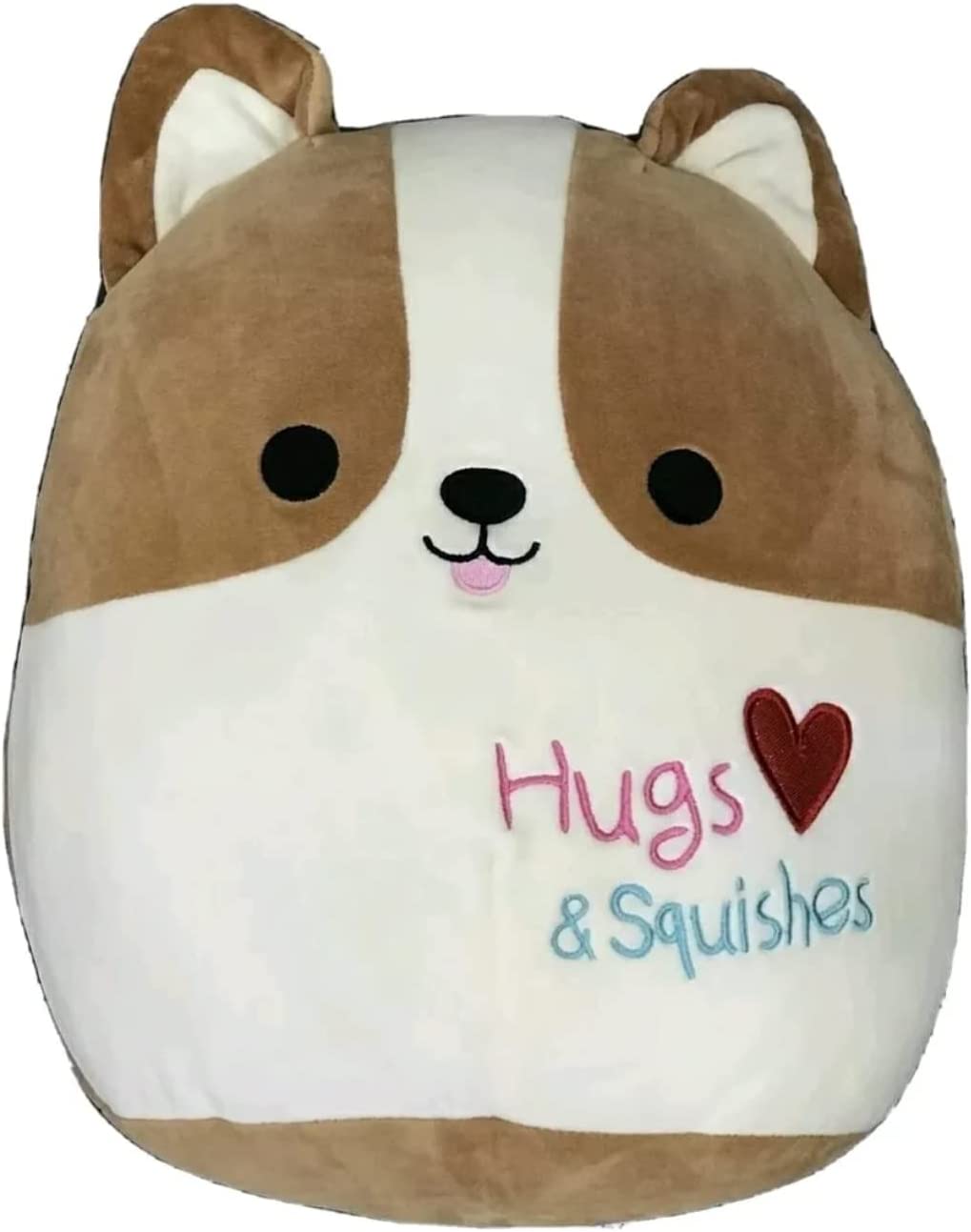 Reginald has the same Valentine's design as Regina's giant Squishmallow. His message also says "Hugs and Squishes," which is adorable for plushies and kids. So, I'll add Reginald's similar design because it's undoubtedly the other pup this time. Those male puppy eyes are impossible to miss on Reginald.
Size: 8″
Squads: Dog, Buddy, and Valentine's Squads
Reginald Squishmallow Pros
The Reginald corgi Valentine's Squishmallow is cute
It's a collectible size compared to Regina's option
The message is adorable, and Reginald looks excellent
Reginald Squishmallow Cons
Reginald's tiny tail is funny but accurate for the breed
It's similar to one I already shared with Regina
FAQs
Question: How Can I Find Discontinued Corgi Squishmallows?
Answer: Sadly, Halver, Candace, and Fitz are becoming rare corgi Squishmallows. The stores don't often restock variations for them. Some Reginald and Regina versions are also gone now. However, I turned to eBay to find the missing pieces. So, here are some discontinued corgi Squishmallows you'll find on eBay:
• Candace, the Corgi Squishmallow
• Fitz, the Valentine's Corgi Squishmallow
• Regina, the Squishville Corgi Squishmallow
• Reginald, the Corgi Flip-A-Mallow
• Reginald, the Neon Corgi Squishmallow
Question: Which Corgi Squishmallow Is the Rarest?
Answer: Fortunately, I found all the discontinued corgi Squishmallows on eBay, including Candace, Fitz, and the Neon version of Reginald Squishmallow. However, I searched everywhere and couldn't find poor Halver, the corgi Squishmallow. The tie-dye corgi Squishmallow is impossible, but don't stop searching.
Question: Which Corgi Squishmallow Has the Most Plushies?
Corgi Squishmallow Guide: Conclusion
Finding every corgi Squishmallow makes me feel like I honored Willow and the queen's royal puppies through my passion for collecting the marshmallow plushies. I shared every puppy available, even though Halver is gone until someone resells him on eBay. Meanwhile, you have tips for cleaning them and looking for various kinds.
However, I recommend starting with Gustavo, the Mexican Corgi Squishmallow, before he's invisible like Halver. Gustavo is as unique in design as Halver. So, please don't underestimate how fast he'll vanish from stores. Don't allow corgi-loving passions to run into disappointment. Instead, buy Gustavo before he disappears.
For more adorable puppy plush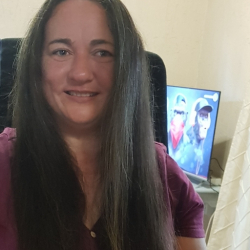 Latest posts by Caroline Lambert
(see all)