My Melody sings a tune of friendship, happiness, and going against the grain. So, why shouldn't I go against the grain like her in the My Melody Squishnallow guide? It's what I plan to do while not avoiding any of My Melody's Squishmallow information that will make you miss out on her exciting plush toys.
My family are long-time collectors of Pokémon plush, Squishmallows, and various fandom-inspired plush toys. My mother got me into collecting plush and discovering the endless satisfaction of owning the top fandoms, from anime to hybrid plush animals. Meanwhile, my kids share my passion, and we love finding new plush.
So, let us welcome you to My Melody's Squishmallow guide, where you'll find everything in and against the grain.
My Melody Squishmallows Bottom Line Up Front
My Melody is a different tune many Squishmallow fans are singing. It's easy to see why when you look at the best My Melody plush guide. She's a sensation with many friends, an exciting story, and a massive fandom. However, what is My Melody's song I'm talking about? It's the reason I love her Squishmallows.
My Melody goes against the grain with everything she does and her standard designs. It gains a lot more fans for the little anime bunny. However, I'll share how this unusual fact makes her Squishmallows more appealing. Then, I'll share tips about My Melody Squishmallow's most significant challenges for collectors and fans.
But first, let me share my ultimate pick among the My Melody Squishmallows out there. The My Melody Spinkled Cupcake Squishmallow ticks every box because it reminds me how much she loves baking with her mom. In addition, it shows her undying love for cupcakes and sweet stuff. It's the ideal version of My Melody.
However, let's discover more about this incredible bunny before seeing the fantastic Squishmallow examples.
Selection Criteria
My Melody is a charming character with much potential. Her Squishmallows must have a touching story or feel sweet, like her personality. So, I'll look for against-the-grain variations to share with you. Meanwhile, I'll share the different sizes for each of My Melody's famous Squishmallow examples.
In addition, I'll show you the authentic Squishmallow design and its sizes for My Melody. As a result, you'll have all of her colorful, friendly, and glowing plush collectibles as an option. Furthermore, I'll follow these rules to ensure your song matches My Melody's tune:
The Squishmallow must be an original from Kelly Toys, irrespective of the store. It must have My Melody's tag and information.
It must come from a store with a wide selection, like Walmart, Amazon, Claire's, Sanrio, Toy Wiz, and Target. These stores also sell originals, even Amazon, which has an official Squishmallows store.
My Melody must be recognizable within the costume if she wears a candy or dessert outfit. Her colors will vary slightly, depending on her affiliation with the costume's colors. Still, you must be able to identify her.
My Melody Squishmallow Guide: Joyful Song
Imagine My Melody's songful soul and friendly spirit. She's a cute girl with a lot of personalities. In addition, she has incredible Squishmallows, which I'll share now because you've waited long enough. Meanwhile, I'll also tell you about each version, shares the pros and cons, and give you the various sizes it has if it comes in multiples.
Standard My Melody Squishmallow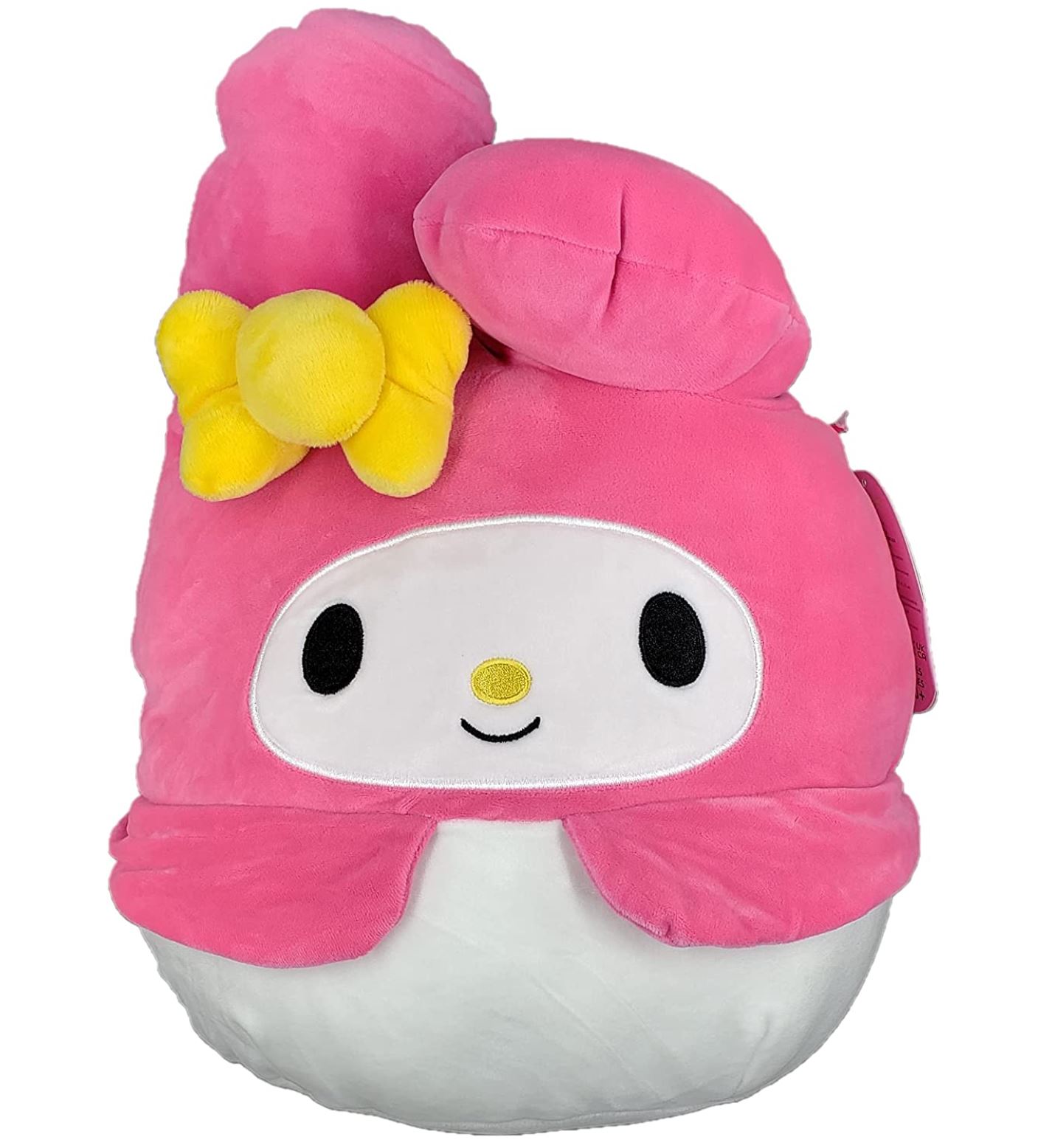 My Melody's primary Squishmallows come in two sizes, bringing her bright pink hat and yellow bow to the center stage. Both sizes show her precisely as fans see her in the Sanrio episodes. She's full of life, looks optimistic, and makes any child want to befriend her. However, the bow's color doesn't show the flower.
Standard My Melody Squishmallow Sizes:
Standard My Melody Squishmallow Pros:
The standard My Melody Squishmallow has two options and fits the Sanrio and wildlife squads
My Melody's design is nearly perfect for fans who watch the show
Children can enjoy the larger Squishmallow, but collectors will love the smaller one
The yellow bow emphasizes My Melody's optimistic outlook
Standard My Melody Squishmallow Cons:
The bow should have a white flower with a yellow center on it
The pink is brighter than pastel, making her a challenging clean for little ones with sticky hands
My Melody Fiesta Squishmallow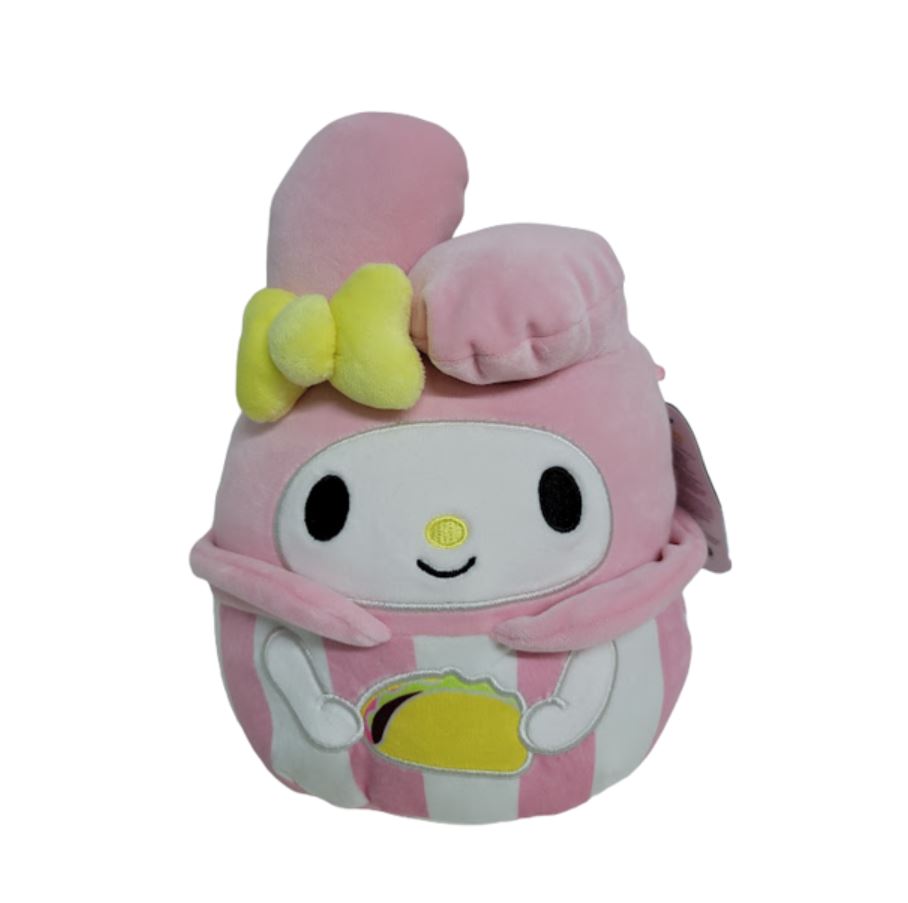 My Melody's collaboration with fiesta squad Squishmallows shows her holding a taco, hungry as always. Indeed, the little bunny has a sweet tooth, but she also has a healthy appetite and an adventurous spirit. So, her taco-wielding Squishmallow suits her fine. My Melody's classic features are easy to recognize in the outfit.
My Melody Taco Squishmallow Sizes:
My Melody Taco Squishmallow Pros:
The My Melody Squishmallow with a taco belongs to the Sanrio and fiesta squads
My Melody's ever-hungry appetite is evident with this Squishmallow
Children will think she's adorable, and collectors will love her size and uniqueness
The details are excellent, especially on the taco, where you can see the stuffing
Standard My Melody Squishmallow Cons:
Unfortunately, this collaboration is new and doesn't come in various sizes
My Melody's arms look weird holding the taco, but she matches the anime character
My Melody Fruit Squishmallow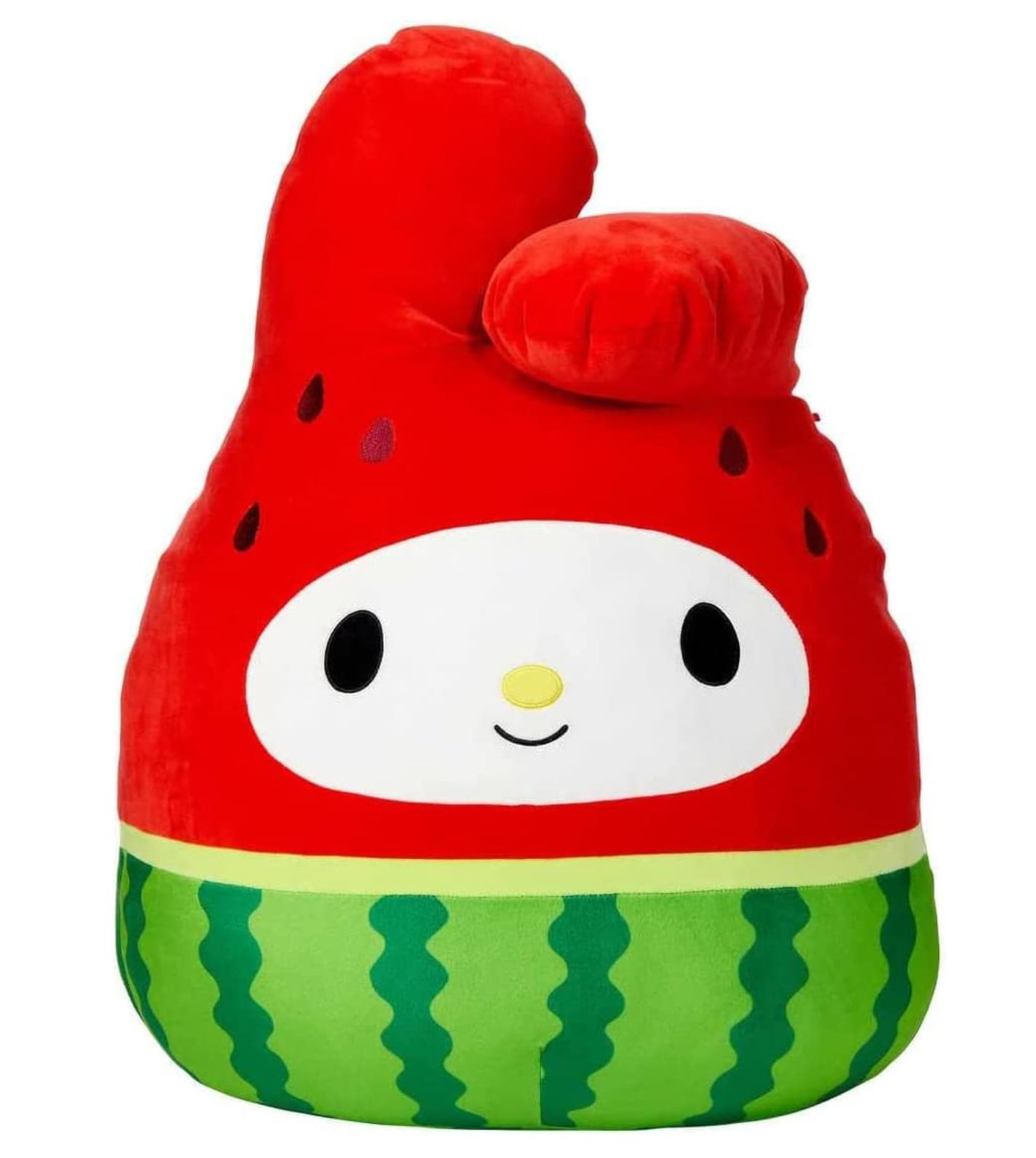 Fans can easily confuse Hello Kitty and My Melody's Squishmallows. However, Hello Kitty has whiskers, but My Melody doesn't have them. Therefore, the My Melody Watermelon Squishmallow is the right character. It's My Melody's only collaboration with the fruit squad, and she wears the summer fruit nicely to add bright color.
My Melody Fruit Squishmallow Sizes:
My Melody Fruit Squishmallow Pros:
My Melody's Squishmallow belongs to the food, fruit, summer, and Sanrio squads
The jumbo My Melody Squishmallow is sure to brighten a child's day
My Melody's colors contrast beautifully between red, green, and snow-white
The My Melody Squishmallow is the ideal match for the sweet-toothed anime character
My Melody Fruit Squishmallow Cons:
Some fans confuse My Melody's watermelon plush with Hello Kitty
These color contrasts will make washing it a massive challenge if kids own it
My Melody Sprinkles Squishmallow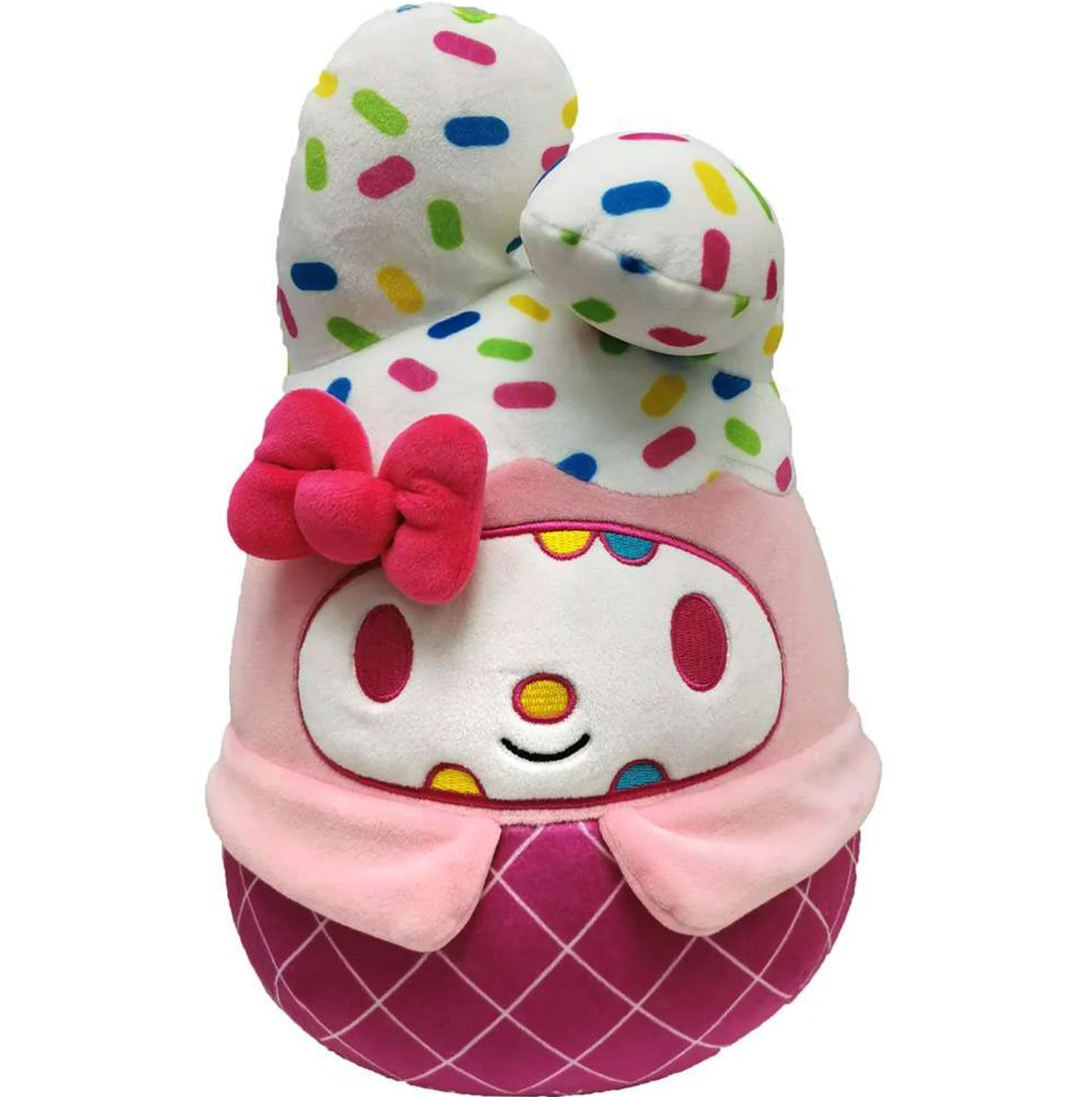 My favorite remains the cupcake version of My Melody's Squishmallows. Sadly, there's only one size in stores. However, nothing speaks louder about My Melody's favorite hobby: baking with her mom. She's such a sweet girl with an even sweeter tooth. So, this Squishmallow represents everything about her hobbies and passions.
My Melody Sprinkles Squishmallow Sizes:
My Melody Sprinkles Squishmallow Pros:
My Melody's Cupcake Squishmallow belongs to the food, Sanrio, and candy squads
It appeals to various fans because it looks like a cupcake or a tasty sundae with sprinkles
You can see My Melody's famous smile through the brighter facial highlights
The bow turns pink for a limited edition My Melody Squishmallow (so, grab her fast)
My Melody Sprinkles Squishmallow Cons:
Unfortunately, only one size of My Melody's cupcake Squishmallow exists
The bright contrasts of color will challenge you to keep it clean in children's hands
My Melody Sundae Squishmallow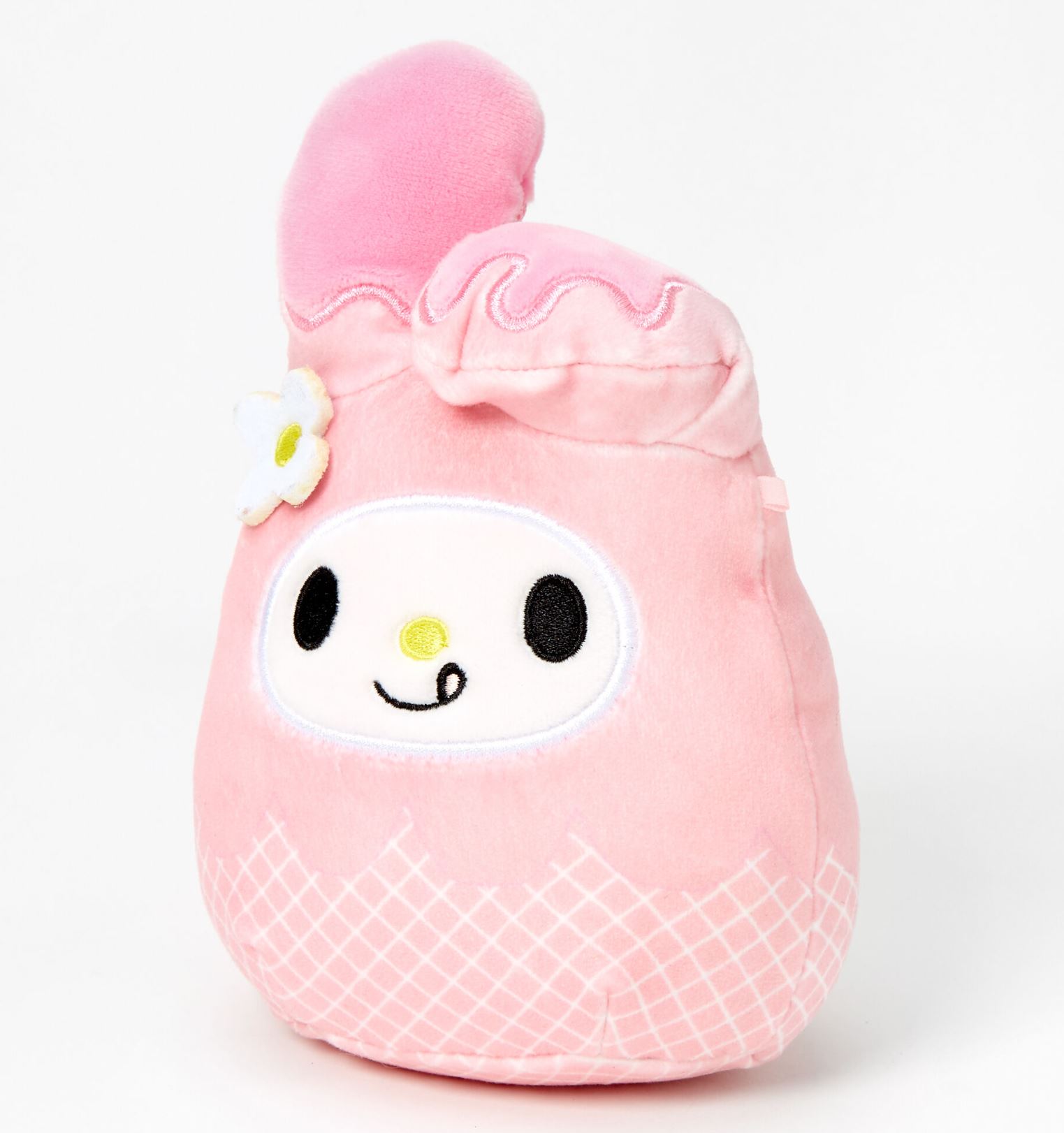 The My Melody Sundae Squishmallow is a favorite because it comes in four sizes and two different styles. The seven-inch, My Melody Sundae Squishmallow, is ultra-rare and currently sold out. However, her ice cream cone changes to a darker version. Please try to get your hands on her fast with Squish Alert.
My Melody Sundae Squishmallow Sizes:
My Melody Sundae Squishmallow Pros:
The My Melody Sundae Squishmallow has four sizes and belongs to the Sanrio, food, summer, and candy squads
My Melody's seven-inch variation is ultra-rare and excellent for die-hard fans or collectors
The design on three Squishmallows shows My Melody's best pastel contrasts
Children will go wild for the jumbo My Melody Sundae Squishmallow
My Melody Sundae Squishmallow Cons:
Sadly, the rare My Melody Sundae Squishmallow is unavailable for now
My Melody's bow changes with each size, even turning into a flower on the 12″ Squishmallow
Recommended Alternatives for My Melody Squishmallows
The biggest letdown of My Melody Squishmallows is that not many exist. So, it helps to find suitable Sanrio squad alternatives, mainly some of My Melody's friends from the show. I picked My Melo Squishmallow's three closest friends before choosing the most outrageous one to fit with her against-the-grain attitude and life.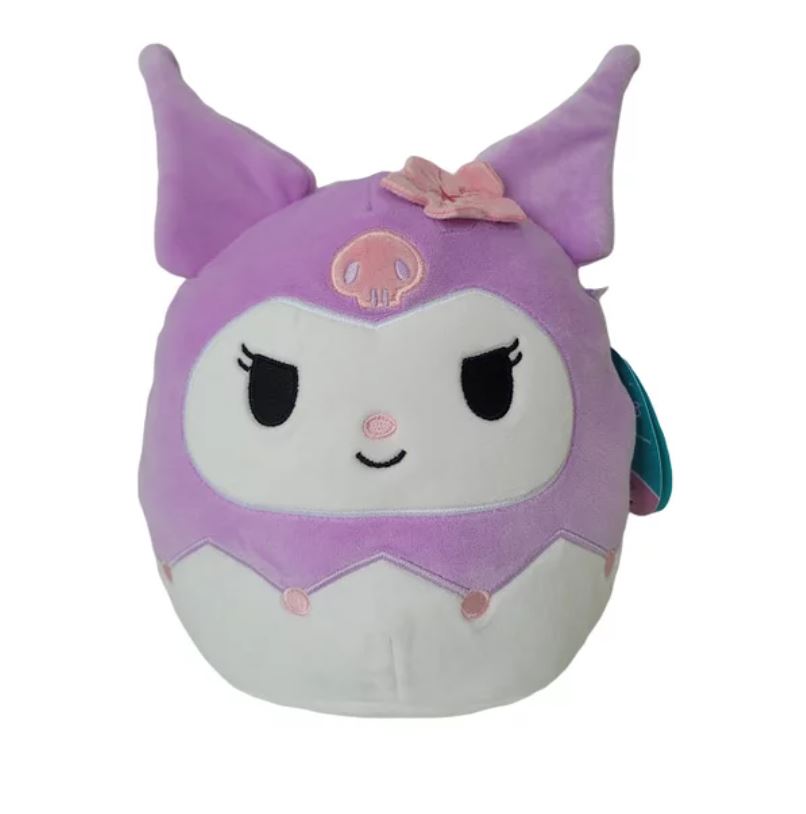 My Melody has many friends, but only a few have Squishmallows. So, Kuromi was a priority, even though she pretended not to be My Melo's friend. In contrast, she admires My Melody and remains close to her. I chose the eight-inch Kuromi Alternate Squishmallow because it's her most unusual choice for changing colors.
Kuromi Squishmallow Pros:
The Kuromi Squishmallow represents one of My Melody's dearest friends
Kuromi changes from black and white to purple and white to stand out
She has a pretty pink flower and skull on her famous hat
She's an excellent size to collect among your Sanrio squad Squishmallows
Kuromi Squishmallow Cons:
She has no unique features other than the color change
Smaller Sanrio Squishmallows don't appeal to kids as much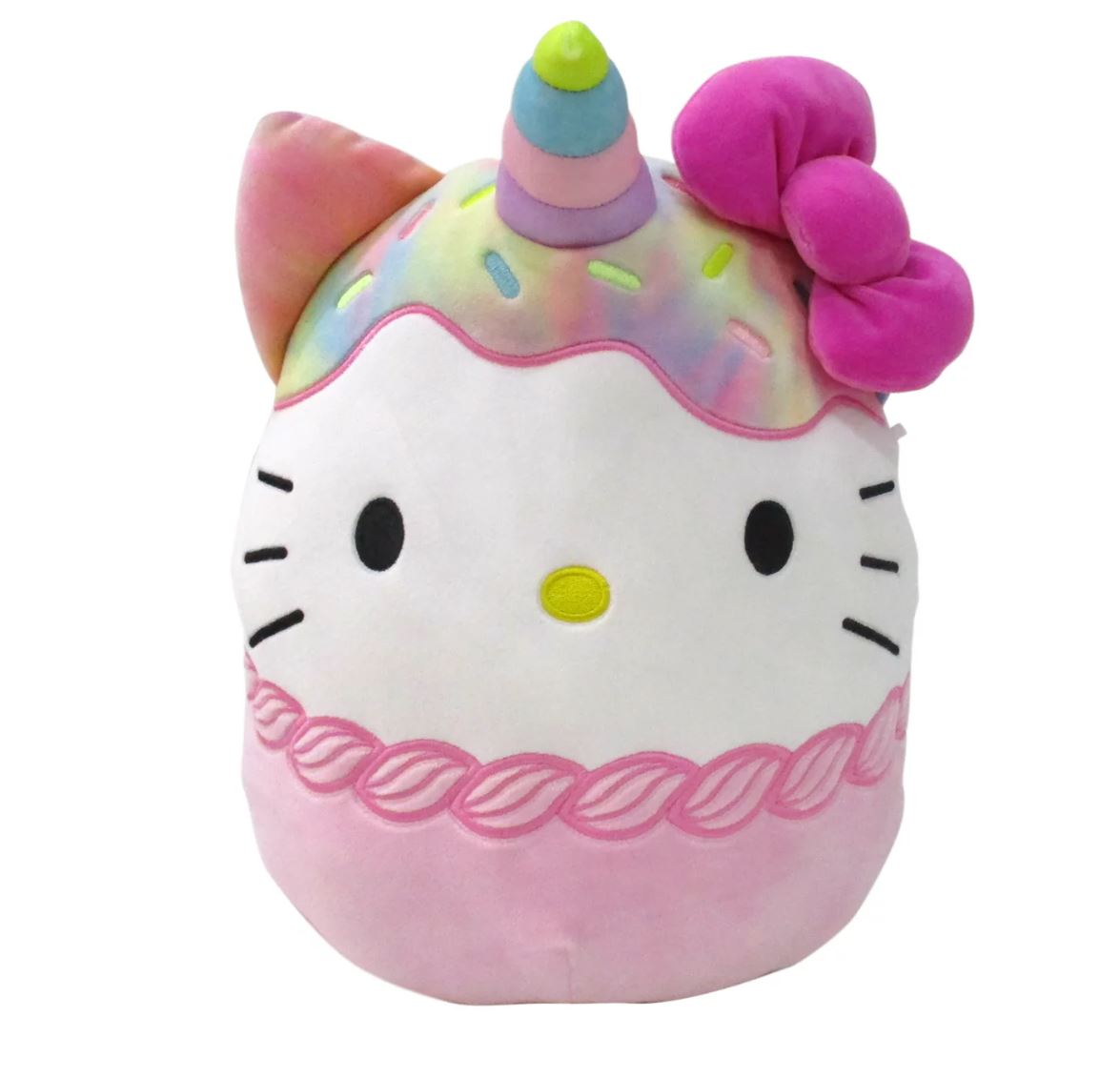 Hello, Kitty is My Melody's best friend, who comes in various ridiculous plushes against the grain. For example, Hello Kitty's ice cream cupcake unicorn Squishmallow combines multiple elements to make her stand out. In addition, it looks brilliant. She has tons going for her, and she uses food like her friend, My Melo.
Hello Kitty Squishmallow Pros:
Hello Kitty's Squishmallow belongs to the Sanrio, food, candy, and fantasy squads
Hello Kitty takes everything you know about plush and turns it upside down
Hello Kitty's Squishmallow is colorful, bright, and entirely insane for little kids
She would make an excellent plush friend for My Melo's Squishmallow collection
Hello Kitty Squishmallow Cons:
You'll have tons of fun washing this color blend, and I mean that sarcastically
Hello Kitty's design is insane and might outshine My Melo Squishmallows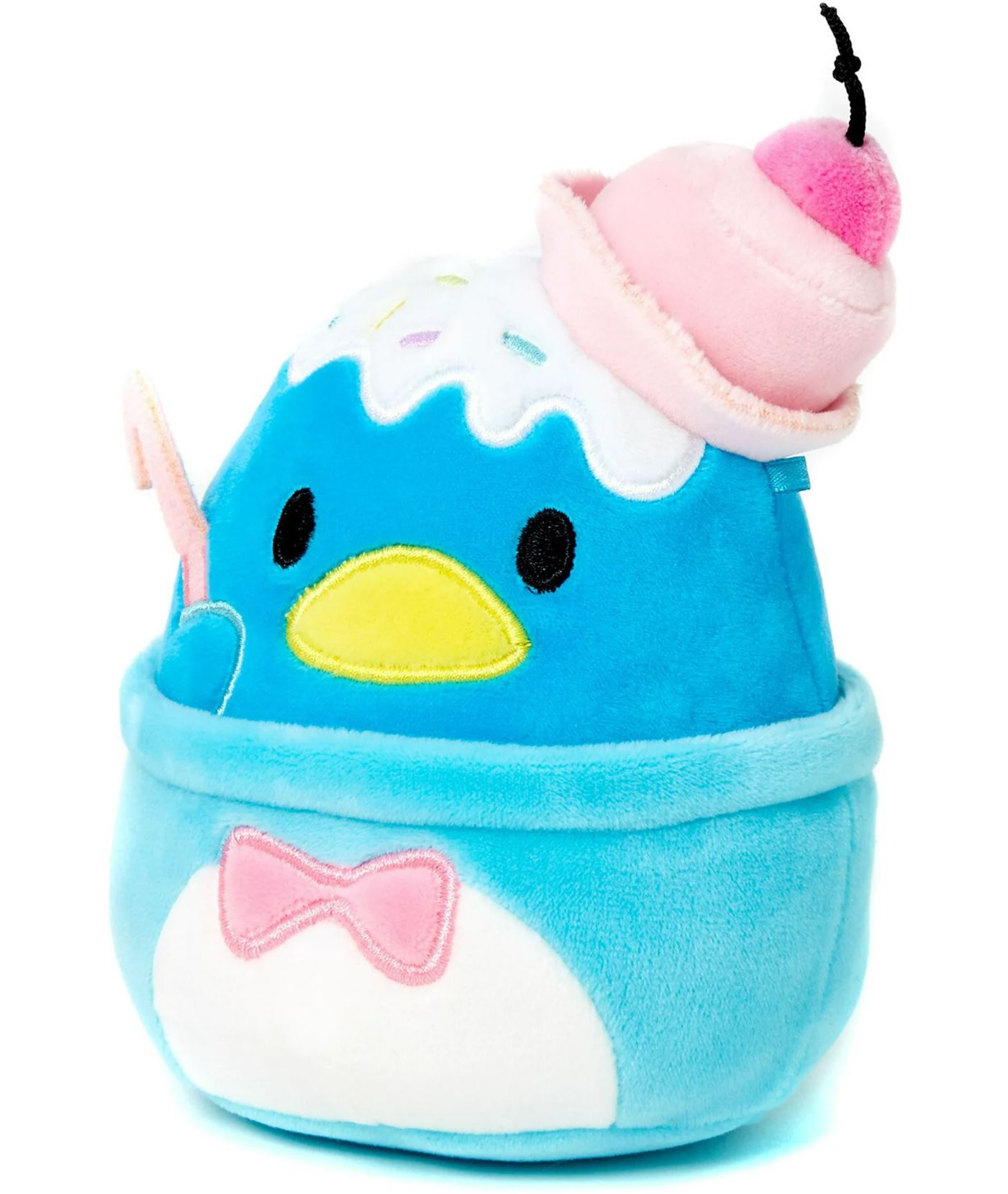 Tuxedo Sam is another of My Melo's Squishmallow friends who looks adorable. He shares My Melody's sweet cravings in a sundae outfit with sprinkles and a cherry to make it more appealing. In addition, the Tuxedo Sam Sundae Squishmallow brings its bright blue colors out like a nuke in the middle of the ocean.
Tuxedo Sam Squishmallow Pros:
The Tuxedo Sam Sundae Squishmallow belongs to the food, Sanrio, and candy squads
Tuxedo Sam's added details make him look more like a sundae than a cupcake
His adorable demeanor, show character, and bright colors appeal to young kids
He would bring a new color to a My Melo Squishmallow collection
Tuxedo Sam Squishmallow Cons:
The blue might be too bright among the many pinks of My Melo Squishmallows
The straw in Tuxedo Sam Squishmallow's mouth will come off with kids
FAQs
Question: Where Can I Buy Rare My Melody Squishmallows?
Question: Which Jumbo My Melody Squishmallows Exist?
Question: Who Is Hello Kitty Squishmallow's Best Friend?
Answer: Hello Kitty is a famous Squishmallow with more variants than many of her Sanrio Squishmallow friends. However, My Melo Squishmallow is her best friend with a sweet nature and an even sweeter tooth. The two are so close that some fans confuse them on the Jumbo My Melody Watermelon Squishmallow.
My Melody Squishmallow Guide: Conclusion
My Melody doesn't have many Squishmallows like Hello Kitty, her best friend. However, she has unique kinds that show her against-the-grain personality. My Melo Squishmallows deserve attention for being unexpected, like the character. Nothing shows more enthusiasm in life than standing out.
Meanwhile, keep my cleaning and collection tips in mind if you want My Melody. In addition, add other Sanrio squad members while you wait for more My Melo Squishmallows. Furthermore, I'd recommend buying the My Melody Spinkled Cupcake Squishmallow because it represents her hobbies better than others.
Beautiful Squishmallows go fast because the brand doesn't make many. So, please don't lose it and buy your gorgeous My Melo Squishmallow today. I'd also recommend scooping My Melody's eight-inch collectible up before it retires.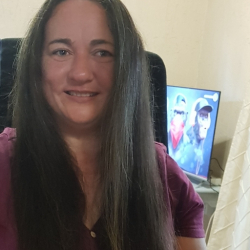 Latest posts by Caroline Lambert
(see all)