Which plush toy character looks squishier than a Squishmallow? Yoshi, of course! A fan's head will spin with options, but fear not, I'll help you learn how to avoid spinning heads. Allow me to introduce the most colorful, cutest video game dinosaur known to Super Mario fans worldwide in this Yoshi Plush Guide.
Yoshi plush toys bring smiles, laughs, and happy memories of a long-running game that every generation since the 1980s loves. Yoshi plush comes in a surprising range of sizes, colors, and types. Every plush has setbacks and benefits, and I'll dig into the details. Let's get into the nitty-gritty of Yoshi and his fandom ranges.
Bottom Line Up Front
Let me ask you, why are there so many Yoshi plush toys? You'll know the answer if you're a die-hard Mario Bros fan, but what if you're a parent to children who love Yoshi and want every color? That's where I come to the rescue. I'm a parent of Mario fans, a fan myself, and I collect plush toys.
Yoshi is a cute character from the Mario game franchise, but it has various versions. The colors have to do with the different versions in the games. Your kids might love the enemy-transforming pink Yoshi plush. Maybe you or your kids are fans of the pepper-munching purple Yoshi plush.
Your son might like the fire-breathing red Yoshi plush. Kids will love them all, but maybe you want a rare find as a collector or fan. The enemy-swallowing brown Yoshi plush and the egg-transforming white Yoshi plush will appeal better to you. Some special Yoshi plush toys also include extras or come as exclusive deals.
Yoshi plush colors aren't the only unique traits. You can enjoy the Mario and Yoshi plush if you prefer an original duo from numerous games. There's also a Luigi riding Yoshi plush if you want a double-duo. Maybe you or your kids are in a hurry to collect as many colors as possible. The Yoshi plush bundle works perfectly.
For something unique, try the Build-A-Yoshi plush. You can also opt for the Amiibo Yoshi plush toys if you still play the games on Nintendo. Amiibo plush interacts with the game. There's a Yoshi plush for every fan. Let me share why there are so many available and the three primary ranges.
Yoshi Plush Guide: Everything a Fan Should Know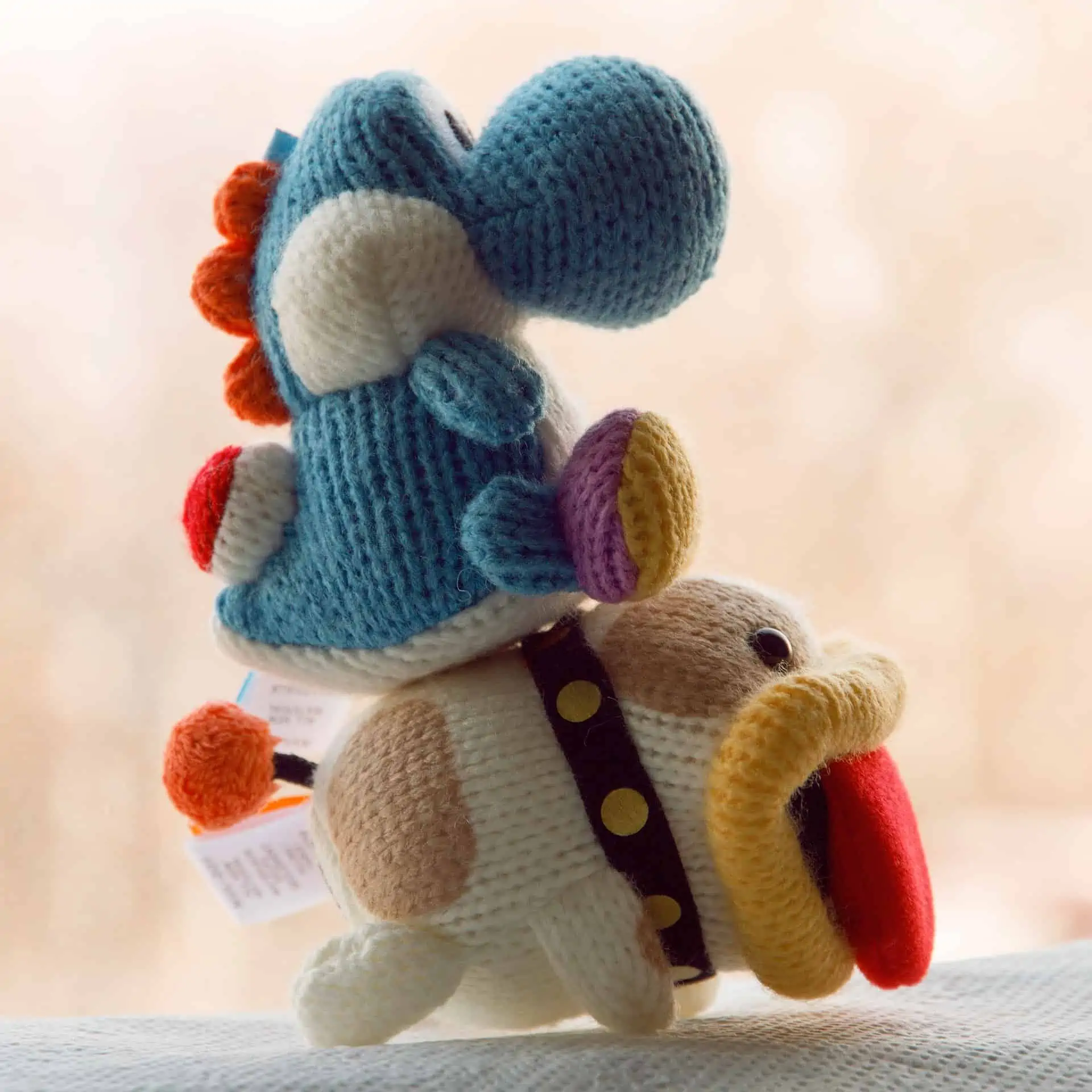 Yoshi plush comes from a place dear to every heart, young and old. You'd be wise to adopt my advice and narrow the massive selection down to three ranges. Let me guide you down the most straightforward path to Yoshi plush.
Yoshi Plush Background
Yoshi is one of the much-loved and most adorable creatures from the Super Mario Bros franchise. It's hard to believe that Super Mario and myself are nearly the same age. The first game, Marios Bros, was an arcade craze in 1983. Nintendo quickly snatched it up in 1985 for their first home console.
Yoshi is a well-known little dinosaur from the game, even though he only debuted in 1990. Yoshi is a trusted sidekick to Mario and Luigi, the plumbers with fairy-tale ambitions. Yoshi became an integral part of the franchise. I remember playing Marios Bros, and my kids still play any form of Mario and friends they find.
My kids also value plush collections. The fictional dinosaur captured my heart, and my kids melt when they hear the words "Yoshi plush." Yoshi appears in Mario Kart and Mario Party, two of my children's favorite games. Various versions have appeared in more games since.
Three Main Yoshi Plush Ranges
You'll find more Yoshi plush available than you can imagine. I narrowed the Yoshi plushies down to three ranges to simplify the massive selections available. Here's a quick overview of what each range offers:
The first range includes an adorable selection of Yoshi plush sitting and standing. I call this the Common Yoshi Plush Range. Each Yoshi comes in different colors to appeal to most fans. The colors also represent different Yoshi's from varying games.
The second range includes a selection of Yoshi friends and clone plushies. I call it the Bundled Yoshi Plush Range.
The third range includes a unique collection of Yoshi plush. I call it the Special Yoshi Plush Range. It provides custom, self-made, and unique Yoshi plush toys.
I'll narrow the countless Yoshi plush further by sticking to three online stores. Walmart and Amazon simplify shopping, and the third store is a self-made choice for true fans.
A Golden Tip for Yoshi Plush Fans
Have you seen a child in Super Nintendo World in Orlando, Florida? Kids start foaming at their mouths when their favorite video game characters surround them. Can you imagine the insanity once Super Mario Theme Park opens its gates in 2025? I feel sorry for every parent in Florida.
Mario fans can go off the rails with plush merchandise. I'm one of them. Parents might wonder why there are so many different colors of Yoshi plush. They come in various colors because there were many different Yoshis throughout the games. There was a yellow Yoshi in Yoshi's Island and a red one in Yoshi's Story.
Each color Yoshi also has different powers. Green Yoshi eats everything, whereas red Yoshis shoot fireballs like a dragon. The powers won't determine the collection. I won't focus on them. Different Yoshis also come from various-colored eggs. The color also depends on what you feed the Yoshi.
The one tip I have is to collect each color, Yoshi. You can stick to the exact sizes to complete the collection or try different types. You'd be able to replace a ball pit with Yoshi plush, and kids will go wild. Yoshi is also likely to become a best friend for young fans. Plush friends hold enormous benefits for kids.
Kids love Yoshi plush as much as fans do, so don't be afraid to collect the wide selection available. Having one of each color is a must for true fans.
Common Yoshi Plush Range: The Cuties
Yoshi is originally a green dinosaur, but every fan has different colors and versions. I'll share one of each color. However, there are more of the same colors in the different sizes. Small Yoshi toys are eight inches or less. Medium Yoshi toys are between nine and twelve inches, and large Yoshi toys are over 13 inches.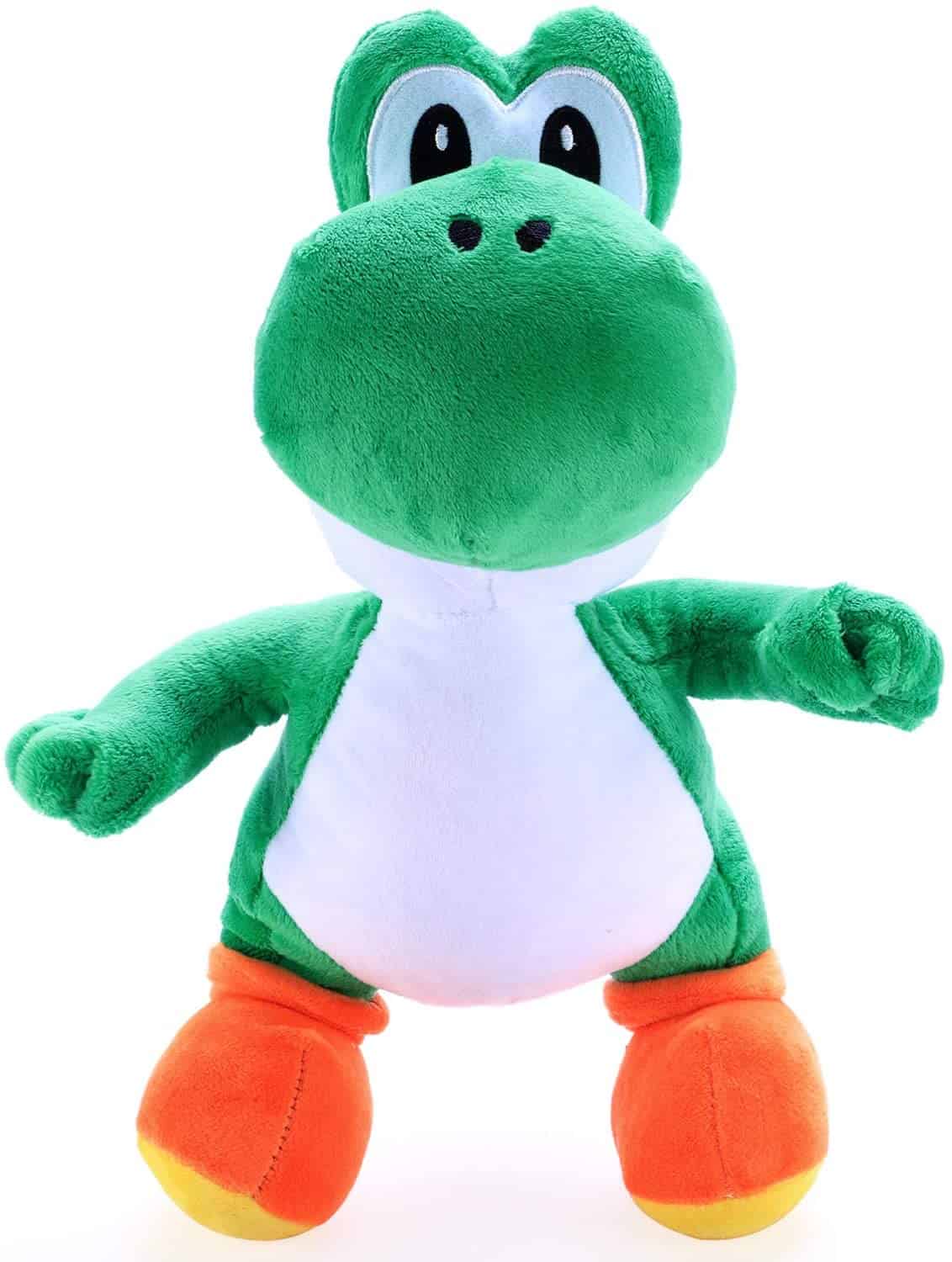 The crazy thing is that Yoshi isn't a dinosaur. He's actually a Yoshi creature. Yoshi's original color is green, and you can't buy Yoshi plush without adding the original dinosaur. Remember that games create their own creatures, but we all know the green Mario character as a dino.
Key Notes
Brand: Equasis (unlicensed)
Size: 13″
Position: Standing and sitting
Pros
The original color is the best choice for Yoshi in any size
The Yoshi plush can sit and stand with loose bottom limbs
Cons
I wish the green were darker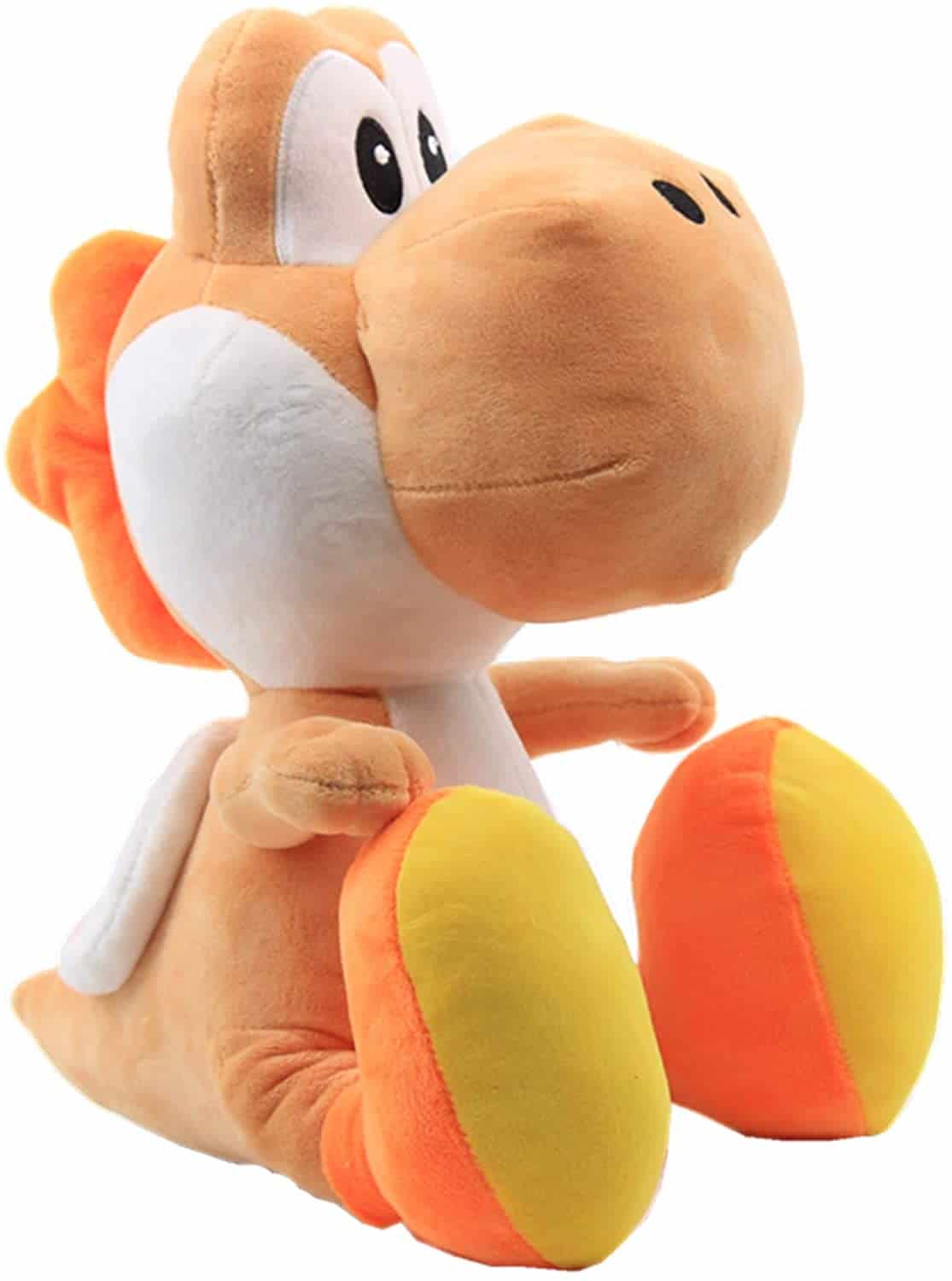 Admittedly, brown isn't the nicest-looking color on Yoshi, but it's another option for fans. Do you know what makes brown Yoshi so unique? It's one of the rarest-colored Yoshis you'll see within the games. Brown Yoshis should wear brown or dark orange boots to match the game character.
Key Notes
Brand: Uiuoutoy (licensed)
Size: 12″
Position: Sitting
Pros
It's a rare color for video games, making it a must-have for die-hard Yoshi fans
Yoshi's fingers or claws are sturdy on this plush toy
Cons
I'm not a fan of the brown Yoshi plush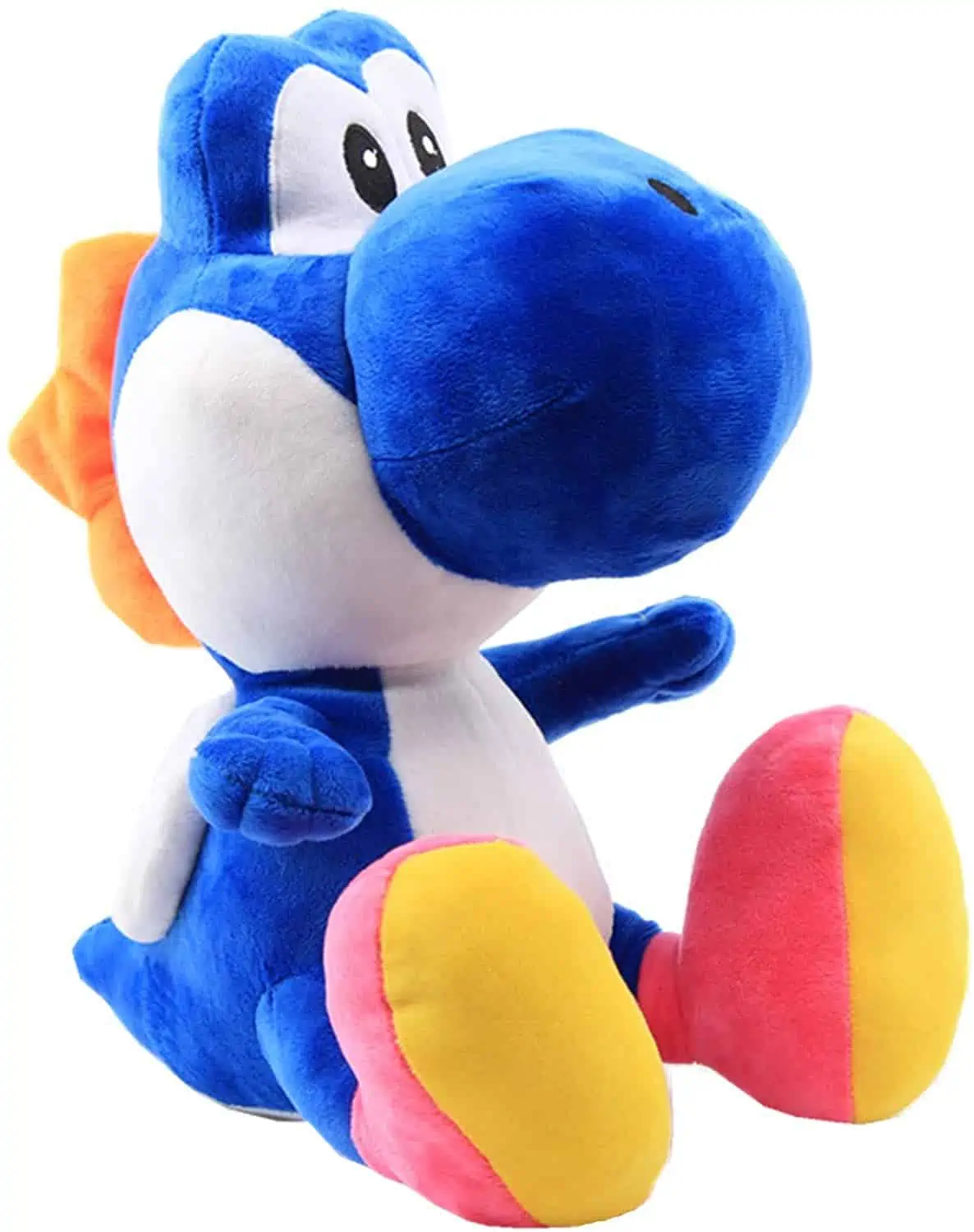 The blue versions of Yoshi appear in games like Mario Kart 8, Yoshi's Island, and Super Mario. I love the color blue, so this is one of my favorites after the original Yoshi plush. The dark blue Yoshi plush should have light pink or dark purple boots with a yellow sole to match the game's character.
Key Notes
Brand: Uiuoutoy (licensed)
Size: 12″
Position: Sitting
Pros
The dark blue Yoshi plush looks as vibrant as the Mario Kart version of his character
It also has a sturdy design for the claws on each hand
Cons
The boots should be a little lighter, or they should be purple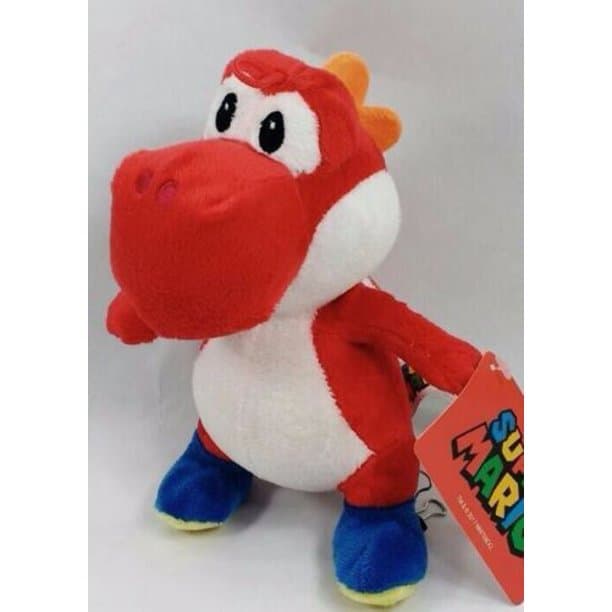 Red Yoshi is technically a baby in the games. You can see it in Mario Pixel, Mario Kart 8, Super Mario, and Yoshi's Island. The only thing that breaks Yoshi's bright red color should be his spikes. The boots are dark blue with a yellow sole if the plush matches the game's character.
Key Notes
Brand: Nintendo Official (licensed)
Size: 12″
Position: Standing
Pros
It's an original version of the red Yoshi plush from Nintendo
The red Yoshi plush is a fan-favorite for Luigi
Cons
It doesn't have a baby-faced look as it should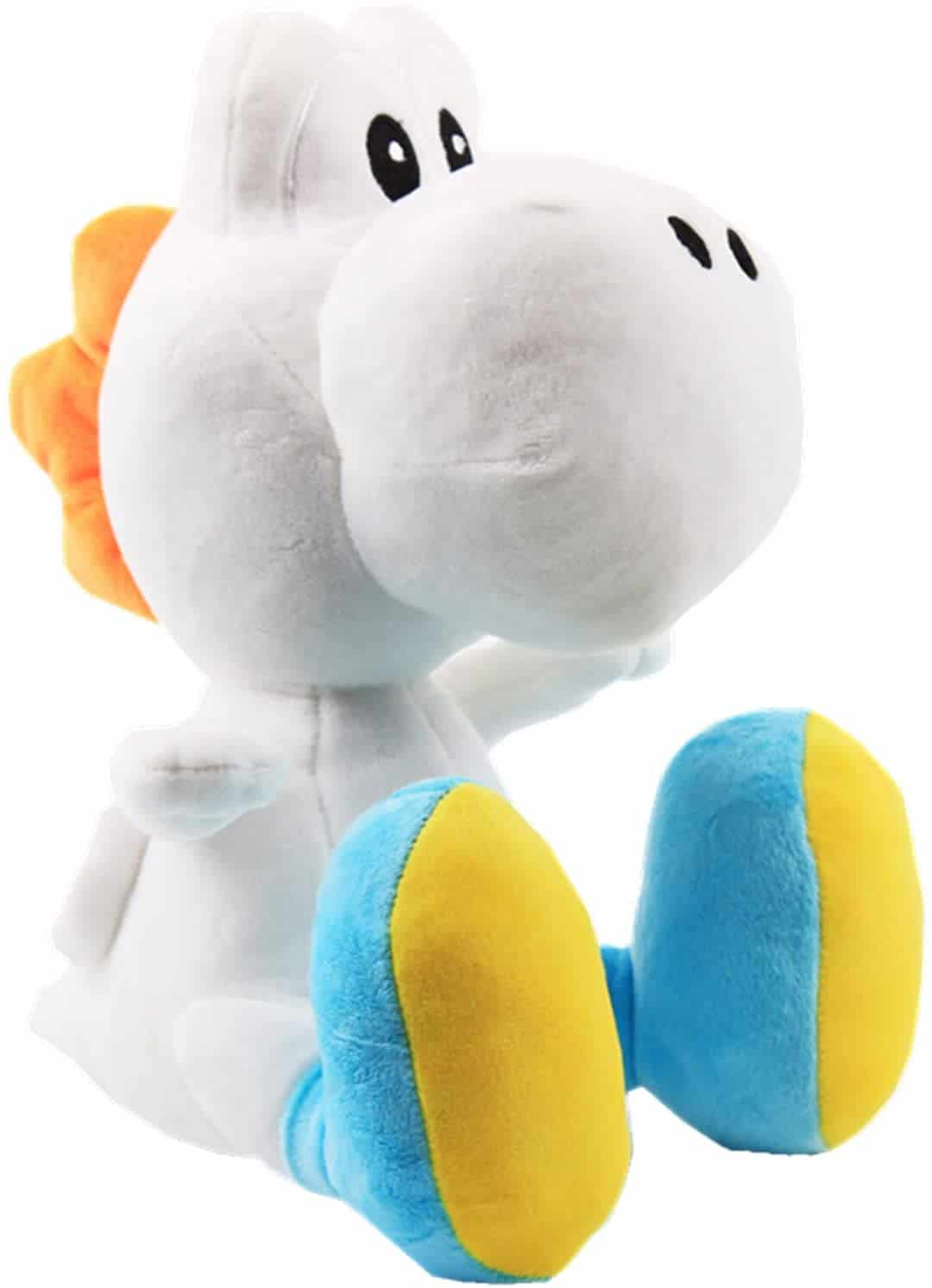 My son loves the white Yoshi. He told me to find the little dino when I reach the Poochy and Nippy level, number three. The white Yoshi isn't the easiest character to find in Yoshi's Story. Anyway, white Yoshi plush should have light blue boots with yellow soles for original cuties.
Key Notes:
Brand: Uiuoutoy (licensed)
Size: 12″
Position: Sitting
Pros
The white Yoshi plush is another rare find in the games, but you can find it in stores
The plush is an original that looks like an albino Yoshi with a red shell
Cons
It will get dirty around kids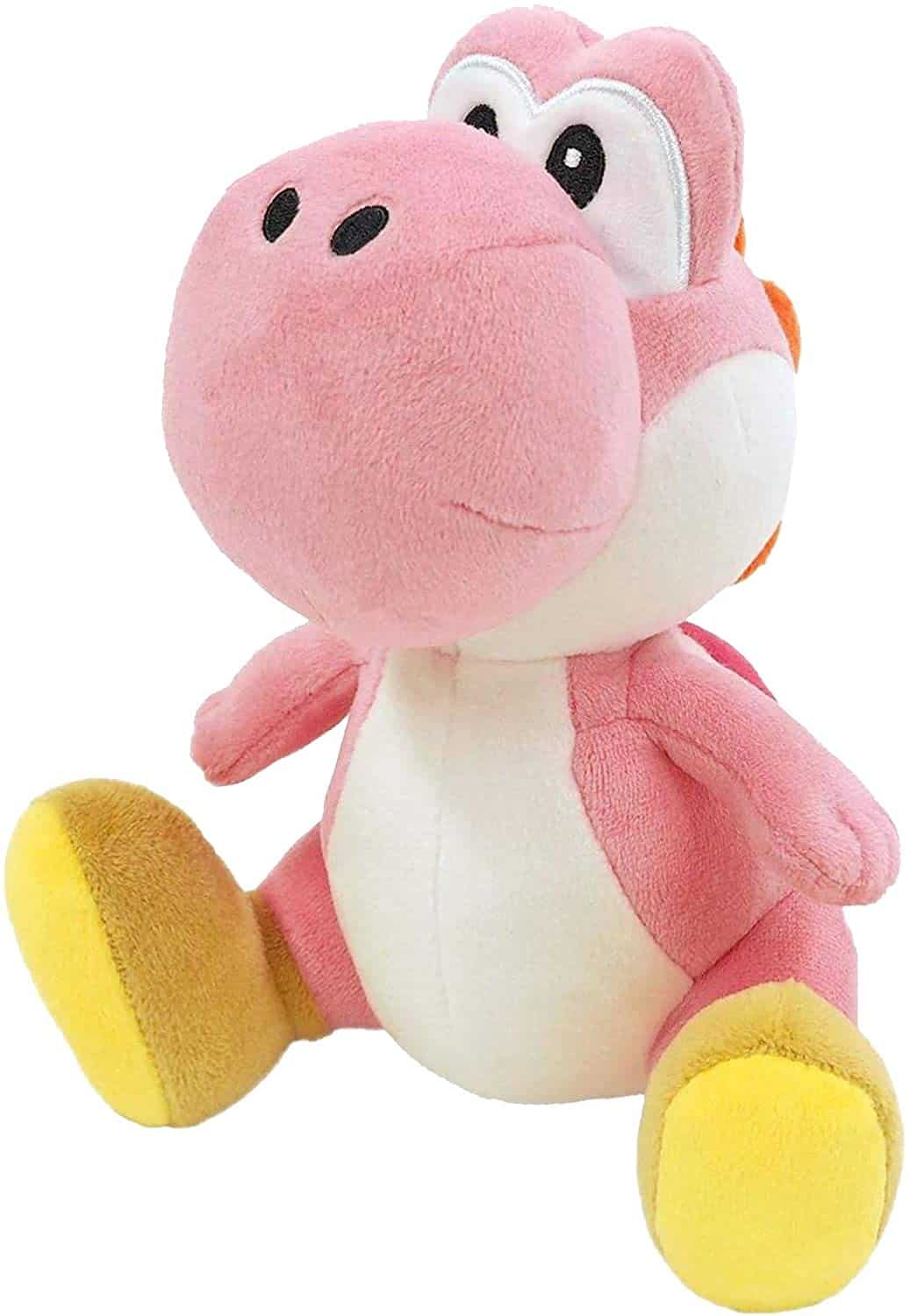 Pink Yoshi is an adorable female dino from Super Mario, Mario Kart, and the Mario 8-bit game. The pink Yoshi's name is Birdo, and you'll find original plushies with yellow boots and slightly faded yellow soles. She's full of life, and my daughter loves her. Then again, my daughter loves all things pink.
Key Notes
Brand: Little Buddy (licensed)
Size: 7″
Position: Sitting
Pros
The pink Yoshi is an adorable favorite for traditional girls, whether they play the games or not
It's a fantastic size that allows for a more significant collection
Cons
The boots look a little brown instead of yellow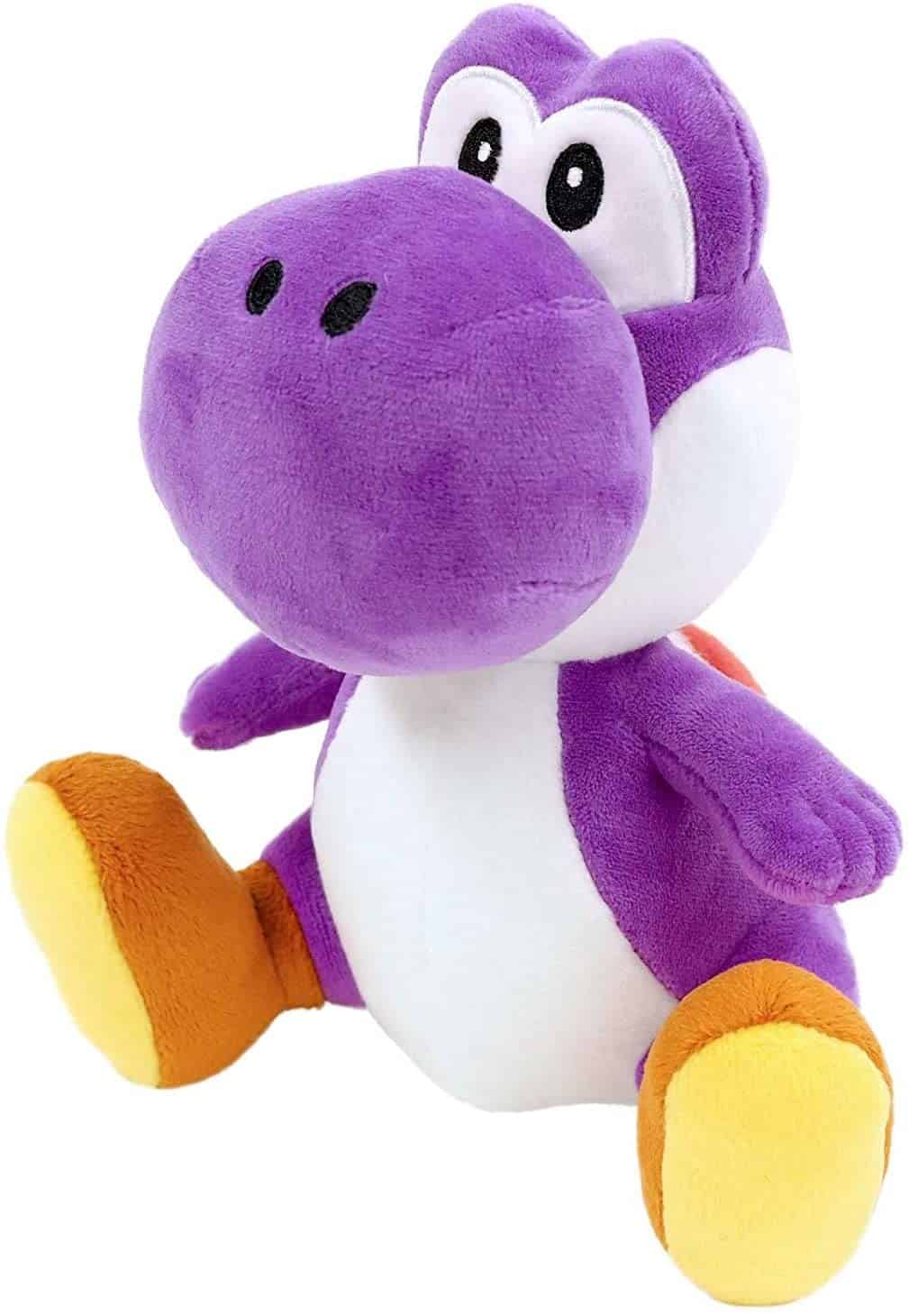 The purple Yoshi is another regular of Yoshi's Island, Super Mario, and the first Mario Kart game. Purple is one of my top colors, so I love it for that reason, too. Purple Yoshi's name is Boshi, ironically. You'd think it's the boss. The boots should be brown with a yellow sole for original Yoshi plushies.
Key Notes
Brand: Little Buddy (licensed)
Size: 7″
Position: Sitting
Pros
The purple Yoshi plush is beyond cute, and I can't get over its name
It also has a sturdy claw design and comes in the original colors
Cons
Not all fans know purple Yoshi that well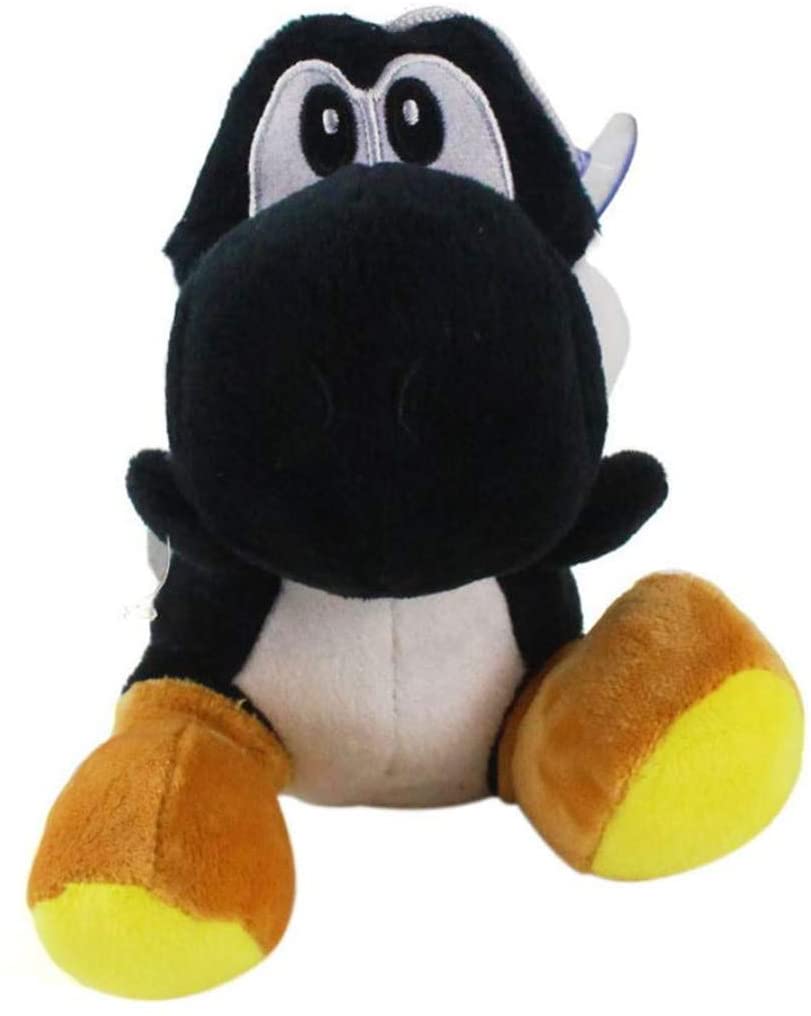 Black Yoshi, also called Duggie or Douglas, is a lesser-known character from Super Mario Logan Series. It appears briefly in Mario Kart 8, but black Yoshi is the plush to own if you're a collector. It has red and white boots that look like sneakers. It's not a favorite for my kids because they hardly know it, but I like it.
Key Notes
Brand: Juyo (unlicensed)
Size: 6.7″
Position: Sitting
Pros
The black Yoshi plush is a collectible because it's a rare find in the Mario games
The plush has solid limbs with no claws to break off
Cons
It's an unlicensed version without the original sneakers, and not all fans know it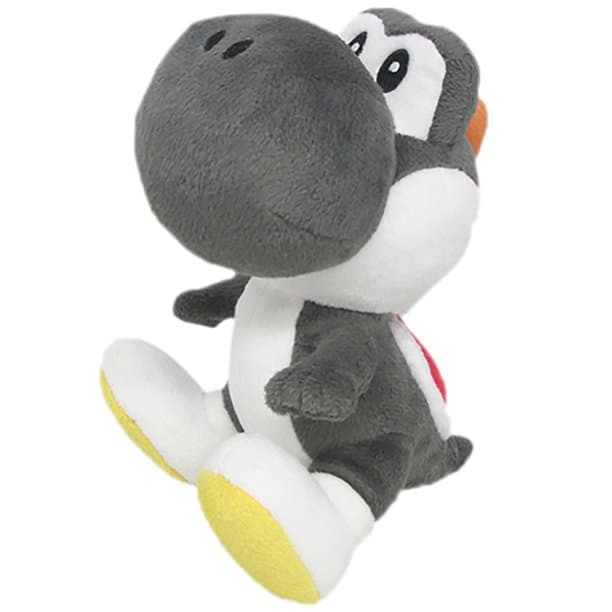 The gray Yoshi is another lesser-known character from the Mario franchise. It appears in the less-popular Mario games called Super Smash Bros and Smash Bros. My kids never heard of the gray Yoshi. I can't even find a name for it. It should have brown boots with yellow soles or green boots with a green shell.
Key Notes
Brand: Little Buddy (licensed)
Size: 6″
Position: Sitting
Pros
The gray Yoshi is a rare find and collectible
It represents a new and unusual Yoshi that spits super fireballs in the games
Cons
The character is confused with the black Yoshi and doesn't have the proper boots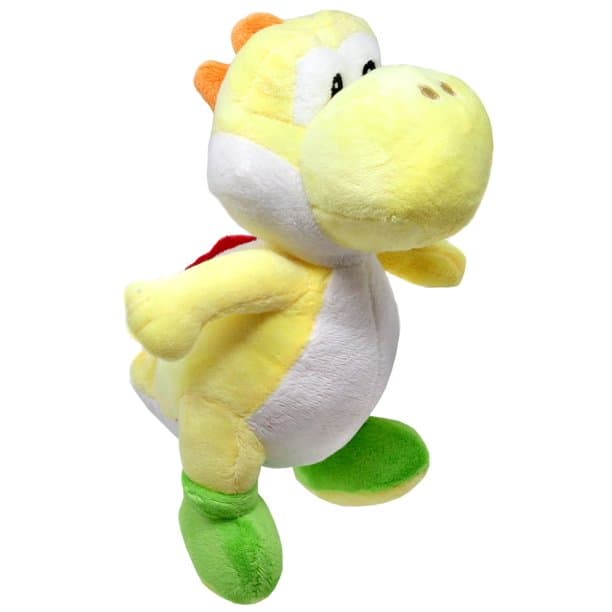 The yellow Yoshi looks fantastic. Another interesting fact about Yoshi is that the name translates to "good luck" in Japan. The color yellow is another sign of luck, so who knows? You might be lucky enough to squeeze one more Yoshi plush into your colorful selection. Yellow Yoshi is from Yoshi's Island, Mario Kart 8, and Yoshi's Story.
Key Notes:
Brand: Good Stuff (licensed)
Size: 6″
Position: Standing
Pros
Yoshi's adorable and friendly nature genuinely show in the yellow version
The green boots and orange fins suit the yellow Yoshi plush
Cons
It's not the brightest shade of yellow but still works
Bundle Yoshi Plush Range: The Friends
The friendly extras might include one of the other Mario characters like Luigi or Mario himself. The bundled range can also have Yoshi plush toy collections for fans who want every color. And don't worry, the bundled collections are small enough to own ten of the same Mario character.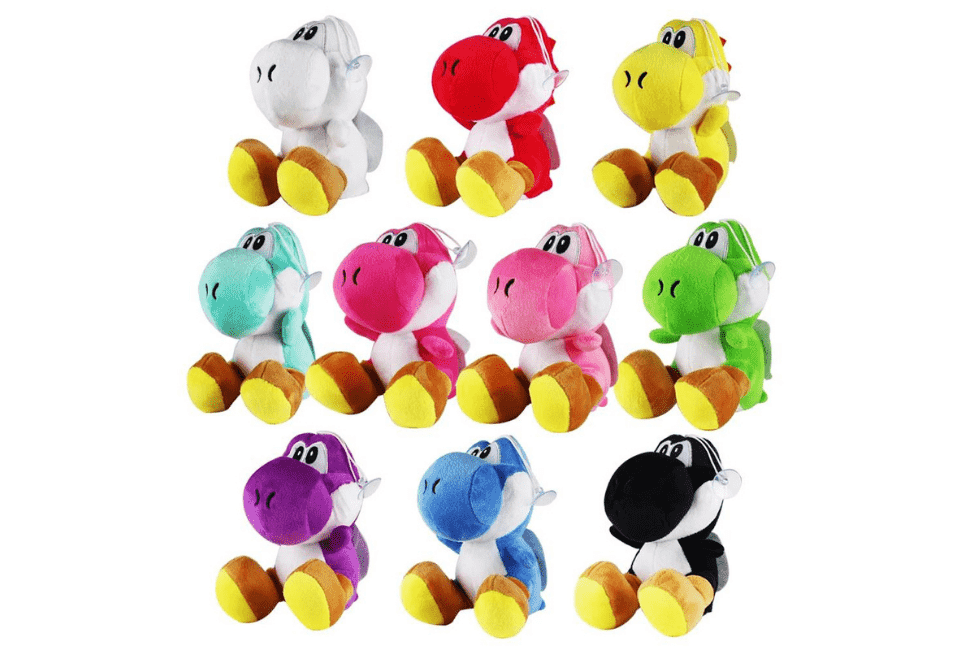 There are 11 Yoshi colors, but you can't easily find a bundle with each one. This bundle includes eight colors. It has a pink Yoshi plush, green Yoshi, plush, and yellow Yoshi plush. It consists of the purple Yoshi plush, blue Yoshi plush, and black Yoshi plush. You also get the white Yoshi plush and red Yoshi plush.
Key Notes
Brand: Super Mario (licensed)
Size: 6″ each
Includes: Eight Yoshi color plushies
Pros
You can enjoy collecting eight of the colors and versions in a six-inch plush to start a collection
Each Yoshi plush has a baby-faced style with a cute sitting position
Cons
You're missing three Yoshi colors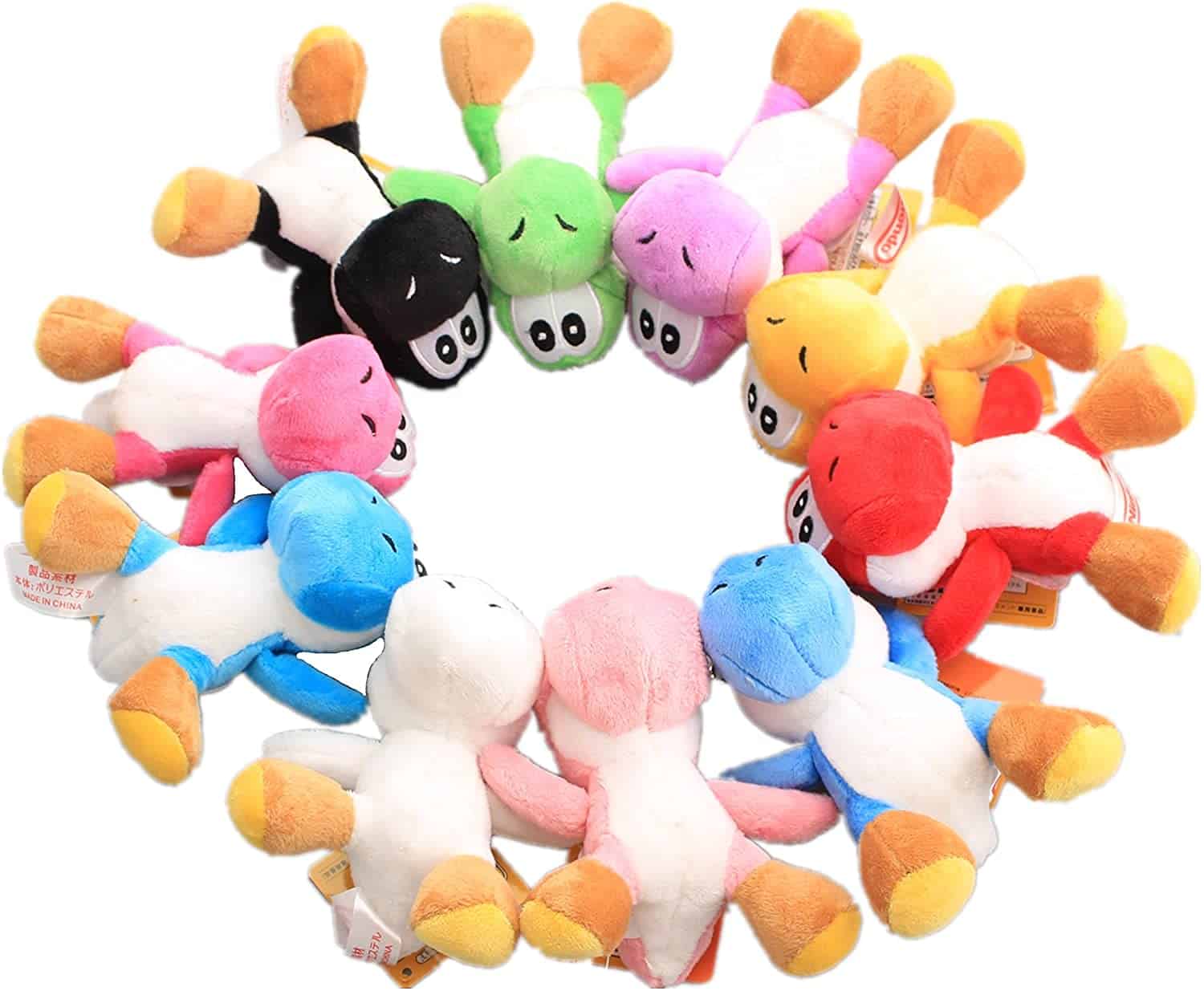 Suppose you want more than eight Yoshi colors as a starting point. There's another option, but they're smaller. The keychain Yoshi plush toys include rare white and original green options in ten colors. The confusing part is that you get three pink Yoshis, just with different color shades.
Key Notes
Brand: Uiuoutoy (licensed)
Size: 4.7″ each
Includes: Eight Yoshi plush versions
Pros
It's the best option if you want the most starter colors for Yoshi plush toys
The keychains are undeniably handy for fans as well
Cons
They're small, including three of the same color, and won't match the size of most Yoshi plush toys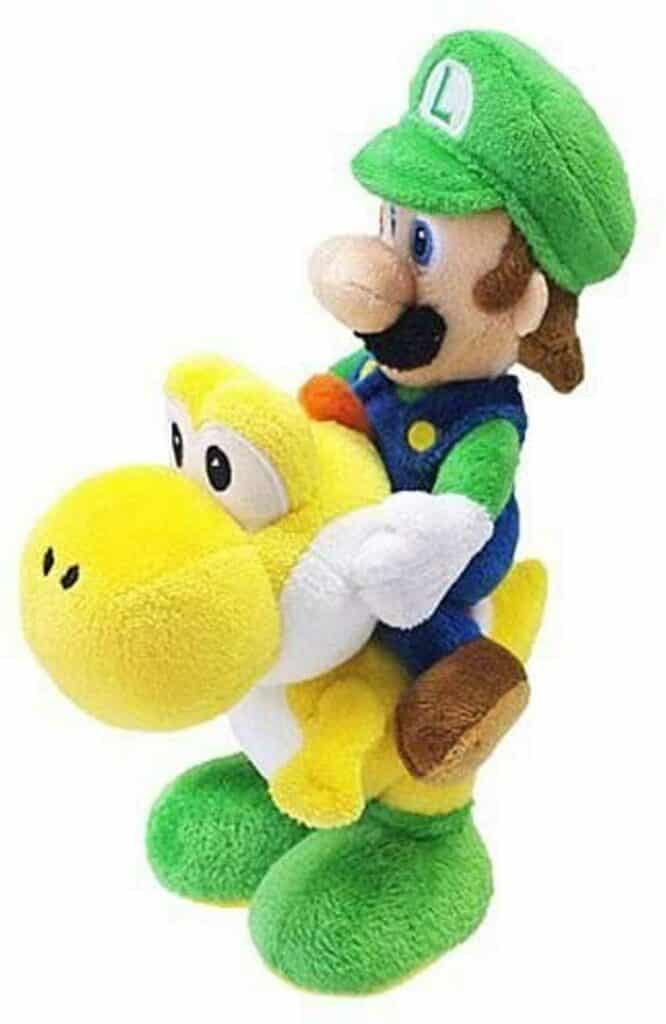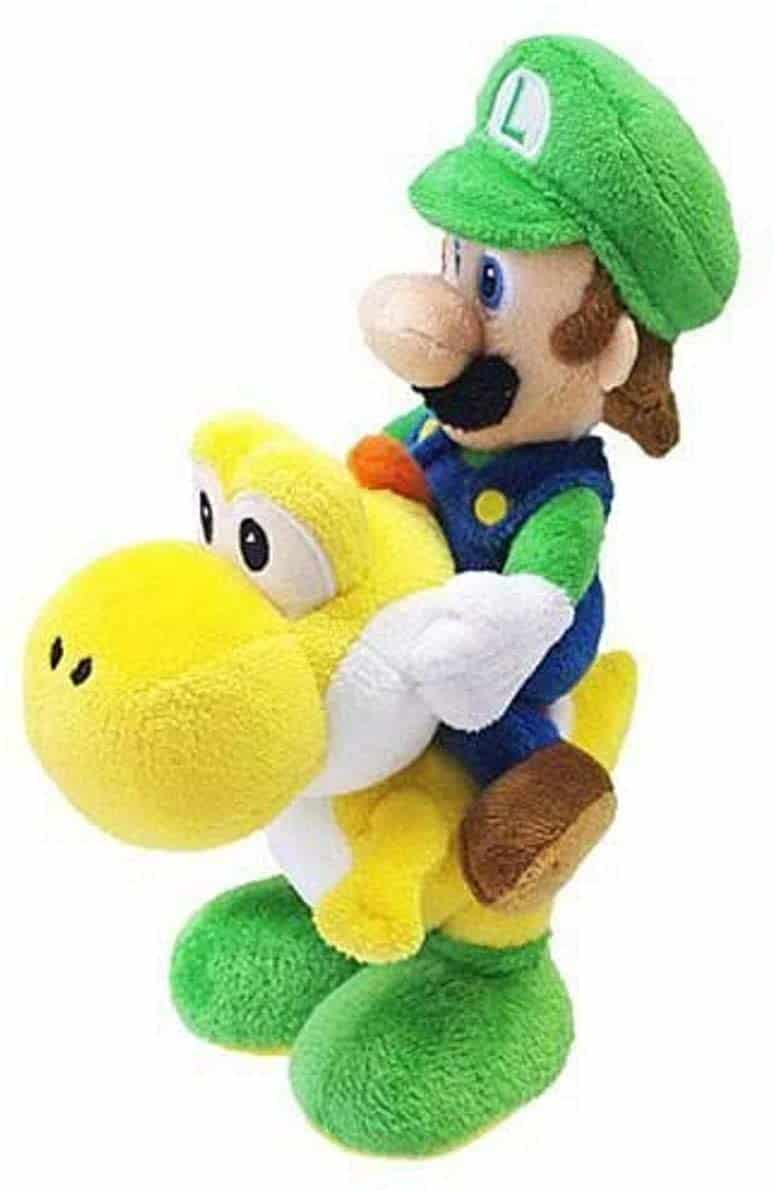 This bundle Yoshi plush toy is an excellent choice for children and older fans. Luigi most famously rides the yellow Yoshi in most of its appearing games. The yellow Yoshi is also called the Glowing Baby Yoshi and appears in the newest Super Mario games. The green boots should match Luigi's hat.
Key Notes
Brand: Nintendo Official (licensed)
Size: 8″
Includes: Yellow Yoshi plush and Luigi plush
Pros
It's an original Yoshi and Luigi plush from Nintendo
I love how the green and yellow blend with each other before the dark blue overalls break the silence
Cons
Yoshi and Luigi can break away from each other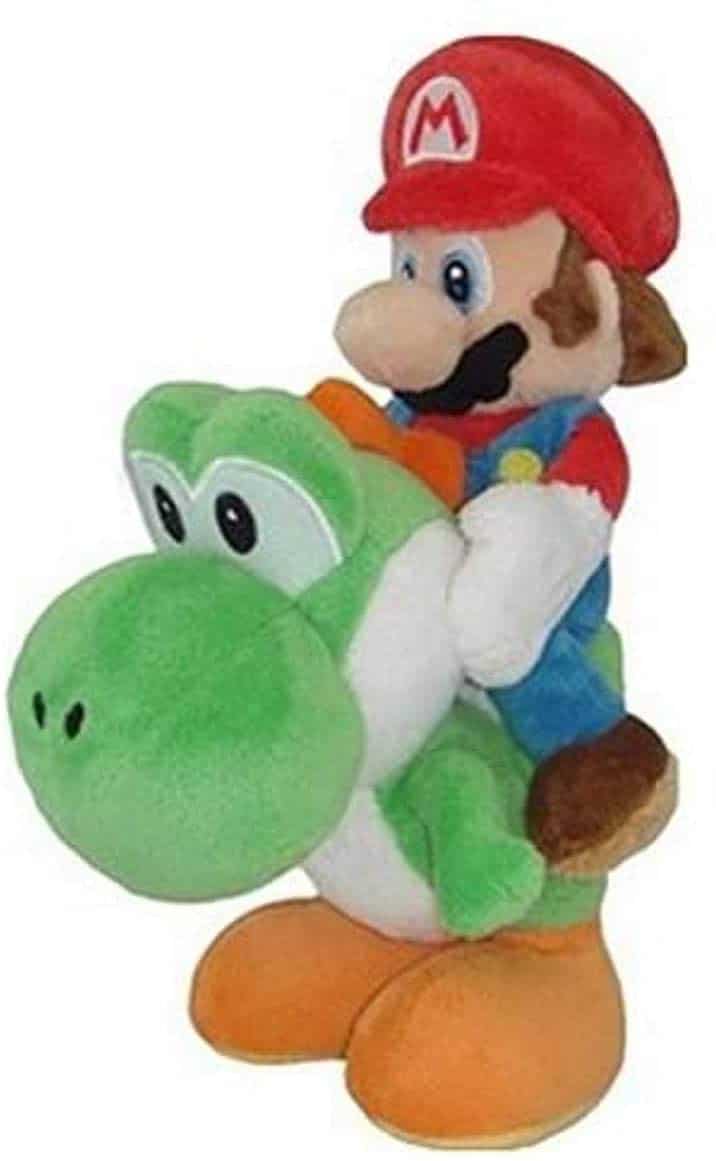 You can't beat an original Yoshi with Mario plush toy. It's a must-own for fans and a cute piece for kids. Mario rides many Yoshis throughout the games, but he loves his green Yoshi. The original combo you can buy for Yoshi collectors is the Yoshi and Mario plush.
Key Notes
Brand: Little Buddy (licensed)
Size: 8″
Includes: Yoshi and Mario plush
Pros
It's the original duo from the time Yoshi first entered the games
The Mario plush has starry eyes, and the Yoshi plush has a baby face
Cons
The two plushies might break away from each other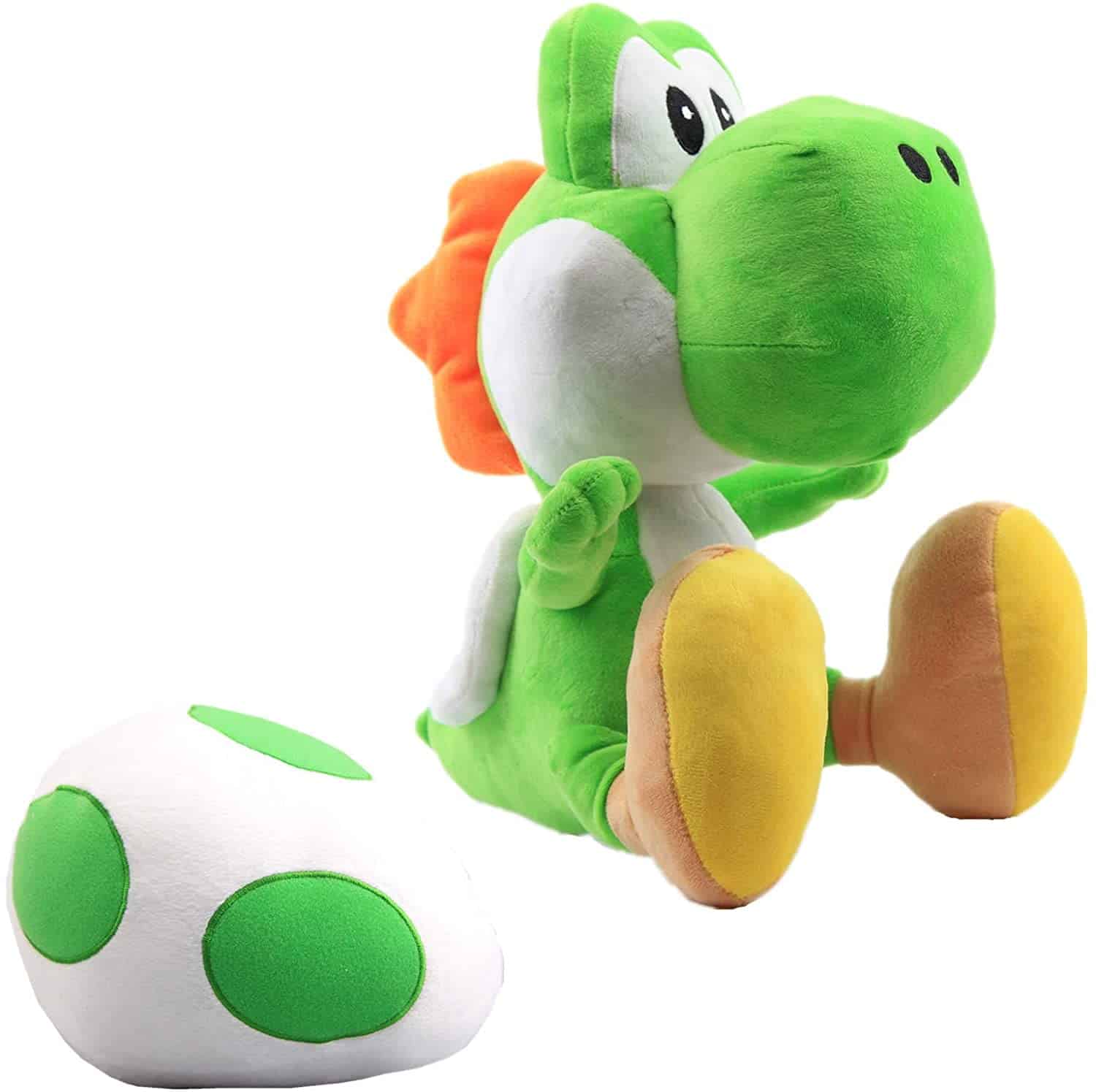 The adorable Yoshi plush comes with an egg. It's hard to find Yoshi eggs in other colors. You're more likely to see the original green Yoshi with its matching egg. You can also find loose Yoshi egg plush. Interesting fact: you never find out whether Yoshi is male or female, but the asexual animal lays eggs without a mate.
Key Notes
Brand: Uiuoutoy (licensed)
Size: 12″ and 8″
Includes: Yoshi with egg plush
Pros
You double up the collection with a fantastic medium Yoshi plush and an egg plush
Both plushies are good quality and as soft as they come
Cons
Yoshi's shell looks weird on this plush toy
Special Yoshi Plush Range: Unusual Picks
Each special range plush has a unique element, and they're undoubtedly some of my favorites. Maybe you want a self-made Yoshi plush or one you can use in video games. The unusual Yoshi picks aren't the types everyone looks for online.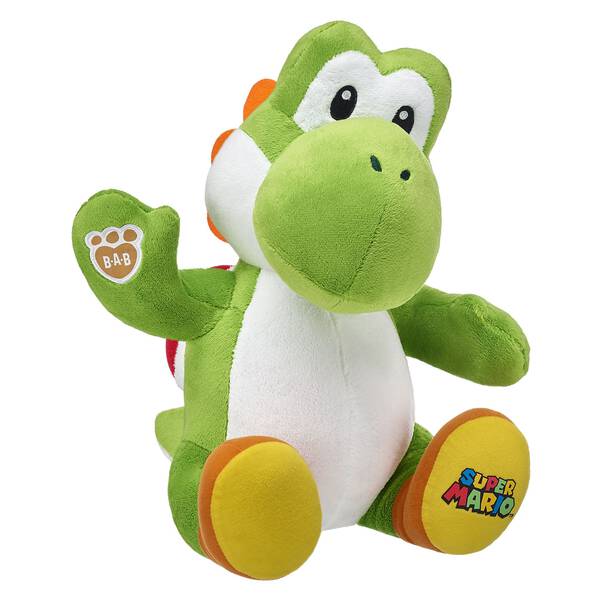 Build-A-Bear isn't only focused on traditional stuffed bears anymore. They also have a license to offer an exclusive online Yoshi plush. I call it the Build-A-Yoshi. This Yoshi can sit and stand, and it has a trademark for Super Mario on its foot. It looks fantastic and will appeal to fans of all ages.
Key Notes
Brand: Build-A-Bear
Size: 16″
Element: You create it from scratch
Pros
The Build-A-Bear Yoshi plush is a fabulous option for something unique and comes with a birth certificate
The details are better than most Yoshi plushies, and the claws are solid for long-term friendships
Cons
It only looks funny when it stands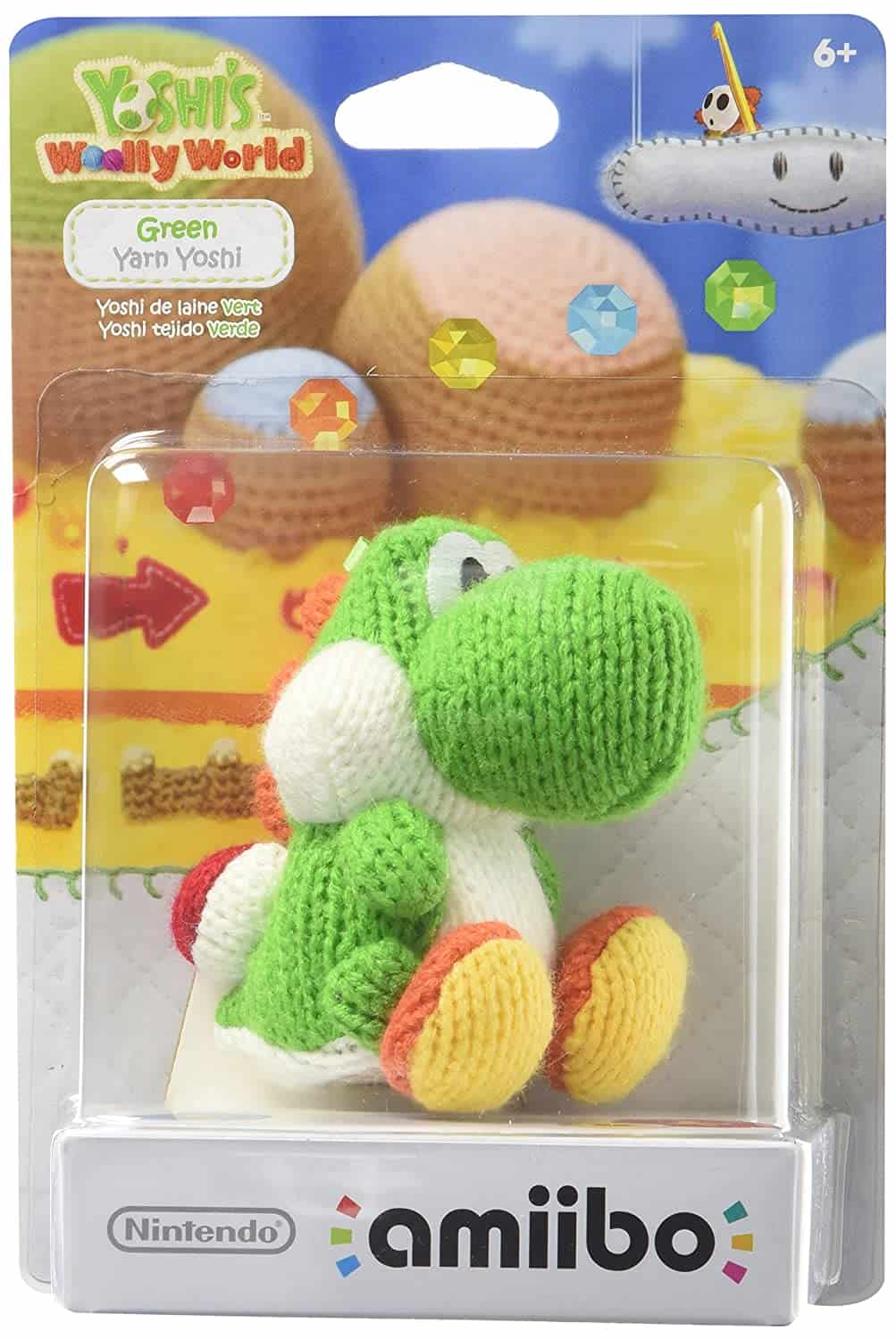 The woolly Yoshi plush is a unique piece, indeed. A video game on the Nintendo 3DS also inspired this woolly plush. Yoshi's Woolly World is an exciting game for little ones, another spin-off for the much-loved dino. All the characters looked like woolly plushies in the game, including the Poochie Pups.
Key Notes
Brand: Nintendo Official (licensed)
Size: 3″
Element: A new game for little ones inspired the plush
Pros
Cons
You have to collect all of the colors to play all of the characters in the game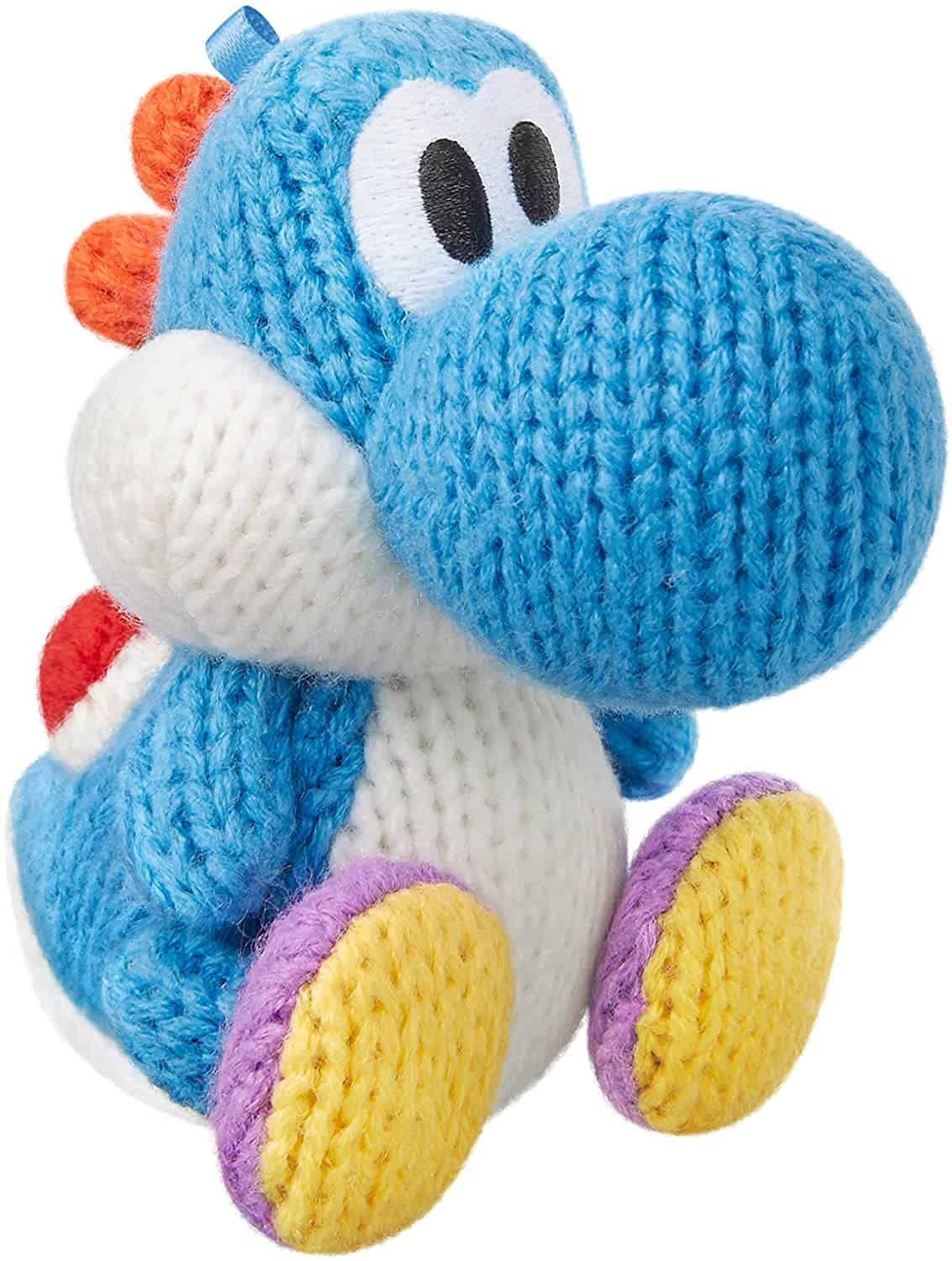 The Yarn Amiibo Yoshi is for the same game but on another console. You'll need the Nintendo Wii U console to use these little guys. Nintendo makes Amiibo plush to excite their games and help their fans collect more plushies. You can also find the pink Yoshi Amiibo plush and the green Yoshi Amiibo plush.
Key Notes
Brand: Nintendo Official (licensed)
Size: 3″
Element: The plush toys are playable on the games
Pros
You have three color choices to collect and play on the Nintendo Wii U
The yarn Amiibo Yoshi plushies communicate with the console the same way the woolly versions do (some Amiibo plush are usable on both consoles)
Cons
You need the console and each color to play the different Yoshi characters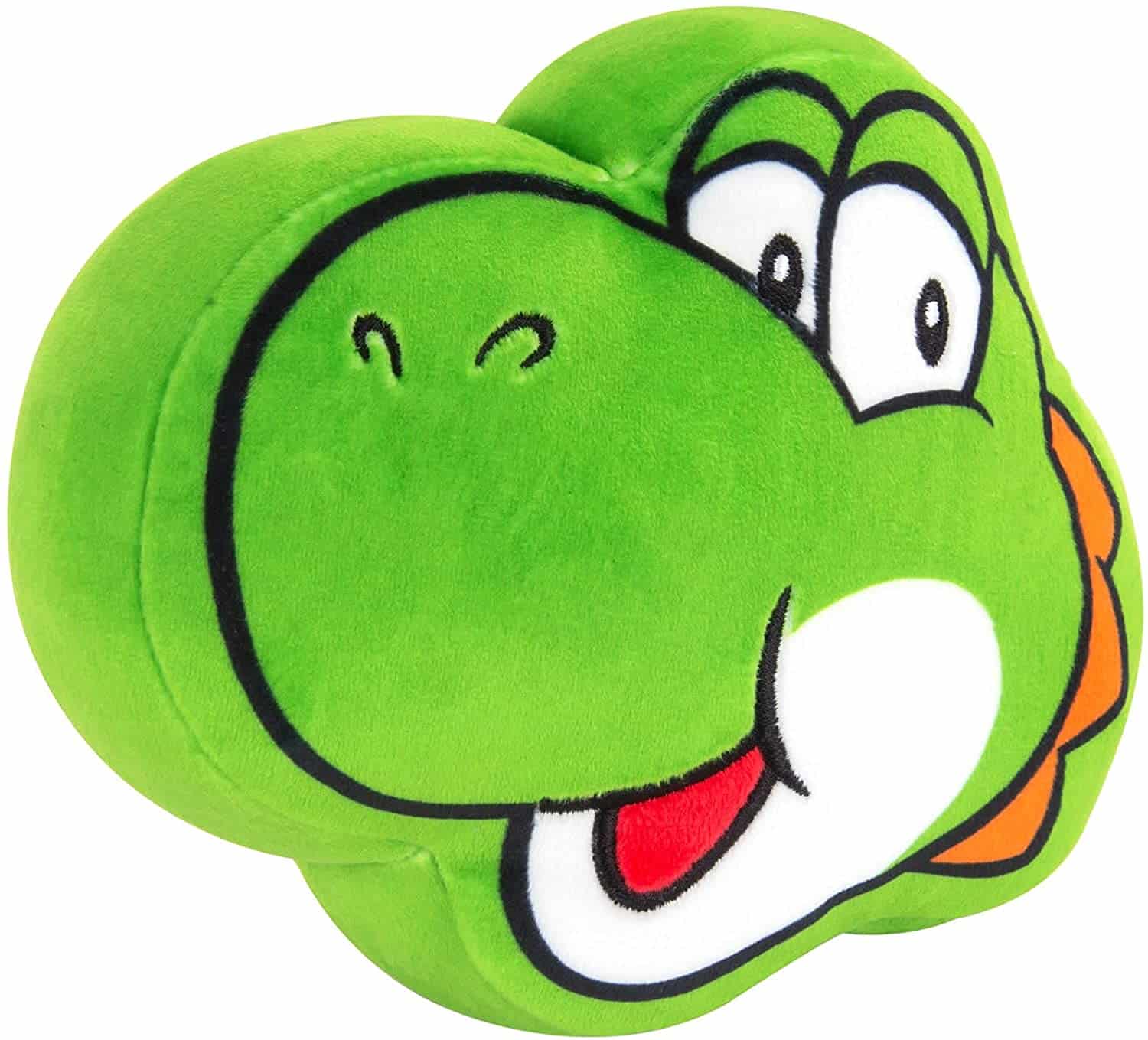 Yoshi is a cute, friendly, and inviting character for younger fans. Why should children not be able to carry their favorite dino everywhere? The Yoshi plush accessory is only the dino's head, but it's an accessory you can easily miss if you want to collect all Yoshi stuffed toys.
Key Notes
Brand: Club Mocchi Mocchi (licensed)
Size: 6″
Element: It's an unusual plush accessory for the green Yoshi
Pros
It's bright, colorful, and merely another piece for fans
It's a licensed product that suits tiny fans
Cons
It mistakenly looks like a plush pillow, but it's far too small
Recommended Yoshi Plush Alternatives
Yoshi plush offers a broad range of colors, sizes, and unique plush toys. However, you might also want to know about other video game-inspired plush collections you could consider. Try these video game plush ideas:
Top Q&A
Question: What is the Original Yoshi Plush Color?
Answer: The green Yoshi is the first and original dino from the Super Mario franchise. However, all colors are original if you consider how each Yoshi is unique. The red Yoshi is a baby dino from Yoshi's Island and Mario Pixel. The yellow Yoshi is another original from Super Mario and Mario Kart 8.
Each Yoshi dino color is an original from certain video games. The green Yoshi merely takes the spotlight for being the first one to become famous as Mario's sidekick.
Question: Can I Make My Own Yoshi Plush?
Answer: Of course! Yoshi comes as a Build-A-Bear online exclusive, but you can also follow patterns and tutorials to make Yoshi at home. I love the tutorial on Yoshi's Crafted World YouTube channel. It's a simple pattern with easy-to-follow steps, and the Yoshi plush looks like an original.
Question: How Many Yoshi Plush Colors Must I Collect?
Yoshi Plush Guide: Conclusion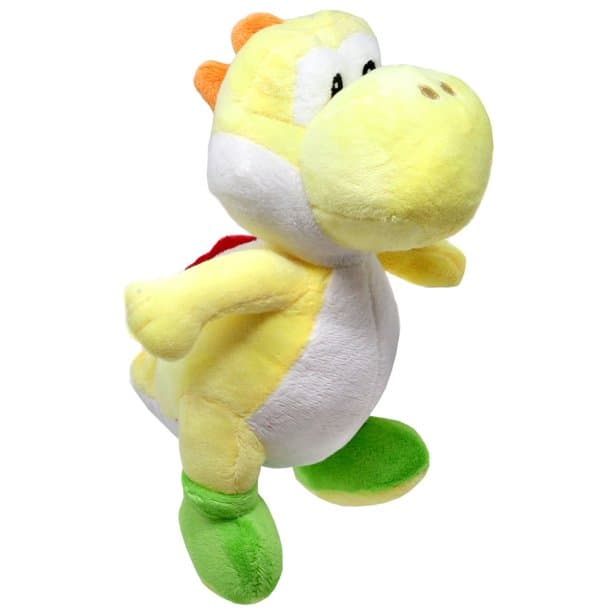 I can go into the details of each Yoshi color's powers, eggs, and more, but that doesn't appeal to die-hard Mario fans who already know the facts. I also know as a parent that my kids will enthusiastically help me understand a Yoshi color I'm not familiar with, except for the gray one I know about, and they don't.
I consider my kids part of my team when writing about exciting plush toys and collectibles. After all, Mario fans range from children to middle-aged fans. Anyway, I've shared the color options with you, so get started on your collection. Buy the green Yoshi plush and add the yellow Yoshi plush if you want Luigi and Mario's rides.
Don't miss out on the Amiibo Yoshi plush toys if your kids still play the games. Order the pink Yoshi plush if your little girl loves pink like mine, or go with the rarest color by getting the brown Yoshi plush for yourself. Otherwise, buy a unique Build-A-Yoshi plush with a birth certificate.
You know how extensive the selection is now, so waste no time starting it today.
For more fabulous plush:
Best Plush Horse Ideas – Avid Plush
Best Dog Squishmallows – A Guide To Finding Your Bestfriend – Avid Plush
Penguin Squishmallow Guide – Avid Plush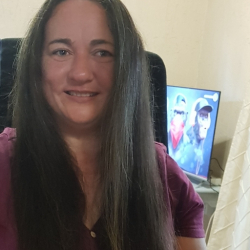 Latest posts by Caroline Lambert
(see all)