Imagine having your own oversized Squishmallow nightlight to keep you company as you relax or brave the storms and raging winds! Your squishmallow light is mobile and soft and has a smiling sleepy face with closed eyes and long lashes.
This glow-in-the-dark beauty is also a rare Axolotl with three fuzzy gills on each side of her head that allow her to breathe!  Did I give it away yet? You guessed it; it's the infamous Cressida Squishmallow!
My family is big on combining wildlife lessons and plushies, so when Cressida came out in 2021 as an Axolotl that lit up in the dark, we all went crazy to find that special salamander species Squishmallow. So few Squishmallows light up! That calming feature sealed Cressida's fate – to be put on our DISO list of plushies!
Sad story to be told, we soon found that Target was the exclusive retailer of Cressida, and faster fans than us gobbled up all the available plushies!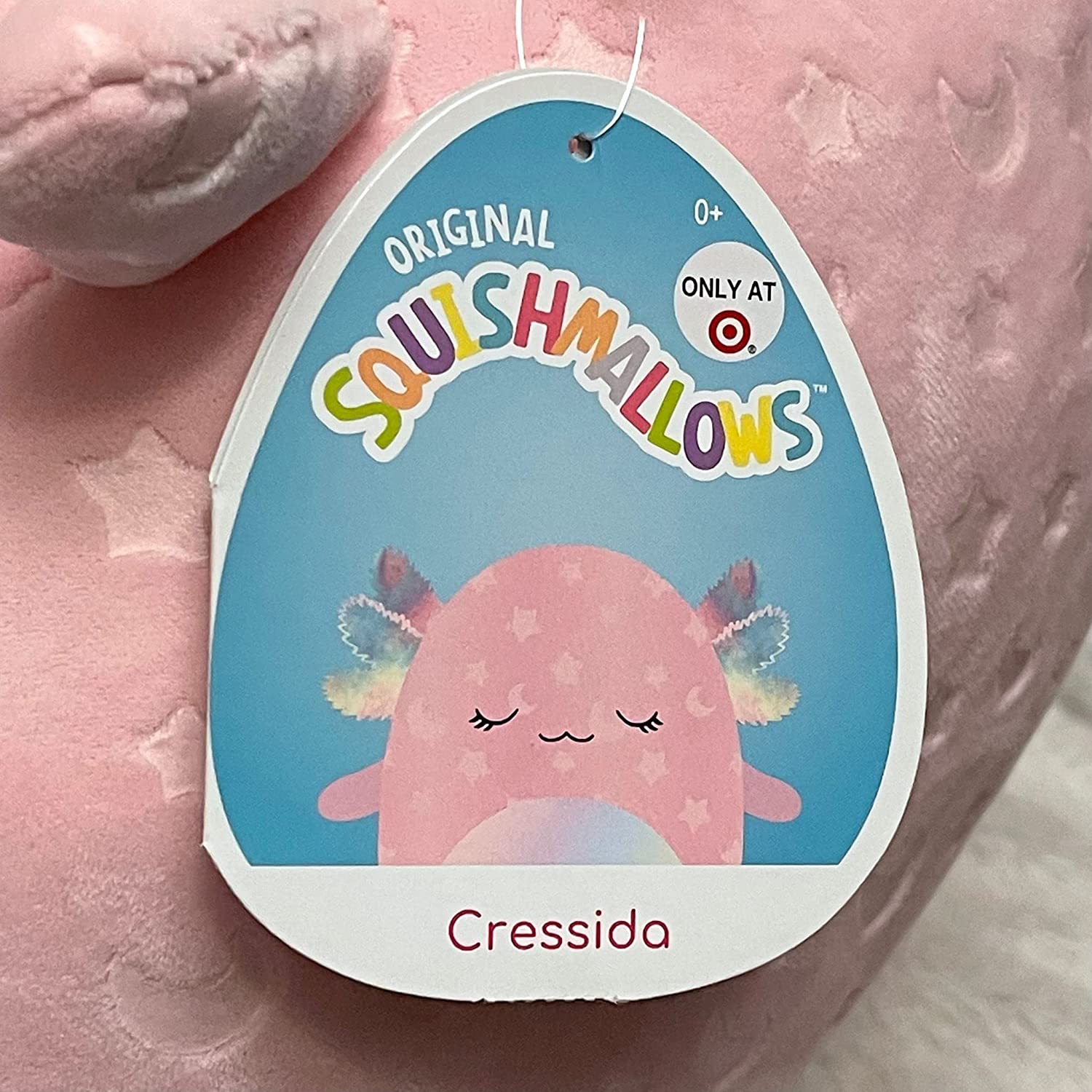 With the real creature being almost extinct but for the export and hybridizing of them for pets, the combination of sharing a cause and enveloping yourself into a Cressida haven of pliable silken heaven is too tempting to resist!
I will explain exactly why Cressida is so coveted and what makes her a great investment for collectors, as well as all the information you need to satisfy your curiosity about her and feel good about adding a necessary member of the Squishmallows to your private selection.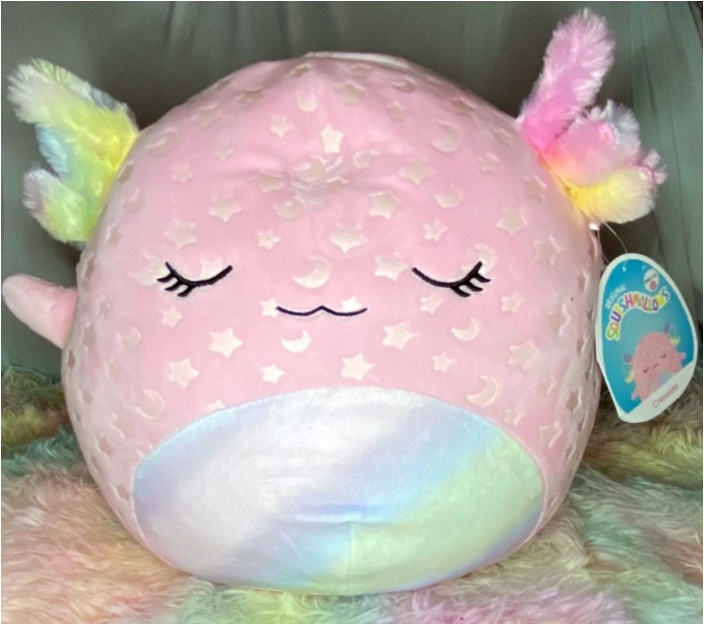 Why You Need Cressida the Axolotl Squishmallow
What could be better than owning an Axolotl with glowing moons and stars all over her body? Owning more than one! Target is the only retailer blessed with selling Cressida when she was "born" in the summer of 2021, and squishmallow lovers raved about her one-of-a-kind fabric with the de-bossed celestial scene.
Unlike the few other squishmallows with glow features, Cressida actually has luminescence embedded into her body. You can feel little indentations for the glowing moons and stars if you run your fingers over her.
Cressida doesn't have any other versions than the original, so it's crucial to be creative when searching for one that is wallet-friendly.  She was only sold at Target when she was released and is now available only through resale, though you can find her new and gently pre-owned!
Cressida's Calming Personality
There are two aspects of Cressida that make her an extraordinary collectible.
Cressida has an ace up her sleeve, and her deliberate, steady personality maximizes her soothing ability.
Her technology talents and her love of coding are quiet activities that encourage order and safety.
Her personality reinforces the squishmallow plushies' main purposes of supporting and soothing!
Is Cressida a Rare Squishmallow?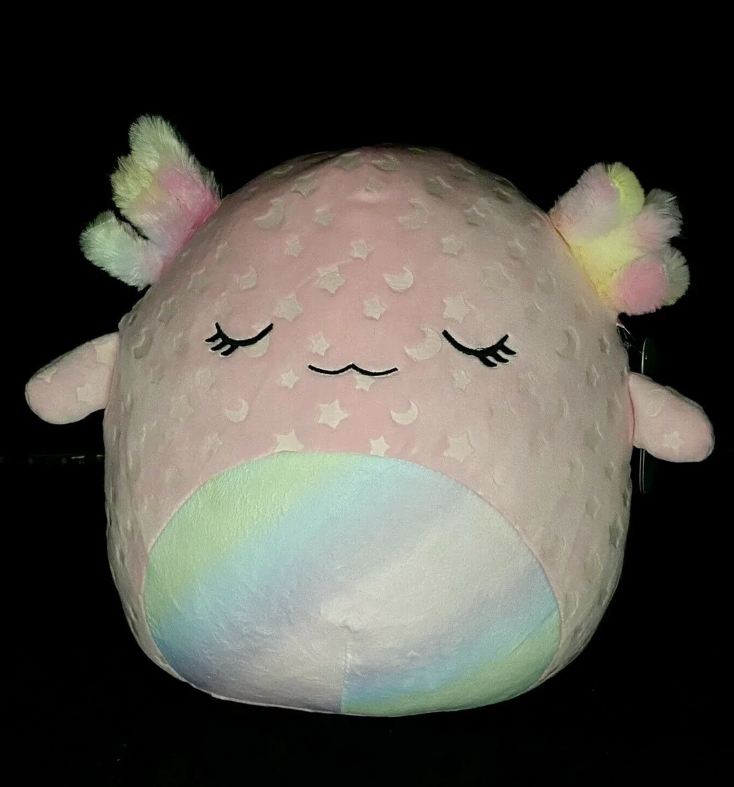 For many reasons, Cressida is a rare Squishmallow, and I know you will want to add her to your collection when you see how many unique features she has!
First of all, only one version of her has been made. This automatically limits the number of Cressida's floating around the internet available for sale, which limits the probability that you will find Cressida at a price you are willing to pay.
Many squishmallows have upwards of 15 different variations manufactured for the same character, which means exponentially more plushies are up for grabs and the chances of landing at least one edition are great! A larger supply means other squishmallows will be affordable, and some collectors may opt for an easy-to-find, inexpensive squishmallow instead of Cressida, which means fewer people will own her, which makes her rare!
Secondly, Cressida is exclusively sold at Target. This fact alone leaves fans dependent upon one retail outlet to supply all the Cressida Squishmallows and makes her incredibly hard to buy. Target had the initial Cressida drop in the summer of 2021 but hasn't had a restock for months! I haven't gotten any Cressida alerts from my iPhone Squish Alert app!
Thirdly, Cressida is one of the Squishmallow Axolotl crew, representing the special Salamander species almost extinct in their native home of Mexico. These endangered Squishmallow species heighten the popularity of the Squishmallow Axolotls as people discover how cute they are on the shelves and in real life!
Fourthly and most importantly, Cressida is forever bound to be a popular and rare Squishmallow due to her glow-in-the-dark ability. Luminescent moons and starts light up all over her body in the dark and provide soothing dim light that adds value to this bedtime snuggly.
Fifthly, she has a uniquely soft marshmallowy texture with the tiniest bit of fluff that allows the glowing moons and stars to be "embedded" on her body. Cressida is still just as desirable a hugger as other mallows; only she has rare skin!
Sixthly is the sizes that Cressida comes in.  She only came in two, which diminishes the supply and increases the demand.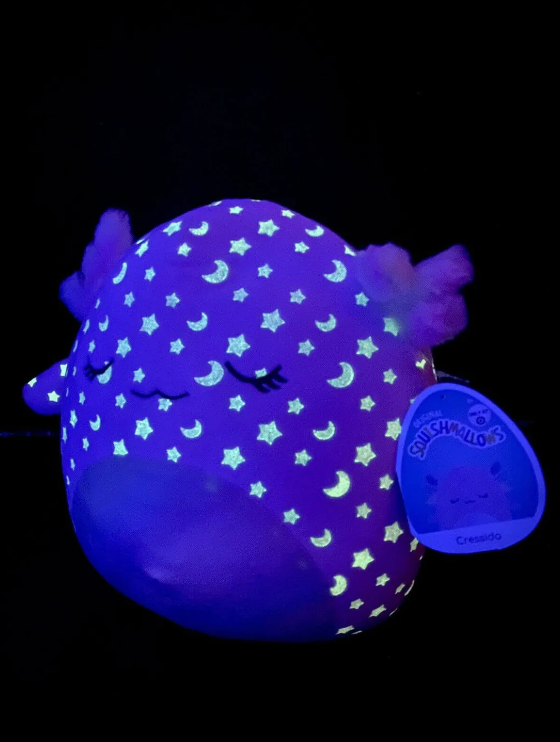 The Sizes of Cressida
Kellytoys knew what they were doing when they made Cressida because the only two sizes she comes in are 11 inches and 14 inches, which are optimal for all ages!
Eleven Inches
Eleven inches is just under a foot and is a great size for younger children and collectors who don't have much room to spare.
Cressida is an armful of huggable fun at eleven inches and is big enough to have the glow-in-the-dark moon and stars bright and visible at night
Not so large that she will take over the whole bed! (This size is still too large to go in a baby's crib, even though it is lightweight.)
This small tail of Cressida is great for small hands to hold, keeping her close enough not to lose her.
Fourteen Inches
Substantial enough for an adult to snuggle with.
Cressida's large size draws your attention as you enter a room, inviting conversation, touches, hugs, and some "go wide!" football action as well! (In my house, that seems to be the preferred way for everyone but me to interact with plushies!)
The massive astronomical show Cressida puts on at night lights up her whole body for us, even her cute little axolotl stub tail!
How Rare Is Cressida Compared to Other Squishmallows?
I debated at a family gathering over what made certain Squishmallows rare compared to others. My son was very matter-of-fact about it and specifically stayed with the technical definition that only the manufacturer can give to their products.
He said that Cressida was not rare! This met with huge controversy and discussion surrounding the exact criteria needed to call a squishmallow "rare."
Jazplus and Kelly Toys have recently developed new ways of engaging customers and increasing interest in squishmallows worldwide. I could be cynical and focus on the obvious marketing strategy to increase sales (which is what every "for-profit" company does). I have no doubt that this new method will motivate and energize the global search for new "rare" squishmallows.
I would like to see some "giving back" media plastered on their pages (I am assuming that they are doing some) that share some of their donations or pro bono work with people that don't have the luxury of acquiring squishmallows (or clean drinking water for that matter).
However, I have seen some tweets from squishmallow fans lamenting about these limited-edition squishes coming out.
The general consensus for those against the new rarity scale is that there are 250 founders editions squishmallows that most of the population will automatically not have a chance to get unless someone wants to sell their special squishmallow (and how much money do you think those unfairly rare squishmallows would be sold for?)
One of my nieces was adamant that any squishmallow that was "hard to get or hard to find" was rare. What do you think? Another niece said there was a difference between a "limited edition" squishmallow and a rare squishmallow. Others said it was the same thing!
I argued that what made Cressida unique from any other squishmallow, along with her lack of availability, made her "rare." I still stand by that label – if a squishmallow is only available at online auctions or amazon resale for a significantly inflated price, that means more people will be less able to acquire it, making it more "rare." What is your definition?
Alternatives to Cressida Squishmallow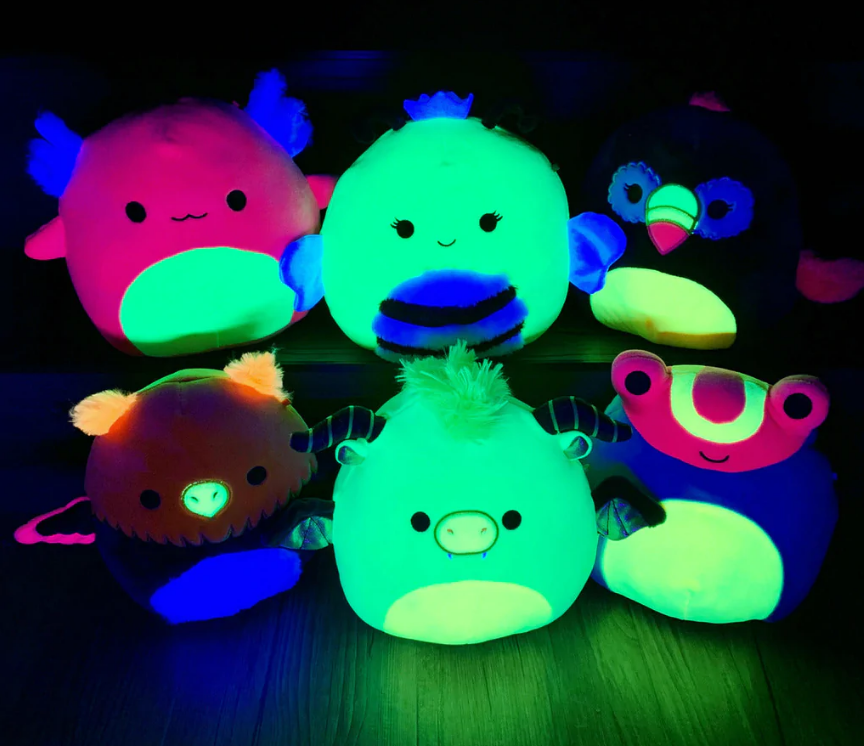 Don't despair if you can't find a glow-in-the-dark Cressida squishmallow, or find one, but the price is crazy high. There are just as cute and cuddly luminescent squishmallows waiting for you that will keep you company day and night! These are the best, softest options if you can't find a Cressida.
Important to note that there is a difference between glow-in-the-dark and blacklight-shining squishmallows. Glow in the dark doesn't need any lights on (and actually won't glow if you have lights on) to emit the soft light.
Squishmallows with a blacklight feature need to have a blacklight shining on them to radiate their bright sheen. Blacklight squishmallow will shine more strongly than Cressida but can look fake next to the warm glow of true glow-in-the-dark items.
There are no glow-in-the-dark squishmallows except Cressida unless you want to take a squishmallow and have it custom-made with a glow-in-the-dark fabric. A picture of this is on Reddit, and you can get a customized squishmallow on Etsy.
Squishmallows
These squishmallows illuminate in "black light" and are super cozy to sleep with at night. It's not dangerous to sleep with a  black light on as long as you have it five or more feet away from you, don't look directly into it, and you don't use it all night, every night, for months at a time.
Your risk of sunburn is higher if you go outside in the sun than with a black; however, always consult your doctor before using any lighting that produces Ultra Violet rays. Amazon sells a moderately priced blacklight that you could set up in a far corner of your room (tilt it down enough so you can't see the bulb).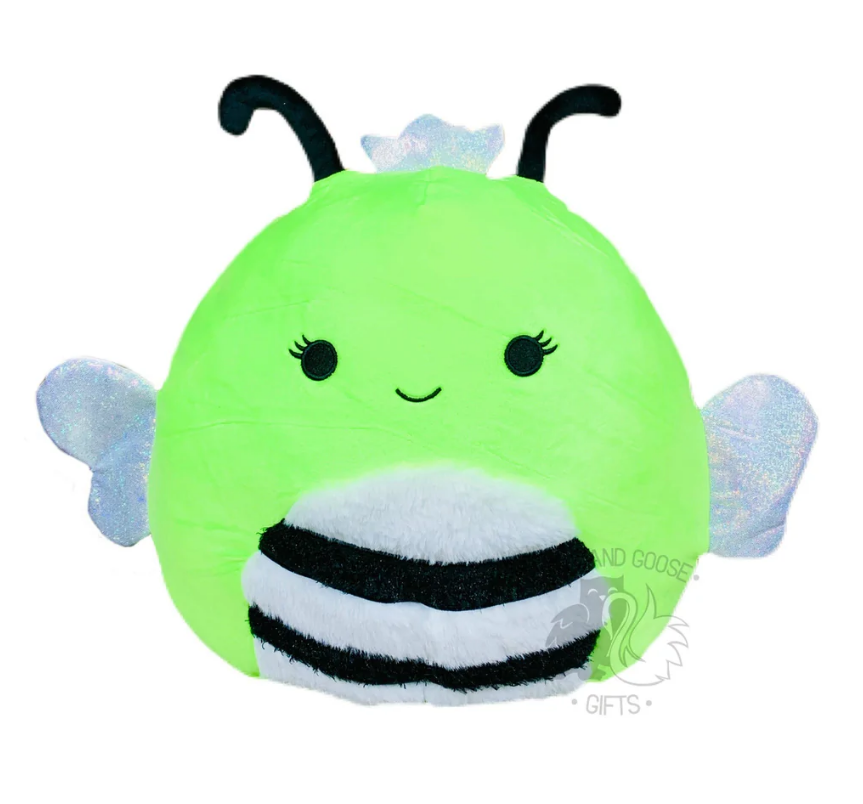 Sunny is 12″ large to hug and cuddle, even for adults
Not too large to overpower small children or take up all the bed space!
I love researching weather facts for different worldwide locations, and Sunny can predict the weather and wants to be a weatherwoman when she grows up!
Sunny the Bee is cheery and reminds me that summertime is coming!
Find this version of Sunny at Claire's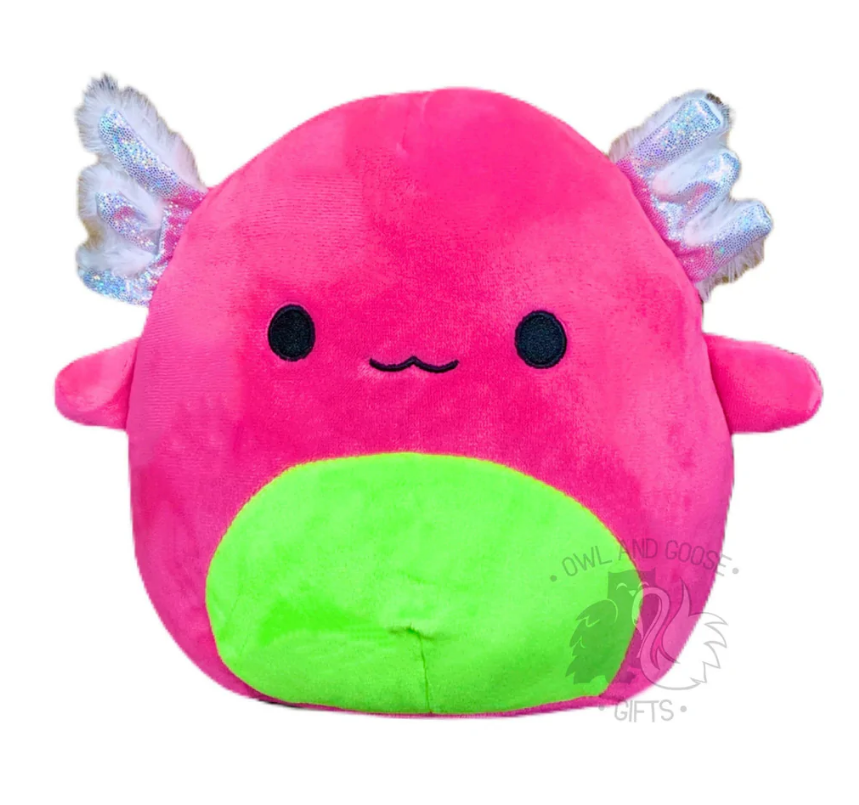 Perfect for axolotl fans when Cressida isn't available
8 inches fits smaller hands and spaces perfectly
Amazingly vivid colors and shine!
Find Archie at The Owl and Goose Gifts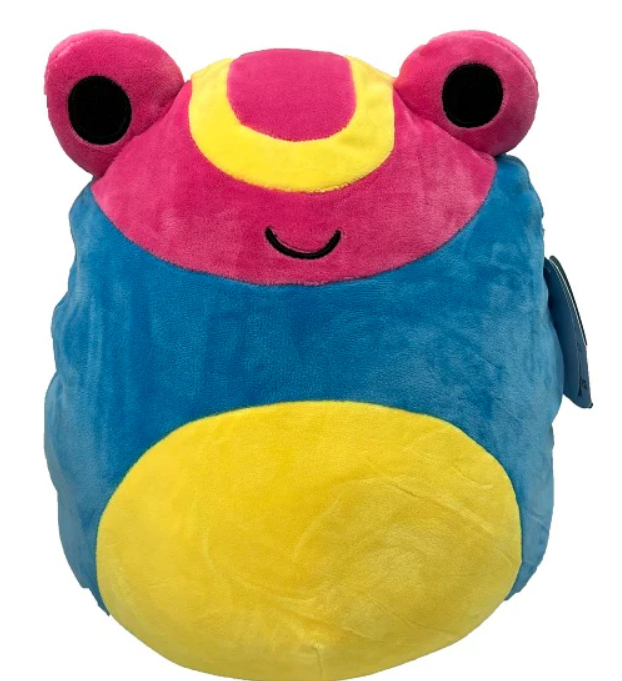 Ever since grade school, I had an affinity for catching frogs, the bigger the better! This cute pie Wamina comes in all the jewel-tone colors to warm your heart and provides an extra-sensory experience with her almost mod-like style!
Wamina is similar to Cressida because they both live in water
Ultra artistic design that only gets better under a blacklight!
A foot-long length won't envelop youngsters but is large enough for adults to hold
Find this wonderful version of Wamina at ToyDrops.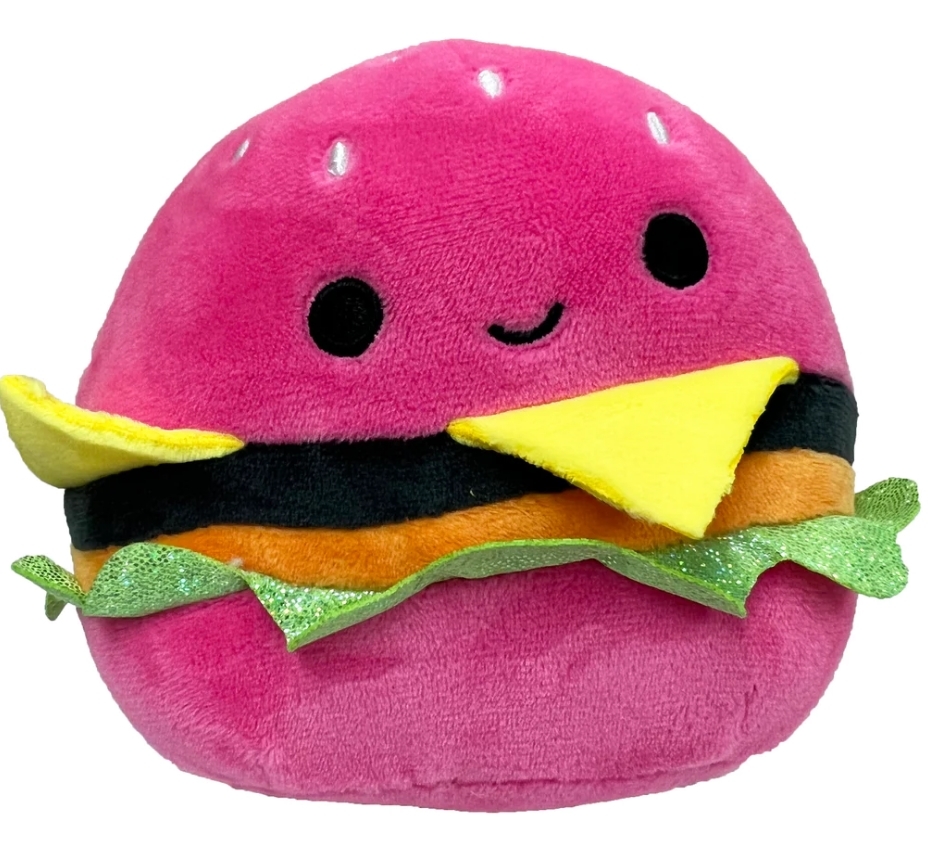 Just looking at this foodie group soft elastic velvet textured pink hamburger makes me want to attach it to myself somehow. So squish, and it reminds me of all the hamburgers my son ate when he was growing up!
Five-inch size is great for young children and has multiple "handles" (cheese, lettuce) for tiny fingers to grip
I love the brilliant raspberry pink contrasted with the textured shine of the green lettuce
Eyes wide open and smiling at you!
Find Brissa at ToyDrops 
Squishmallow Rarity Scale
Because most of the "rare tag" squishmallows are secret until being "found" by you, it's difficult to provide examples and pictures of which squishmallows are manufactured for each tier of the rarity scale. We will have to wait until squishmallow collectors everywhere start posting pictures of their rare finds!
Each squishmallow in a rare category will be brand new, never released before editions, or even new characters altogether.
Squishmallow Six-Tier Rarity Scale

Tag Color

Number of Units Manufactured

Details

Silver

Rare Tag

75,000 Units Manufactured

Available at random global locations
Will be permanently discontinued when the 75,000 mark is met

Gold

Ultra Rare Tag

50,000 Units Manufactured

Available at random global locations
Will be permanently discontinued when the 50,000 mark is met

Pastel Holographic

Special Edition Tag

20,000 Units

These are squishmallows that are distributed in the "wild" (which means at retailers globally)
Will be permanently discontinued when the 20,000 mark is met

Black

Select Series Tag

10,000 Units

 

 

Available online only at squishmallows.com
Every month a number of these Select Series Squishmallow will be available, so keep your eyes open!

Purple

Check-In Series Tag

Unspecified amount (somewhere between 250 and 10,000) lol

A series of squishmallows that are part of the "Check-In" group
Only available at specific locations/events, so it will be a hunt once you know the destination (for example, Wonderland in Canada, Knott's Berry Farm, and Cedar Point have been some of the locations)
These squishmallows will have an embroidered "seal" on the back that is purple and says "Select Series"

Black/Electric Blue with a code

Founder's Edition Redemption Card

250 Tags

250 Founder's Edition Tag cards are hidden inside various Squishmallow trading card packs
Each redemption card has a code on it that you can use at squishmallow.com to claim a one-of-a-kind "founder's edition" squishmallow
Some fans have graciously posted their "rare" squishmallow finds for us to get an idea of how these new-fangled plushies.
There is no similarity between the styles and rarity tiers, however, so if you can imagine your favorite squishmallow with an embossed emblem denoting its "rarity," you pretty much get the picture. That strategy doesn't work all the time, though, because significant quantities of these rare huggers are new characters or based on a certain event or theme park.
Silver and Gold Rare and Ultra Rare Tags
Ultra Rare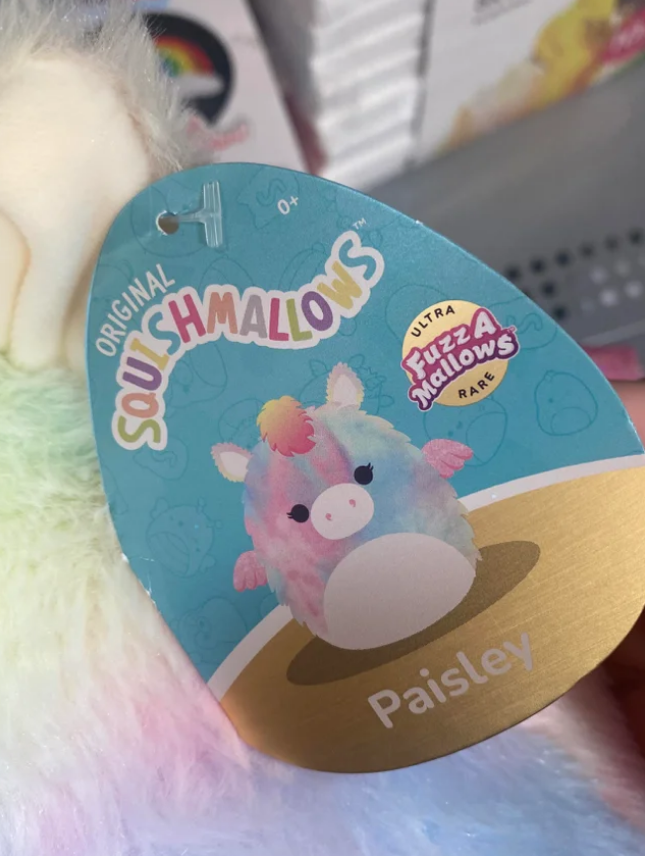 Rare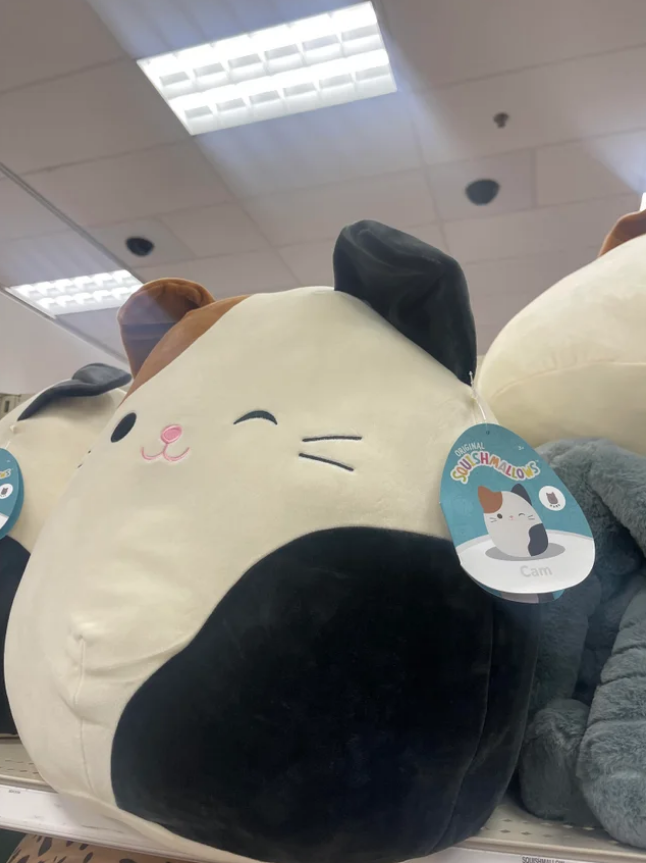 Pastel Holograph Tag
No photos are available of these special edition squishmallows; maybe no one has gotten any yet!
Check-In Series from Theme Parks, Resorts, Zoos
Unique Rare "Check_In" Squishmallows from Kings Island Amusement Park in Ohio.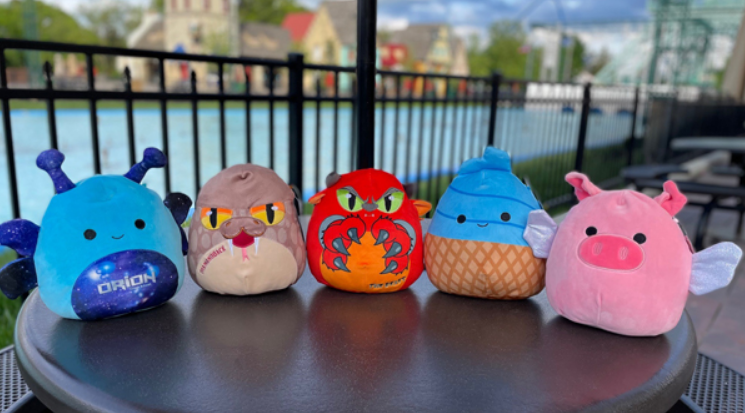 These are exclusive rare check-in finds from Canada's Wonderland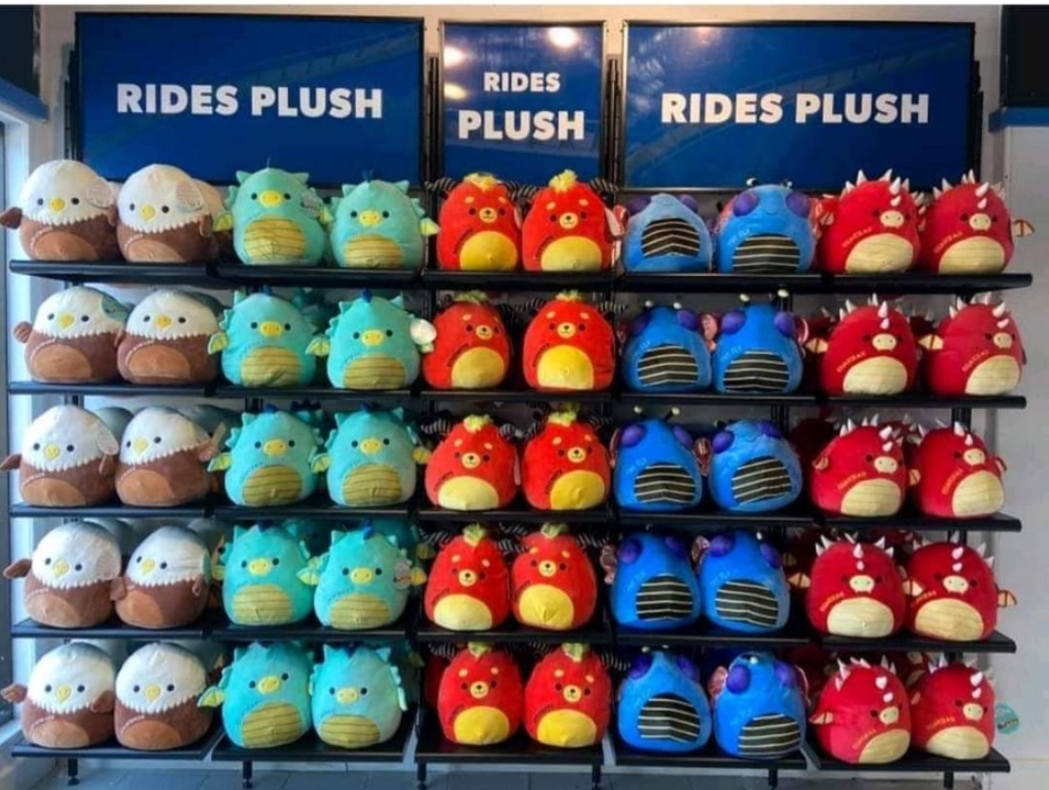 Collection of rare squishmallow editions from different locations.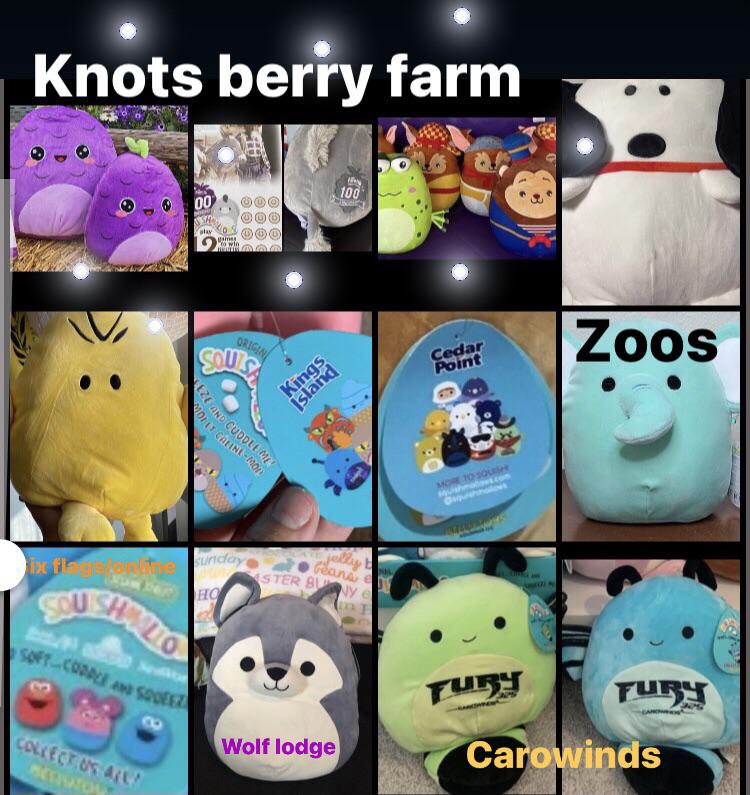 Best Place for Rare, Ultra Rare, and Special Edition Tagged Squishmallows
I love Costco for their no-nonsense huge displays of Squishmallows and its user-friendly method of stocking our favorite squishmallows. Every time the Costco coupon book comes out – on that same day – the squishmallows are always re-stocked! Here is their link, but you do have to have a yearly membership to partake of their low prices and vast quantities.
The membership is totally worth it (about a hundred bucks a year, depending on the membership type). They have amazingly thick, plushy crew socks that are almost as soft as their squishmallows! I just bought some, and I can't believe how good they are. That and the best sheet set I ever bought.
Their squishmallows are $5 to $10 lower than at Target, Amazon, and other retailers.
FAQs
Question: Are there a lot of glow-in-the-dark Squishmallows?
Answer: Short answer is no. Squishmallows that are luminescent or get bright under blacklight are few and far between. Rare, even. The list of glow-in-the-dark Squishmallows includes Omri, Bethuna, Bufinda, Myrna, Archie, and Jolly. With Cressida, there are fourteen Squishmallows out of more than one thousand that glow! The percentage is 1.4% for glowing plushies!
Question: Why is Cressida better than other glow-in-the-dark Squishallows?
Answer: Short answer is she has a different fabric. Cressida is the only Squishmallow that has a textured, marshmallow-soft, and pliable stretch to her skin. The slight knap differs from the smooth, slippery sensation of other glow-in-the-dark Squishmallows, which have embroidered luminescent patches sewn onto them. Cressida is literally the rarest Squishallow – one out of a thousand!
Question: Will Cressida lose her glow or need batteries?
Answer: Short answer is no. Cressida is not battery-operated, so you never have to worry about replacing or charging batteries! Cressida (and most other glow-in-the-dark plushies) has a special makeup to her fabric that contains phosphors. Phosphors absorb all the light around them and store it until it is dark. In the darkness, the human eye can see this stored light energy radiating from the areas with phosphors. It takes about ten years of wear for the glow to decrease.
Cressida's Conclusion
Do you keep a flashlight by the side of your bed? I know I do! Once you're snuggled up with Cressida tight in bed, one crack of thunder and all you have to do is cast your eyes upon your gorgeous rainbow-colored friend and find comfort with her soft moonbeams. If you add Cressida's rhythmic, no-nonsense coding going through her mind, she is the perfect calming influence to protect and soothe you.
Some tips from Cressida fans show how "recharging" the luminescent moons and stars of Cressida increases their brightness and definition in the dark. One method is to use a flashlight and shine it closely on each moon and star for it to glow up and spread light immediately! Check out this video showcasing Cressida getting herself lit: TikTok Cressida Glow in the Dark.
My family is especially fond of anything that lights up in the dark, and having a Squishmallow that glows moons and stars at night is simply beyond words. Countless times I have seen a sleepy child cradle a sleepy Cressida and drift off to sleep – both of them having little cat smiles on their faces!
Counting the number of moons and seeing the glow reflected off your sheet, all while cuddling with soft, squishy Cressida, is an experience everyone can have. No need to reach for the stars (pun intended) to find this heavenly creature.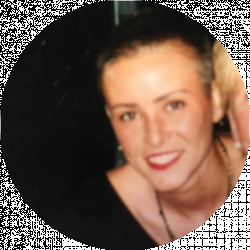 Latest posts by Richelle Tieman
(see all)