Bubble tea, tropical pineapples, and guacamole are some of the nicest sensory experiences in summer. I'm a mom who always finds ways to help my kids love the right foods more. So, sharing the best food Squishmallows guide allows me to see more plush toys that encourage my kids to try new tastes and senses.
Pokémon plush seems to be the talk of the town lately. However, Squishmallows are catching up fast. My family loves collecting marshmallow-type plushies for our favorite animals and fantasy creatures. Meanwhile, the food squad is quickly rising to center stage. The team offers a new world of Squishmallow collections.
So, are you ready to see which food Squishmallows will turn children into smiling wonders?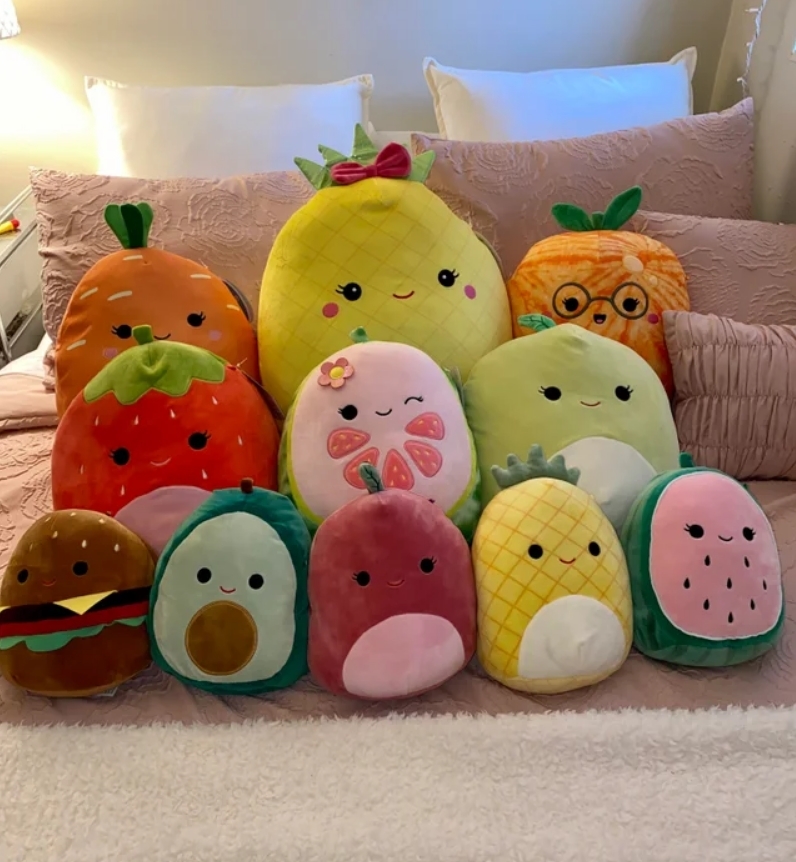 Best Food Squishmallows Bottom Line Up Front
Would you believe the food squad is so massive that ten sub-families exist under it? Fortunately, I'll share the sub-squad food Squishmallows to help you find every incredible member. In addition, I'll share tips to find multi-squad collectibles and how to store your extensive collection if kids love these food items.
Meanwhile, I'll share an excellent motherly tip to help fussy kids. However, my best food, Squishmallows, will appeal to children who love specific food groups. They should be vibrant, lively, and inspirational. I've been collecting Squishmallows as long as they've existed. I likely know more about them than any adult should.
Hence, I enjoy diving into entire squads and umbrella families. That way, I find only the best Squishmallows. So, let me share the food Squishmallow that excites me the most before we move on to learn about every sub-squad food plush. Glady, the Ice Cream Squishmallow, is my ultimate pick because of what she represents.
Glady represents a fun family summer's day with yummy ice cream and laughs. I enjoy family outings with my kids, and we sure ate enough ice cream over the holidays. Still, she has incredible patterns and colors. However, let's learn more about the core of food Squishmallows before licking our lips further.
A Complete Guide to the Best Food Squishmallows
Food Squishmallows have a tale as old as time. Food has always been the fuel for humans. So, why can't we turn these yummy ideas into plush friends? Squishmallows did just that, and I'm stunned. However, food Squishmallows have a multi-layered story. So, let's learn more about them before I share the best ones for kids.
Introducing Yummy Benefits
Food Squishmallows bring a world of opportunities when kids are fussy eaters. My daughter was a picky eater as a toddler. She didn't like trying new foods, whether pastry or fruit. So, I used toys to introduce her to the benefits of trying fresh foods. She refused to try healthy avocadoes until I surrounded her with the idea.
I bought as many toys as possible for foods she didn't want to eat. She had stickers on the walls and plush on her bed. Surprisingly, she became curious because her plush friends were what she refused to eat. Slowly, she began trying some foods, learning what she loved and didn't.
So, introducing yum-inspired food Squishmallows had an advantage for me as a mom. Perhaps it can benefit you in welcoming new tastes to a child's world.
Understanding the Food Squad
The food squad is enormous, but you can break it down into multiple sub-squads to make selections easier. The Squishmallows food squad has countless members. However, the sub-squad of fruit will only have some members. The same goes for candy bars, veggies, desserts, and drinks.
It would help if you started by considering how many Squishmallows can fit on your child's bed. My son and daughter have limited space. However, we have a storage trick I'll share soon. But first, you might want to introduce your kids to a specific sub-family under the food squad.
So, let's see which sub-groups of food squad plush exist.
The breakfast squad includes avocado toast, jelly toast, and milk Squishmallows
The candy squad has candy corn, chocolate, Hershey's Kisses, ice cream, cotton candy, popsicles, Twizzlers, pop tarts, and s'mores Squishmallows
The dessert squad can include pumpkin pie, gingerbread, meringue, pancakes, cakes, cupcakes, donuts, macarons, and cinnamon buns Squishmallows
The drinks squad includes boba tea, hot chocolate, smoothies, bubble tea, coffee, lemonade, and latte Squishmallows
The exotic food squad has sushi, dumplings, shrimp, and ramen noodles Squishmallows
The fiesta squad covers tacos, chili pepper, burritos, and guacamole Squishmallows
The fruit squad includes pineapple, guavas, grapefruit, oranges, strawberries, peaches, apples, tangerines, lemons, avocadoes, mangoes, and watermelon Squishmallows
The junk food squad includes French fries and hamburgers Squishmallows
The snack squad has popcorn, yogurt, peanut butter, and corn Squishmallows
The veggie squad has mushroom and eggplant Squishmallows
Quick Tips about Crossover Squads
Some food squad Squishmallows also come as multi-squad crossovers. For example, Nattie, the Axolotl Hersheys Kisses Squishmallow, wears a wrapper from her favorite candy bar. Therefore, Nattie is a sealife family member that triples into a food and candy squad. Many Squishmallows double-up squads like Nattie.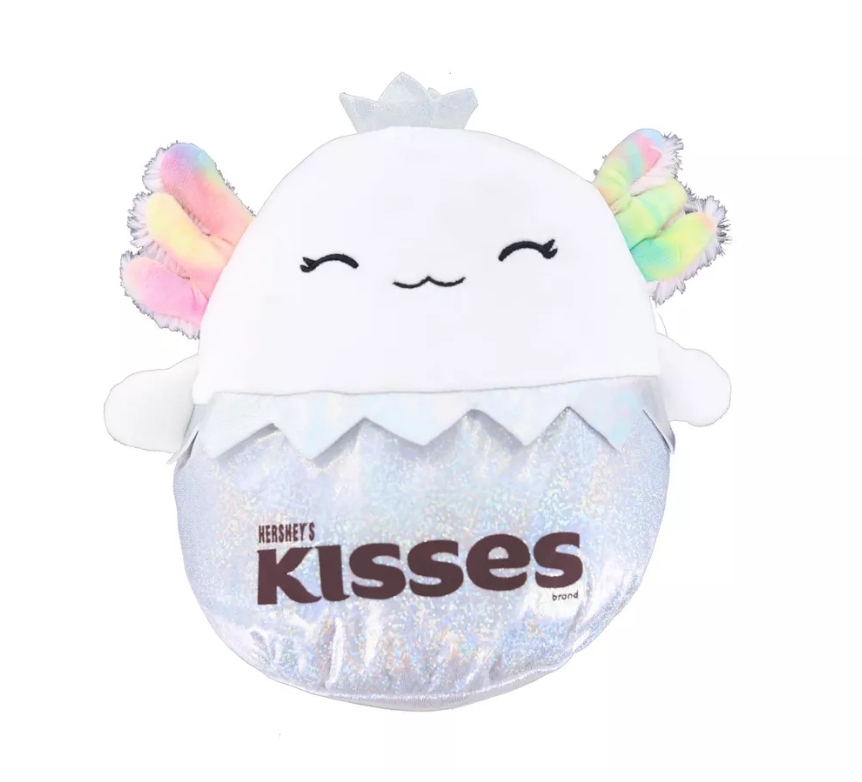 Another example is Prince, the Watermelon Pug Squishmallow, who wears a watermelon costume. Prince belongs to the dog, summer, fruit, and food squads. However, some Squishmallows fall into multiple sub-families under the food squad.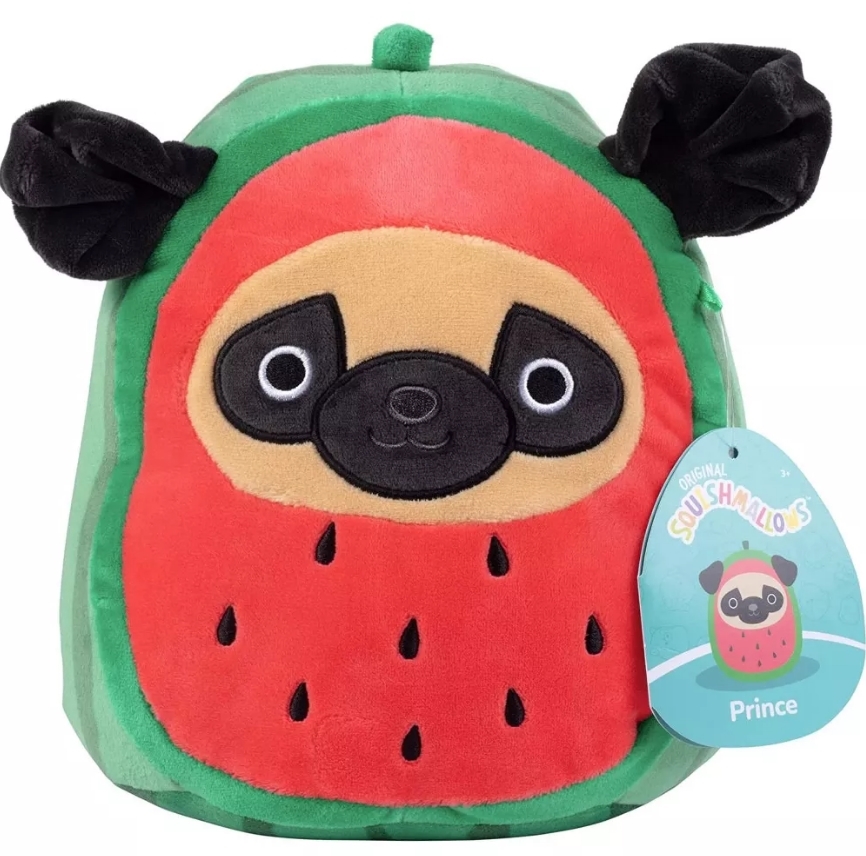 For example, Melly, the Milk Carton Squishmallow, is a food, breakfast, and drinks buddy. Doubling your squads with any Squishmallow makes them more unique and sought-after. In addition, you can expand your sub-families into other sub-categories under the food squad when you cross your teams.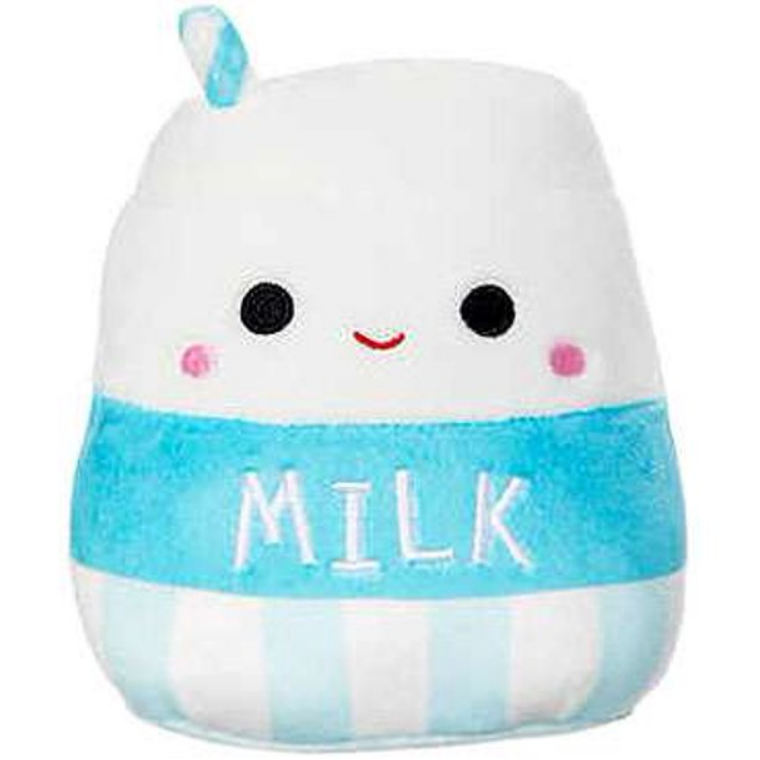 Finally, you also find animal Squishmallows that carry food items, making them fall into a food squad. For example, Gigi, the Boba Cat Squishmallow, holds a boba tea with heart-shaped bubbles. She belongs to the food, cat, drinks, Boba, and Valentine's squads.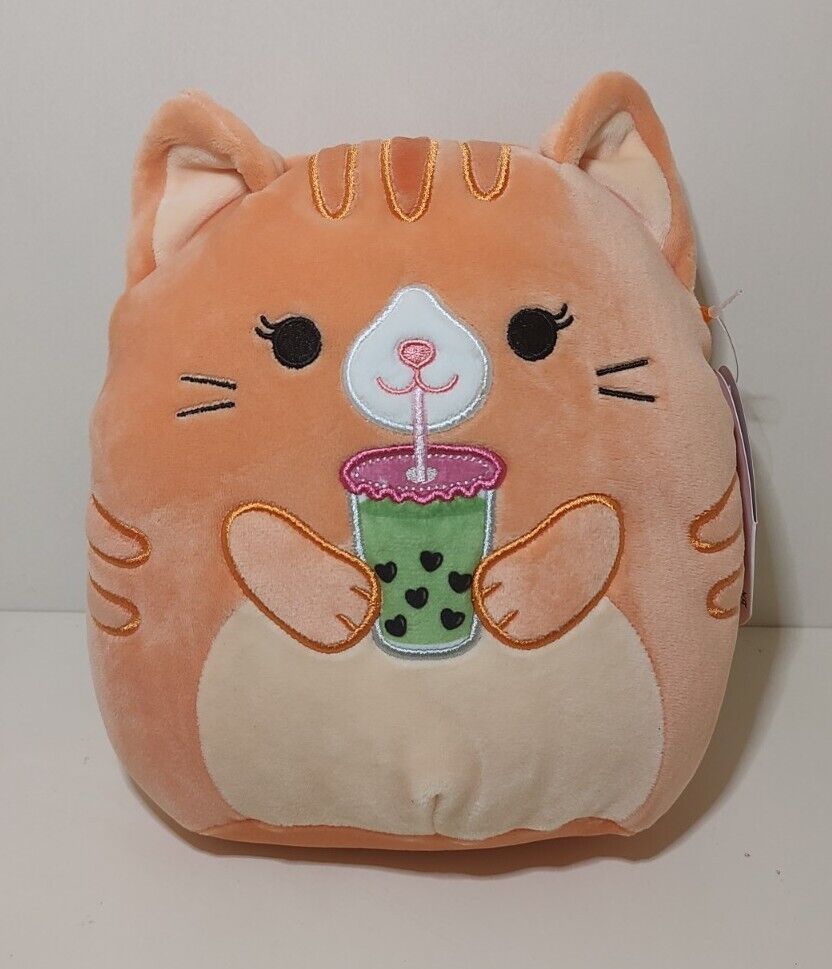 Look out for these double-teaming Squishmallows for more collectible and expandable plushies.
How I Pick the Best Food Squishmallows
Selecting the best food Squishmallows requires finesse unless you want a room full of them. So, I'll pick one top choice from each sub-squad of food Squishmallows. However, the best Squishmallow meets my strict requirements to ensure great picks:
It must be the brightest choice among the sub-squad from the food Squishmallows. Bright colors are fantastic for kids. Some options are hot pinks, purples, reds, blues, sprinkles, rainbow colors, and tie-dye patterns. Pale or pastel colors will also work if the Squishmallow has gorgeous designs.
I want food Squishmallows with wide-open eyes or long eyelashes. The eyes can have details or be solid colors as long as they're open. Sleepy food Squishmallows look weird. Open eyes carry more character and welcome kids to befriend the plush. Winking Squishmallows are allowed.
Children want as many of their favorite Squishmallows as possible. So, I must pick food Squishmallows ten inches and under to ensure they get plenty of them. However, clip-on Squishmallows are too small for kids to enjoy. Five inches would be the smallest size allowed.
The Squishmallows must come from Walmart or Target to ensure authenticity and quick shipping. Both stores are trusted sellers of Squishmallows. In addition, you can add them to the Squish Alert app when looking for restock notifications.
Finally, the best Squishmallow in each sub-squad will depend on my personal preferences. Indeed, I want the most colorful options, but some sub-squads have multiple bright choices.
I won't include any crossover food Squishmallows, where other squads where food costumes or hold items.
Best Food Squishmallows Guide: Friendly Intros
So, you'll finally meet the ultimate food squad Squishmallow from each sub-category. I'm as excited as you to share them. I sourced the most colorful, boldest, friendliest, and tastiest-looking food, Squishmallows. Now, it's time to learn more about the best choices and what makes them stand out.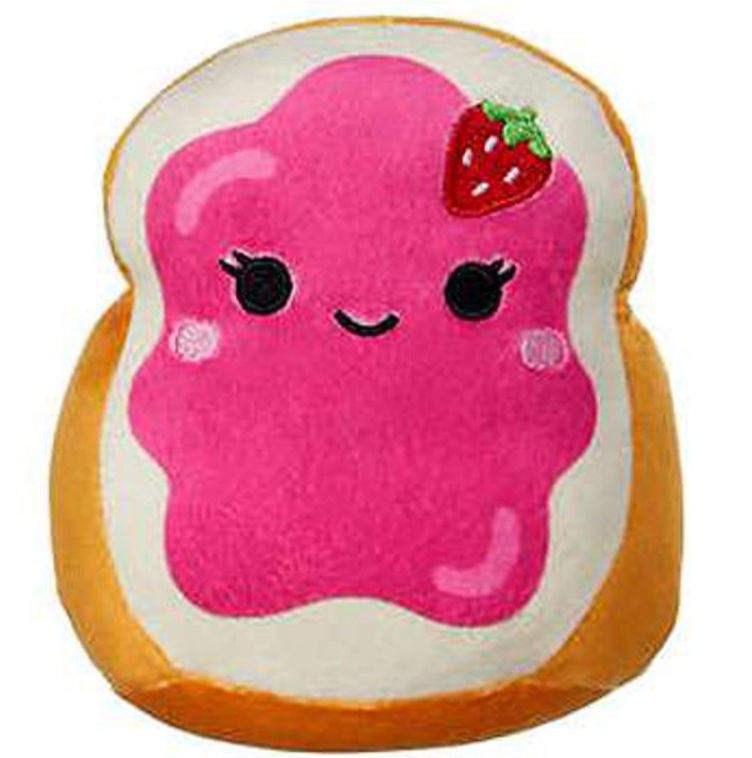 Iman, the jelly toast Squishmallow, is a gorgeously bright girl representing a household favorite. Iman's hot pink colors with bright green and red make her stand out. She also has facial details in pink for more depth and long, girly eyelashes. In addition, she has an adorable strawberry patch from the summer squad.
Squads: Breakfast, Food, and Summer Squads
Size: 5″
Iman Jelly Toast Squishmallow Pros
Iman, the jelly toast Squishmallow, looks mouth-watering
Iman Squishmallow has fantastic and bright colors to show
Her smile and eyelashes welcome children to befriend her
The embroidery details are magnificent on this tiny Squishmallow
Iman Jelly Toast Squishmallow Cons
Iman's white border is challenging with little kids and sticky hands
She looks too girly to suit young boys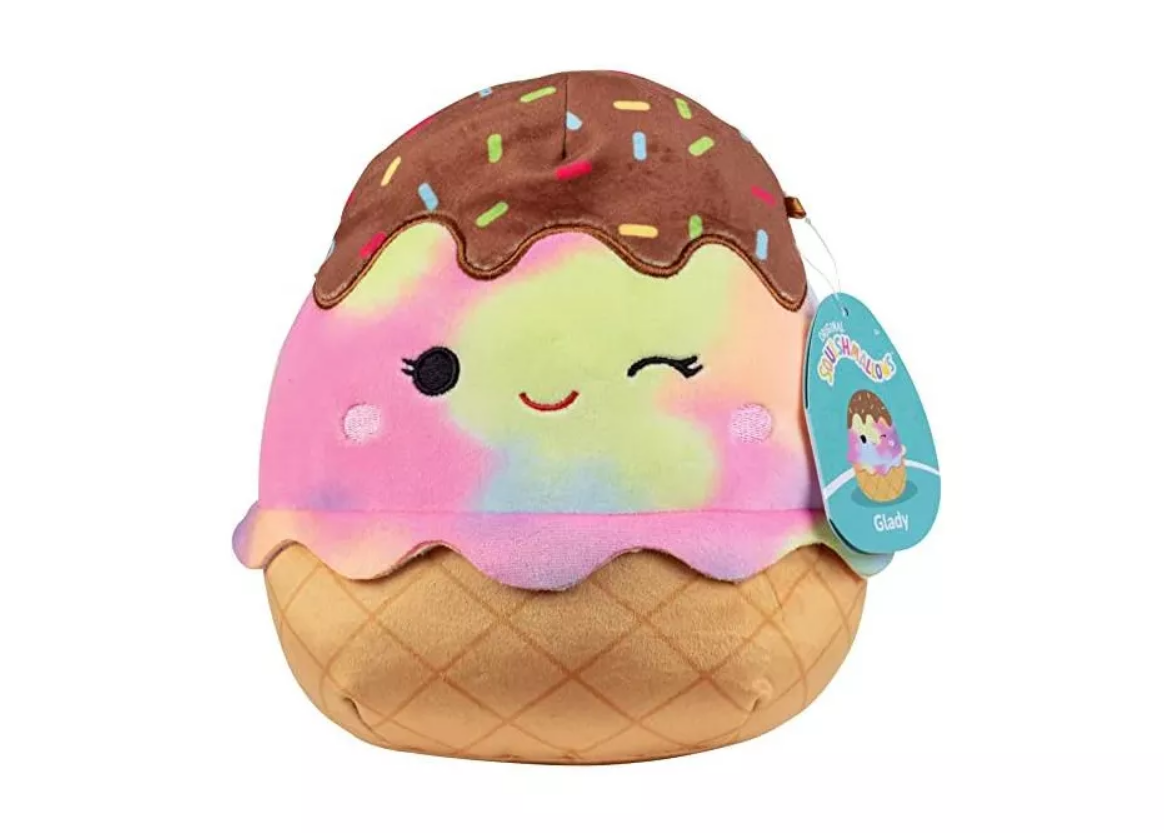 Glady, the ice cream sundae Squishmallow, is a joy for children and anyone who loves summer. She's a rainbow tie-dye ice cream sundae topped with chocolate sauce. In addition, she has a scrumptious-looking wafer cone. Glady is my favorite because she reminds me of a fun family day in the sun.
Squads: Food, Candy, and Summer Squads
Size: 8″
Glady Ice Cream Squishmallow Pros
Glady, the ice cream Squishmallow, is a family favorite for all fans
Glady Squishmallow has beautiful patterns, colors, and a winking eye
I love the details of sprinkles on Glady's chocolate sauce head
Every child will find inspiration in this collectible size plush
Glady Ice Cream Squishmallow Cons
Glady's cheeky wink can tease you to feel like an ice-cold sundae
The poor Squishmallow looks more edible than fun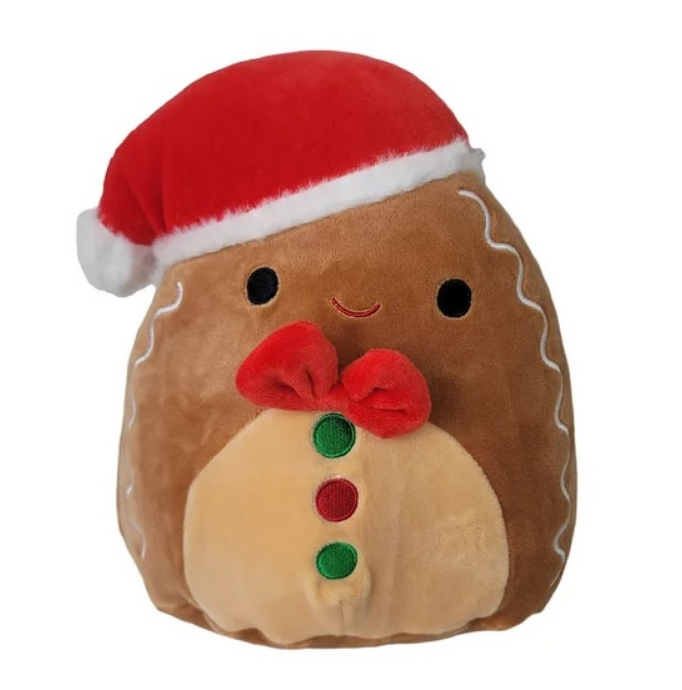 Jordon, the gingerbread Squishmallow, is one of the newer members, joining his three families in 2022. Jordon is a tantalizing gingerbread boy, reminding me of another fun exercise. My kids and I enjoy baking gingerbread houses before Christmas. It's a bonding experience, and we end up more colorful than our houses.
Squads: Food, Dessert, and Christmas Squads
Size: 8″
Jordon Gingerbread Squishmallow Pros
Jordon, the gingerbread Squishmallow, is a holiday-themed food plush
Jordon's bright red Santa hat blends well with the buttons and bow
Jordon's smile feels more exciting than most food Squishmallows
He has a quirky design with skew eyes to welcome little friends
Jordon Gingerbread Squishmallow Cons
Jordon's eyes could use more detail, and he doesn't have a nose
The fuzzy border on Santa's hat loses its texture with time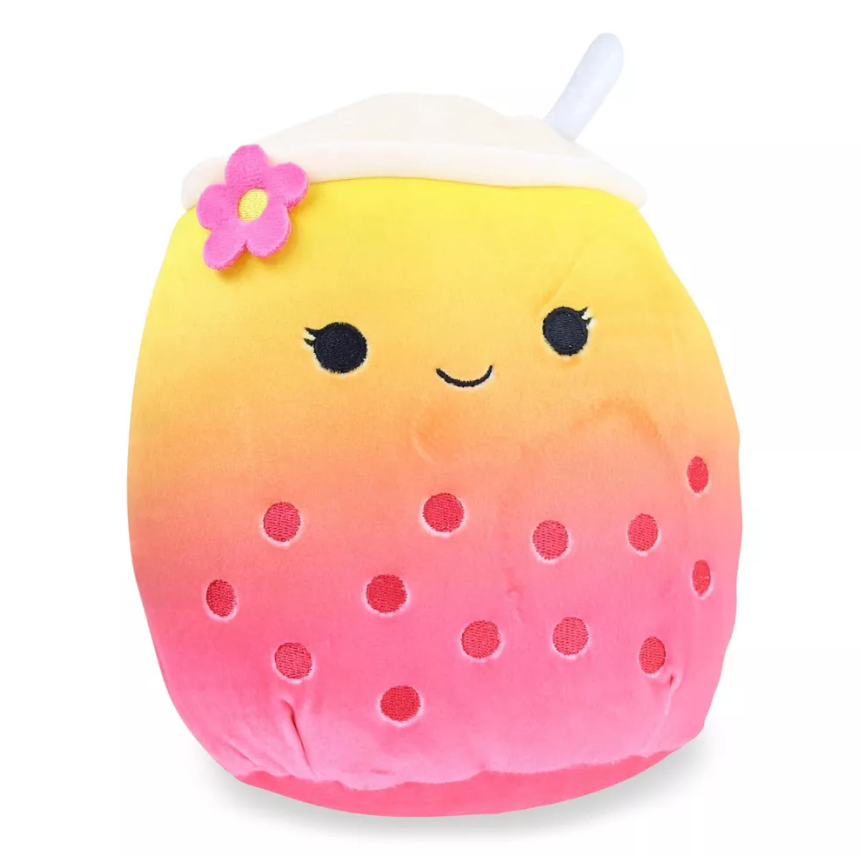 Everyone's going Boba crazy, and I love it. My kids and I enjoy a little bubble tea café at our nearest mall. The tingling feeling on your tastebuds is something else. However, getting kids to try it the first time can be challenging. Fortunately, Bergit is a bright, friendly, and inviting friend that encourages kids.
Squads: Food, Drinks, and Boba Squads
Size: 8″
Bergit Boba Tea Squishmallow Pros
Bergit, the Boba Squishmallow, is a trending idea
Bergit's gradient orange and pink color is magnificent
She looks more feminine and friendlier with her smile and eyes
She has a pretty bow and hot pink bubbles
Bergit Boba Tea Squishmallow Cons
Bergit seems more like a young girl's favorite Squishmallow
Her white top can make washing her a challenge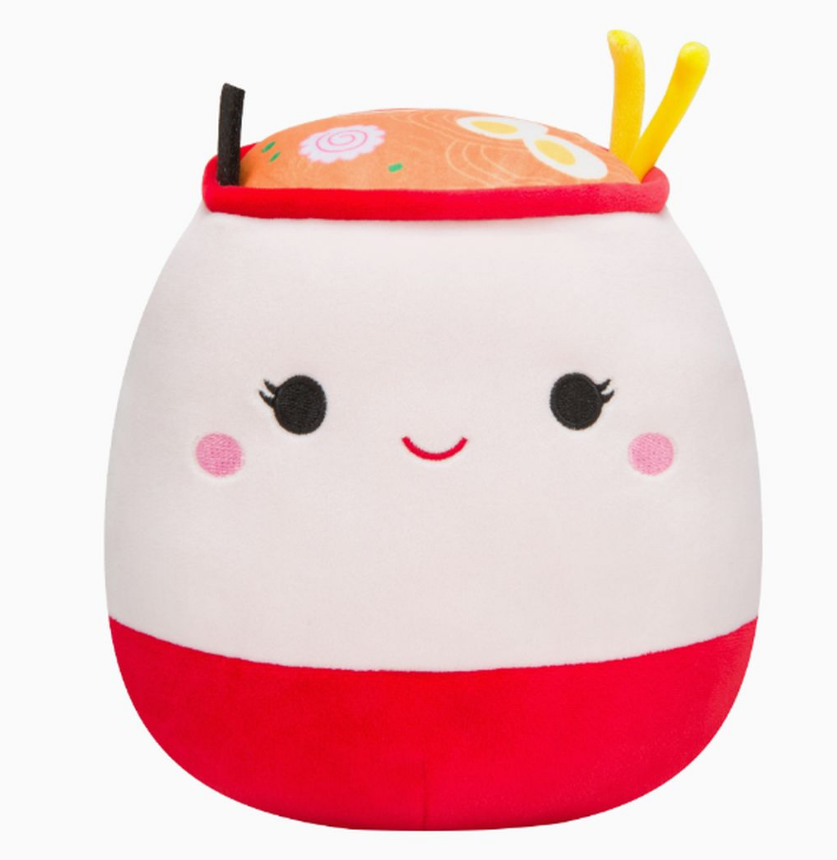 Raisy, the ramen Squishmallow, represents one of my family's favorite cultures. We eat more Asian foods than in China, and we're never shy to try new things with our masterful chopsticks. My son could use chopsticks by five. Ramen noodles might not be the fanciest Asian food, but it's one of the better-known options for kids.
Squads: Exotic and Food Squads
Size: 8″
Raisy Ramen Squishmallow Pros
Raisy, the ramen Squishmallow, is a bright and confident girl
The Squishmallow's face somehow has an Eastern element
I enjoy the bright reds and yellows contrasting the snow-white body
Her face is gorgeously feminine, and her content details are impressive
Raisy Ramen Squishmallow Cons
Raisy will raise your challenge to wash her with such bright contrasts
The chopsticks might break off with too much handling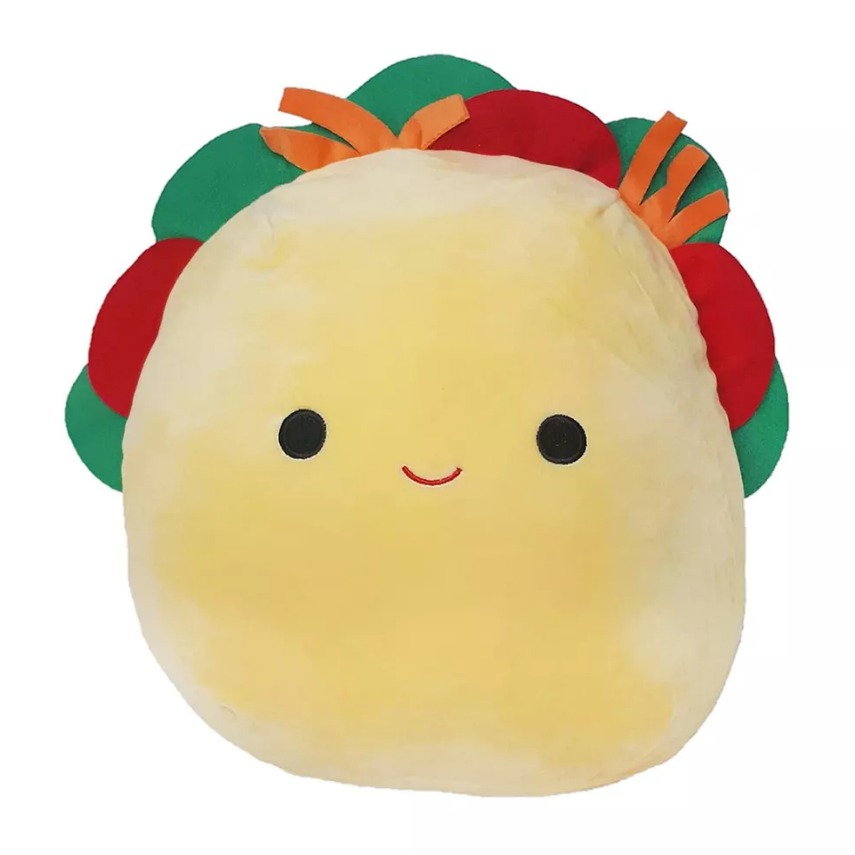 The fiesta squad's best food, Squishmallow, is hands-down the guacamole plush if you want popping colors. However, none of the guacamole Squishmallows fit my size requirements. So, Tex, the taco Squishmallow, comes as a close second for the brightest choice. The body doesn't have much color but has colorful stuffing.
Squads: Food and Fiesta Squads
Size: 8″
Tex Taco Squishmallow Pros
Tex, the taco Squishmallow, is an adorable boy full of joy in his face
Tex has bright greens, reds, and oranges inside his taco shell
The fiesta food Squishmallow has an emoji-style design
Young children might double Tex as a sun with colorful rays
Tex Taco Squishmallow Cons
Tex looks too much like a sun with weird rays
The yellow body seems to go on forever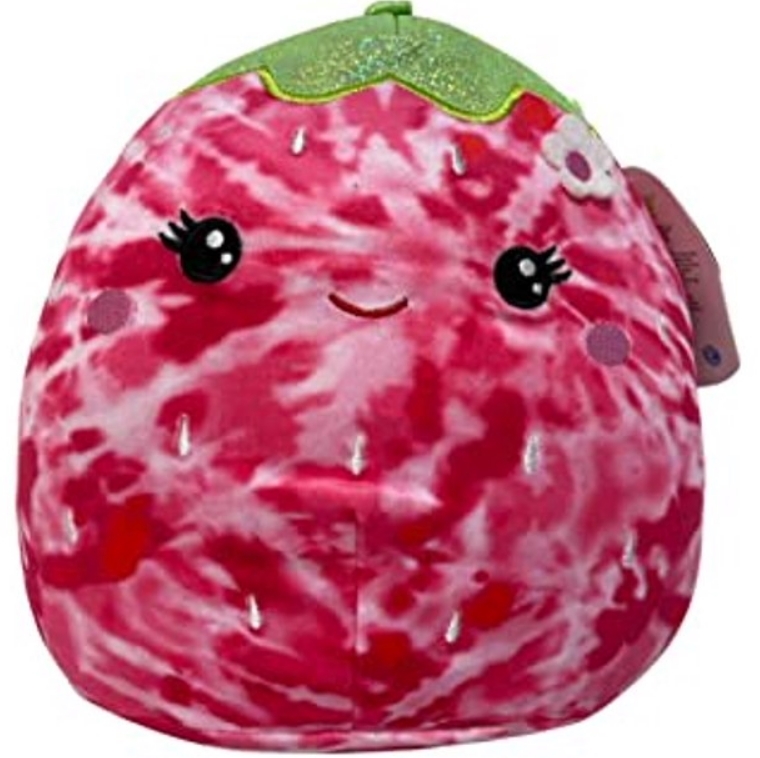 Reva, the strawberry Squishmallow, is my second ultimate pick because she's my favorite fruit. Reva is a magnificent food Squishmallow. In addition, she has more brilliant patterns and brighter colors than other strawberry plush. You can still see her seeds as you glance deep into her soul through detailed eyes.
Squads: Summer, Food, and Fruit Squads
Size: 8″
Reva Strawberry Squishmallow Pros
Reva, the strawberry Squishmallow, is the brightest of her kind
Reva Squishmallow has beautiful tie-dye patterns and a little flower
She's a summer squad member with a shimmering stalk
Reva's eyes, body, and smile invite children to love strawberries
Reva Strawberry Squishmallow Cons
She might make kids want red and white strawberries
You have to zoom your eyes to see the flower on her face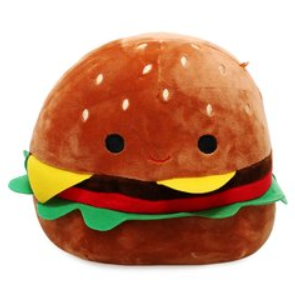 Admittedly, we don't want our kids to eat junk food. However, cheeseburgers are a favorite food type for many kids, whether we like them or not. Meanwhile, Carl, the cheeseburger Squishmallow, will keep young ones happy with bright colors and a smile. I love that Squishmallows used a seeded bun for added details.
Squads: Food and Junk Food Squads
Size: 8″
Carl Cheeseburger Squishmallow Pros
Carl, the cheeseburger Squishmallow, has a broad smile
Carl Squishmallow's details are impressive, from the seeds to the filling
The cheeseburger offers bright colors for the filling
Carl looks like a mischievous boy, as cheeseburgers are naughty food choices
Carl Cheeseburger Squishmallow Cons
Carl Squishmallow can set the wrong example for healthy food lovers
Carl's brown body should be slightly lighter or tan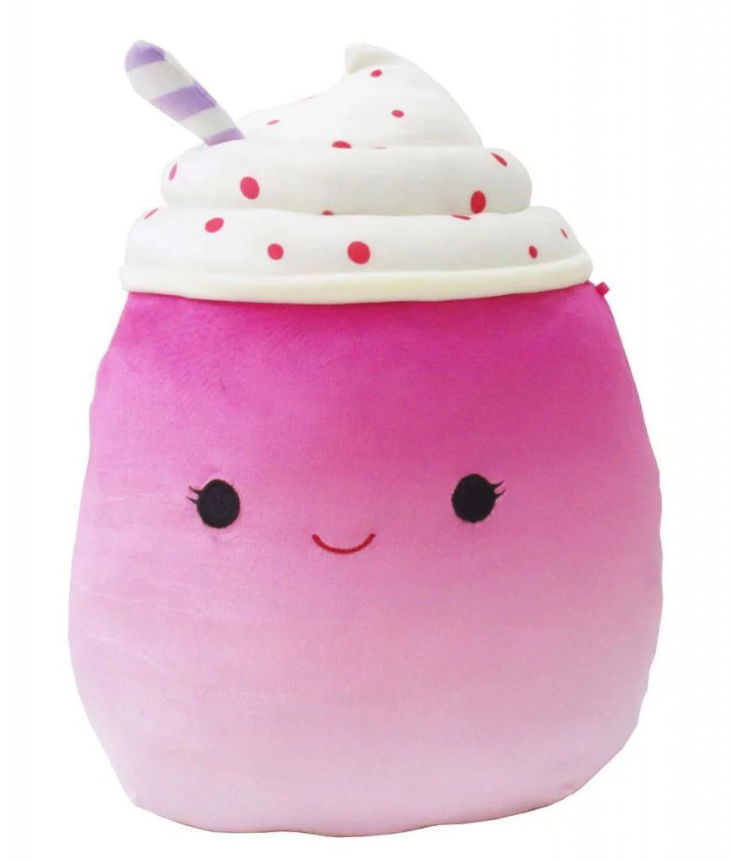 Do you know how I make naturally good yogurt snacks for my kids? I throw organic cocoa powder and cinnamon in plain, unsweetened yogurt. It tastes even better than store-bought cinnamon yogurt. However, Cinnamon, the yogurt Squishmallow, looks like she has some strawberry pieces thrown into the mix.
Squads: Snack and Food Squads
Size: 8″
Cinnamon Yogurt Squishmallow Pros
Cinnamon, the yogurt Squishmallow, is a tasty snack from a healthier collection
Cinnamon has a touch of hot pink with strawberry pink in her white yogurt
She also has a gradient design and long eyelashes
The yogurt Squishmallows encourage a better snack than popcorn
Cinnamon Yogurt Squishmallow Cons
Cinnamon doesn't have much detail beyond her bright colors
Snow-white Squishmallow parts are always hard to clean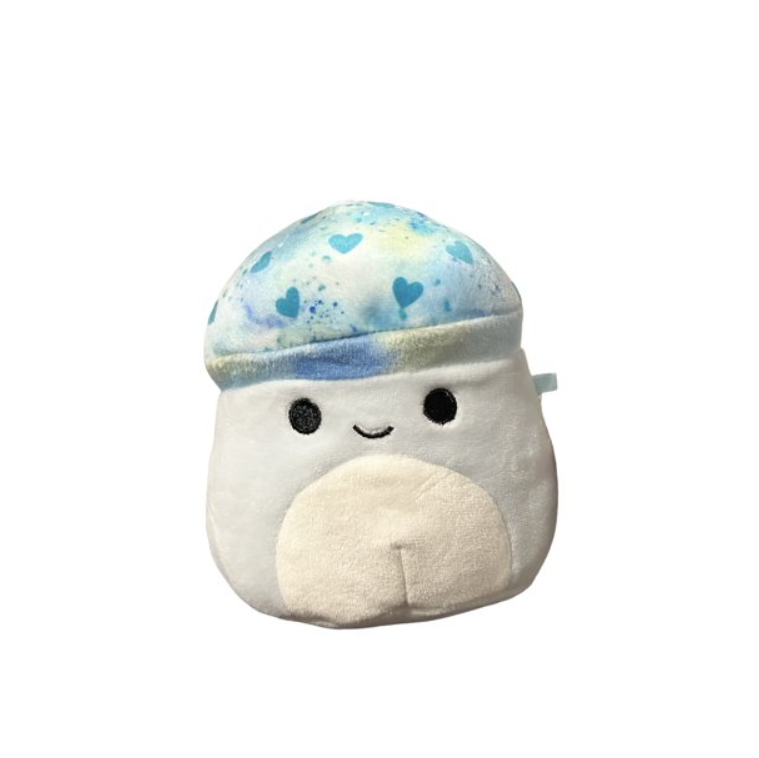 I'd love to see more veggie Squishmallows from the brand. However, the only veggies this year include mushrooms and eggplants. The eggplant Squishmallow is a deep, royal purple, but Mully wins for being the correct size. Mully, the mushroom Squishmallow, has an unusual head with tie-dye and night sky designs.
Squads: Food, Valentine's, and Veggie Squads
Size: 5″
Mully Mushroom Squishmallow Pros
Mully, the mushroom Squishmallow, is also from the 2023 Valentine's family
Mully's head is unusual and looks like a mash of tie-dye and starry skies with hearts
Mully's white body doesn't take away from the striking head design
He would make the ideal friend for anti-vegetable kids
Mully Mushroom Squishmallow Cons
Mully's snow-white body is challenging to keep clean
Only the mushroom's head is unique, and nothing else
FAQs
Question: What Is the Controversy Behind Food Squishmallows?
Answer: The Squishmallow controversy goes beyond food plush. It involves all the squads and members. Sadly, greedy resellers buy out new and limited editions, including the food plush. That way, they can force genuine collectors and enthusiasts to buy them at higher prices. The Guardian calls it a greedy obsession.
Question: Who's in the 8-Pack Food Squishmallow Set?
Answer: Three primary 8-pack food Squishmallow sets exist, and you'll find them at Costco. The first 8-pack food Squishmallow set includes Austin, Antoine, Arnel, Iman, Gideon, Paulton, Melly, and Neeona. It's a collection of fruit, candy, and fiesta snacks from the food Squishmallow squad.
The second 8-pack food Squishmallows set has Carl, Floyd, Carmelita, Raisy, Bergit, Delita, Shozo, and Sinclair. Many of these foodies are my favorites, covering breakfast, junk food, and boba tea families. The third 8-pack food Squishmallows set has Chanel, Maya, Keina, Bernardo, Maui, Polina, Sinclair, and Lena.
The third set covers fruit, boba tea, and candy squad, members. These packs are ideal for starting a food Squishmallow collection because you get eight different friends in one box. They're five inches tall, making them perfect for extensive collections or obsessed foodies. In addition, it costs less to buy bulk packs.
Question: Which Squishmallows Eat Food?
Answer: Some famous Squishmallows join the food squad by eating, drinking, or snacking on popular items like pizza and boba tea. These Squishmallows also fall into a new family called the foodie squad, appealing to gen Z foodies who love plush. Here are some of the famous Squishmallow that eat food in some versions:
• Archie, the Axolotl Eating Ice Cream Squishmallow
• Gordon, the Shark Eating Watermelon Squishmallow
• Regina, the Corgi Eating Sushi Squishmallow
• Regina, the Corgi Drinking Boba Tea Squishmallow
• Talib, the Pterodactyl Eating Pizza Squishmallow
Unfortunately, many foodie squads are discontinued, but keep an eye out for new foodies.
Best Food Squishmallows Guide: Conclusion
The best food Squishmallows appeal to children, collectors, and gen Z foodies. Everyone's a food expert now, and I won't argue because my son makes some excellent snacks. However, the food squad has ten sub-families. Remember to choose a sub-squad before collecting plenty of Squishmallows.
I share excellent starters for each sub-category. In addition, I helped you spot a few oddballs among the crossover and multi-squad members. Food Squishmallows have endless potential. You have to grab it. Meanwhile, buy Glady, the Ice Cream Squishmallow, as a starter because everyone loves ice cream in summer.
Glady brings happy memories, even if you're stuck in winter now. She gives you a jump start on the food Squishmallows. So, grab her before she becomes history like many discontinued plush.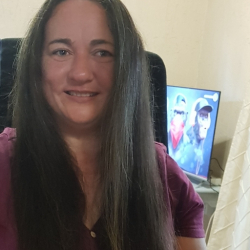 Latest posts by Caroline Lambert
(see all)